How to Decorate a Mudroom Entryway for Fall
Decorating our mudroom entryway can be challenging due to its small size and lack of wall space. Check out these easy fall touches I added using only items that I already owned!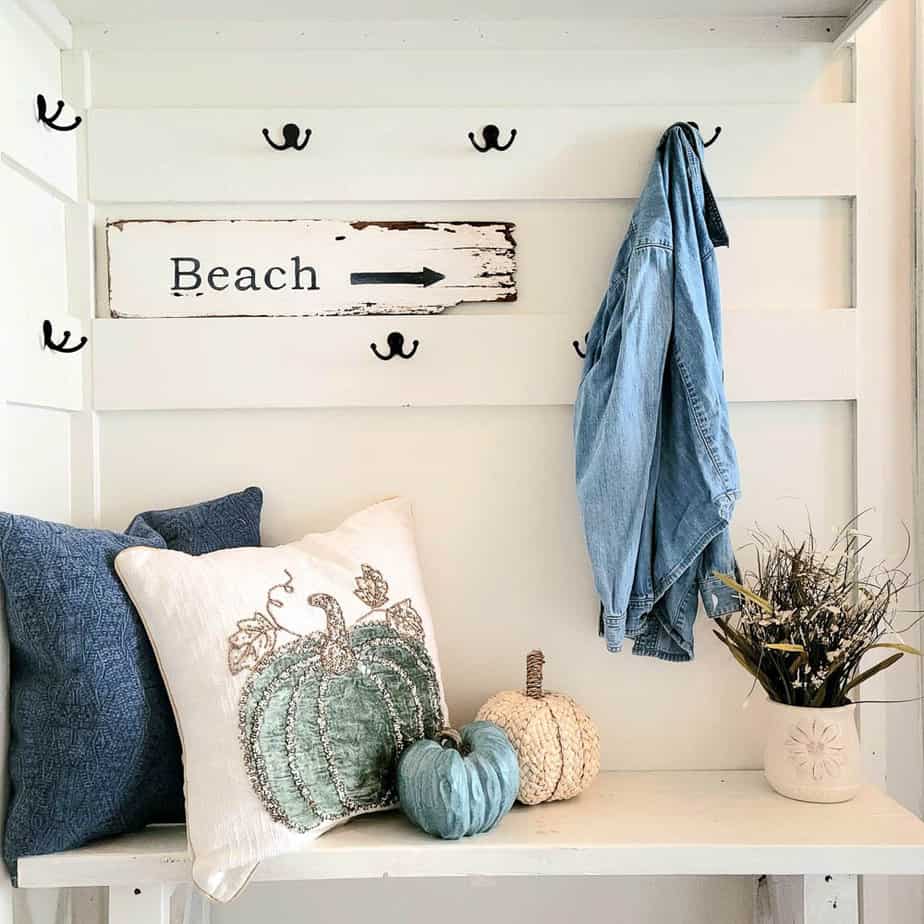 Today I am joining six blogging friends, sharing fall decorating ideas. A big thanks to my friend, Pasha from Pasha is Home for coordinating this fun tour!
If you are new here, welcome to Sand Dollar Lane where I share coastal decorating, traveling (especially about the Topsail area where I live), gardening, and lots more.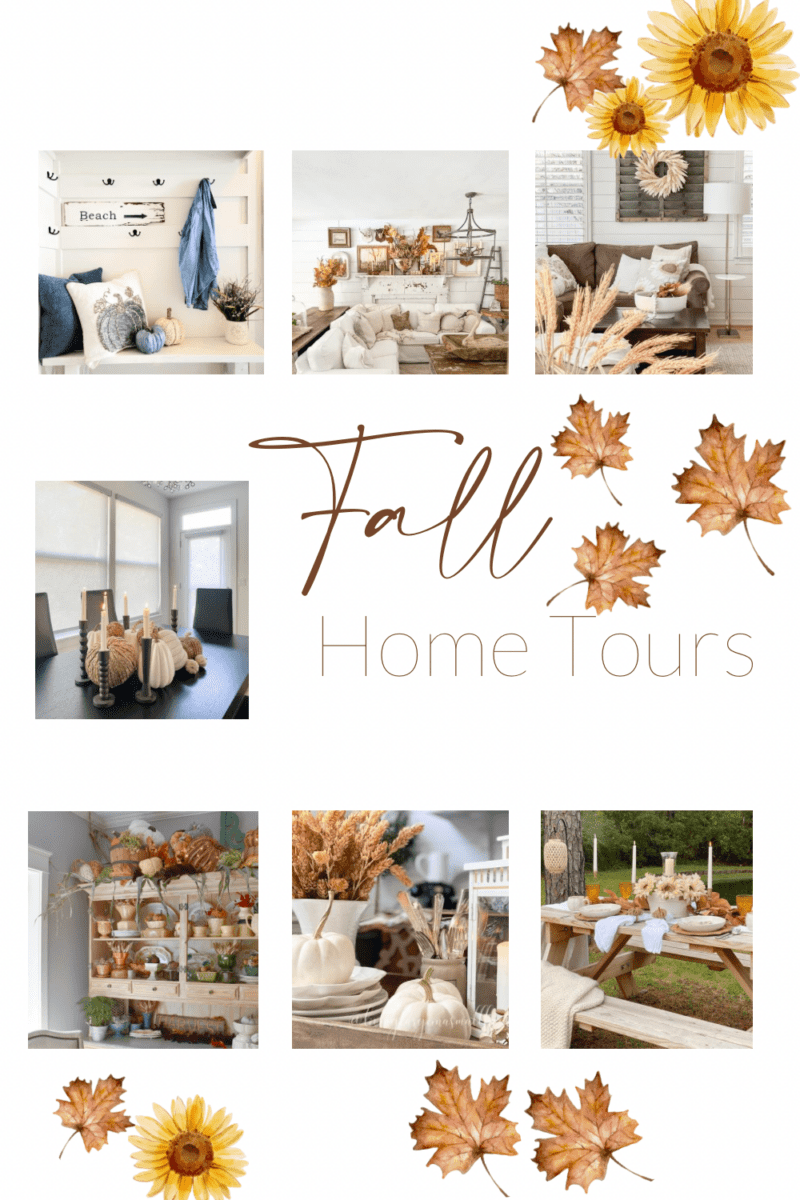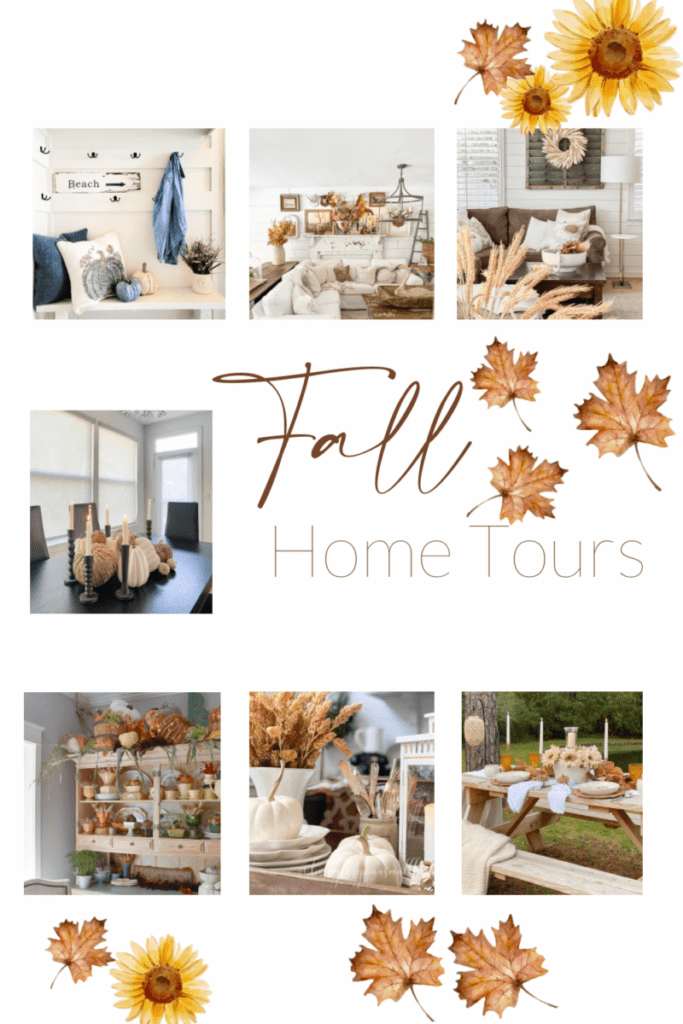 Did you see the outdoor gathering that Meeghan from Cali Girl in a Southern World shared?
I love her style and her outdoor tablescape is so pretty. We actually live near each other! Small world!
Be sure to visit all my friends' posts at the bottom of this page for lots of fall decorating inspiration.
But first, learn how I decorated our mudroom entryway for fall.
Mudroom Entryway
Our side porch door into our mudroom is the door we use most.
The porch is pretty small so it's easy to decorate.
You may remember when I decorated it two days before we evacuated for Hurricane Florence and had to take everything off it. You can see how cute it was in my small porch decorating post here.
This year I just added a few mums to keep it simple.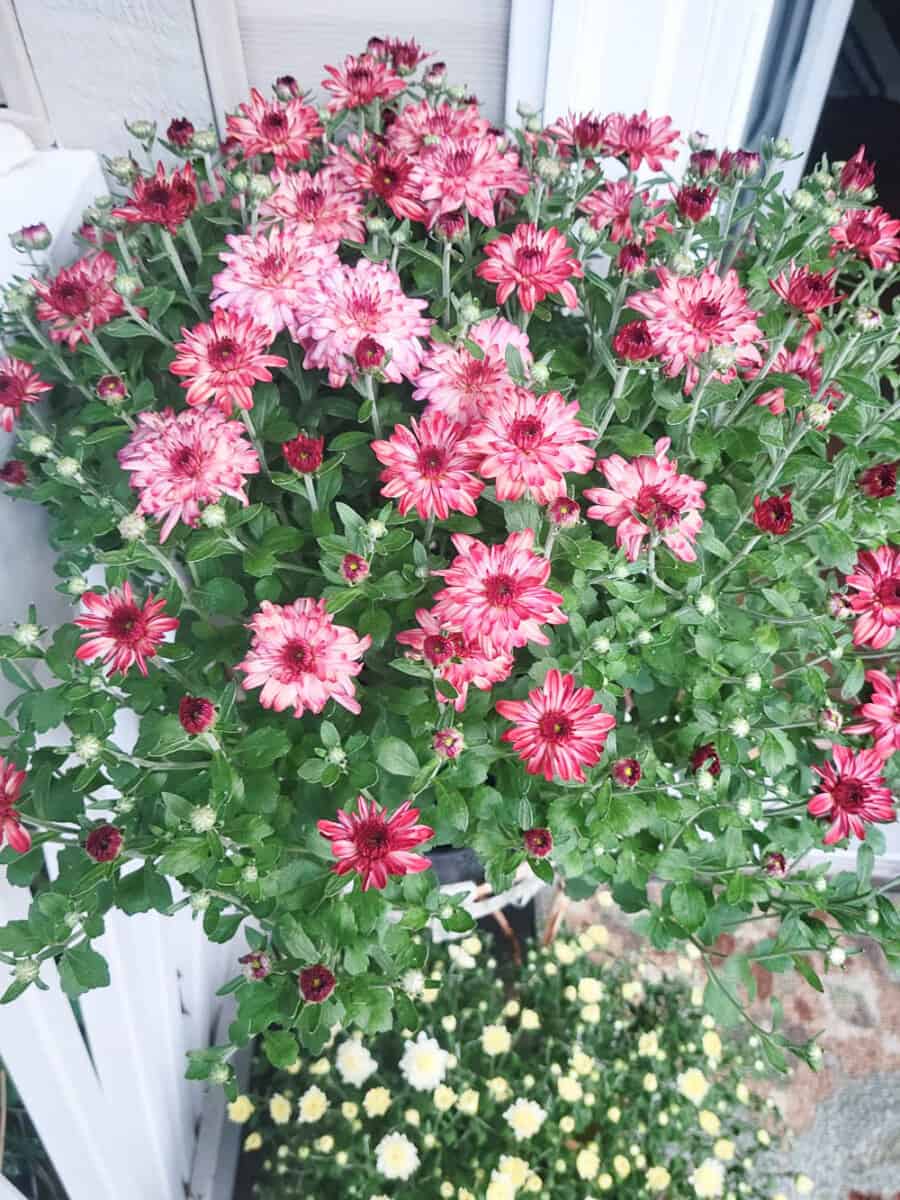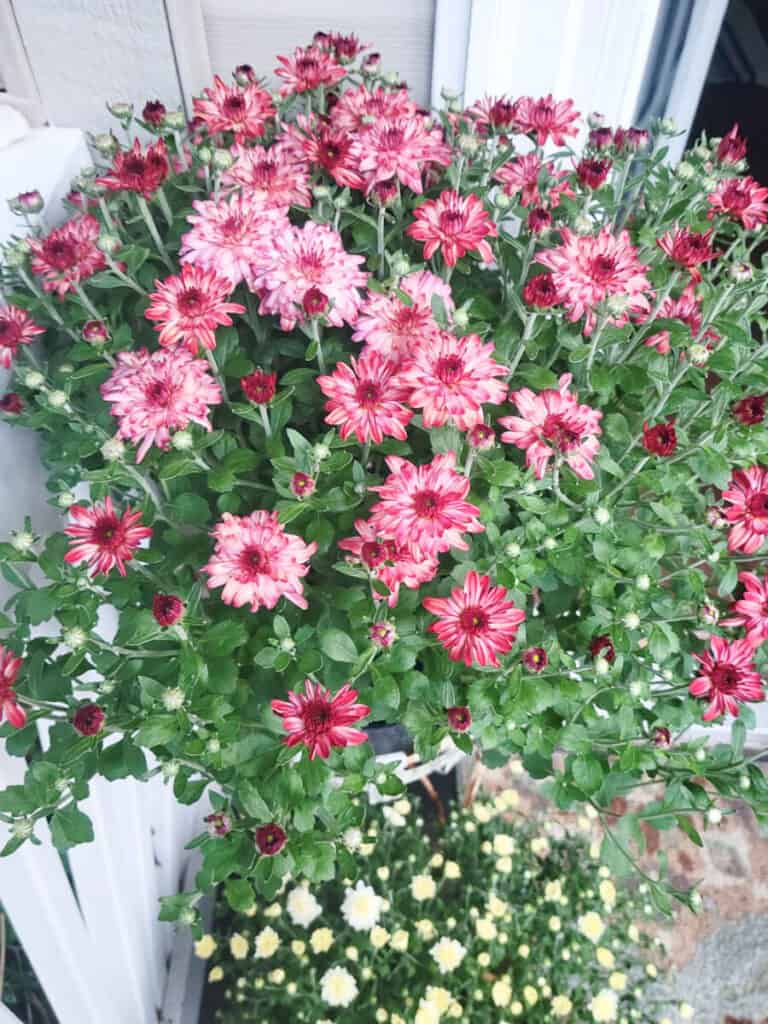 Since I am trying to decorate without purchasing new items, I reused this fall color rug that we've had for years.
It's really holding up well and still looks great.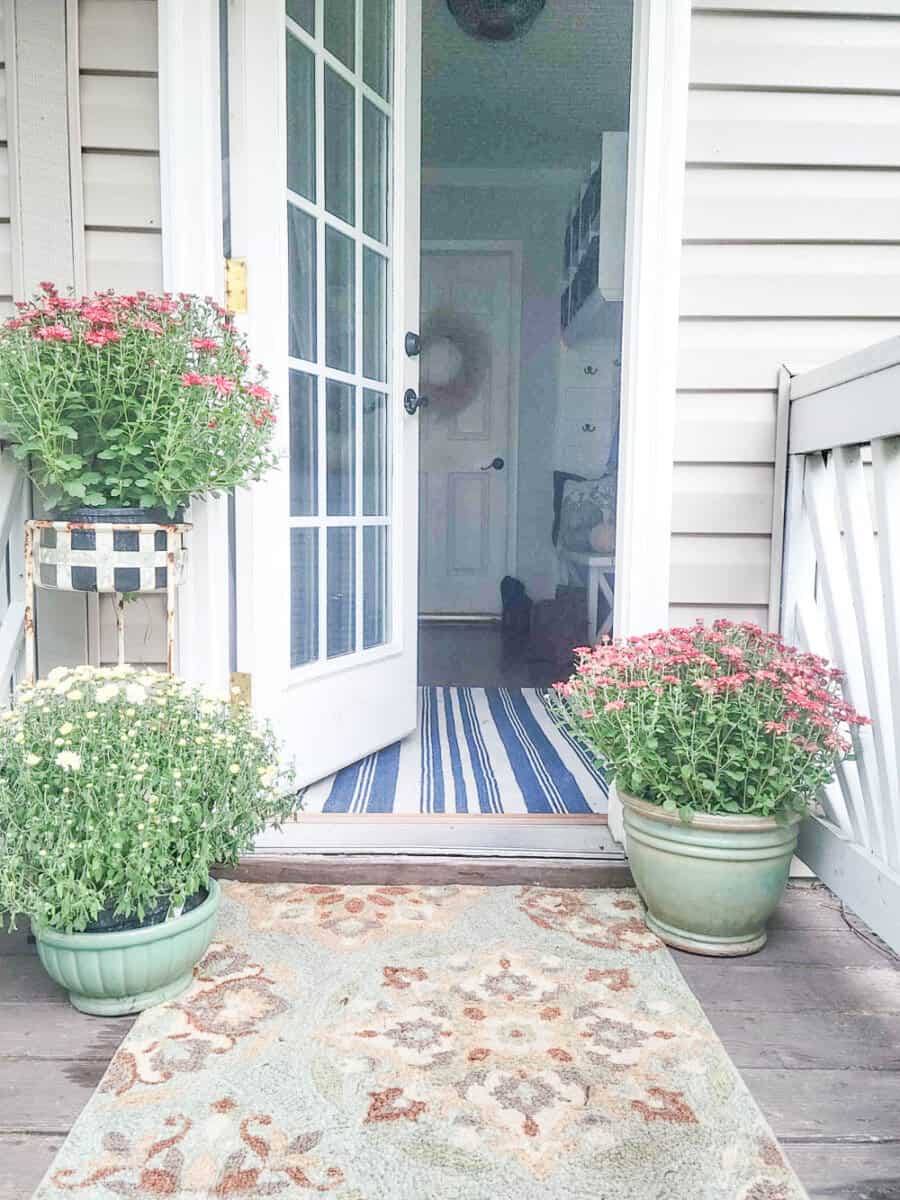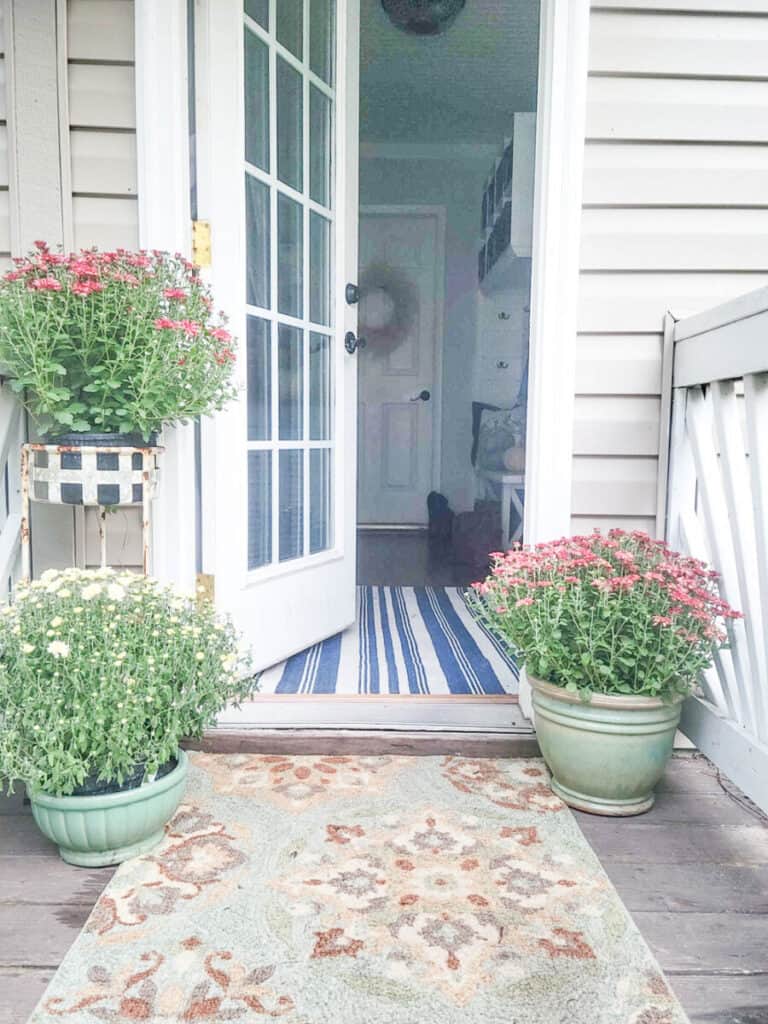 Decorating a Mudroom Entryway Table
Immediately to the right as you step inside our mudroom is our mudroom table.
It's a great size for this narrow space and it has a lot of storage.
To decorate our mudroom table I like to add the following
lamp
basket or tray to corral JC's things
seasonal accessories
grasses or other greenery
family momentos
JC collects picnic baskets and I placed one on top of the entry table so that when he comes home from work he can empty his pockets without scattering his things all over the tabletop.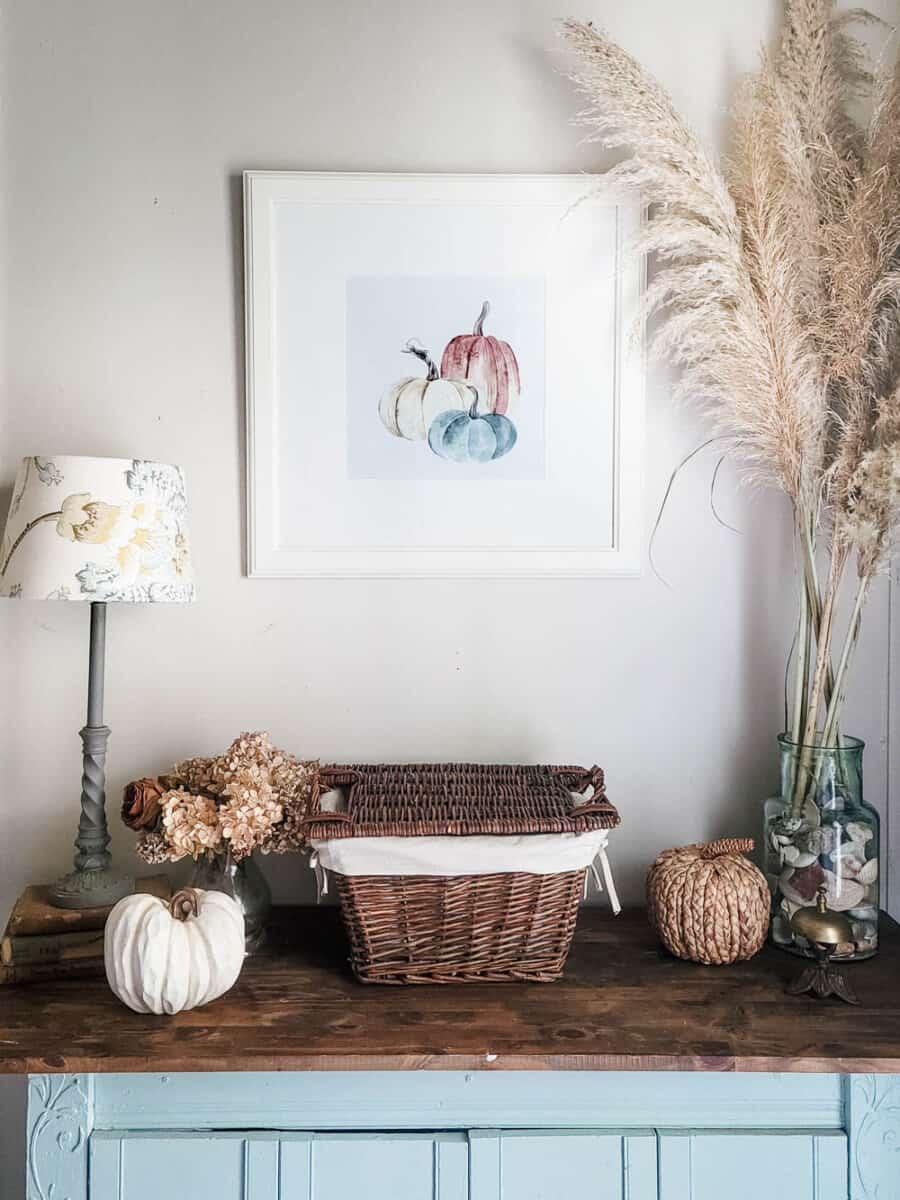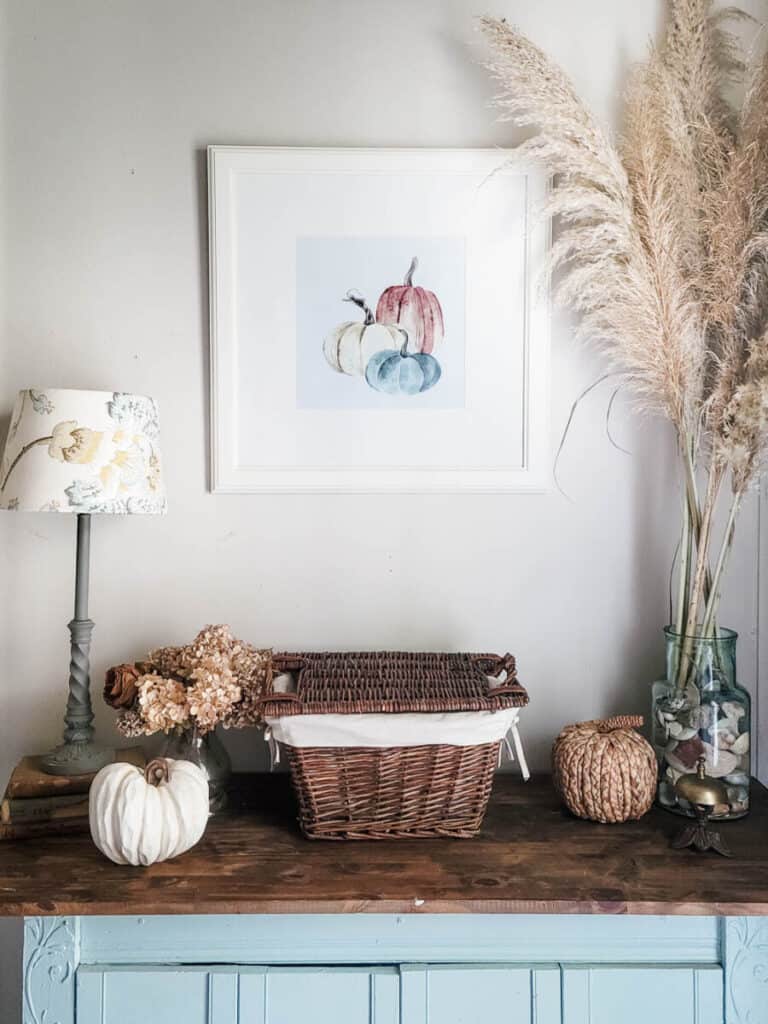 I recovered the lamp shade on this lamp a few years ago to coordinate with our mudroom.
It brings soft light to the room.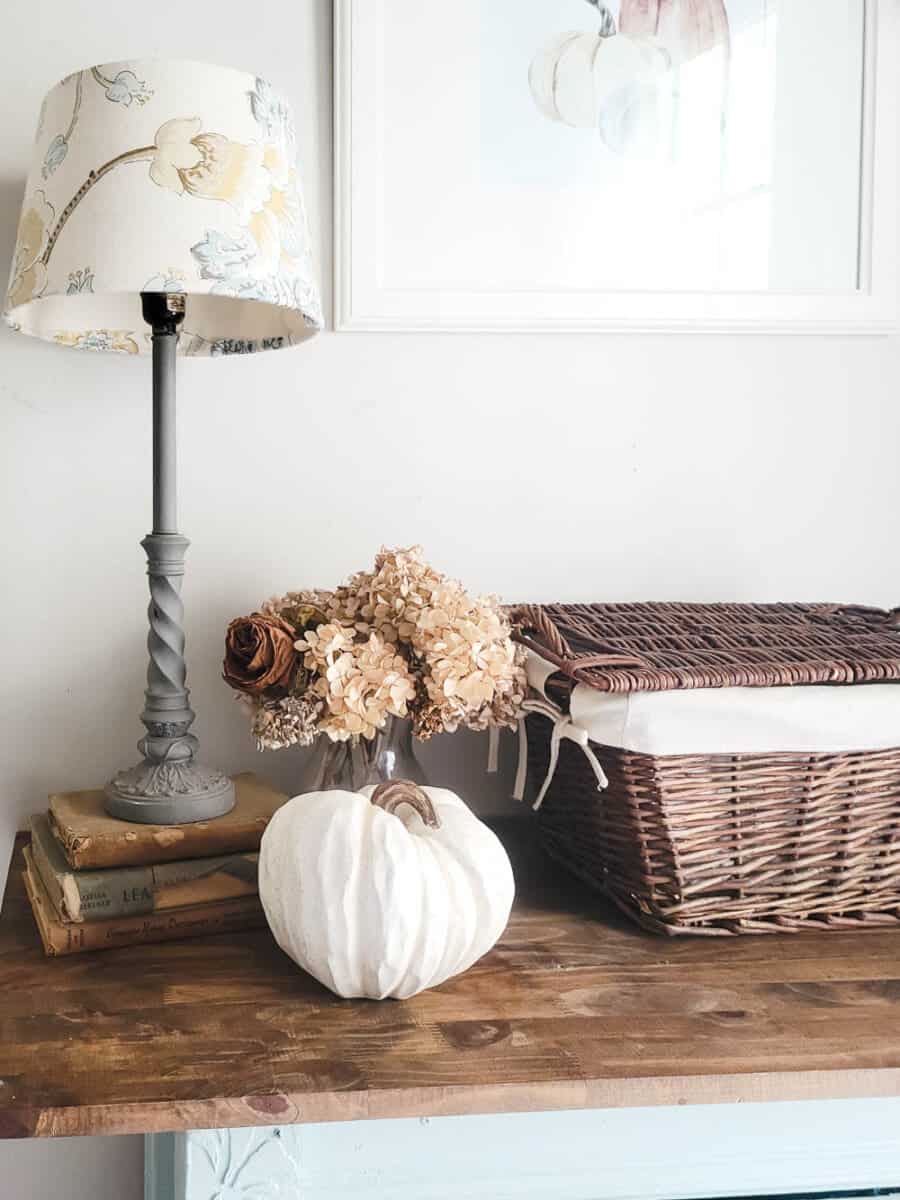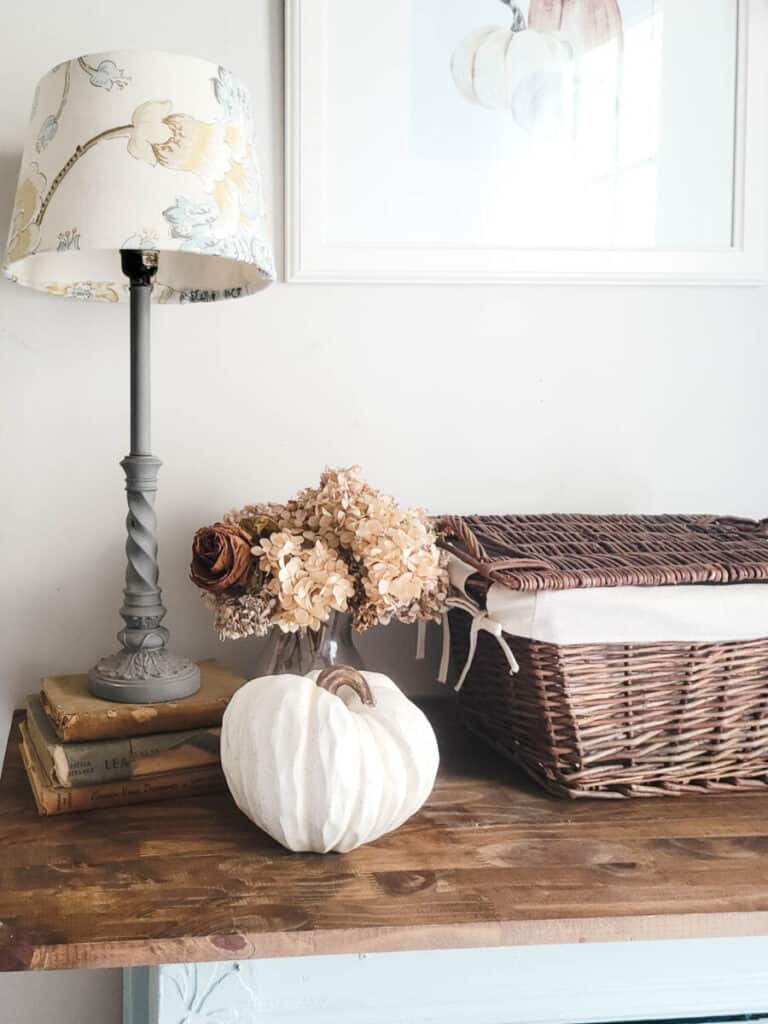 Pampas grass is so coastal and fall"y, I am always more than happy to cut some from our bushes to bring inside.
They last a few weeks before they start seriously shedding and dropping fuzz everywhere.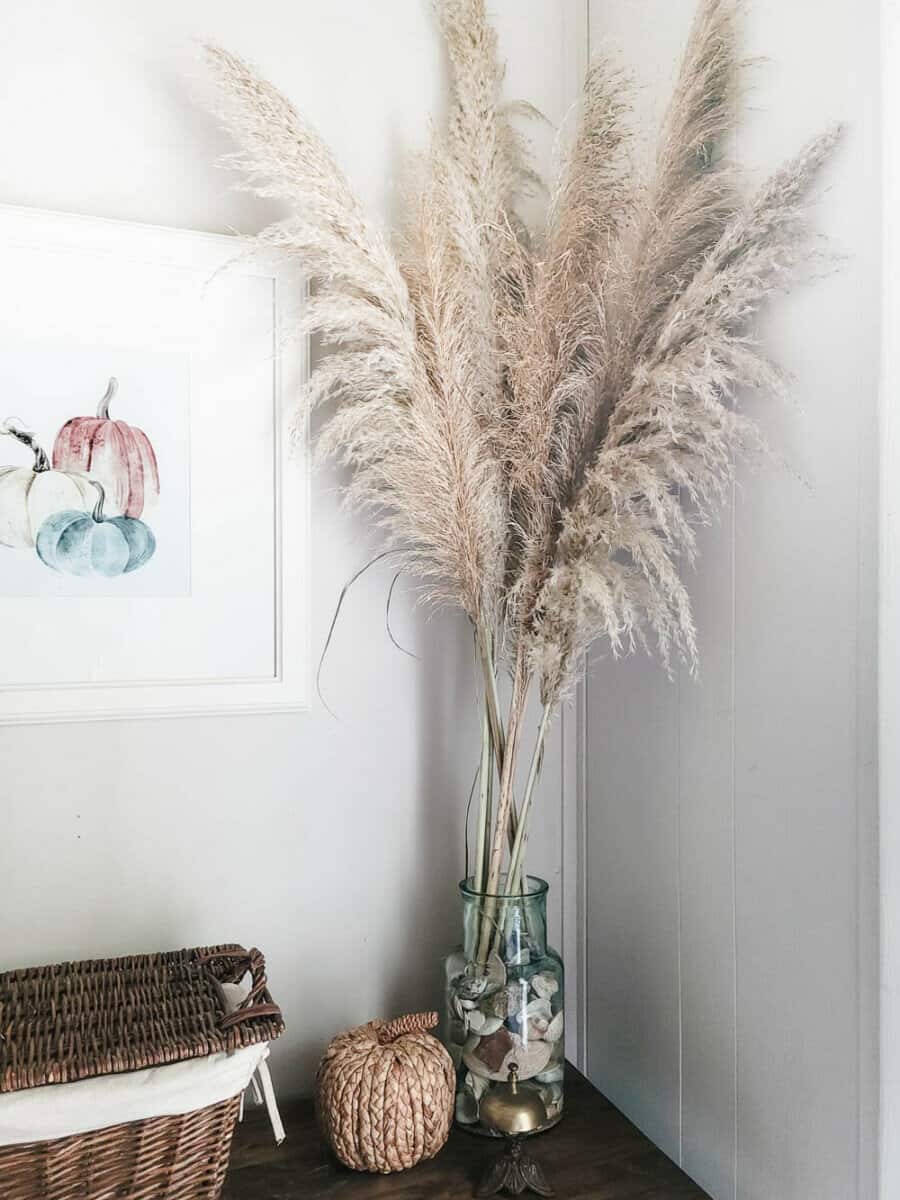 Of course, more pumpkins were added (I can't seem to get enough pumpkins!)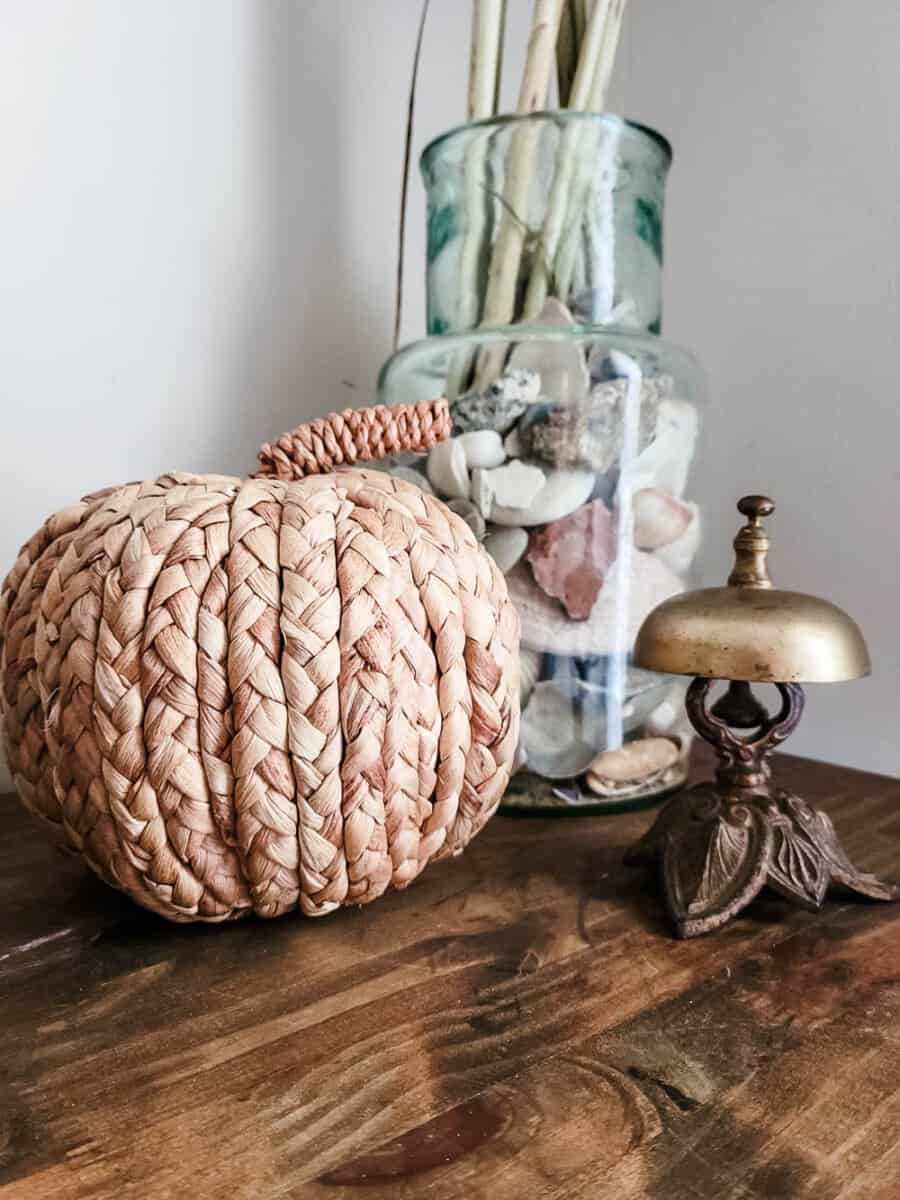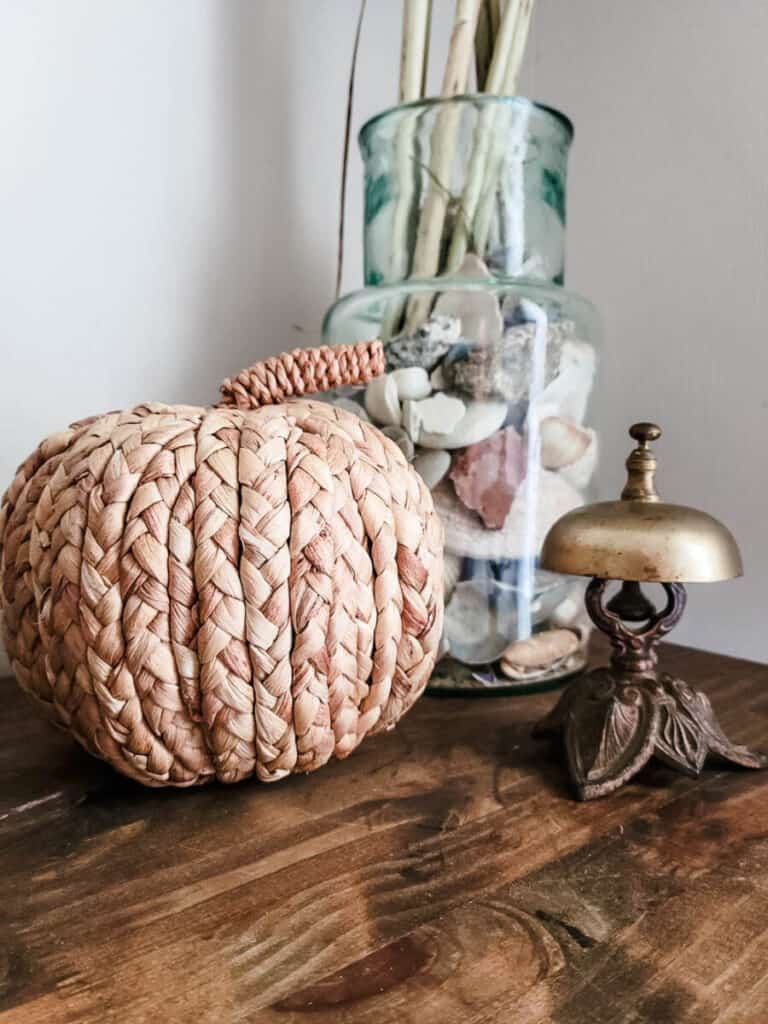 The little desk bell was my great great aunt's. She was a teacher and I plan to pass it on to our son, James who is going to UNCW to be a teacher.

Above the table, I hung a pumpkin print from Etsy. It's fun to change it up with the seasons.
Mudroom Bench Fall Touches
We love our mudroom bench. We built it using build plans from my friend Sandra (Sawdust Girl).
It's currently painted white but I think I may change it up soon.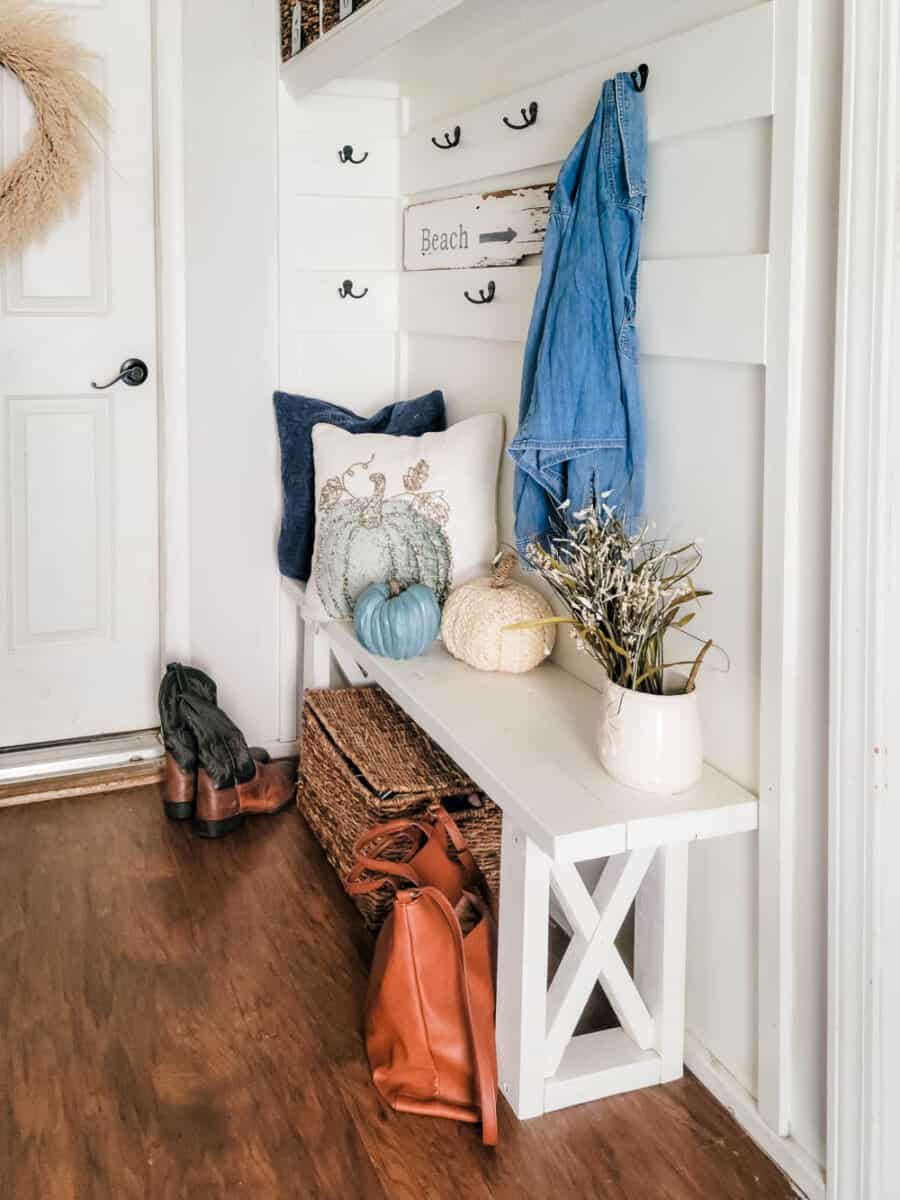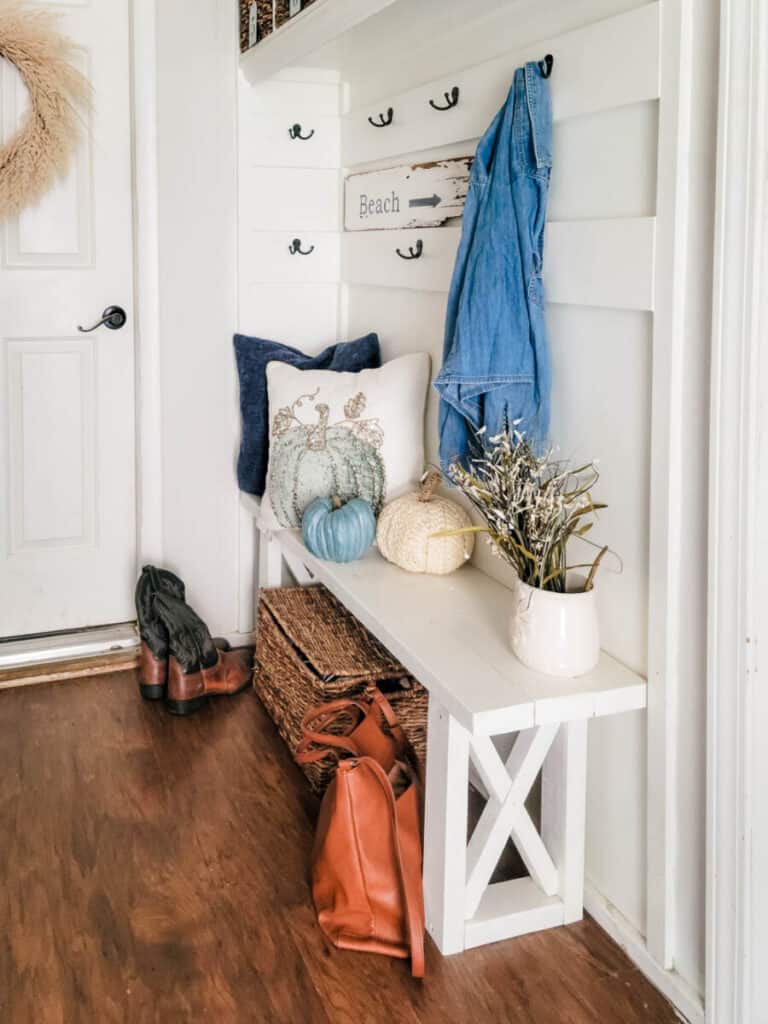 To add some fall style to it, I swapped out one of the pillows for this cute pumpkin pillow.
I can't find this one online here is a similar pumpkin pillow.
I also added a couple of little pumpkins and a small vase with faux fall greenery.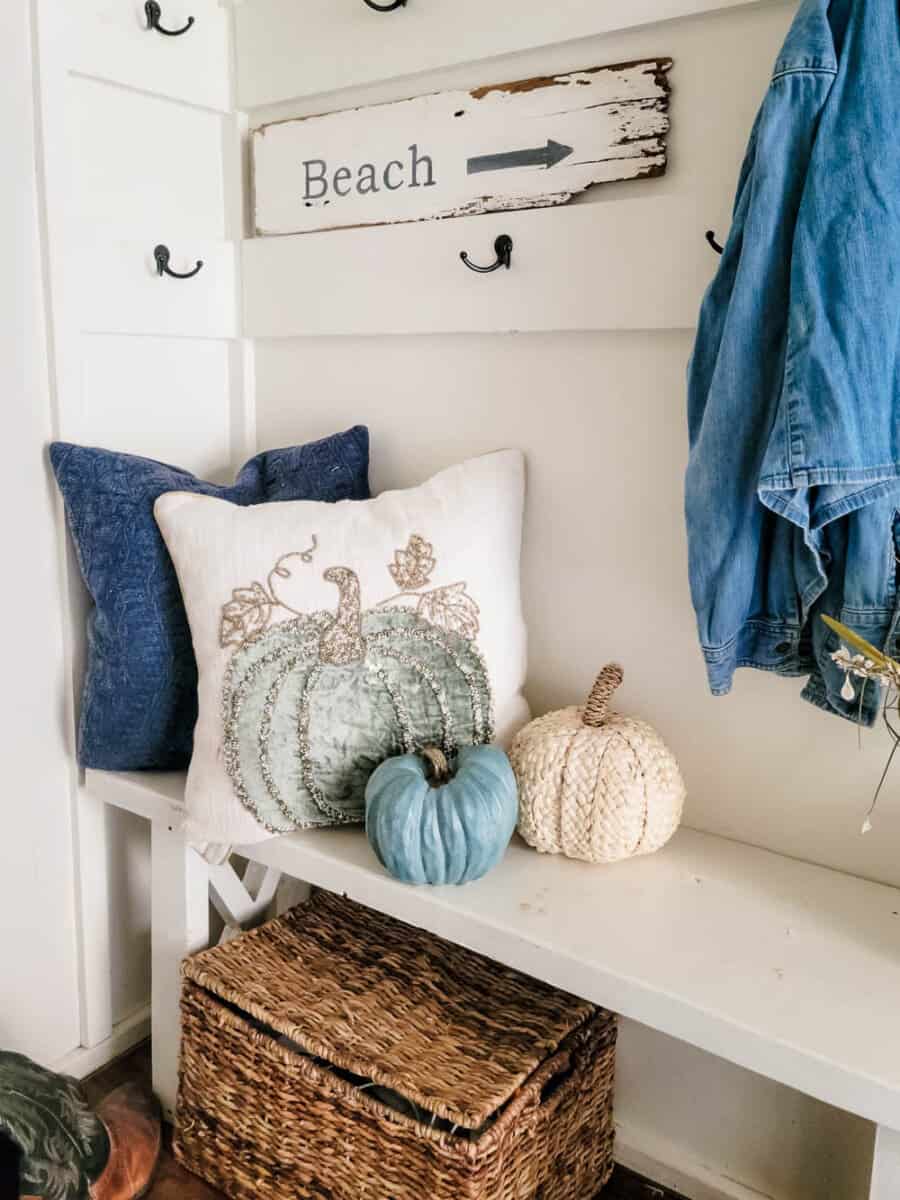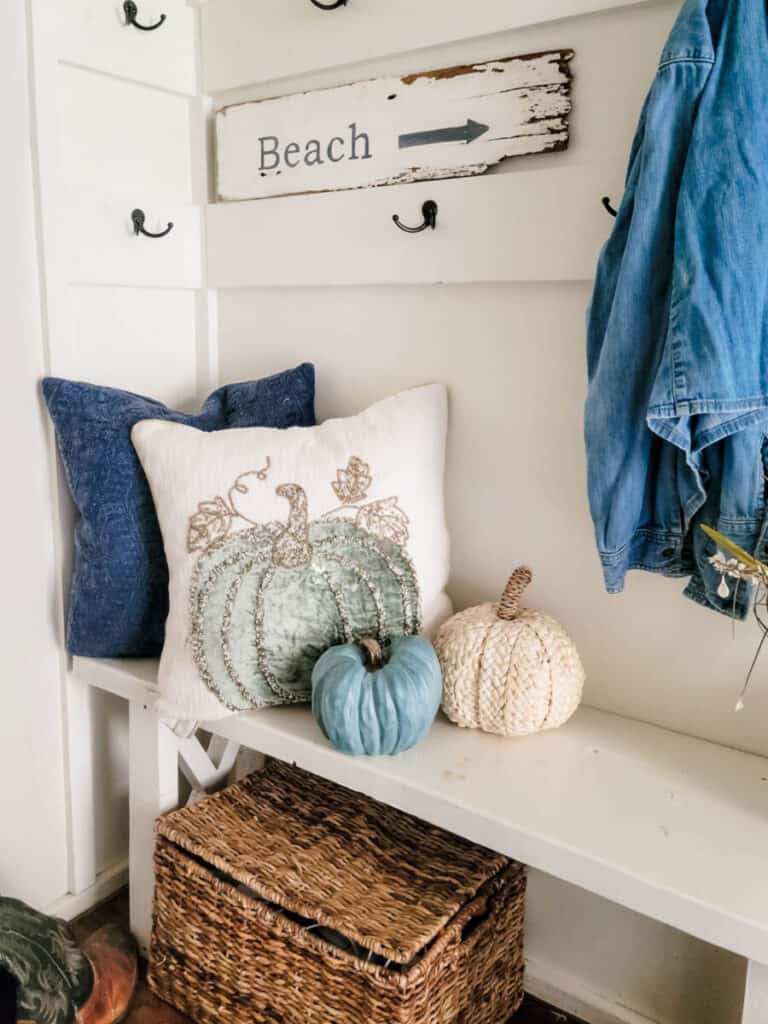 Under the mudroom bench is a large basket that holds our dog, Penny's things. I swear she has more accessories than the rest of us put together!
Mudroom Cubbies
Above the bench are our cubbies with baskets.
These baskets hold our sunblock and bug spray, winter hats and scarves, gardening gloves, and sunglasses.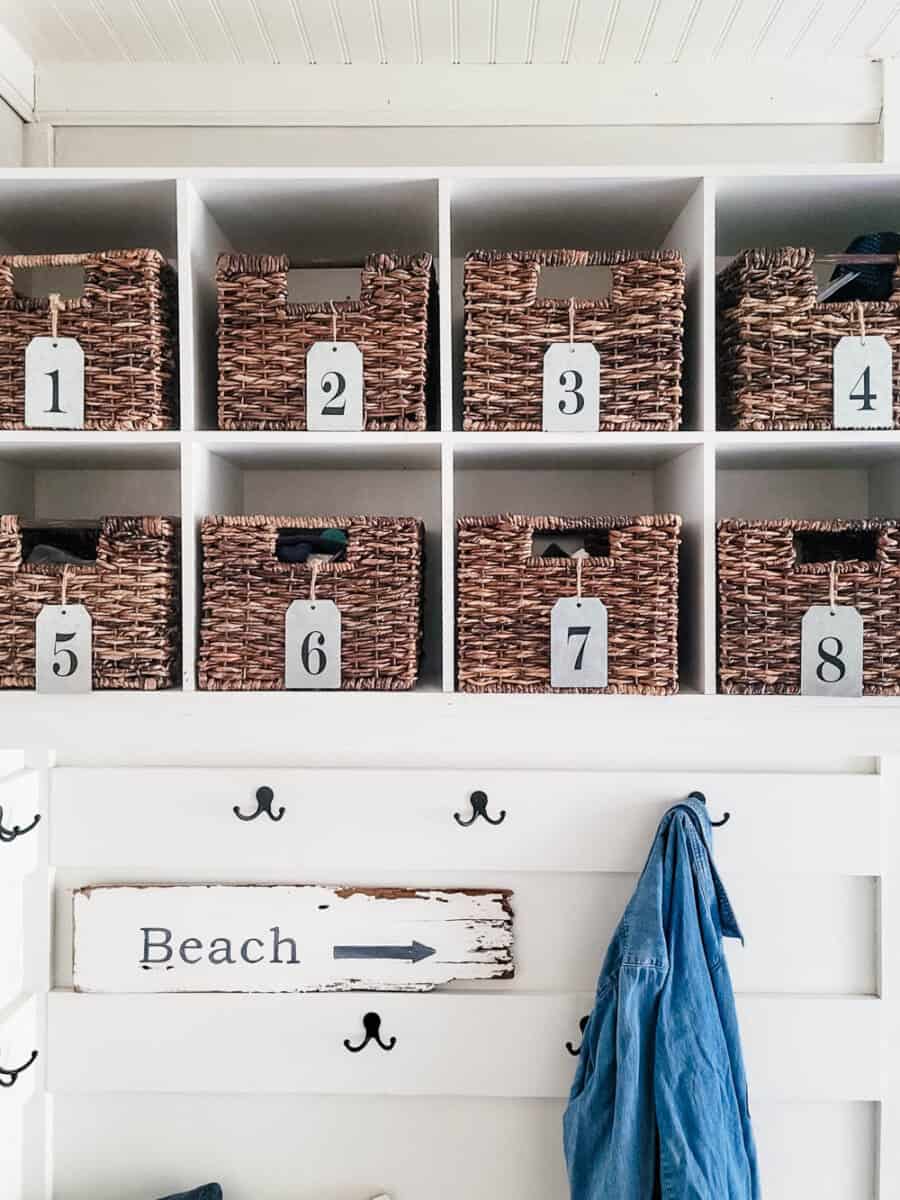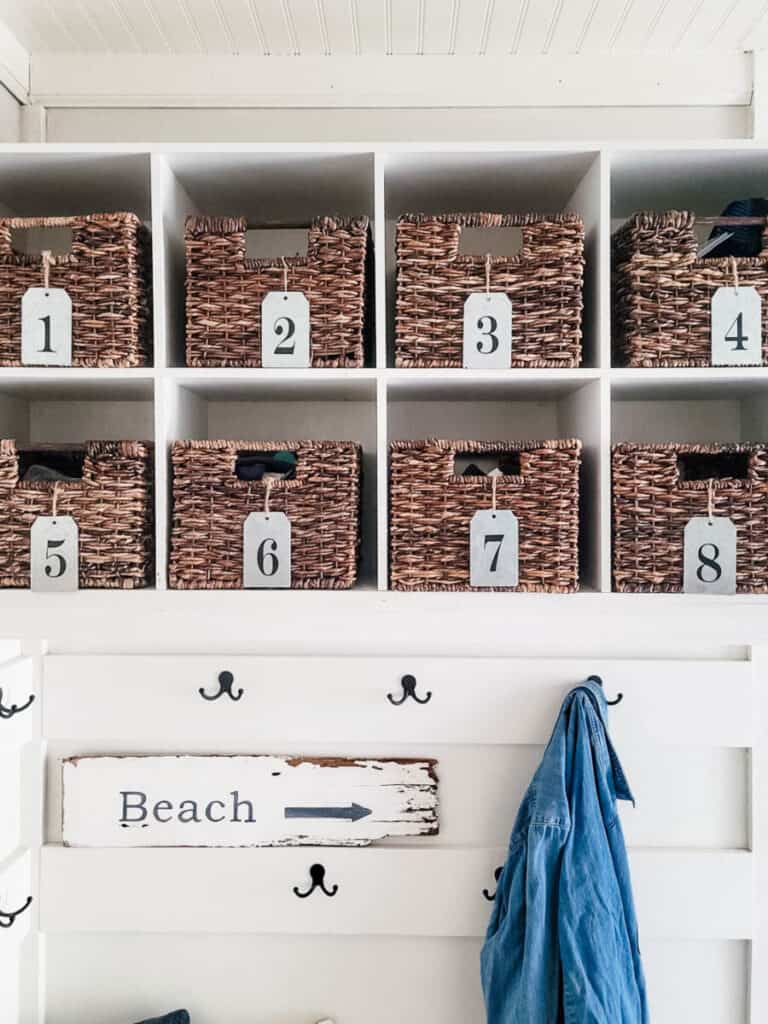 Family Command Center
When we had more kids living at home, we had a more elaborate command center.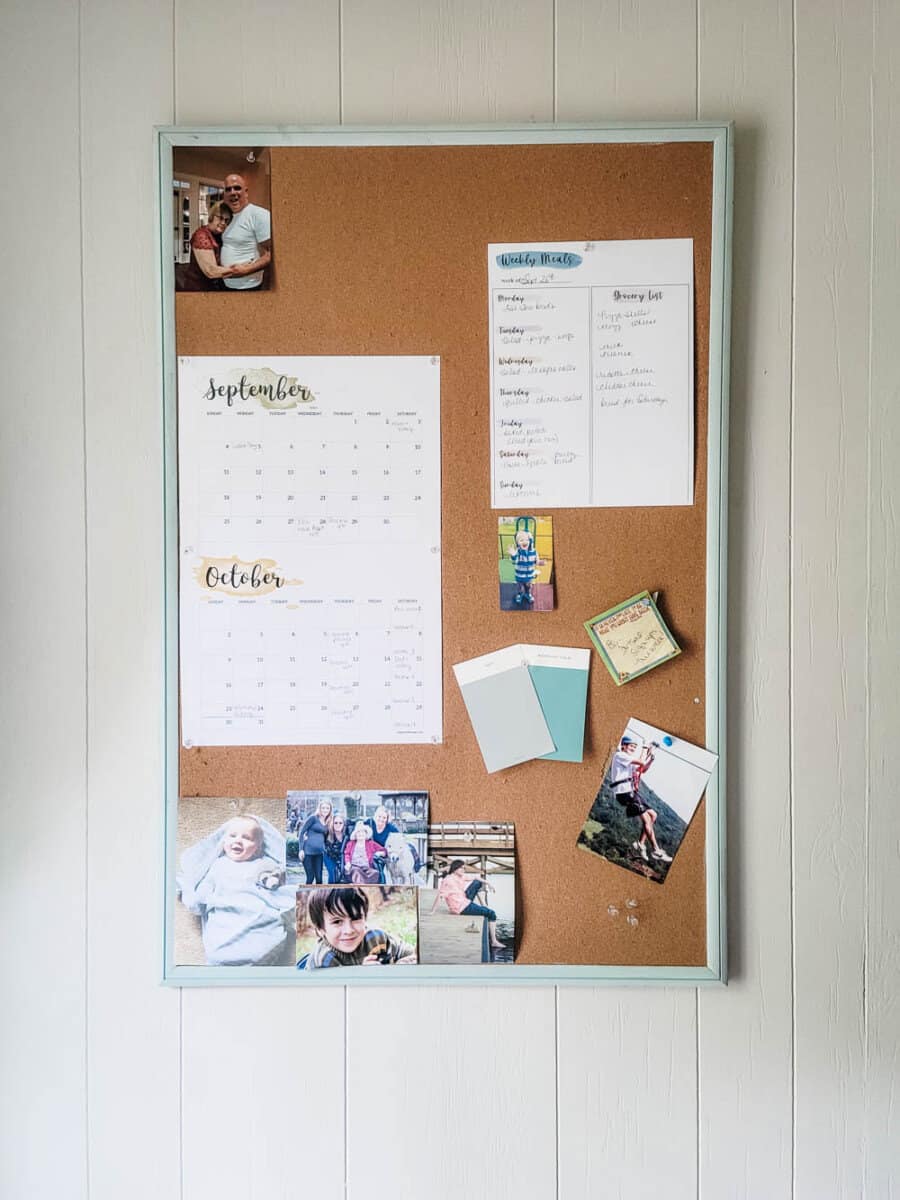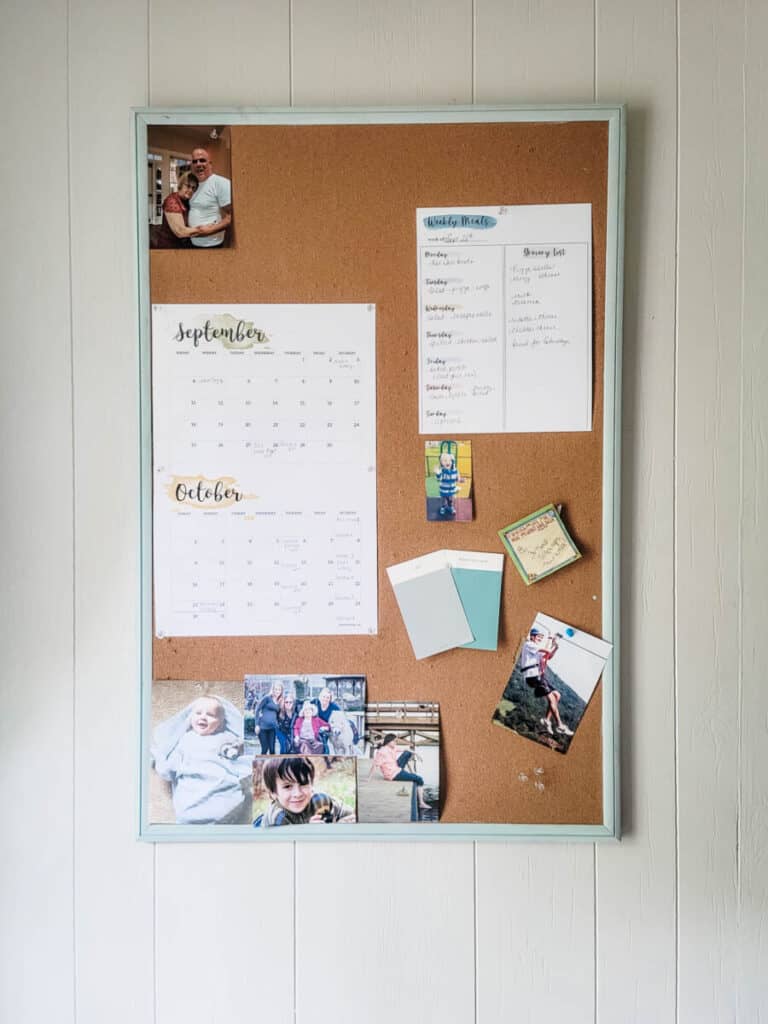 Now that it's just the three of us a simple bulletin board with a calendar, grocery list, and a few personal photos is all we need.
As much as I liked our previous command center, I love the simplicity of this.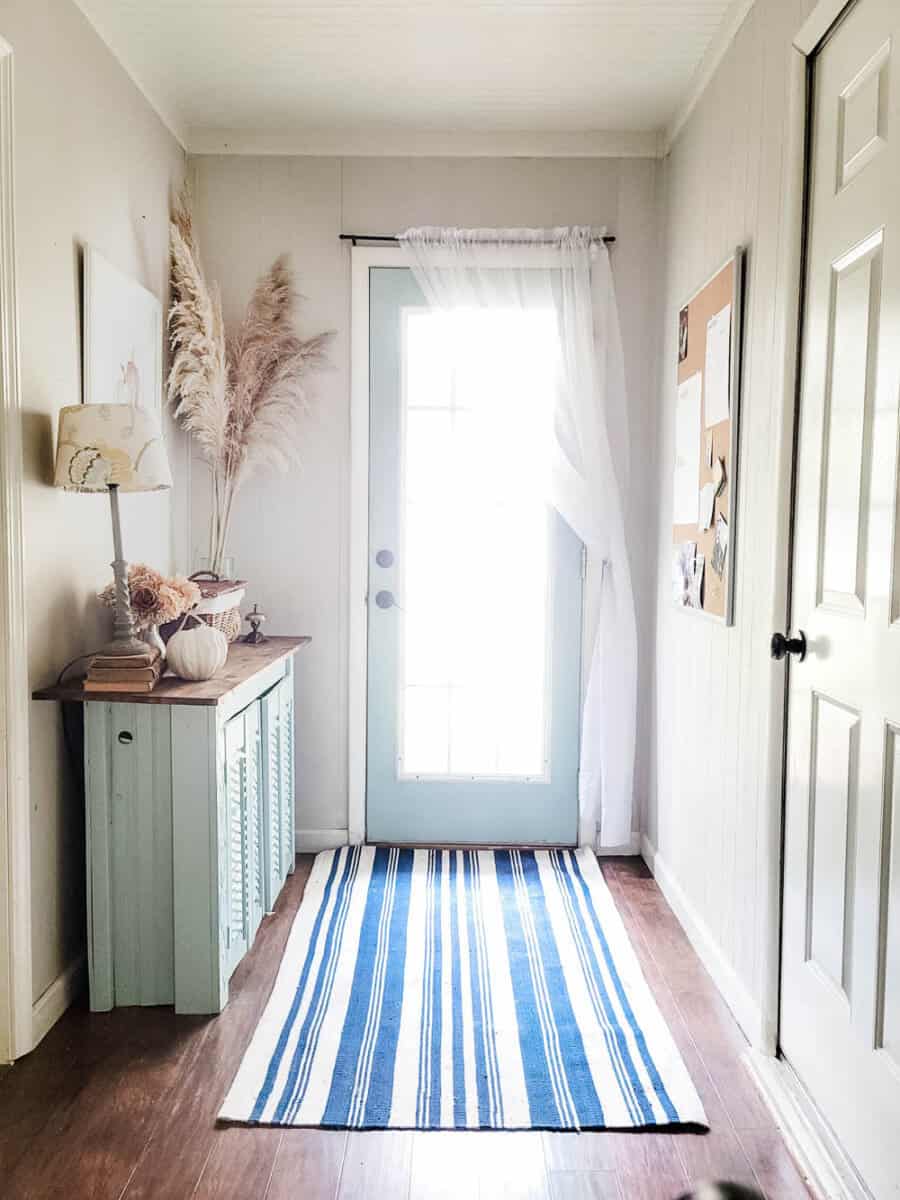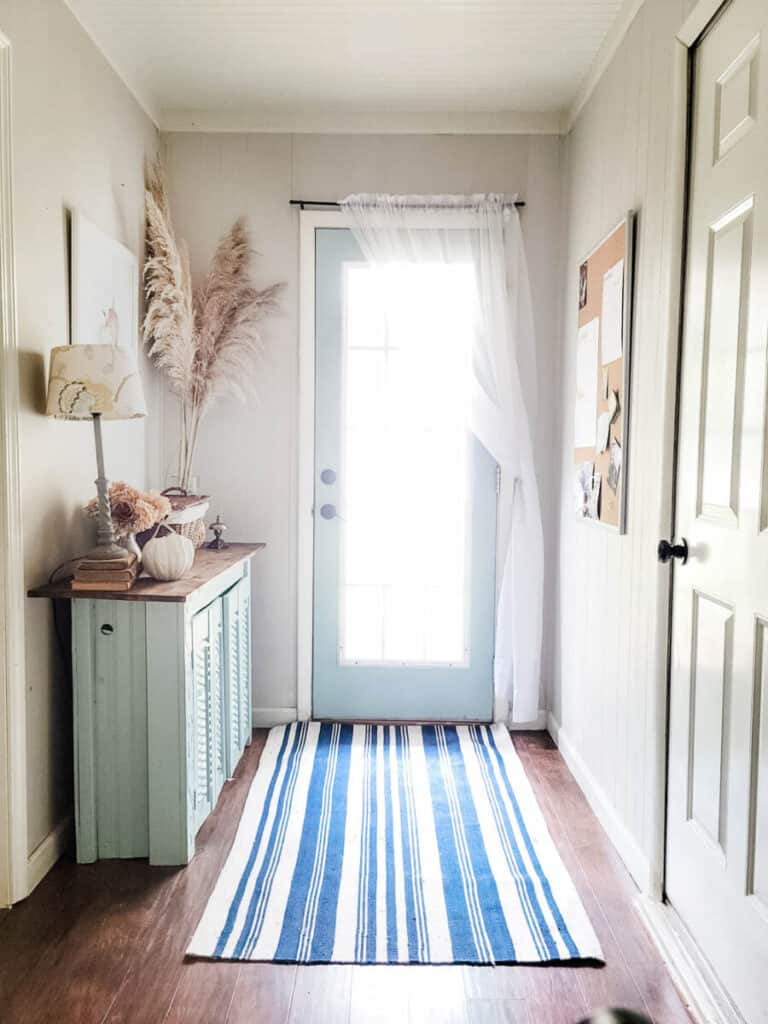 Photo Ledges
I haven't changed these ledges much since we installed them a few years ago which is kinda strange because I usually change things up often. I guess I just like these the way they are!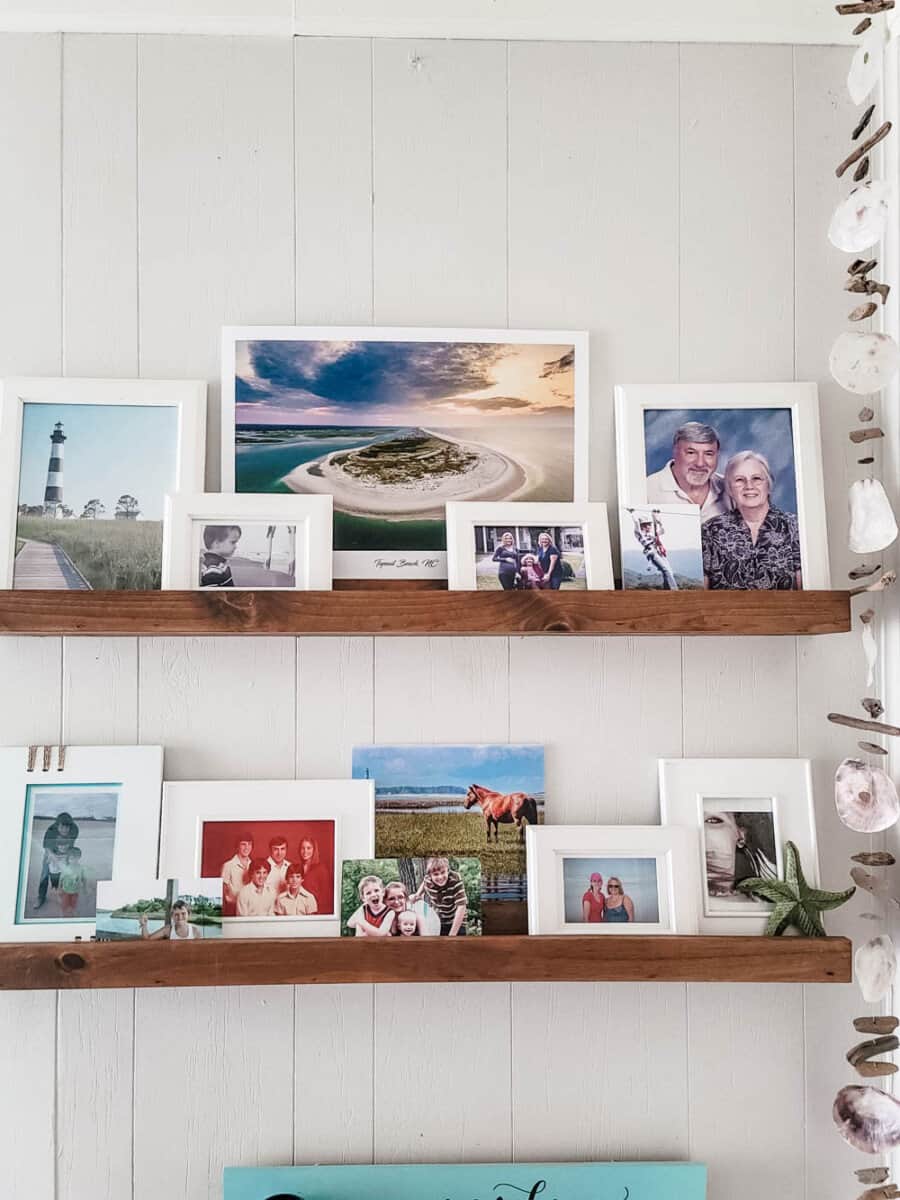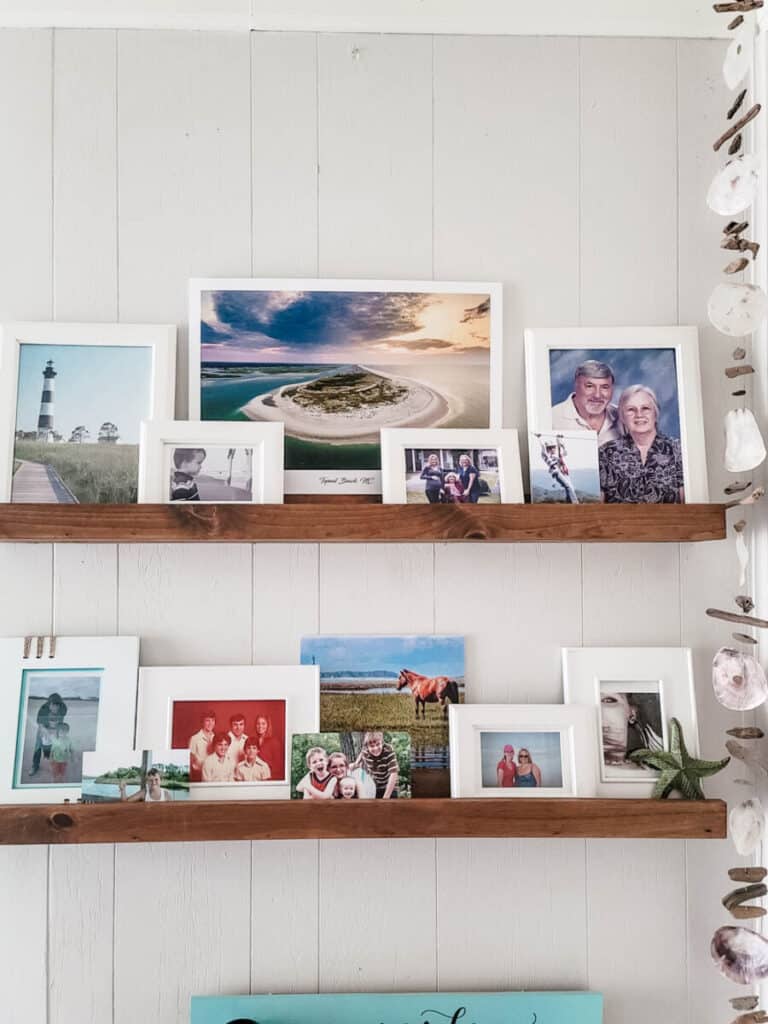 This is a perfect spot for family photos since we all walk by this area several times a day,
The photo ledges were easy to build. They're a fun way to display family photos and other small items.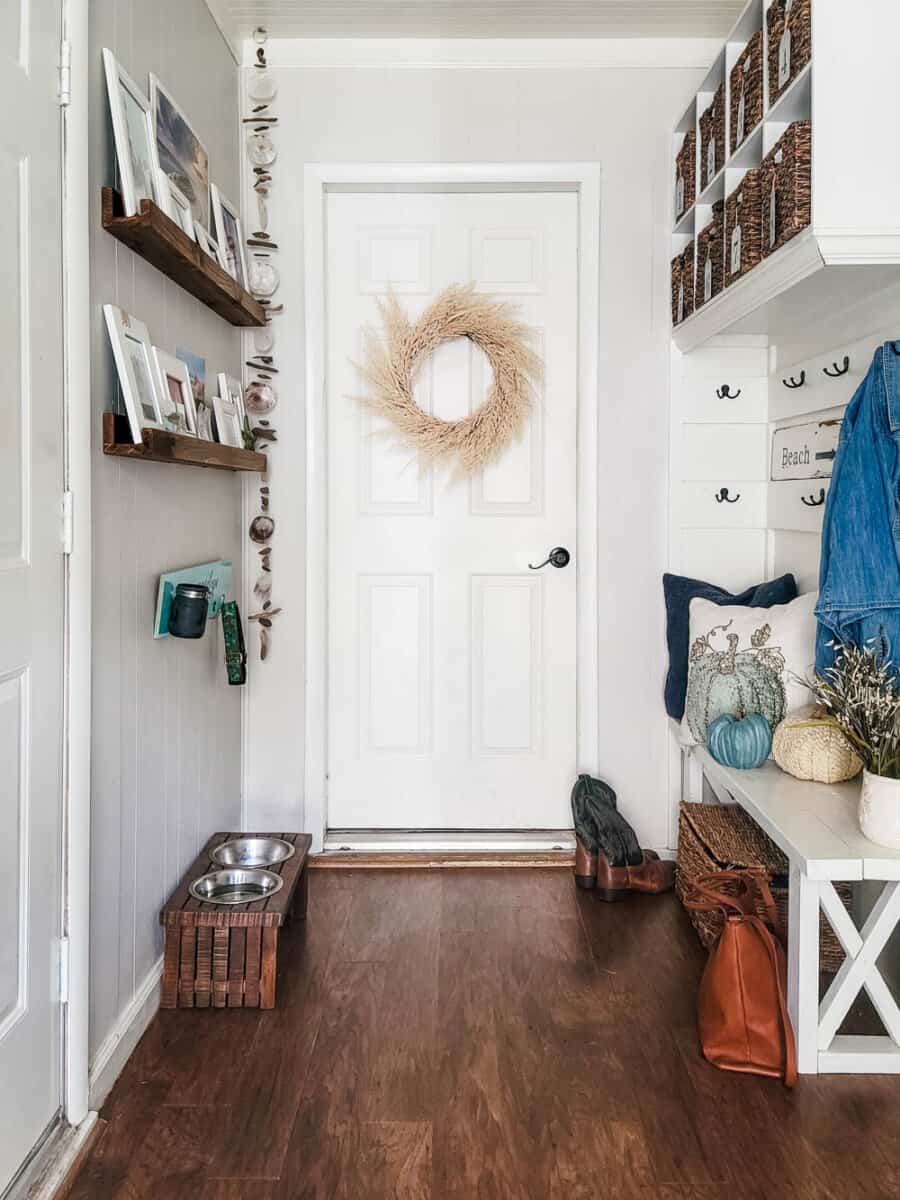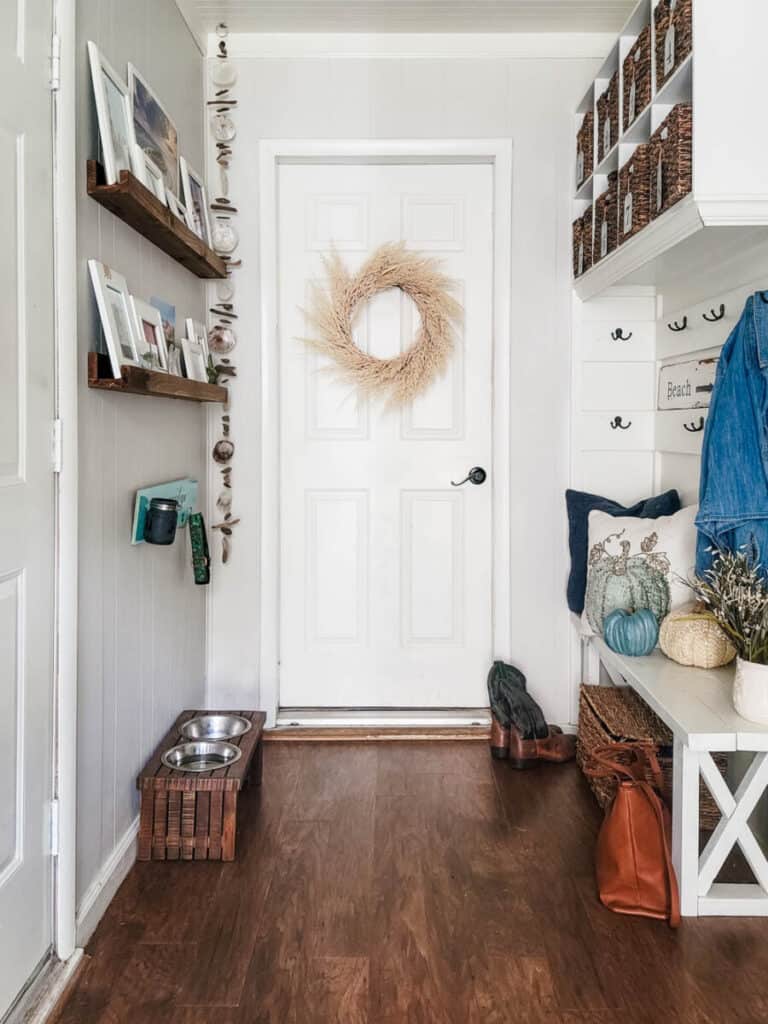 The faux wheat wreath on the door leading to our living/dining area is another thing that I am reusing.

I hope you enjoyed seeing how I decorated our mudroom entryway for fall.
I have to say, this reusing decor is actually fun and I am feeling pretty good about all the money I am saving while still being able to decorate the way I want to.
More Fall Inspiration
Next on the tour is Robyn's French Nest. Robyn's home always looks so beautiful and cozy. You're going to love her home tour!
Peek Into the Fall Homes of Seven Talented Bloggers
How to Decorate a Mudroom Entryway for Fall // Sand Dollar Lane
Cozy Fall Home Decor Tour 2022 // Robyn's French Nest
Simple Ideas For A Cozy Fall Family Room // Pasha is Home
Modern Neutral Fall Home Tour // This is Simplicite
Cozy Fall Home Tour with Vintage Farmhouse Style // Lora Bloomquist
My Home – Decorated for the Season of Autumn // Living Large in a Small House
A Casual Fall Outdoor Gathering // Cali Girl in a Southern World