After much wish-washing and mind-changing, our coastal bathroom remodel is finished! With coastal colors, a mix of textures, and a sea glass chandelier, our beach theme bathroom is everything we hoped it would be!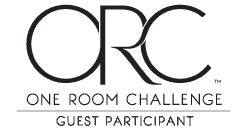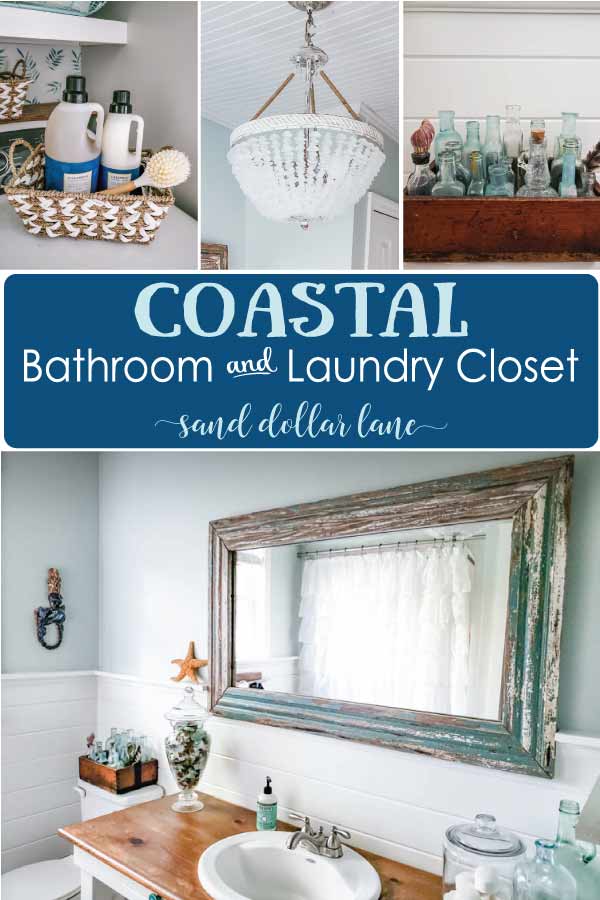 Friends, I have to tell you, this bathroom reveal was so close to not happening! We had several kinks along the way, including broken pipes in the laundry area!
A huge thanks to Linda from the One Room Challenge and her team. So much work goes into hosting this!  Did you see the designers' reveals?  They are amazing, be sure to check them all out here.
Beach Theme Bathroom Inspiration
This is where it all started. You'll see below that plans changed along the way (as always!).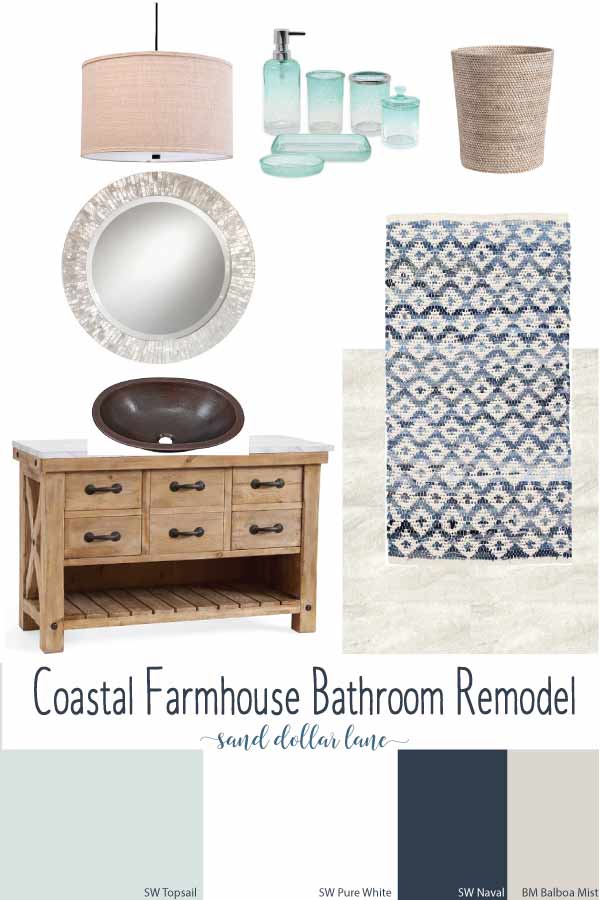 Source List
(click link for more details)
Pendant Light– 3-Light Bronze Finish Fabric Shade Pendant
Accessory Set– Capri Bubble Glass Bath Ensemble Collection in Aqua
Waste Basket– Tava Wastebasket – Whitewash
Mirror– Miranda Capiz Round Mirror
Copper Sink– Sinkology Copper Bathroom Sink
Vanity– Benchwright Sink Vanity
Rug– Denim Rag Diamond Ivory Woven Cotton Rug
Floor Tile– Aversa Frost 12-in x 12-in Ceramic Floor Tile
Coastal Style Bathroom- the results!
paint colors

handmade mirror

vanity and accessories

chandelier
Beach Theme Bathroom Paint Color
Since there isn't anything separating the laundry closet from the bathroom (we removed the ugly accordion doors a long time ago) it was important they they compliment each other. For the walls in the bathroom, we went with Sherwin William's Sea Salt. We really wanted to go with the color Topsail because we live near Topsail Island but it was too close to the hallway color. I love how Sea Salt looks a little greyer sometimes, more green other times and even aqua at other times.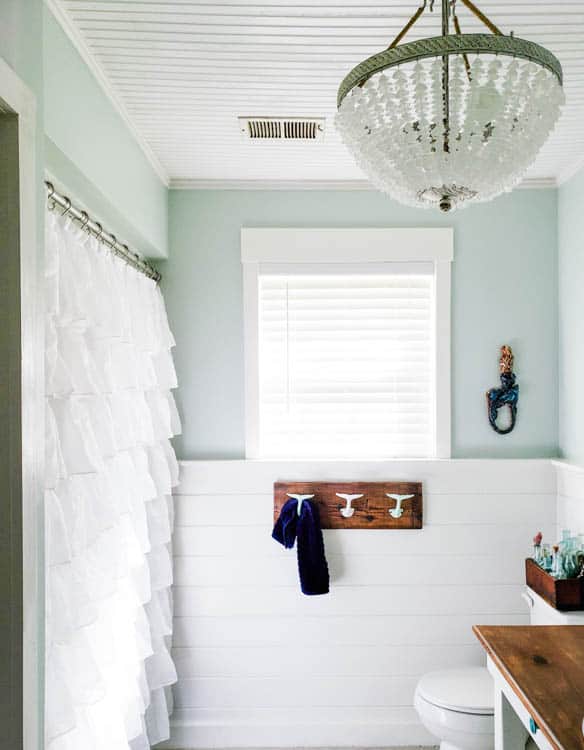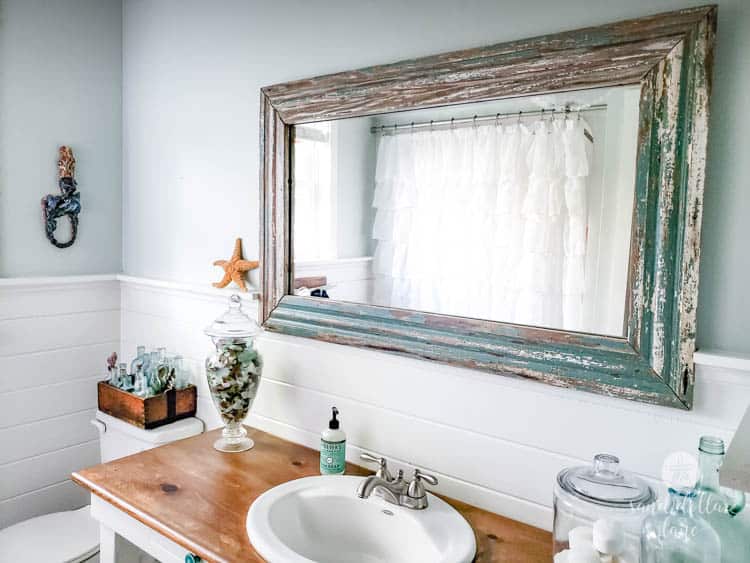 Coastal Mirror from Salvaged Boards
You all, can we talk about that mirror!?! I think it's the most perfectly chippy coastal mirror ever. We made it using the glass from the mirror that we already had and two salvaged boards from Legacy Salvage in Wilmington.
I coated the boards with Miss Mustard Seed's Tough Coat then we mitered the boards (we had only one inch to spare, good thing that JC is great with measuring, math and mitering!). We clamped it all together and added the mirror to the back. Easy peasy.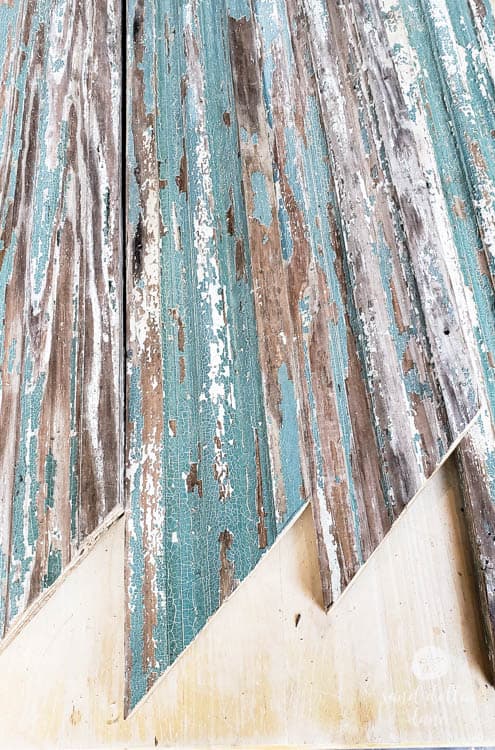 Bathroom Vanity & Accessories
On my moodboard I showed you the new vanity and sink I had planned on putting in here. 
We got all sentimental about the existing vanity and decided to give it a refresh instead.
This was the first piece of furniture we bought when we moved to NC 14 years ago.
It didn't really fit in our dining area so we made it into the bathroom vanity.
We repainted the legs and apron, sanded (and sanded and sanded….) and restained the top.  Then I applied three coats of Miss Mustard Seed's Tough Coat on the top.
It looks so much better and less orange now.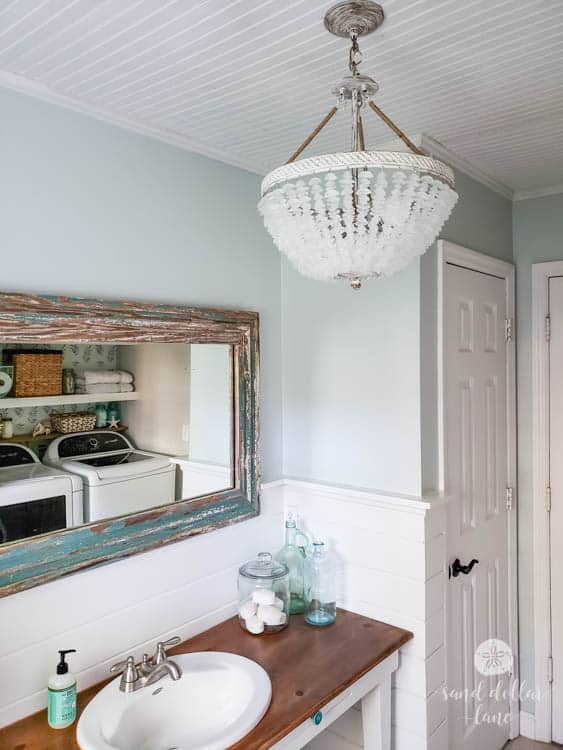 Bathroom Vanity & Accessories
I like the shelf in here almost empty, it keeps the room looking clean and uncluttered.
My vintage medicine bottles used to line the shelf but I moved some of them into an old toolbox that has moved to just about every room in our house.
They look so great all clustered together.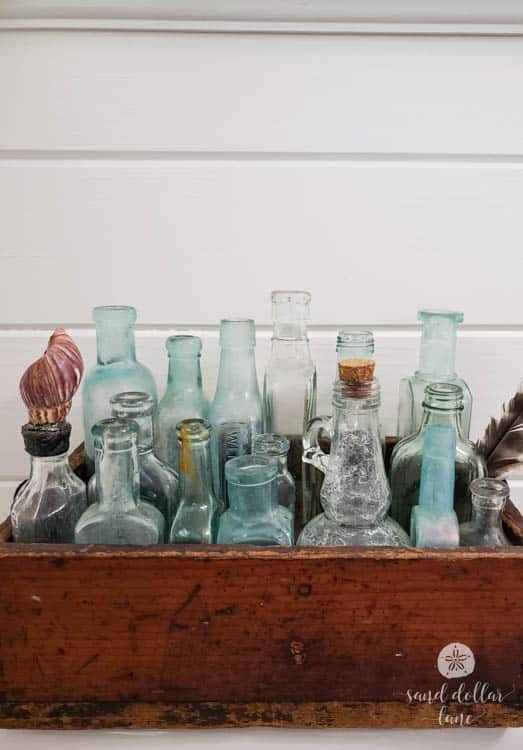 I brought a couple of my glass demijohns in from the kitchen.
These usually have branches in them but I am liking them empty in here for now.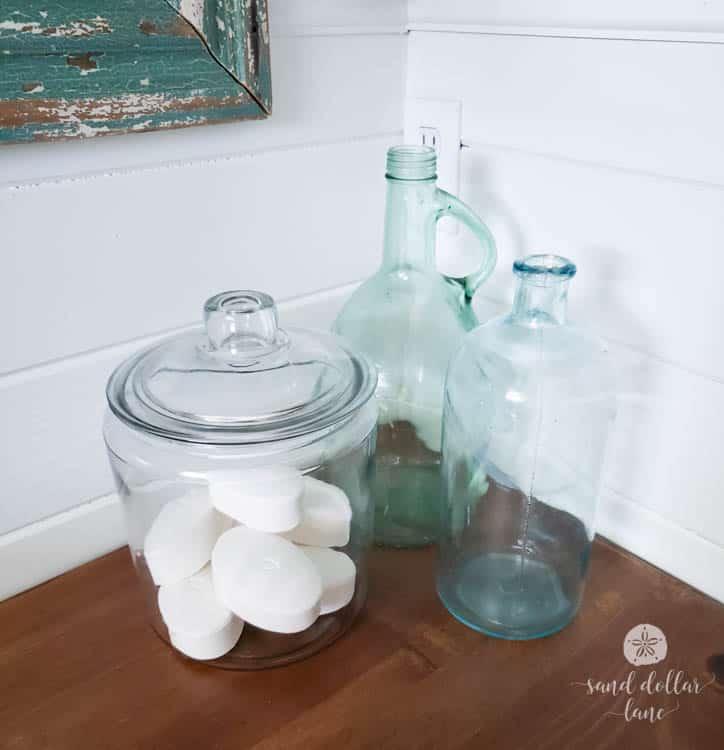 Our sea glass collection is another piece that moves from room to room. 
You can see it in our mudroom here and our living room here and of course, our sea glass inspired bathroom remodel post here.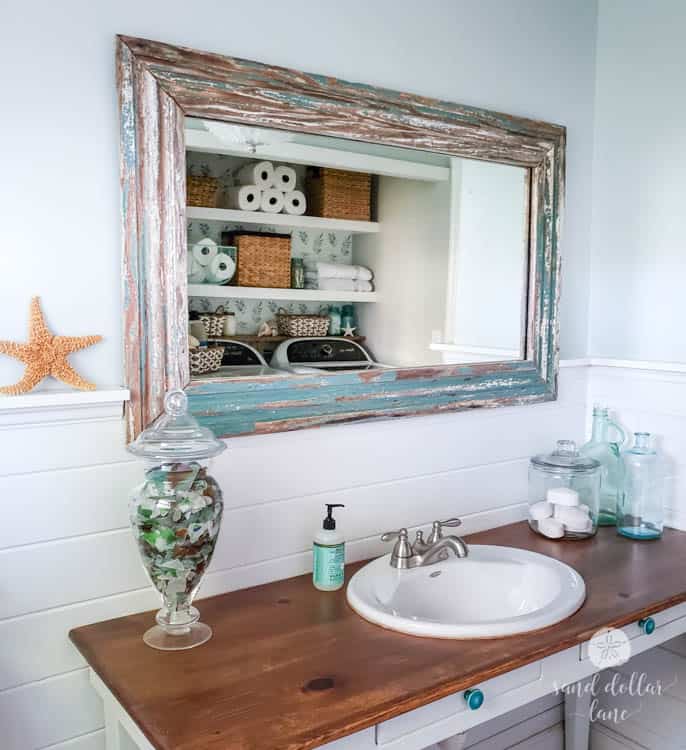 This whale tail hook board was a Christmas present from my sweet friend Brittany (Pretty Handy Girl).
She knows me so well!
It's extra special because the board she used is a piece she salvaged from a house she saved and rehabbed. 
You can see the entire transformation here.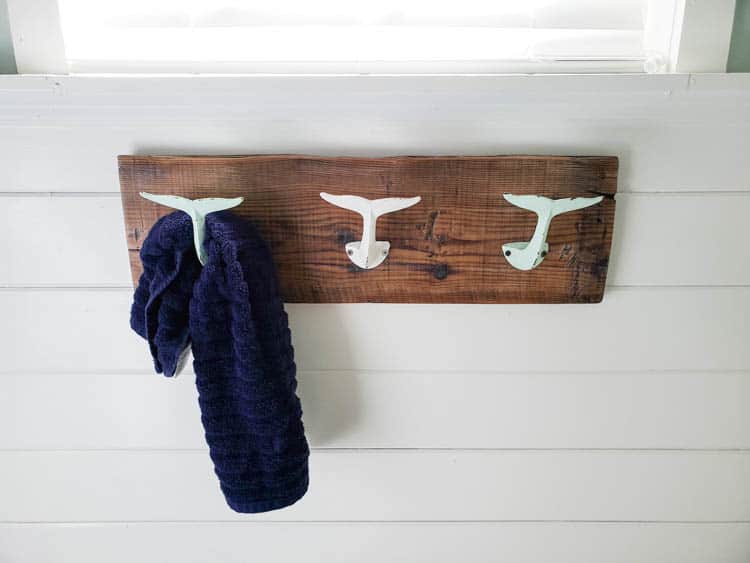 Coastal Chandelier
Is it possible to be in love with a light fixture?  (asking for a friend!)
This sea glass chandelier (similar, ours is no longer available)is the perfect finishing touch to our bathroom. 
I love the jute and the sea glass and the rustic paint finish.  If you are crushing on it like I am, you can find it at Lowes.com here.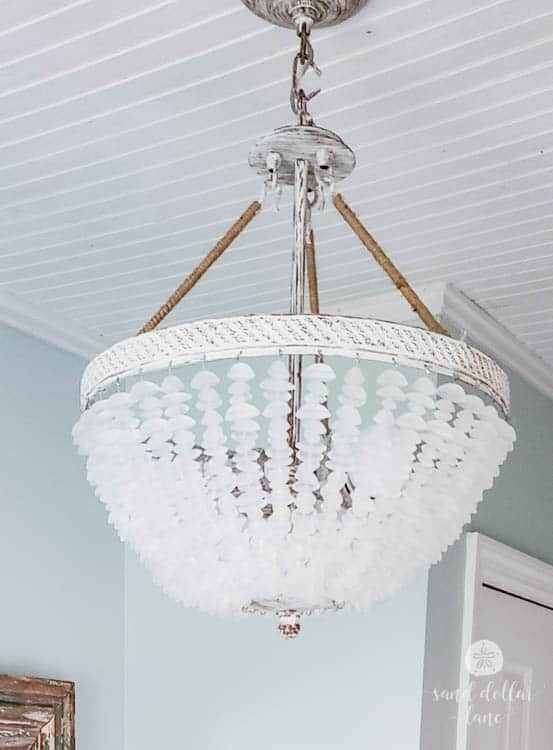 I hope we inspired you with our beach-theme bathroom makeover!  Be sure to check out the other One Room Challenge participants for more inspiration!