Elegant and classy, our rose gold Christmas tree is a pretty addition to our front porch Christmas decorations.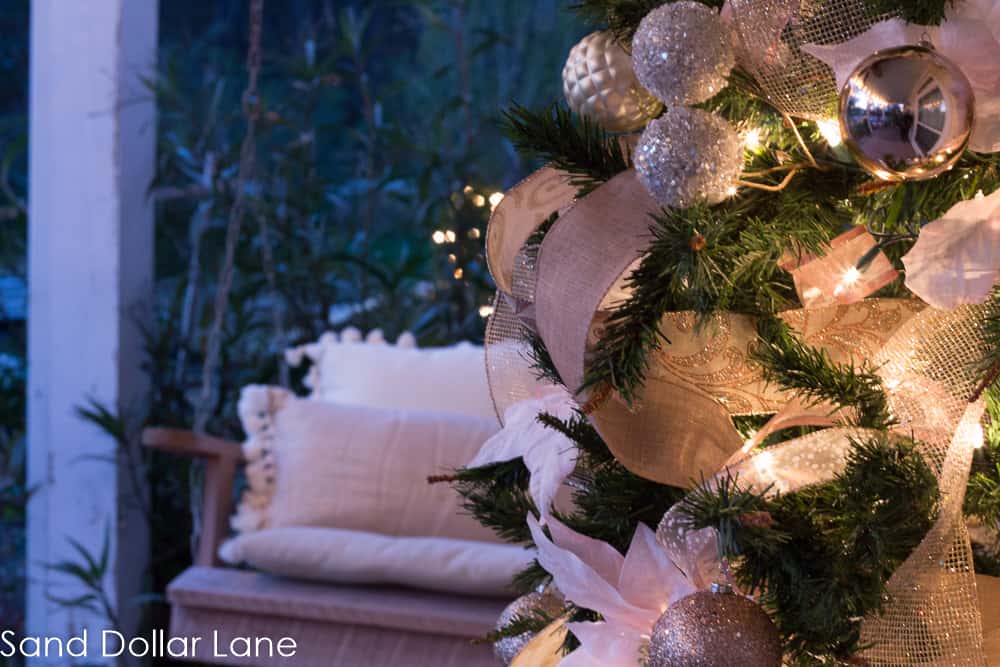 Every year since we built our front porch I have decorated a full size Christmas tree for it.  I love sitting out there with the lights all twinkly and pretty.  This year's rose gold Christmas tree is my favorite so far!  All the metallic colors and gorgeous ribbon make me so happy!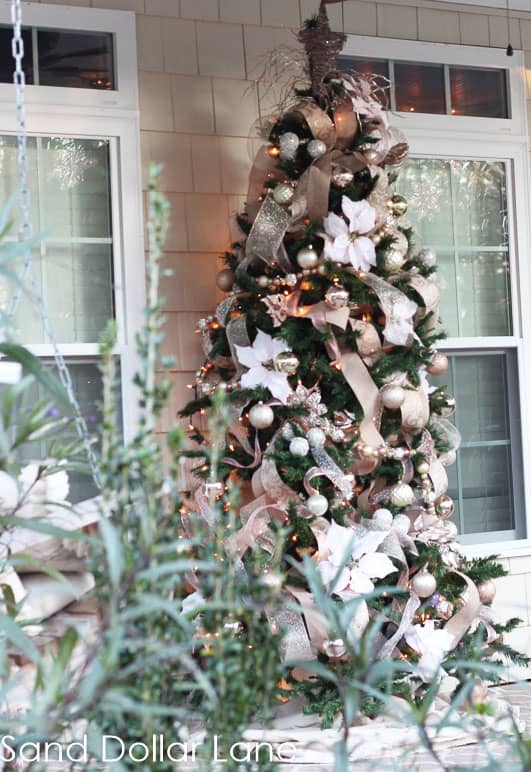 This week we're joining a group of 20 amazing home bloggers to bring you some amazing Christmas inspiration!  All week we've been sharing Christmas mantels, tablescapes, DIY gift ideas, Christmas trees and Christmas recipes!  Be sure to check out all the other posts at the bottom of this post.  A huge thank you to Angie from Postcards from the Ridge for coordinating this fun group!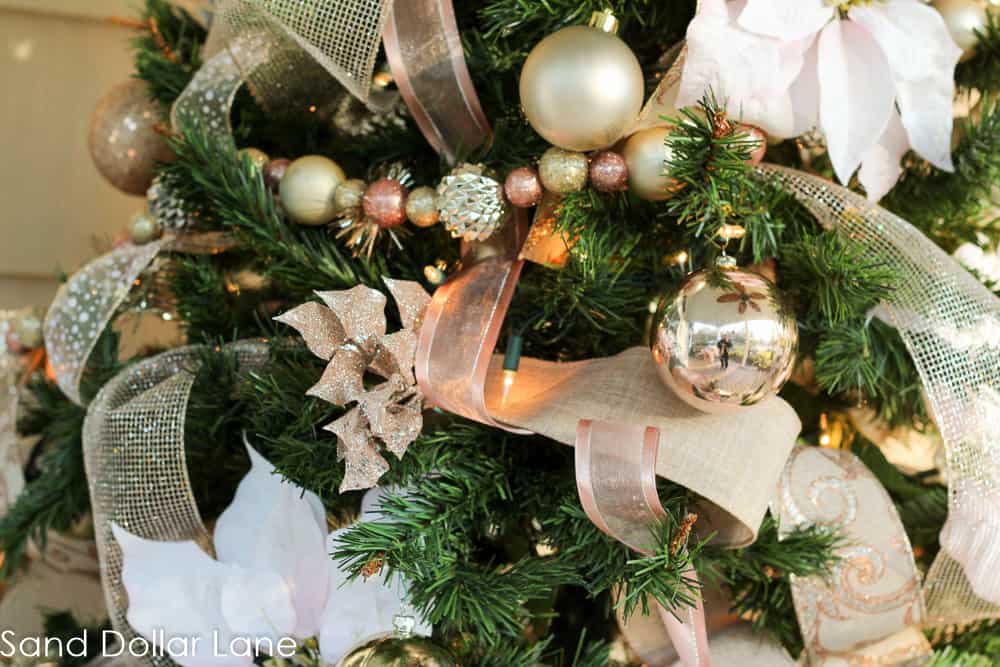 For your convenience, this post contains affiliate links. See my full disclosure page here
All the ribbon, garland, flowers, ornaments and fillers are from Michaels.  Gotta love one stop shopping!  I used the same ribbon and ornaments on our evergreen planters at the beginning of the path to our doors.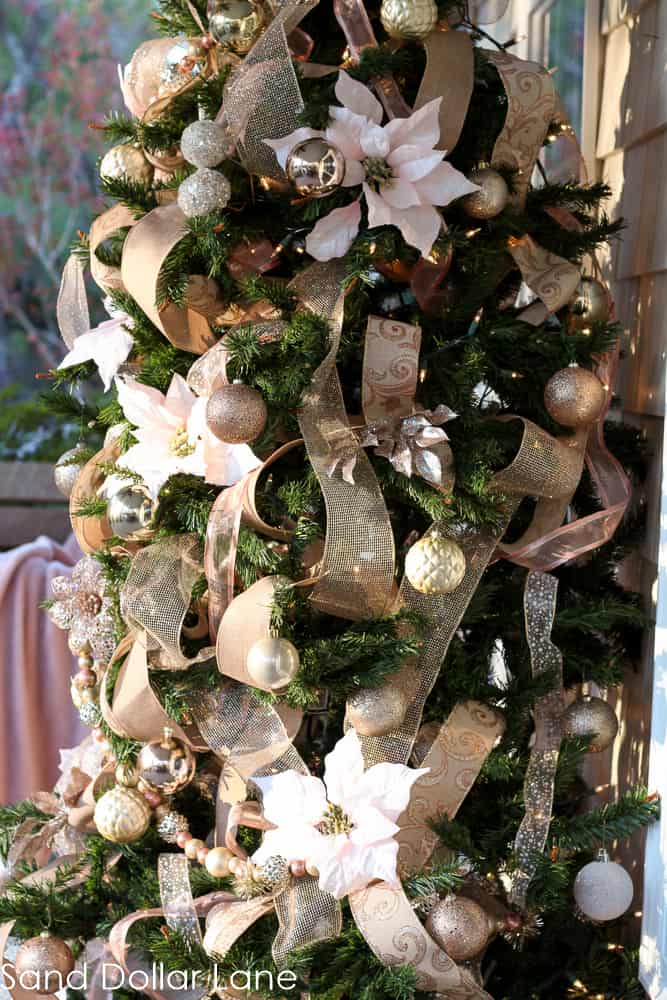 The pink poinsettia flowers break up the neutral colors and give our rose gold tree a subtle pop of color.  It's less expensive to buy them in a bush (faux) than in single stems.  It's super easy to use wire cutters to make them into single stems.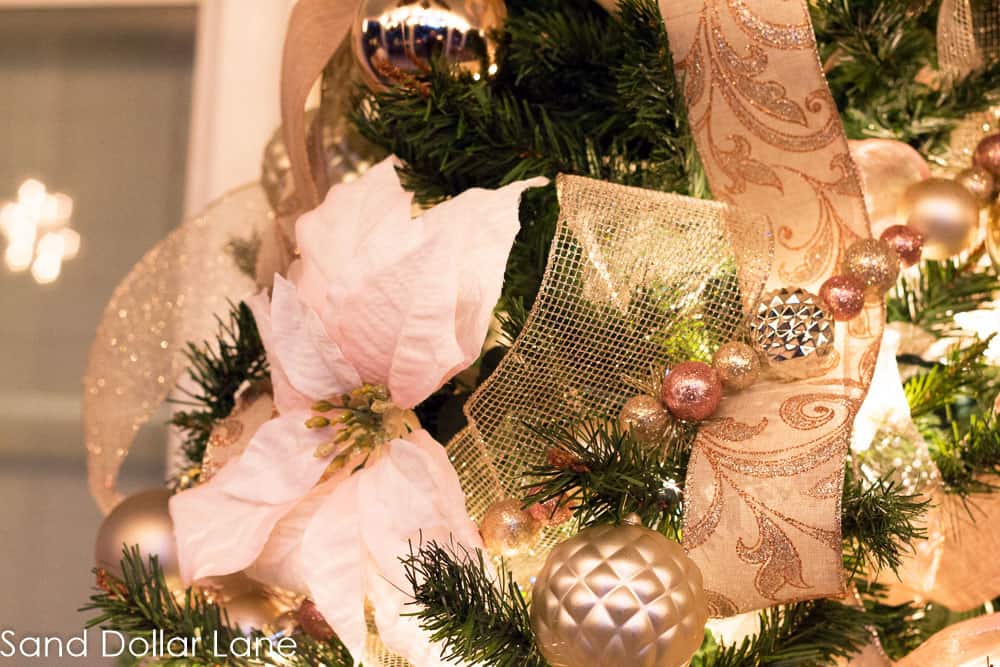 I can't wait to show you the rest of our rose gold Christmas decorations on the front porch next week but in the meantime, it's time to see all the Christmas ideas from these talented home bloggers. Here's the tour lineup for the week. Be sure to visit everyone for wonderful Christmas ideas for the whole house. The links for each topic are below the images.
Monday – Christmas Mantel Ideas
Tuesday – Christmas Tablescape Ideas
Wednesday – Christmas DIY/Craft Project Ideas
Thursday – Christmas Tree Ideas
Friday – Christmas Recipes