Neutral fall colors, natural elements, and watercolor art are just a few of the elements I used in my fall kitchen decorating this year. Take a look at how I used decorative pieces I already owned along with everyday items to decorate my open shelving, countertop, and kitchen island for fall.
This post contains affiliate links. As an Amazon Associate, I receive a small commission at no cost to you! Read my full disclosure policy here.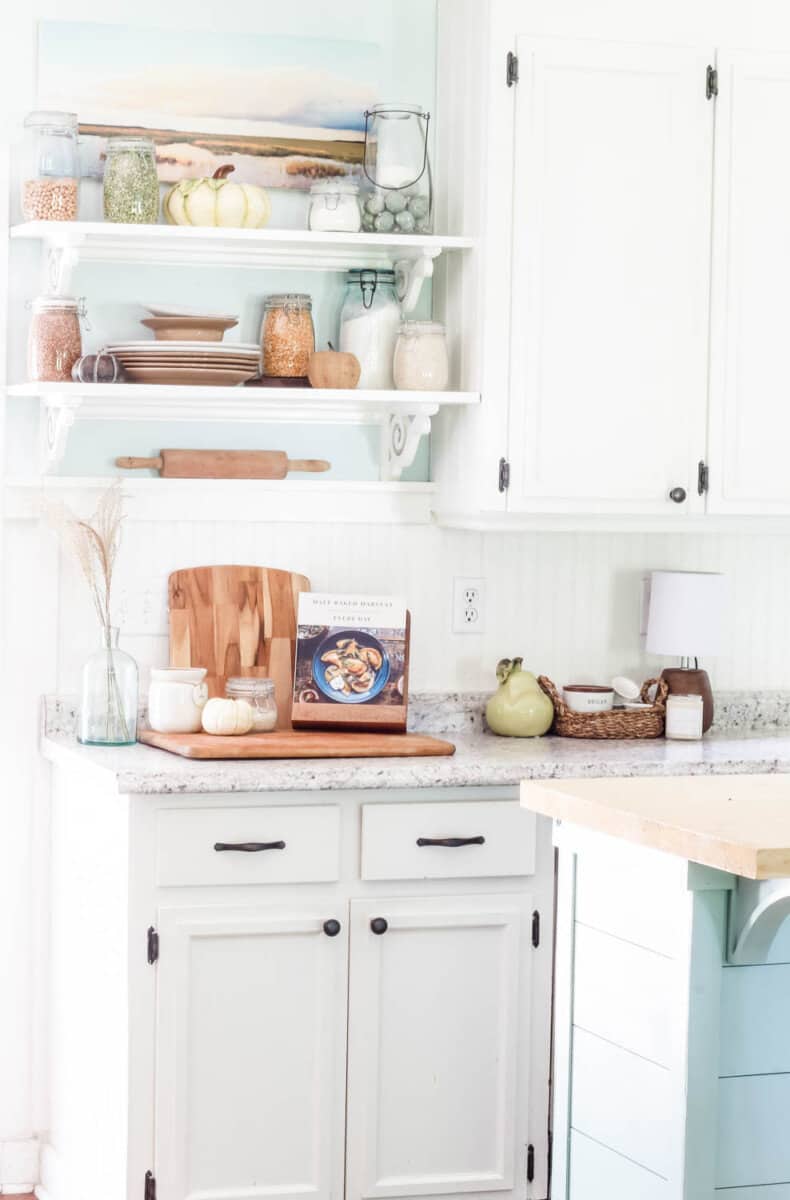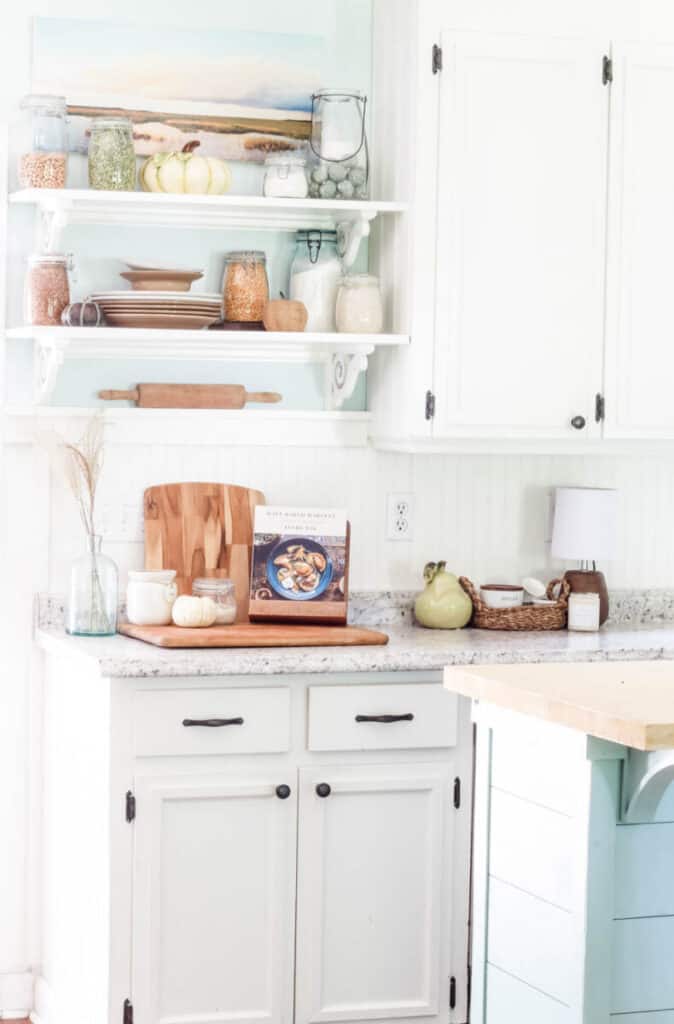 Celebrate Fall Home Tours
In addition to sharing my fall kitchen decor today, I am also hosting The Celebrate Fall Home Tours with 23 of my blogging friends all sharing spaces in their homes decorated for autumn.
Every day this week you'll find so much fall decorating inspiration for outdoor spaces, dining rooms, entryways and so much more!
If you are here from Southern Crush at Home, welcome! I love the way Melanie decorated her dining room table!
Be sure to visit all the participating blogs at the bottom of this post.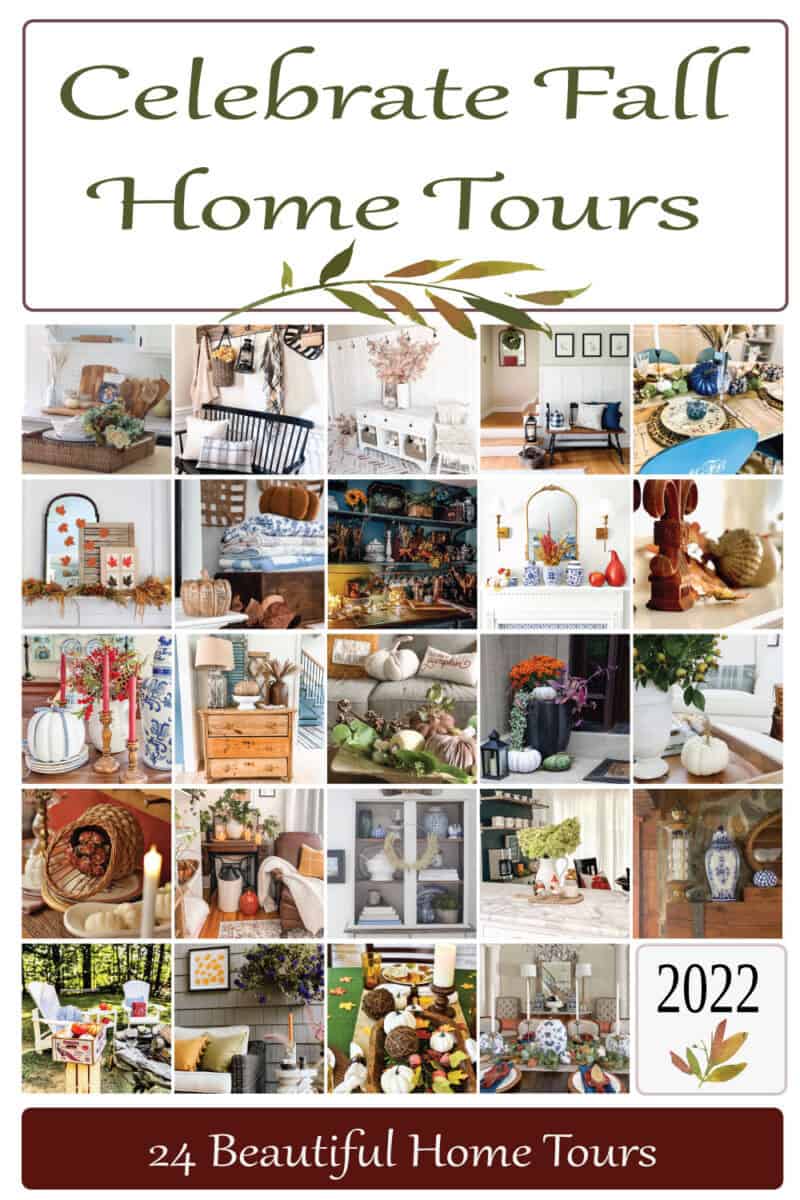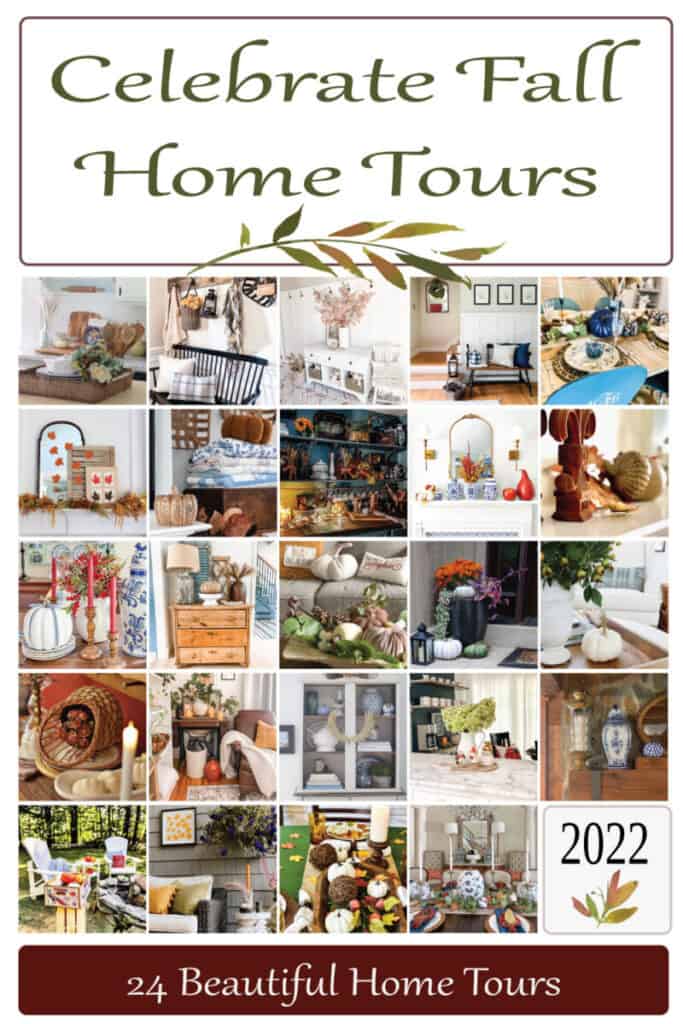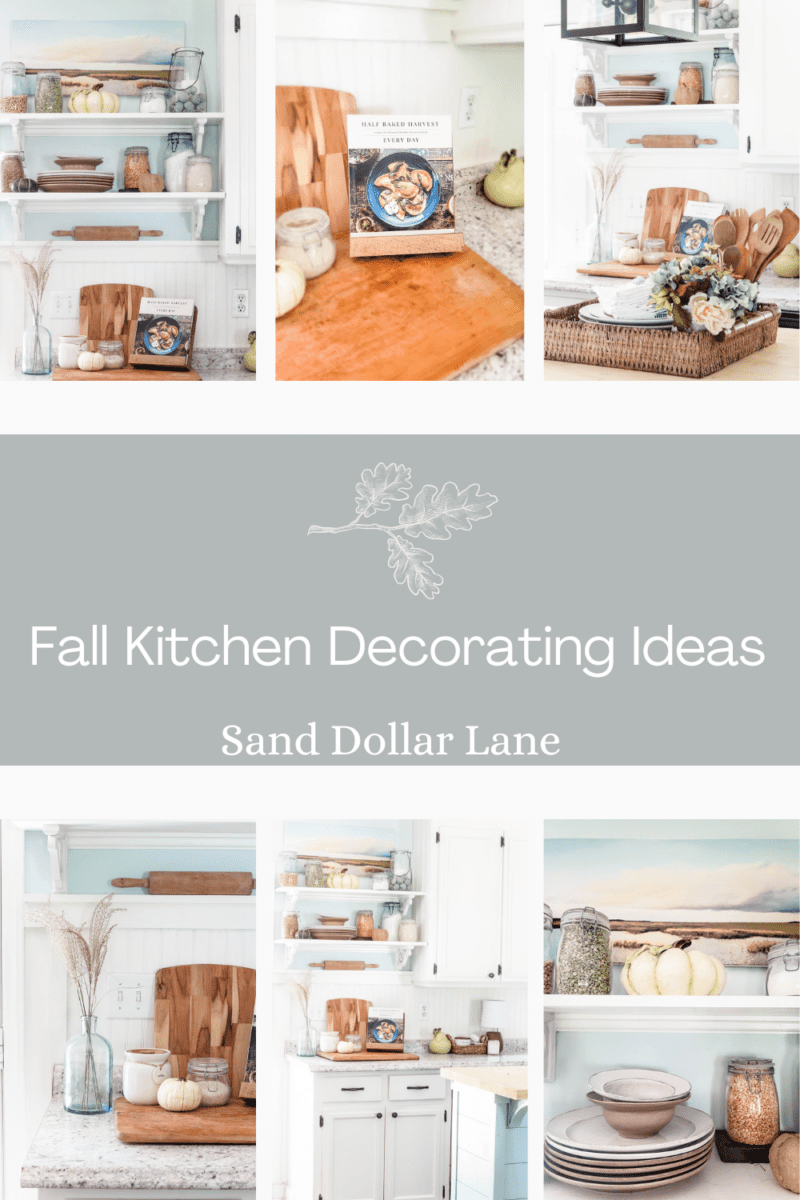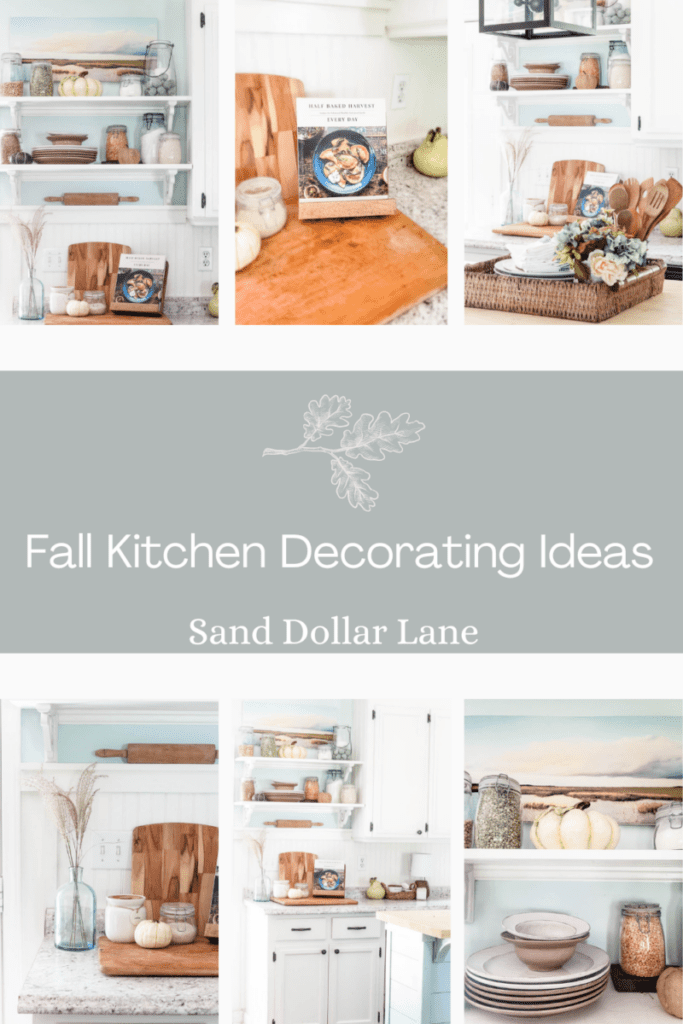 Fall Kitchen Artwork
A colorful piece of artwork is a great place to start decorating. You can build the rest of the area around it.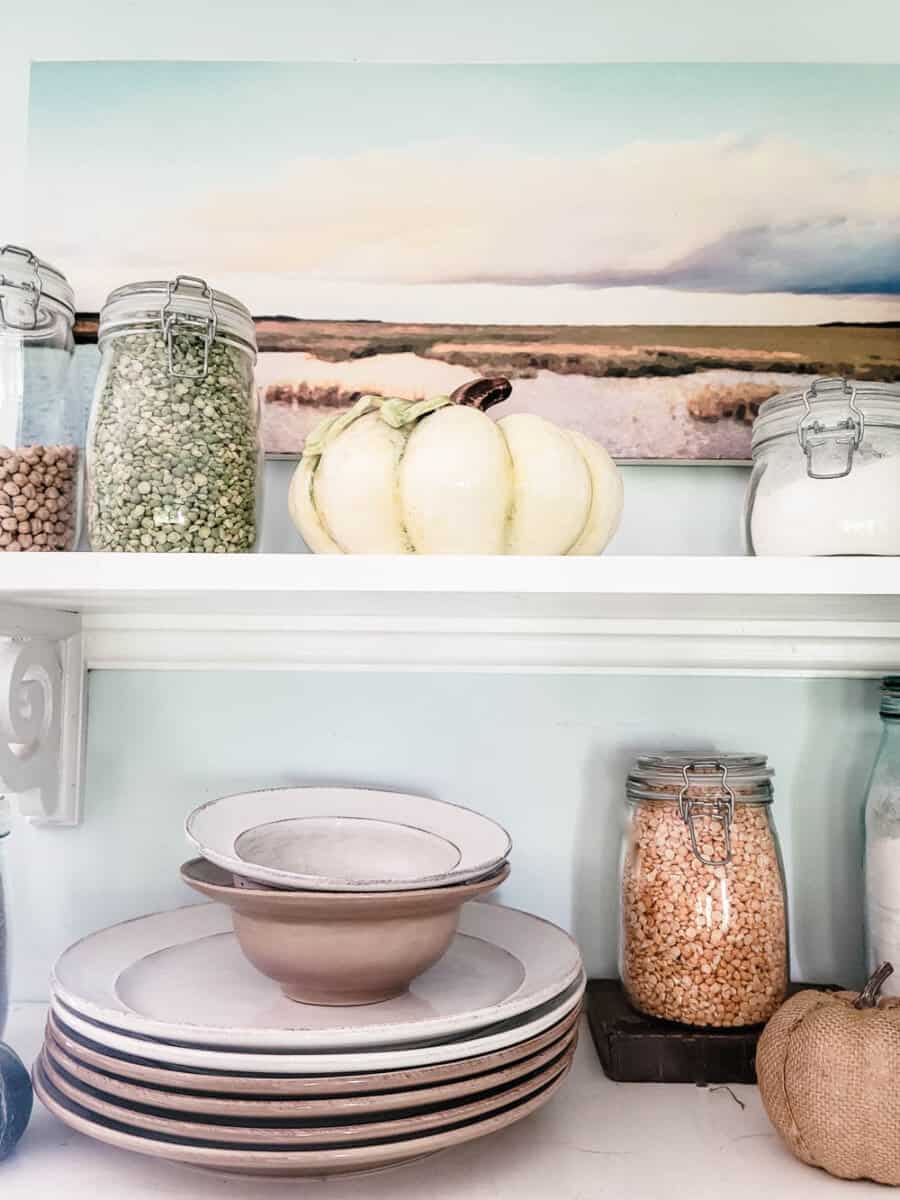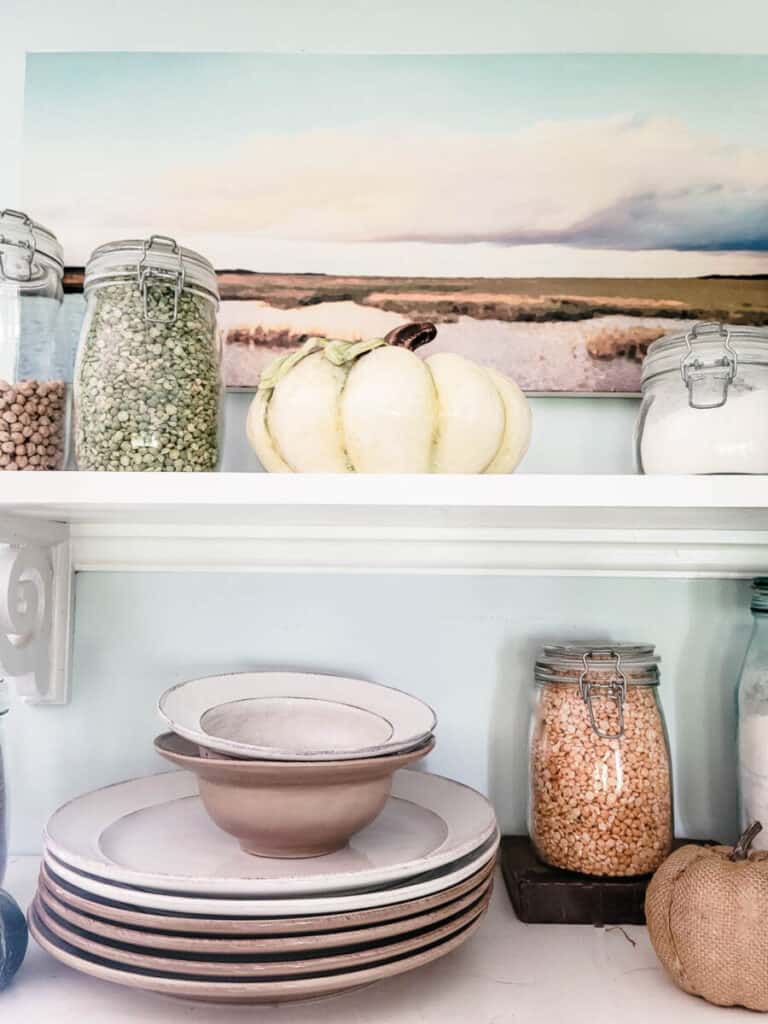 I bought this image of a salt marsh online, created a watercolor look in Illustrator, then printed it on canvas and mounted it to a canvas frame.
The soft greens, browns, and golds are perfect for fall decorating.
Fall Decorating- Open Kitchen Shelving
After I chose the artwork for the background it was time to start decorating the open shelves which are my favorite spot in the kitchen to decorate.
I clear everything off the shelves and wipe them down so I have a clean slate to work with.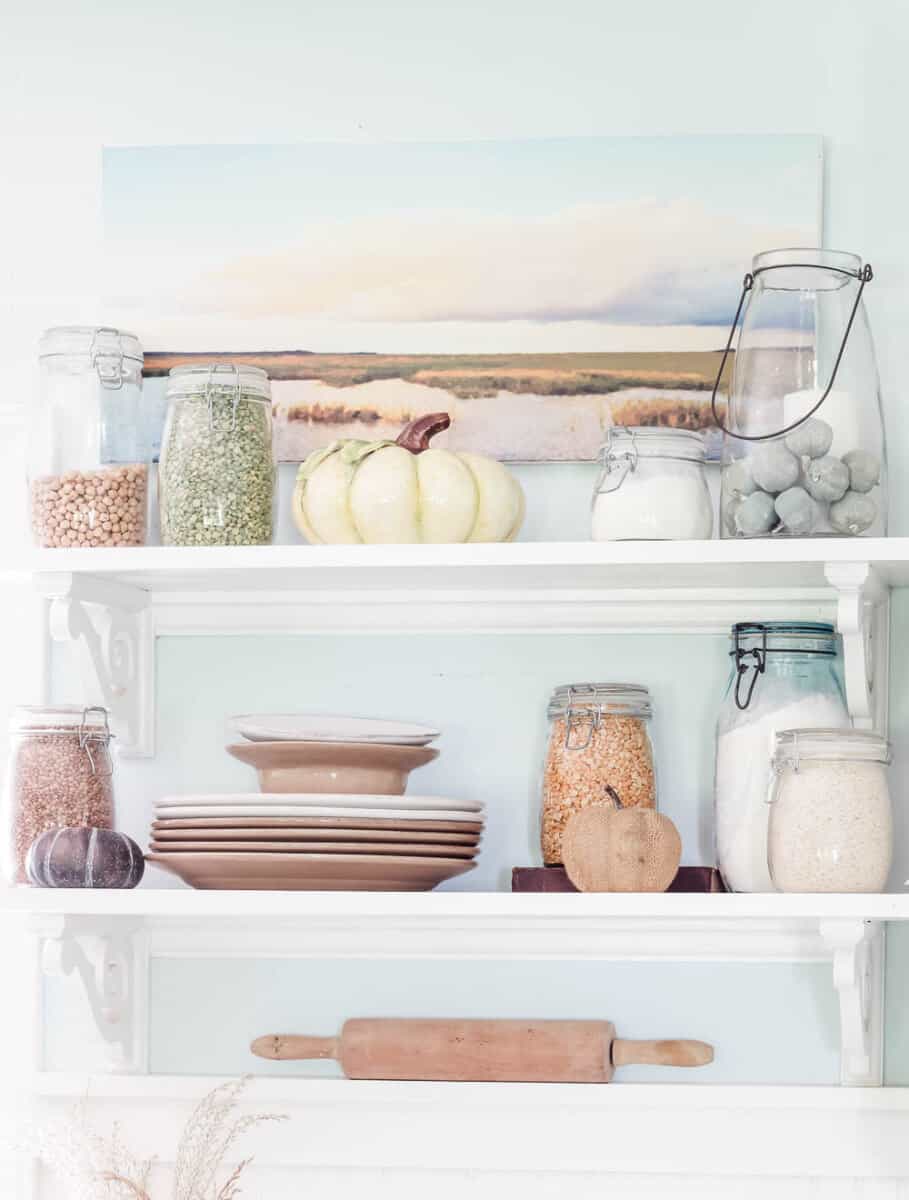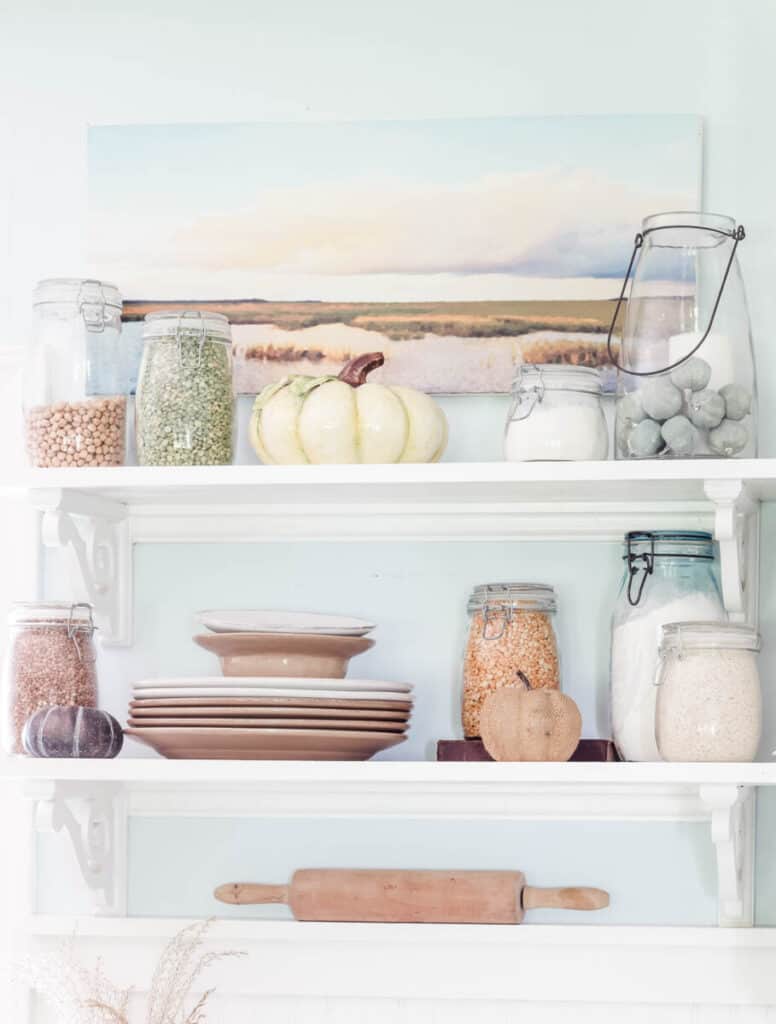 It's a bit of a challenge to find fall kitchen decor, especially for open shelving.
There's not a lot of room for items that are only decorative on these shelves. I prefer to use functional pieces.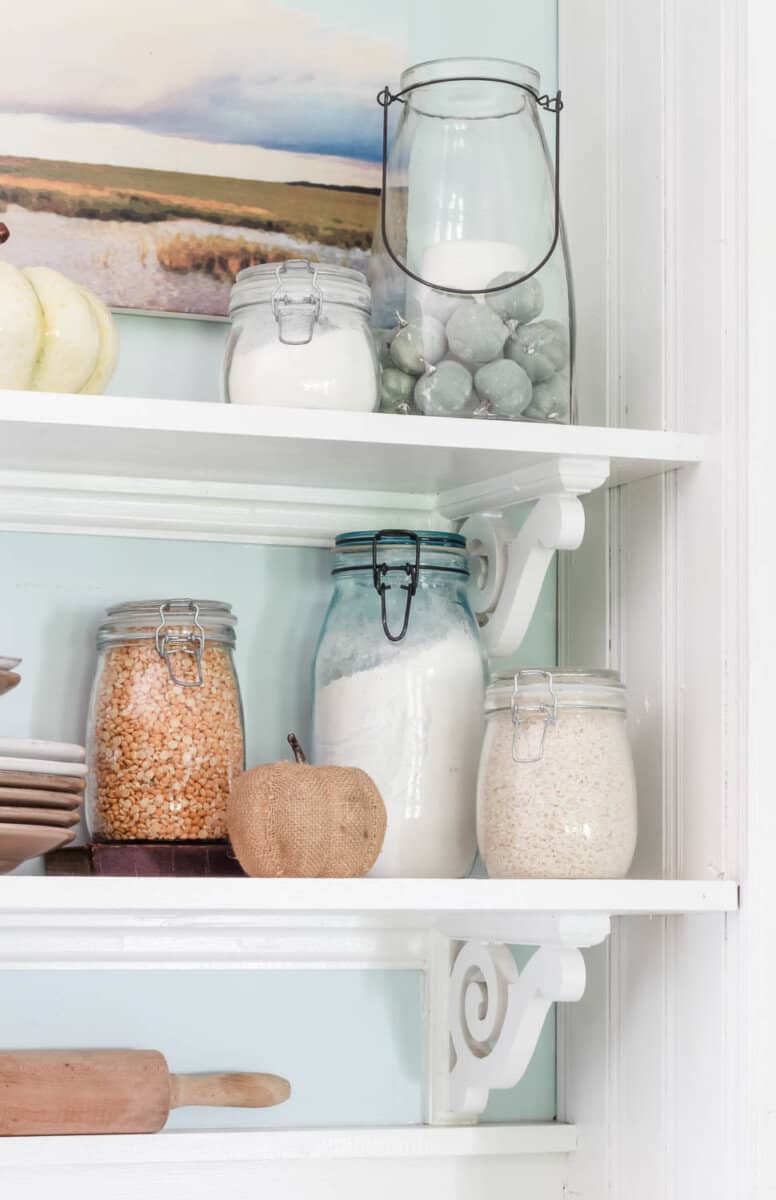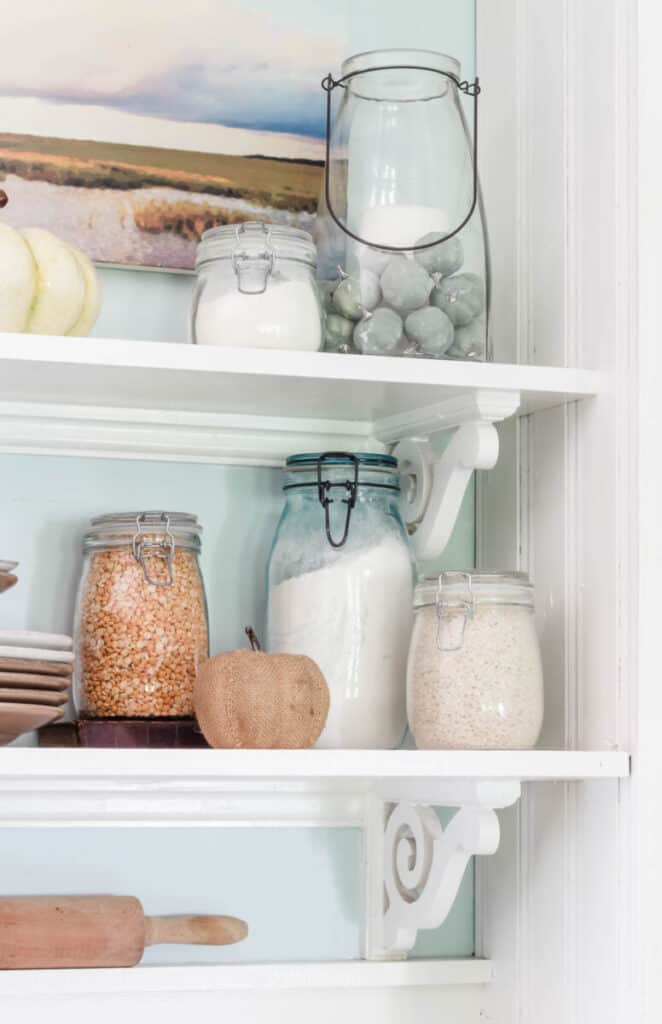 Most of our glass canisters are in our new butler's pantry but I brought some out to pull the colors from the artwork.
Don't you love the way the split peas, dried chickpeas, and lentils look in the canisters?
Glass canisters are functional and pretty!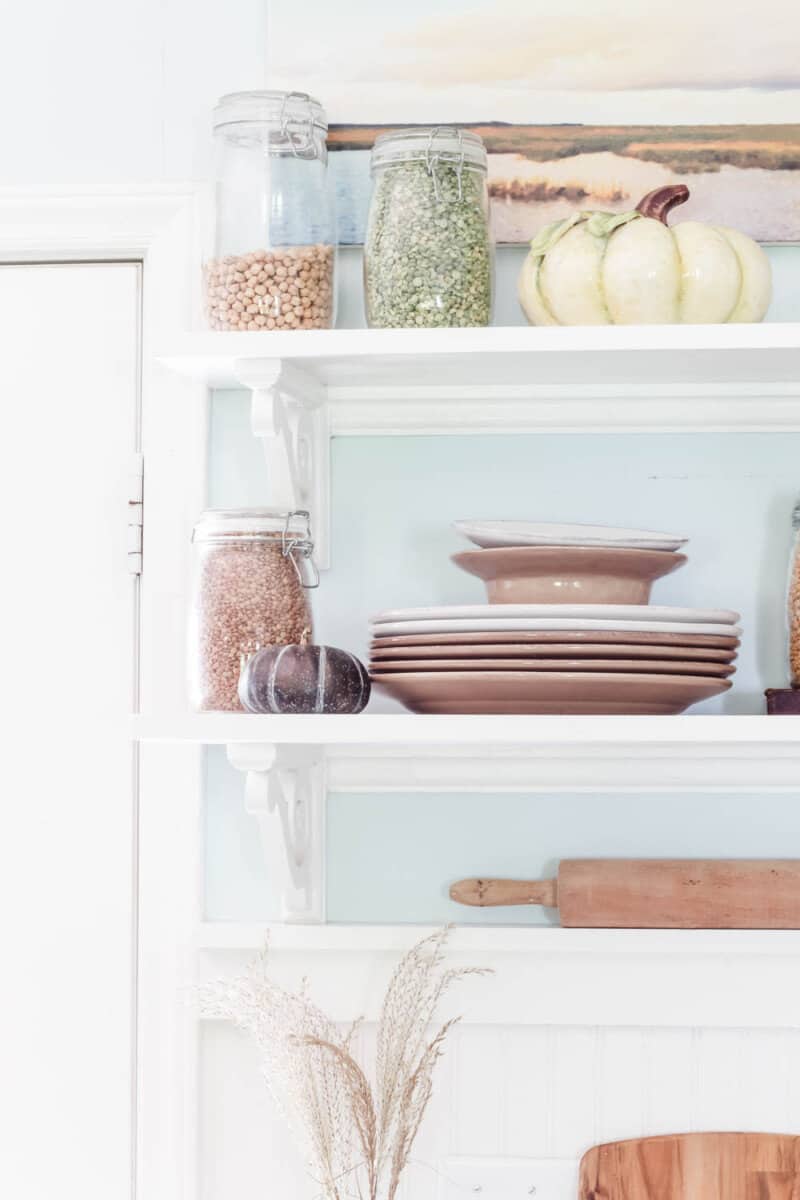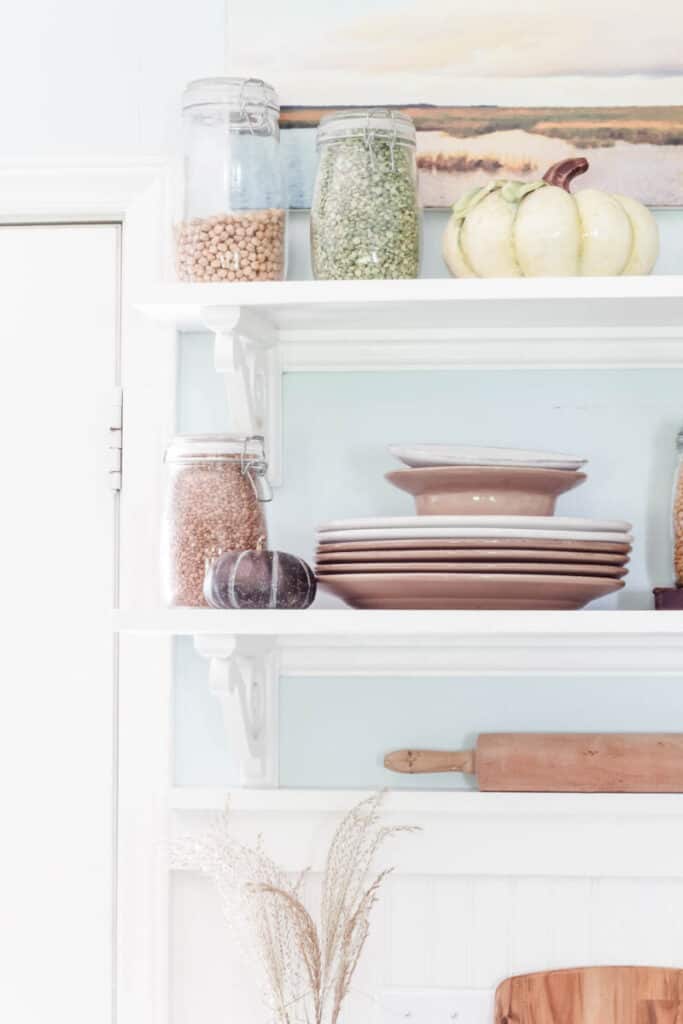 These Cambria dishes from Pottery Barn are our everyday dishes.
I think they stopped offering the mushroom color which is disappointing because I need to replace some that were broken.
Hopefully, they will bring it back soon.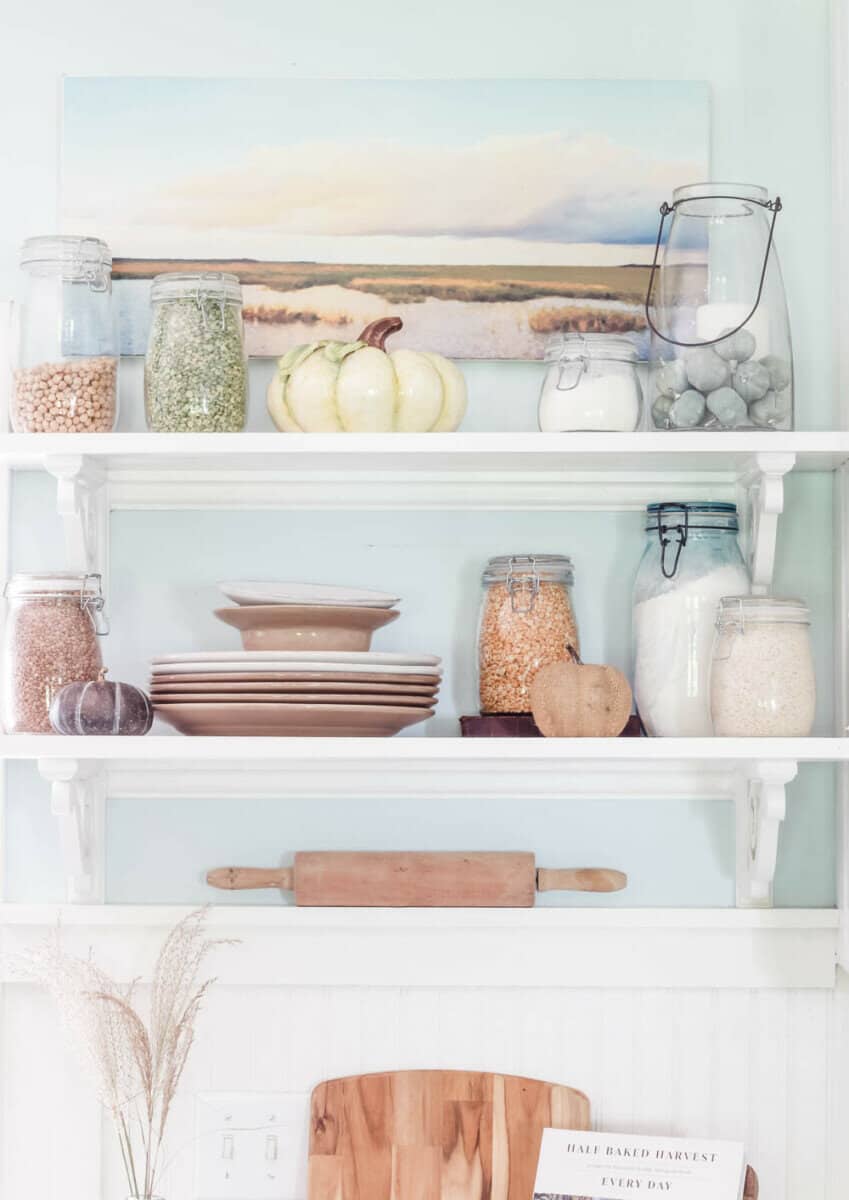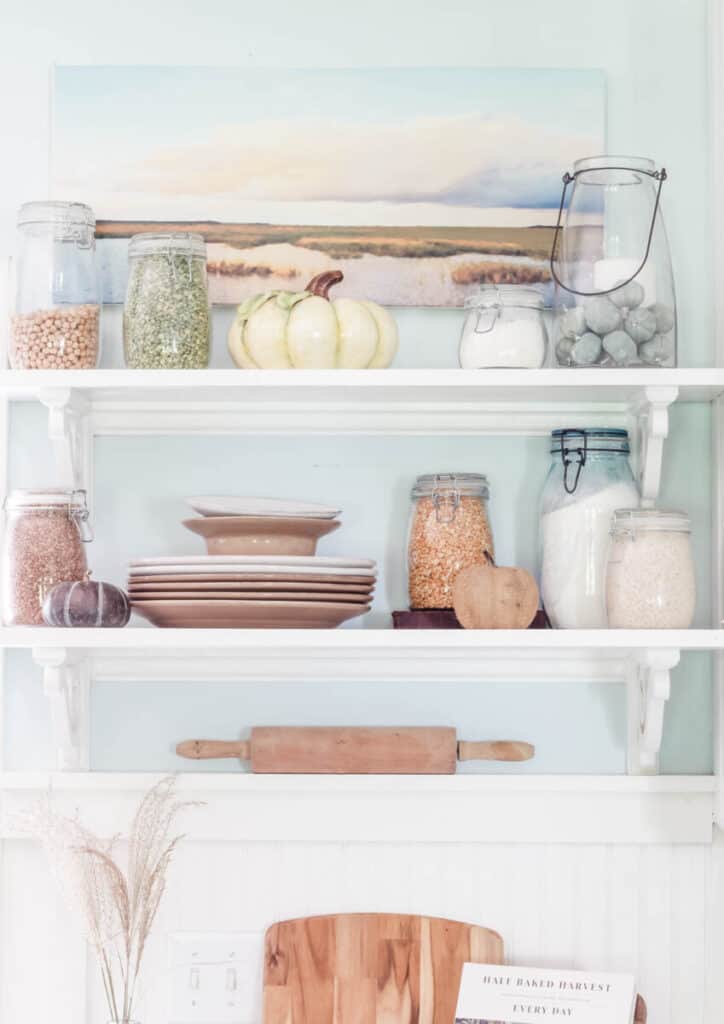 A couple of pumpkins and a candle holder were added then I was done with the shelving. Easy peasy.
Kitchen Counter Decorating
I do a lot of batch cooking in the fall so I need functional pieces on the counters as well.
This wooden cutting board gets a lot of use, mostly protecting the countertop from hot appliances, like the slow cooker and roaster.
Sidenote- do you batch cook? I enjoy it but slicing onions was my least favorite part. I recently bought a new food processor that is going to change my world!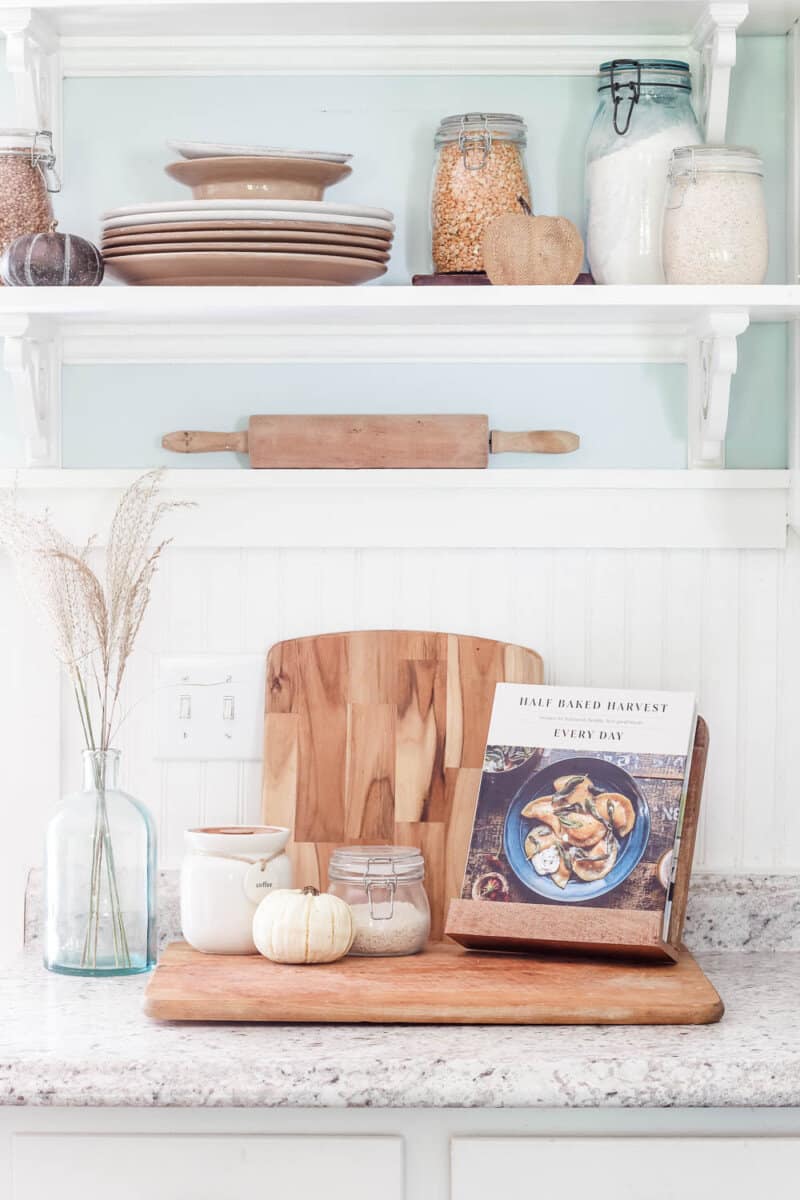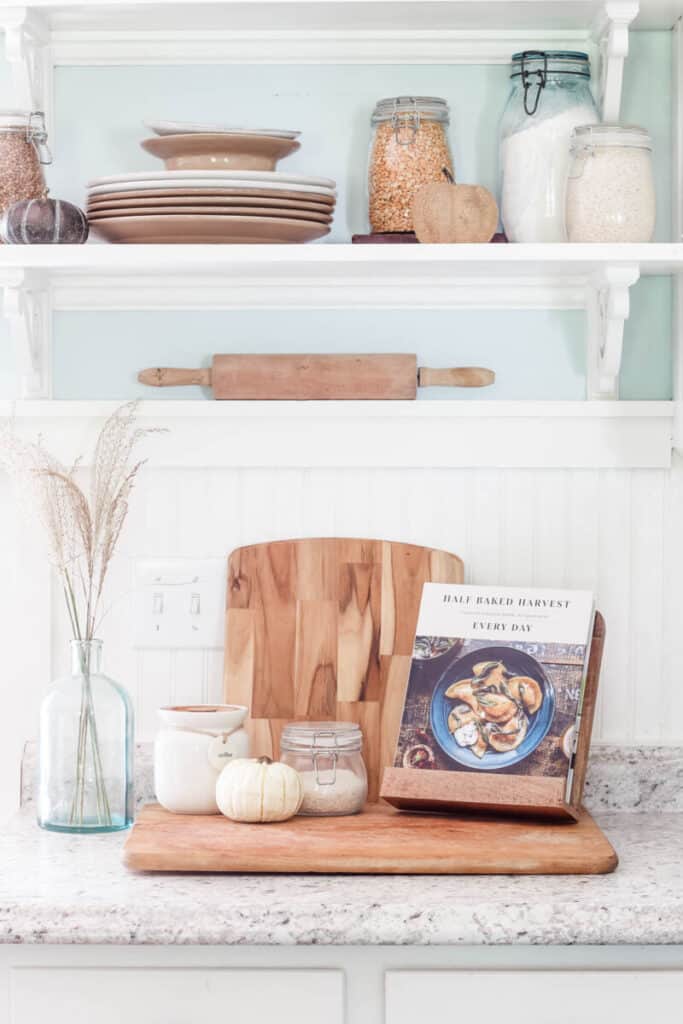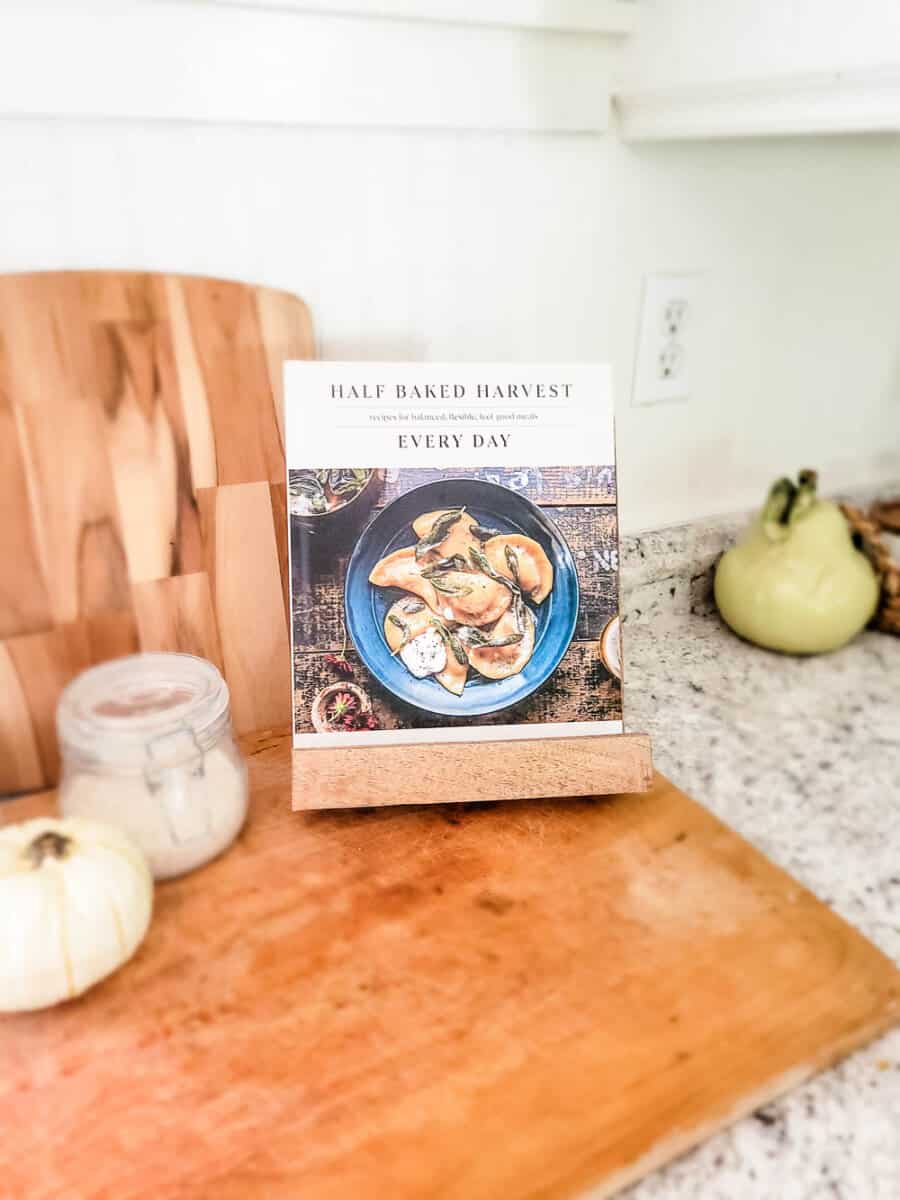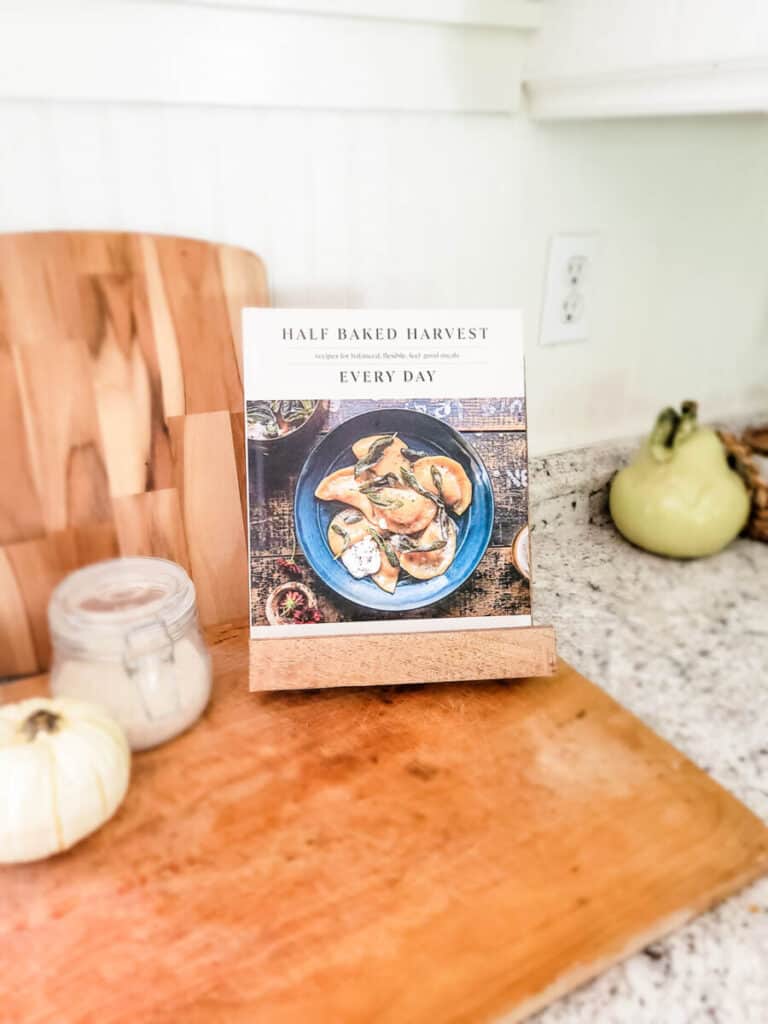 This cookbook Half Baked Harvest Every Day is the only new thing I bought for my fall kitchen decorating.
I had never heard of Half Baked Harvest before (apparently I was the only one, she has millions of IG followers) but I saw this in a local shop and had to have it.
Every recipe looks amazing and the photos are absolutely gorgeous!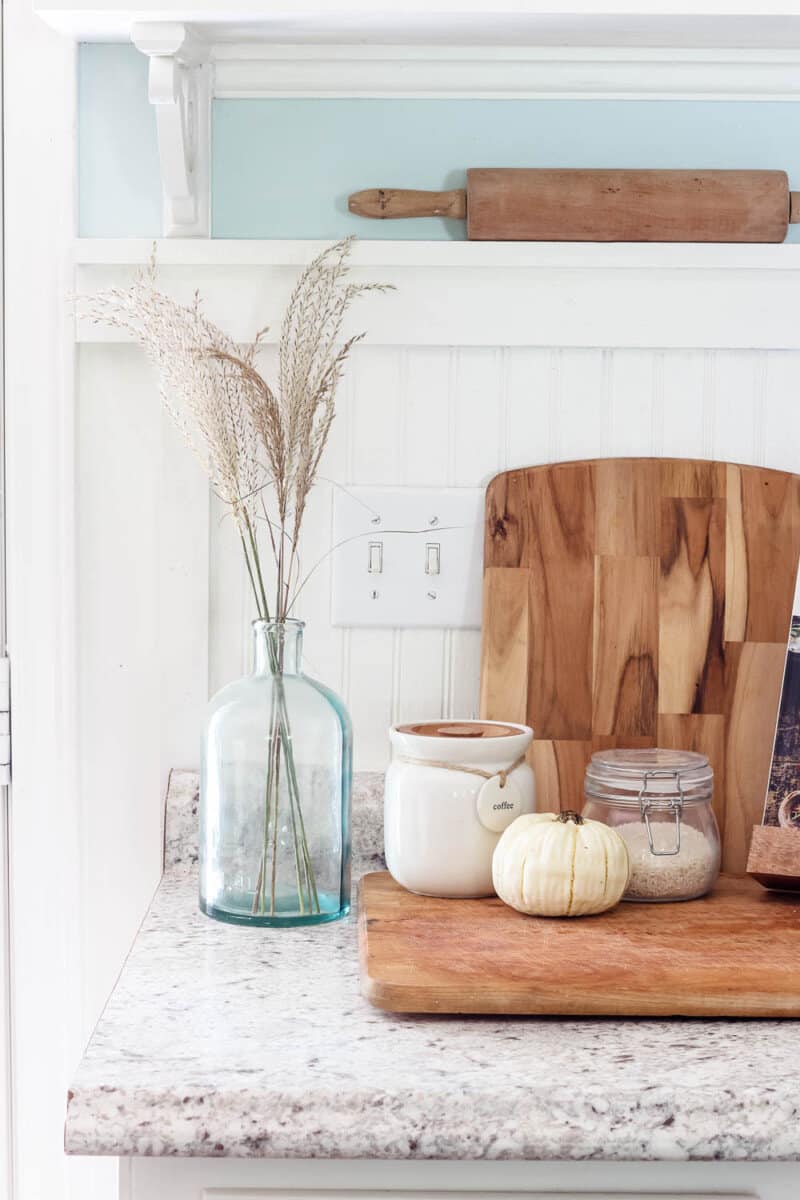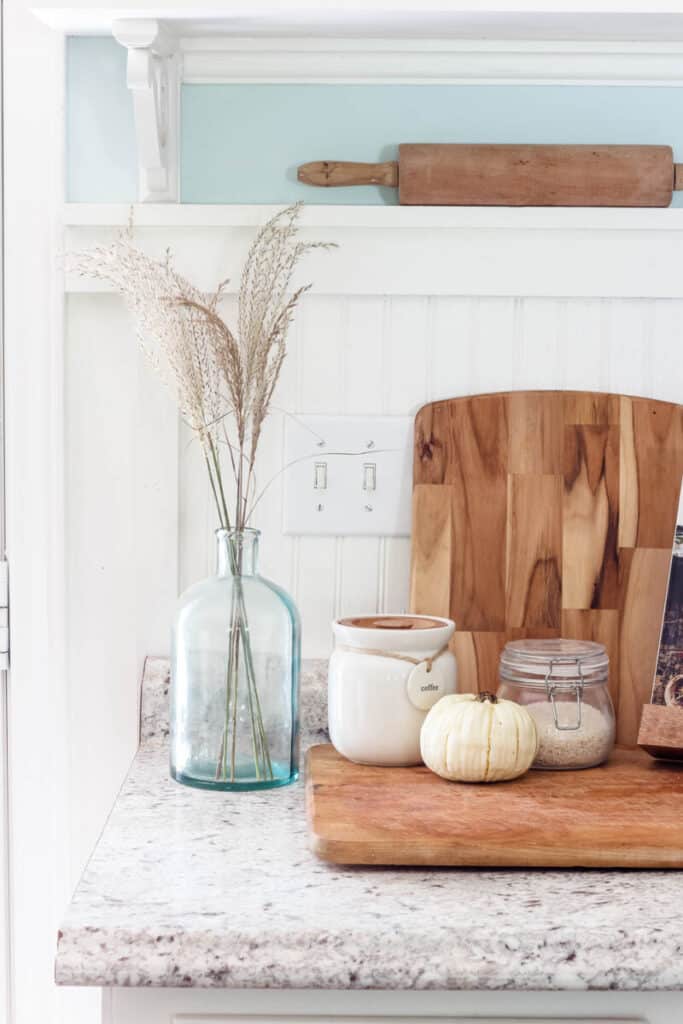 Some grass clippings from the yard popped into one of my glass jugs add a whispy natural look.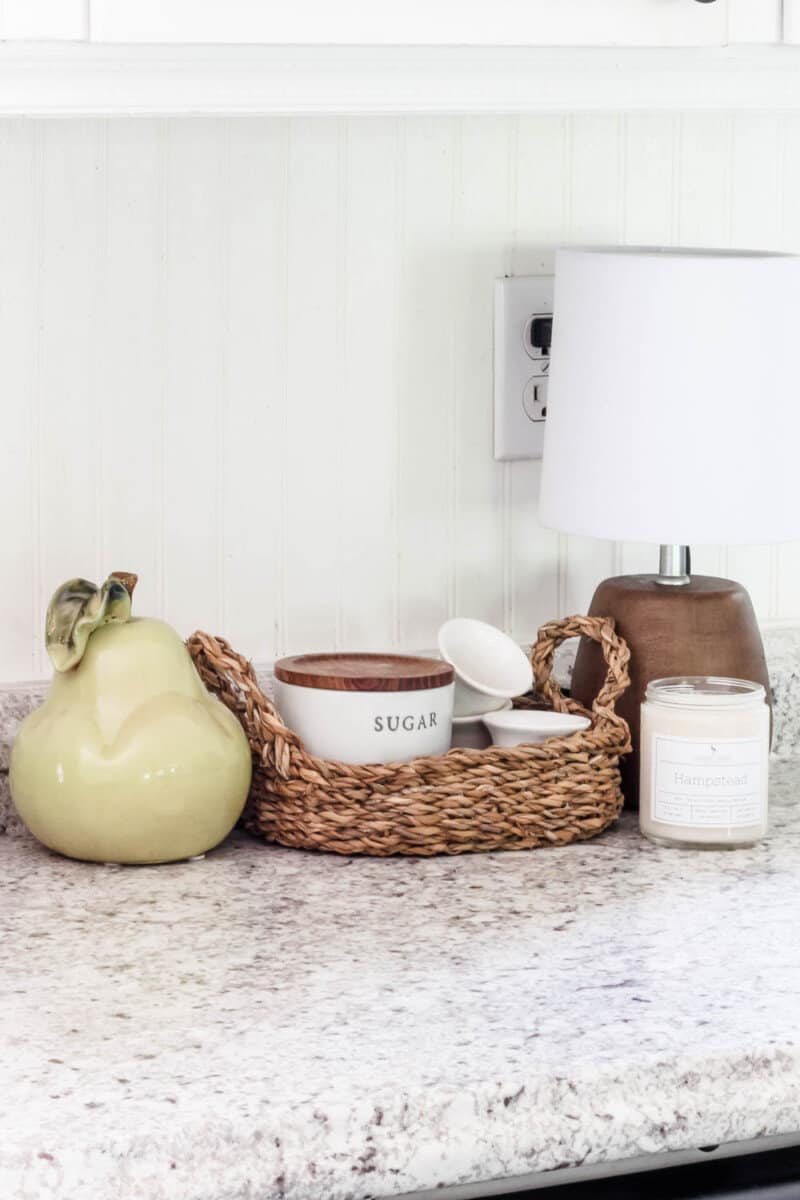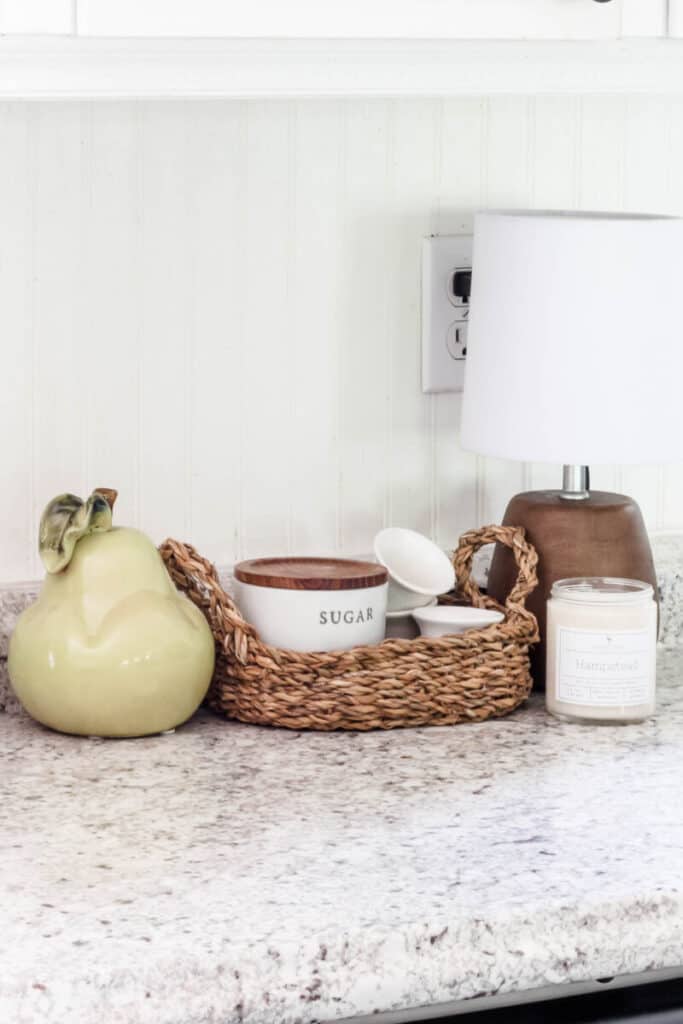 This cute pear was a thrift store find.
The pale green matches the green in the watercolor art and the green split peas on the shelf.
All of these pieces are easy to move if more counter space is needed.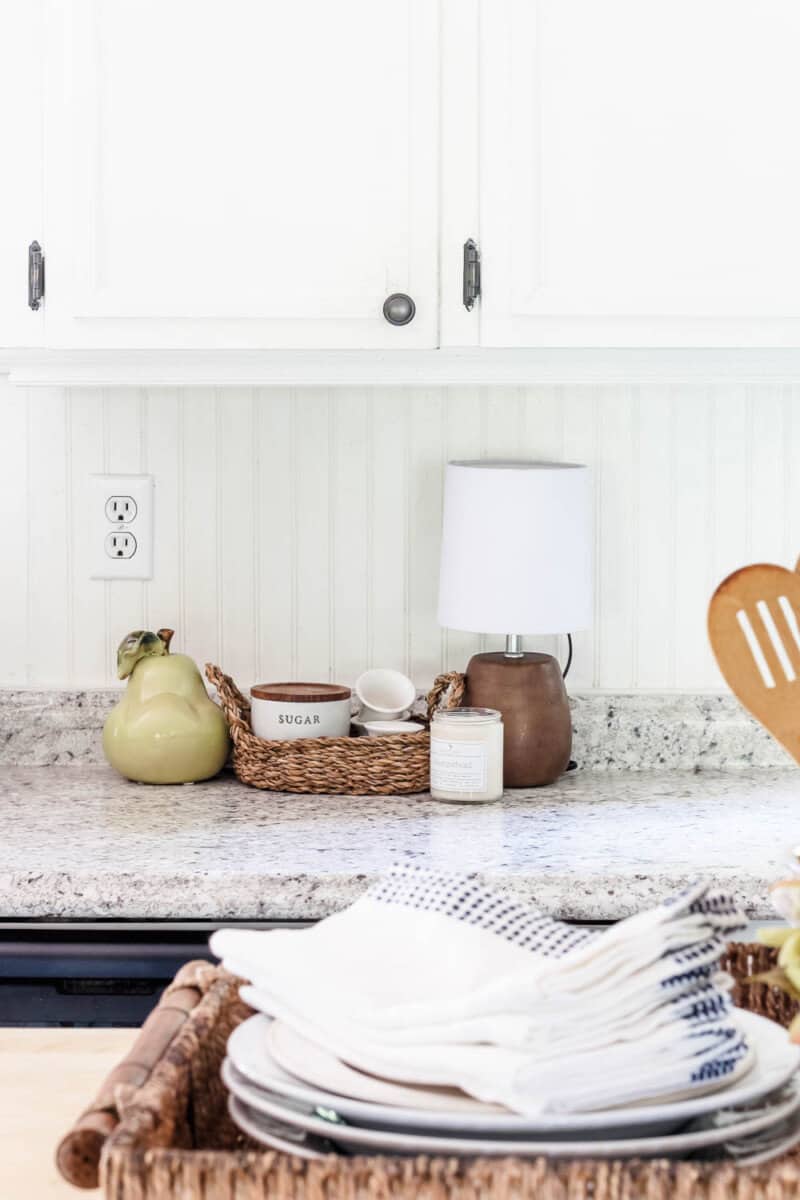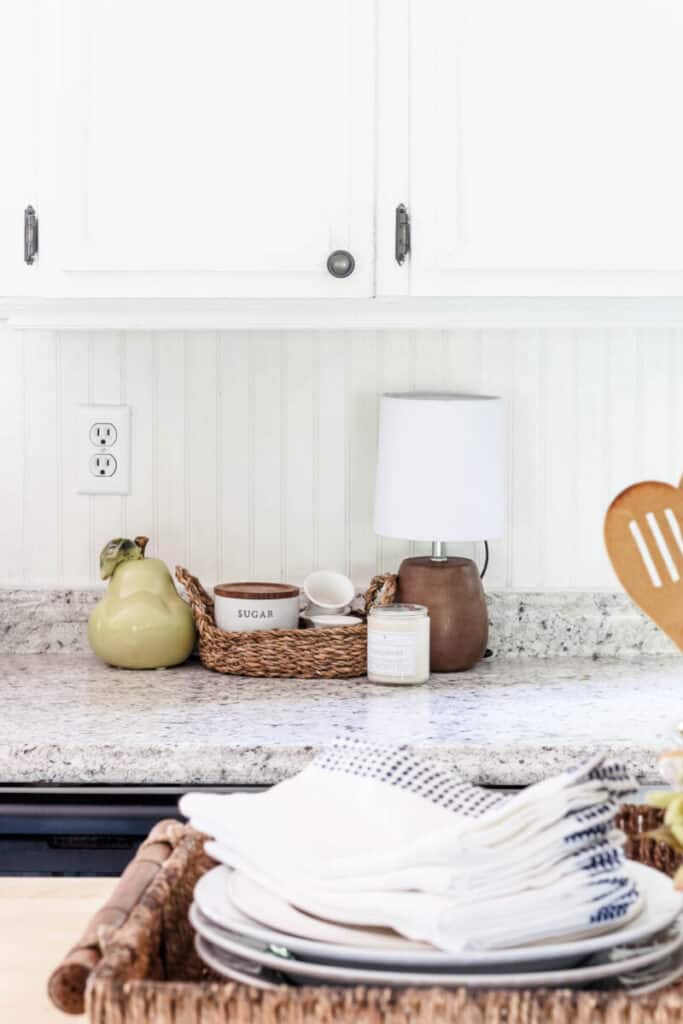 I added the lamp to the counter when I did my spring kitchen decorating and I love it so much I can't imagine not having a little lamp on the counter now.
Fall Decorations on the Kitchen Island
Our shiplap kitchen island has lots of space for decorating but I kept it simple there too.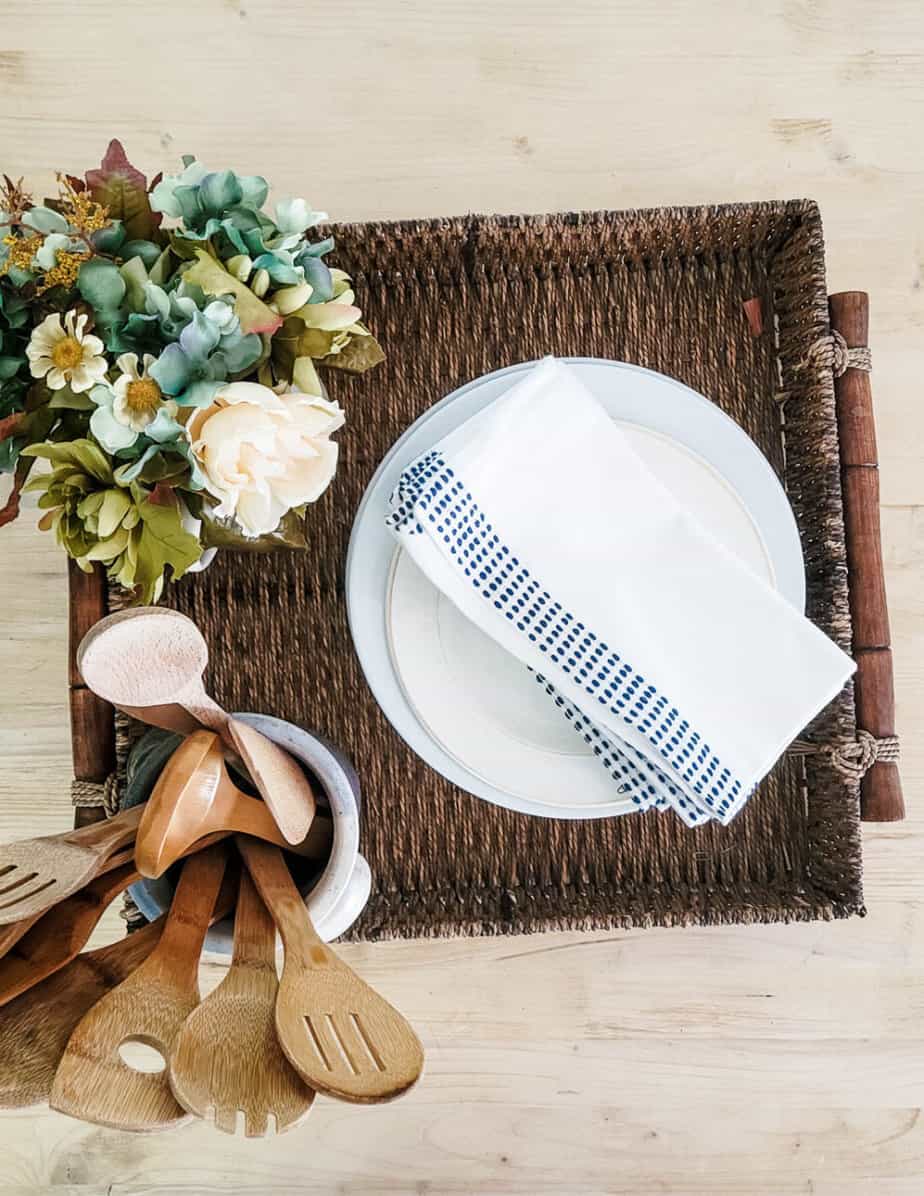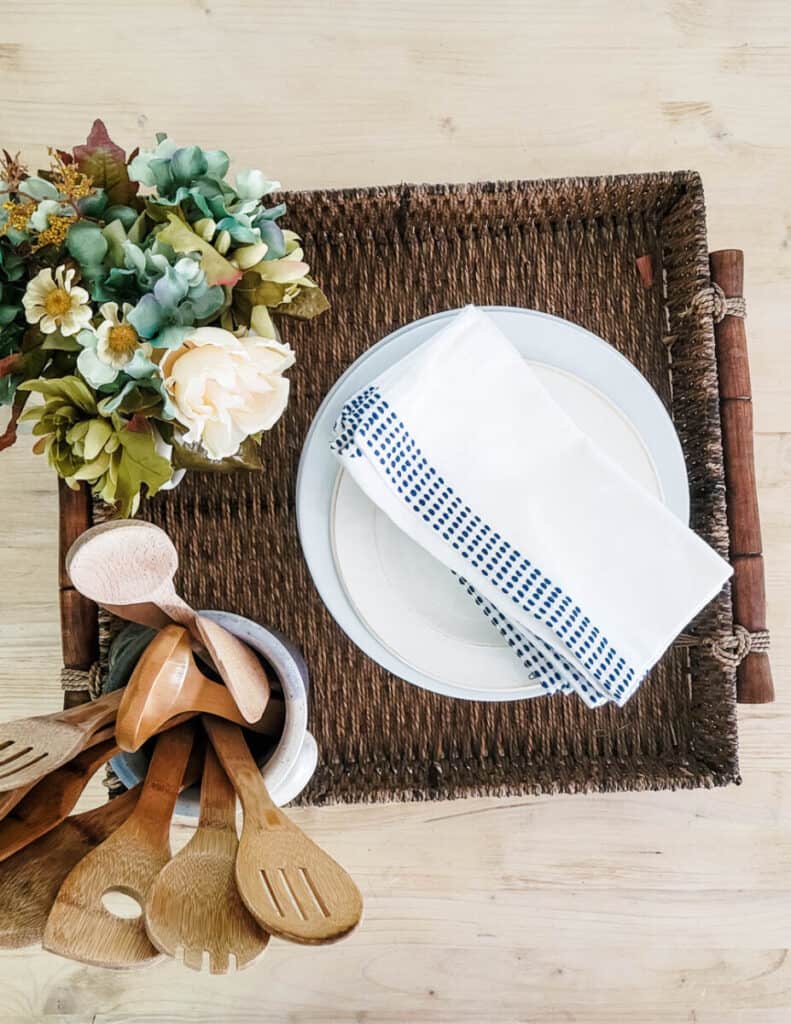 Our white pasta bowls get used a lot so it's nice to have them easily accessible.
The same goes for our well-used wooden utensils. Although I am already thinking about moving them back over by the stove.
I like the look of them in the basket on the island but it really isn't practical.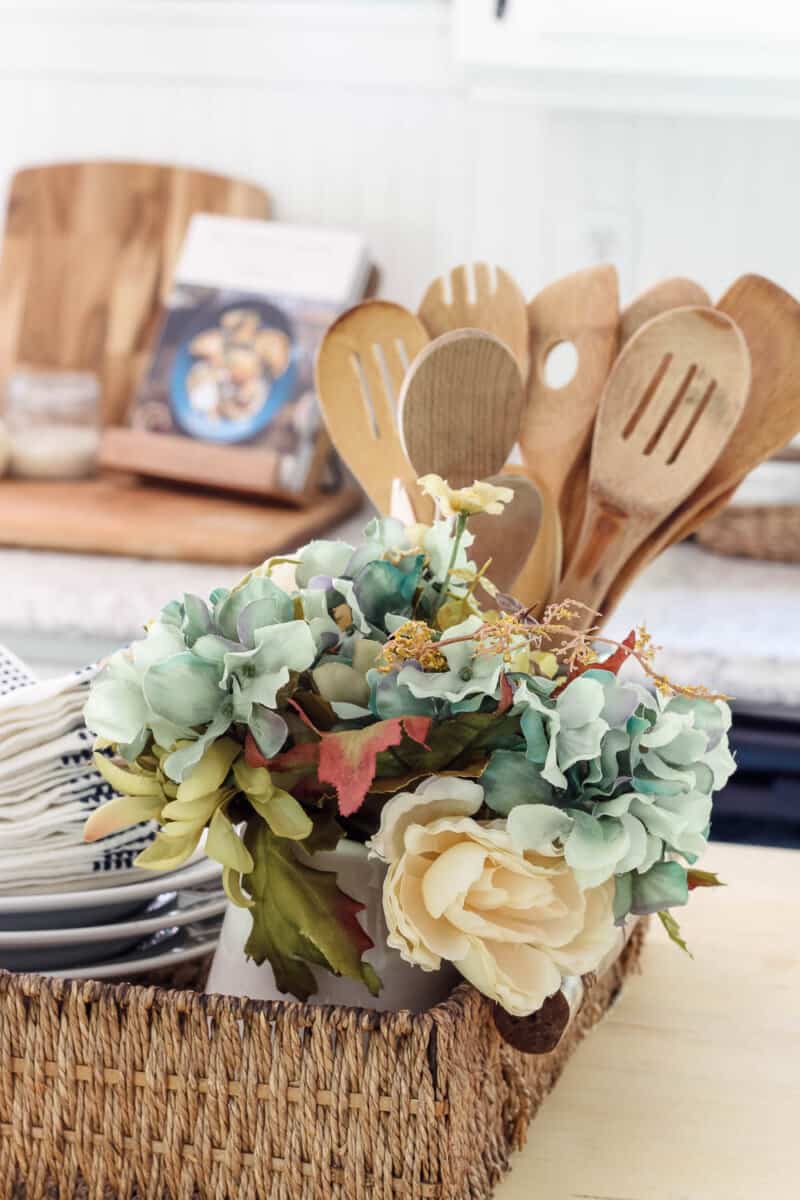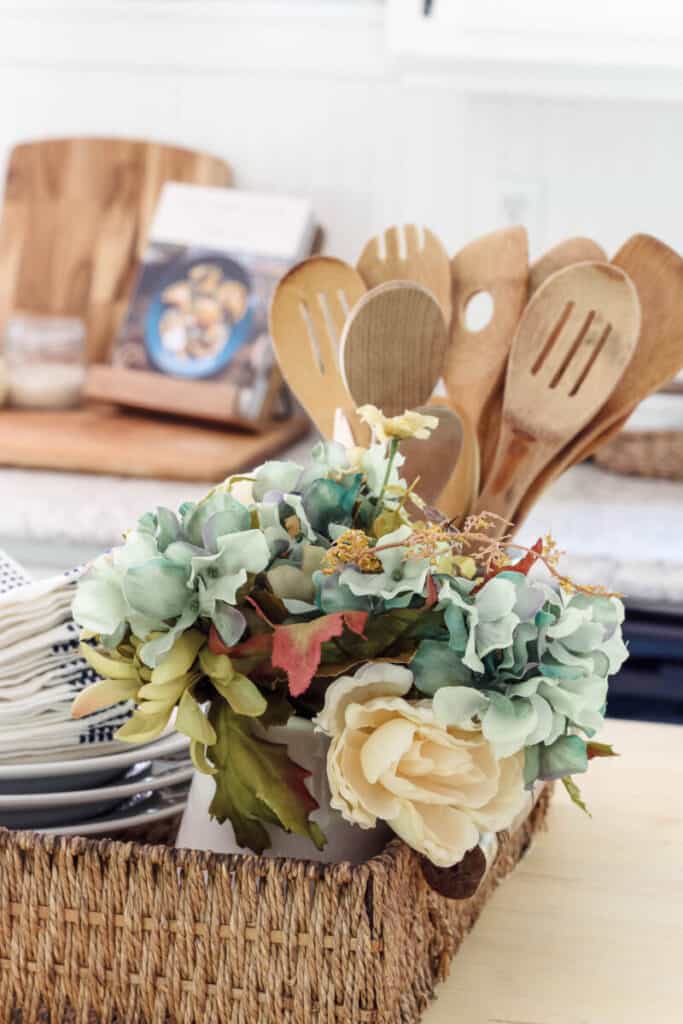 Do you recognize this floral bush from my fall dining table a few years ago?
I love the colors of the flowers and again the green matches the artwork.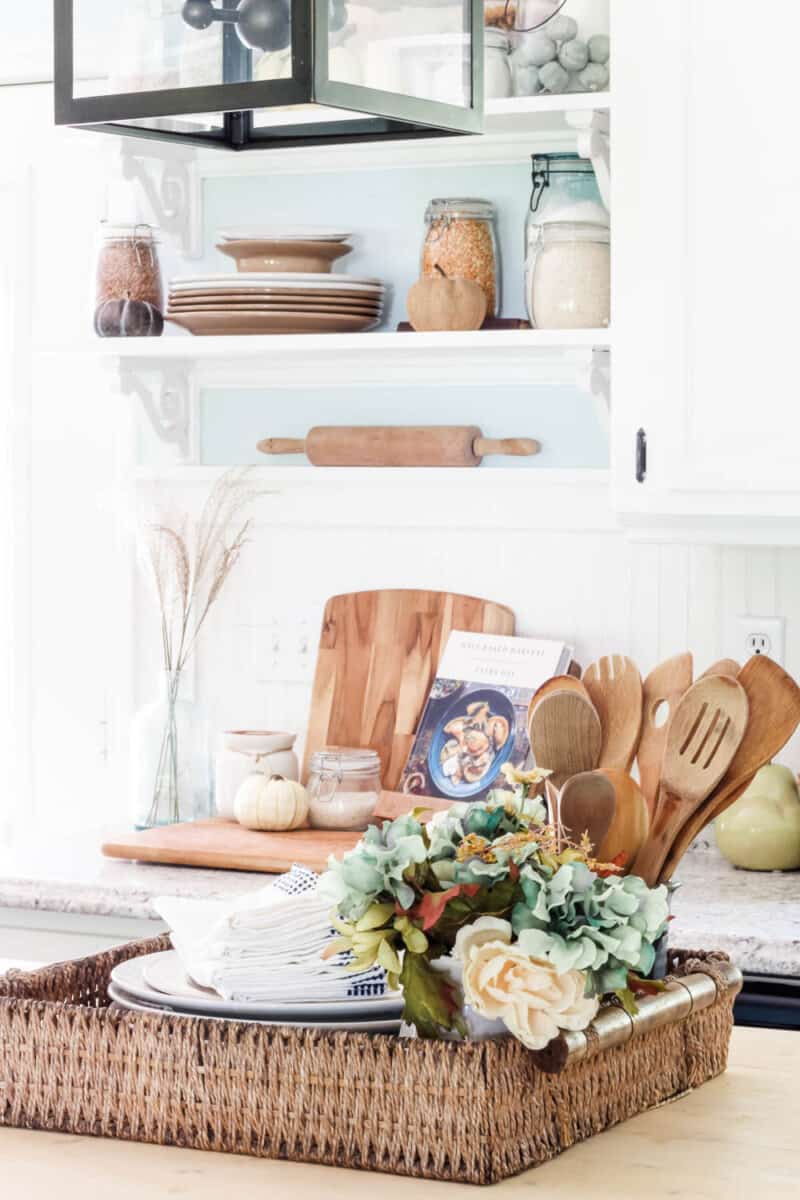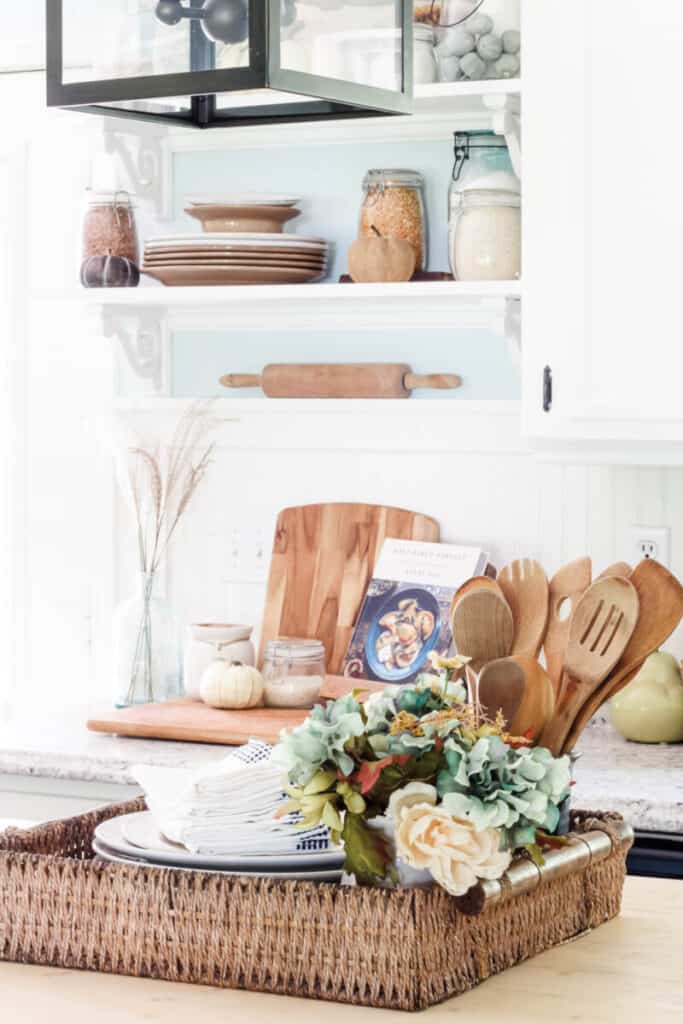 I like all the natural elements in my fall kitchen decorations including the wooden cutting boards and utensils, the woven basket, grass stems, and dried peas and sundries.
Mostly, I love that I used things I already owned (with the exception of the amazing cookbook!).
I hope you're inspired to do a little fall decorating in your kitchen as well.
Speaking of being inspired, head over to Simply 2 Moms for fall entryway ideas!
Check back every day this week to see all the gorgeous homes in this tour.
Monday

Sand Dollar Lane // Simply 2 Moms // Pasha is Home // My Family Thyme // Southern Crush at Home
Tuesday

Bluesky at Home // DIY Beautify // Amy Sadler Designs // 2 Bees in a Pod
Wednesday

Worthing Court // The Tattered Pew // Our Crafty Mom // Hearth and Vine // Thistle Key Lane
Thursday

Exquisitely Unremarkable // Aratari at Home // Sonya Burgess // At Lane and High // The Roots of Home
Friday

Dabbling and Decorating // A Life Unfolding // Zucchini Sisters
Southern Home and Hospitality // Feet Under My Table