Southern Magnolia Christmas
I am excited to show you my home office all decorated in Southern Magnolia Christmas style! With real magnolia tree leaves, sparkly magnolia flowers and lots of gold, white and green, this Southern Magnolia Christmas may be my favorite Christmas decorating theme yet!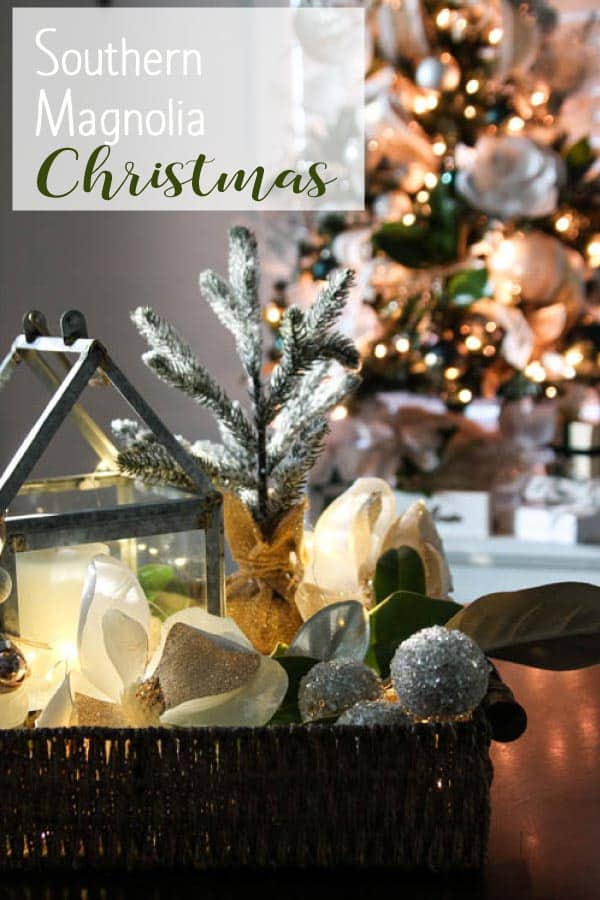 While I love the red, white and silver of our dining room Christmas tree, I've been dreaming of a southern magnolia Christmas tree for SO long! My home office was the perfect spot to decorate with a magnolia theme so I can enjoy it every day.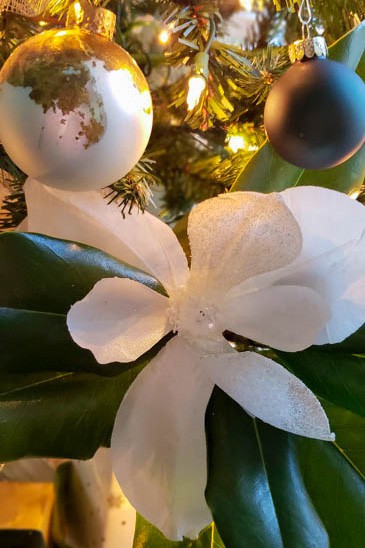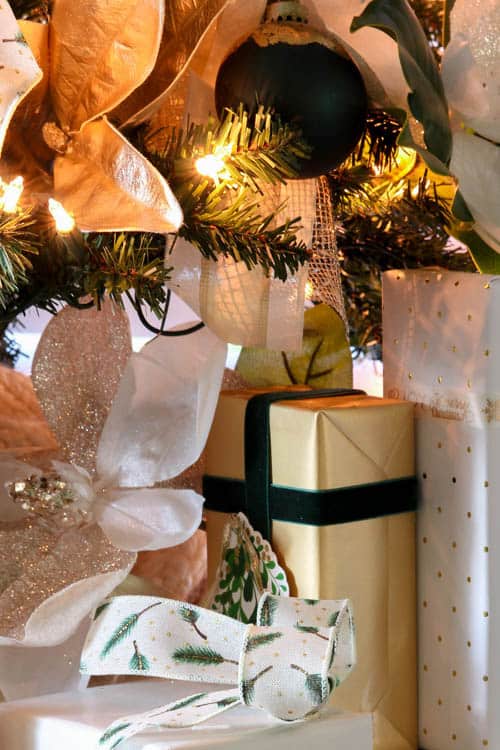 My Southern Magnolia Christmas Home Office Tour is part of a fun blog hop hosted by my friend Leigh at Little by Little Home. See the rest of today's participants at the end of this post.
Magnolia Flower Table Centerpiece
For your convenience, this post contains affiliate links (which means if you make a purchase after clicking a link I may earn a small commission but it won't cost you a penny more). See my full disclosure page here
We're in the process of transitioning this room from our homeschool room to my home office. For now, I am using our old kitchen table for a work space and it's working out better than I had thought. Since it's a small room the round table fits well and isn't visually overwhelming.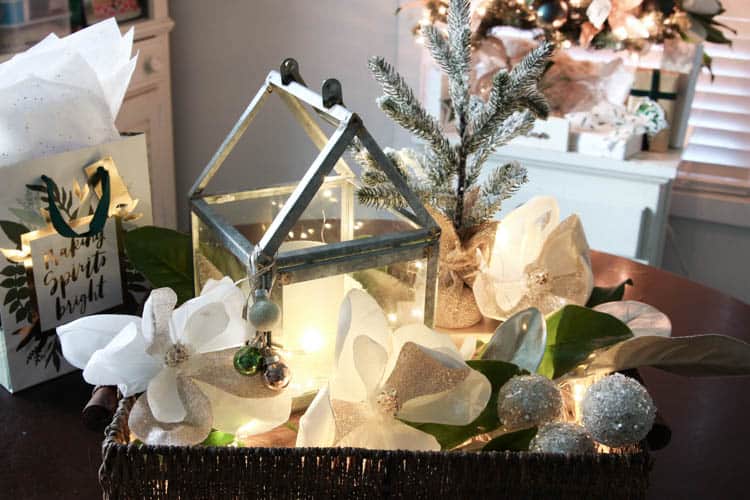 This was a super quick and easy centerpiece to make. I grabbed a basket from my ever growing collection and added this cute little house shaped lantern and a little faux Christmas tree with burlap base (both from Target). These cute little ornaments dressed up the lantern a bit. I added some real magnolia leaves from our yard and faux magnolia flowers from Michaels.
Tip- when looking for faux flowers, check out the floral bushes. They are usually less expensive than purchasing a bunch of individual stems and with a pair of wire cutters you can easily separate them.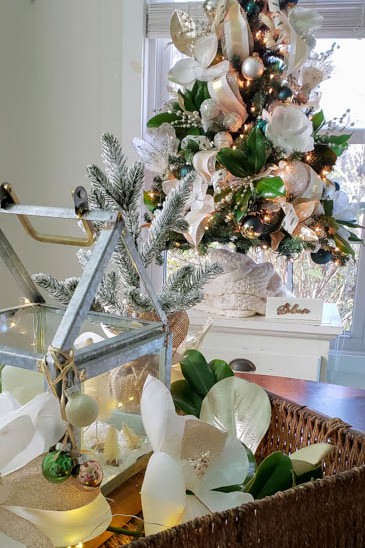 I love that the centerpiece is in a basket because it's easy to set aside when I need the entire table (usually for gift wrapping!)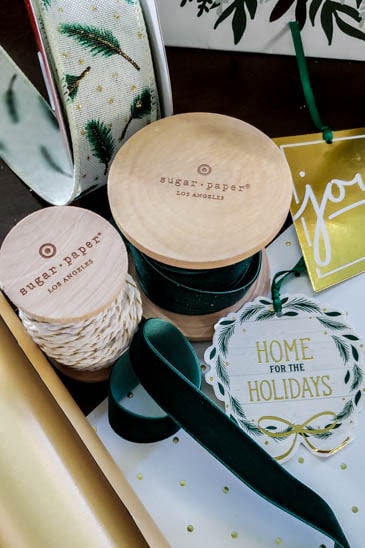 mini ornaments // wrapping paper // green velvet ribbon // white/gold twine // green/gold tags

Southern Magnolia Christmas Tree
I originally had planned on decorating a regular size tree in my home office. Since it's pretty crowded in there already so I opted for a table top tree. Besides saving space, a tree this size saves money too because you need a lot less decorations!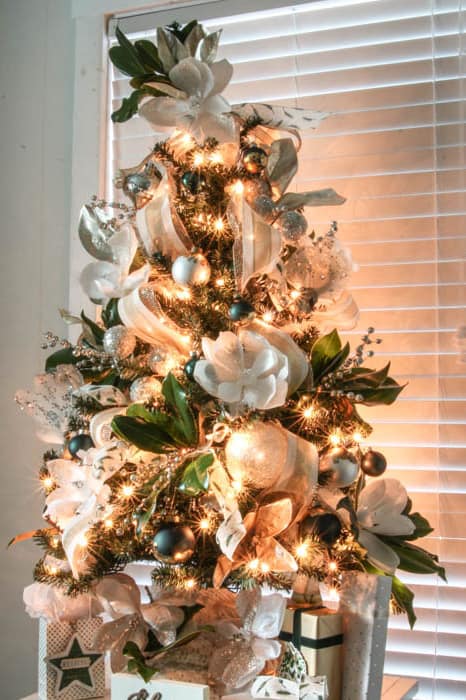 I already had the gold and cream ribbons in my Christmas stash. I used the same ribbons last year on our aqua, gold and cream tree (here).
As I was putting away the decorations last year, I took the time to sort them all by color or theme. At the time it seemed like a hassle but I was so glad I did it. Finding the decorations I wanted was so easy! Don't know why I didn't do that sooner!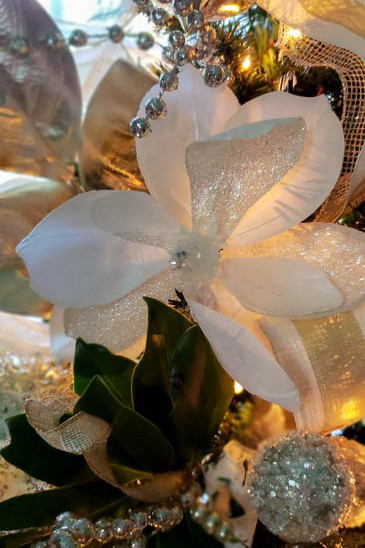 Another magnolia bush was cut up for the tree. And more branches from the yard were sacrificed. The tree is so full that I didn't even attach the stems to anything. I just popped them in and they're staying just fine.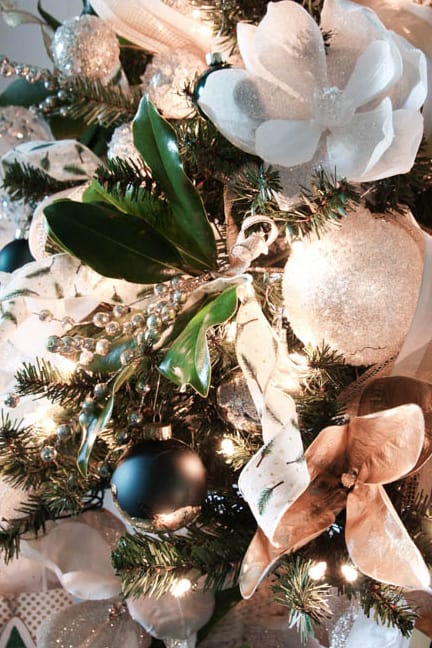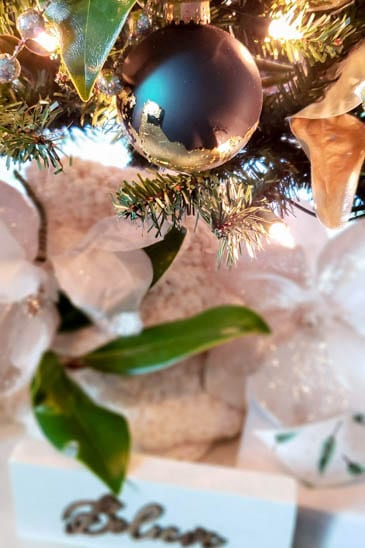 The little Believe sign I made a few weeks ago looks so cute with the wrapped gifts under the tree.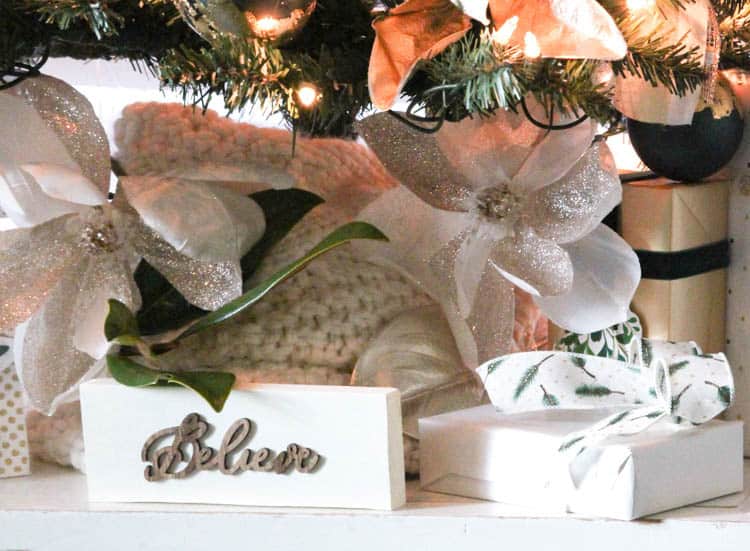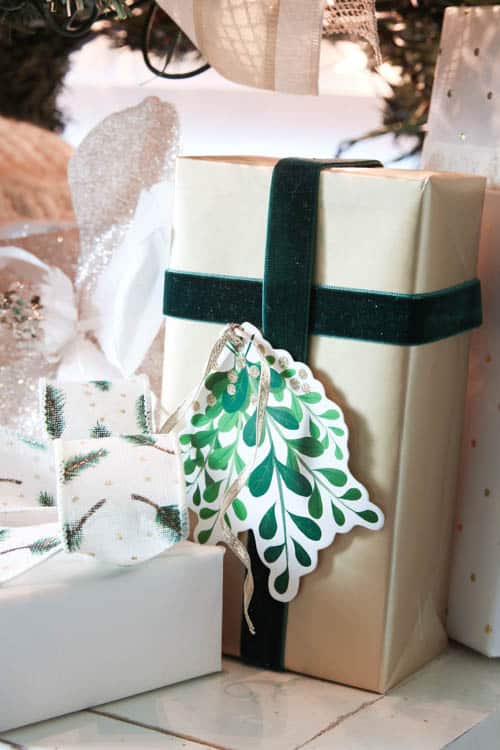 Tomorrow I am planning on making a magnolia wreath for my office door. After that I will be done decorating and can start thinking about my Christmas shopping! Are you done decorating? Or just getting started?
Be sure to visit my friends below for lots more Christmas decorating inspiration!
Casual Christmas Tour from Noting Grace | Scandinavian Holiday Decor from Twelve on Main | Christmas Coastal Farmhouse Kitchen from Cribbs Style
A Modern Christmas from Uniquely Taylor Made | Southern Magnolia Christmas from Sand Dollar Lane | Classic Plaid Christmas from A Blue Nest