Coastal Inspired Living Room
Want to add some coastal style to your summer decor?  Today, I am sharing our coastal inspired summer living room along with five easy ways to add a beachy vibe to your decor!
If you've seen our bathroom remodel, kitchen and mudroom refresh, then you know our style is all coastal!  It's easy to incorporate beachy style with these five coastal decor ideas!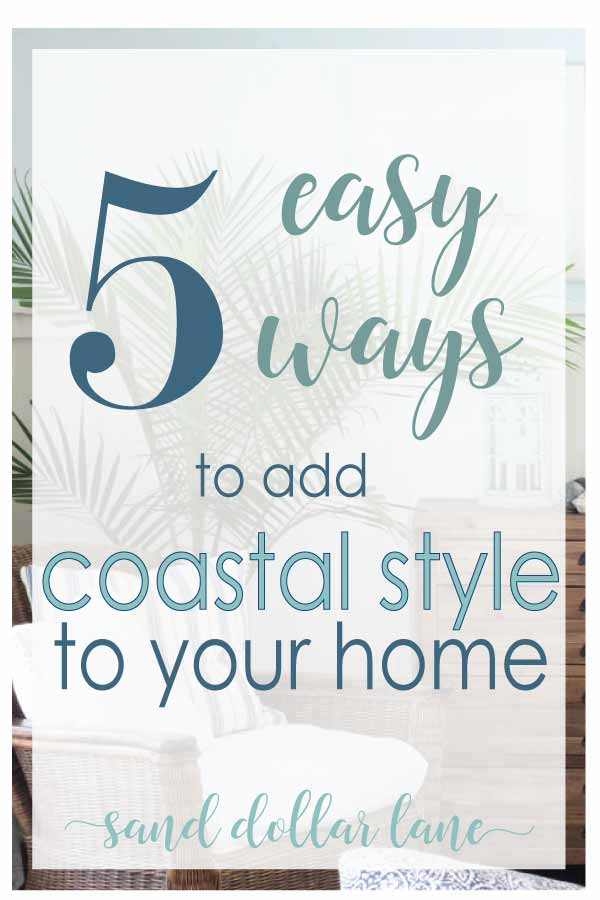 Before I share our coastal inspired summer living room, I have to tell you how excited I am to be part of the Easy Summer Styling Blog Hop hosted by my sweet friend, Kelly from The Tattered Pew!  If you are coming over from 31 Girl at Home, welcome!  Don't you love Andrea's amazing front porch!? I could spend some serious time relaxing there!  The tour started yesterday so be sure to visit all the participants at the bottom of this post for lots of great summer decorating ideas!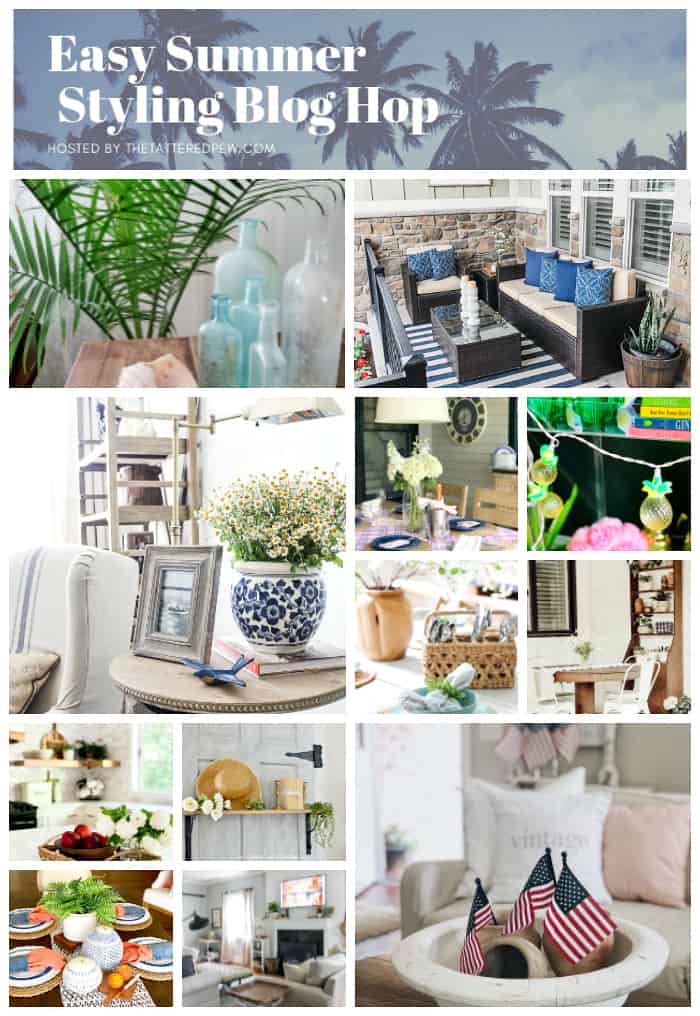 Our Coastal Inspired Summer Living Room and Five Easy Ways to Add Coastal Style to Your Home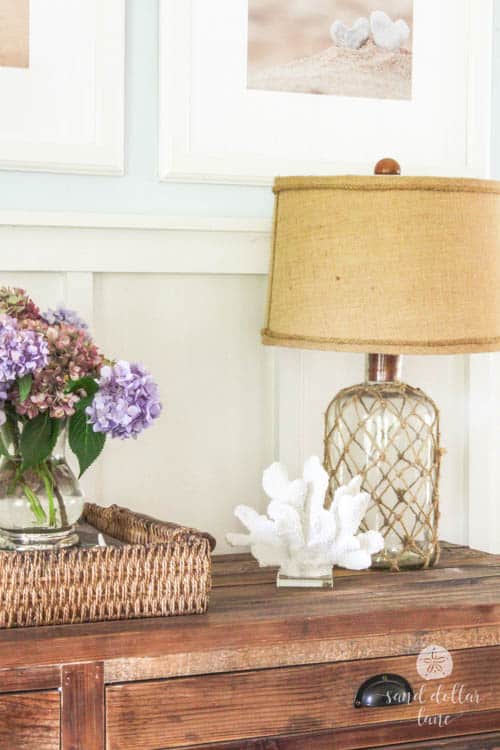 There are lots of ways to add coastal style but here are my top five!
For your convenience, this post contains affiliate links (which means if you make a purchase after clicking a link I will earn a small commission but it won't cost you a penny more).  See my full disclosure page here
Seashells, Seaglass and Other Treasures– If you don't live near the beach and aren't planning a trip soon (so sad!) fear not, I will show you some places to find these beachy goodies.

Coastal Materials- 

Fabrics and other materials can make a home feel like a beach house.  Your space will feel like your at the beach even if you are land locked!

Beach Scene Artwork- 

Ocean scenes are just one of many kinds of artwork that will help incorporate coastal style in your home. 

Coastal Color Combos-

  

 Blue and white is a classic coastal color combo but there are many more that you may not have thought of!

Tropical Plants-

I love decorating with plants, especially tropical plants!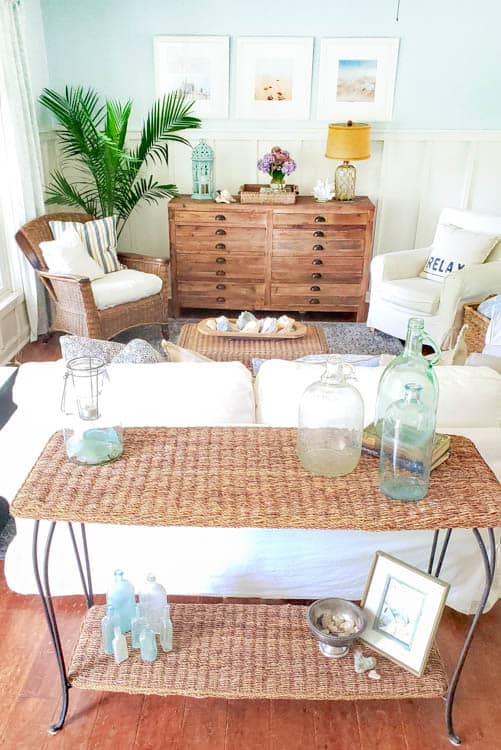 Seashells, Seaglass and Other Treasures–
Seaglass, seashells, driftwood, mermaid purses, starfish and my favorite, sand dollars, are perfect coastal style decorating items!  They are inexpensive (usually free!) and also add a natural feel to your space.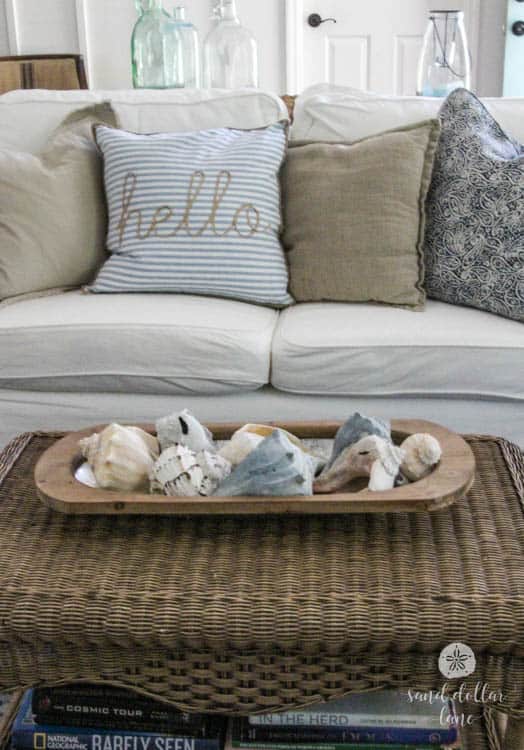 If you're collecting things like conchs, starfish or sand dollars on the beach, be sure the animal isn't still alive.  If it is, be a good steward and help it back to the water, there will be others for you.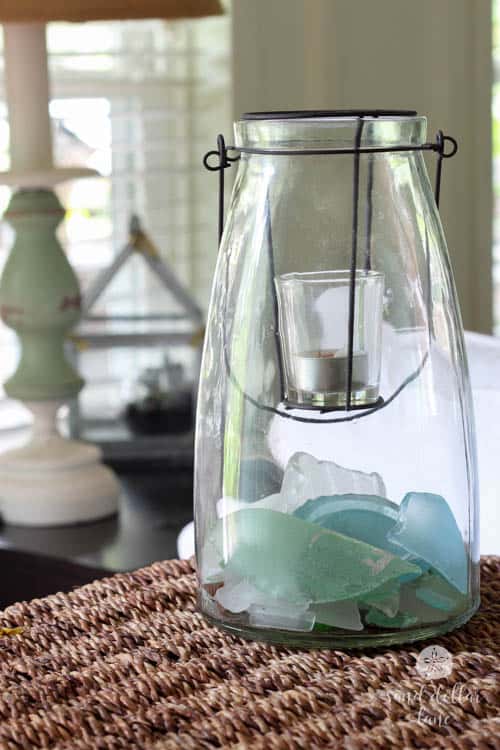 Coastal Textures and Materials-
I have so many fabrics and materials that I think say coastal style.  Here are my very favorites.

white cotton slip covers

jute, twine, or seagrass

wicker or rattan furniture

denim (white or blue), preferably worn and soft!

muslin or other soft drapey material

sheer curtains
Basically you want to avoid anything heavy or thick feeling (no wool!)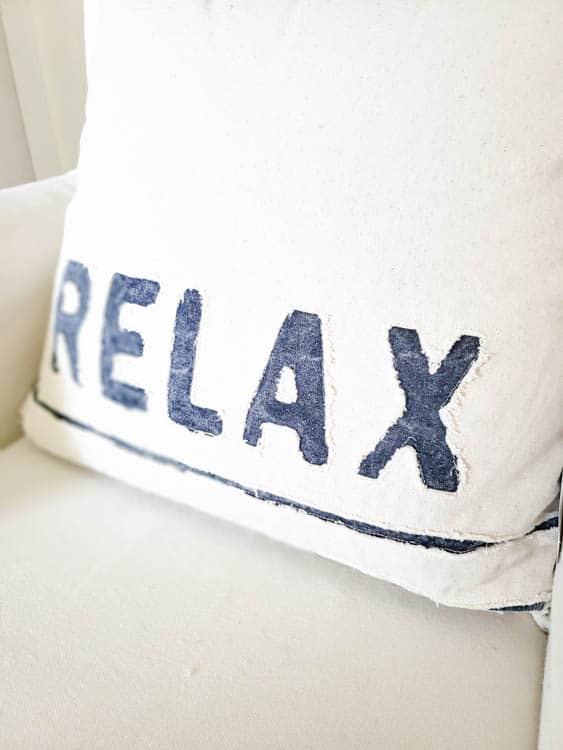 Beach Scene Prints and Artwork- 
Of course, an ocean scene like the one we have in our dining room is coastal feeling but you can also use prints of sea animals like baby sea turtles or dolphins.  Coastal inspired pottery is a great option.  Don't forget about family photos taken at the beach!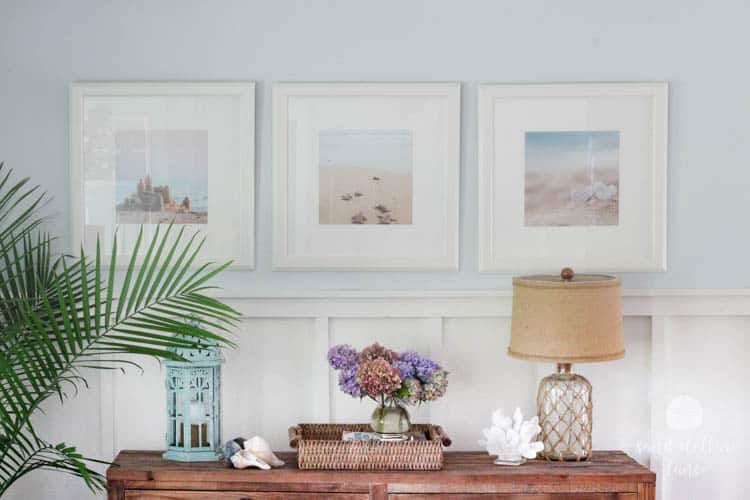 Coastal Color Combos-

  
We tend to use lots of aqua, white and wood tones in our coastal home because we like the relaxed comfy feel of those colors.  Other options are sea green and copper, classic navy and white and nautical red, blue and white.  Looking for a brighter coastal style? How about coral and teal or hot pink and bright orange?  The possibilities are endless!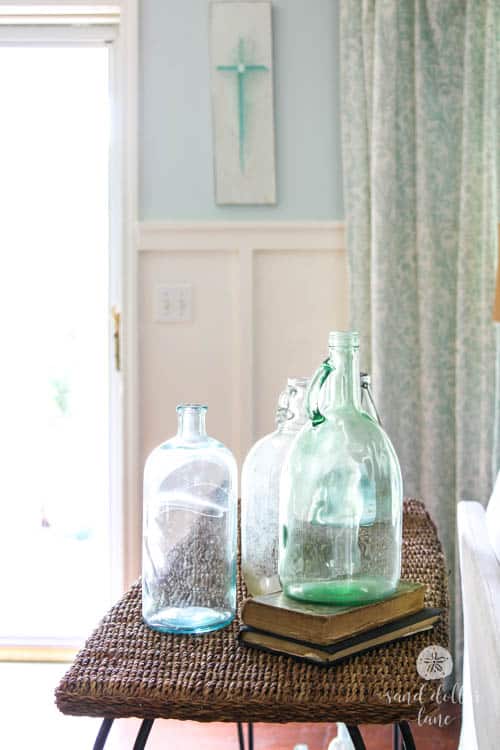 Tropical Plants- 
I really wanted to move this palm to the planter on our rock-a-pulco deck this spring but he's so happy where he is that I left him alone.  It's nice to have plants indoors for a bit of coastal style and they make a room come to life.  In addition to palms, other indoor plants that are tropical feeling are peace lillies, ribbon plants and orchids.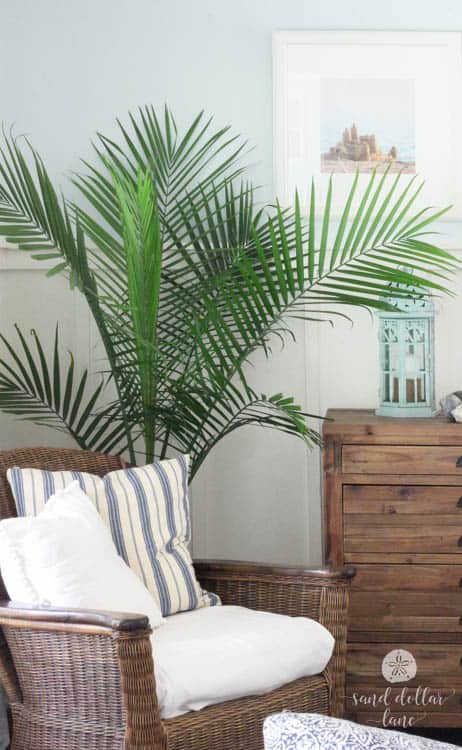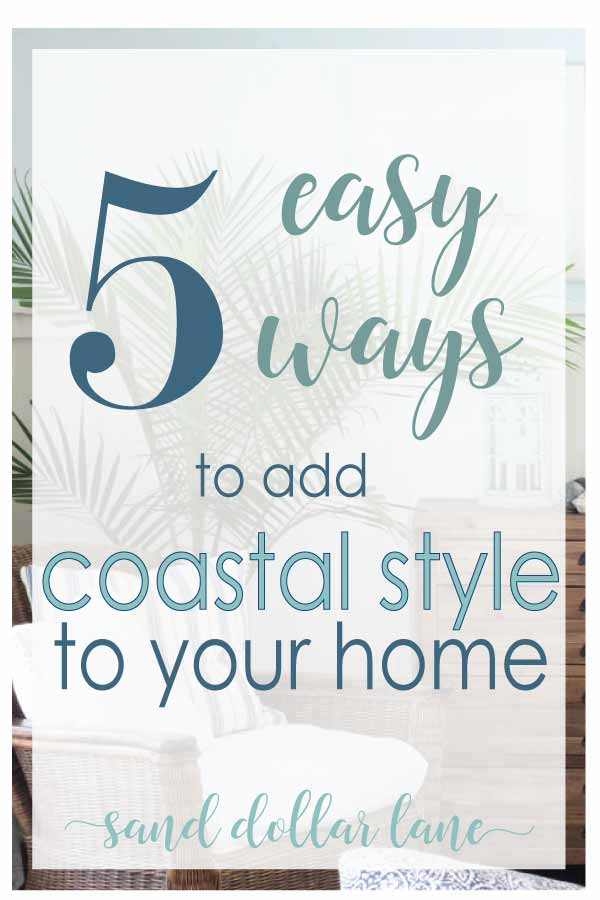 Next up on the hop is one of my very favorites, Laura from The Turquoise Home!  You're going to love her beautiful summer dining room!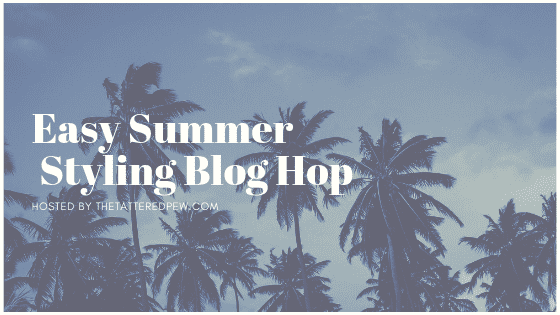 Come enjoy 13 talented bloggers sharing some easy summer styling this week! Sharing with me today are…
Thursday


And sharing yesterday…
Wednesday