How to recover a lampshade with fabric
Do you have an old, tired lampshade? Don't toss it- refresh it and make it new again! Learn how to recover a lampshade with fabric. It's easy and makes a huge difference in the look of your lamp!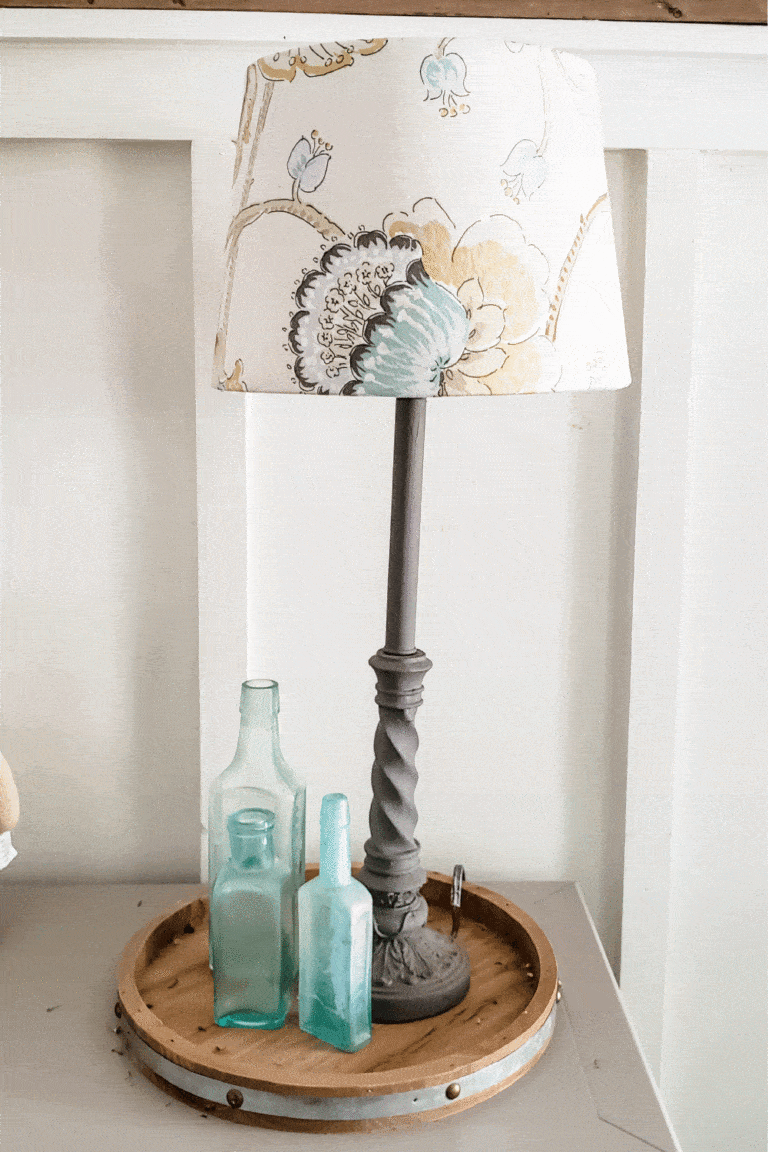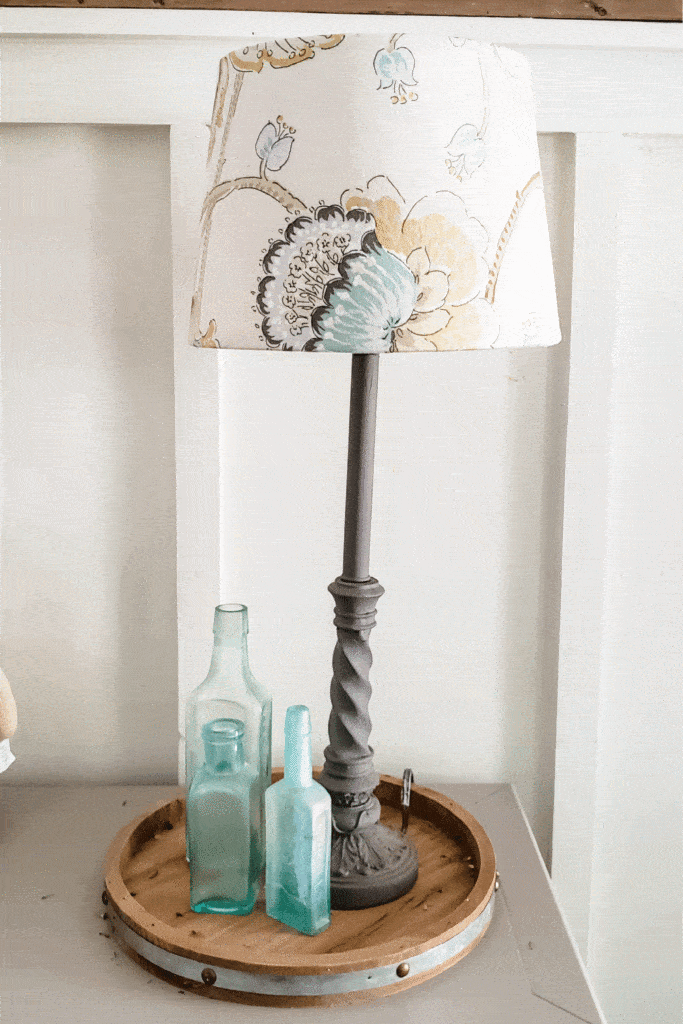 Why you should recover a lampshade
Refreshing or repurposing items you already own not only makes good sense financially but it's great for the environment too! Also, when you recover an old lampshade you can make it look any way you like. With so many fabric styles available the options are pretty much endless.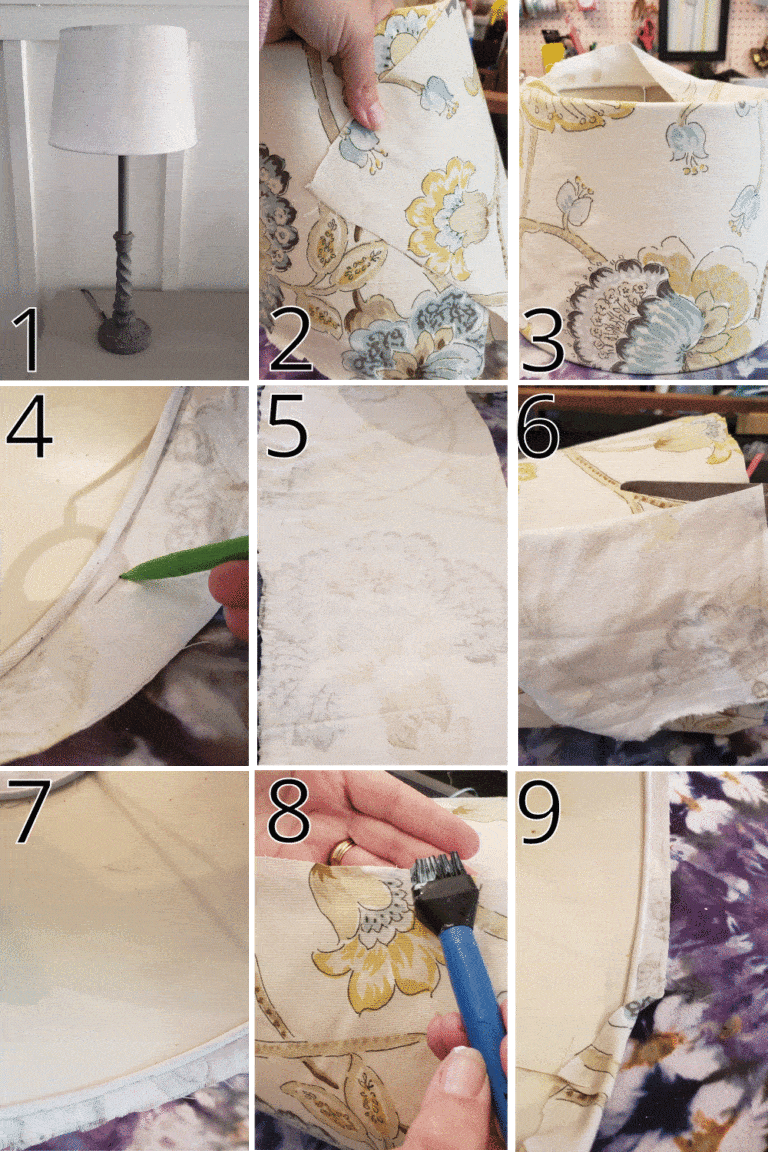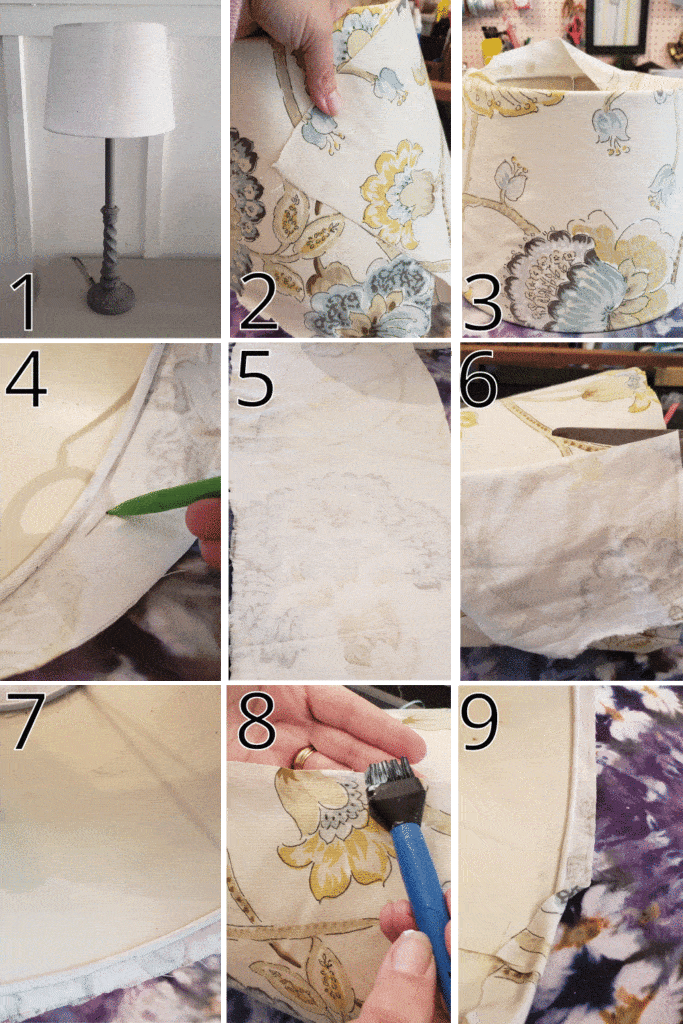 How to recover a lampshade
Find an old lampshade. I used one that was already fabric but any nontextured lampshade will work.
Find a piece of fabric that you like. I had this piece left over from some pillows I made a few years ago. It matches my lamp perfectly!
Wrap the fabric around the shade to get a general idea of the sizing to make sure it's going to fit. You want it to be about twice as high as your shade and a few inches longer. If your shade doesn't flare like mine does you will need less fabric.
Use a pencil or a fabric pen to draw a line about a half-inch larger than your shade. Do this on the top and bottom.
When you're done, you'll have a flatish rainbow shape (if your shade flares). Cut the top and bottom lines.
Wrap the fabric around the shade and cut off the excess length.
Make sure you have about a half-inch extra on the top and the bottom of the fabric.
Use fabric glue to adhere the two short ends together.
Once that is dry, glue the bottom of the fabric to the inside of the shade. Repeat for the top, holding it as you go along. The fabric glue took too long to dry (I'm impatient!) so I switched to a hot glue gun.
Add some trim, ribbon, or embellishments if you are feeling fancy!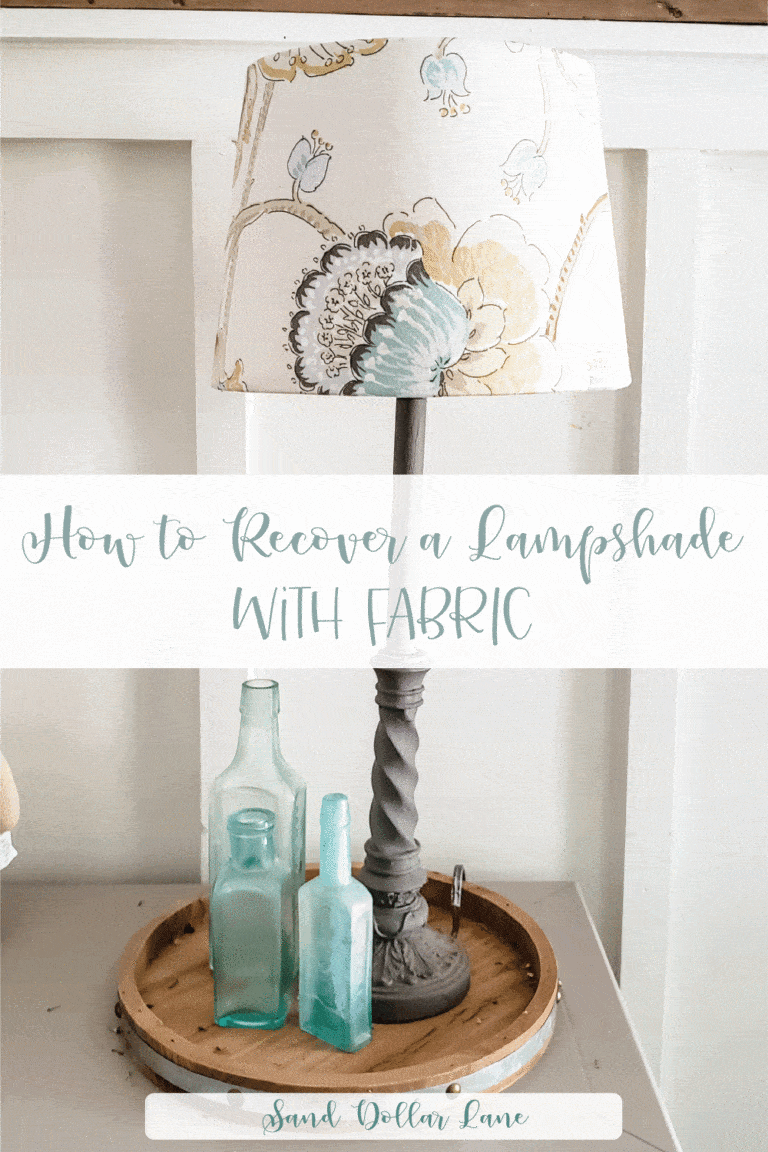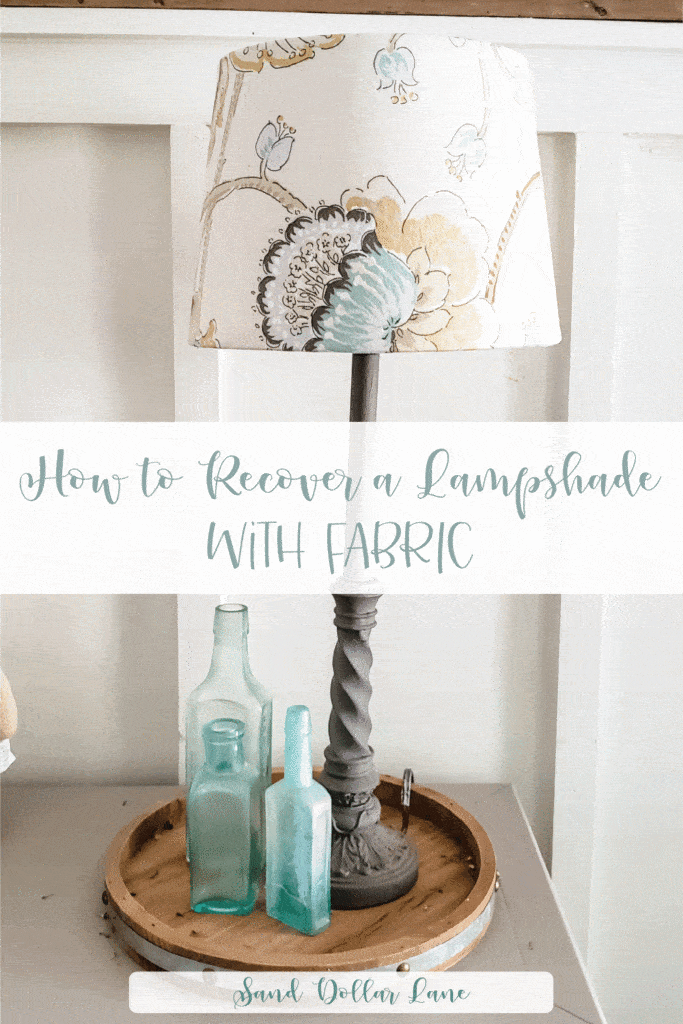 That's it! Easy right? The entire process of recovering the lampshade took me about 20 minutes and now I have a custom lampshade that coordinates with my pillows!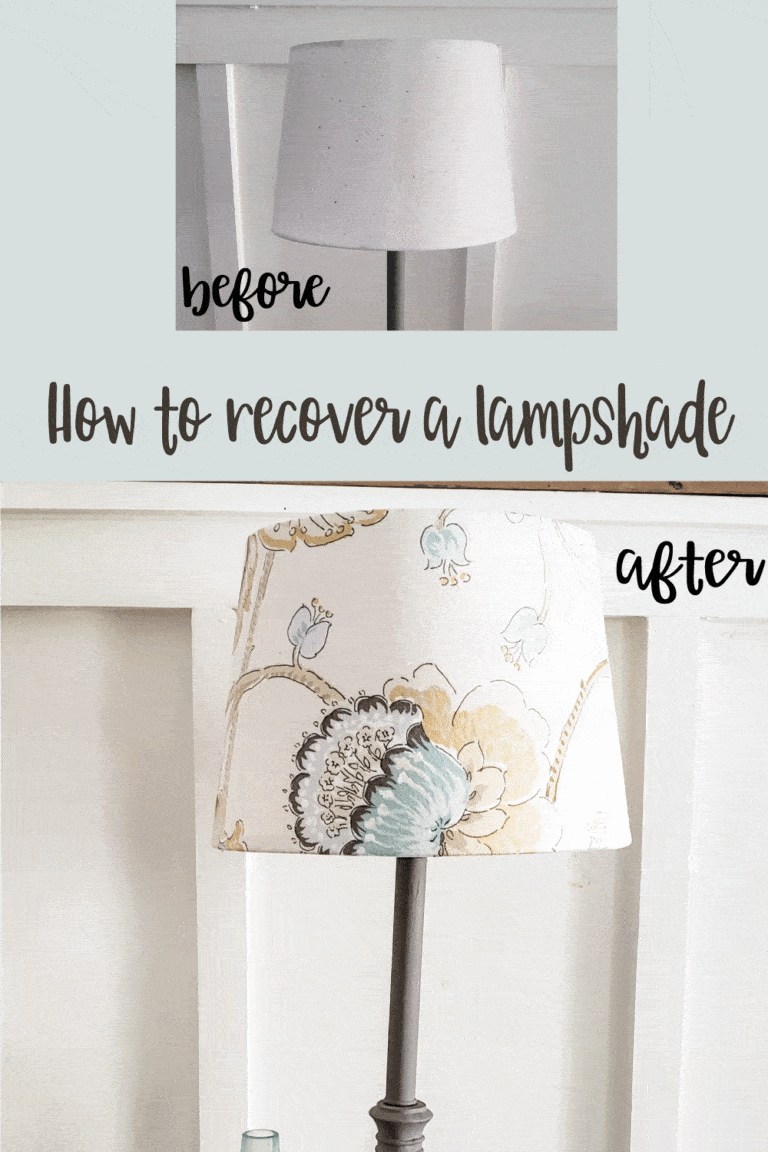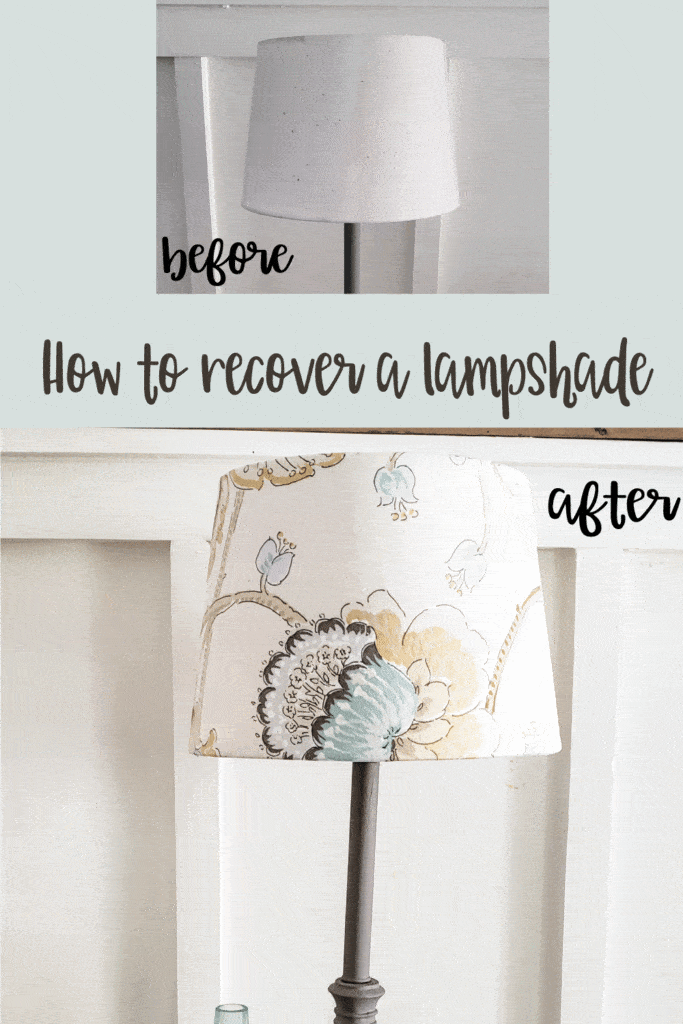 Want more ideas for refreshing and repurposing? Be sure to check out the clever tips my blogging buddies are also sharing today!
More DIY Project Ideas
DIY Wooden Bathroom Shelves
Ladder Golf DIY – How to make your own lawn game
DIY Leash Holder
How to build a DIY Boot Tray
DIY outdoor privacy screen with planter
Join me on Pinterest Facebook and Instagram for more DIY project ideas!