Growing Tomatoes in Grow Bags
Growing tomatoes in grow bags has so many benefits. Read on for the why, when, and how to use grow bags for your tomatoes and other plants.
Grow bags are becoming a popular choice for growing tomatoes especially for small spaces or temporary gardens. This year, our regular vegetable garden was taken over by my new adventure, Paradise Flower Farm! I am growing so many flowers in my new cutting garden and I can't wait to share more about it with you. For now, you can visit us on Facebook or Instagram for more details.
The only other sunny spot in our yard is right behind the house but there are a lot of huge tree roots there. We decided a container garden would be perfect and opted to use mostly grow bags.
This post contains affiliate links. As an Amazon Associate, I receive a small commission at no cost to you!
The Benefits of Using Grow Bags
Using grow bags for your tomato plants (and other veggies) is easy and convenient. Some of the many benefits of growing tomatoes in grow bags are-
Good soil – Since you are using fresh soil every time you fill them, grow bags are perfect if your garden area has poor soil (or tree roots like ours).
Breathable– Fabric grow bags will keep your plants from getting rootbound and will eliminate overwatering.
Don't take up much space – If you want to grow tomatoes in a small area like a patio or if you are a renter, use grow bags to make the most of the space you have available.
Portable – If you notice that your tomato plant is getting too much or not enough sun, simply move the bag to a different spot. Surprise late frost? Bring your grow bag in overnight.
Reusable – Fabric grow bags should last several years!
Easy to Store– at the end of your growing season, simply compost the plant and soil, rinse out the bag and let it dry then fold it and store it for next year.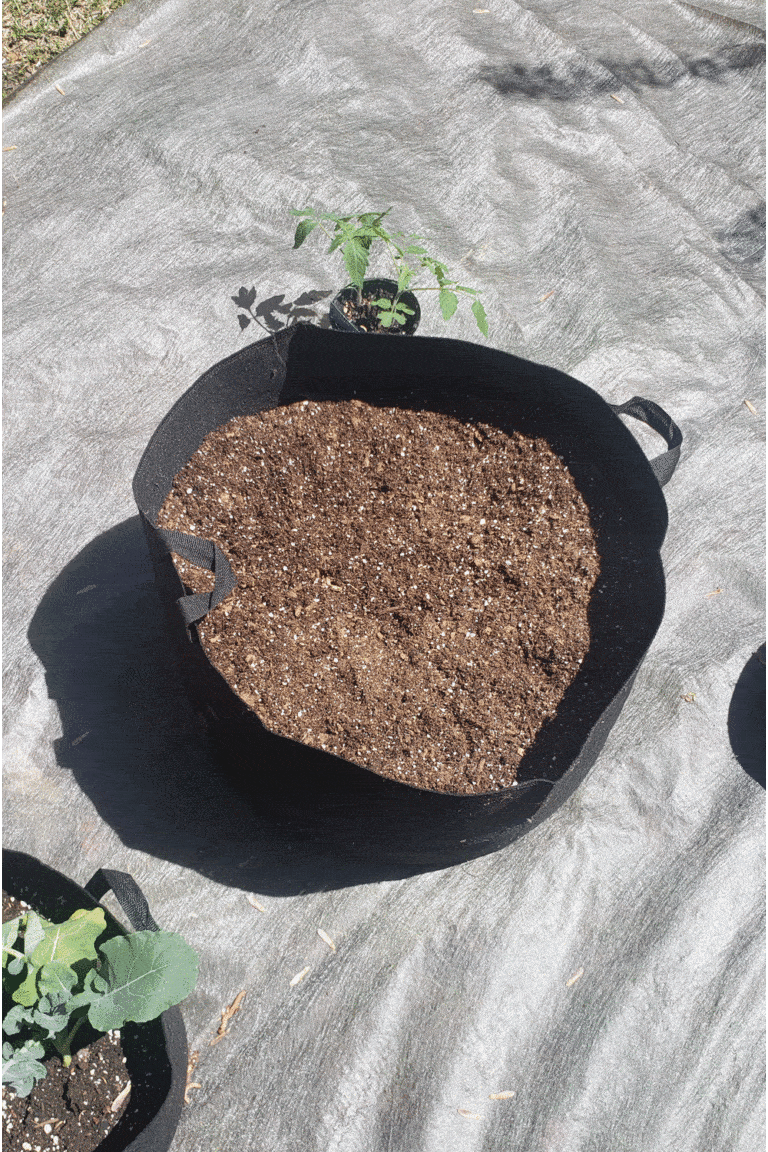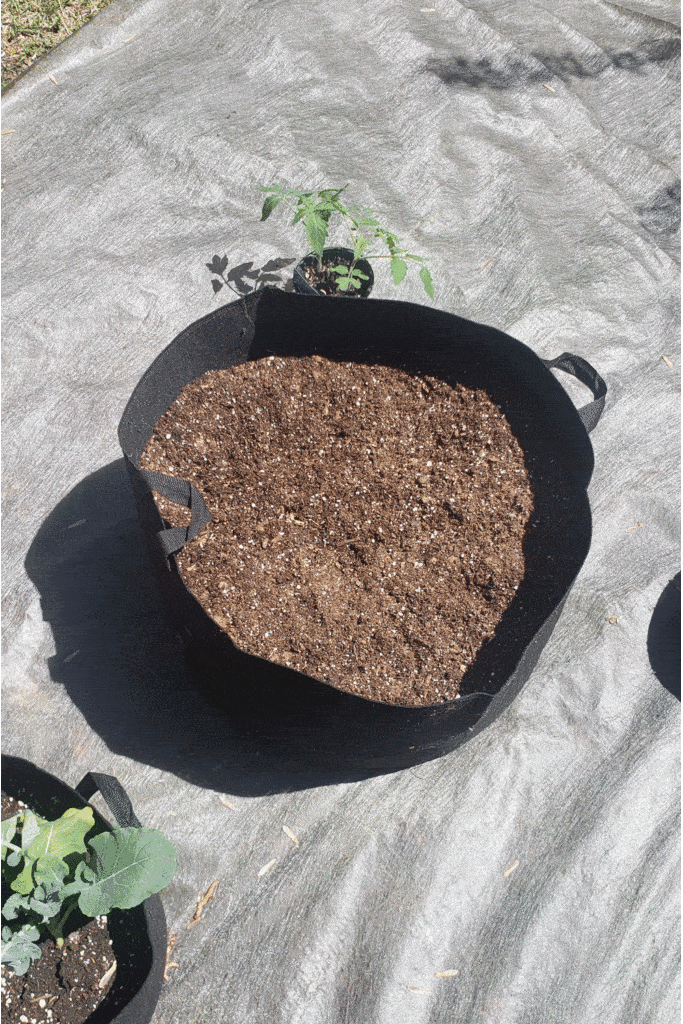 What You'll Need to Plant Tomatoes in Grow Bags
Potting soil– I like this organic mix. Whatever kind you choose make sure it's potting soil not garden or topsoil
Grow bag– I use 15 gallon bags but there are many sizes and colors available
Support (see below for options)
Tomato seeding
Tag– if you're planting more than one variety of tomato, trust me, you need to label them
mulch- I use straw
How to plant tomatoes in grow bags
Prepare your soil- I mix potting soil, compost and tomato fertilizer together. Mix together well, I use a wheelbarrow.
Fill your grow bag with potting soil mixture about 3/4 full
Remove seedling from it's pot and loosen roots a little
Pinch off bottom leaves and place the seedling in the center of the bag right up to it's leaves. This will help your tomato plant grow a sturdy stem.
Pat down the surrounding soil to eliminate any air bubbles.
Give your plant a long drink of water.
Cover with mulch to keep the soil moist.
Tips for Using Grow Bags
Don't plant your tomatoes too early. They prefer warm soil and will get stunted if you plant them before the ground is 65 to 70 degrees Fahrenheit.
Make sure you water your tomatoes enough and regularly. Grow bags will dry out faster than plants directly in the ground. Depending on how hot it is, you may need to water every day during the summer. According to Joe Lamp'l (JoeGardener.com) Blossom end rot is common when the plant isn't provided even watering (contrary to the garden myth that blossom end rot is from calcium deficiency.) Sidenote- I believe every word that Joe says about tomatoes!
Tomatoes can get diseases from being watered from the top, especially in hot humid areas. We're building a box lined with plastic to create a pool to water our tomatoes from the bottom.
Use a large enough grow bag for your tomato plant. My bag shown is a 15-gallon bag. My little seedling looks small in there now but in a couple of months, it will fill most of the space. I also plan to add a couple of marigold plants so I wanted enough room for them.
How to support Tomatoes in Grow Bags
Here are a few different options for keeping your tomato plants upright. Be careful not to use a support that isn't strong enough for your plant. Tomato plants can grow large!
Teepee made of sticks– this one is a freebie! Just take three or four long sticks and insert them into the soil around the inside edge of the grow bag then tie them together at the top with twine.
Wire cage- this weekend we're making a couple dozen of these great cages. Check out the tutorial at Cottage at the Crossroads
Stakes– these are simple to use. Just put the stake into the ground next to the grow bag and every so often attach the tomato plant to the stake with garden tape or twine.
Tomato cages– just place the cage around the tomato and push it into the soil.
More Gardening Ideas
How to build a vertical succulent garden
Succulent in Seashell
DIY outdoor privacy screen with planter
Join me on Pinterest Facebook and Instagram for more planting and gardening ideas!
I hope I've inspired you to try growing tomatoes in grow bags. If you have any questions, just comment below and I will answer as soon as possible!
I am excited to be joining some blogging friends who are also sharing their garden tips and ideas. Up next is my friend, Sonya Burgess who is sharing some resources for new gardeners. Be sure to visit all the posts for great gardening ideas!