How to Decorate an Entryway for Spring
My favorite spot in our home to decorate for spring is our entryway. It's the first area we see when coming home and I love that it announces that spring is here!
Today I am sharing our entryway decorated for spring featuring some fun elements and some vintage pieces.
I am excited to be participating in the Blogger's Best Spring Home Tour featuring 30 bloggers sharing their homes decorated for spring! A big thanks to Kelly at The Tattered Pew and Mansa at This is Simplicite for hosting this amazing tour!
If you are visiting from First Day of Home, welcome to Sand Dollar Lane! I love Crissy's beautiful home and she shares the best craft ideas!
This post contains affiliate links. As an Amazon Associate, I receive a small commission at no cost to you! See my full disclosure page here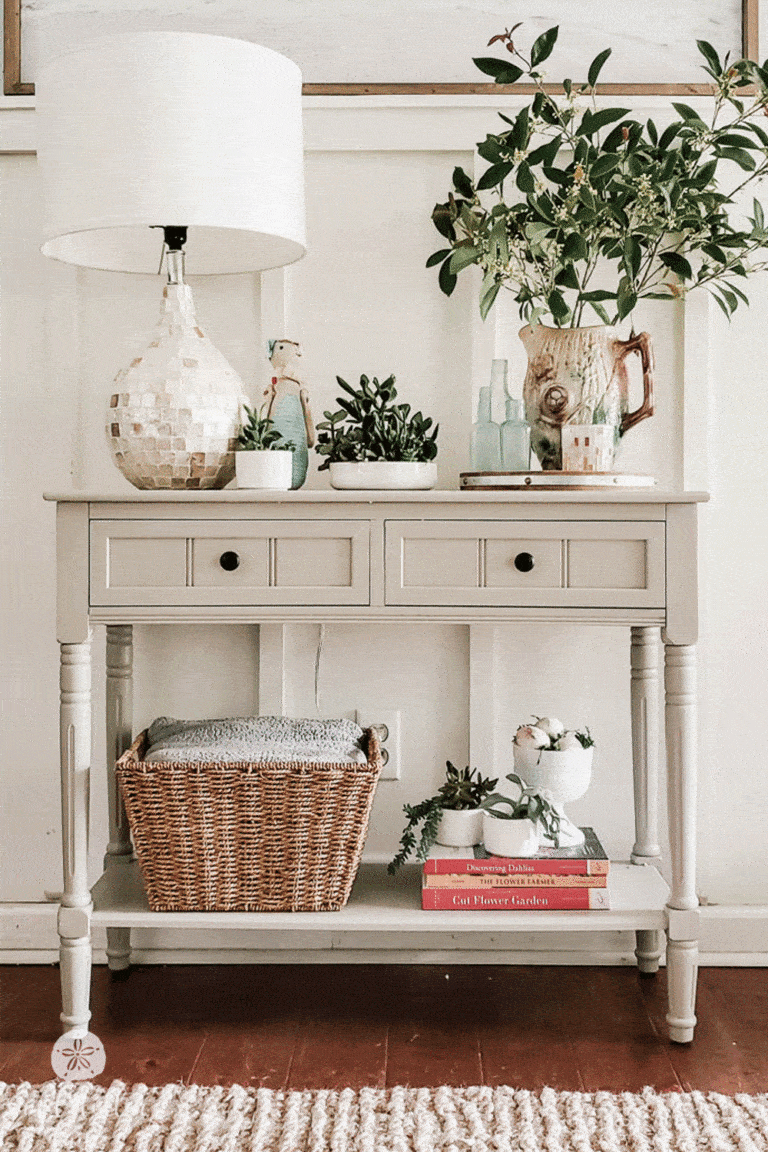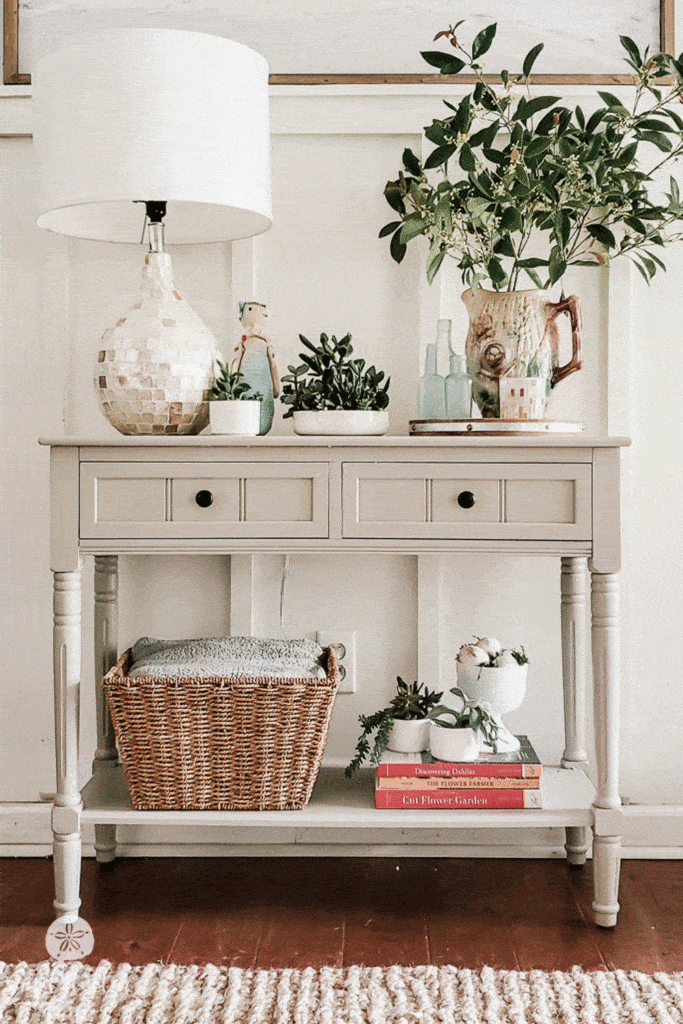 Decorating your doorway for spring
As the first thing people see when they come to your home, your doorway should show the personality of the people living there. A few of my must-have items for spring doorways are-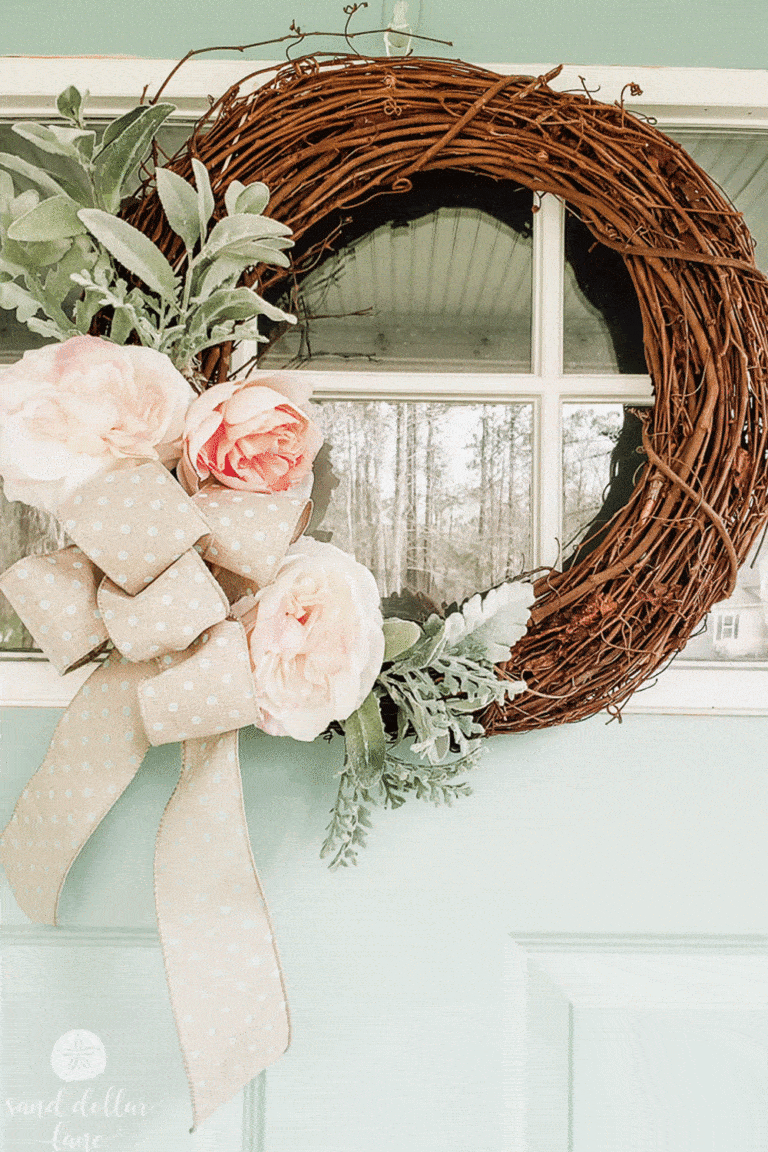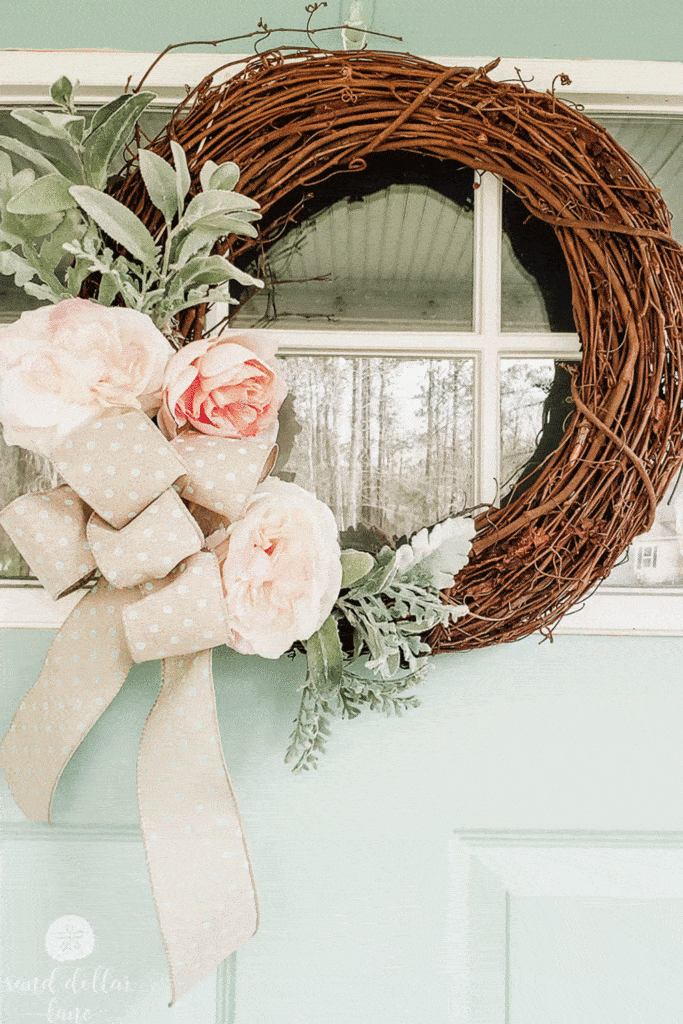 a wreath or wall pocket – I made this wreath in ten minutes with items I had on hand.
welcome mat – Spring usually means muddy shoes so be sure to have a doormat. You can find the cute one I used here.
plants and flowers– these definitely say spring is here! I found this fernzilla at our local garden center. It didn't look nearly as large there! The basket of flowering plants was a hanging basket that I removed the wire hanger from. I love all the colors in it!
---
Entryway console table decorating
This console table is new here in our entry and I am having so much fun decorating it.
Here are a few of my favorite things to use on my entryway console table.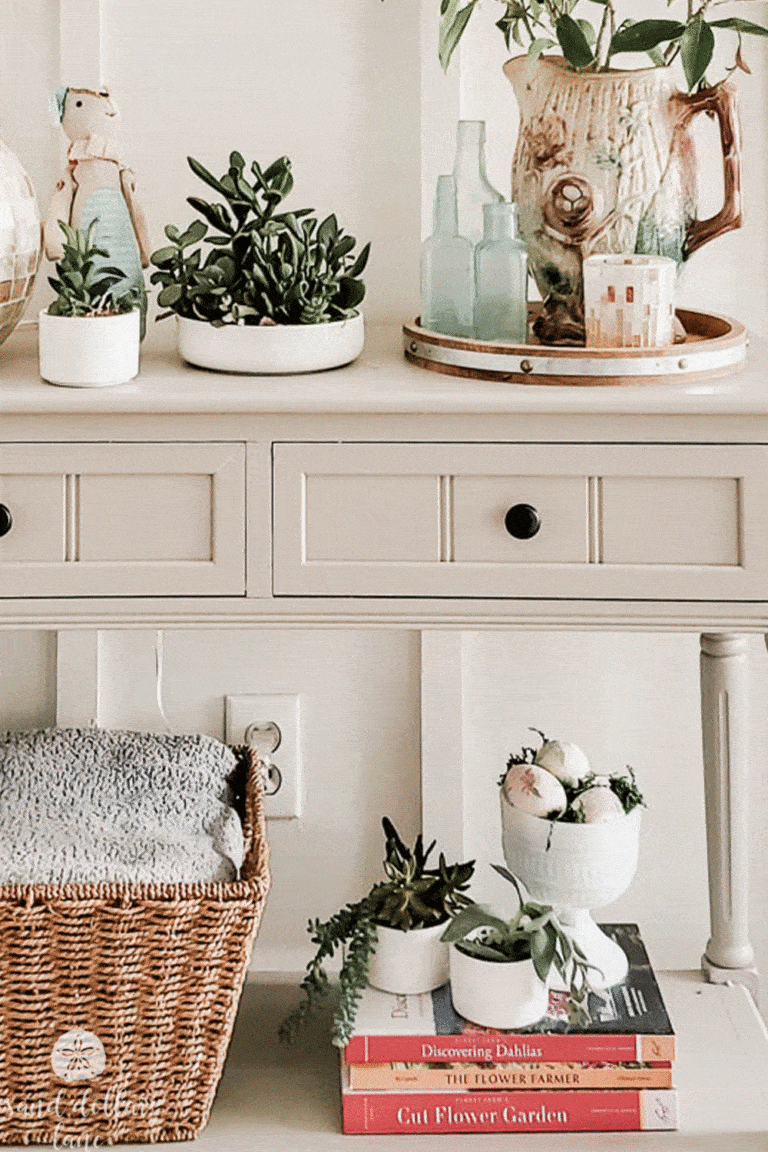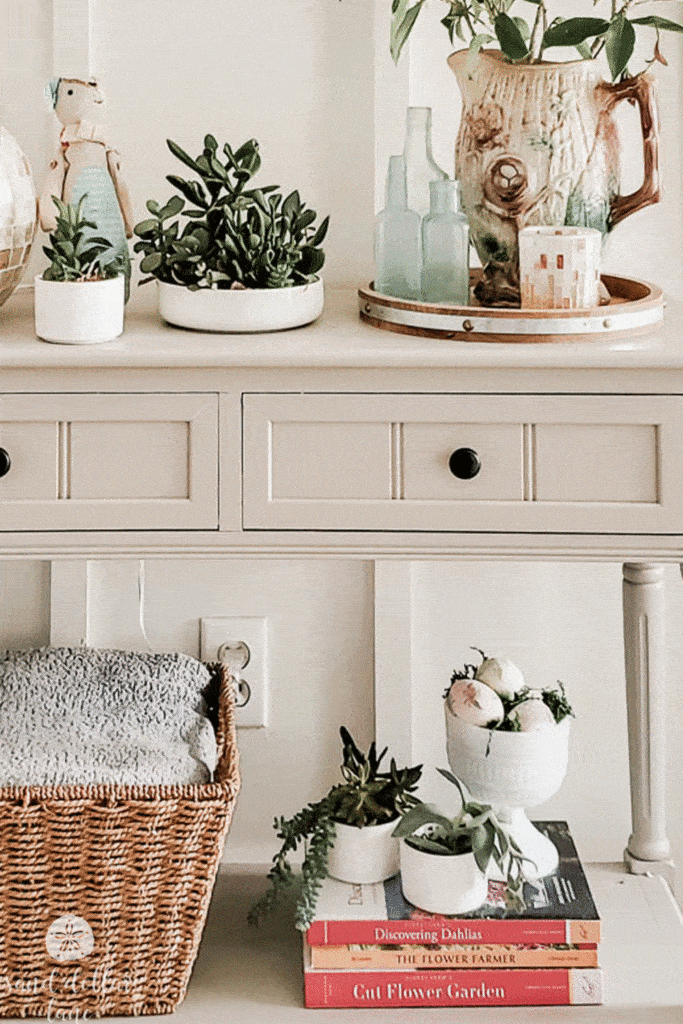 Fresh Flowers and Plants – Flowers and plants are my favorite thing about spring. I incorporate many different types including flowering branches, cut flowers, succulents, and other live plants. On my entryway console, I included branches from my olive tree (it smells heavenly!) and a few succulents.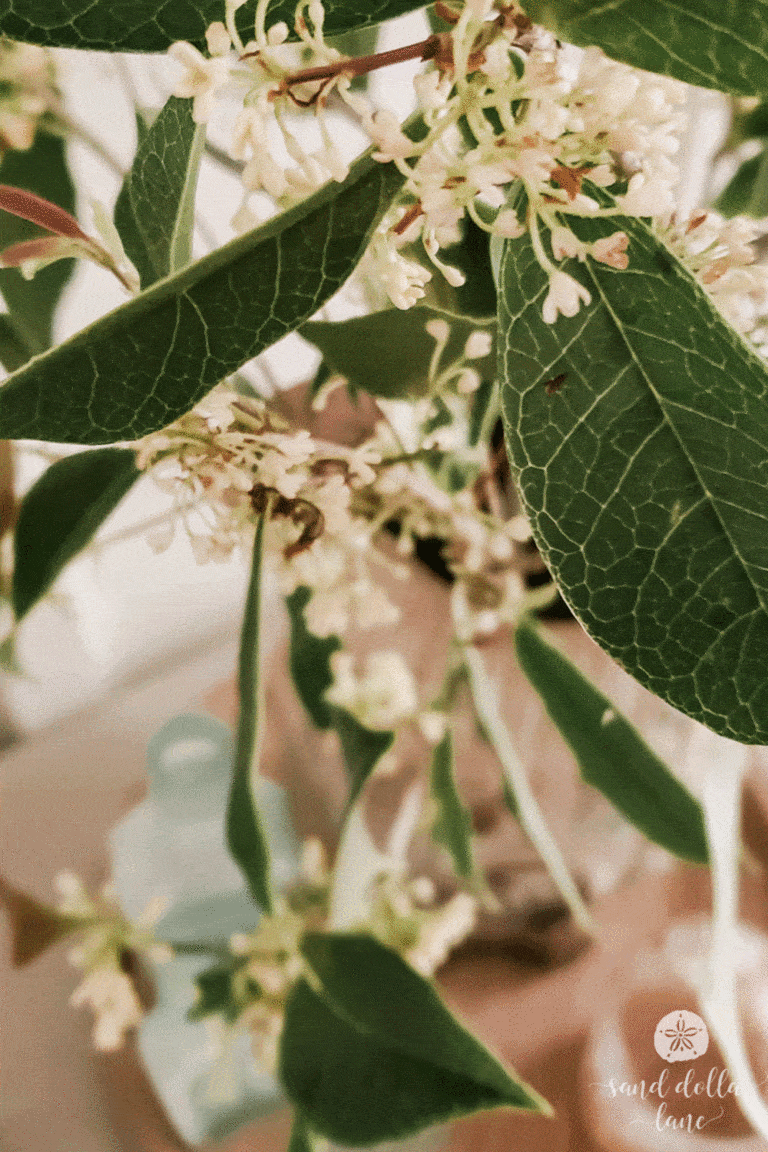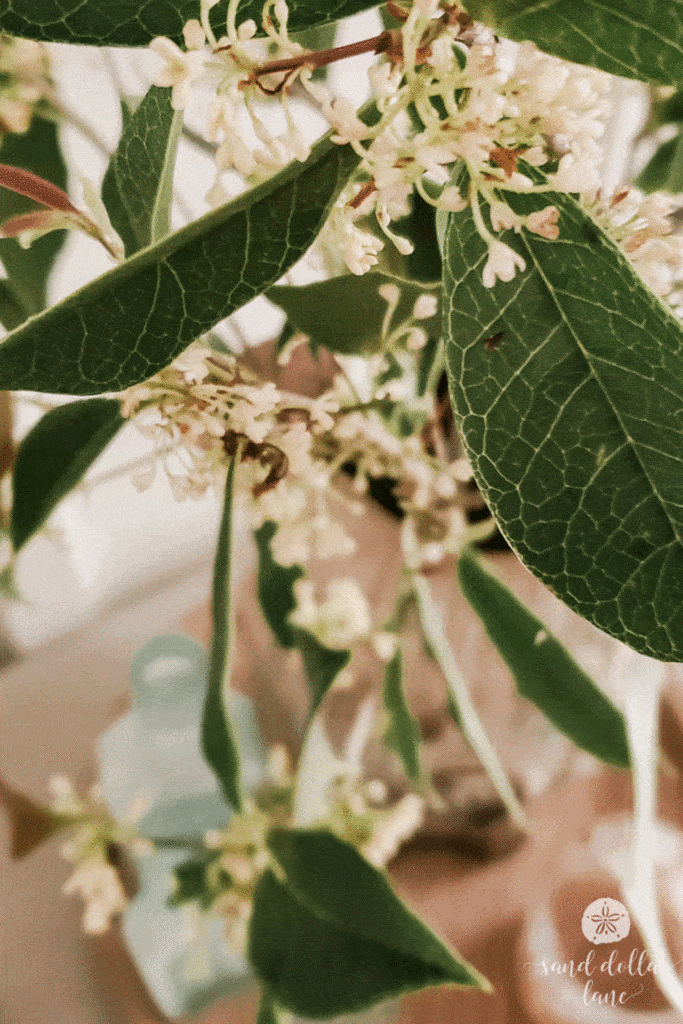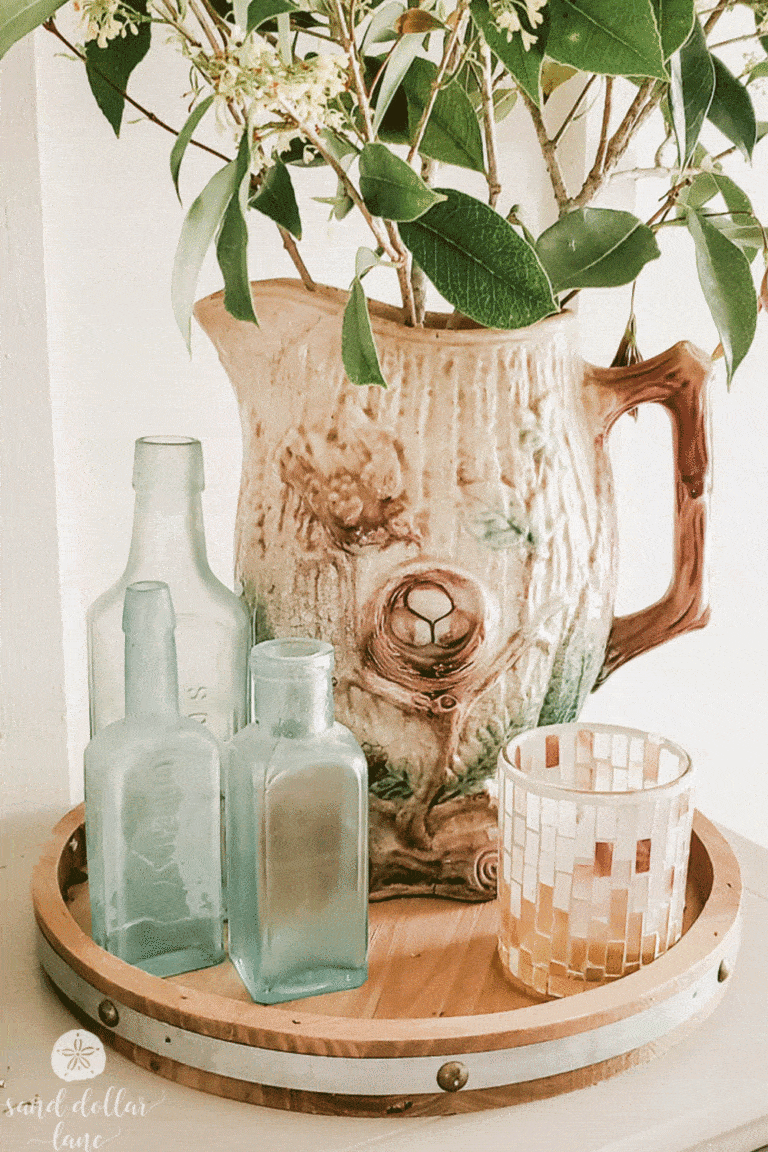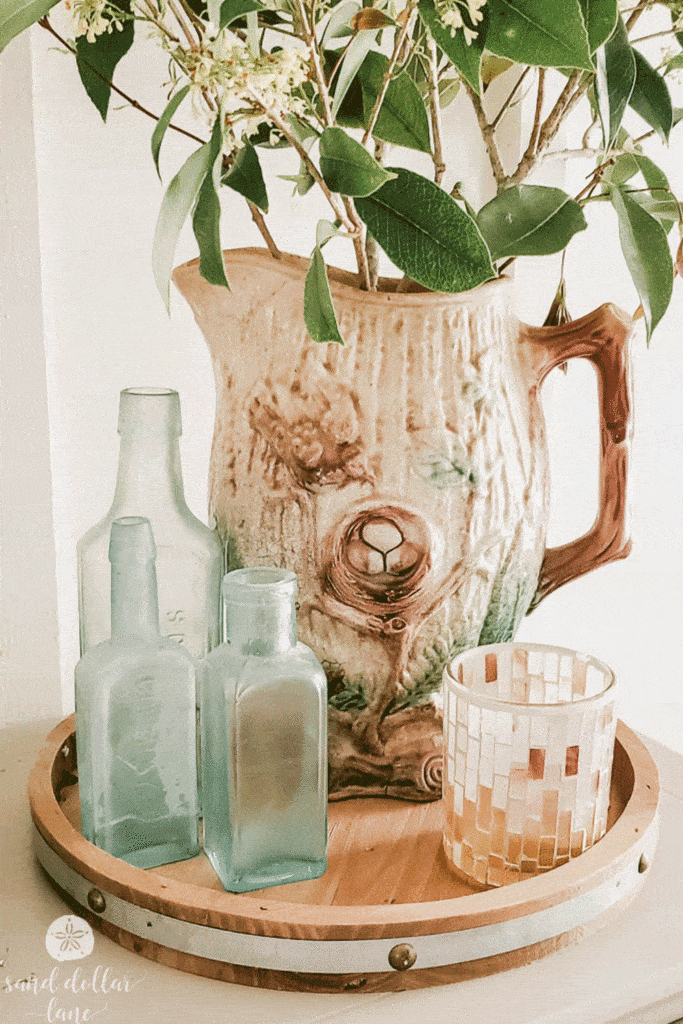 Vintage pieces – Vintage pieces and family heirlooms are great conversation starters and it's always nice to use these pieces where you can see them every day. This Majolica pitcher was given to me by my mother, it was her grandmother's originally and I treasure it! I also included a few of my vintage medicine bottles. They are one of my favorite things to decorate with year-round!
Bunnies – Spring decorating wouldn't be complete without a bunny or two! I don't usually use cutesy things in my decorating but this guy was too cute to resist!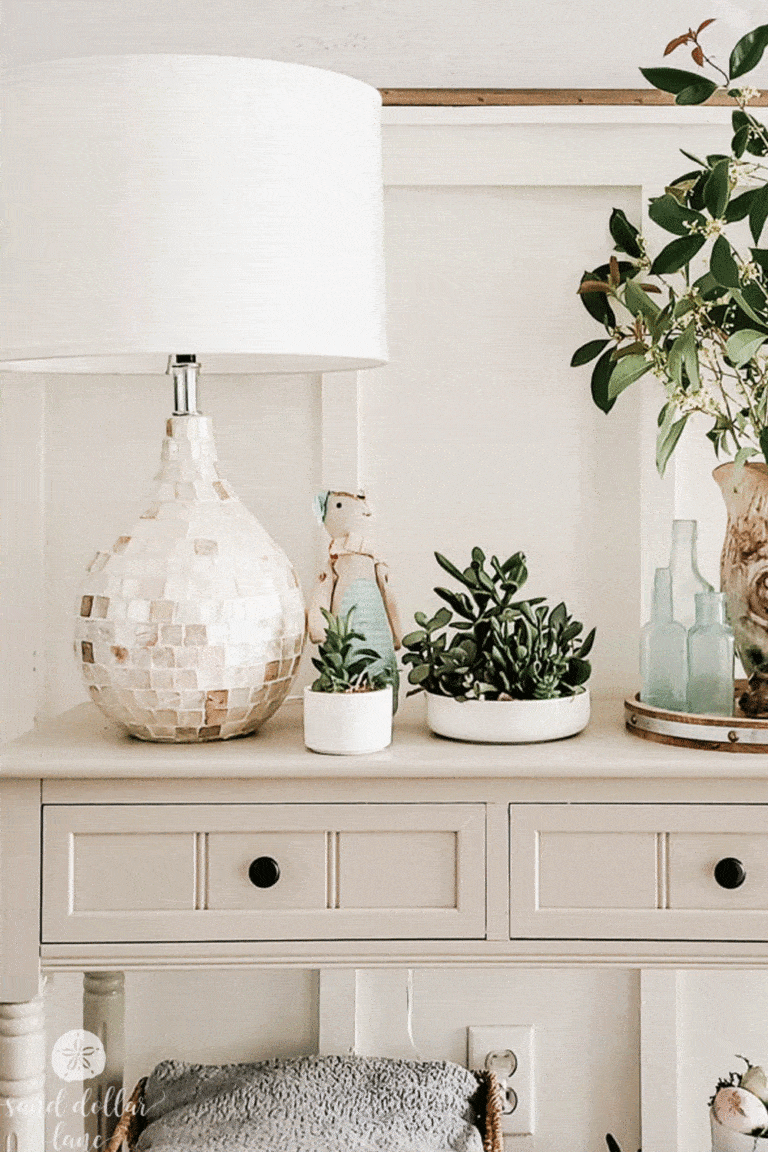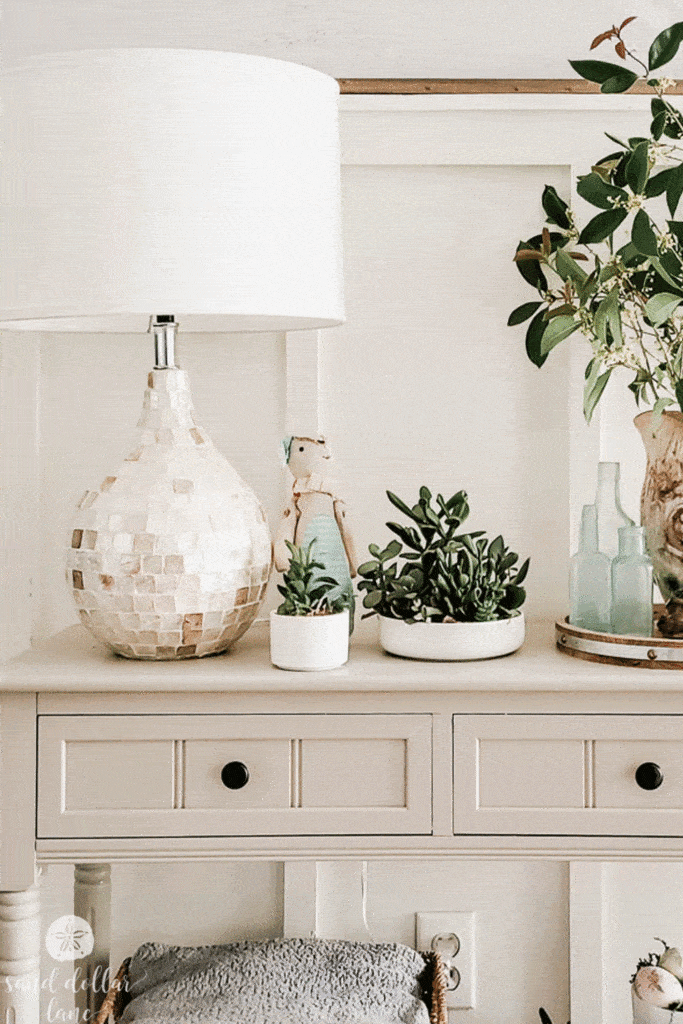 Decorated Eggs – There are so many ways to decorate eggs for your spring decor. I handpainted these about 20 years ago and display them every year. In addition to painted eggs, you could decoupage them or even gold leaf them.
Books– Every console table needs a small stack of books. Using books that you are currently reading is an authentic choice, not to mention convenient. When you have a few minutes to read, you'll know just where your book is. I am using all three of these books right now as I plan my cut flower garden.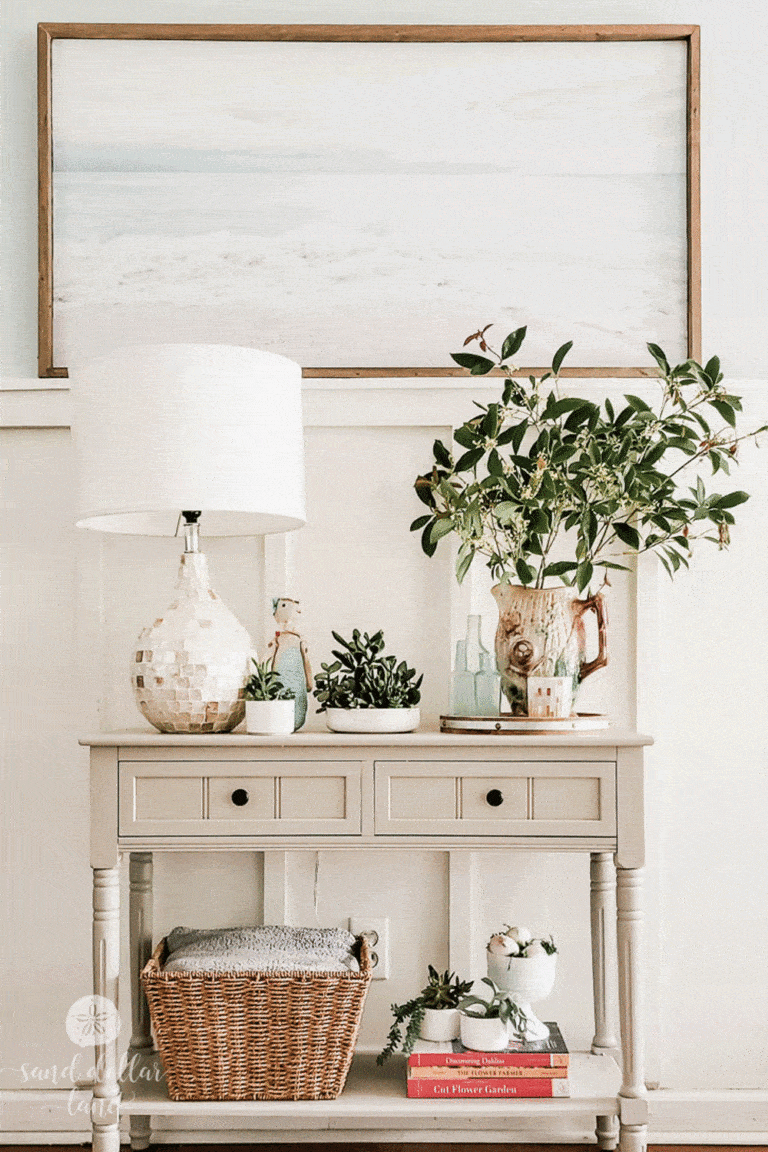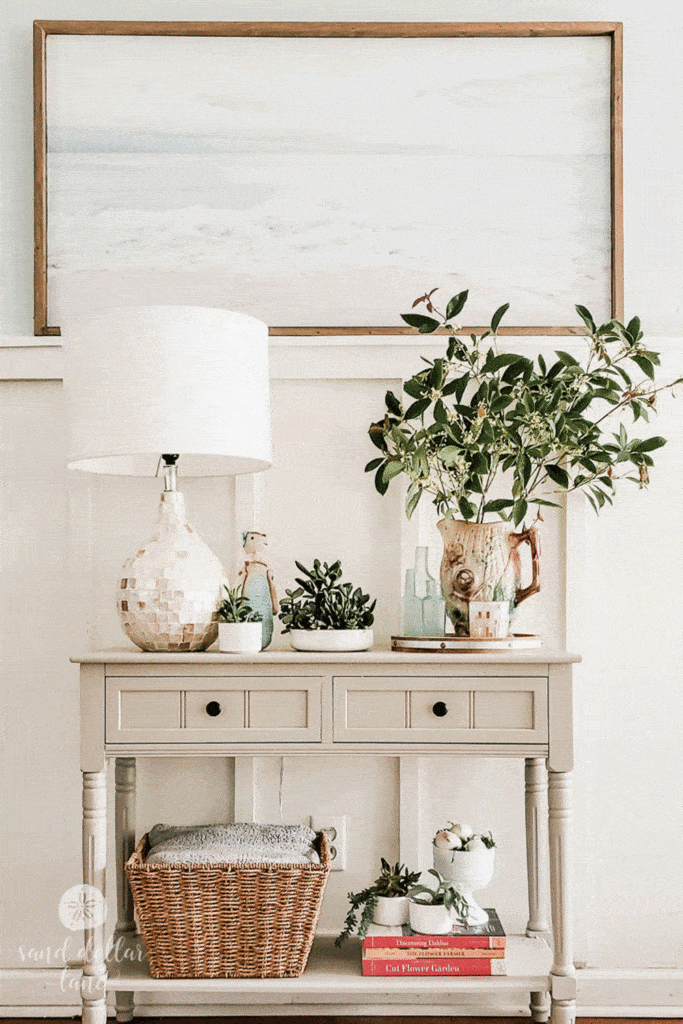 When should you start spring decorating?
I am usually sick of winter right after New Years Day but I start decorating for spring around the beginning of March. Here in coastal North Carolina it's starting to warm up by then and some plants and flowers are beginning to show themselves. If you live in a colder climate, you may want to start your spring decorating around then even if there's still snow on the ground. It may help you get through those last weeks of winter!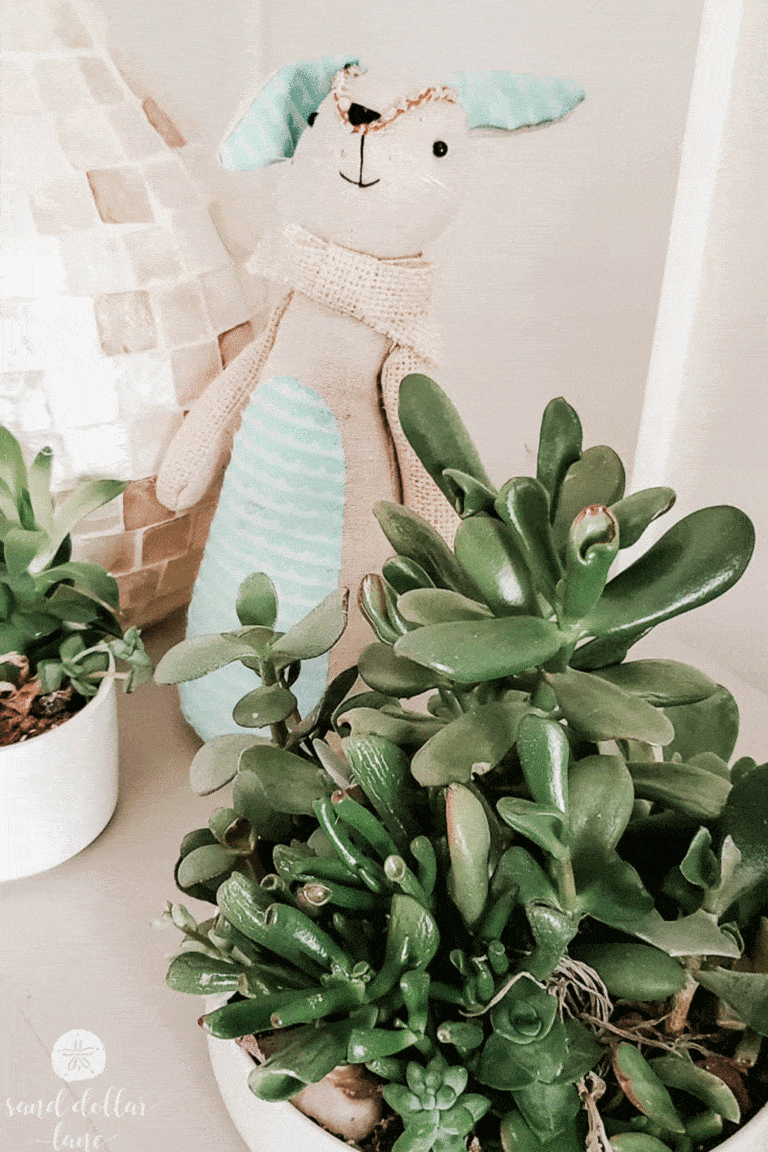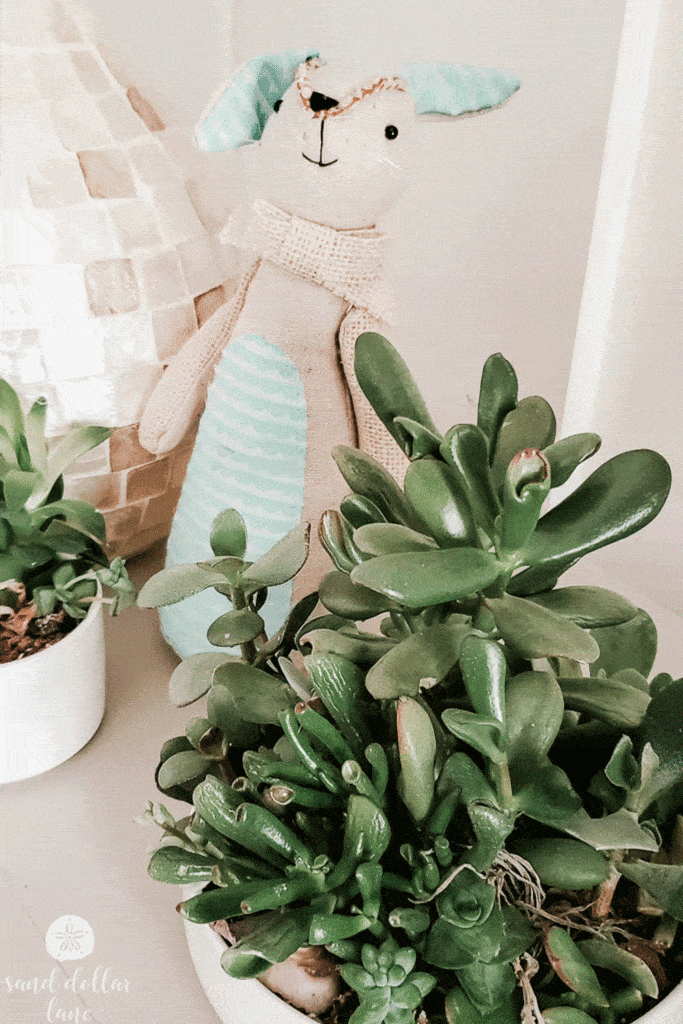 More Spring Decorating Ideas
Pergola Decorating for Spring
Spring Porch Decorating
Spring Dining Room Tablescape
How to Create a Simple Table Centerpiece
Join me on Pinterest Facebook and Instagram for more coastal decorating ideas!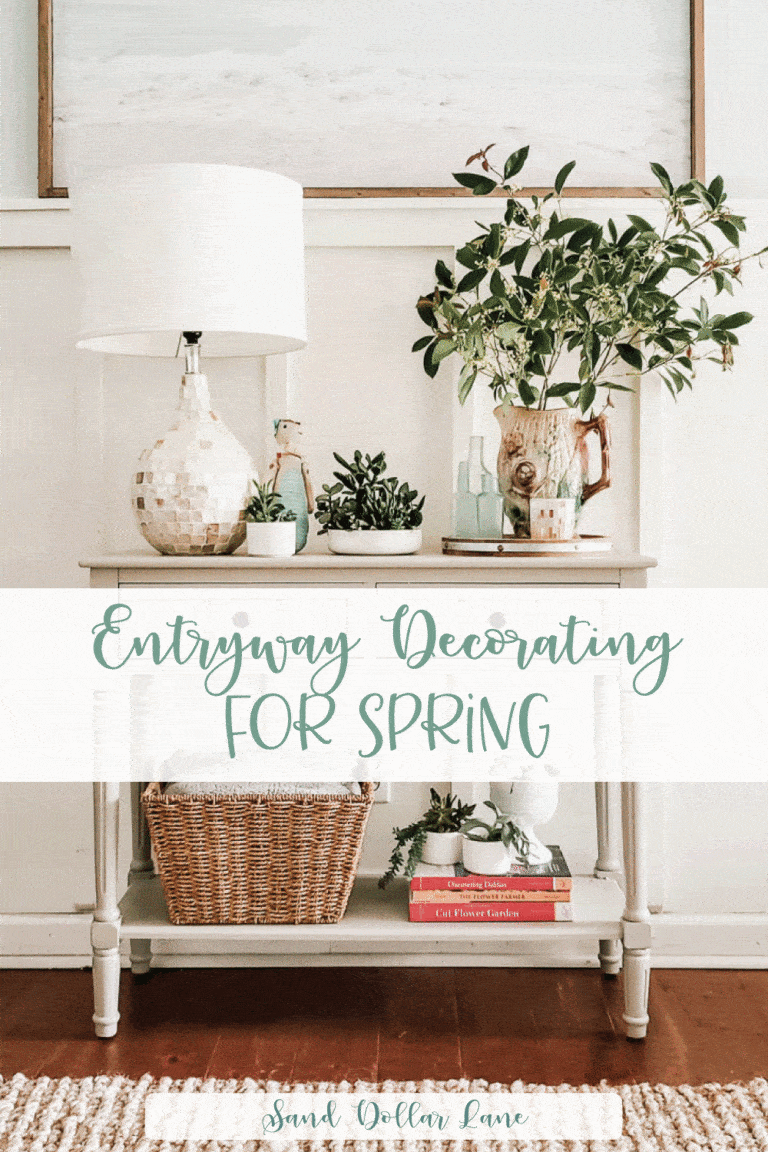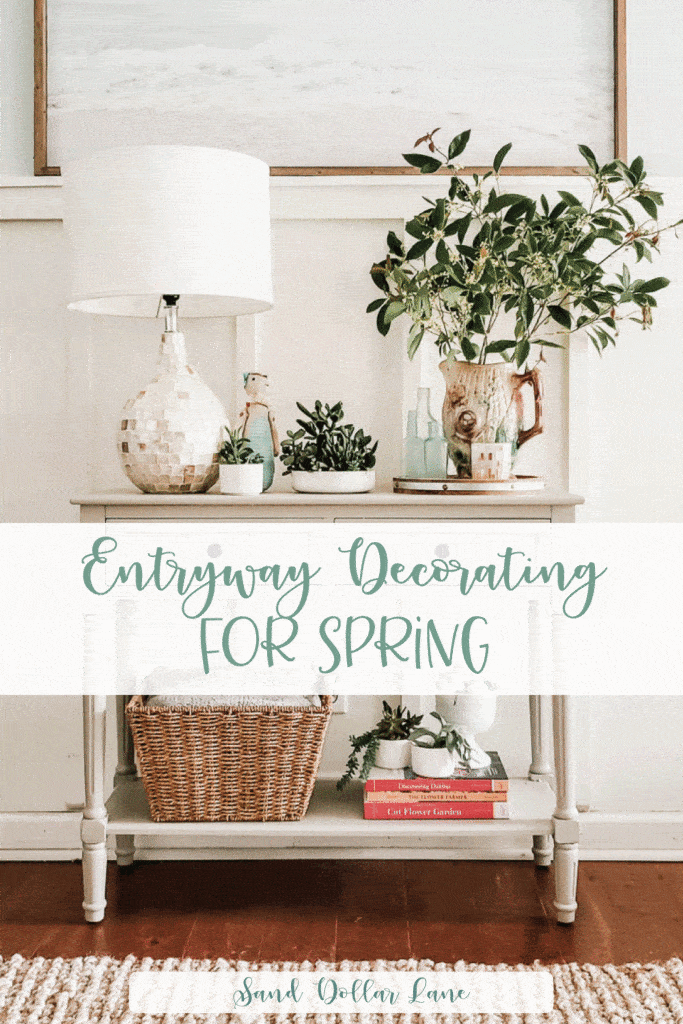 I am so glad you stopped by to see my spring entryway. Next on the tour is Kori at The Farmhouse Life. Be sure to check out her beautiful spring decor and all the others stops on the tour as well for lots of spring decorating inspiration.
---
Bloggers Best Spring Home Tour
This week I'm joining some of my lovely blogging friends for the Bloggers Best Spring Home Tours! All week long we are welcoming you into our homes decorated for spring. You can visit each tour by clicking on the links below the images!
Monday's Tours

Tuesday's Tours

Wednesday's Tours

Thursday's Tours

Friday's Tours