Blue, White and Bronze Christmas Dining Room
Our entire house will be decorated in blues, white and bronze this Christmas! I love this non-traditional Christmas color combo that has all the cozy winter feels. Come see how I used it to decorate our dining room.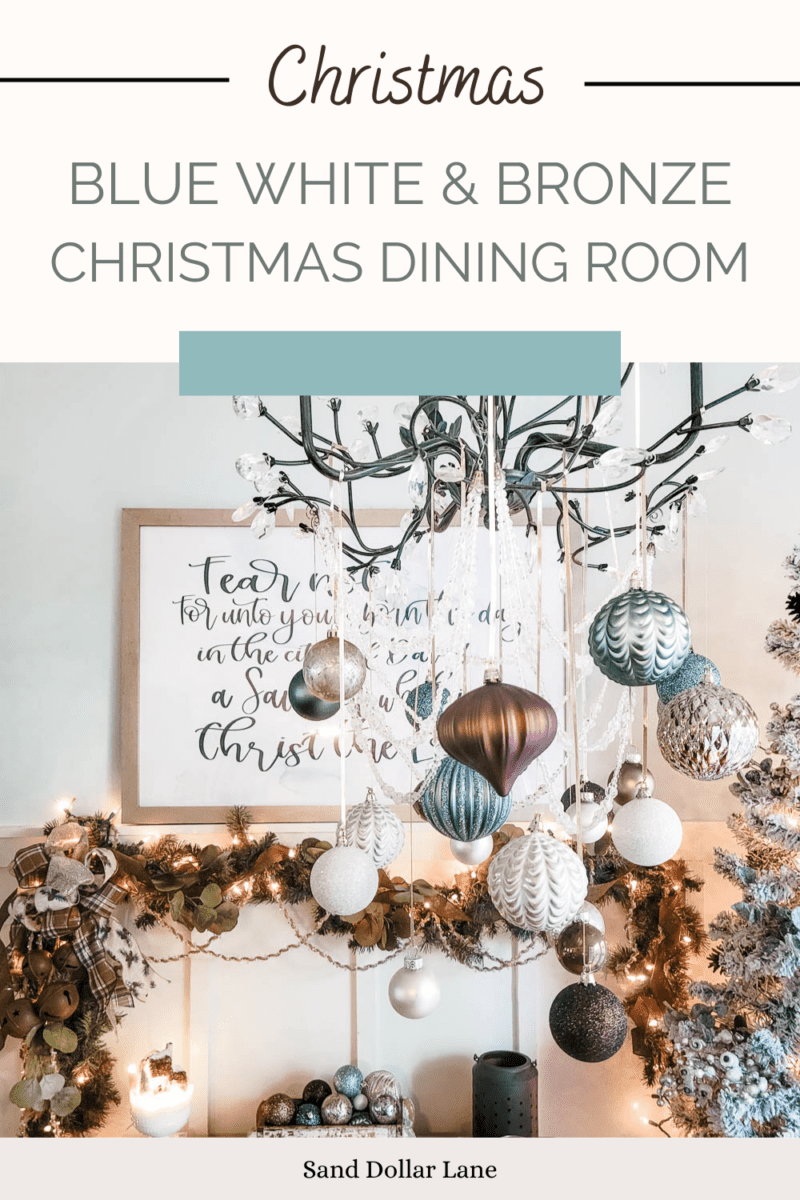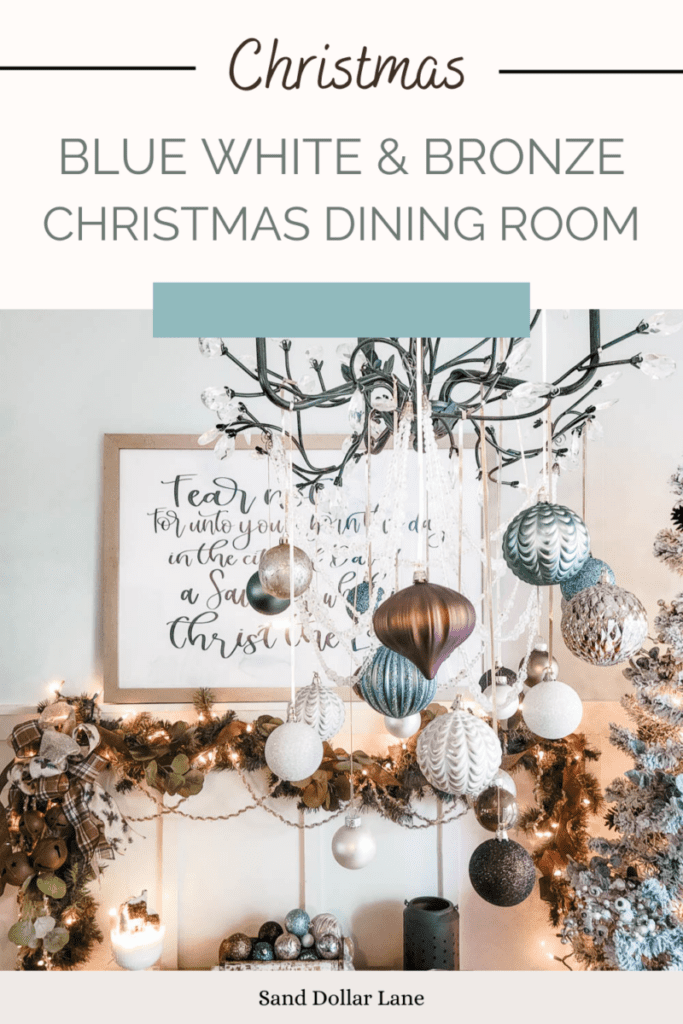 This isn't a color combo that you would normally associate with Christmas but it's so pretty and has a winter mountain feel to it.
That's actually the name of the color pallet in the box of ornaments that got me hooked on this color scheme, Winter Mountain.
I think after you see it, you will love it too!
I'll share a pic of the ornaments and all the accessories I used to decorate our dining room this Christmas but first I want to share that it's the first day of the Celebrate Christmas Home Tour!
Once again, I am hosting this amazing tour and have 29 blogging friends joining me to share tons of Christmas decorating inspiration!
Be sure to check back every day this week for so many great ideas! There's a link at the bottom of this post to all the participants.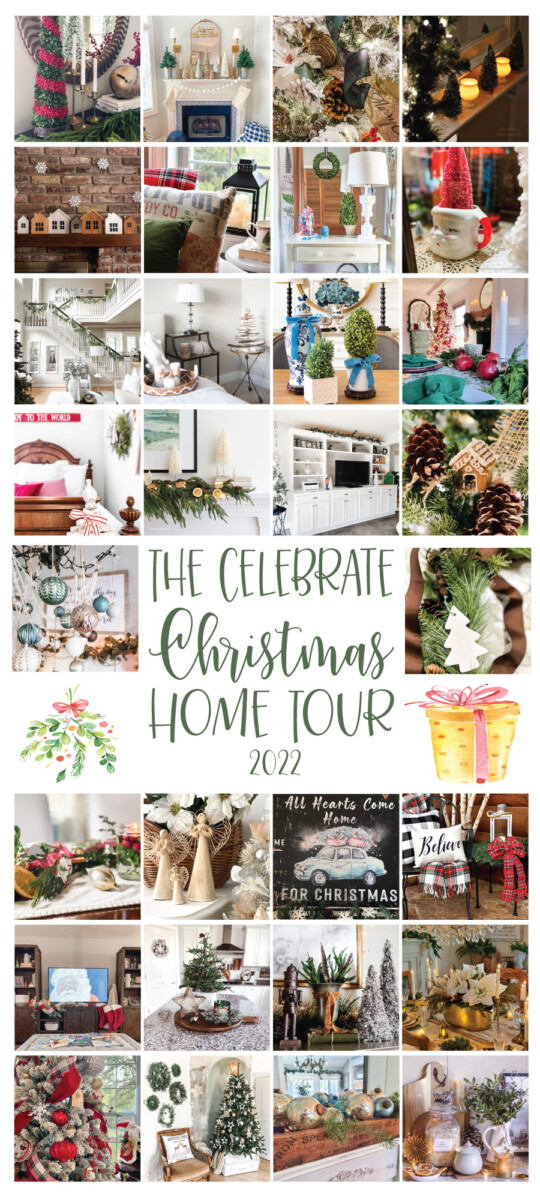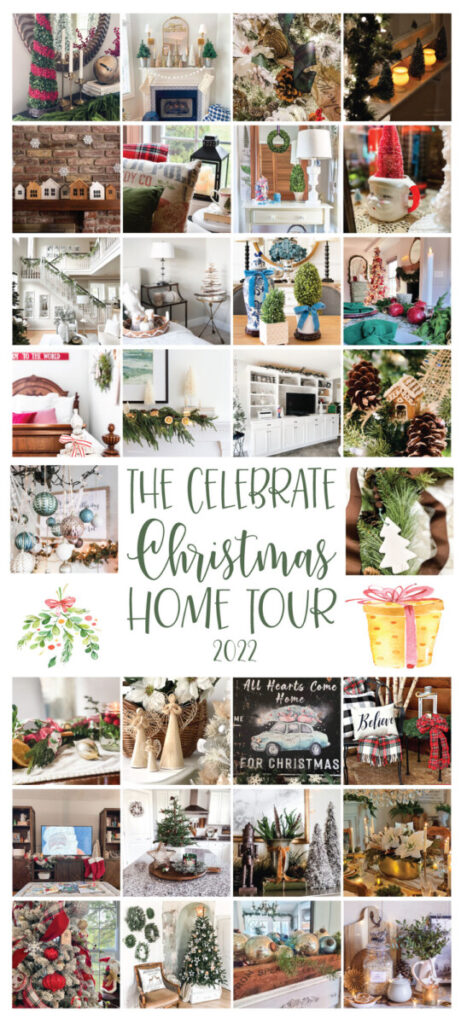 Did you see my friend Patti's (Hearth and Vine) adorable Christmas mantel? Seriously so cute! Patti always has such great ideas.
The Ornaments That Inspired Me
Blogging about home décor means coming up with new Christmas decorating ideas every year.
I've shared pink Christmas decorations, blue and gold decorations, "rustic glam" style Christmas ideas, lots of coastal Christmas decor and so many more!
Sometimes it comes easy, like my red, white and silver Christmas dining room a few years ago.
I knew that this year, I wanted the same theme throughout the house. I just didn't know what theme or colors I wanted to use!
Then I happened upon this blue, white and bronze Ornament set at Sams Club.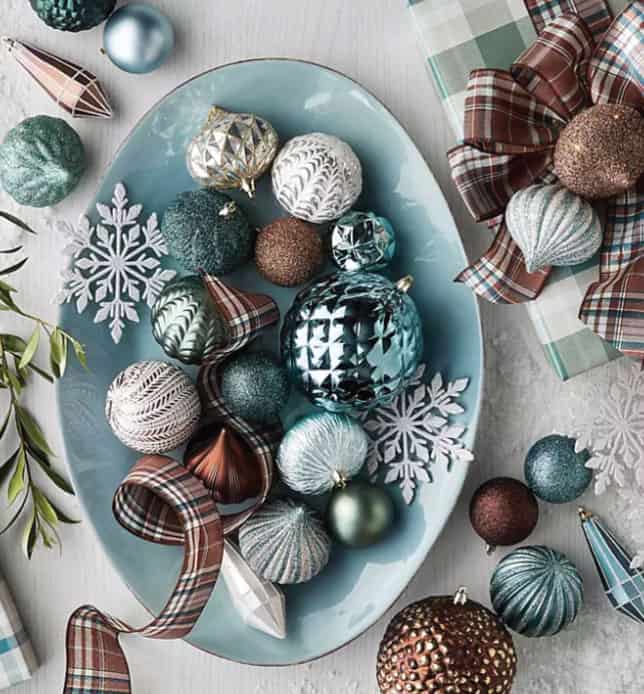 Gorgeous, right?!
I bought two sets and all the ribbons that go with it.
Are you remembering that I was on a self imposed spending freeze and decorated our fall mudroom and kitchen without buying anything new?
Yeah, the spending freeze ended when I saw this set.
In my defense, I will use these ornaments for years. There's so many combos and around here blue is a neutral.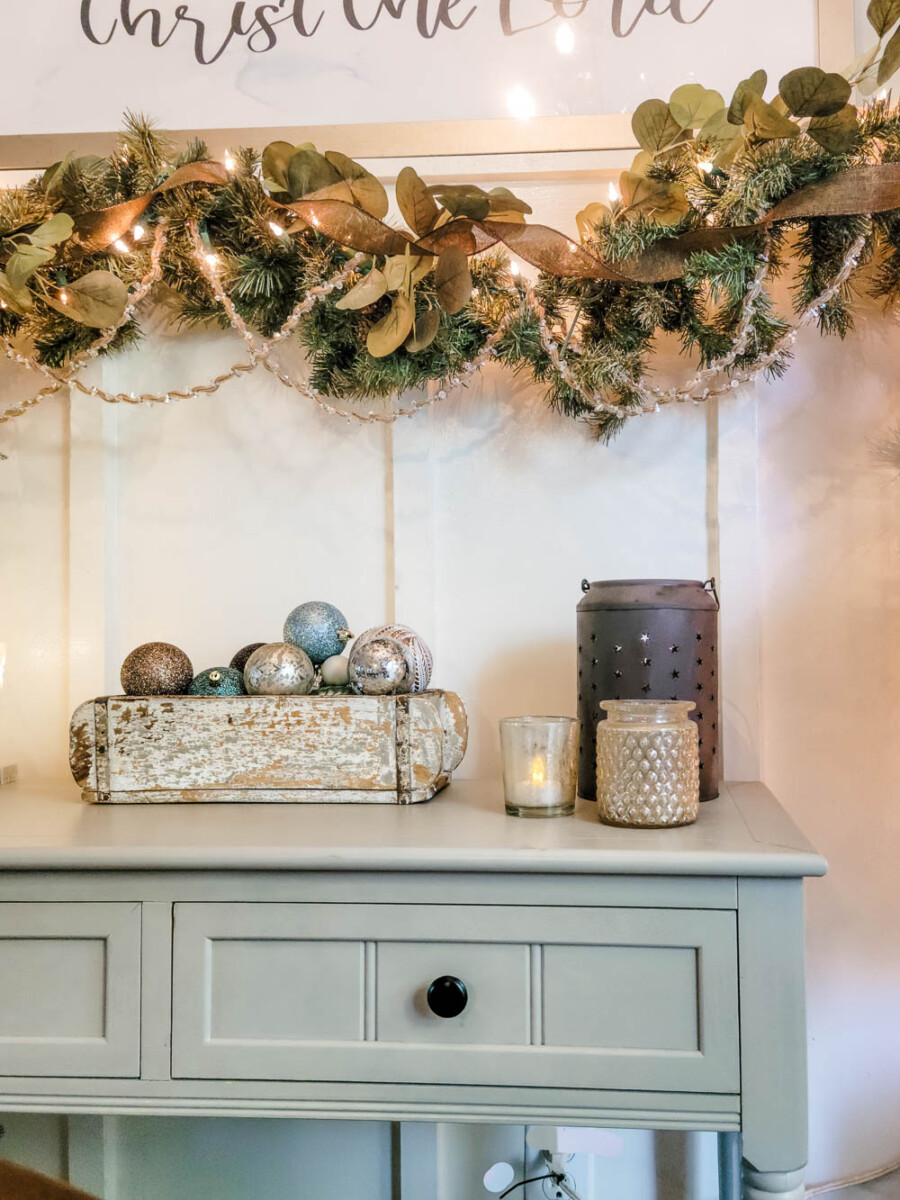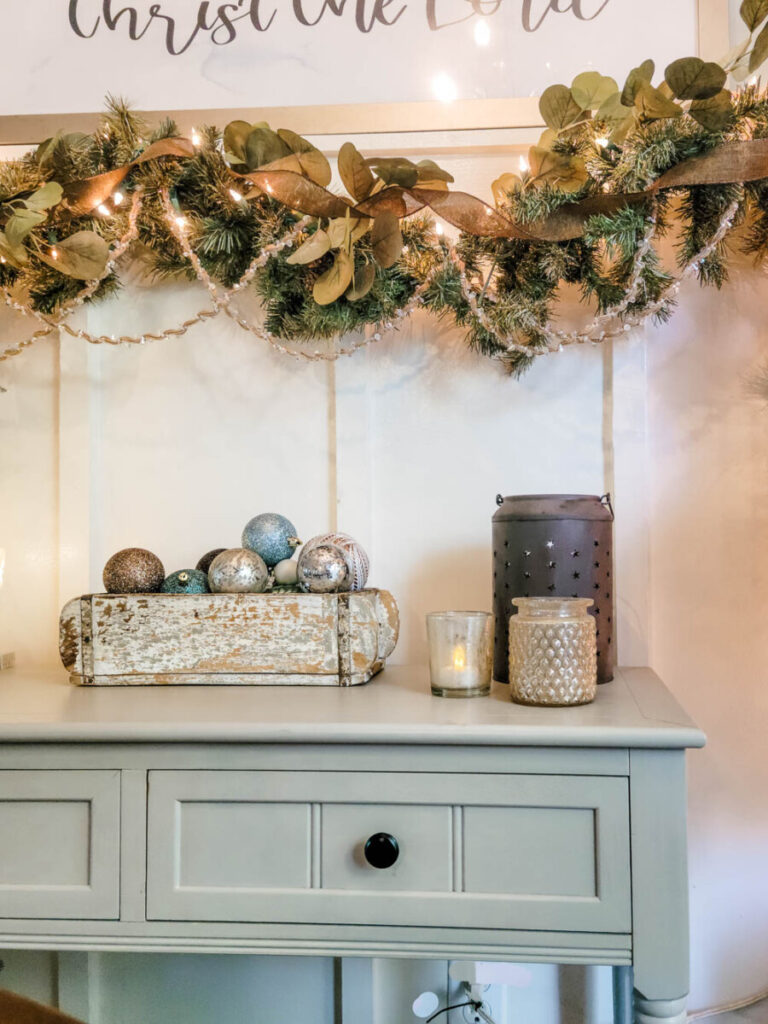 Ornaments Hanging from Chandelier
I know it's a bit over the top but I am thrilled with how these ornaments hanging from the chandelier look!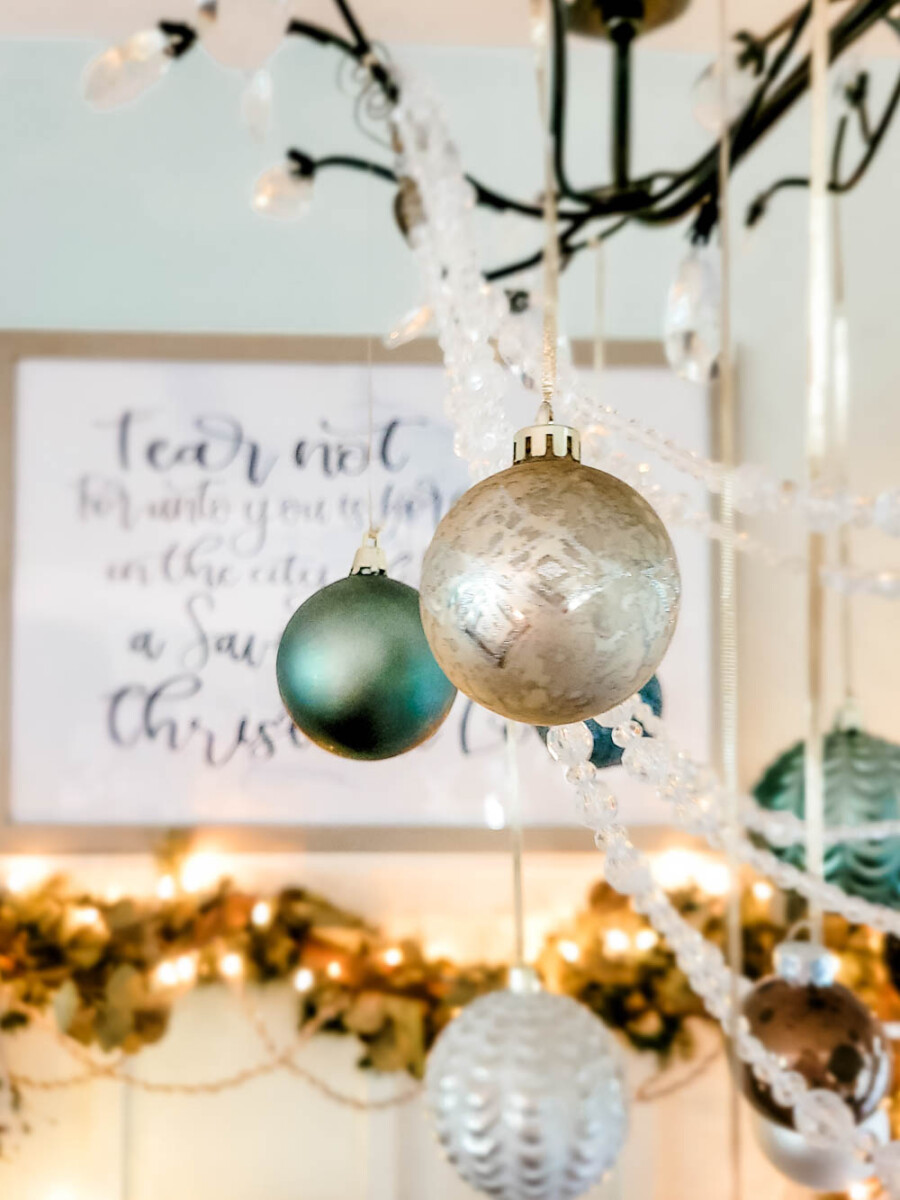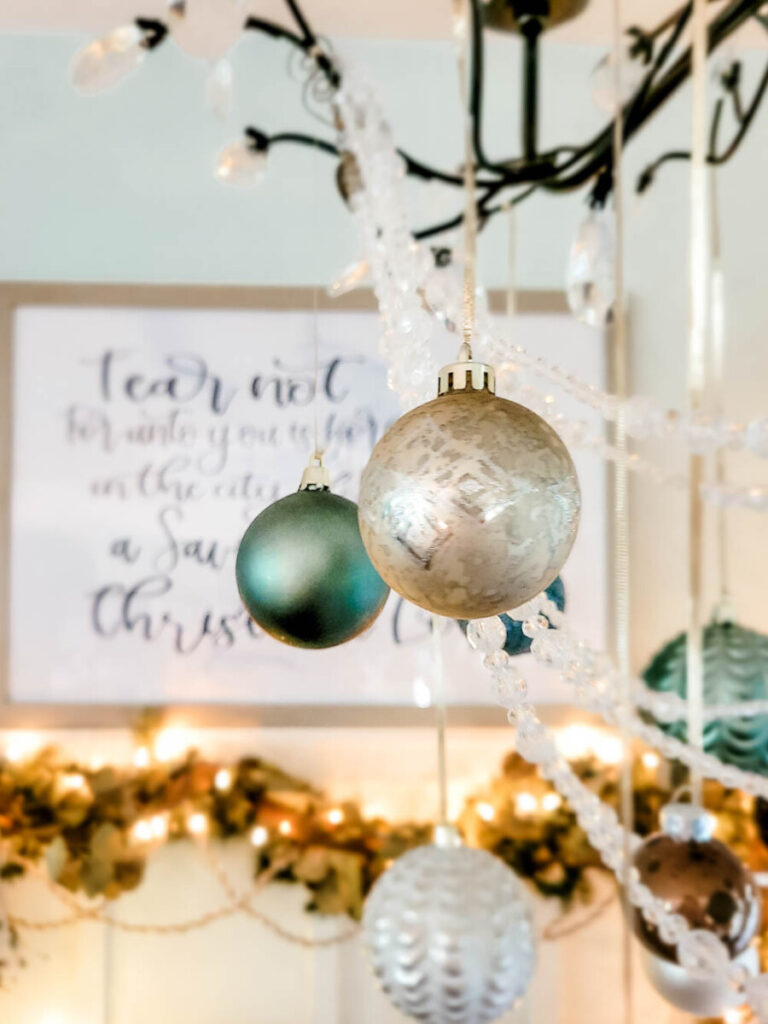 They're so flashy and shiny and pretty. I can't stop looking at them!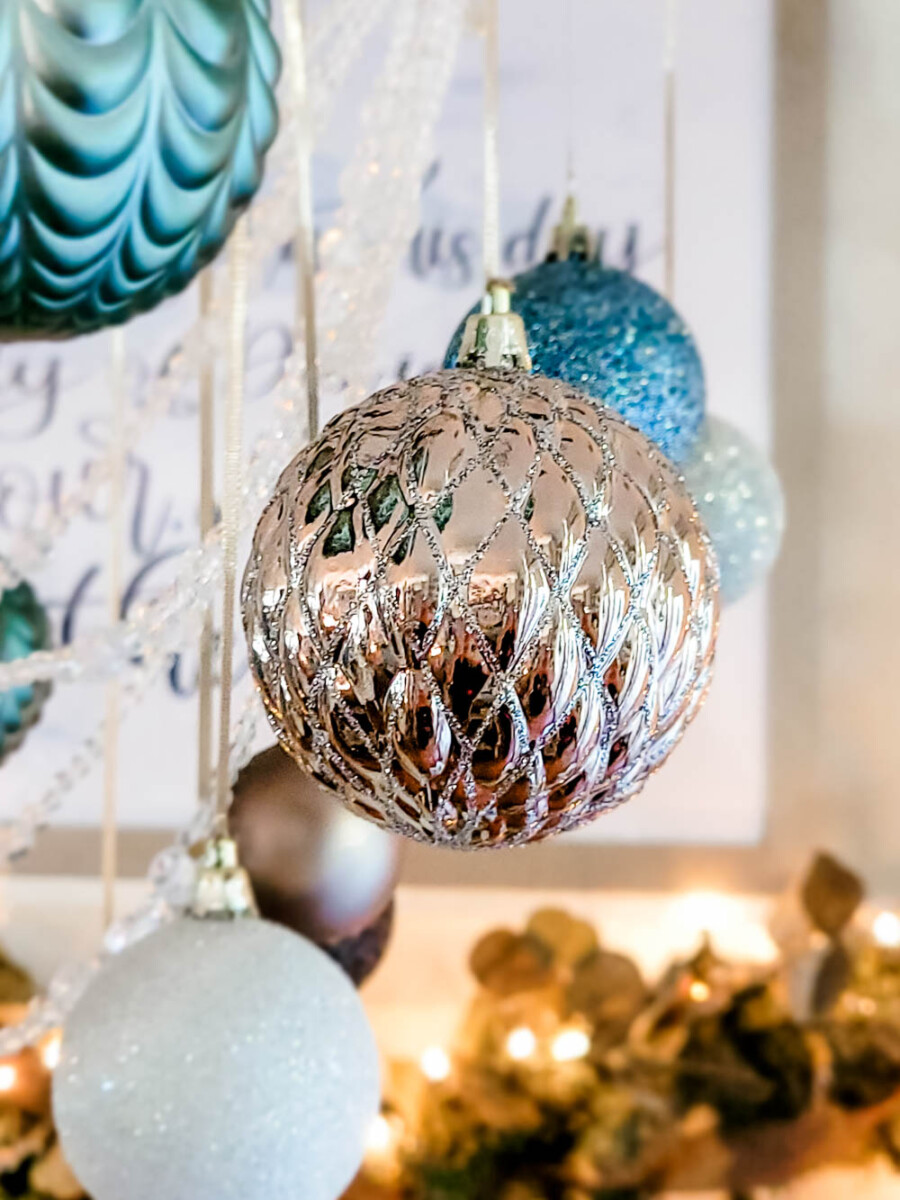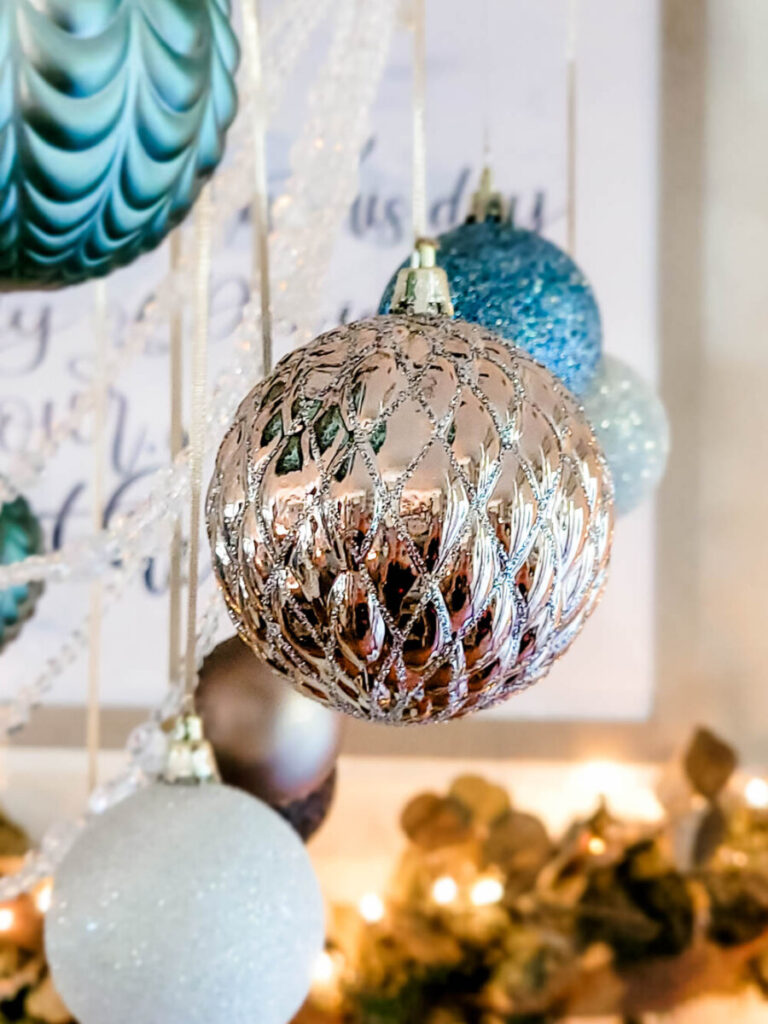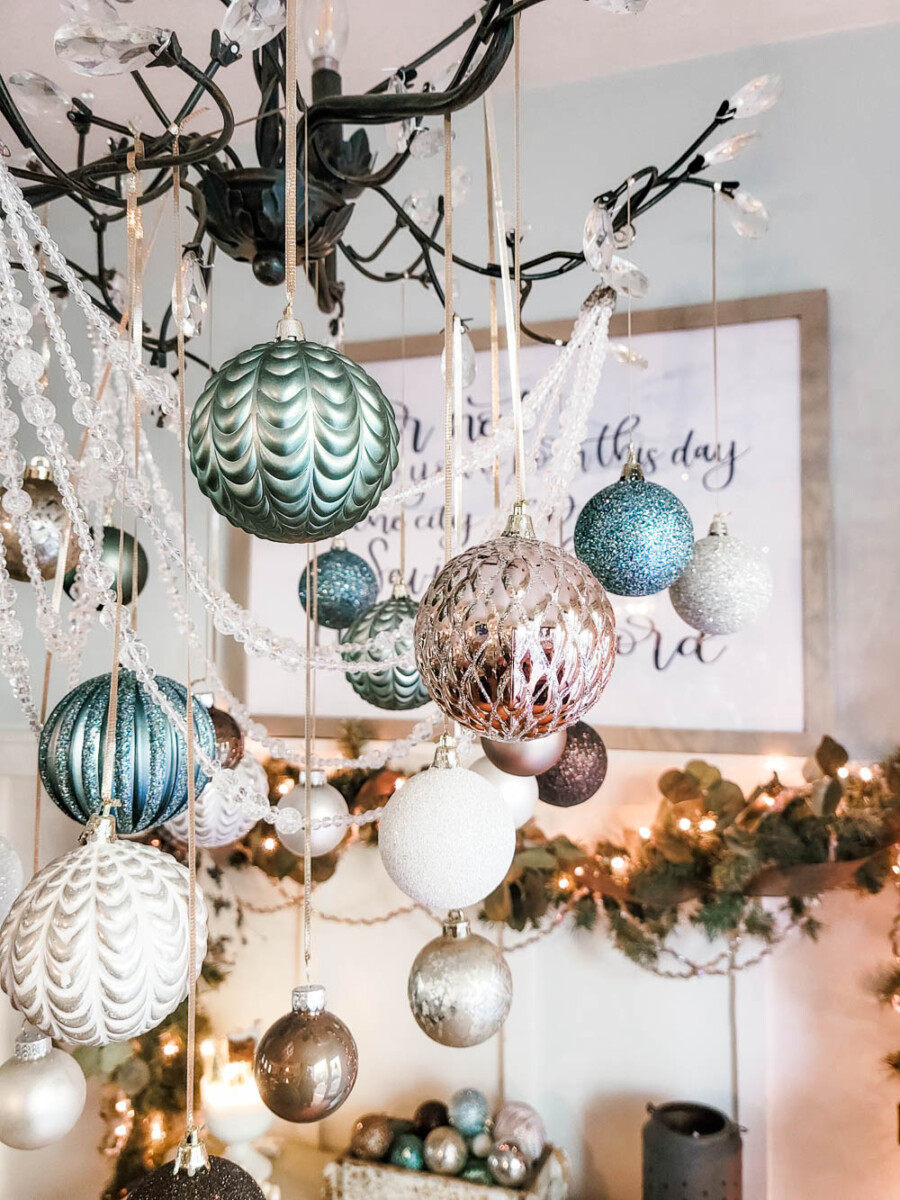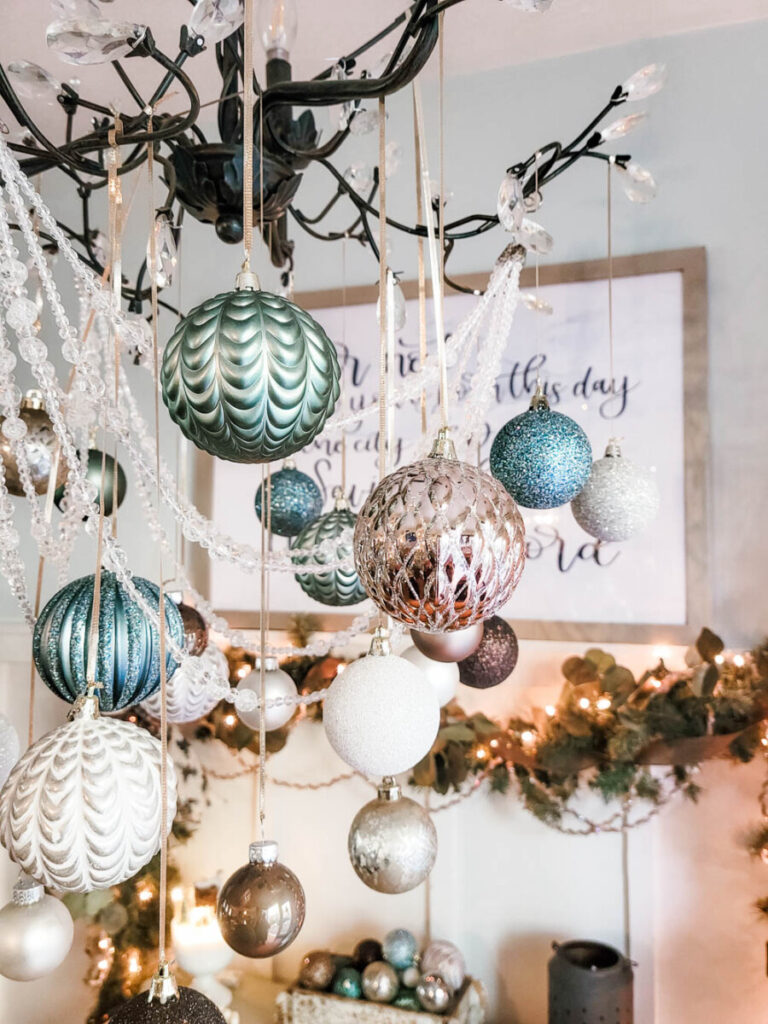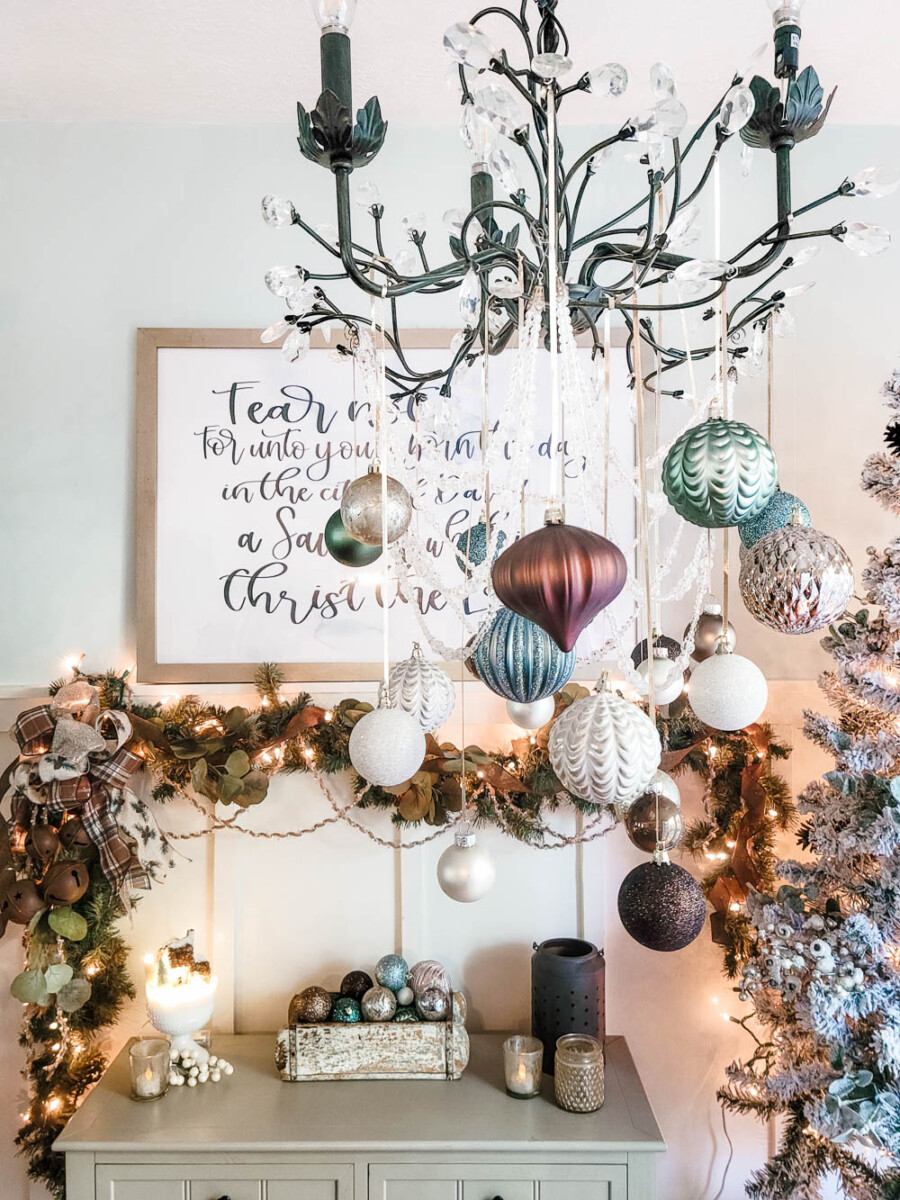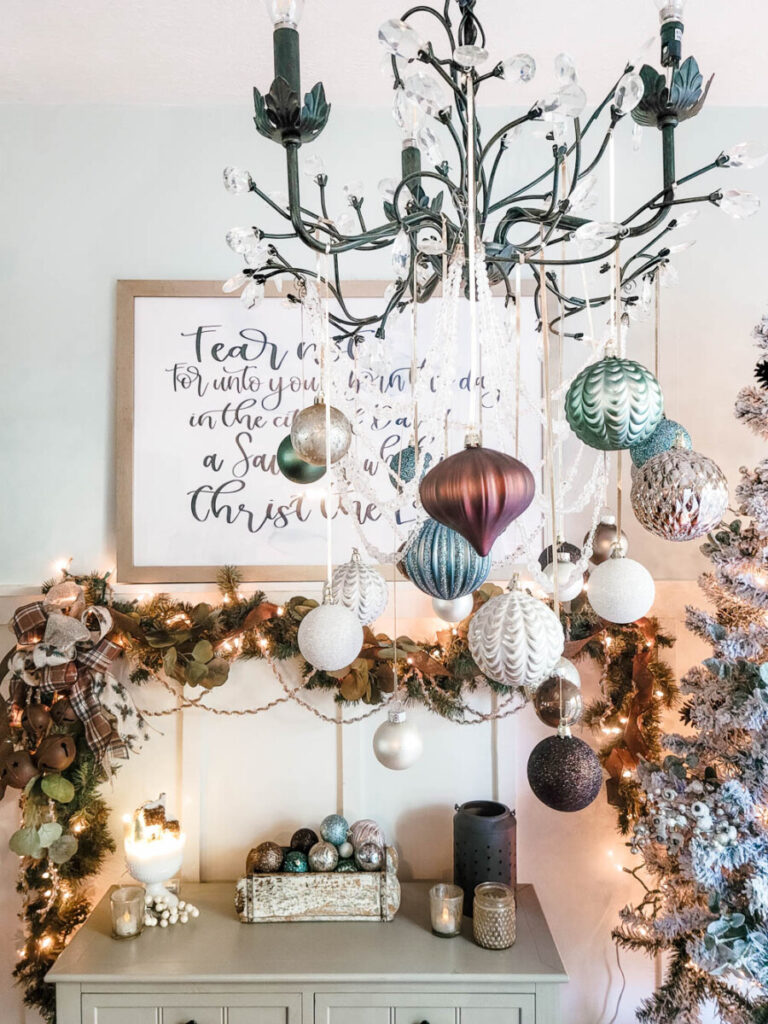 Console Table Decorations
Recognize this console table?
It was in our front entryway but we moved it into the dining room because it's smaller than the sideboard that was in this space.
Had to make room for the Christmas tree!
Since the ornaments on the chandelier are a bit much (in a good way), I kept the rest of the decorations in this space simple.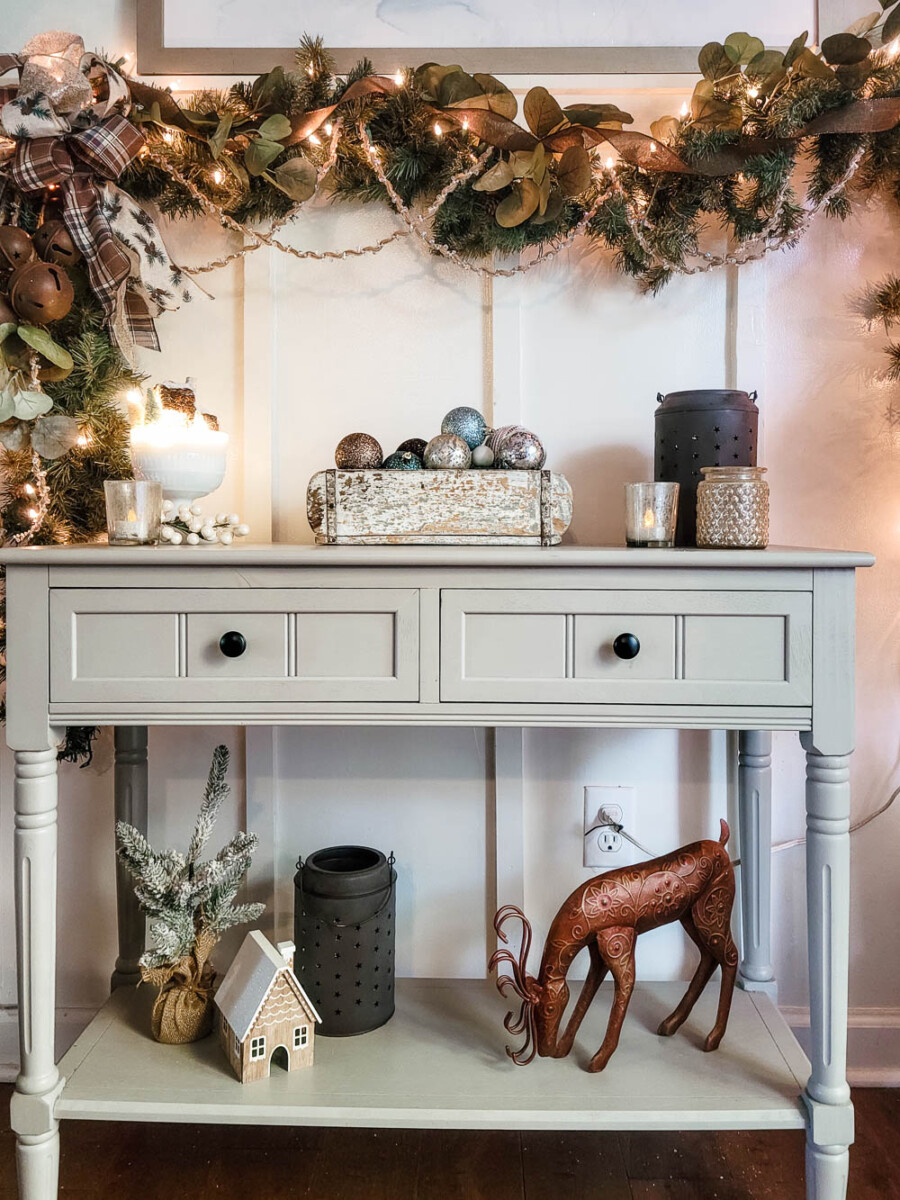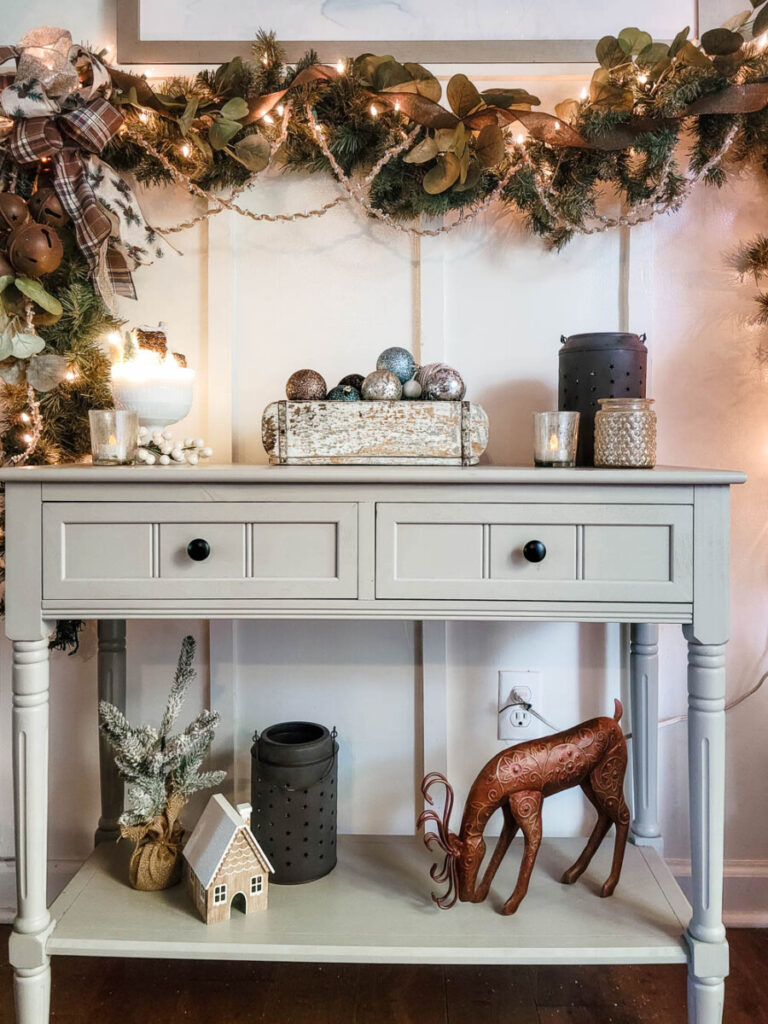 I spray painted a couple tin lanterns a rustic bronze color and added a few little houses, mini Christmas trees and mercury glass candle holders, all of which I have had for years.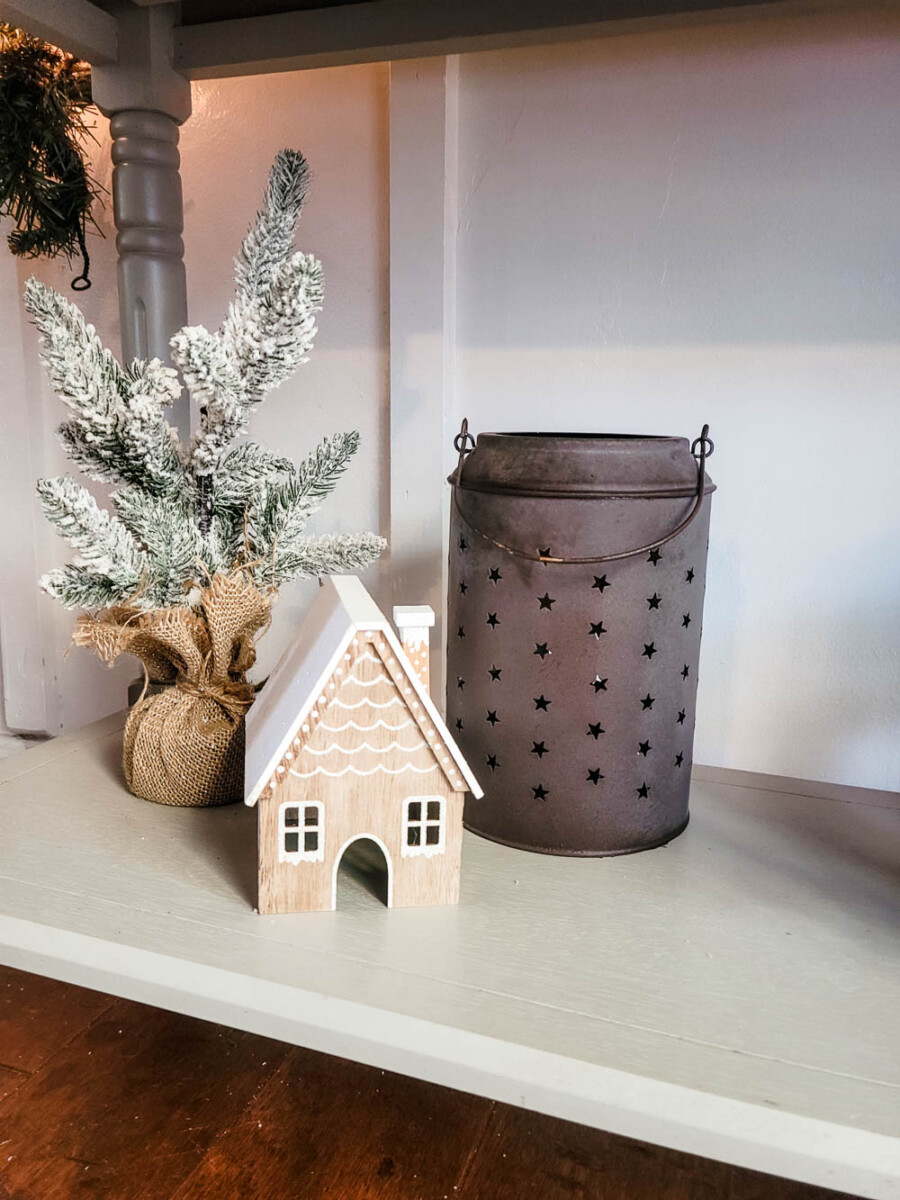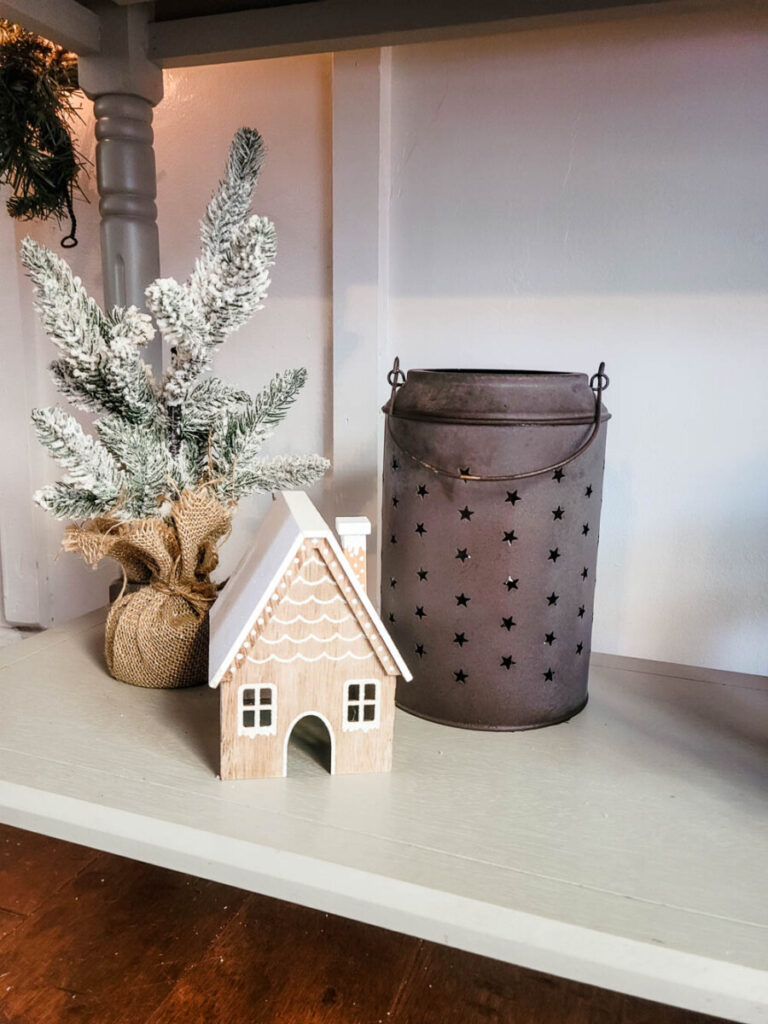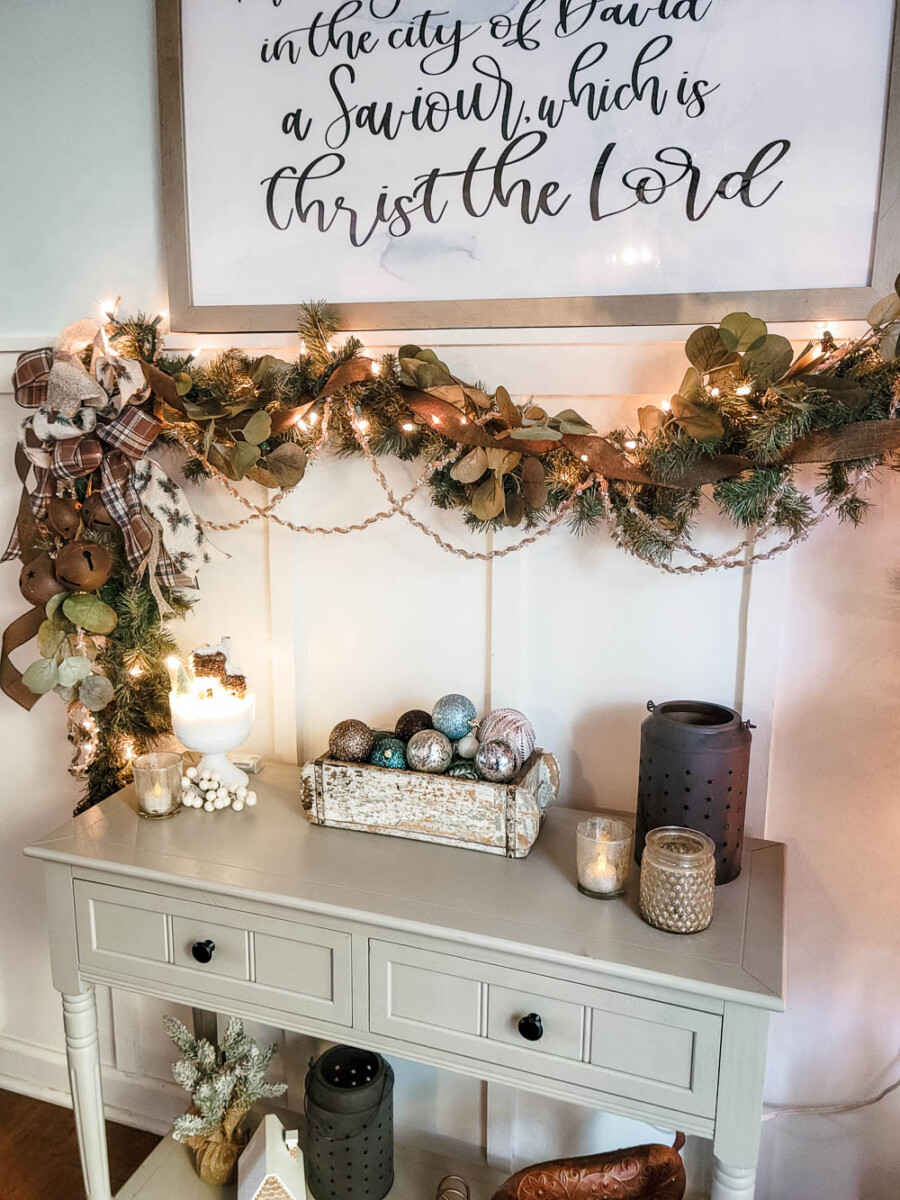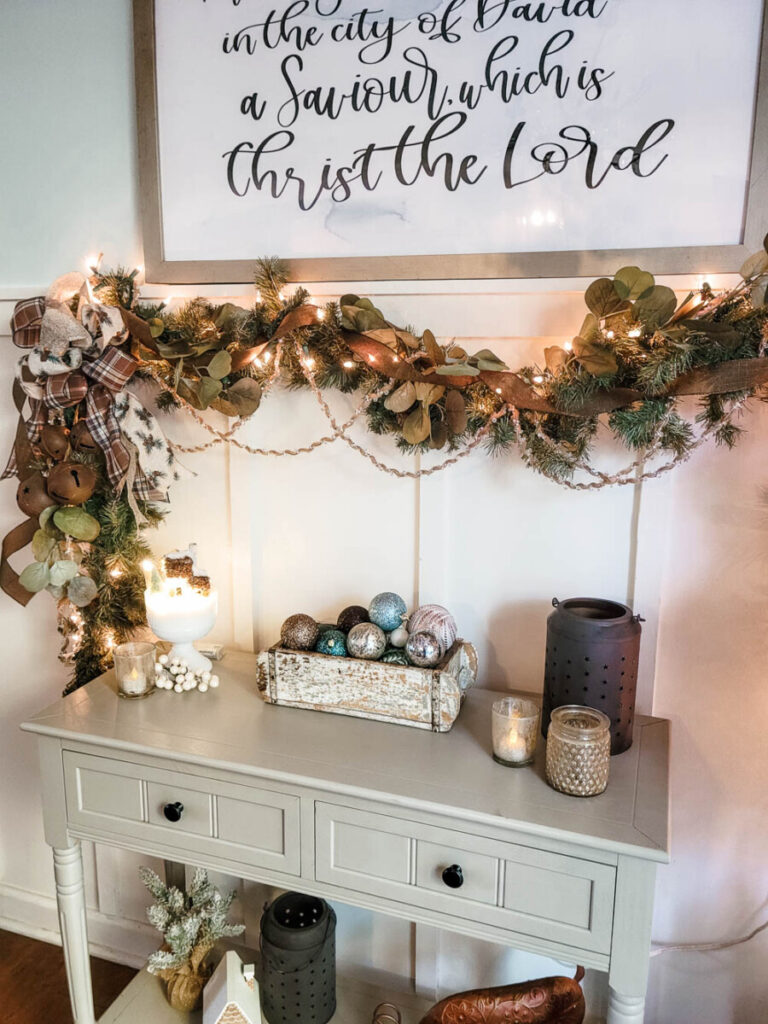 Flocked Christmas Tree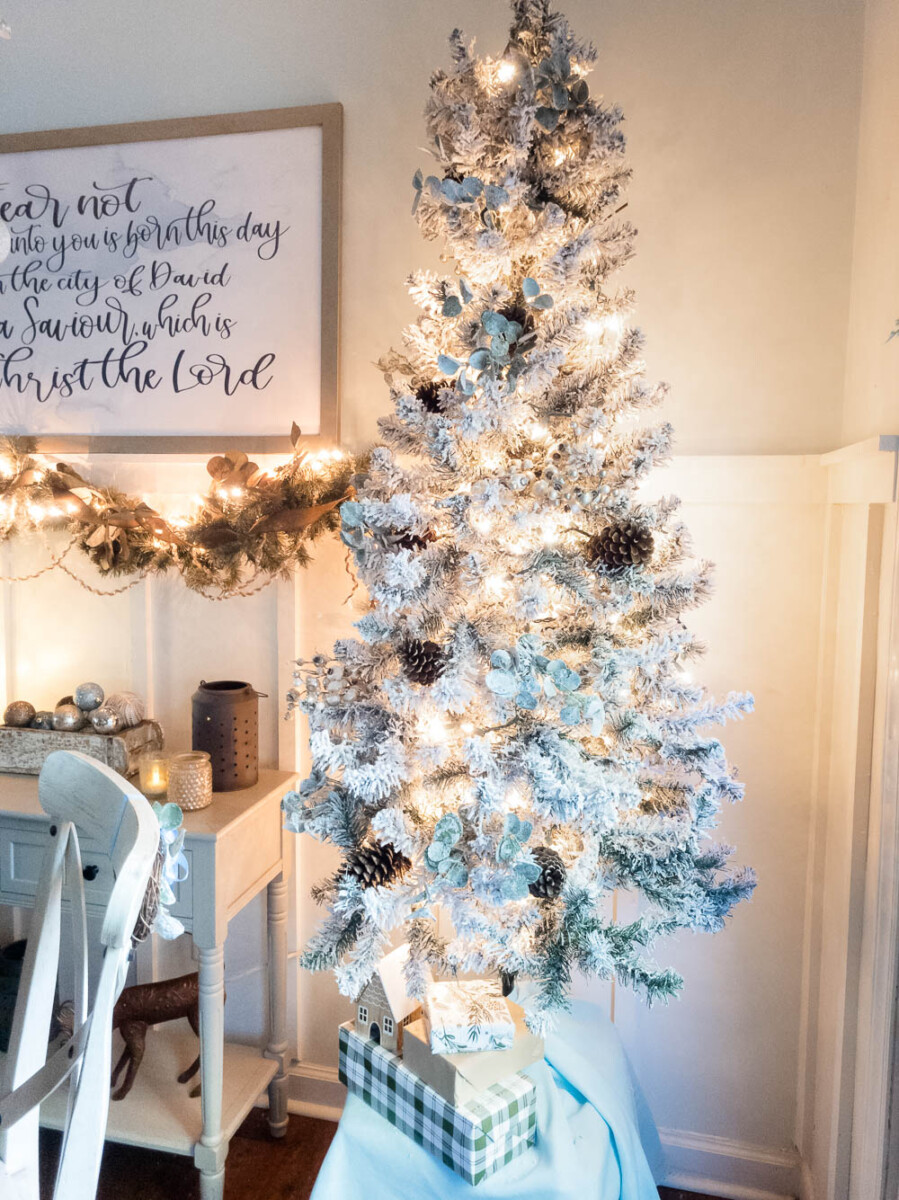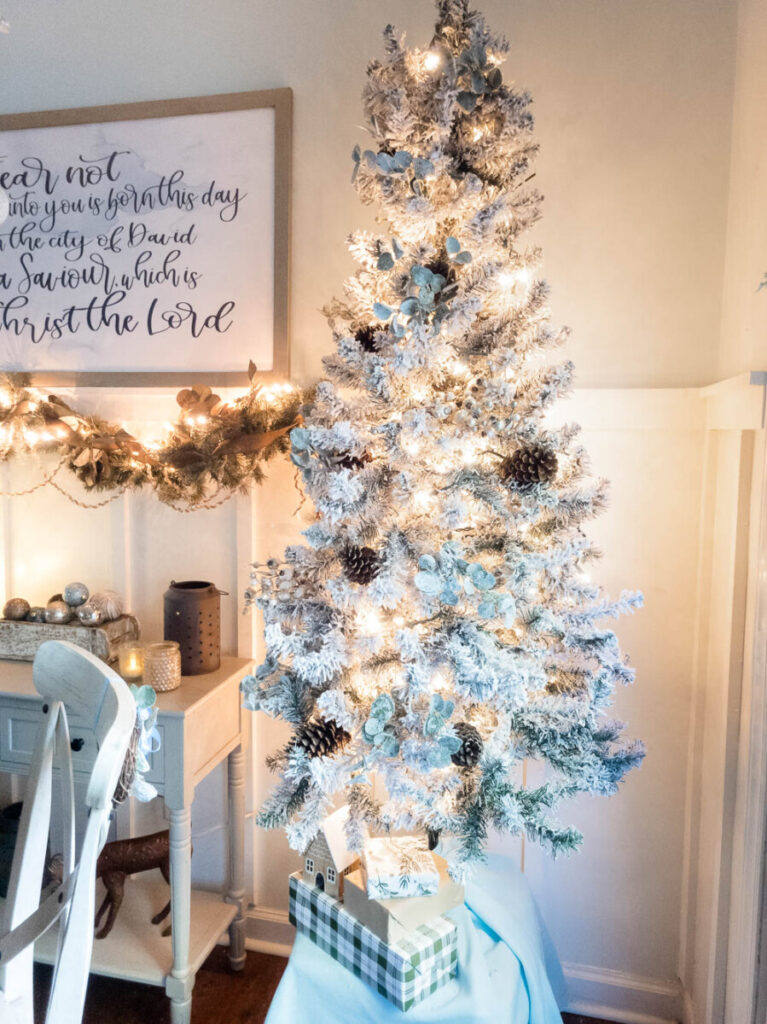 The 6′ flocked Christmas tree in the corner has minimal decorations as well.
I added some eucalyptus picks, pine cones and a few frosted crabapple picks.
It's subtle and pretty.
Simple Christmas Table Centerpiece
Last year I used this same charger for my blue and gold Christmas dining room.
One day I will do a fancy Christmas tablescape but for now, I like to keep it simple.
I placed some of my demijohn/jug/jar collection on the charger and put some fake snow and a battery operated candle in the jar.
Quick and cute!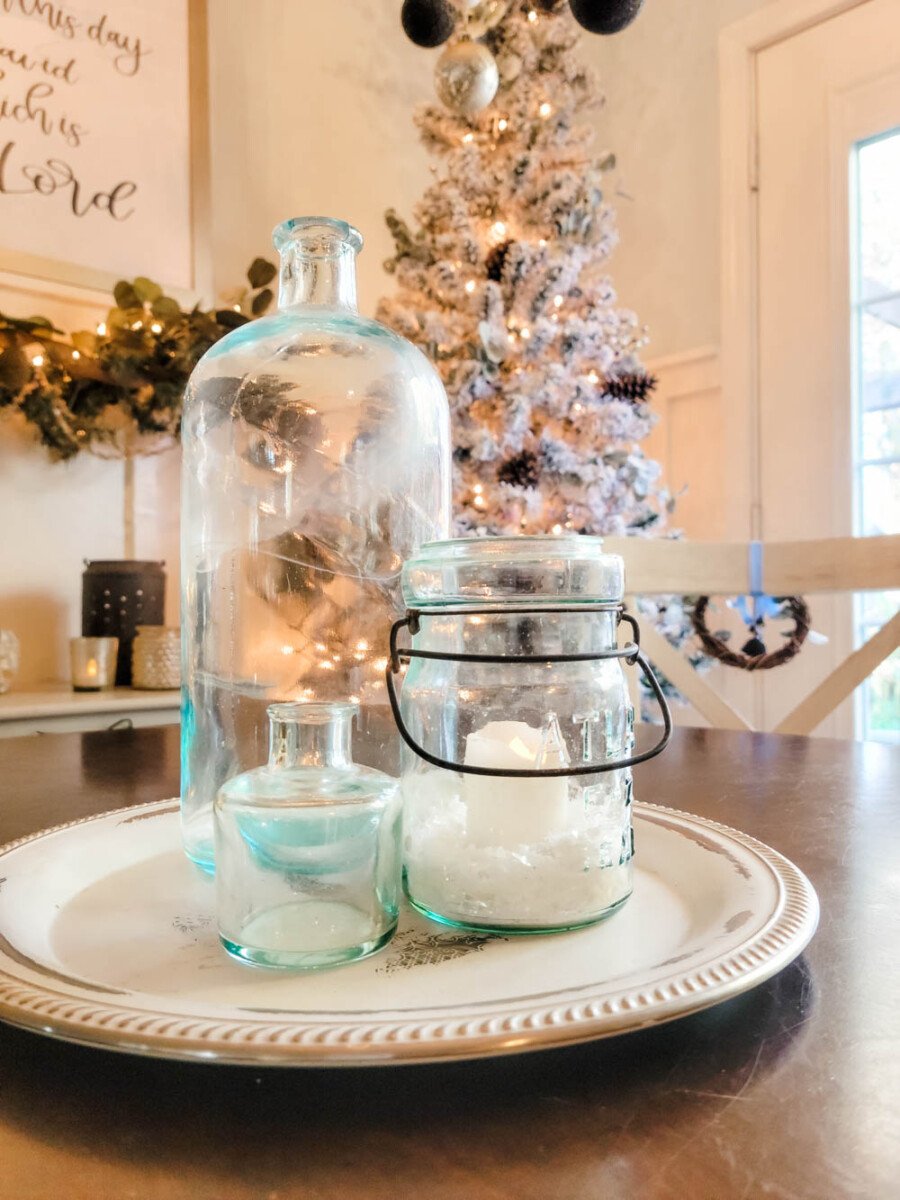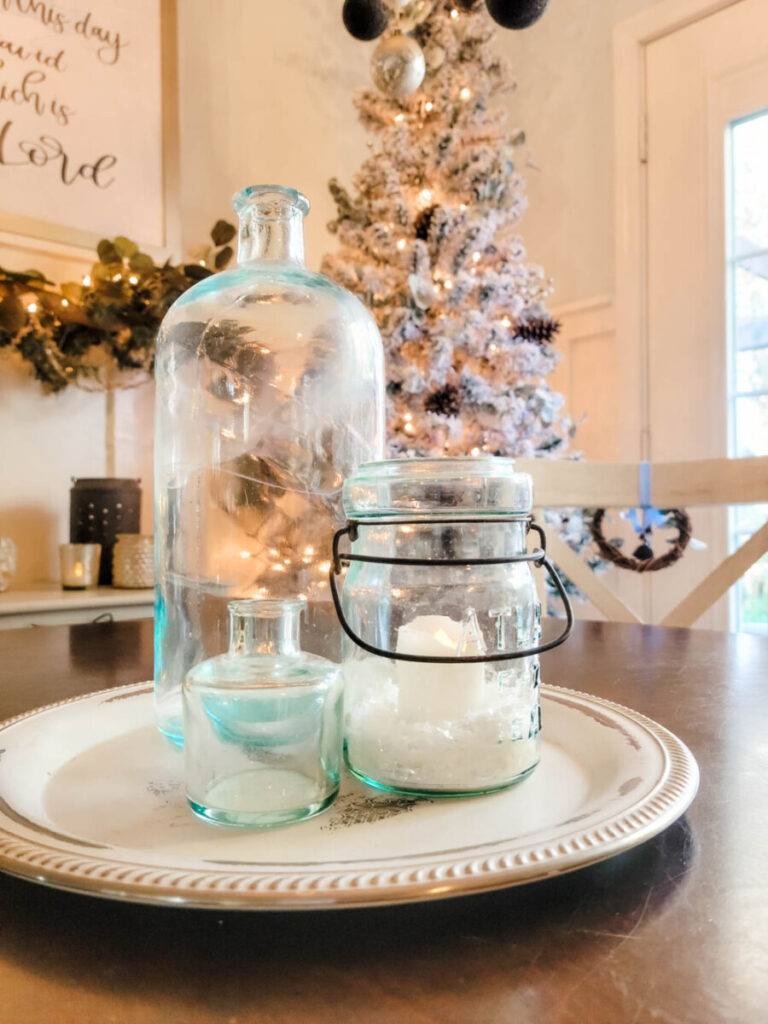 Chair Back Decorations
While the centerpiece was quick, these wreaths on the back of our kitchen chairs were not!
I painted and strung the bells, added the eucalyptus picks, then hot glued them both in place. Then I added the ribbon and attached it to the chair.
As I am typing this it seems like it should have been quick but it took me about an hour to make four little wreaths!
They're pretty though, so worth it.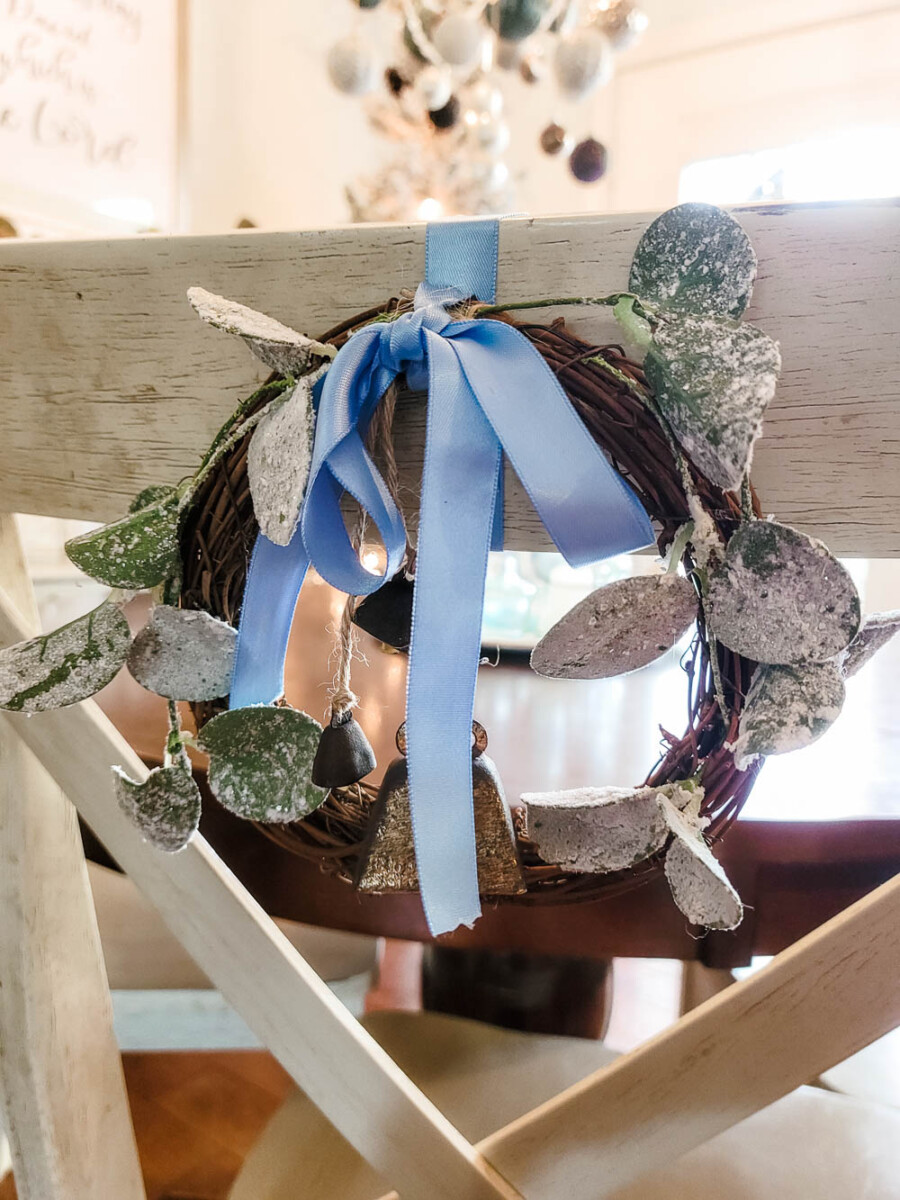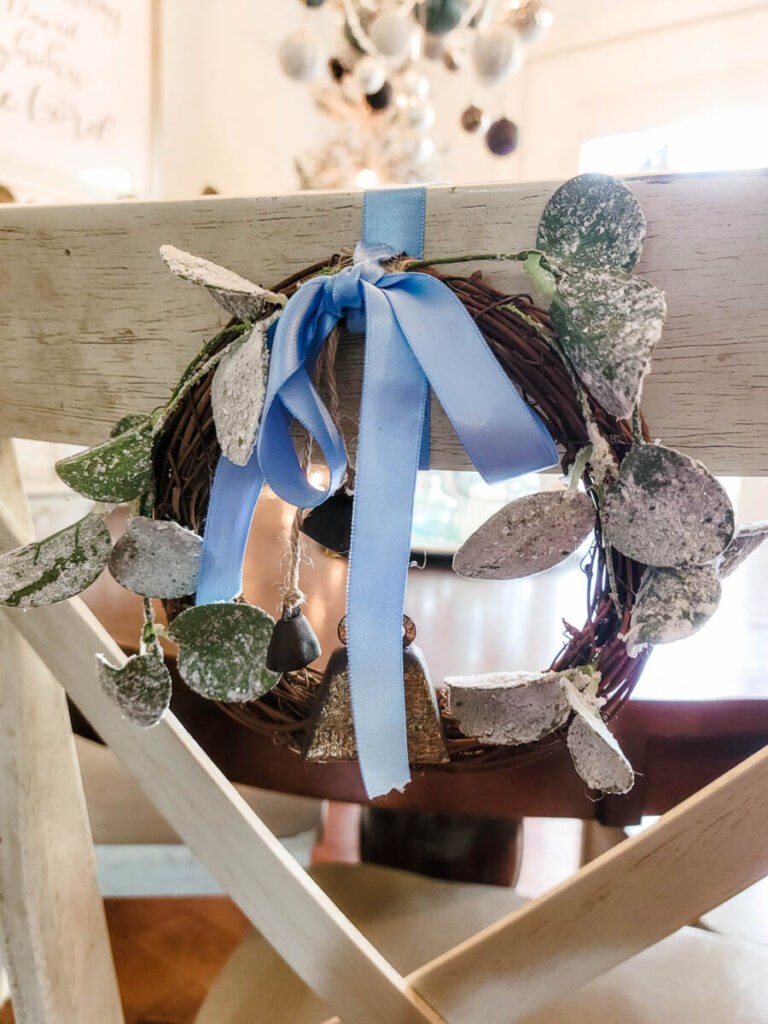 Christmas Garland
Since we don't have a mantel, I like to add garland to our dining room wall.
Rustic bronze Christmas bells, some ribbon that matches the ornament set, random sparkle white lights (my favorite!), a faux eucalyptus branch separated and some beaded garland that I have had for a couple years really dressed this faux garland up!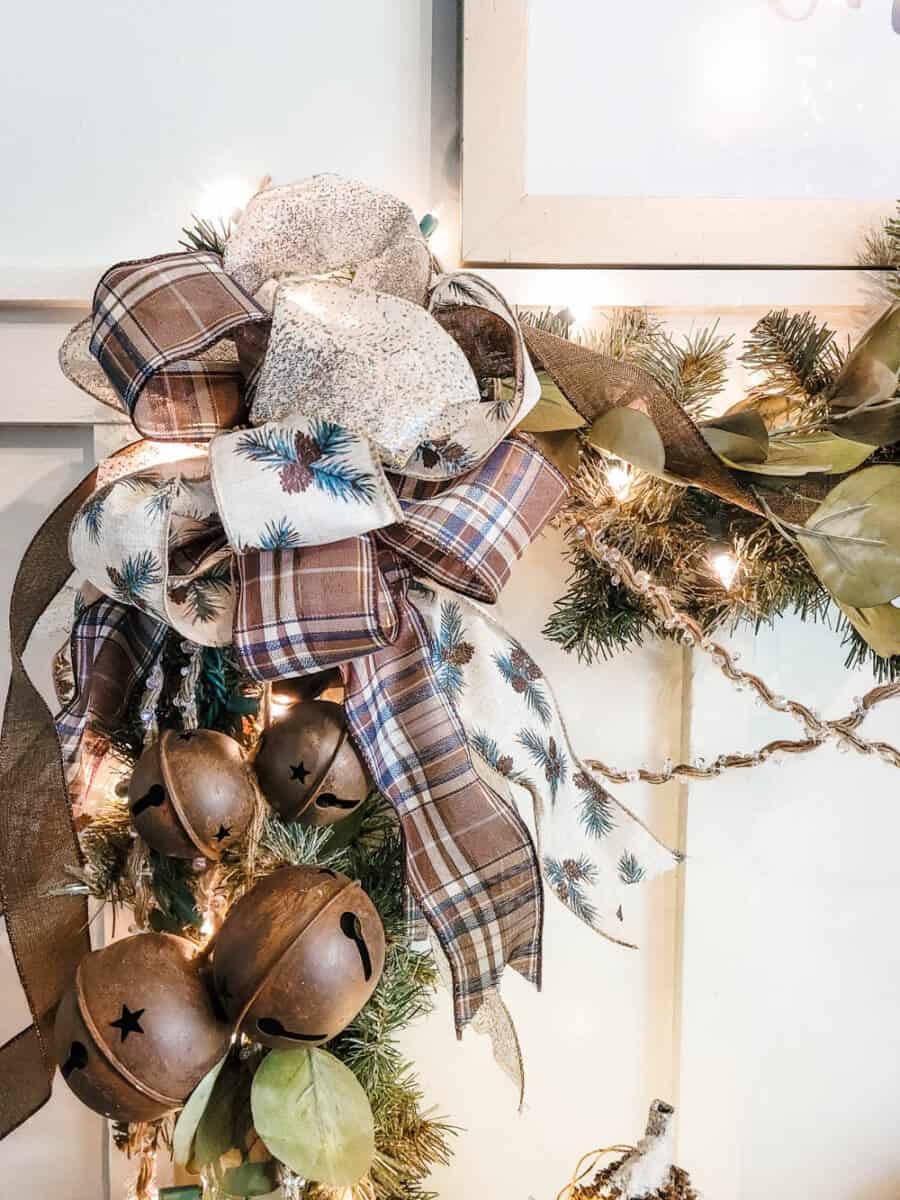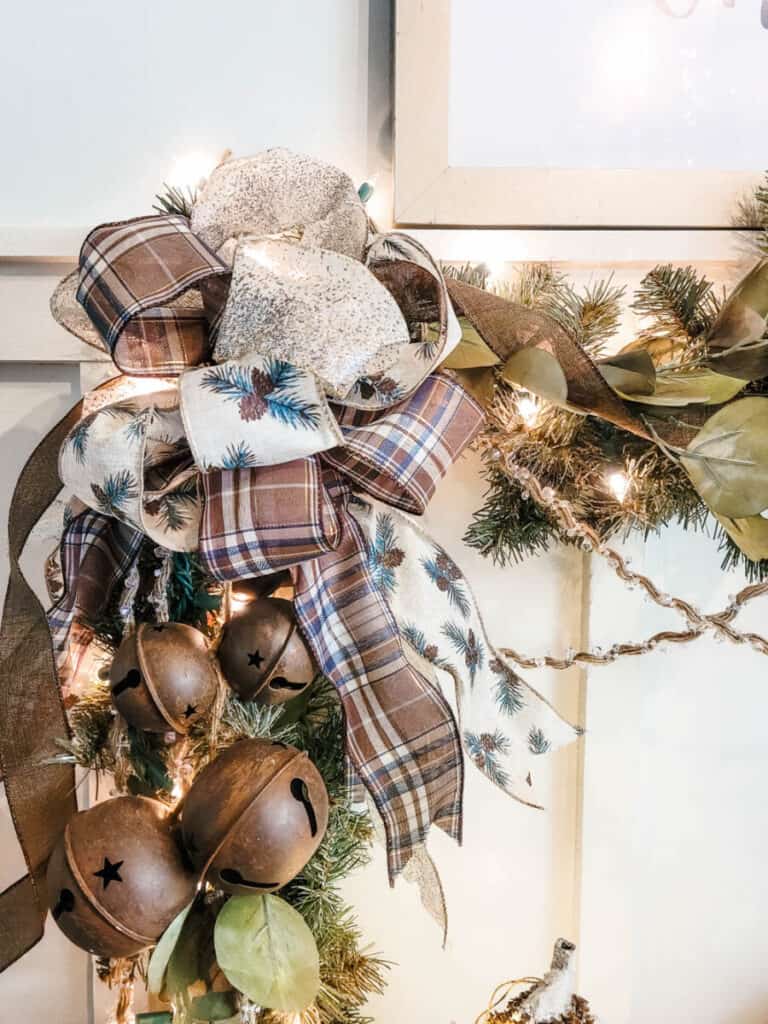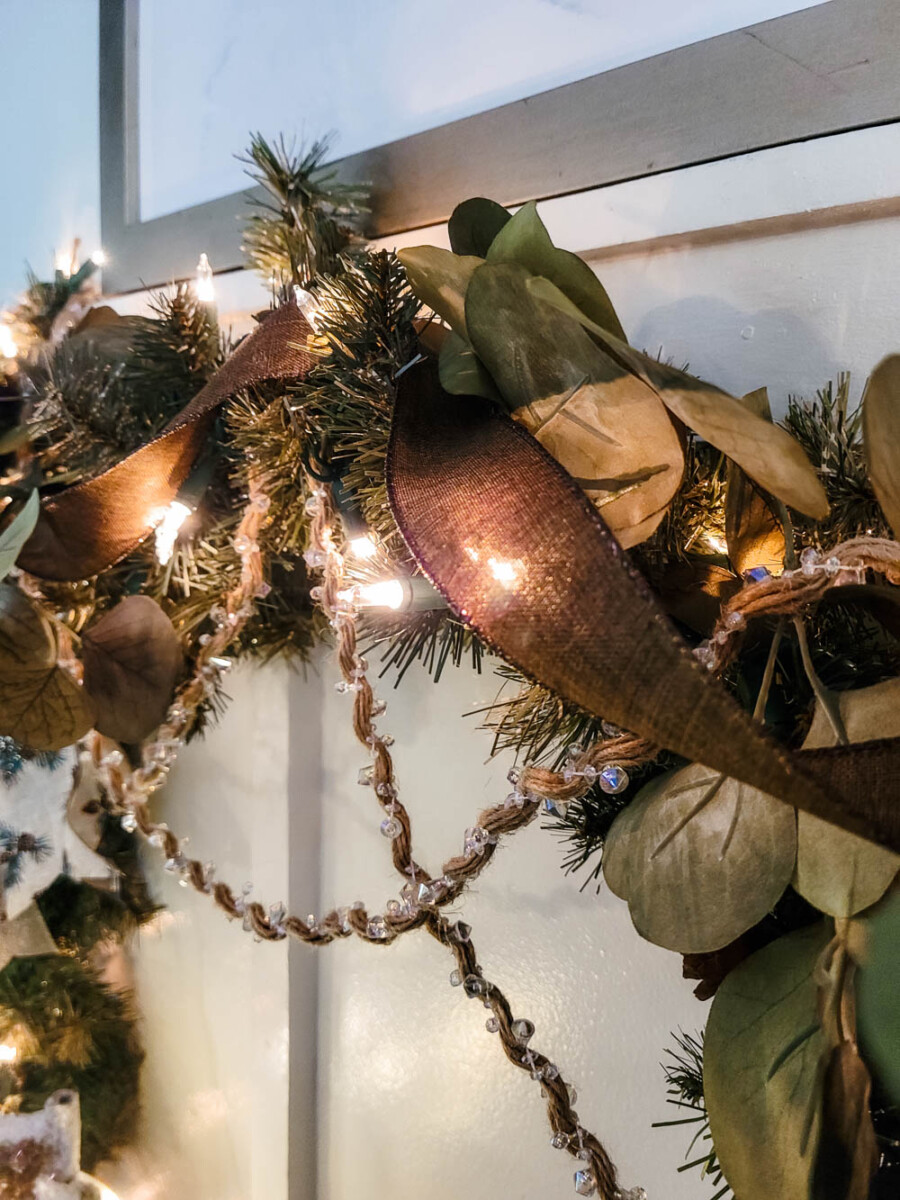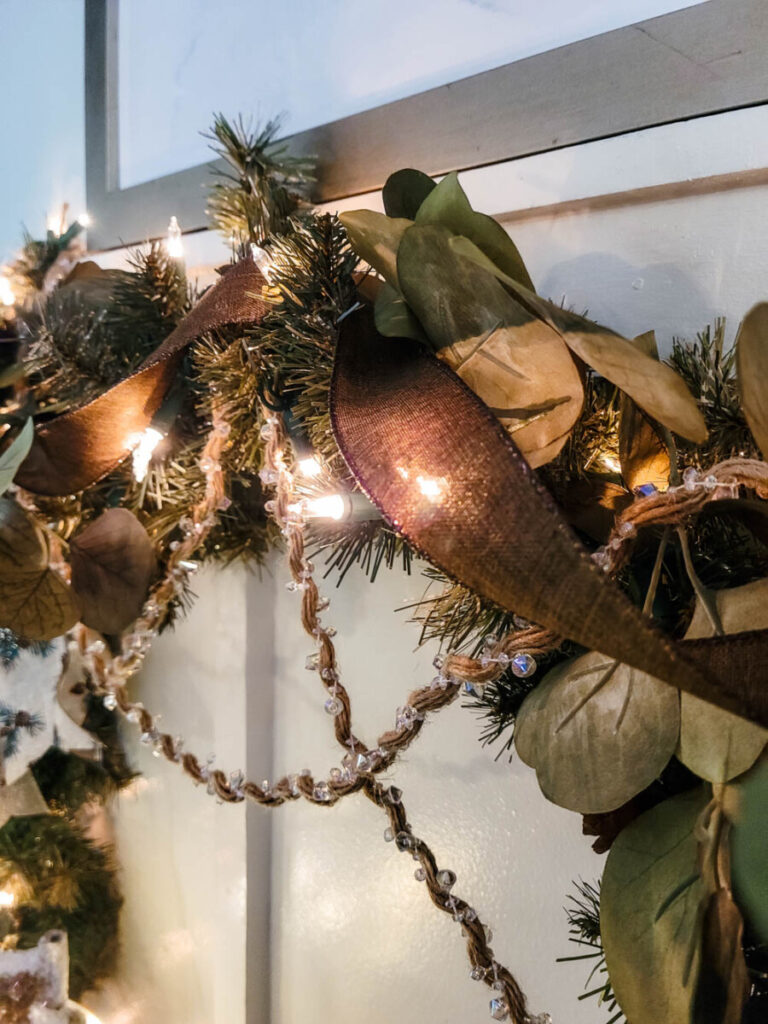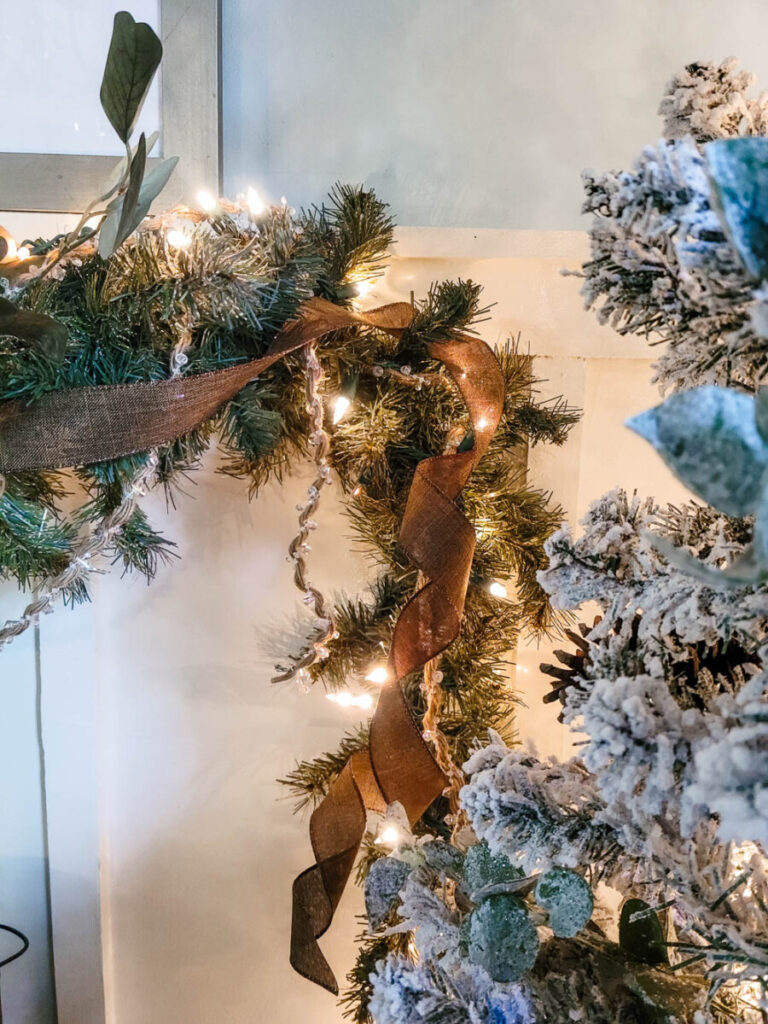 Christmas Wall Art
I borrowed this frame from our bedroom and made a large Christmas poster to put in it.
Since Jesus is the reason for the season, I wanted this verse to be large enough to see from everywhere in our open space living room/dining room/ kitchen space.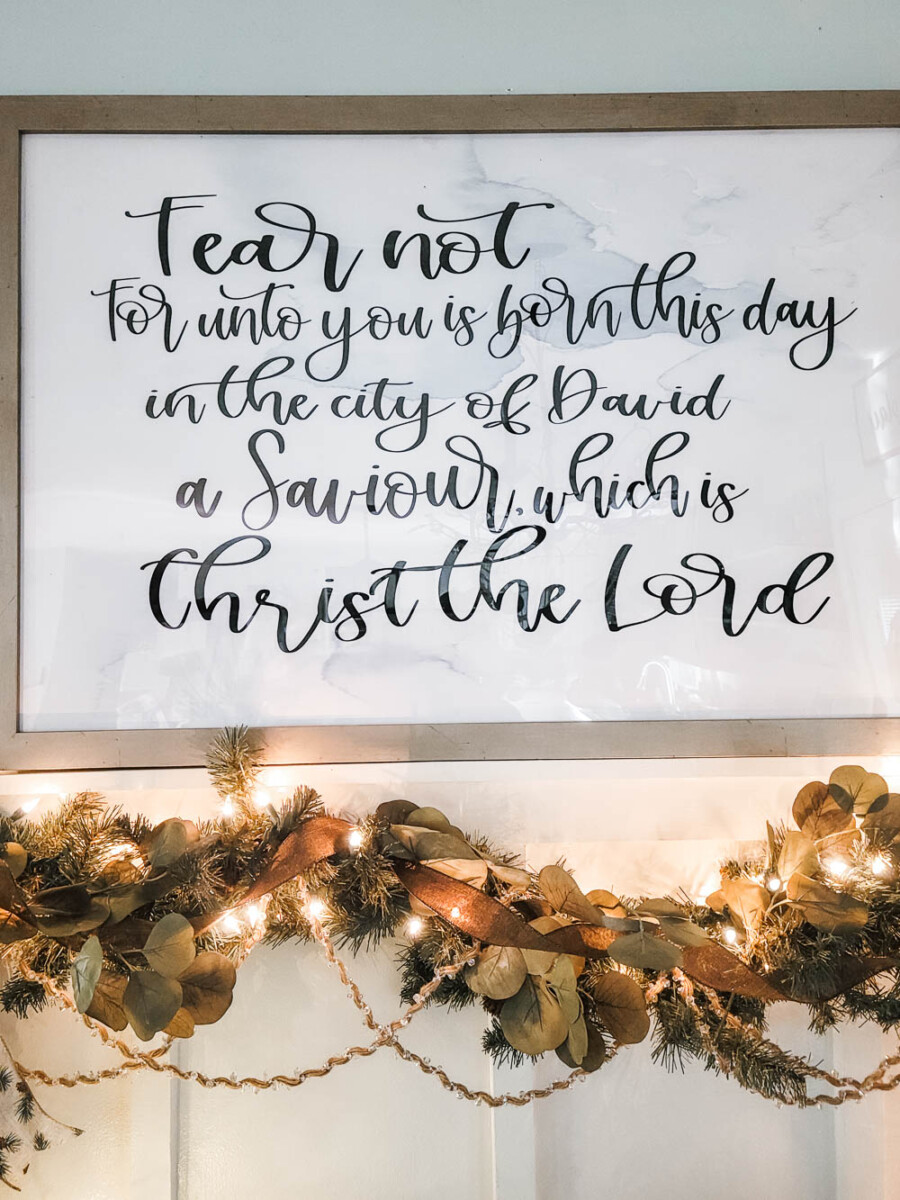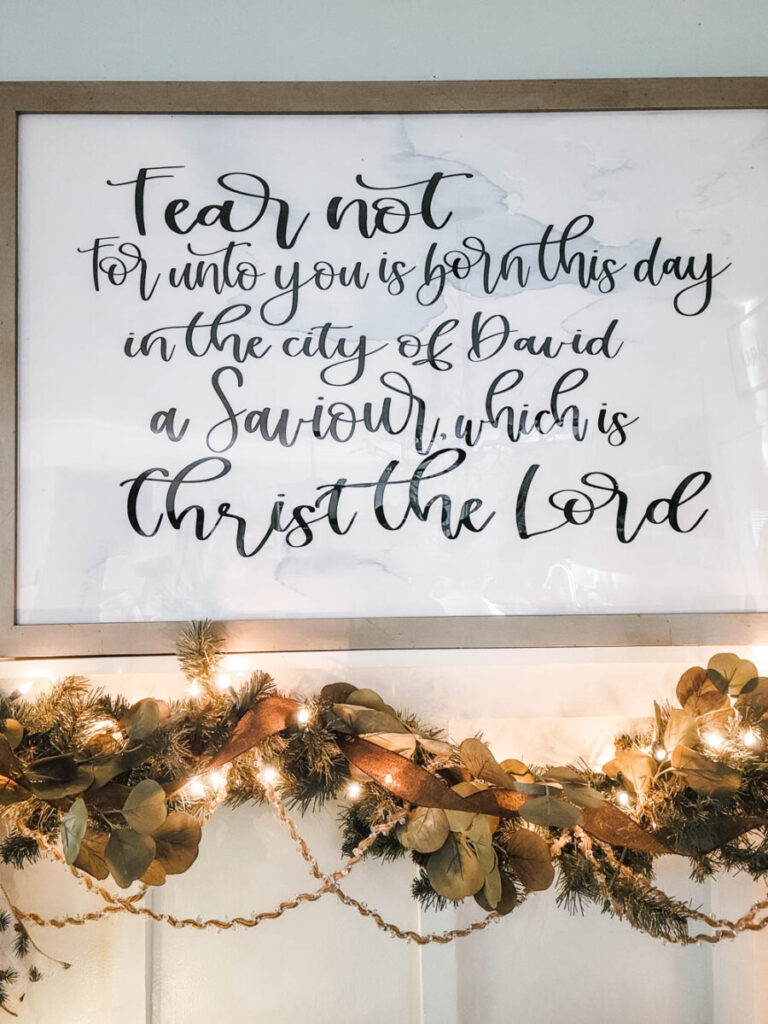 It's hard to see because of the glare in the pics but it has a pretty blue watercolor background.
I am making coordinating art for the living room this week.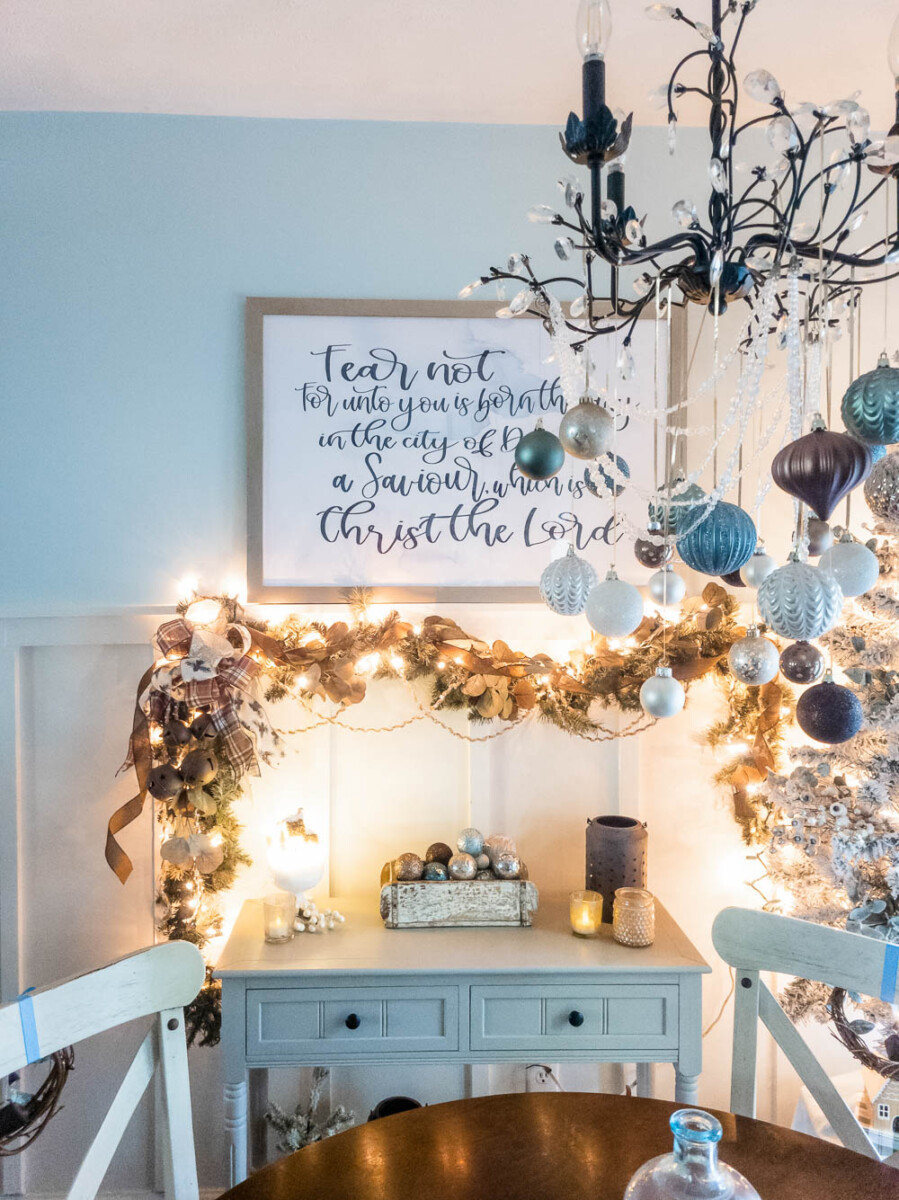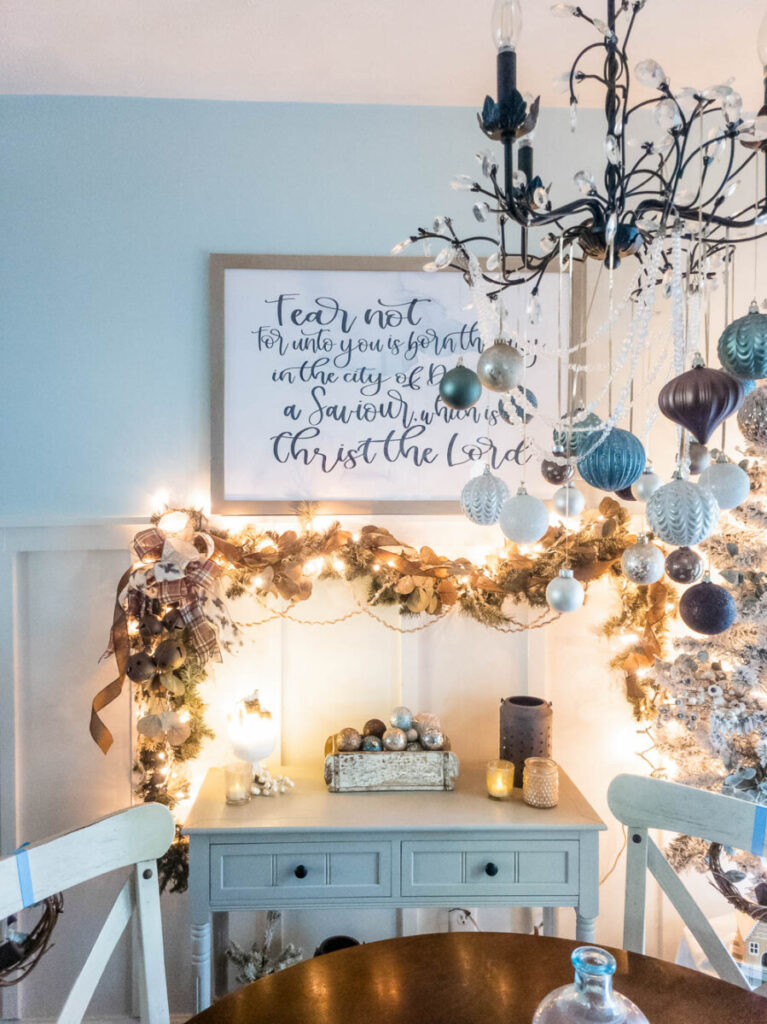 What do you think of my nontraditional blue, white and bronze Christmas color theme?
Do you prefer traditional colors or do you like to mix it up a little?
Celebrate Christmas Home Tour 2022
Next up on the tour is Vicki from 2 Bees in a Pod with a beautiful silver and gold Christmas mantel! You're going to be so inspired!
Be sure to visit all my friends every day this week!


Sand Dollar Lane // 2 Bees in a Pod // At Home with Kristy // Exquisitely Unremarkable
Our Crafty Mom // Hearth and Vine


Zucchini Sisters // Postcards from the Ridge // Southern Crush at Home // Amy Sadler Designs
Pasha is Home // Simple Nature Decor


Worthing Court // The Tattered Pew // Cottage in the Mitten // DIY Beautify
Thistle Key Lane // At Lane and High // Feet Under My Table

White Arrows Home // Aratari at Home // White Lilac Farmhouse
Cottage on Bunker Hill // Bricks 'n Blooms


My Family Thyme // Southern Home and Hospitality // Songbird // Shiplap and Shells
Chalking Up Success // Pure Happy Home