Spring Decorating with Vintage Dishes
Learn how to add cottage style to your spring decorating with vintage dishes and accessories.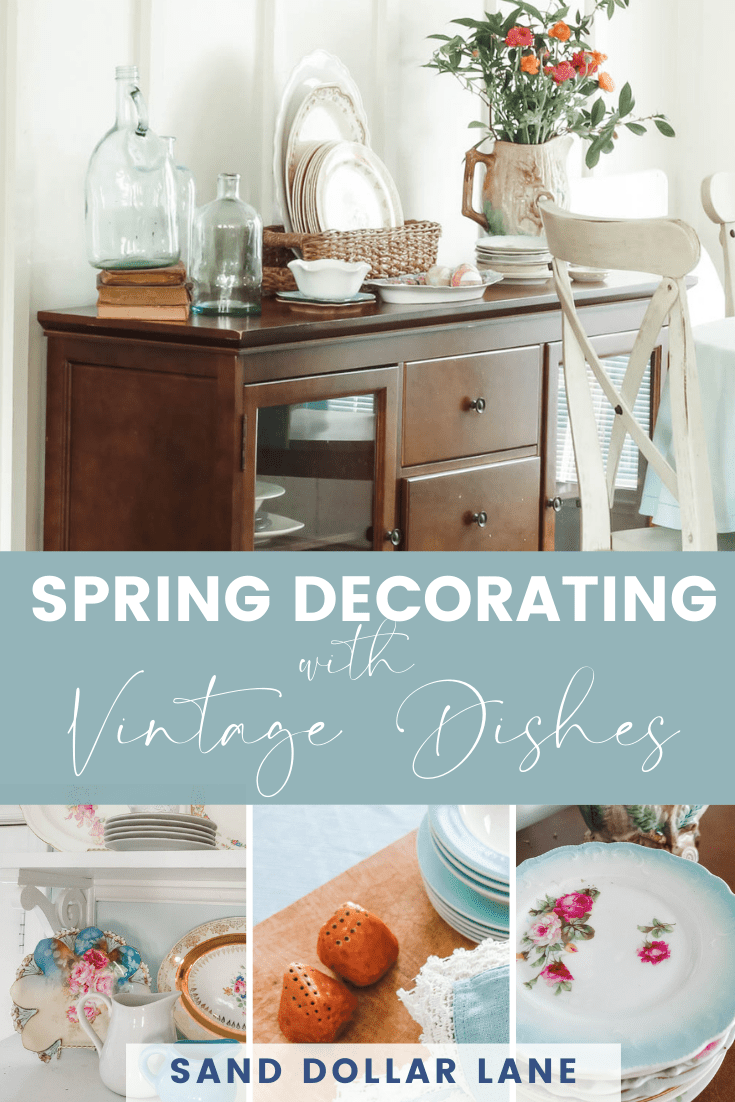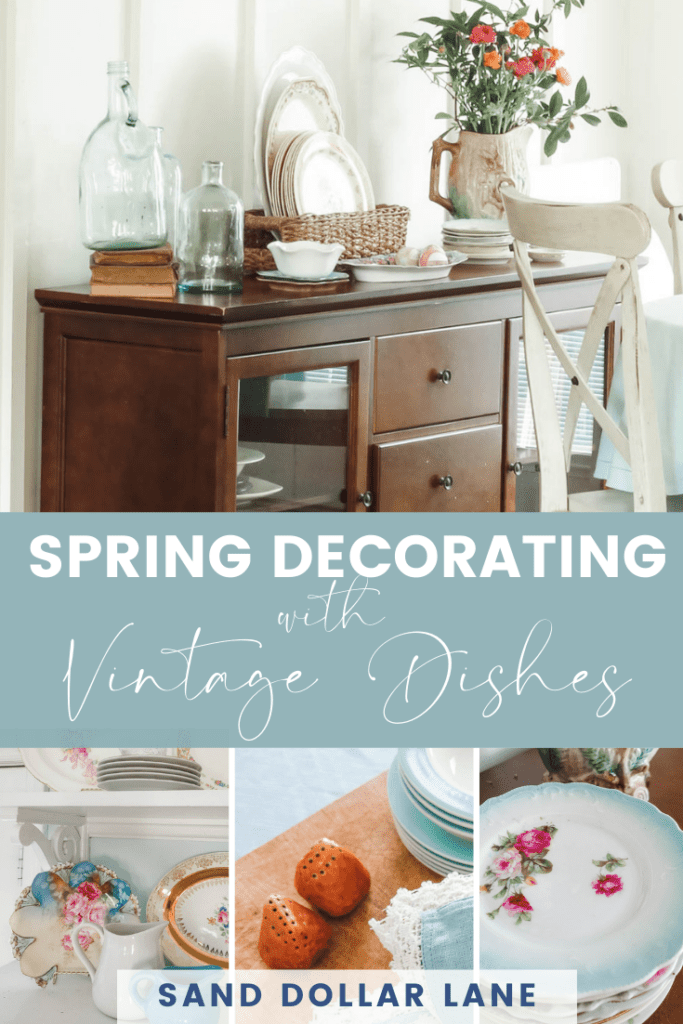 Bloggers Best Home Tour
I am so happy to once again be joining in on The Blogger's Best Home Tour, hosted by my friend, Kelly at The Tattered Pew.

There are 29 beautiful home tours, with 5 or 6 every day this week. Be sure to visit them all for inspiring spring decorating ideas.

If you are coming over from Simply2Moms welcome to Sand Dollar Lane! I love all Anne and AnneMarie's tips for decorating for spring with neutrals.

If you haven't been here before, let me take a moment to introduce myself.

My name is Eileen but most people call me Leen. My husband, James and I love to work on DIY projects together and are currently in year 17 of our 5-year house flip, haha!

We live in coastal North Carolina, have four kids, one grandbaby, and are dedicated to living a family-focused, simple lifestyle.
Last year we started searching for a small farm (still looking!) and in the meantime, we are growing and selling flower, veggie, and herb plants, fresh veggies, and flower bouquets here on our little half-acre lot near Topsail Sound.
You can keep up with all our going-ons on Instagram here and here and by signing up for our newsletter below.
In addition to DIY projects, traveling and growing all the things, I enjoy decorating our home with a coastal cottage style.

Today I am sharing tips for decorating with vintage dishes and how I incorporated family heirlooms.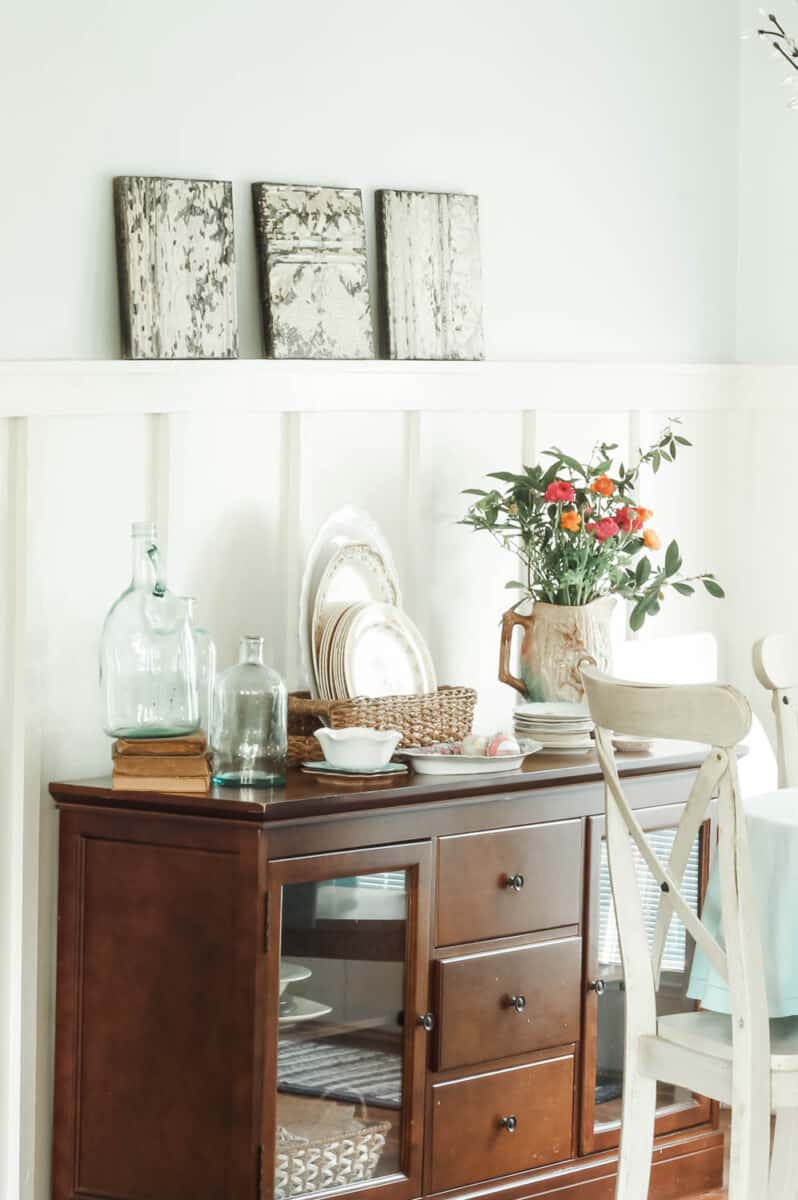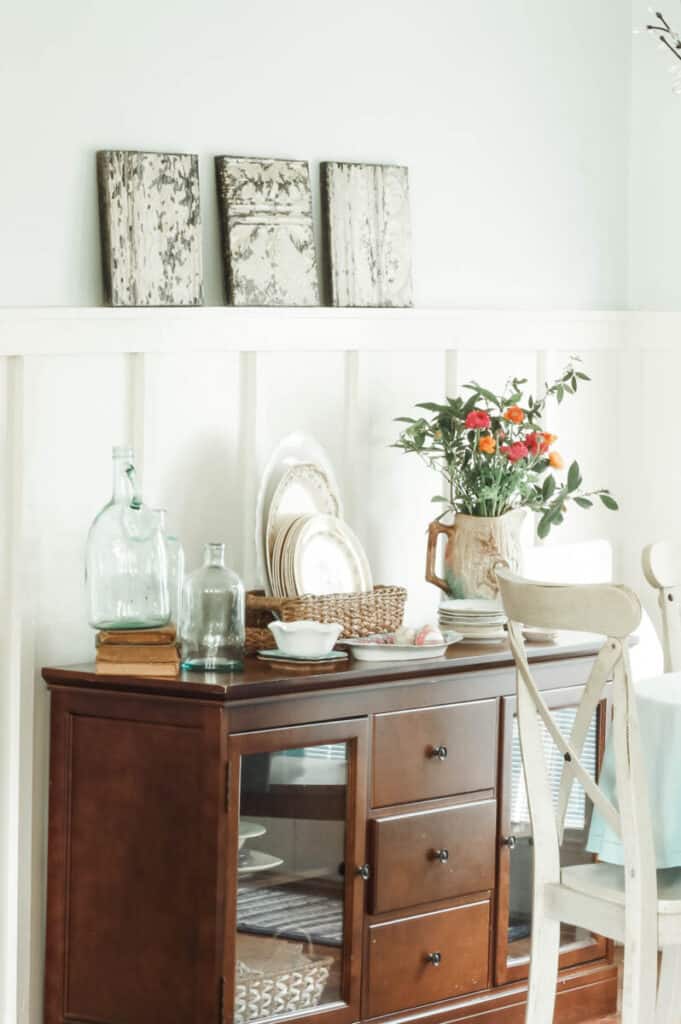 A Decorating Tribute
Our blogging community recently lost a sweet friend, Paula from Sweet Pea who lost her long battle with cancer.

Paula was very creative, sweet, and talented. She created the prettiest vignettes, mantles, and tablescapes using vintage items. She displayed her family heirlooms and shared their stories often. With Paula in mind, I used a lot of family treasures when decorating this spring.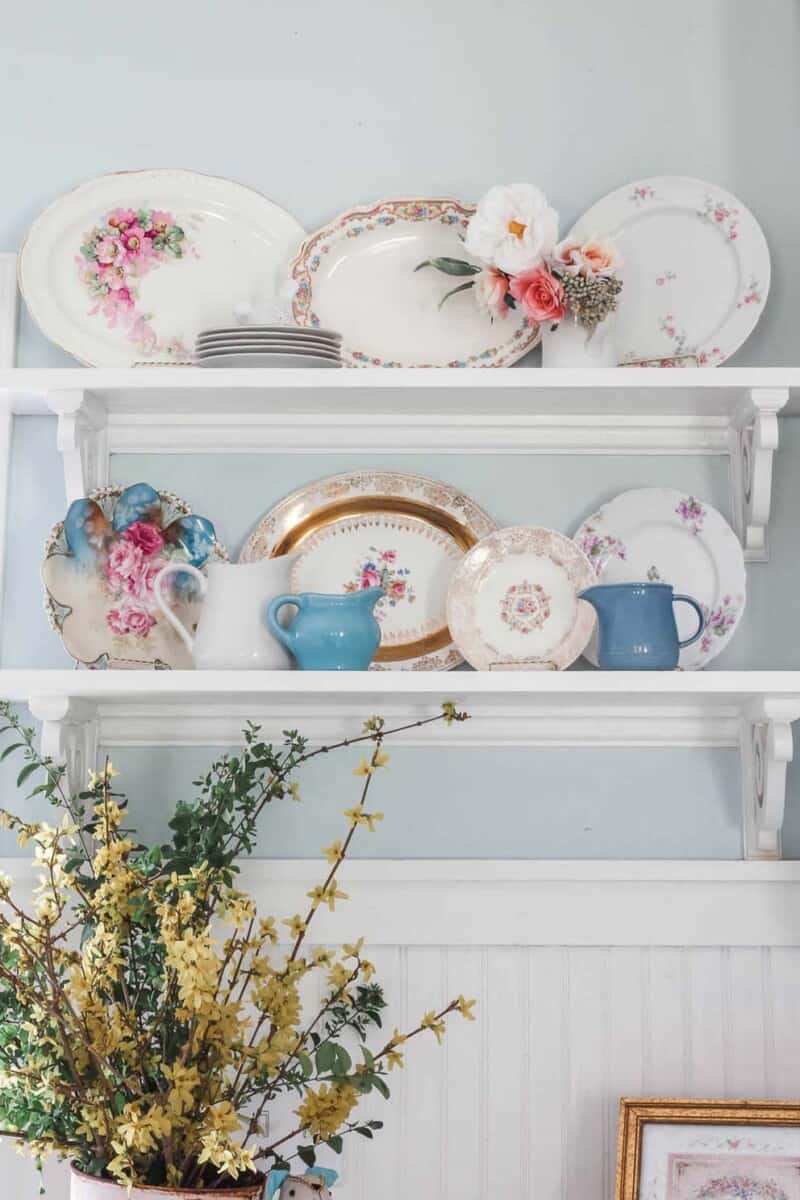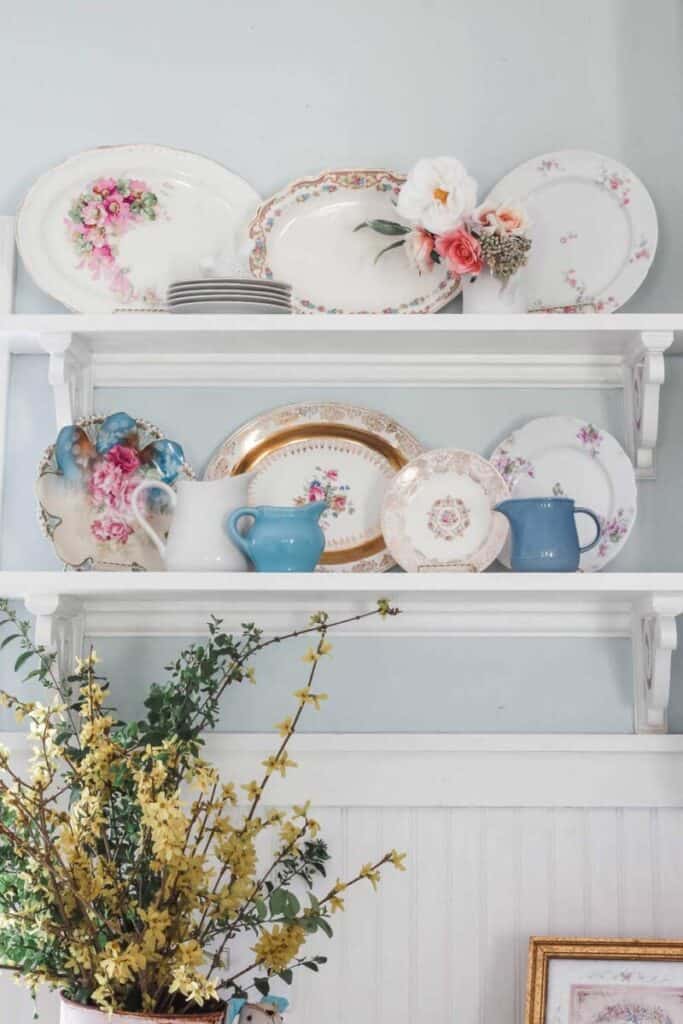 Vintage Plates on Open Shelving
I love pretty dishware, especially pretty vintage dishware.

The dainty features, pretty flowers, and embellishments make me swoon.

I just can't get enough of them!

Usually, I keep our open kitchen shelves stocked with every day items like our dinner dishes and canisters of flour, sugar, etc.

In the spirit of honoring Paula and also our parents who have passed away, I replaced the every day items with vintage decorative items and a few family heirlooms.

I actually love seeing them and will definitely have them on display more.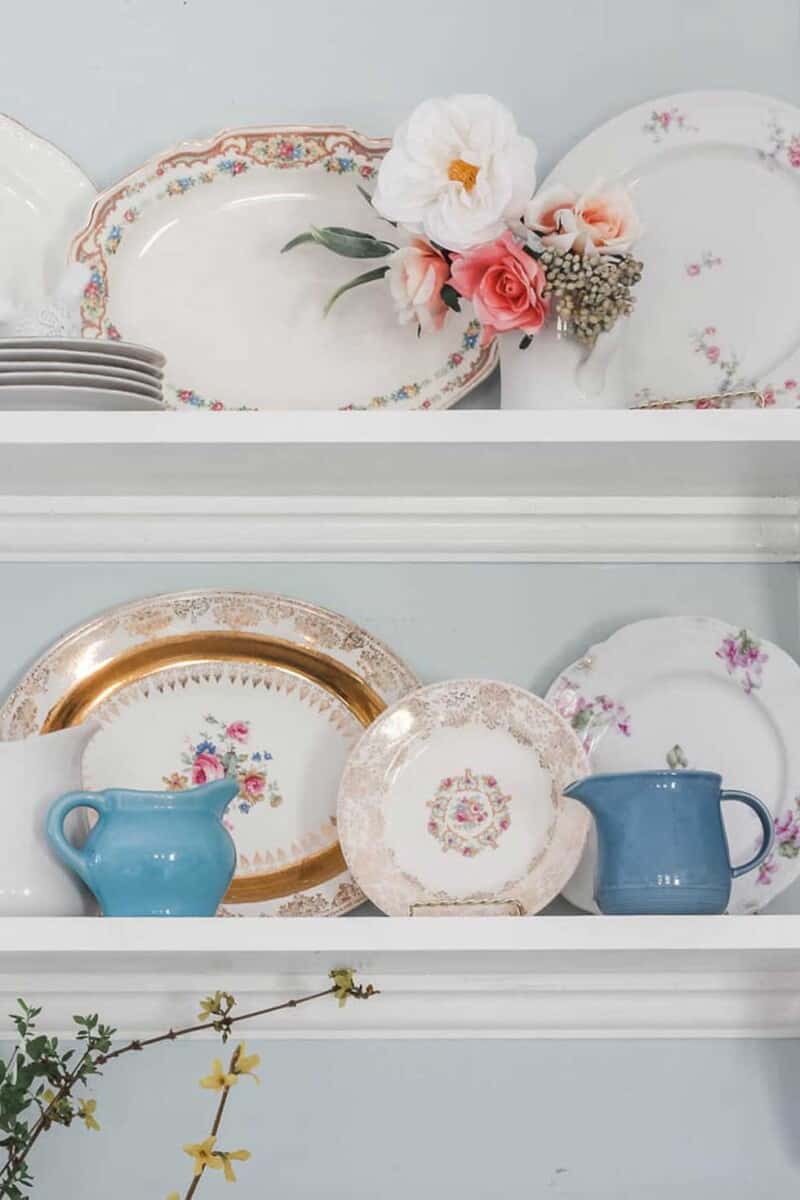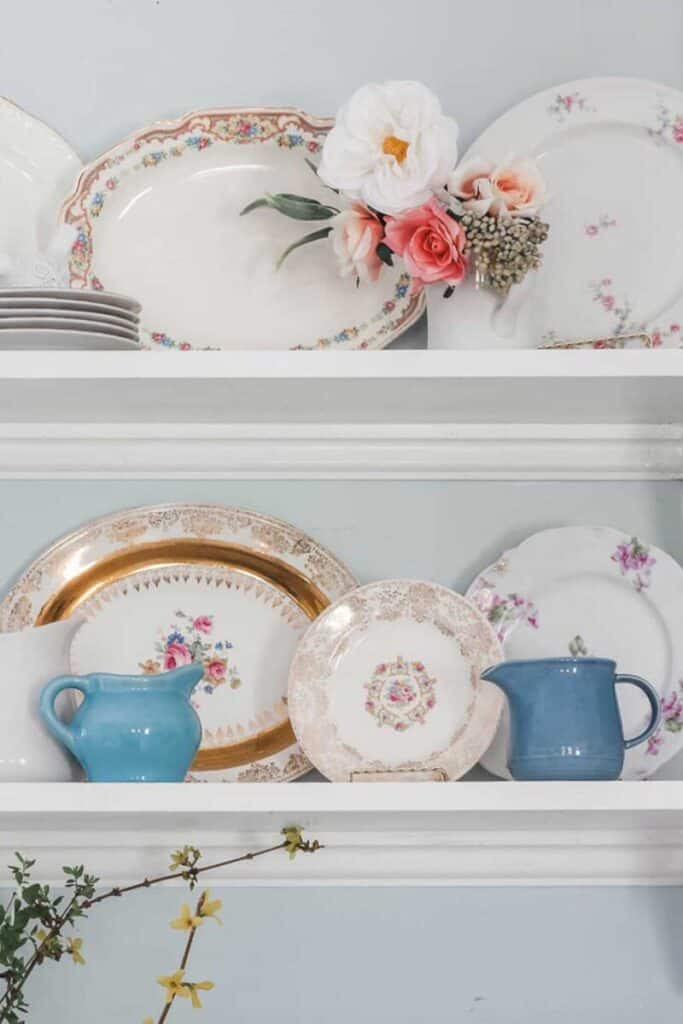 Along with platters and plates, I added a few collectable creamers and my grandfather's coffee mug filled with faux flowers.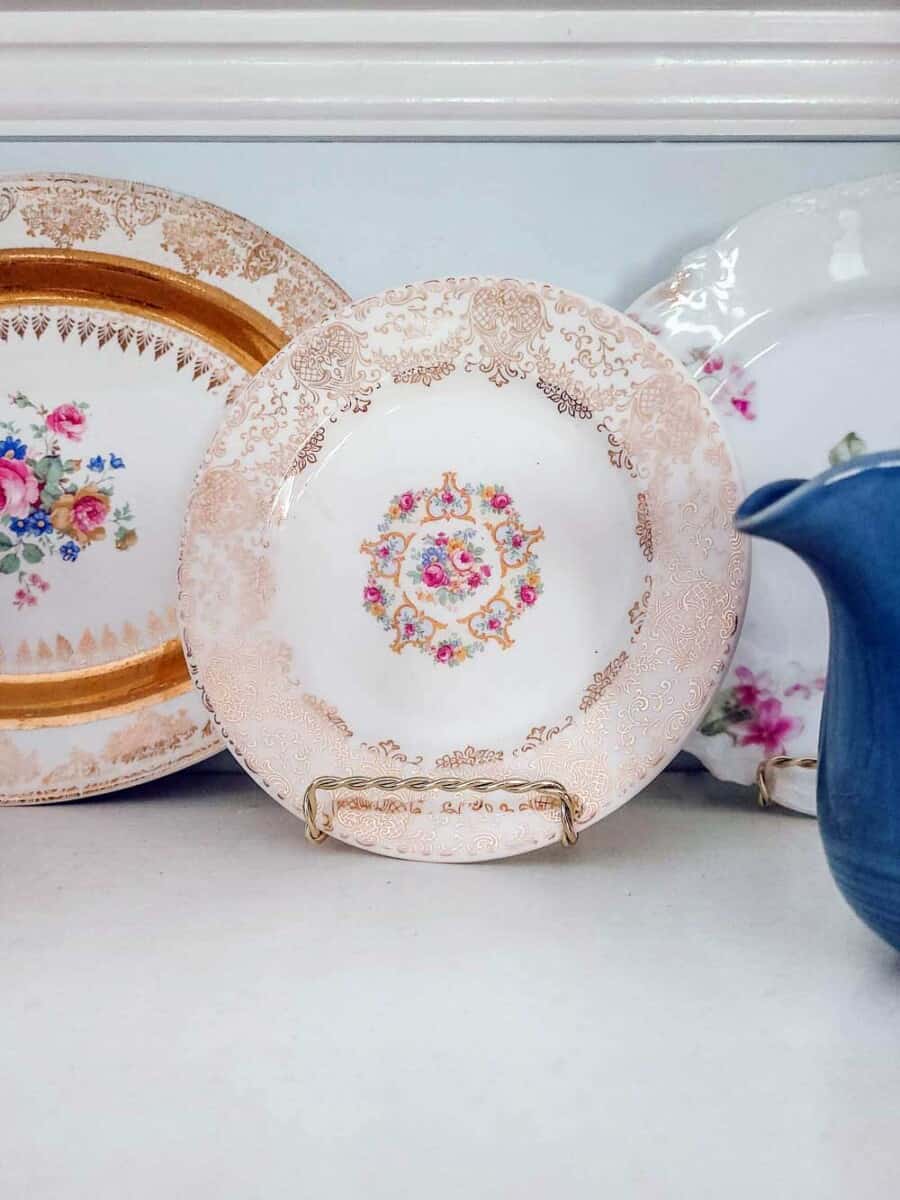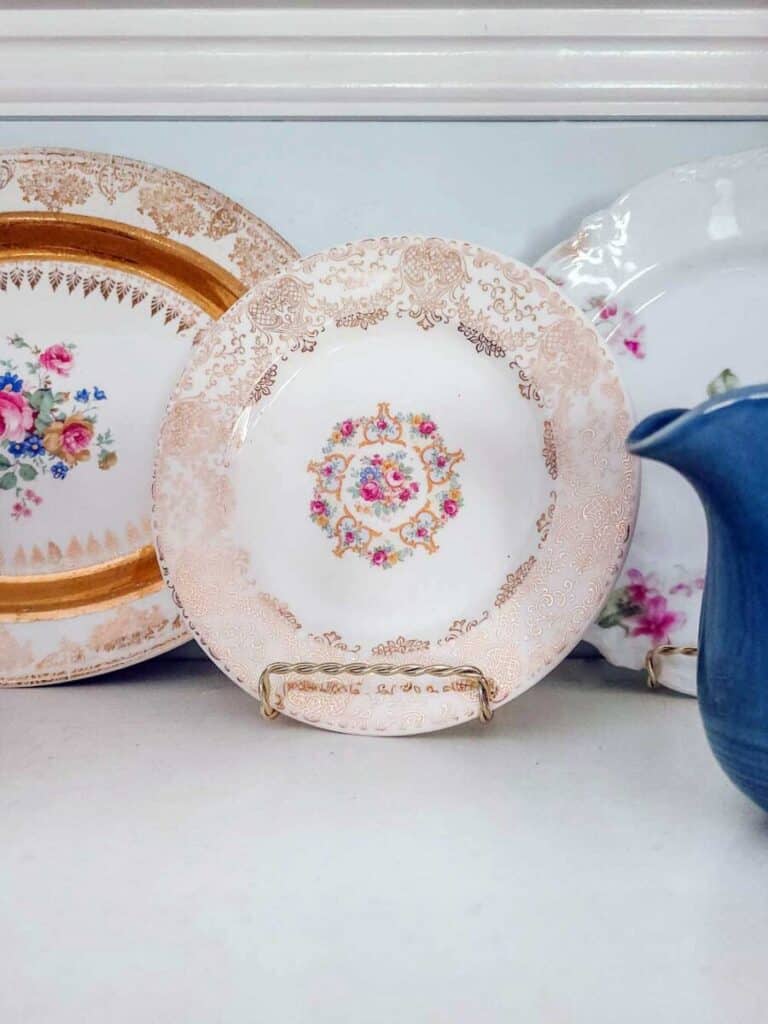 Most of the china I found at auctions. You can score great pieces really inexpensively. Often, they sell a large lot for one price.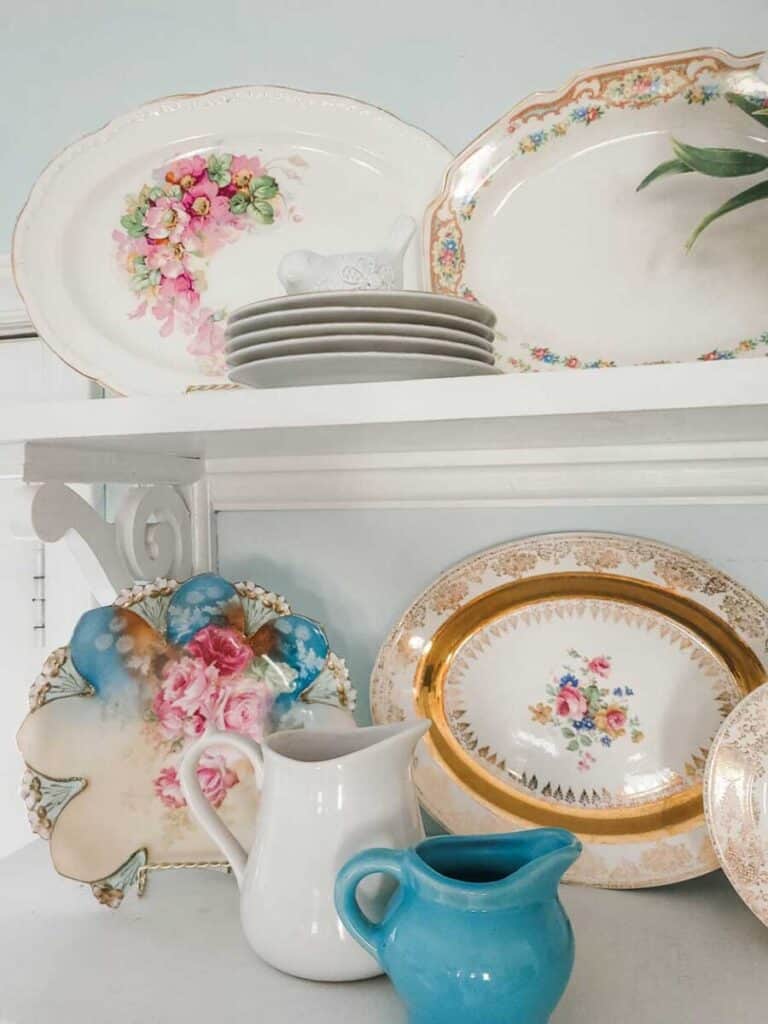 This beautiful dish was my great grandmother's.

My aunt occasionally sends me these treasures and always includes little notes about each piece.

The notes are as precious to me as the heirlooms are!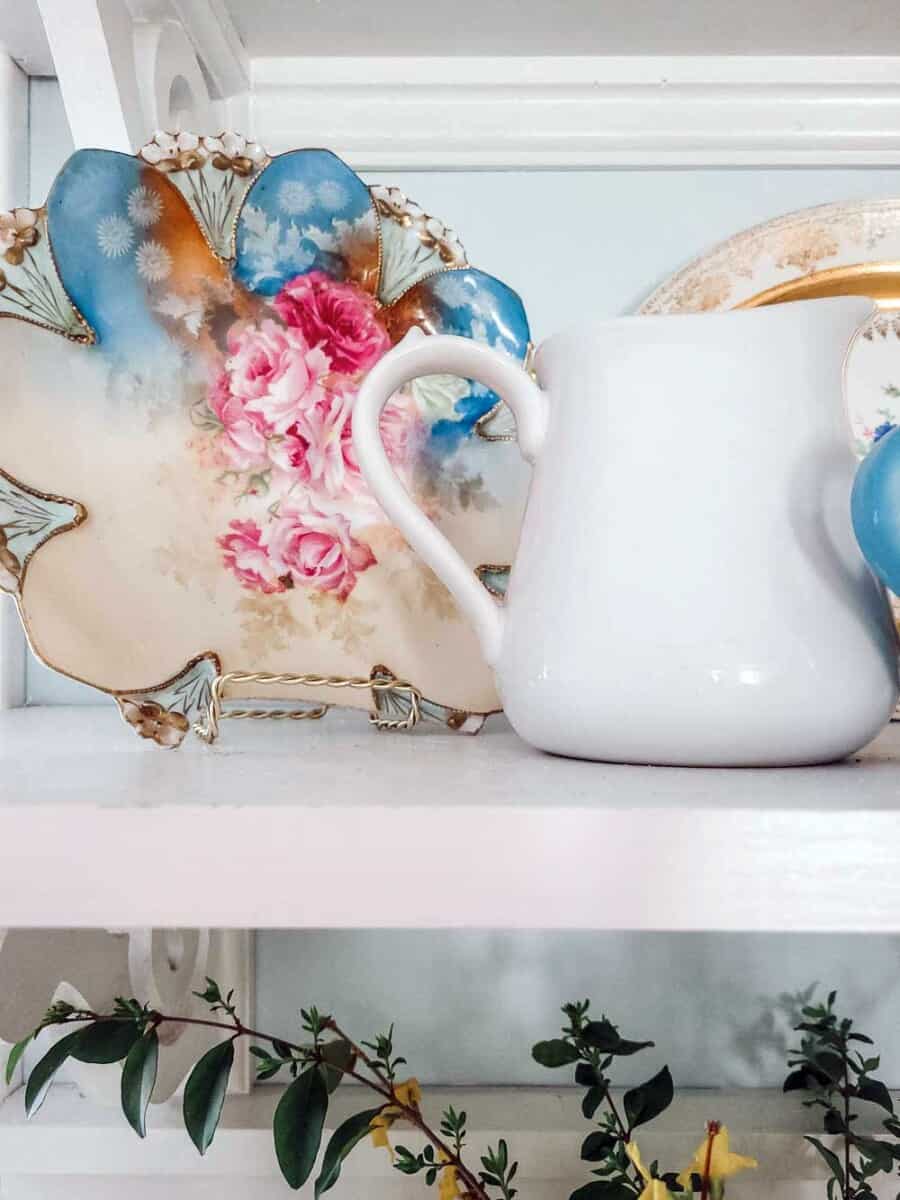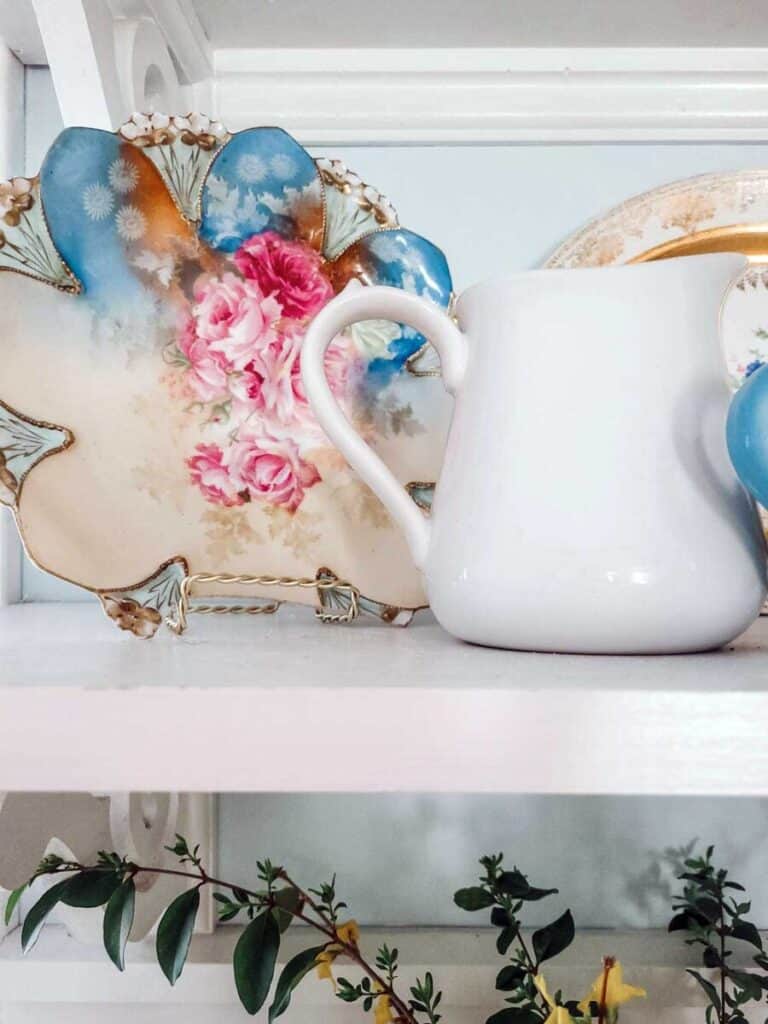 This cute bunny is a Target find from a couple years ago. Remember him from my spring entryway last year?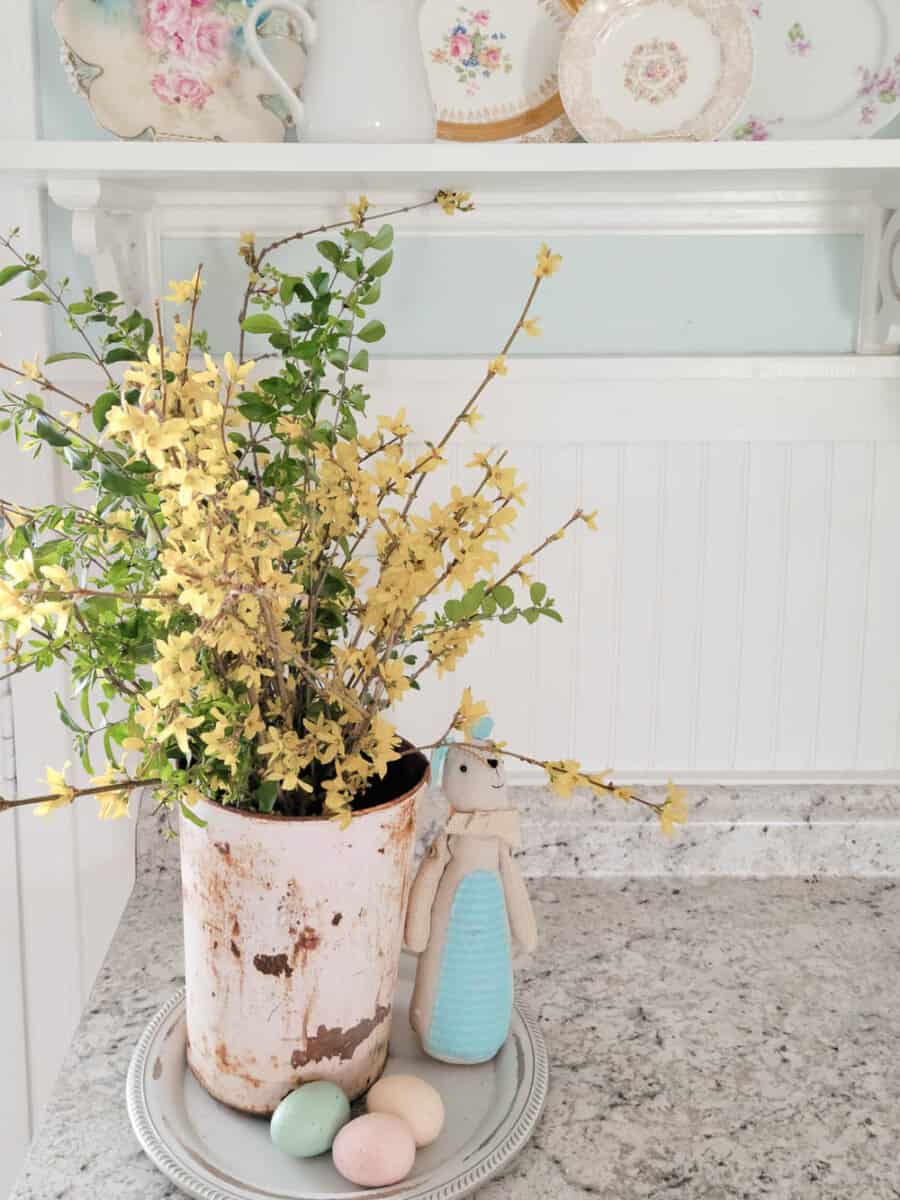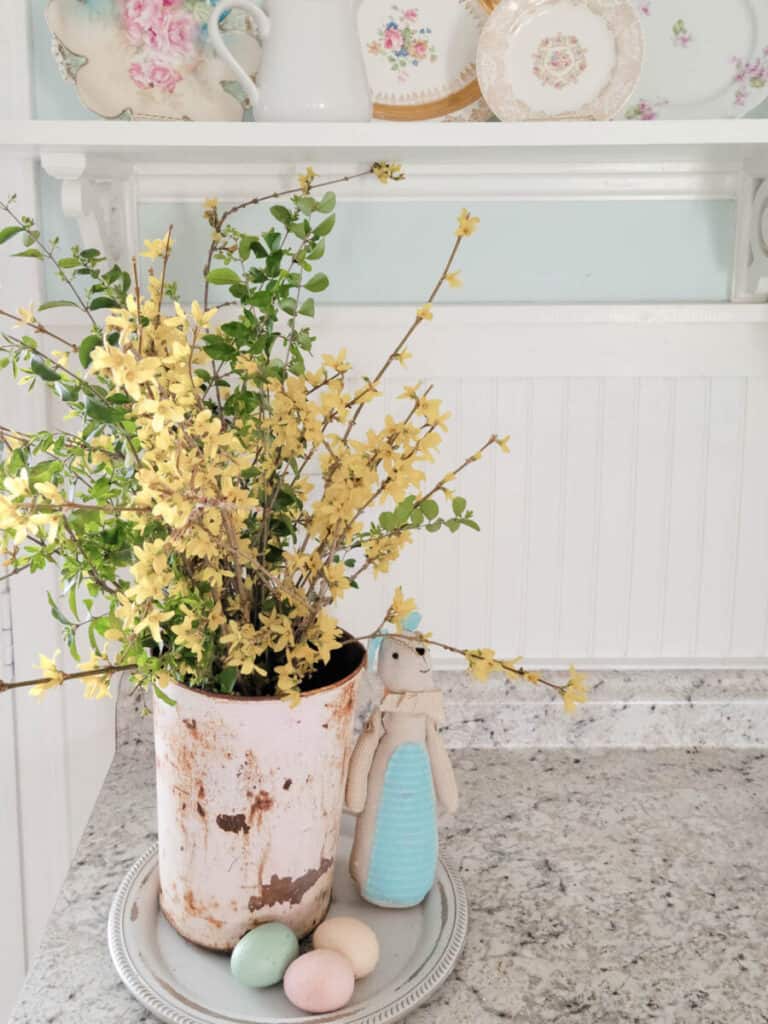 I love this rusty pink sap bucket filled with forsythia.

You can see how I used the vintage pink sap bucket on our front porch and in our dining room.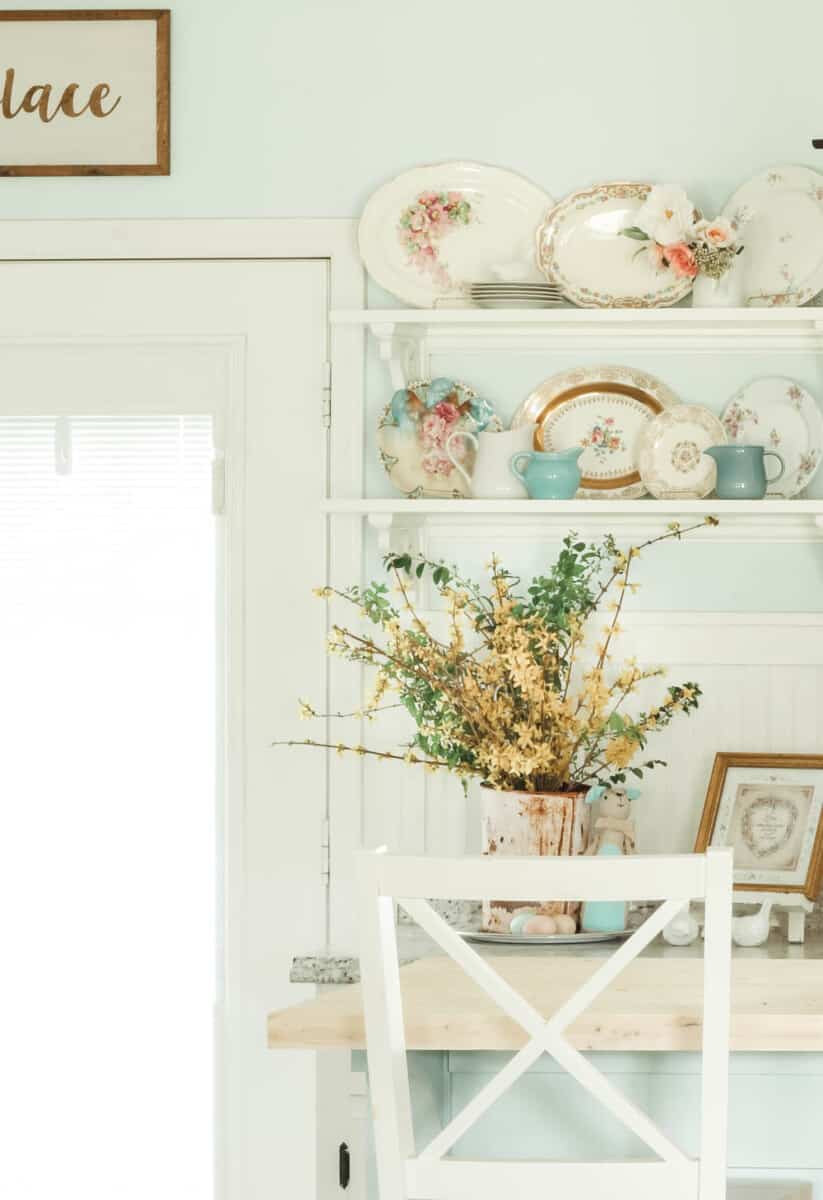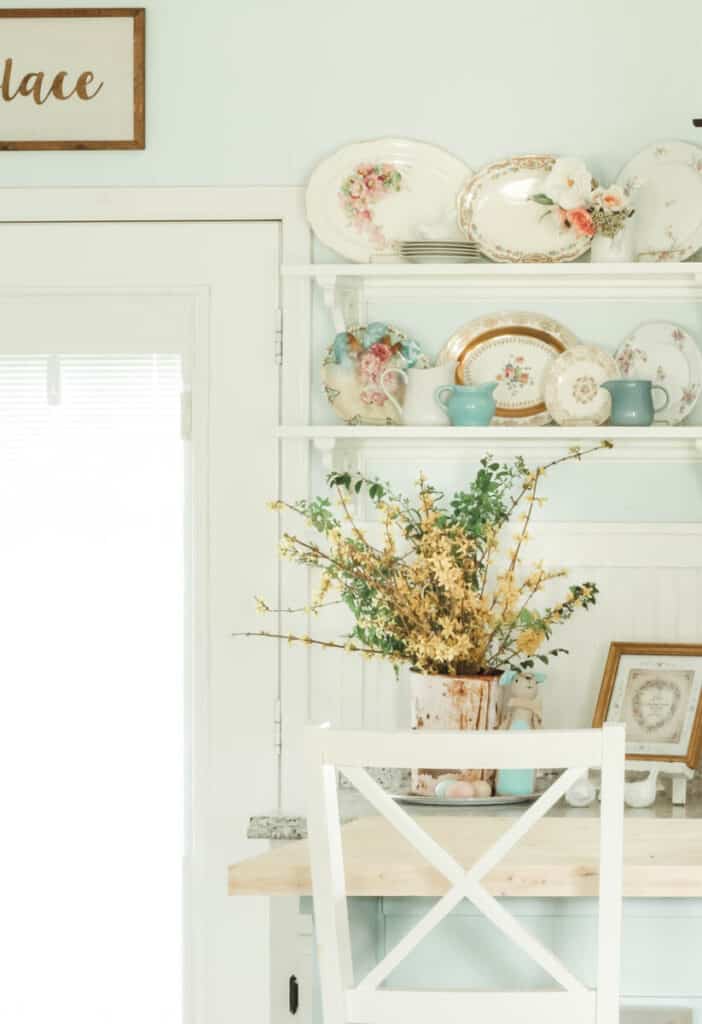 Using Family Heirlooms in Decor
Along with my grandfather's mug and my great grandmother's pretty plate, I also have my mother's Majolica pitcher on display.

I shared the story about this pitcher last spring when I had it filled with olive tree branches in our spring entryway.

This year I filled it with a bouquet of ranunculus, olive tree branches and lady banks rose vines.
I started these ranunculus in November and babied them all winter. I am excited to be able to offer flower bouquets to our customer's so much earlier this year!

Also on the sideboard, I added a stack of vintage books.

The Learning Italian was my father in law's school book and has his signature in it from when he was in early high school.

It also has several of his 7 brother's names in it as well as some funny notes they wrote about each other! Definitely a family treasure!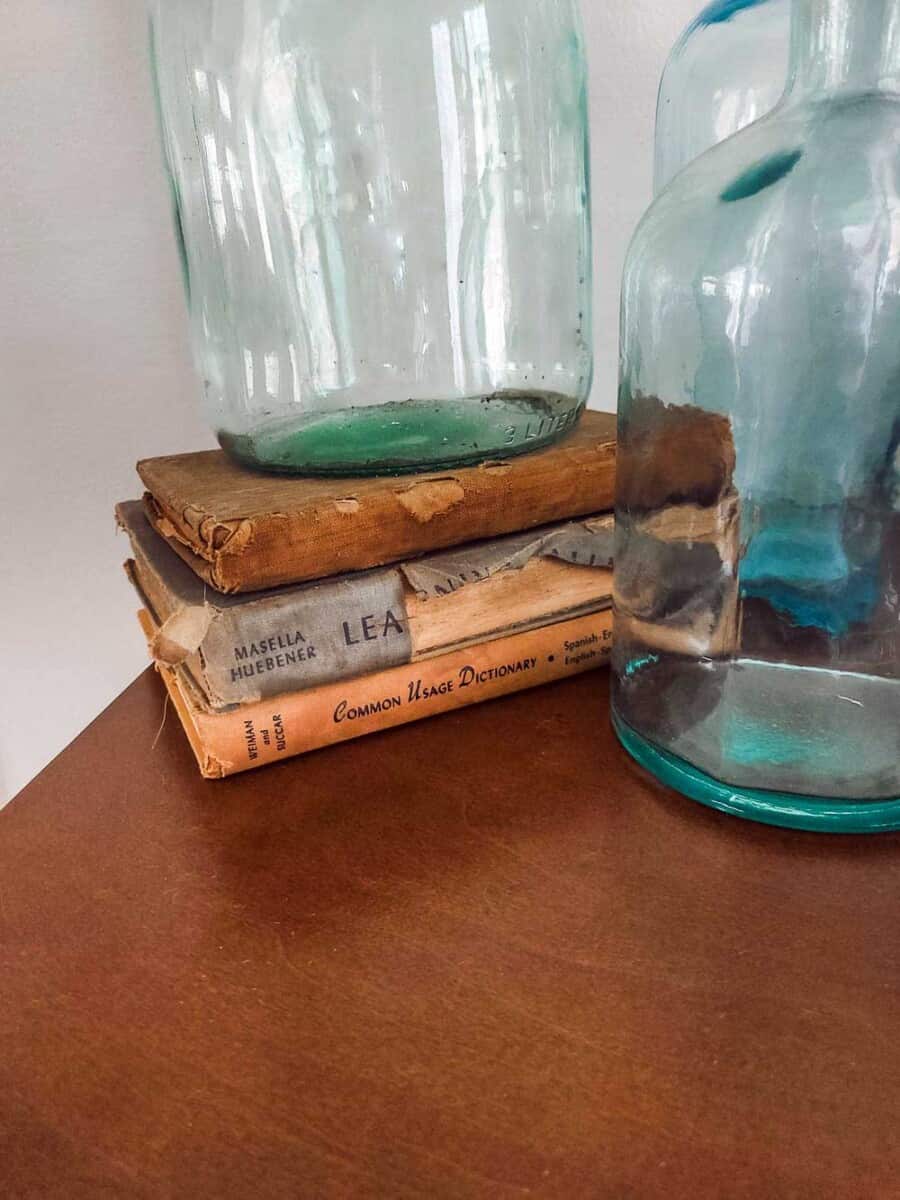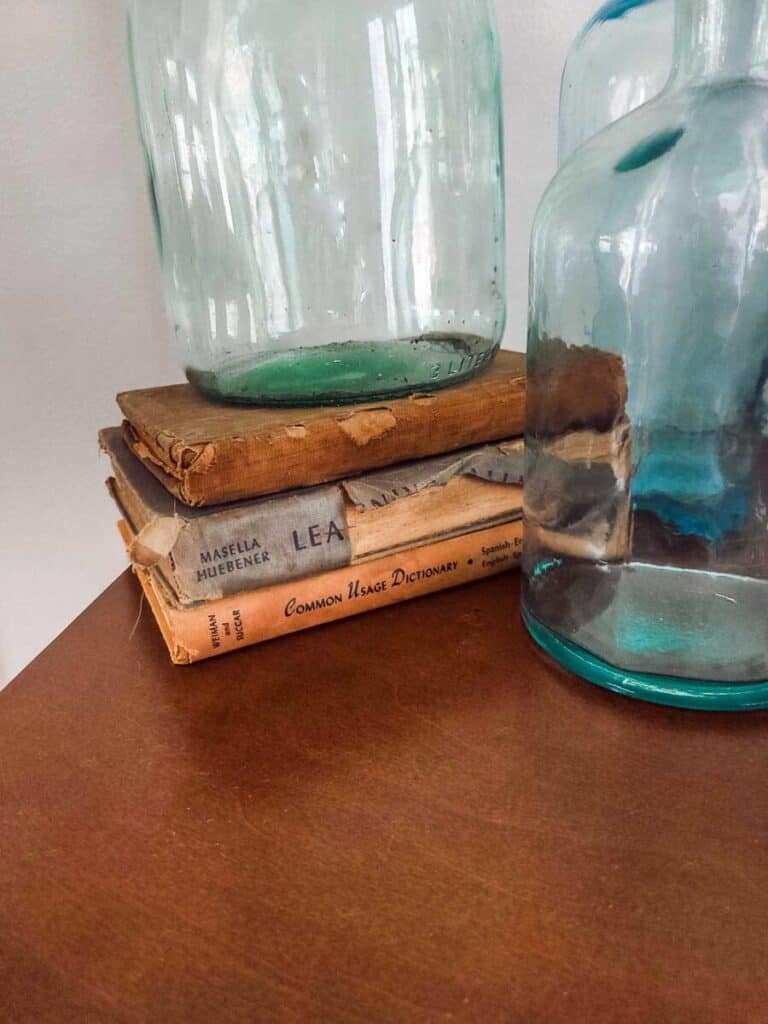 Sideboard and Dining Table
In the center of the sideboard I placed vintage platters and plates in a small basket.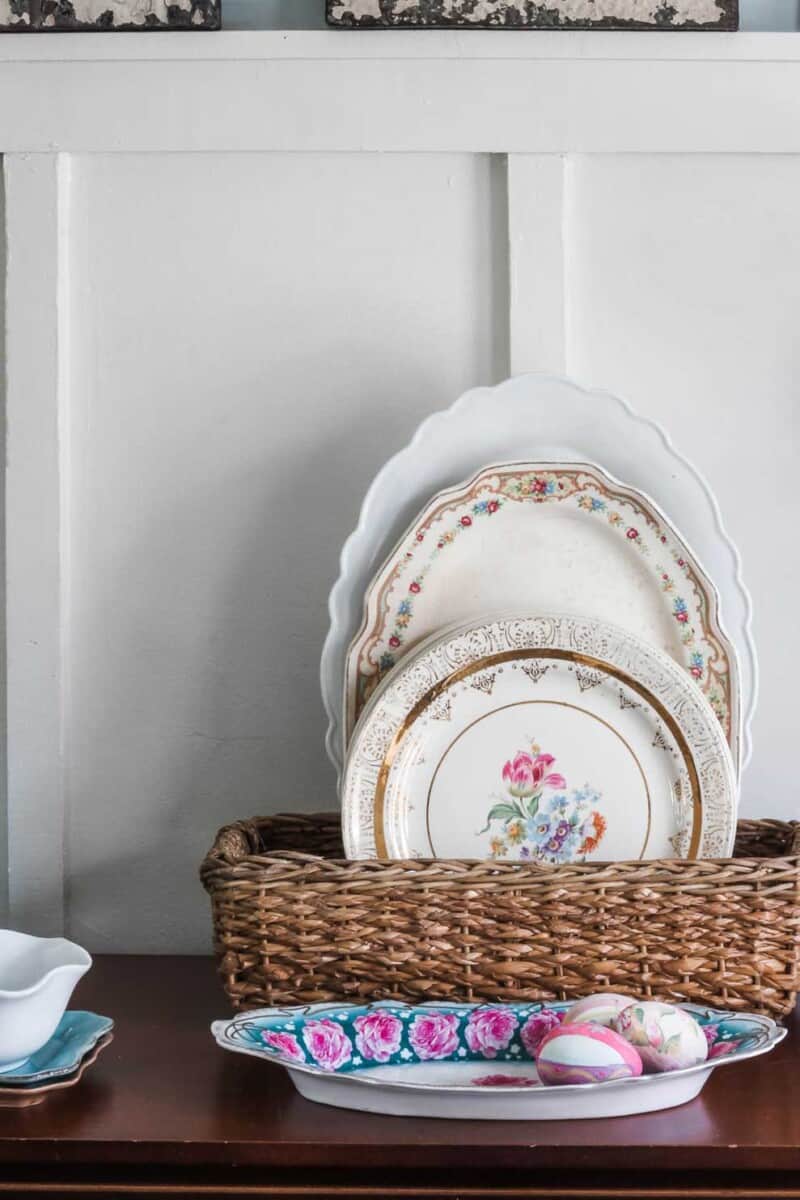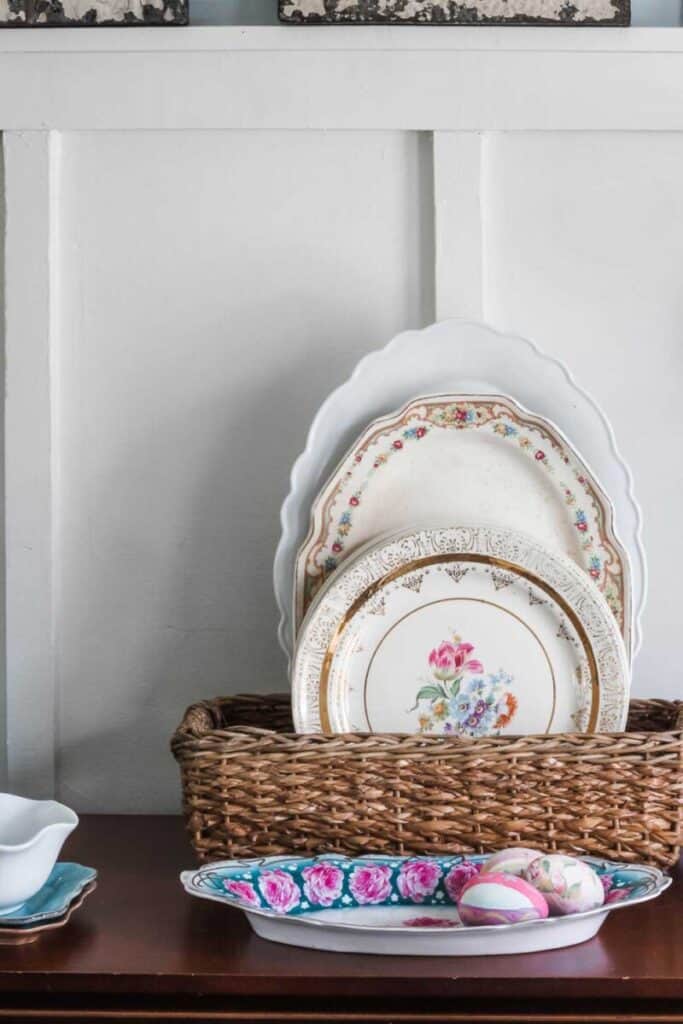 I added some handpainted eggs to a pretty rose bowl. Only a few because I didn't want to cover the pretty design.
Above the board and batten are three antique ceiling tiles. I bought these when we first moved here 17 years ago and I still love them. They've moved all around the house, I don't think we have a single room they haven't been in!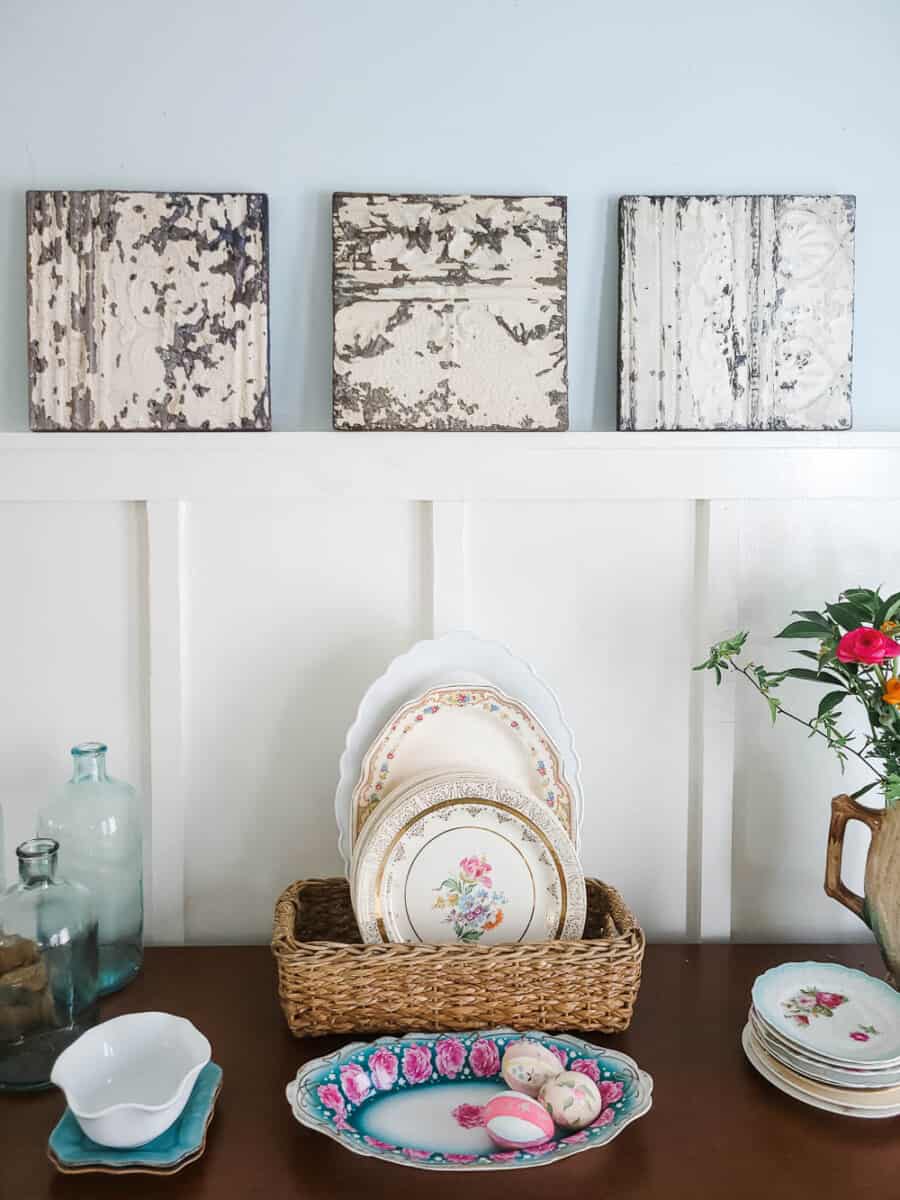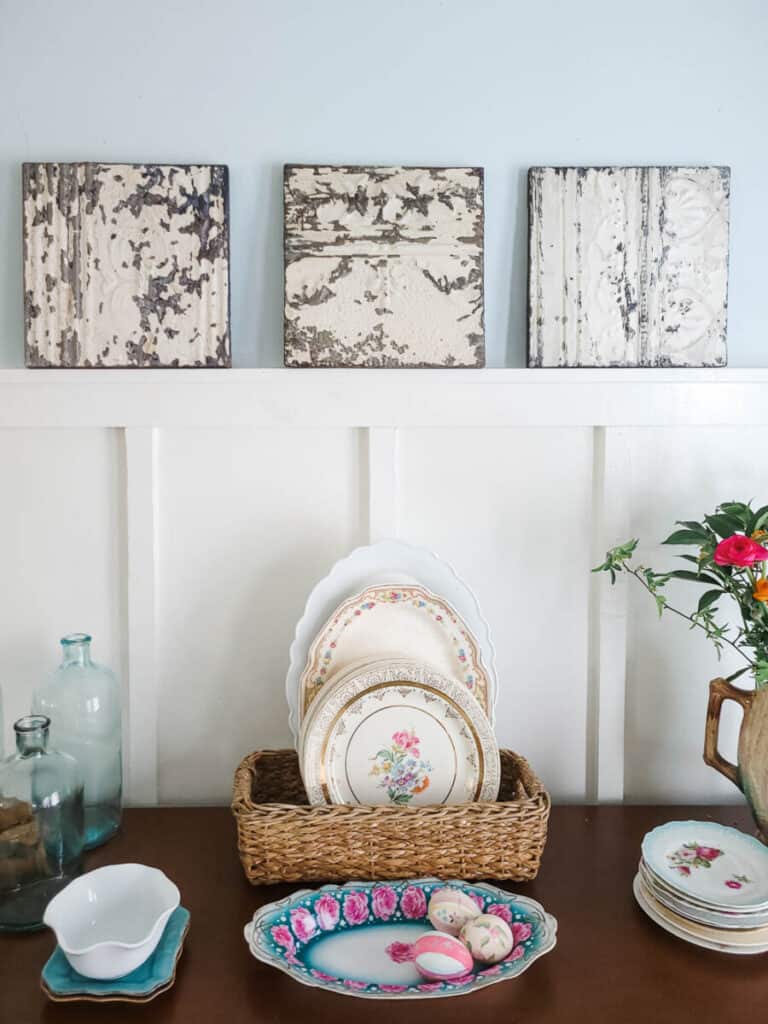 To keep things from looking too cluttered, instead of doing a full tablescape I simply added a wooden cutting board topped with a few accessories to the table.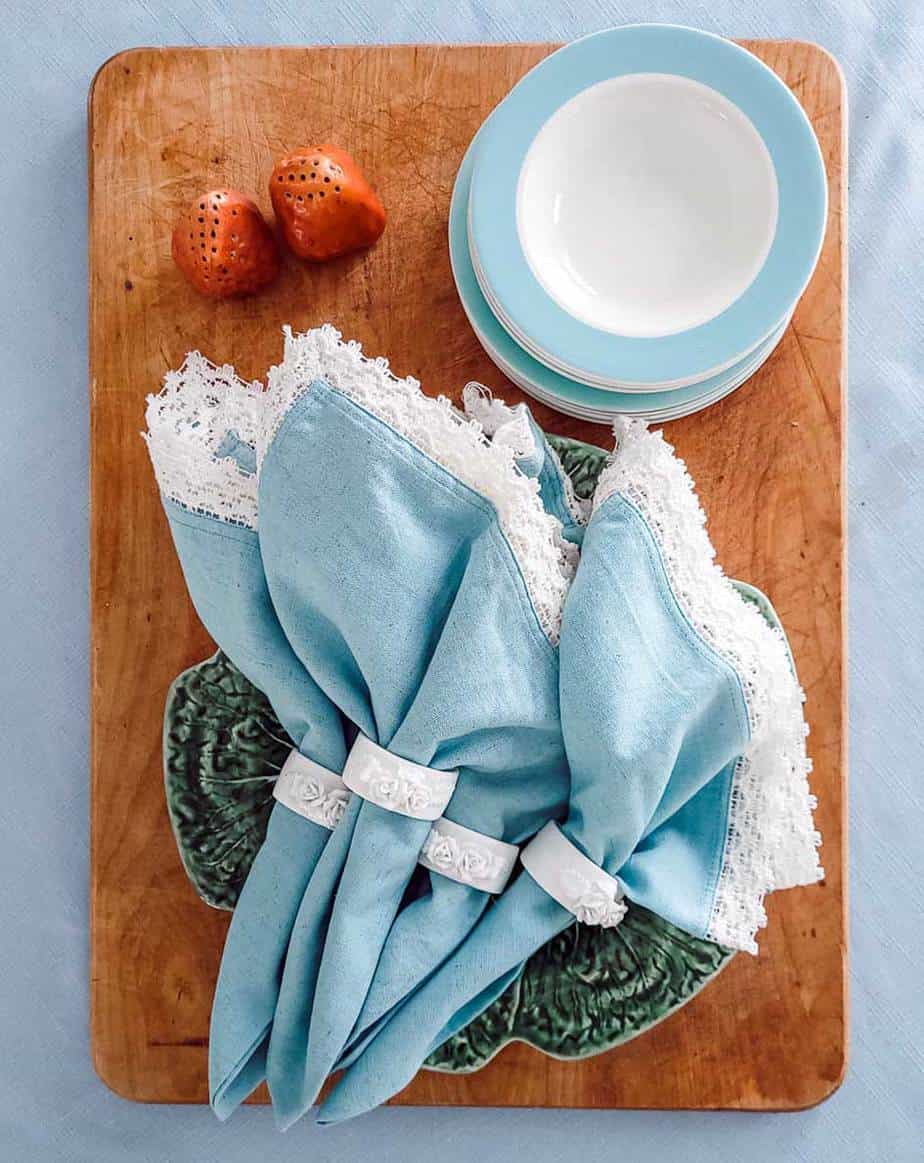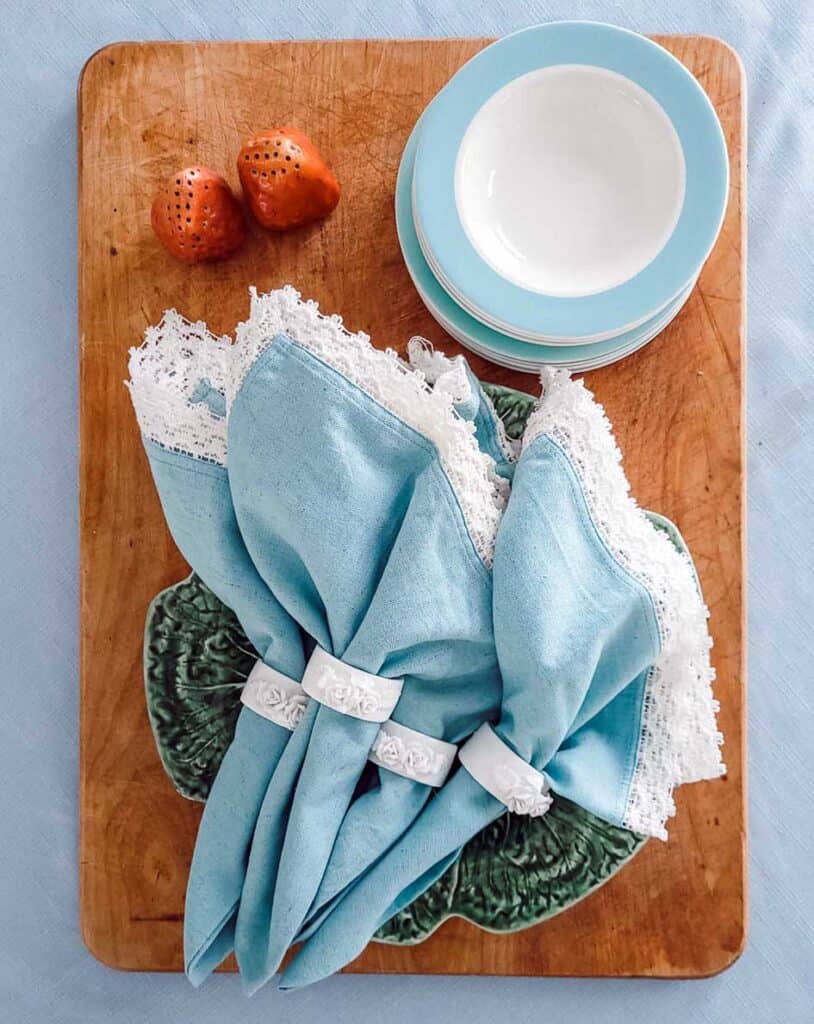 The strawberry salt and pepper shakers were given to me by my aunt also. I can't remember which relative they belonged to originally, I'll have to find that note. I think they are so cute!
Thanks so much for stopping by. I hope I inspired you to display family heirlooms and vintage dishes.
If you do use special and/or vintage items in your decorating, leave me a comment and let me know how you display them, I would love to know!

Next up on the tour my sweet friend Cindy from DIY Beautify is sharing her pretty spring dining room. You're going to love it!

Be sure to check out all the posts this week. They are all so good!
Bloggers' Best Spring Home Tours
Monday's Tours

The Tattered Pew / My Thrift Store Addiction / Bricks n' Blooms
Shiplap and Shells / Cottage In The Mitten / Cottage On Bunker Hill
Tuesday's Tours

Midwest Life and Style / Open Doors Open Hearts / Cloches and Lavender
Amy Sadler Designs / Up To Date Interiors
Wednesday's Tours

Simply2Moms / Sand Dollar Lane / DIY Beautify
The Ponds Farmhouse / Pasha Is Home / Lantern Lane Designs
Thursday's Tours

StoneGable / My Wee Abode / County Road 407
She Gave It A Go / Aratari At Home / Willow Bloom Home
Friday's Tours

Lora Bloomquist Create and Ponder / White Arrows Home / Follow The Yellow Brick Home