If you're looking for fall table decorating ideas, this post is for you!
Learn how to create a beautiful fall table with tips and ideas and a list of versatile fall table decor.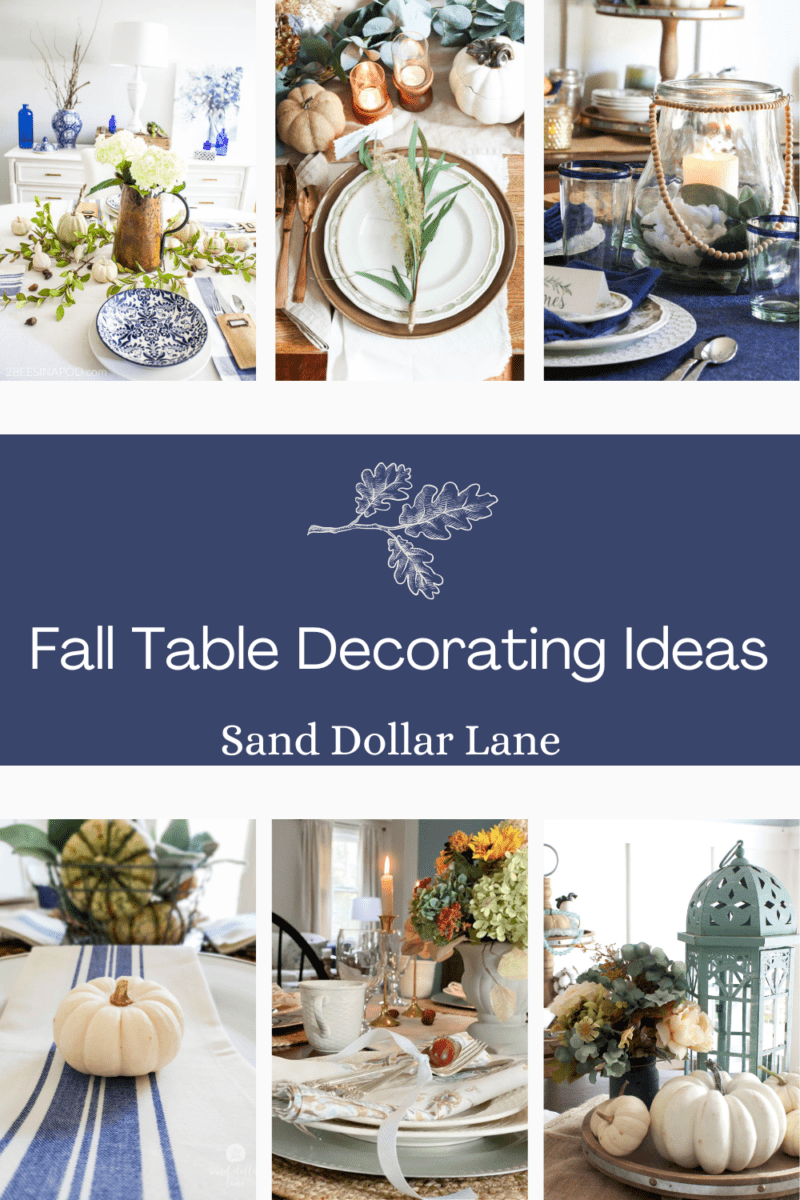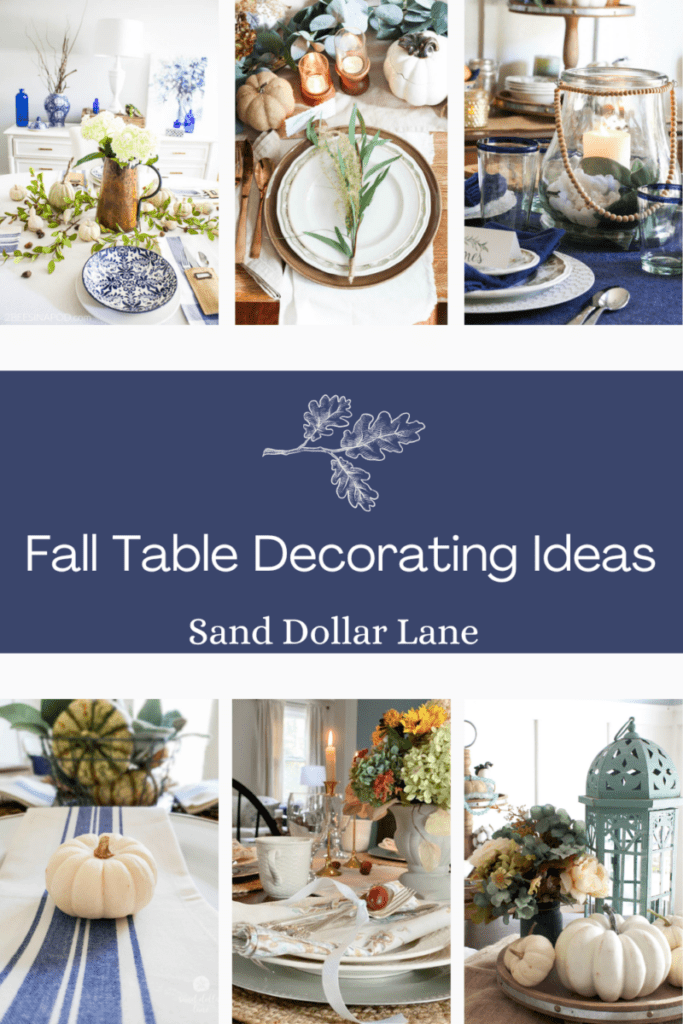 Creating a Beautiful Fall Tablescape
Here's a list of things you can incorporate into your fall table decorating-
place cards
silverware
drinking glasses
plates
chargers
centerpiece(s)
napkins
decorating items (acorns, pumpkins, grasses, etc)
table cloth or covering
Place Cards-
While not absolutely necessary in most cases, place cards make your guests feel special.
I designed and printed these fall place cards in Illustrator.
You can find templates to edit and print your own place cards on Etsy.
Coordinate your place cards to match the rest of your tablescape for a cohesive table.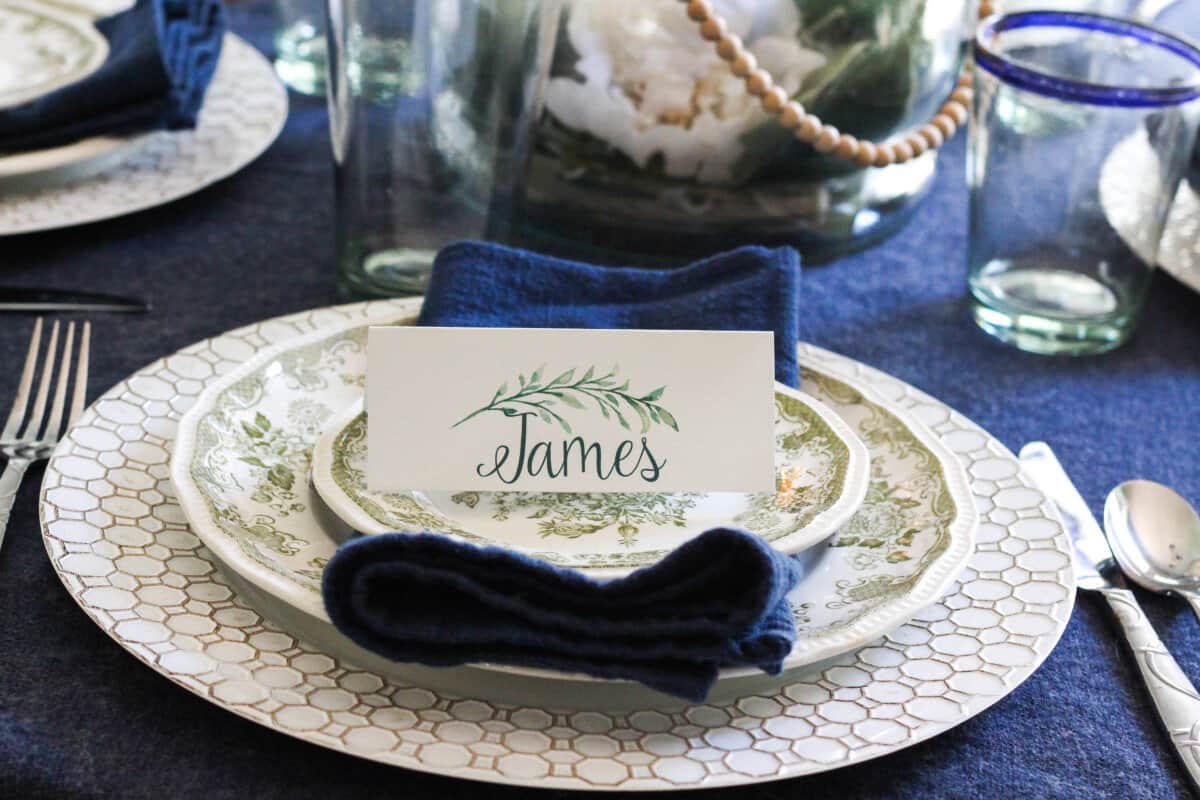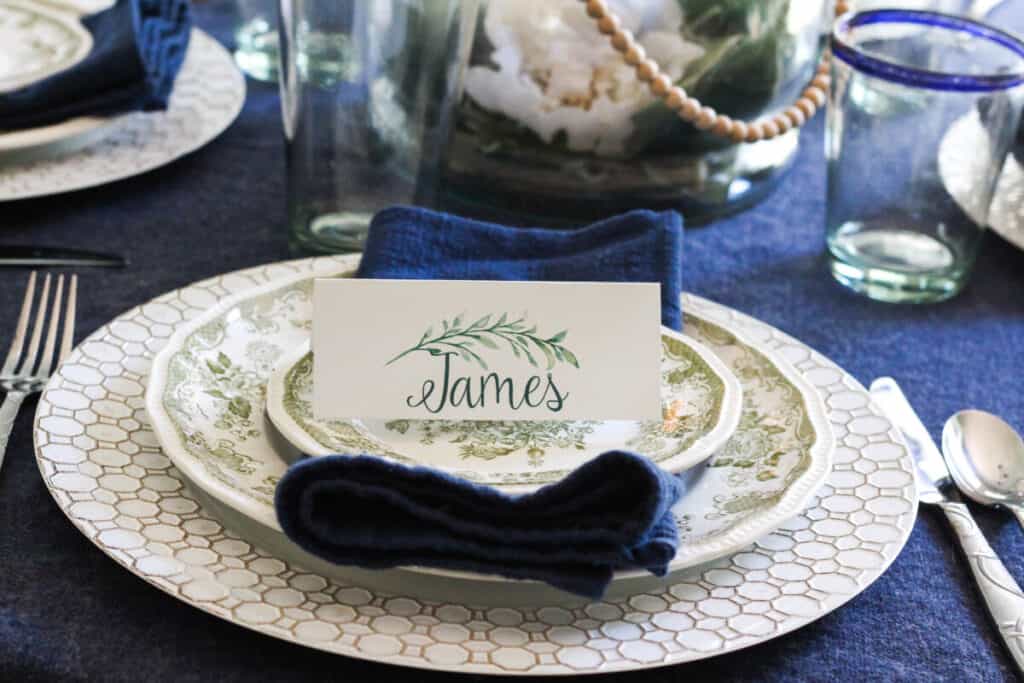 Silverware-
Sometimes I include silverware in my fall table decorating, other times, I leave it out.
This copper-colored flatware was too pretty and fall-like to leave out of my neutral fall tablescape a few years ago.
This gold flatware that Michelle from Our Crafty Mom used on her pretty teal and gold tablescape is perfect for a fall tablescape.
I'm not sure where she found hers but I found this similar set of gold flatware.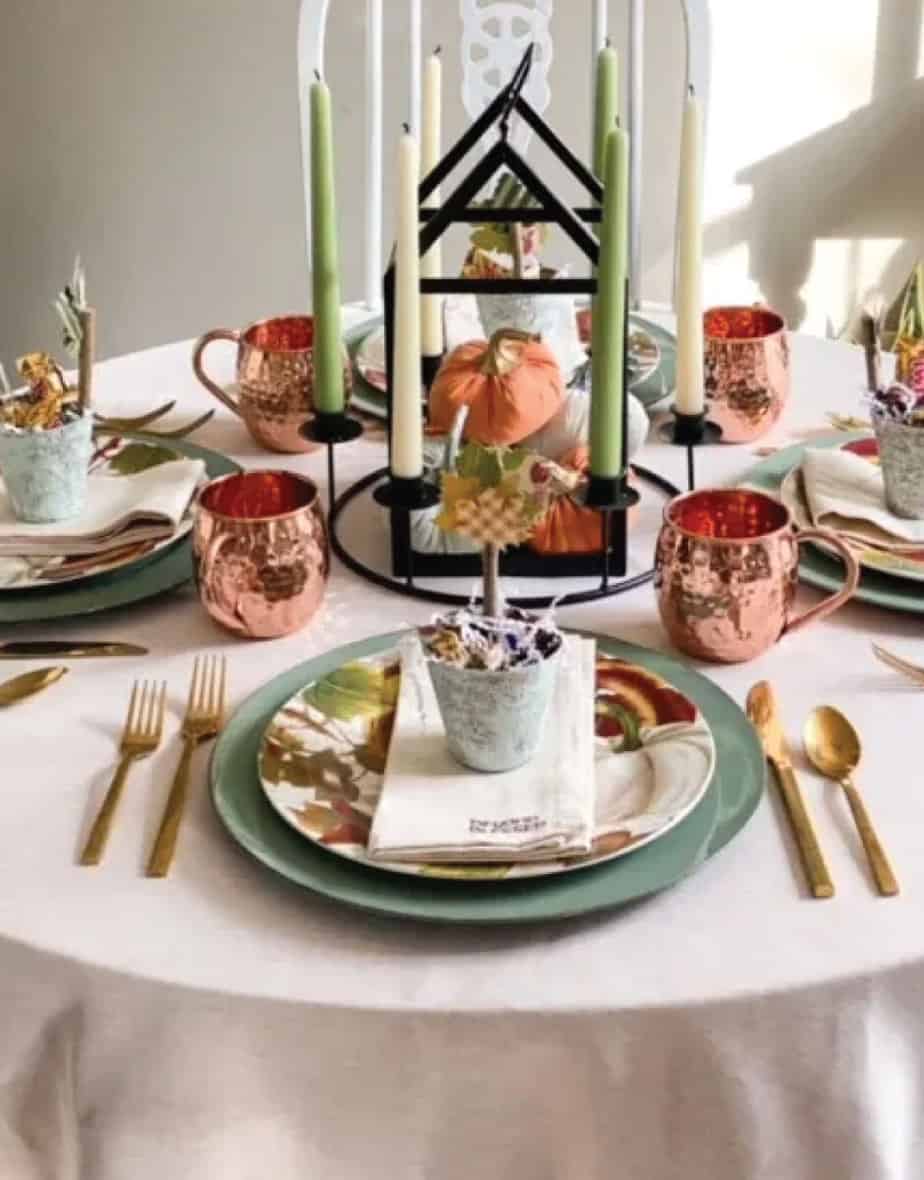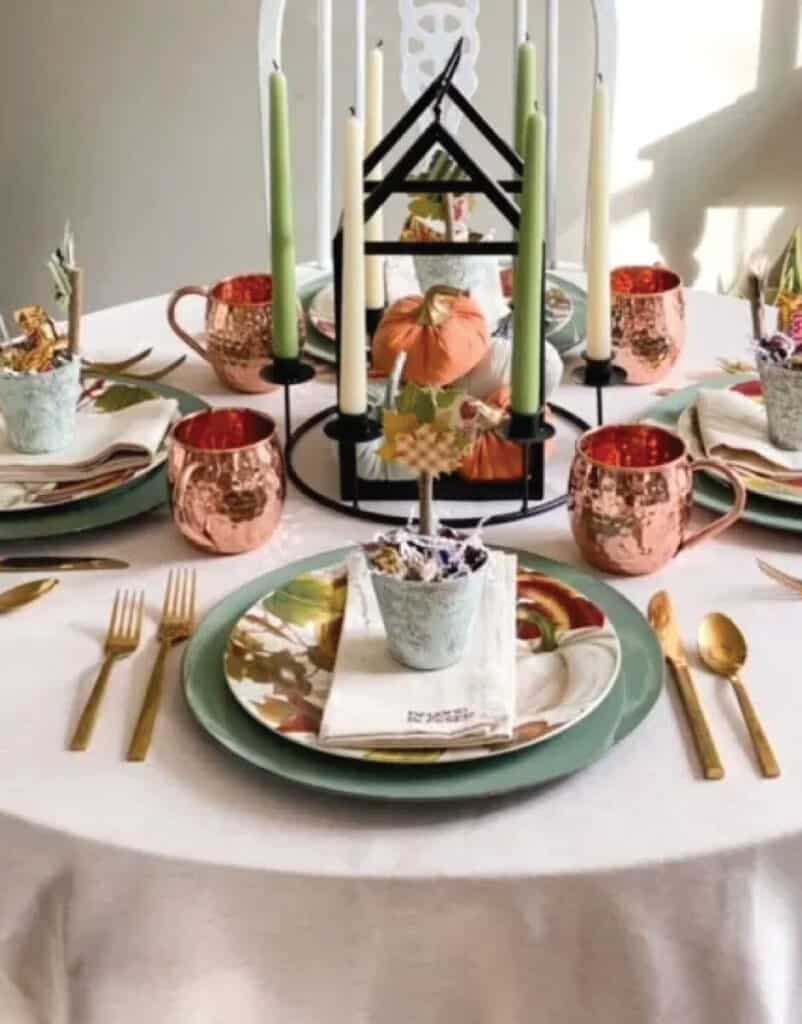 Instead of laying your flatware next to the plates, you can place them on top a tie with a pretty ribbon like Lynn from My Family Thyme did on this simple and lovely fall dining table.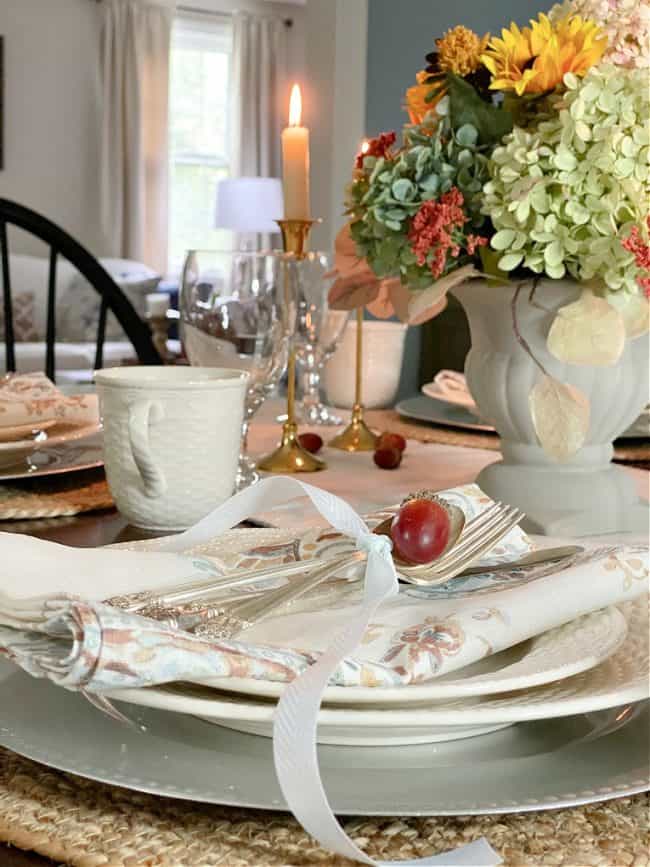 Drinking Glasses-
Some fall tablescapes include a water glass and a wine glass.
You can incorporate coffee mugs too.
Since blue matches almost all my decorating, these airblown glasses are in a lot of my fall tablescapes.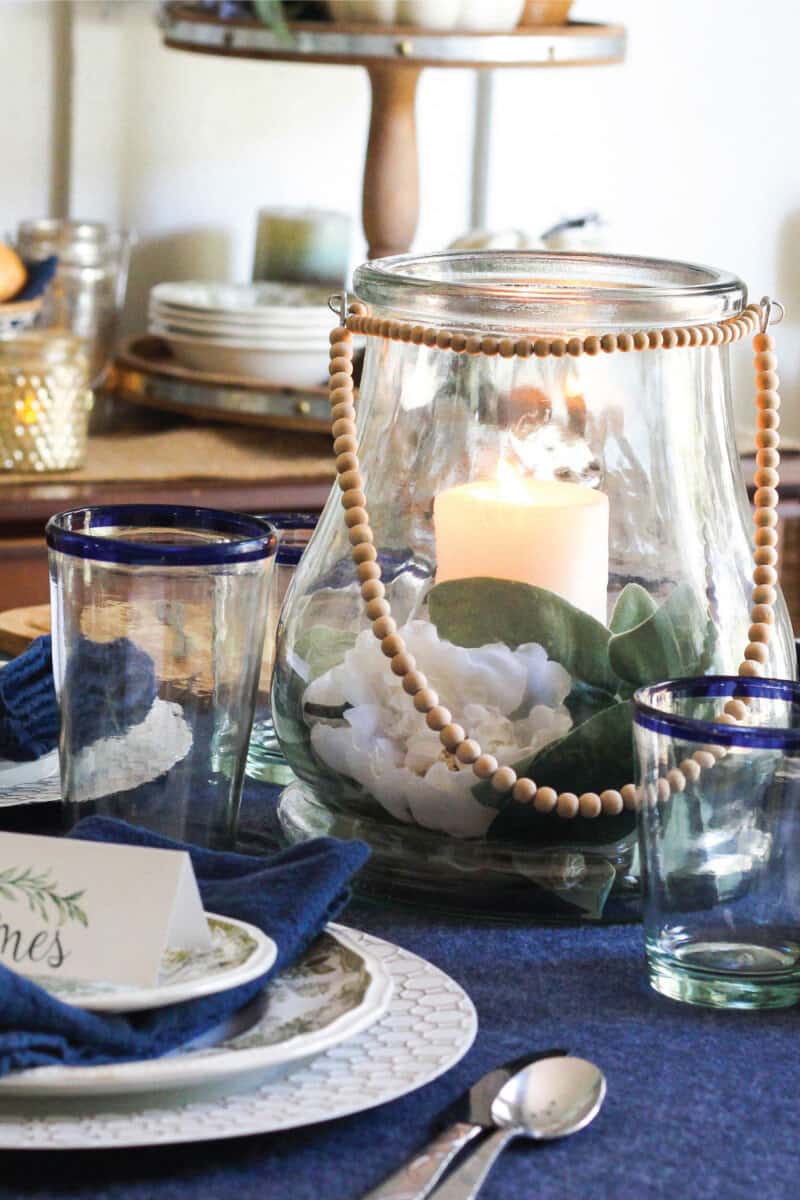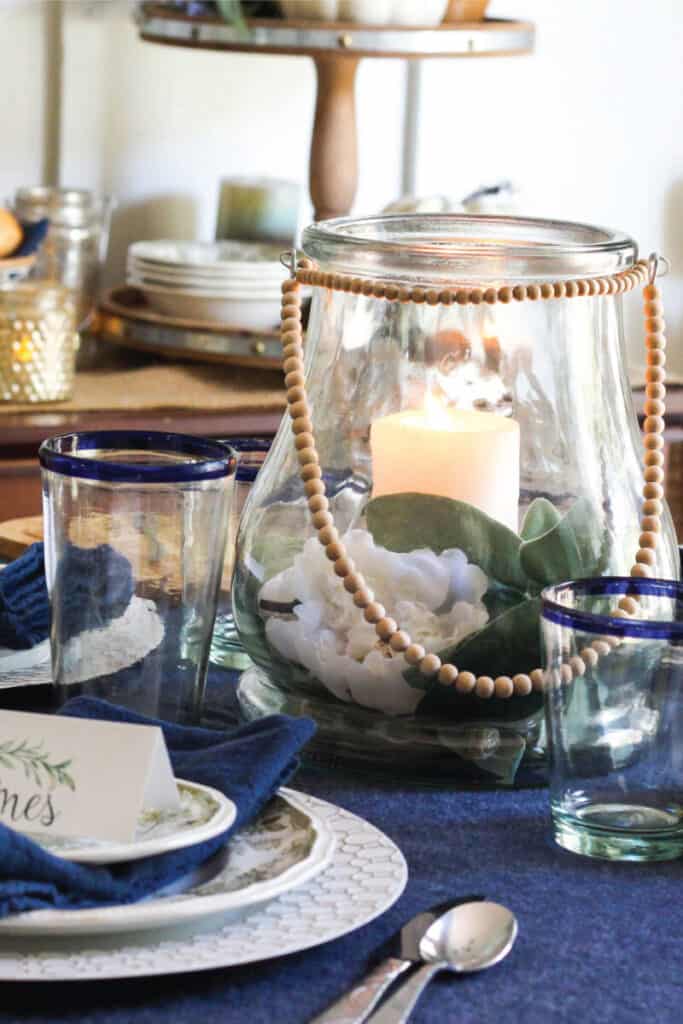 I love these amber drinking glasses that Rebecca from Zucchini Sisters used in her gorgeous glam fall tablescape!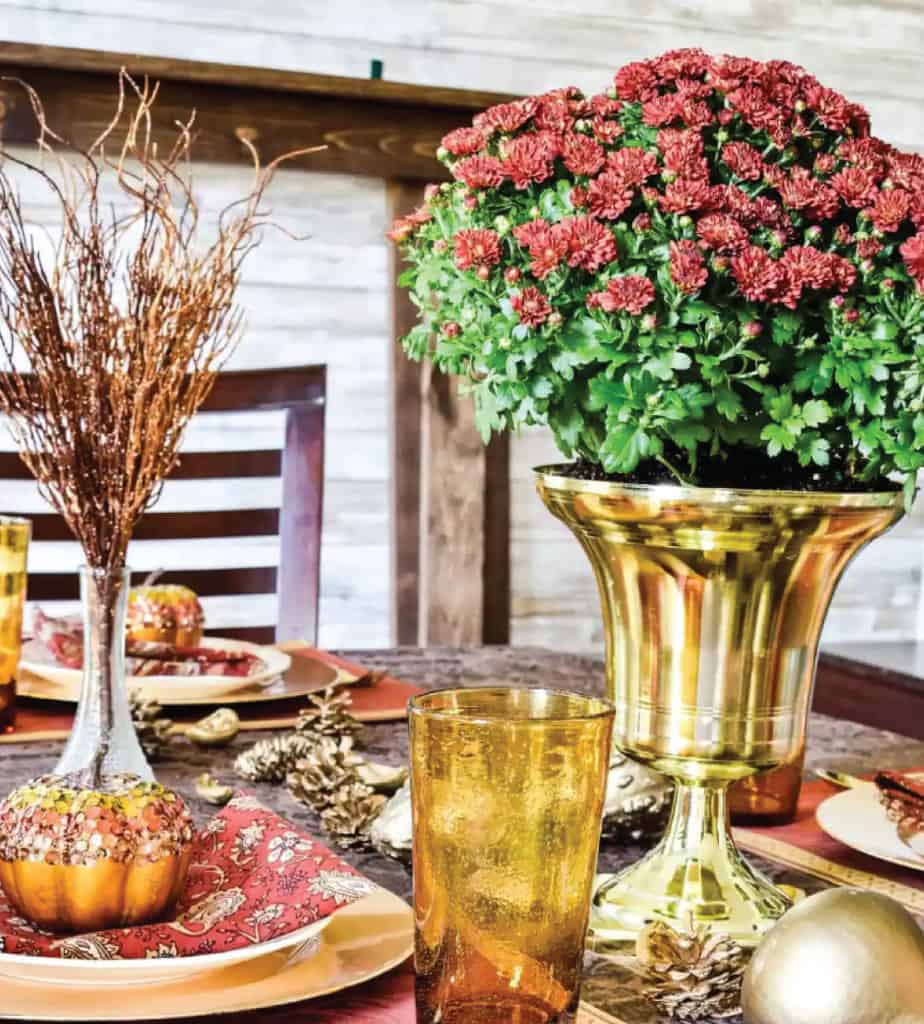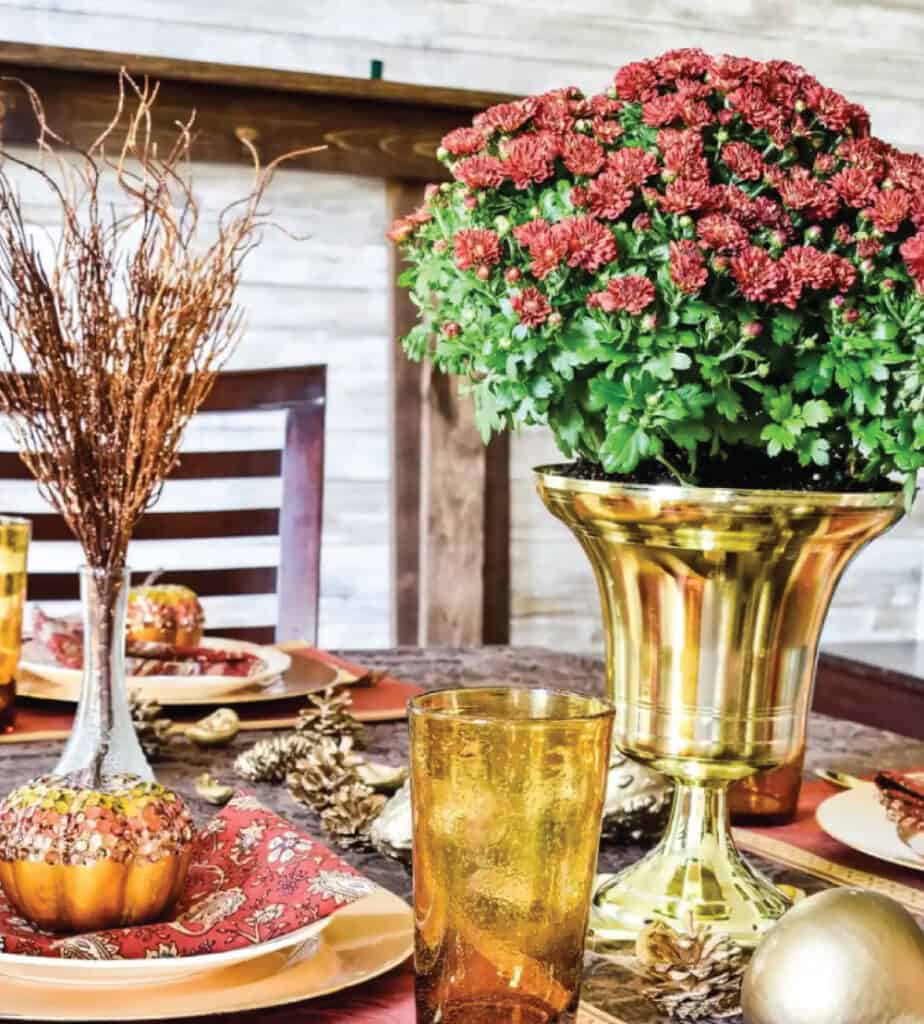 Plates/Bowls-
In the interest of using what I already won, I tend to use neutral plates and bowls on my table like this set of Cambria dinnerware in stone.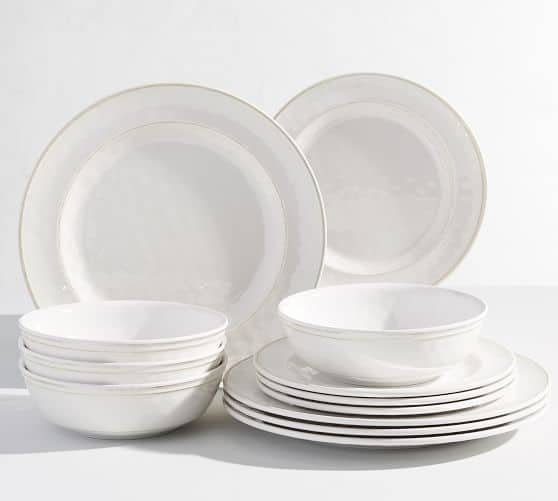 These blue and white plates that Vicki from 2 bees in a Pod included on her blue and white fall table are so versatile, you can use these beauties year round!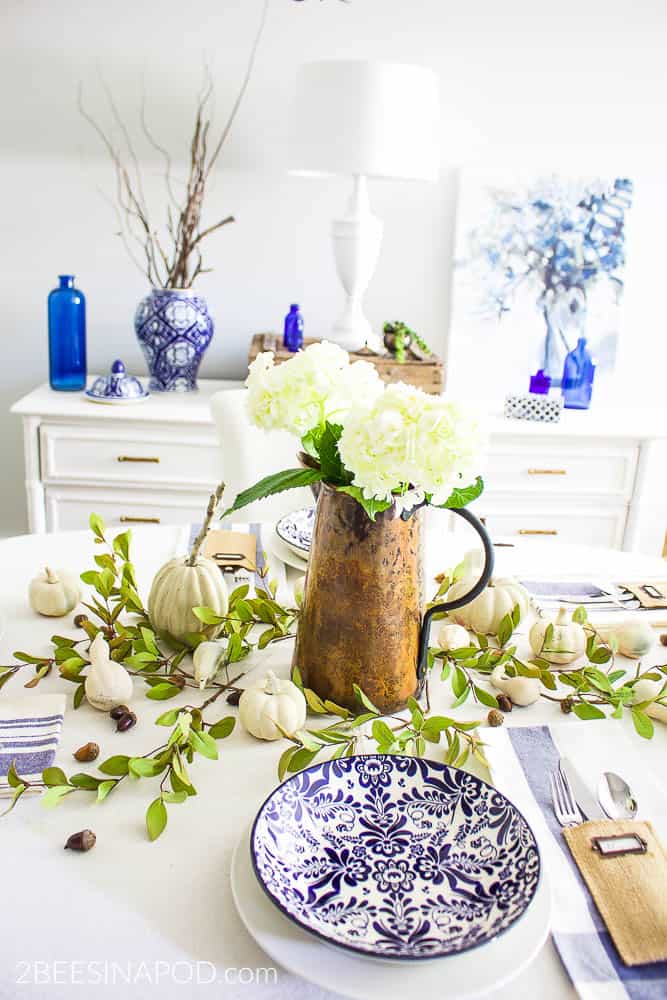 If I were to purchase dinnerware that was very specific for fall, it would definitely be this Harvest set from PB. I love the handpainted pumpkins and that each plate is different!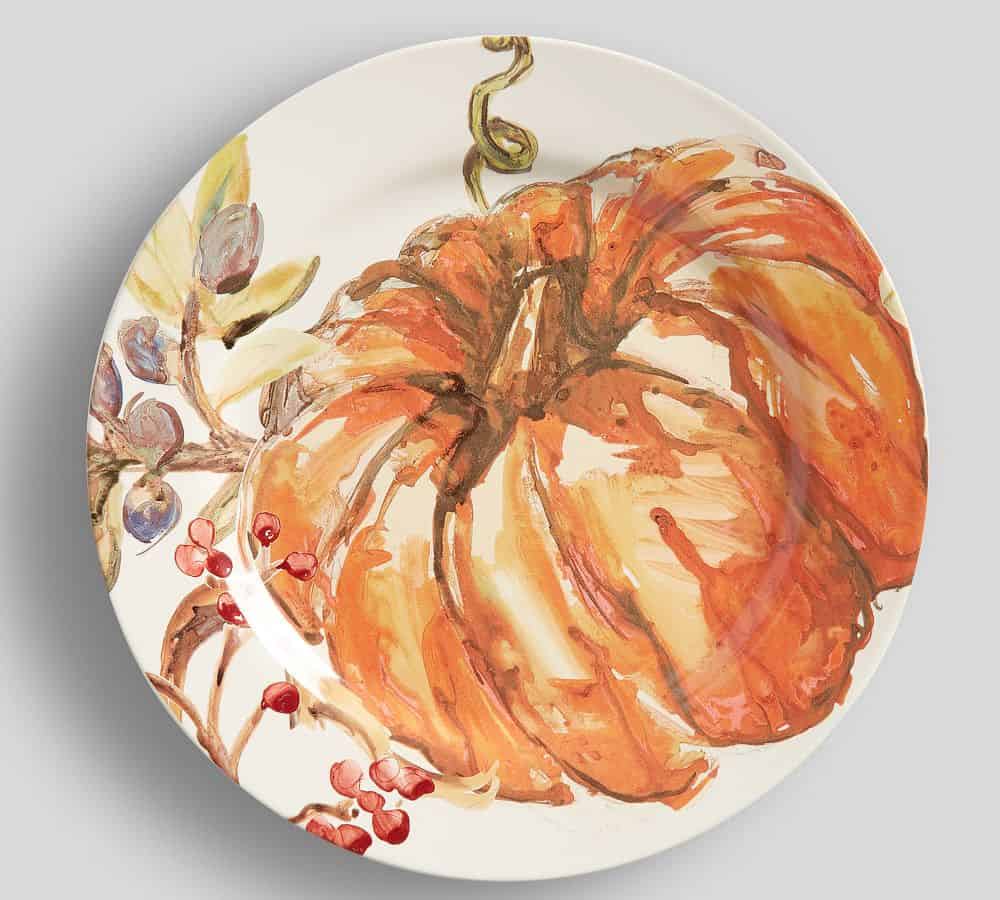 Chargers-
Chargers can add a lot of personality to a fall table.
On my Simple Fall Table from 2018 (when we returned home after evacuating from Hurricane Florence), I used woven rattan chargers (similar, the ones I have are no longer available).
I love how they are so coastal and perfect for fall as well.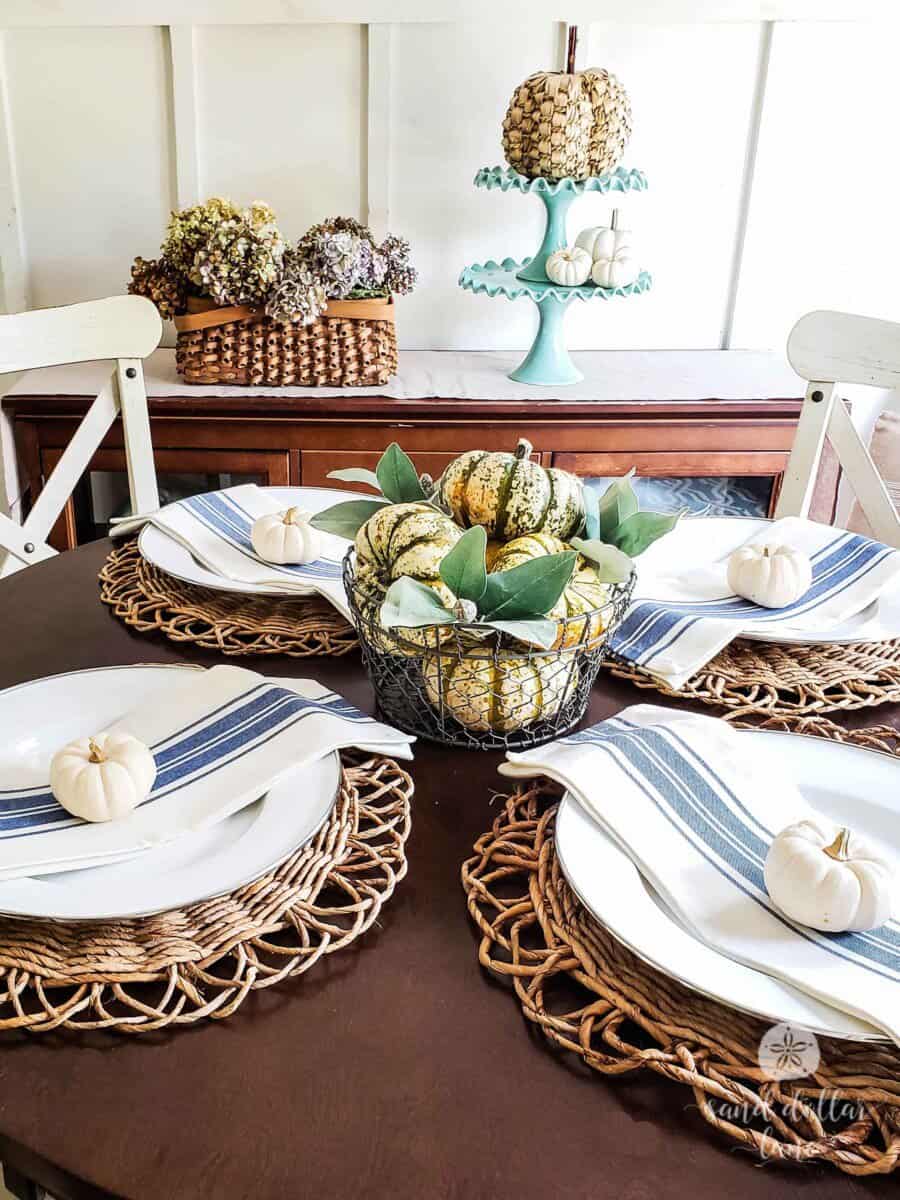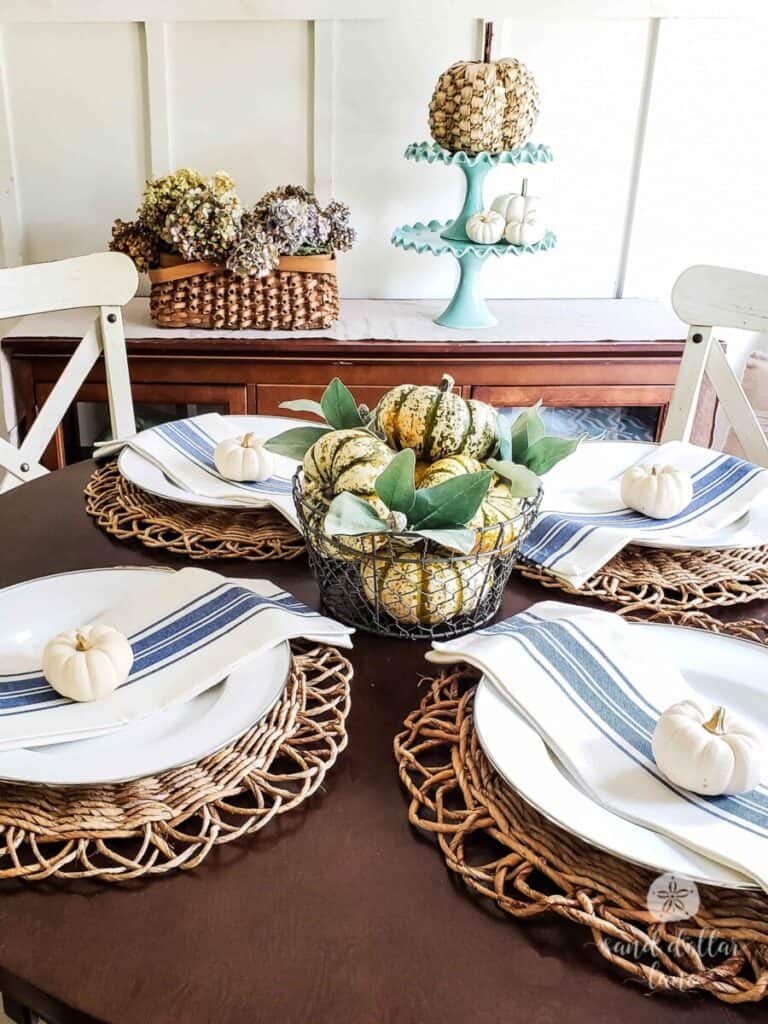 Here are a few other chargers that I love. All of them are perfect for year-round use.

Centerpieces-
No matter what size your table is. there's room for a gorgeous centerpiece.
If you have a large table you can even incorporate two or more centerpieces.
For my Coastal Fall Table a few years ago, my centerpiece was a tray with fall accents on it.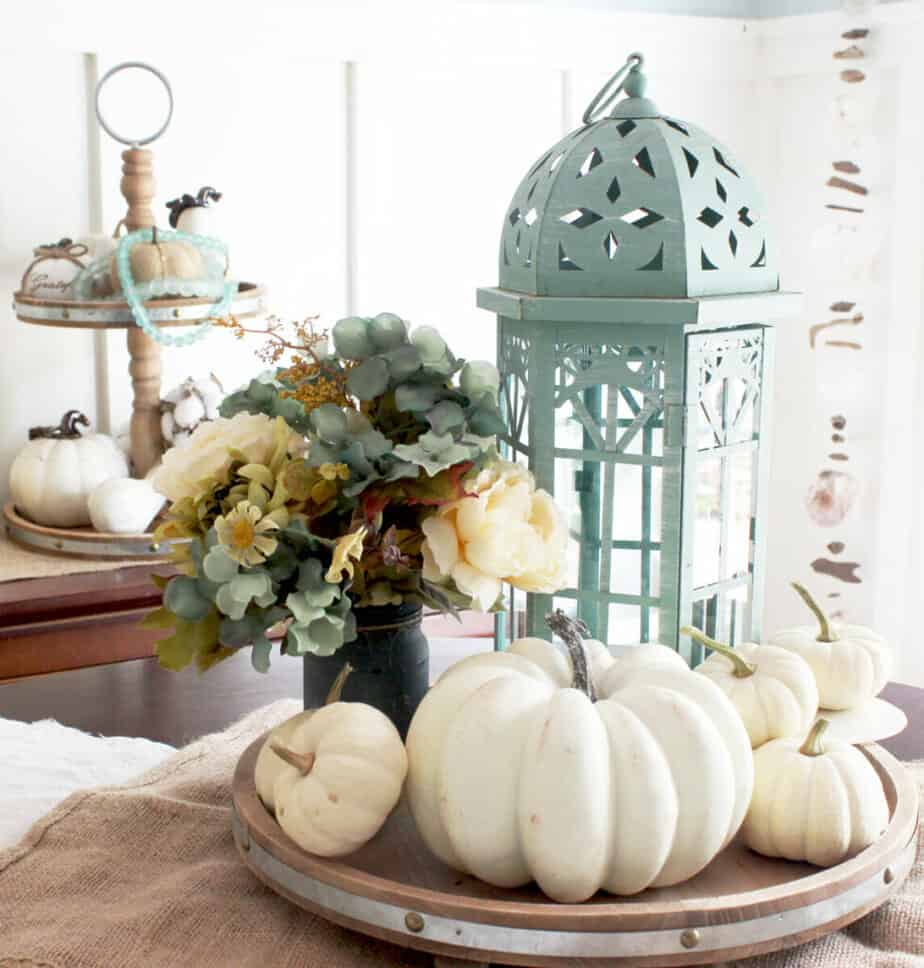 Kate with Southern Home & Hospitality shares tips to create a beautiful fall table including this cute pumpkin and pinecone centerpiece.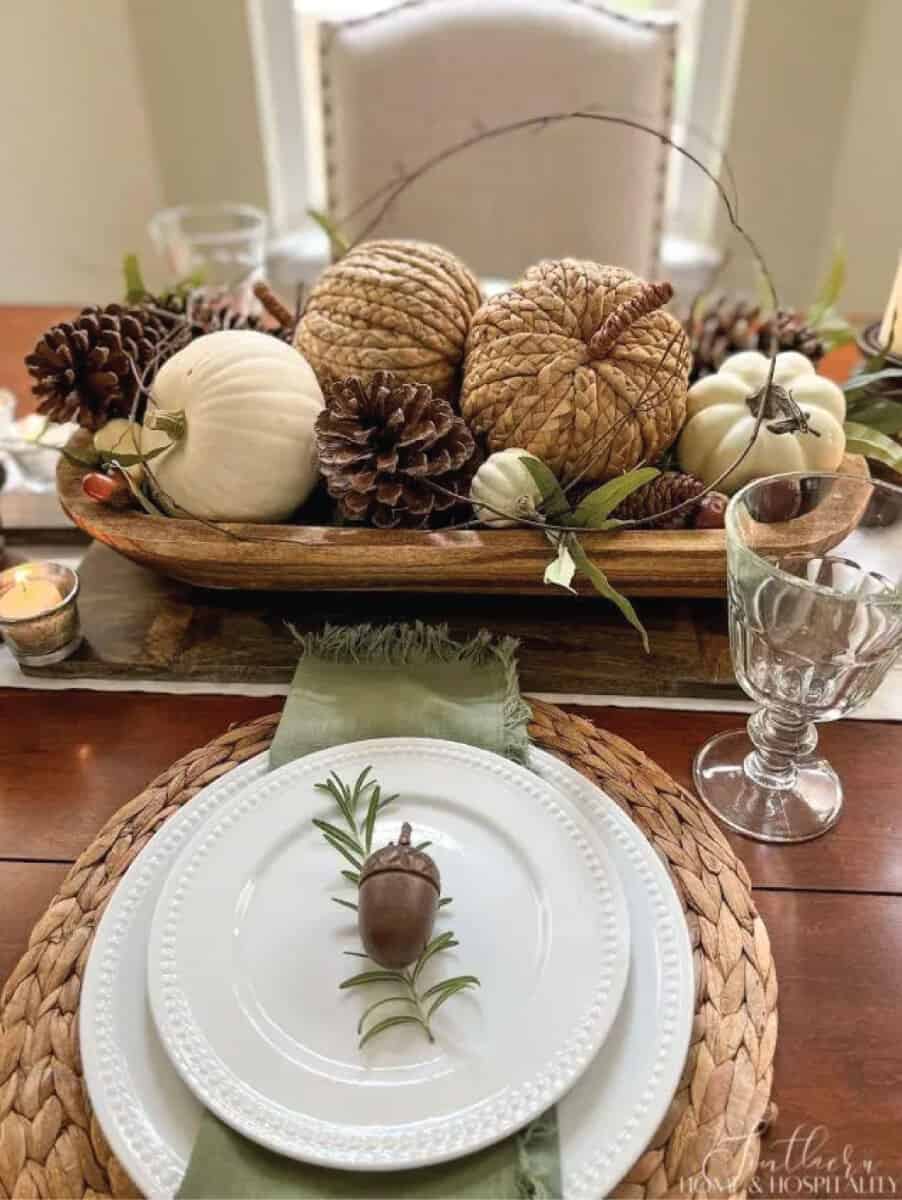 Napkins-
We use cloth napkins every day. They are easy to wash and so much less wasteful than using paper napkins.
Cloth napkins are also an inexpensive way to add a custom flair to your fall dining table. Pottery Barn and Home Goods are my go-to places to find pretty cloth napkins.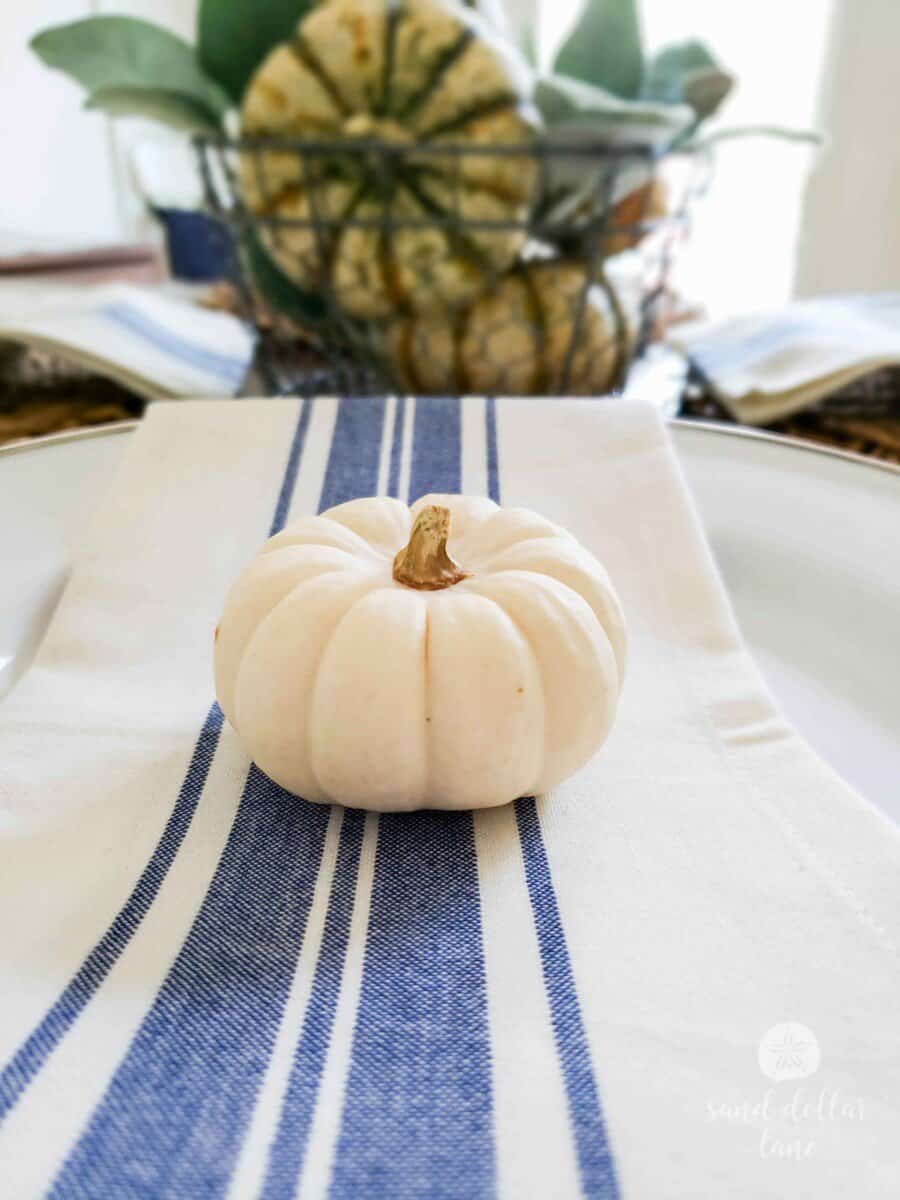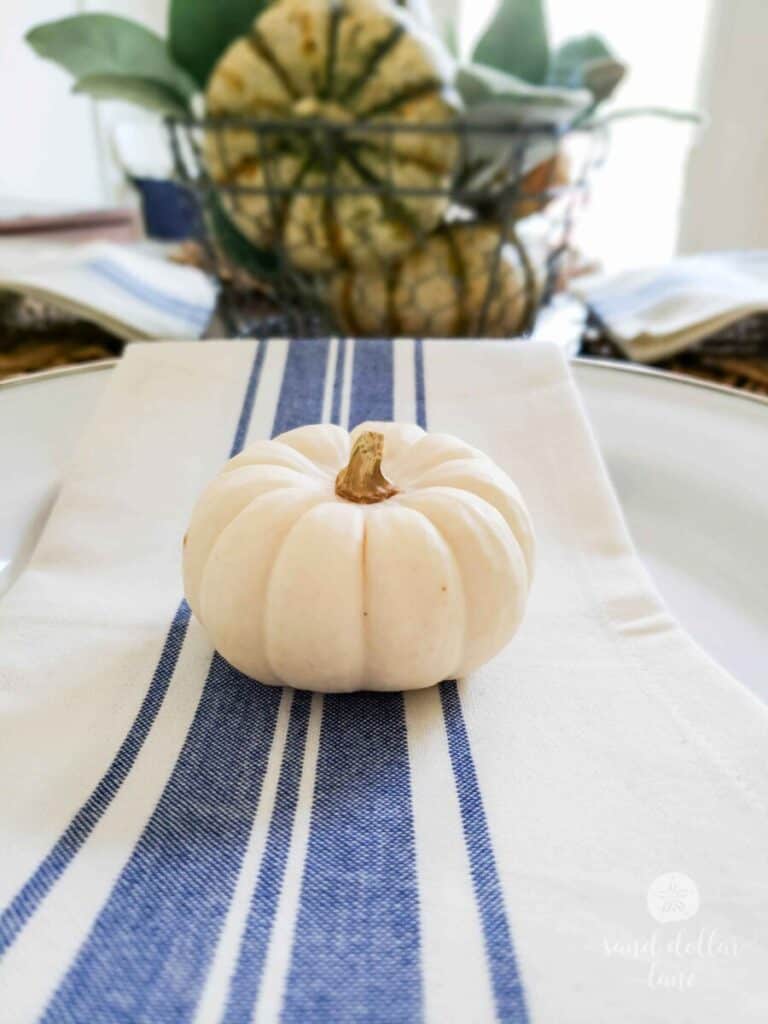 You can also use new dish towels in place of napkins for an even wider selection!
To add variety to your tablescapes, consider learning different napkin folding styles; there are hundreds of ways to display napkins.
Decorative Items-
This is where an everyday table becomes a fall table!
Add fall accessories like pumpkin-shaped bowls and leaf-shaped plates.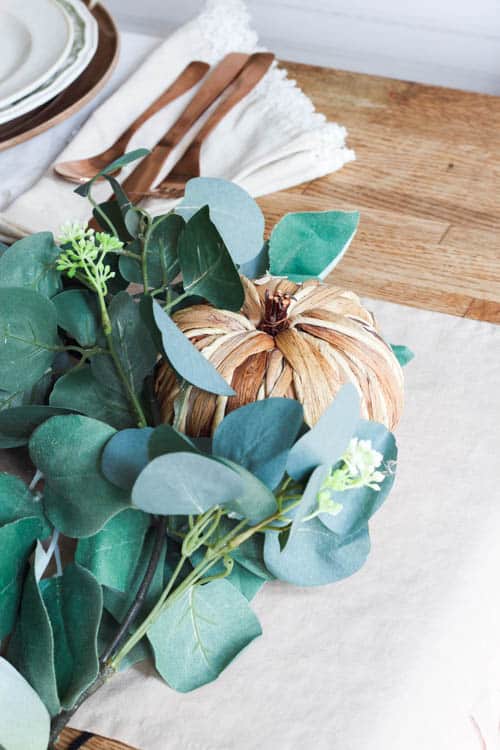 My favorite decorative fall table accessories are from nature.
Real pumpkins, squash, leaves, and dried flowers and grasses turn a boring tablescape into a beautiful fall dining experience.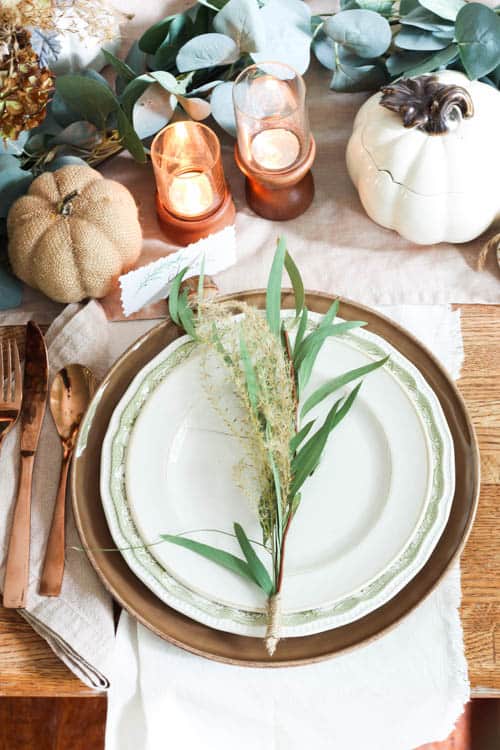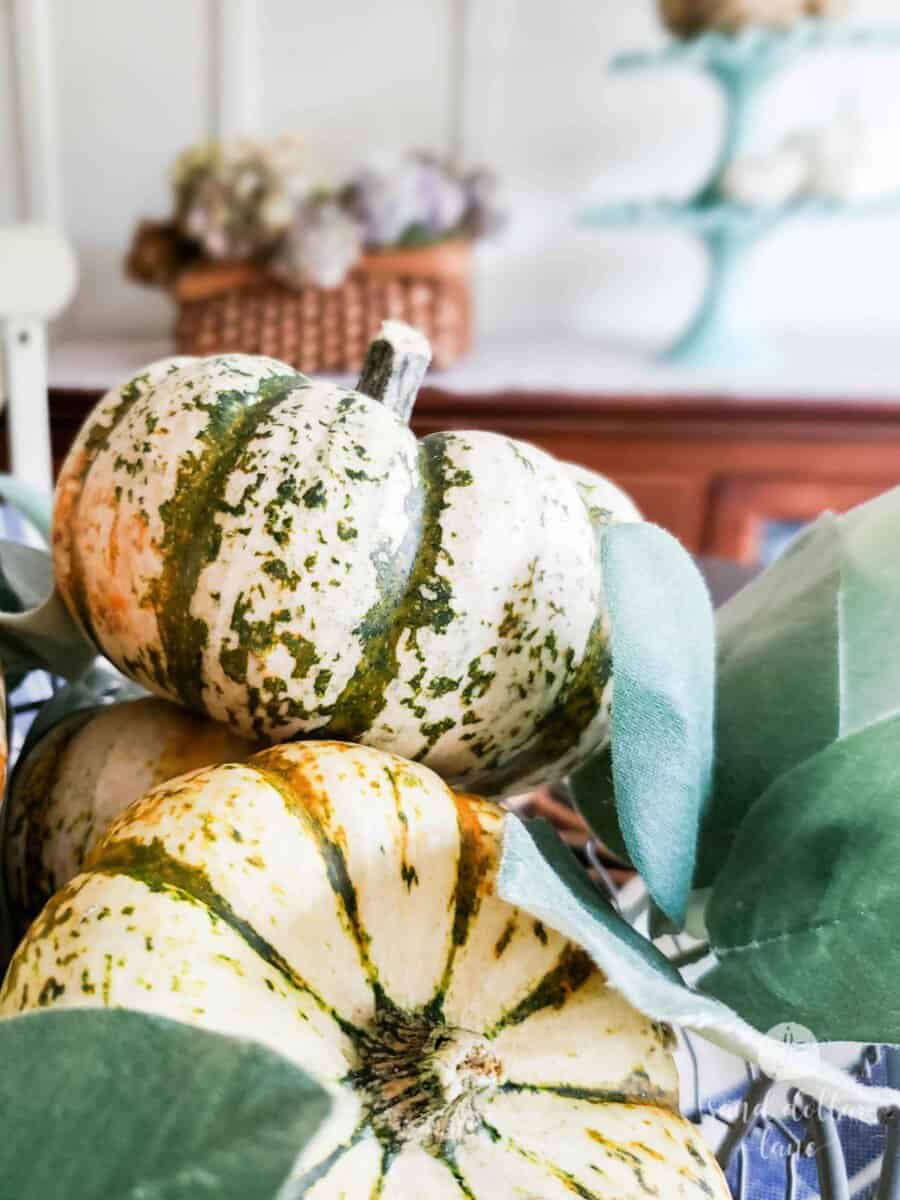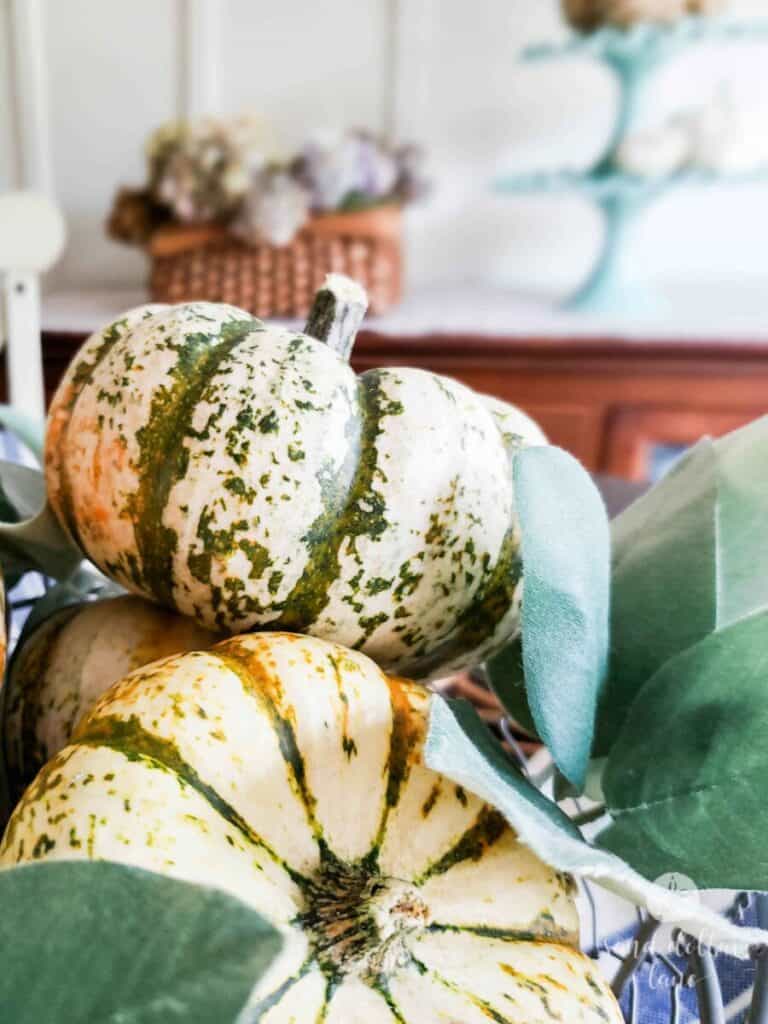 Tablecloth/Covering-
There are so many options for tablecloths or other table coverings.
You can leave the table bare with no cover, use just a table throw, a table cloth by itself or layer a full table cloth with a runner or throw.
Think outside the box. Cover your table with a vintage quilt, or a pretty scarf!
My good friend, Dara from Roots of Home is the tablescape master! Check out the beautiful table runner she used on this amazing fall porch tablescape!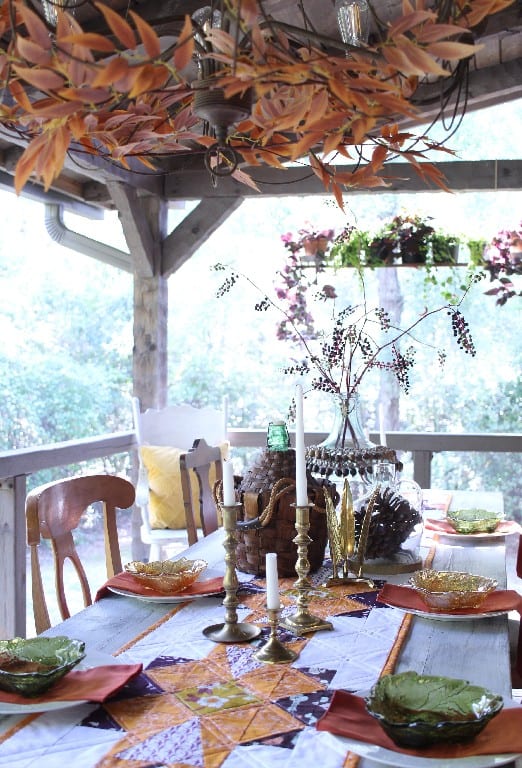 Fall Sideboard/Hutch Ideas
When decorating your dining table for fall, don't forget about the surrounding furniture.
Decorating your dining chairs with ribbons or wreaths that coordinate with your table will bring the scene together.
In the fall dining room pic below, you can see I have lambs ear greenery in the dining table centerpiece and carried over onto the sideboard.
The dark blue cloth napkins are also on both pieces.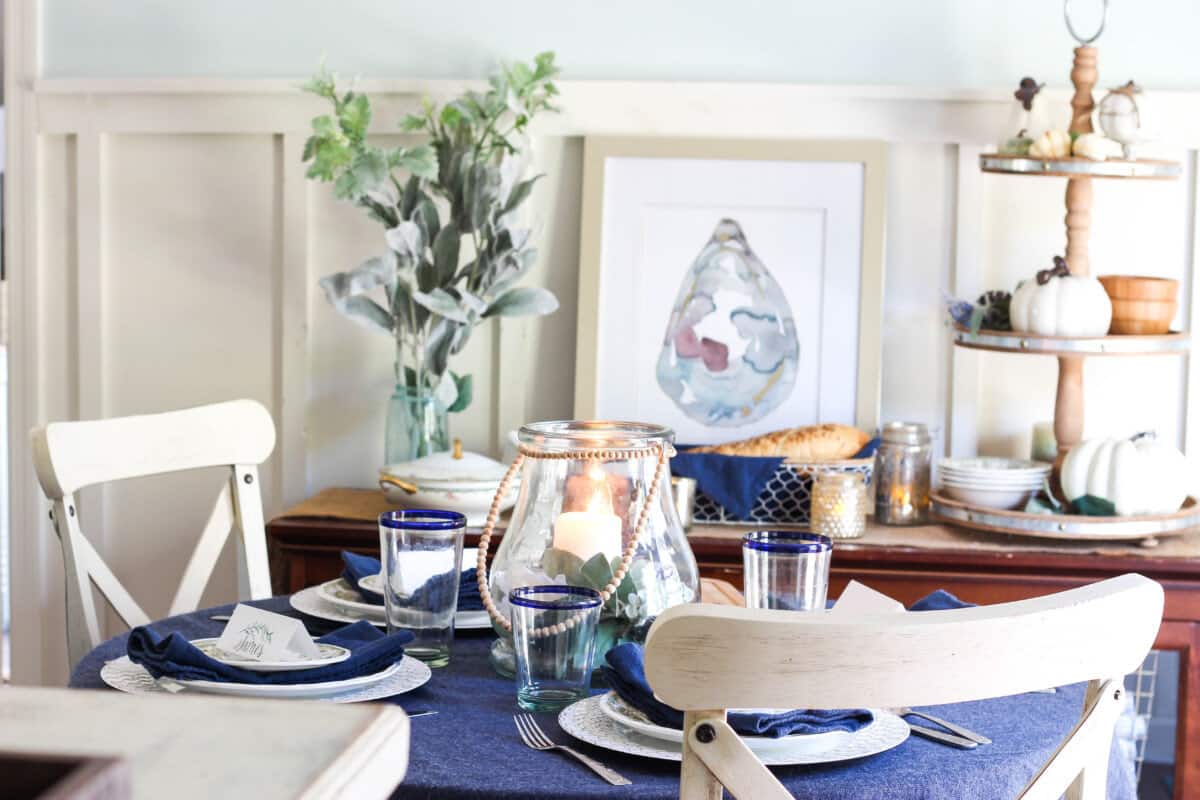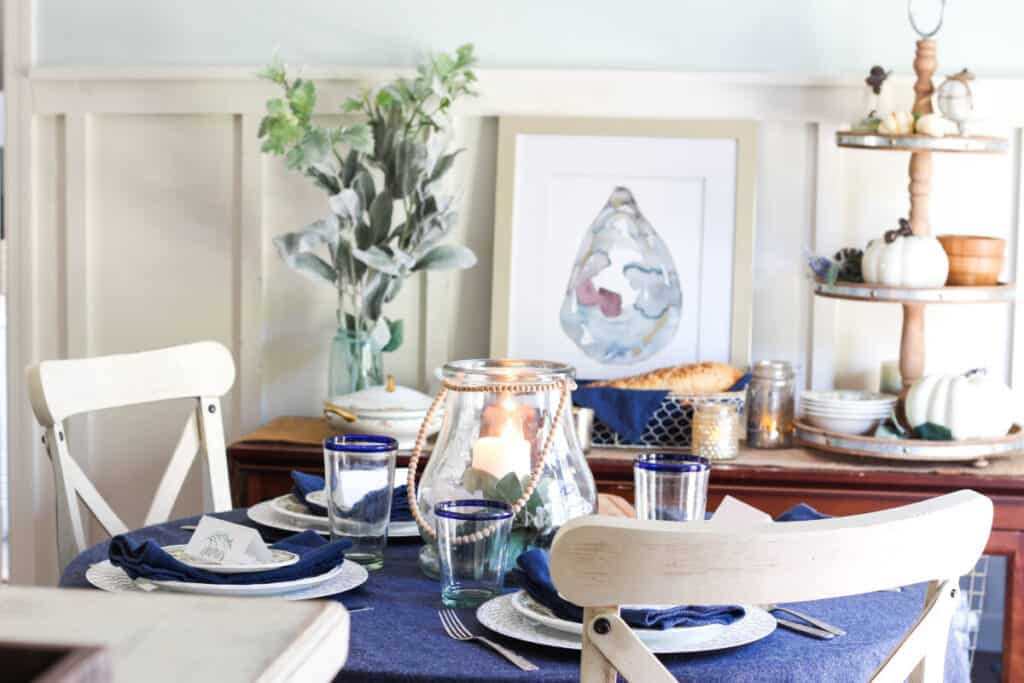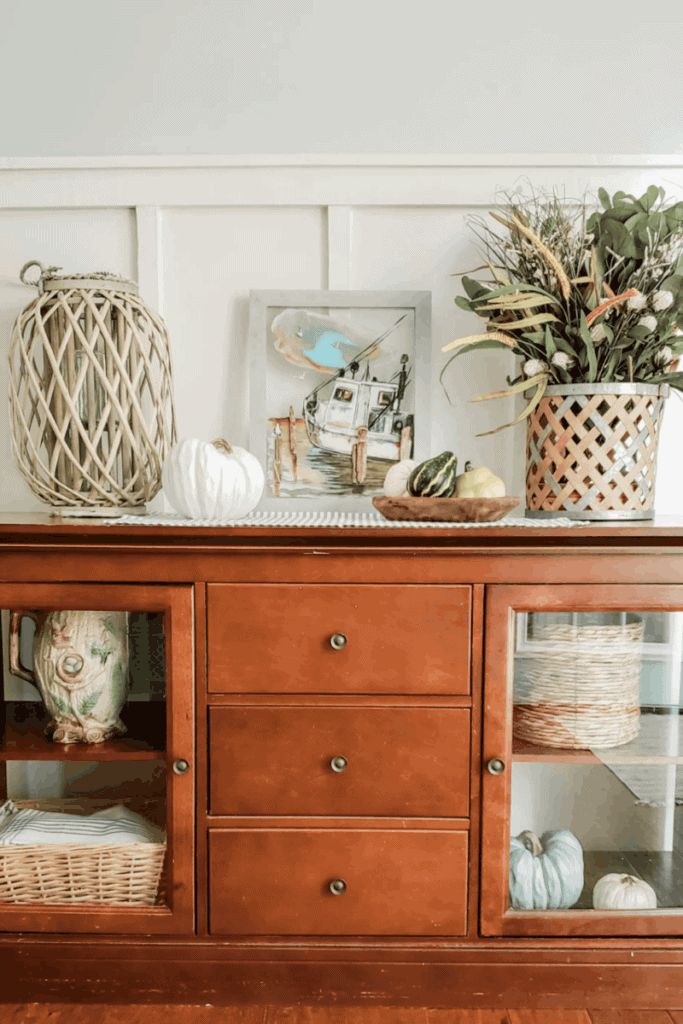 If you have white pumpkins on your table, add a couple to the hutch or nearby buffet.
Use coordinating fabrics and other textures on both pieces.
Think of the nearby furniture as an extension of your fall table and it will create a beautiful fall dining area!
Shop This Post