Dining Room Fall Decorating
I love decorating our dining room for fall! A few textures, warm colors and of course, a couple pumpkins and our dining room is decorated for fall!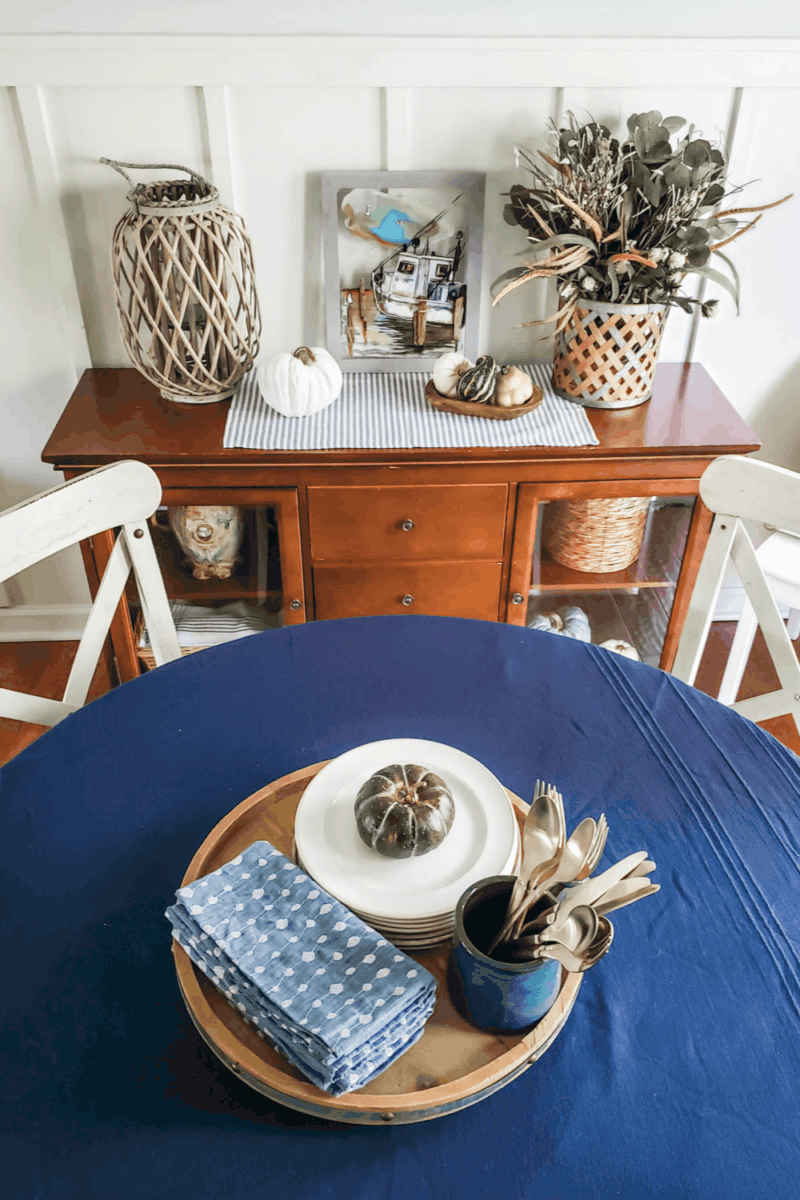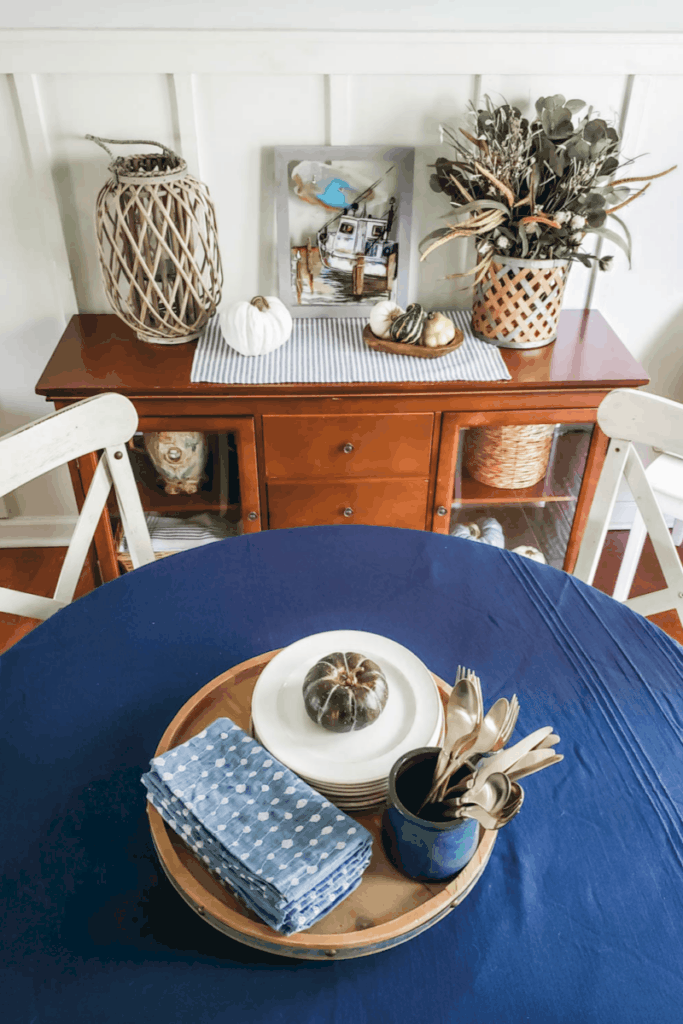 Celebrate Fall Home Tour
School starts on Monday and that's a perfect time to start decorating for fall. It takes me a couple weeks to complete my fall decorating. I don't like to rush it, especially when it's 90 degrees and humid outside!
Today I am excited to be hosting the Celebrate Fall Home Tour sharing fall décor along with 13 of my blogging friends. Be sure to check out all of the posts at the bottom of this page for amazing fall inspiration.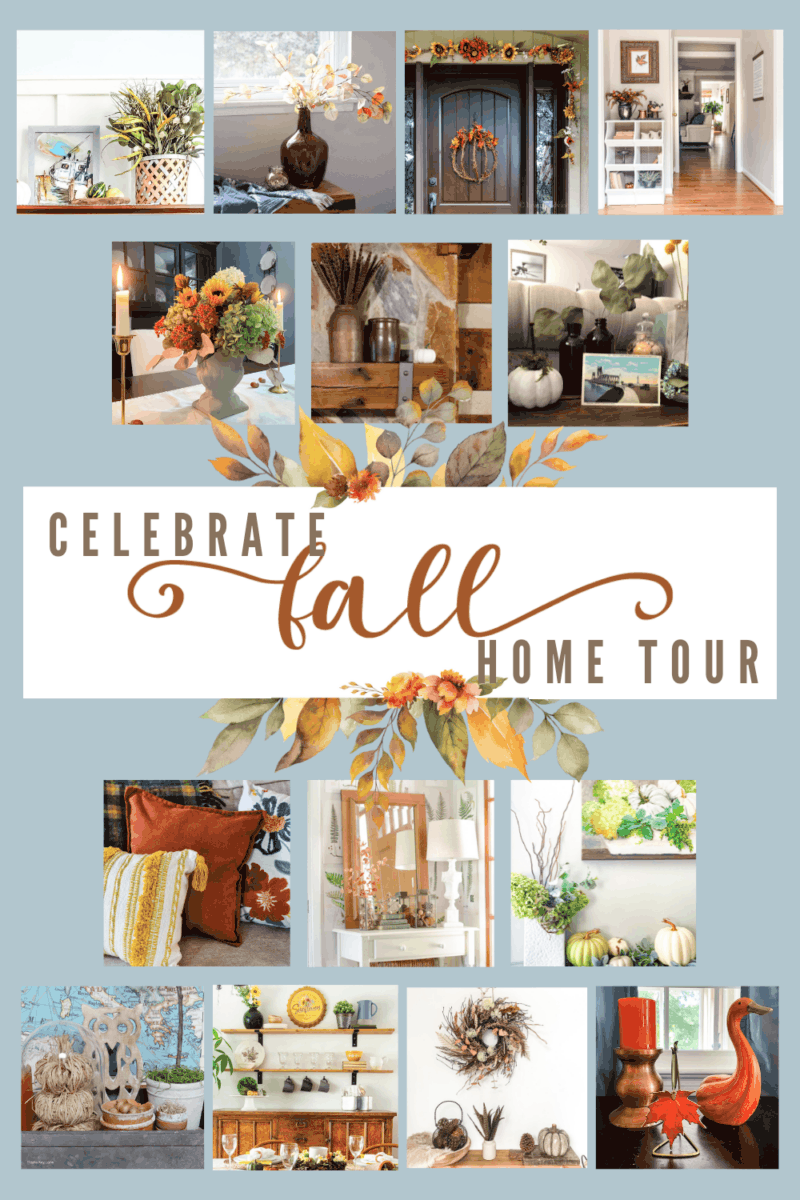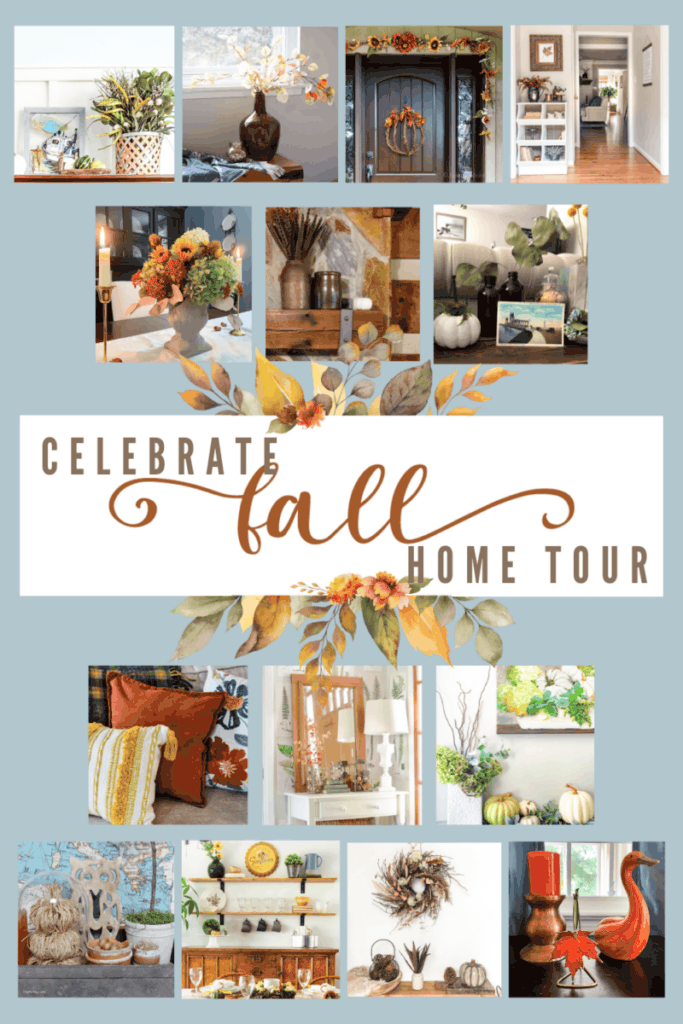 If you are here from Sweet Pea, thanks for stopping in! I love Paula's style and the way she incorporates special family mementos in her decorating.
Today I am sharing our fall dining room. I had planned on sharing our entryway as well but we've had a family emergency so it got bumped to next week.
Fall Dining Room Buffet
You've probably seen this piece of furniture around our house before. It's a FB Marketplace find that I paid $20 for with the intent of painting it. Obviously that hasn't happened (yet!). This piece gets moved around our dining room and living room. Sometimes it's a buffet, other times it's a sofa table. Always, it's a great storage piece.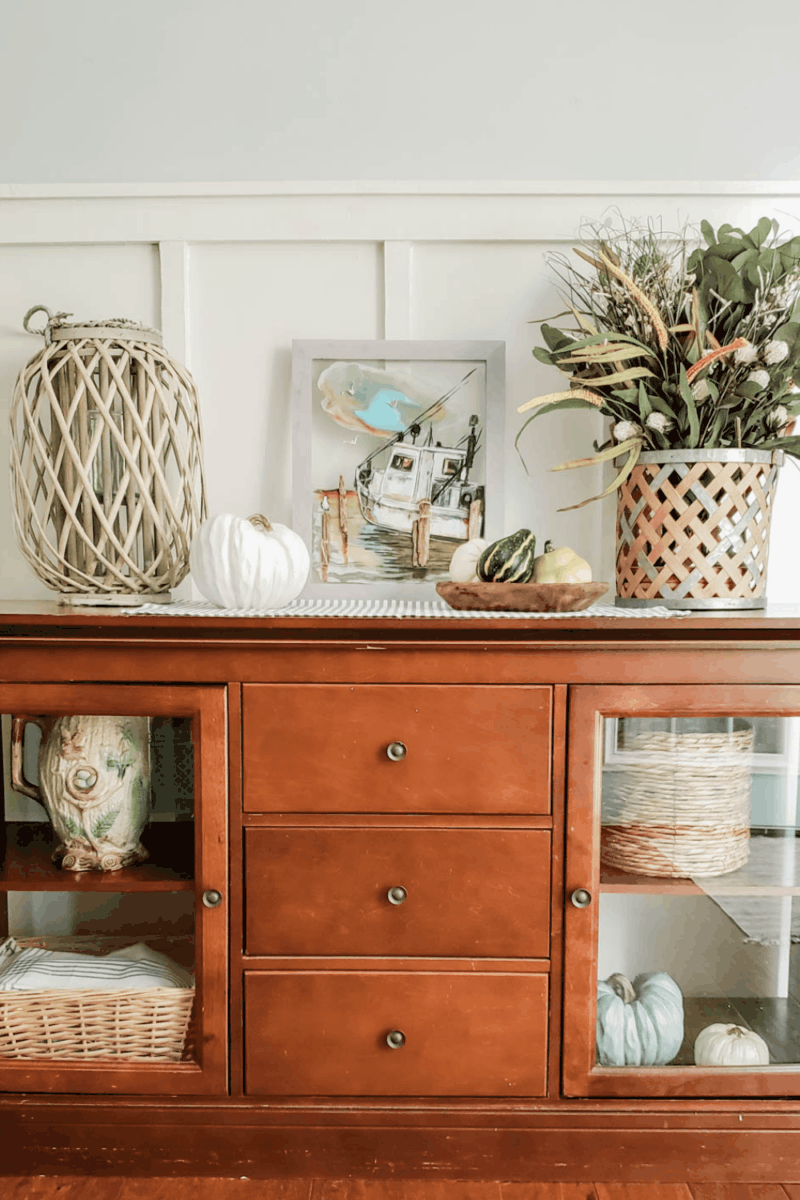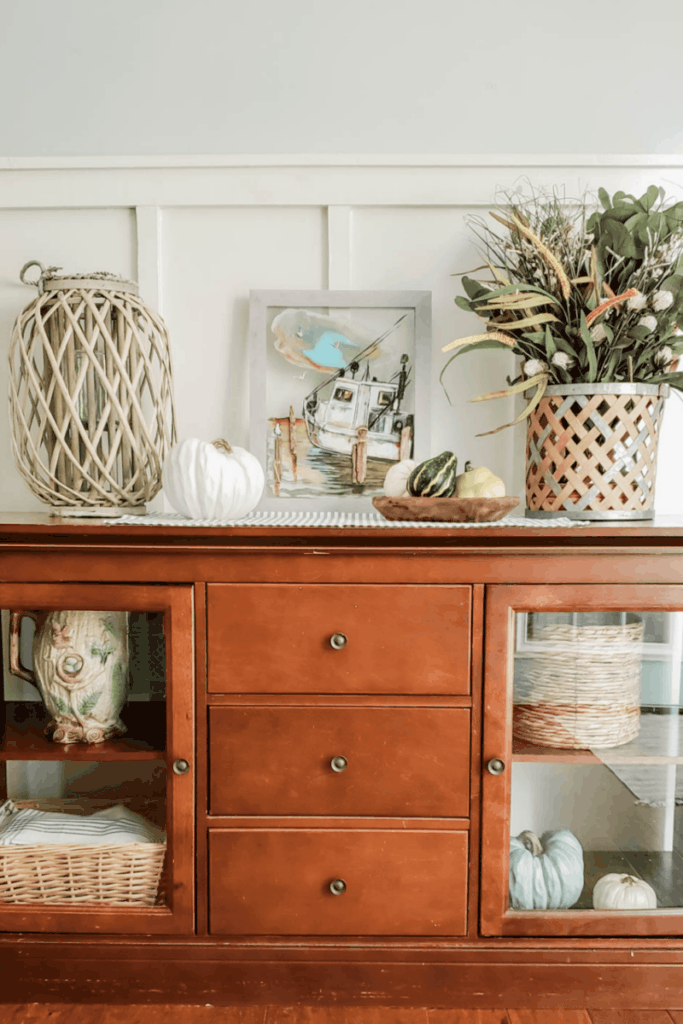 This post contains affiliate links. As an Amazon Associate, I receive a small commission at no cost to you!
There are usually serving bowls and cookbooks on the shelves of this buffet but for fall I added a few pumpkins, my mom's Majolica pitcher, and a couple baskets for texture.

For the top of the buffet, I gathered some items I have had a while. Most of them I use year round but there are a few fall items I included like faux greenery. This is several bushes from from Michaels last year and I think they've been discontinued. Remember the little dough bowl I was using in our entryway to collect our beach treasures? I moved it into the dining room and now it holds cute little faux gourds.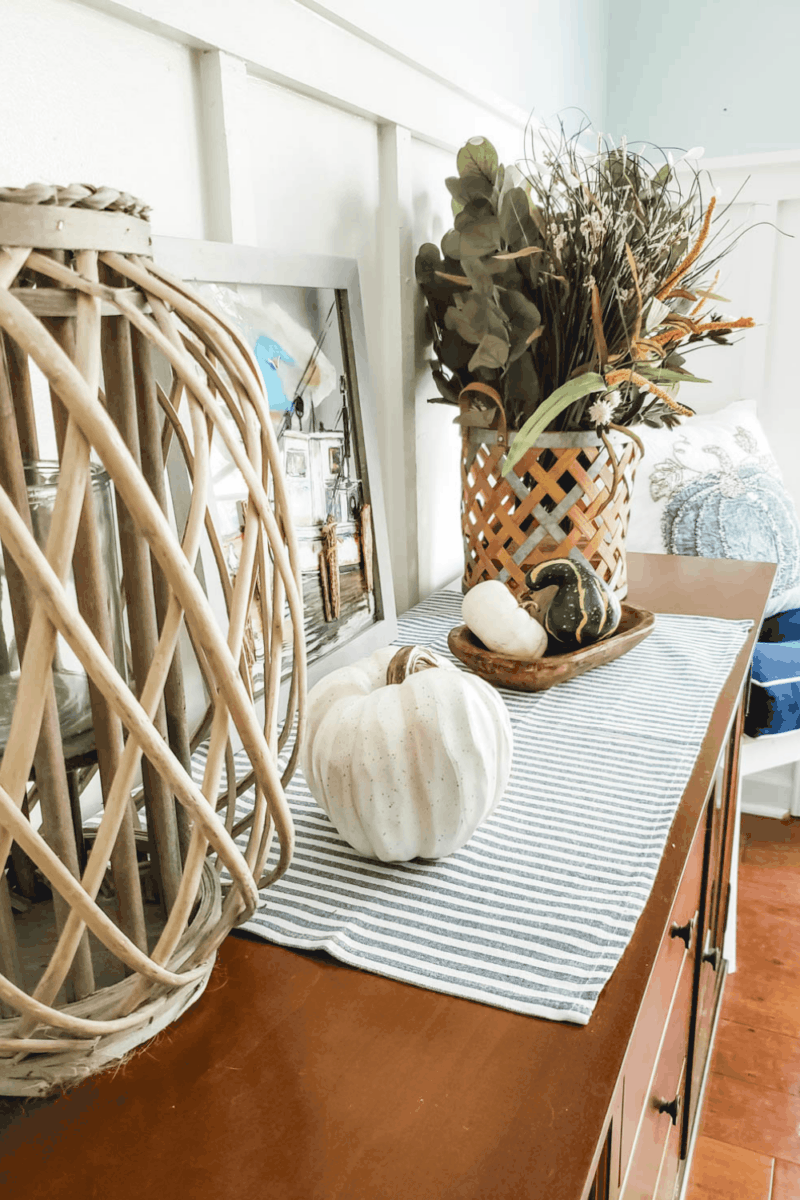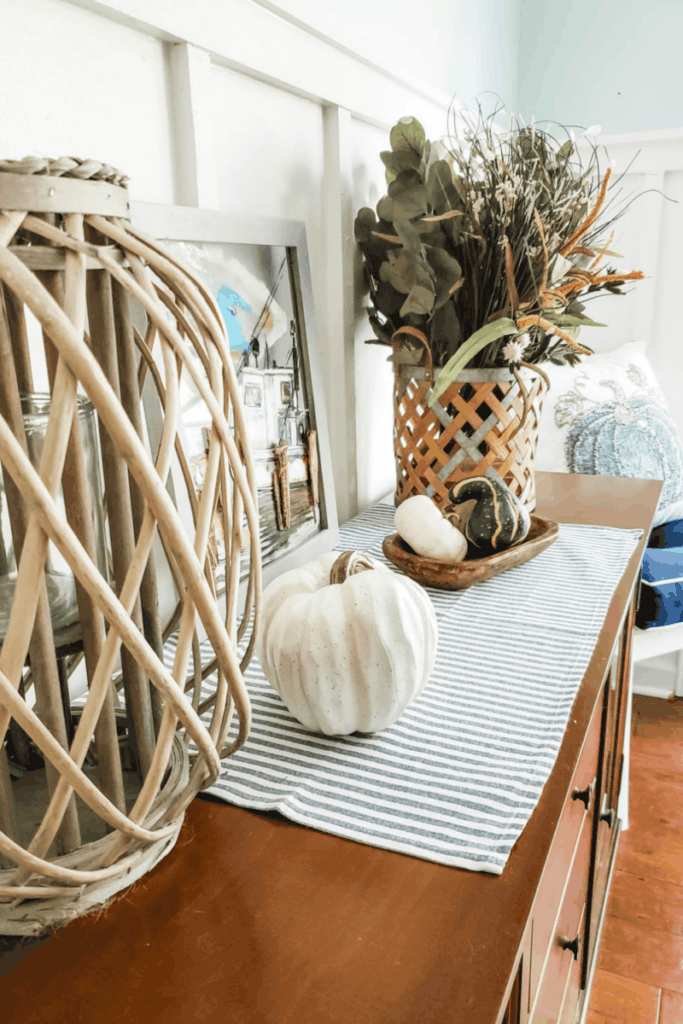 Eli and I picked up this pretty shrimp boat art while we were in Davis, NC for my mom's memorial service. It was painted by a woman named Rose and since that was my mom's maiden name, we knew we had to have it!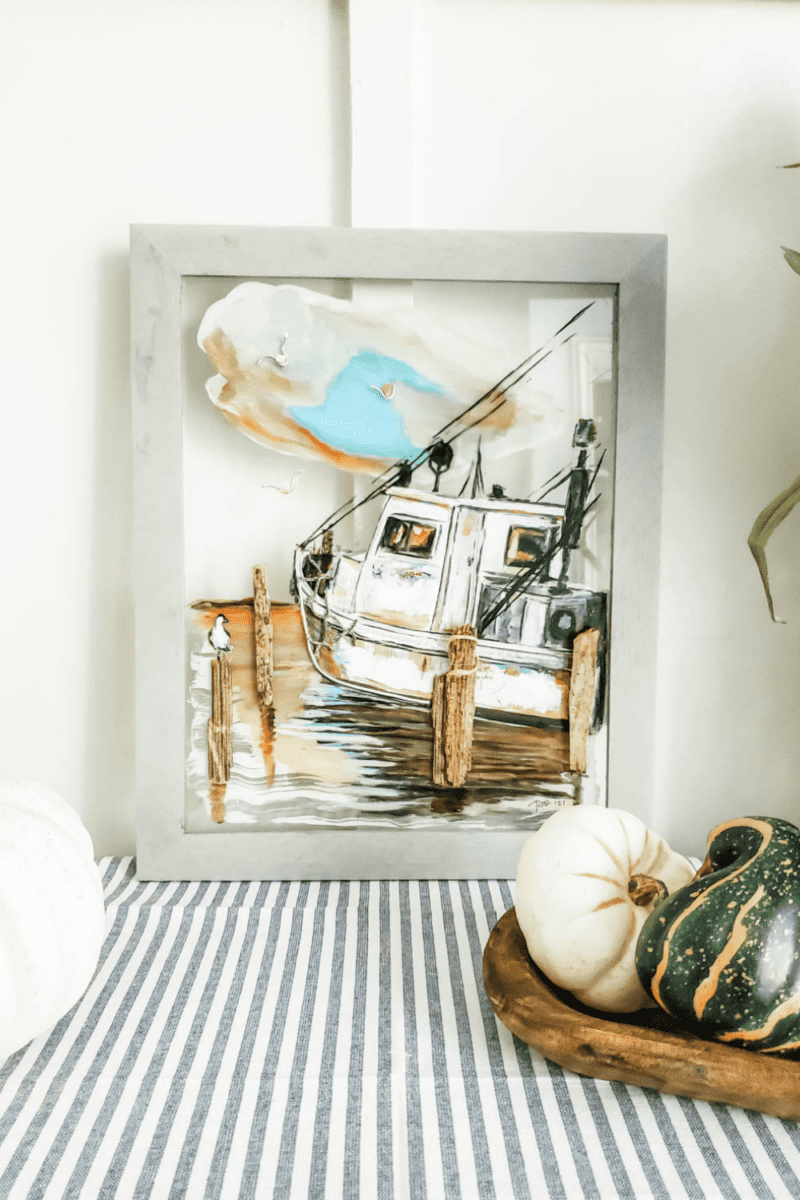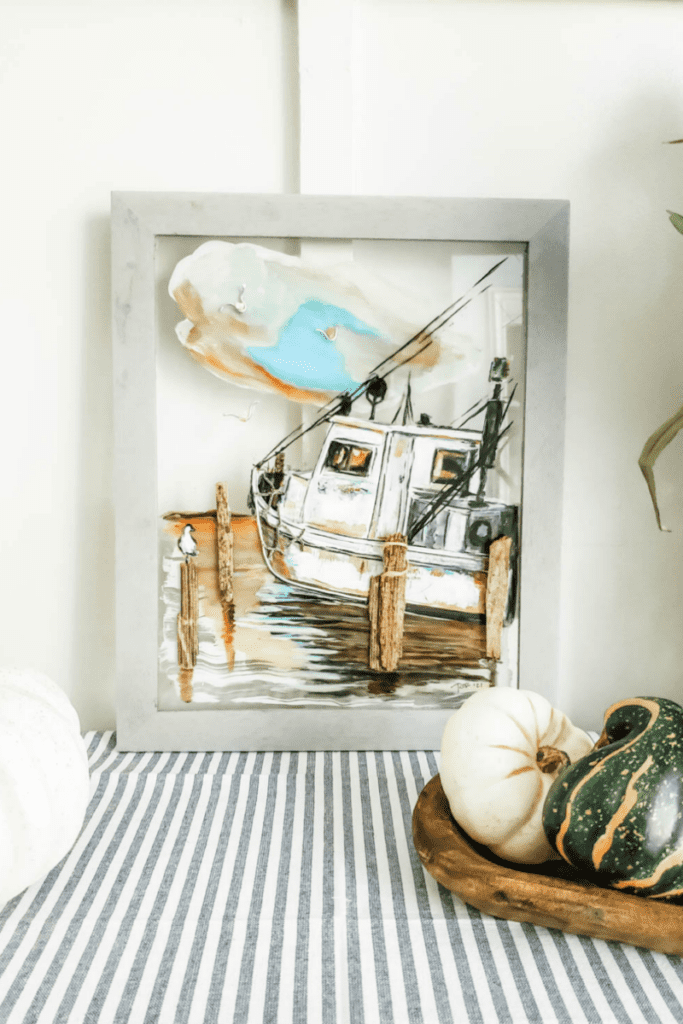 Our extra dining chair that is tucked in the corner got a cute pumpkin pillow. I love the color and the beading on it!
I am currently loving these chairs!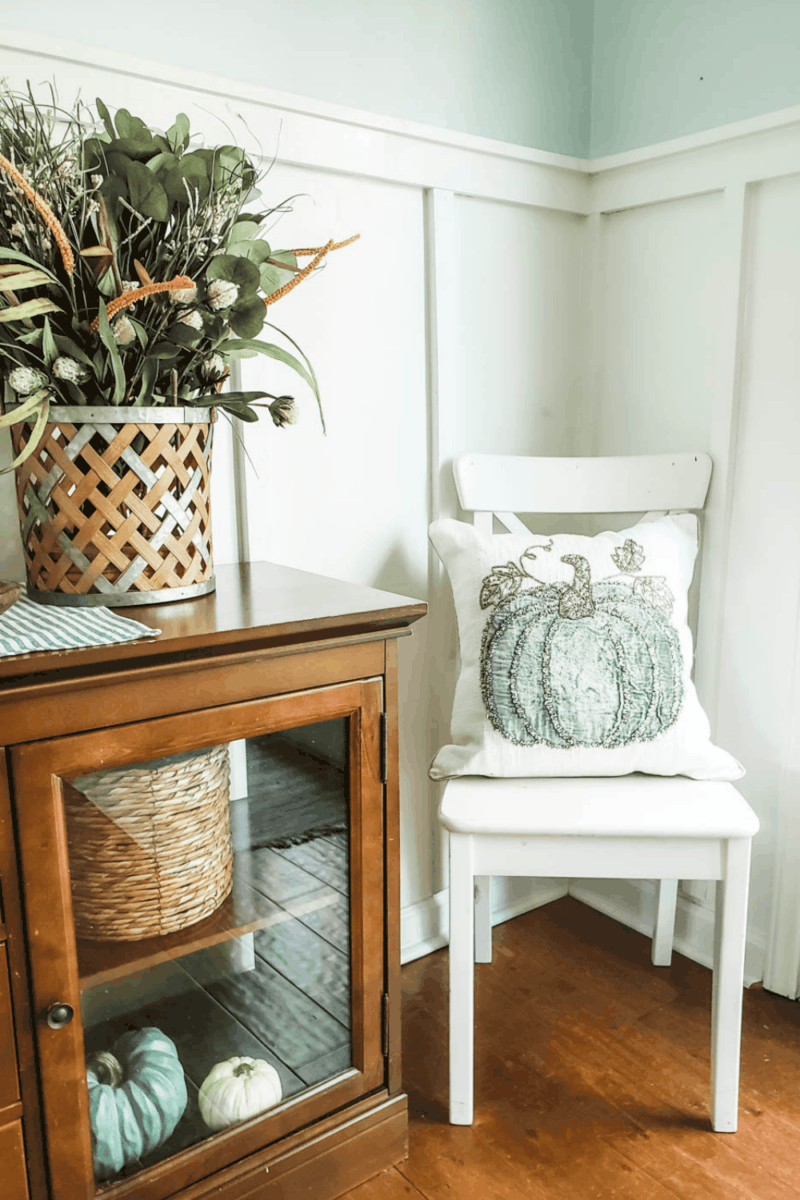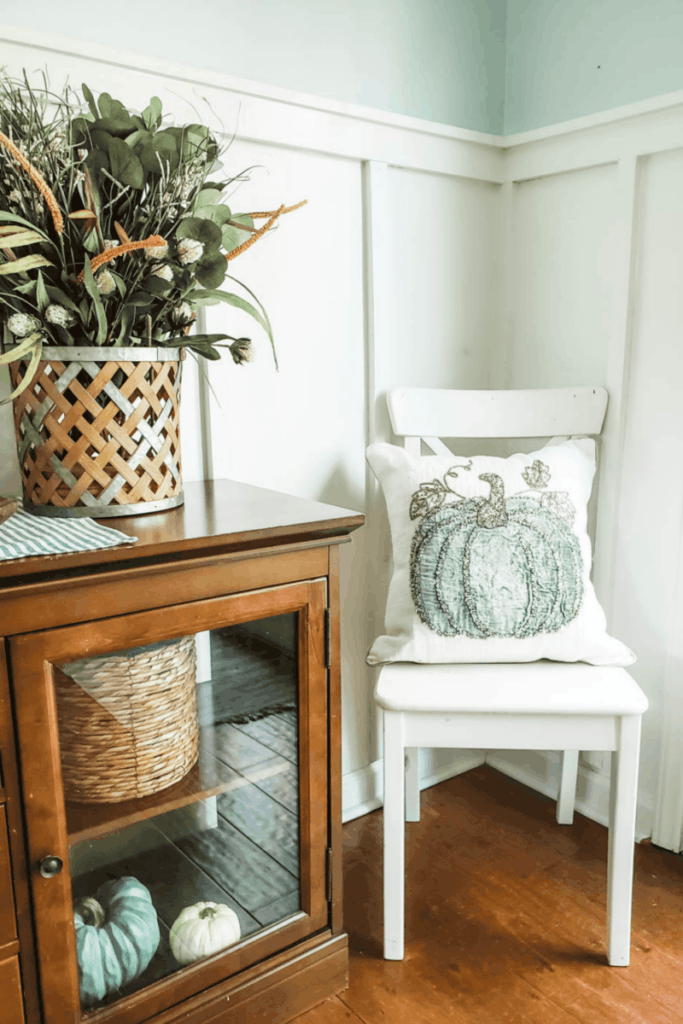 Fall Dining Room Table
You know I absolutely love creating tablescapes, right? Here are a couple fall tablescapes from year past.
Neutral Fall Tablescape
Simple Coastal Style Fall Decorating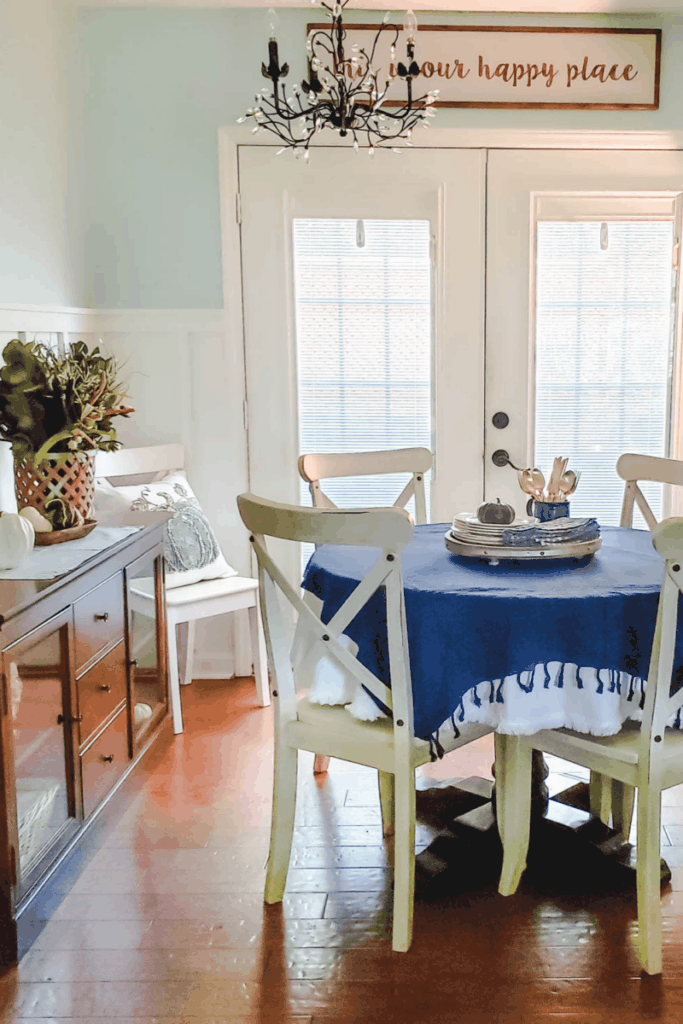 I am not ready for a full tablescape just yet. Instead, I placed the items we use every day on a round tray and popped it in the middle of the dining table. That way when Eli uses the table for homework or I am using it for crafts it's easy to move the tray to the counter. It makes setting the dinner table super easy too!
Side note- I have two rooms to craft in, my studio and our office yet I still drag all my supplies into the dining area!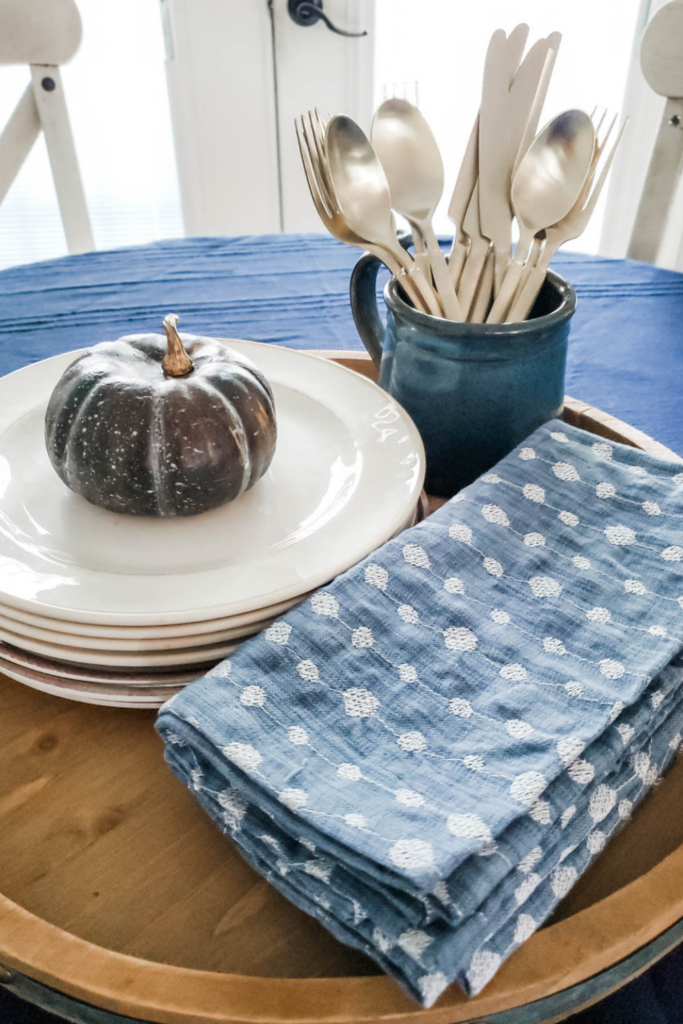 This tray is actually a three tier tray that comes apart to make three separate trays. I love how well it coordinates with the basket on the buffet!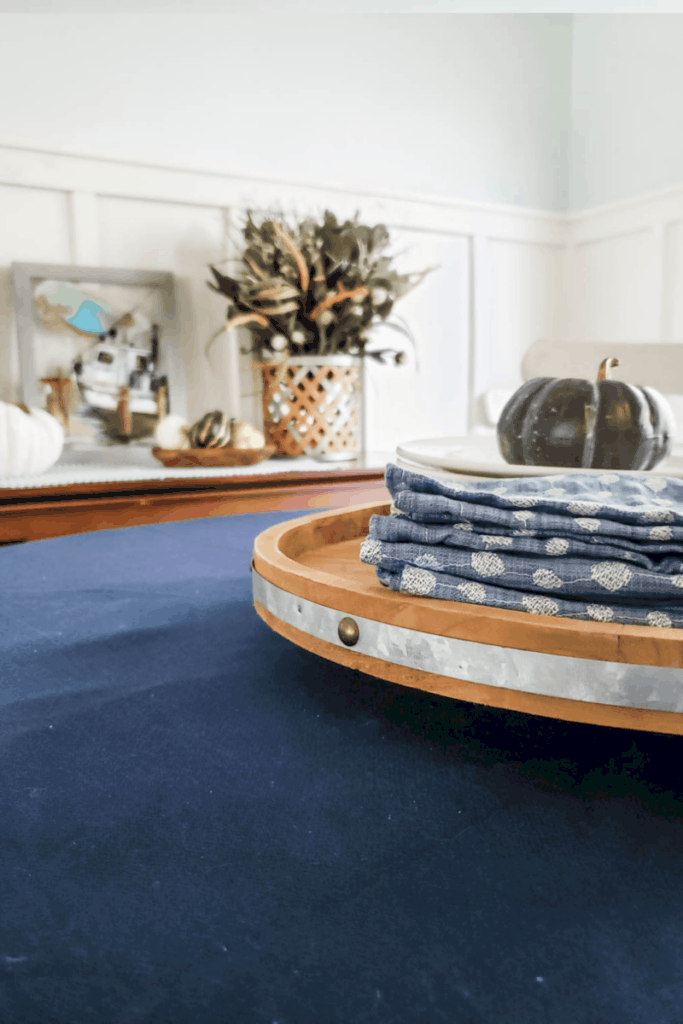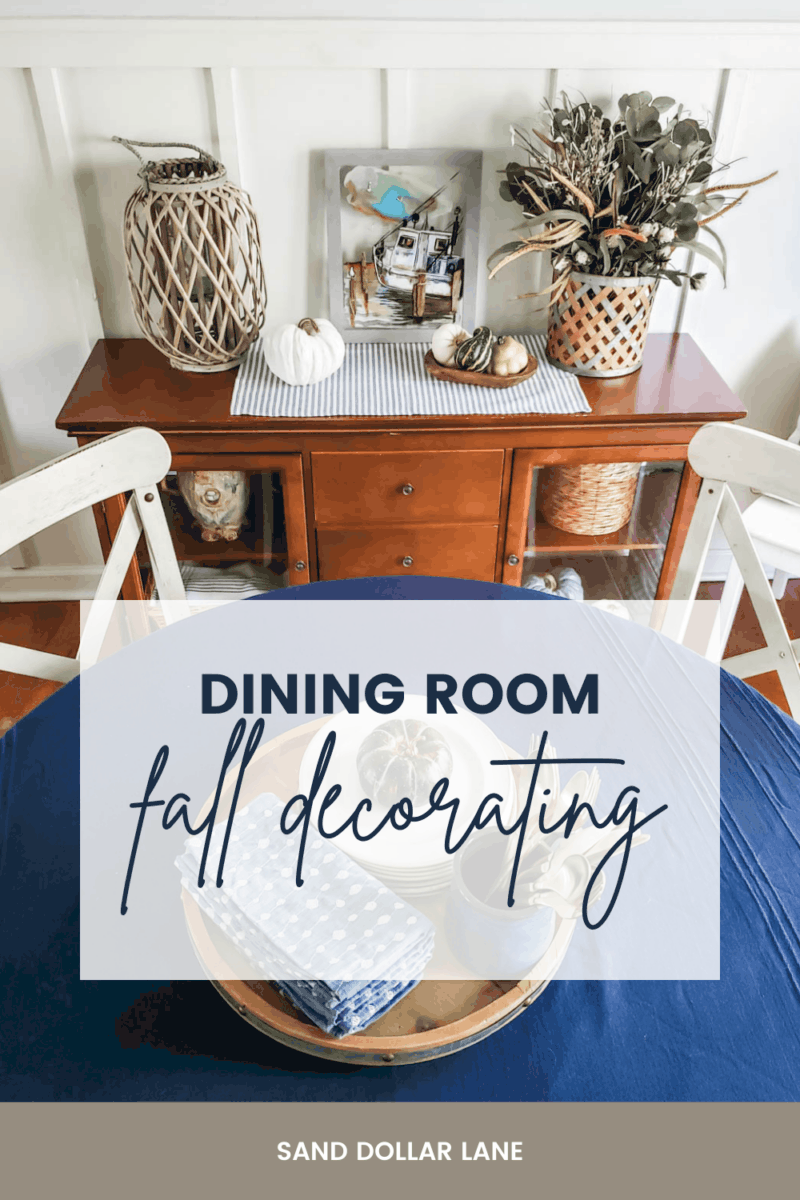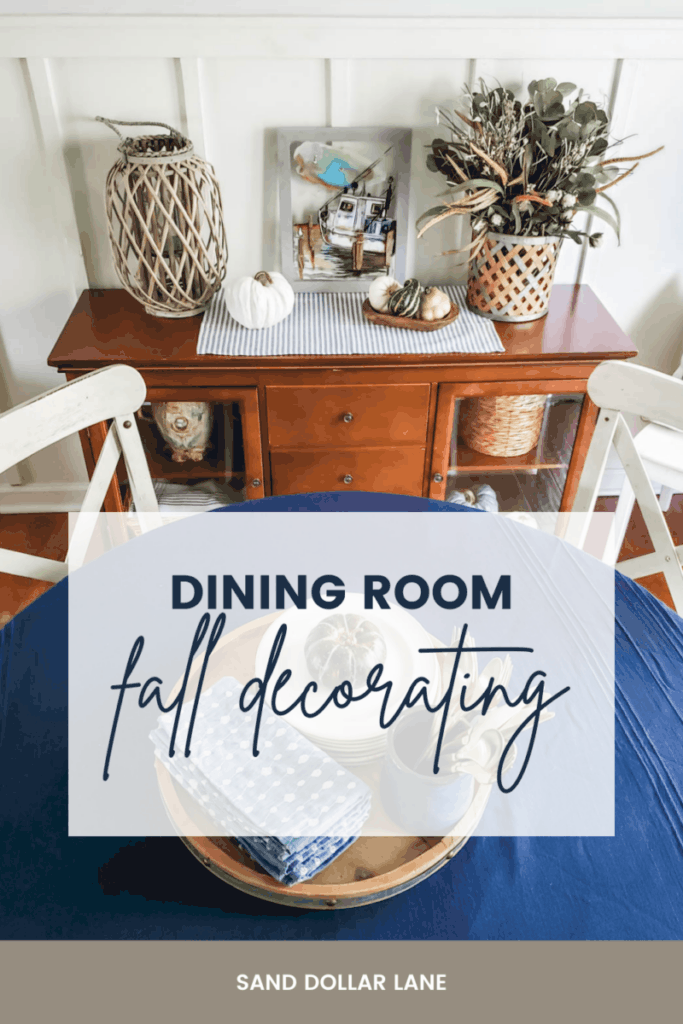 I am excited to share more fall décor with you this coming week. In the meantime, I hope you will check out all my friends' fall decorating posts below. Next on the tour is My Wee Abode. You're going to love her simple fall living room décor!
---
More Fall Decorating Tips
Fall Porch Decorating
Simple Coastal Fall Decorating
Coastal Farmhouse Fall Home Tour
How to Decorate a Small Porch for Fall
Join me on Pinterest Facebook and Instagram for more coastal decorating ideas!