Rustic Glam Christmas Home Tour
Rustic Glam Christmas Home Tour!
Welcome to our Rustic Glam Christmas Home Tour!  I am so thrilled to be part to the Home for the Holidays Home Tours organized by Jenna from Wife in Progress!  Jenna did such a great job putting this together!    

Stopping by from Inspiration for Moms?  Aren't Laura's porch and bedroom gorgeous?!
This year we decided to decorate the main room of our house (our living room, dining area and kitchen are one big room) with a rustic glam theme.  I like rustic but it can be a bit bland for the Christmas season and I like glam but too much shiny can be overwhelming!  But rustic glam is the perfect combo of the two!
For your convenience, this post contains affiliate links.  See my full disclosure page here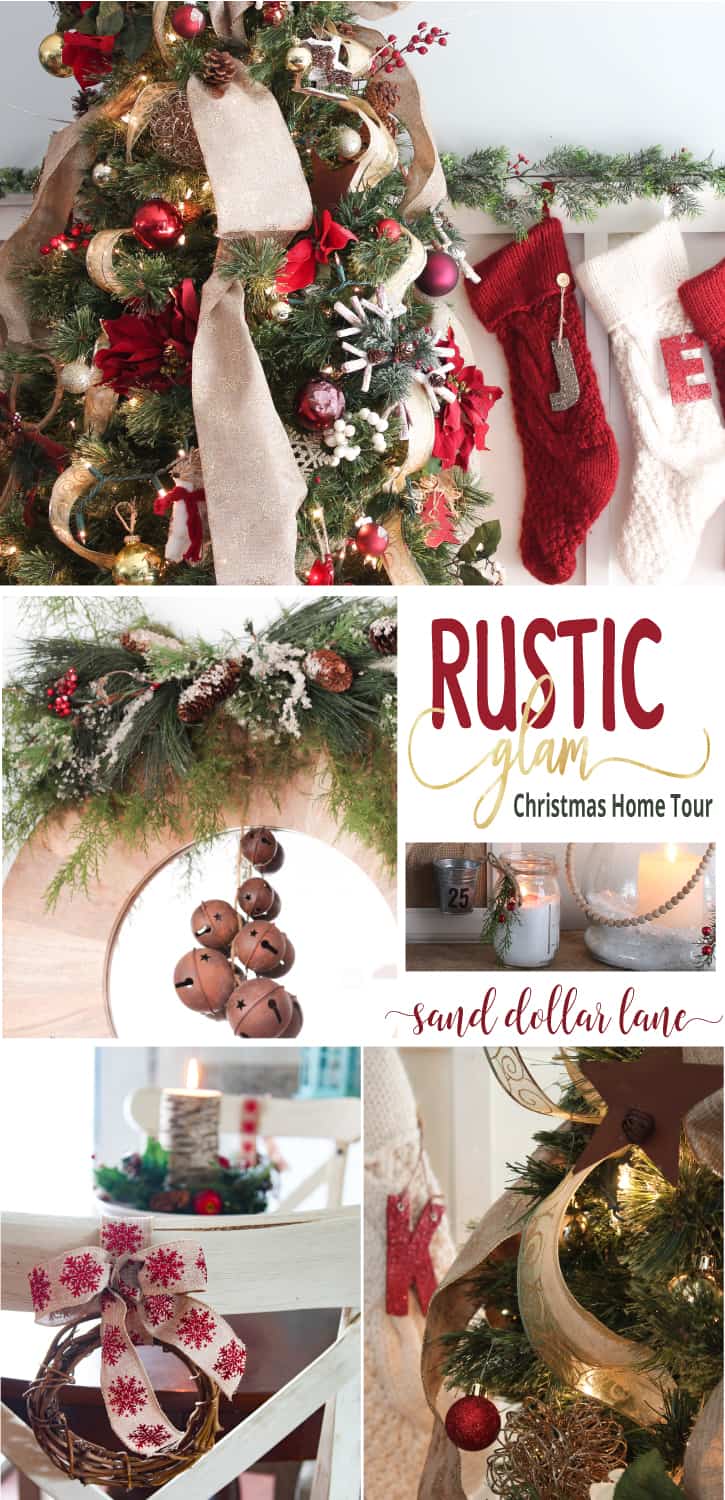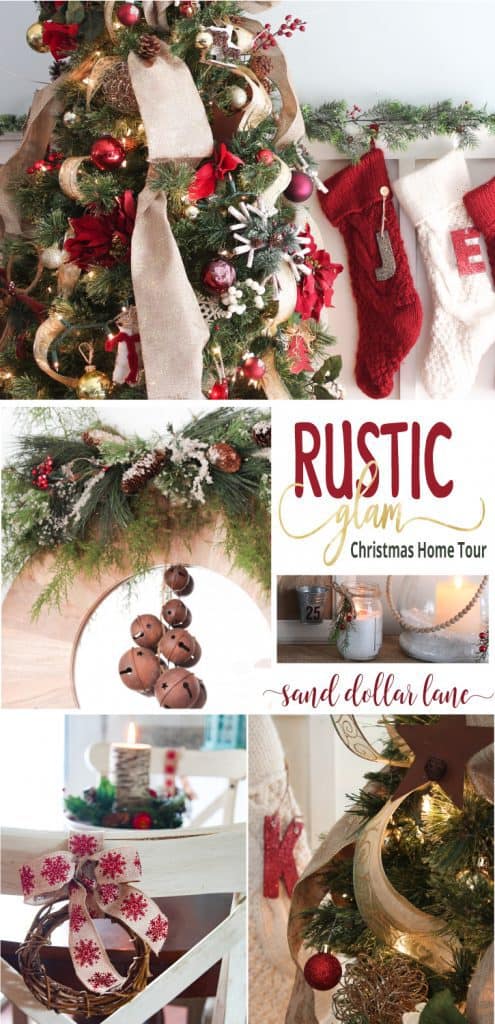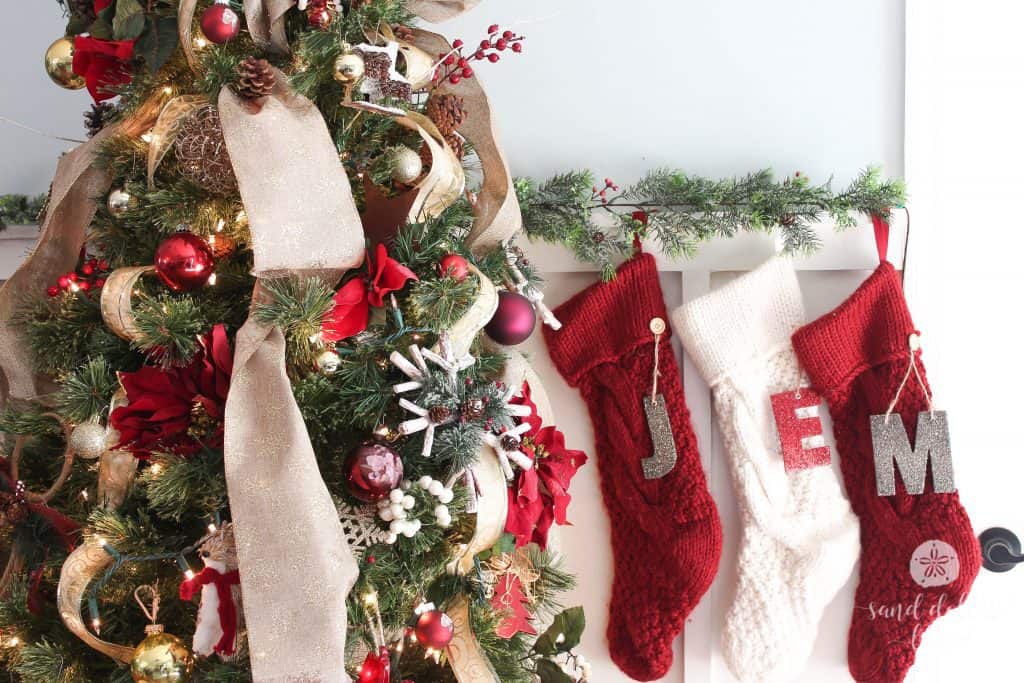 The tree is my favorite part of this space.  We gathered all our red, white, gold and burlap ornaments and other Christmas decor and went to town!  I placed the wide ribbon with sparkly gold snowflakes on first.  Then decided it needed more ribbon so using two different but coordinating ribbons I added a couple more strips.  JC thought the tree looked great with just the ribbon but I was on a roll and there was no stopping me!  The tree is a bit over the top (in a good way!) and it dominates the room with it's super decorated self but I don't mind, I think it's gorgeous and deserves to be the center of attention in the room!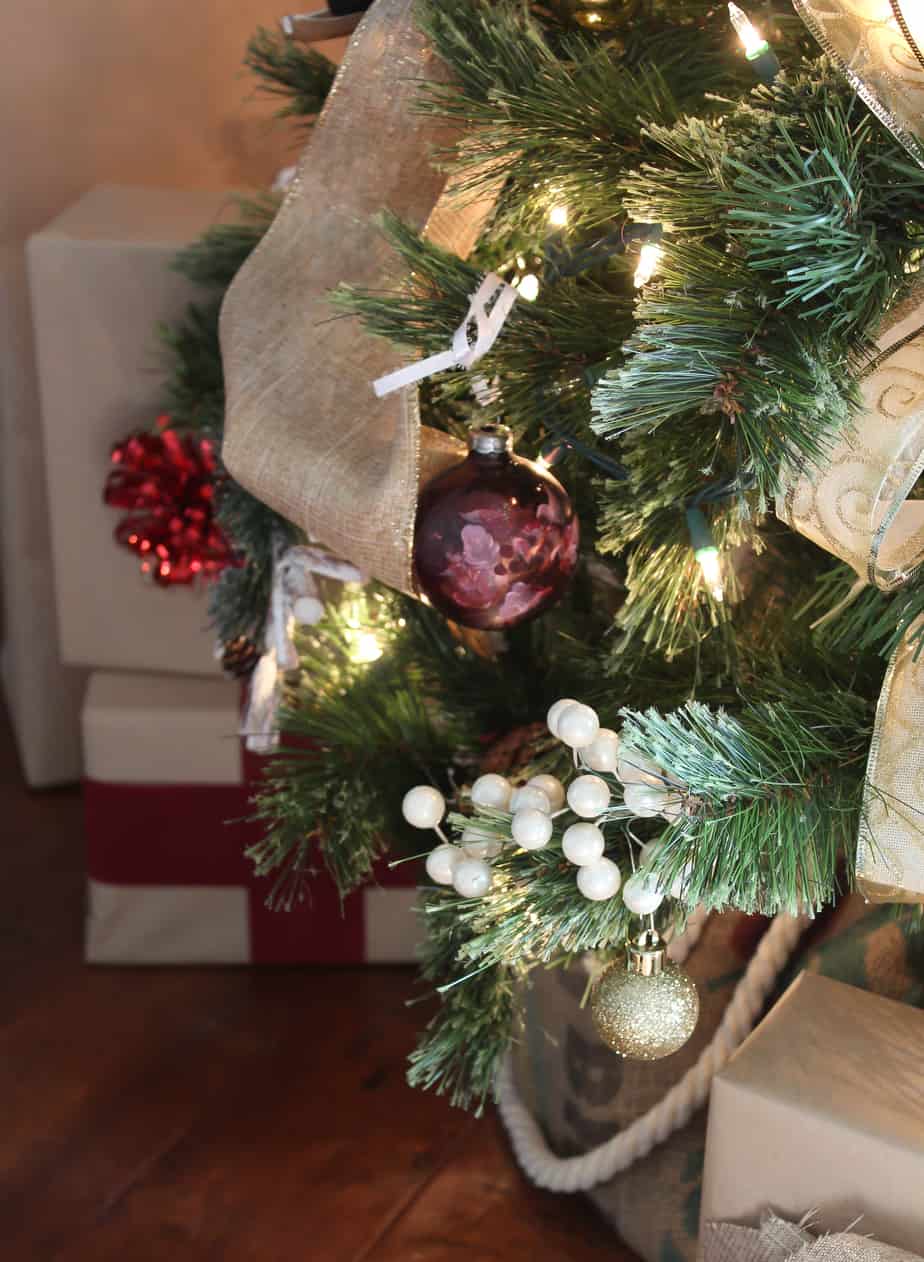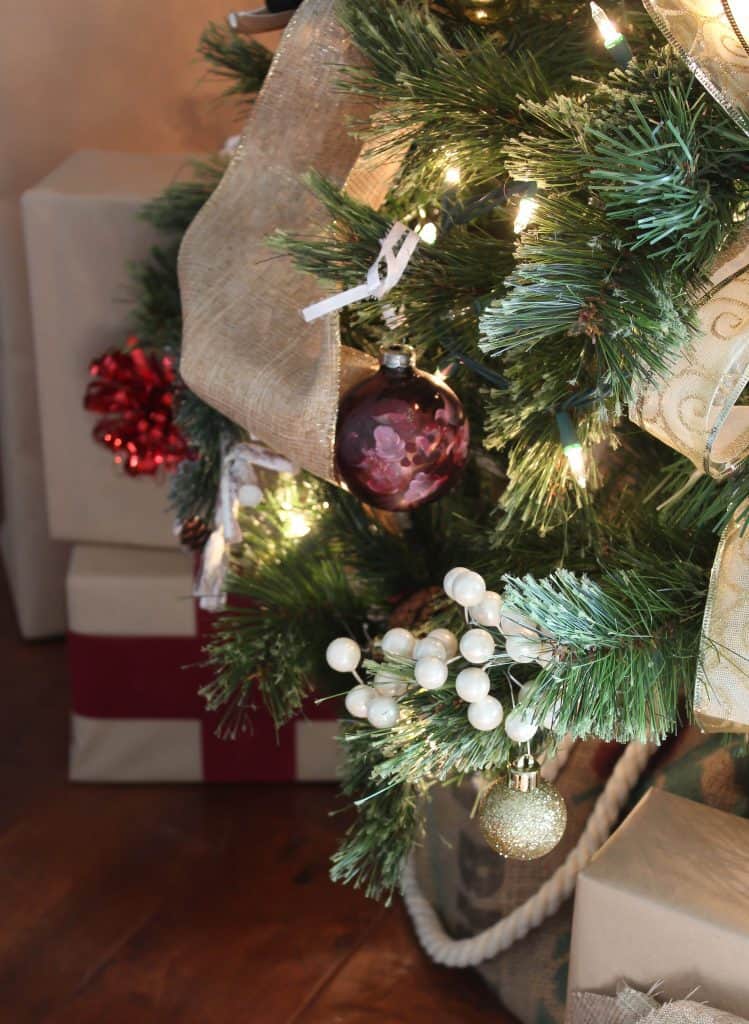 I used to paint a new design on ornaments every year and this design was perfect for our rustic glam look.  I think this one is from 2007.  I didn't realize how long it's been since I painted anything until Eli was amazed that I had painted these.  He doesn't  remember me painting ornaments.    Sounds like something we should do together this year, for sure!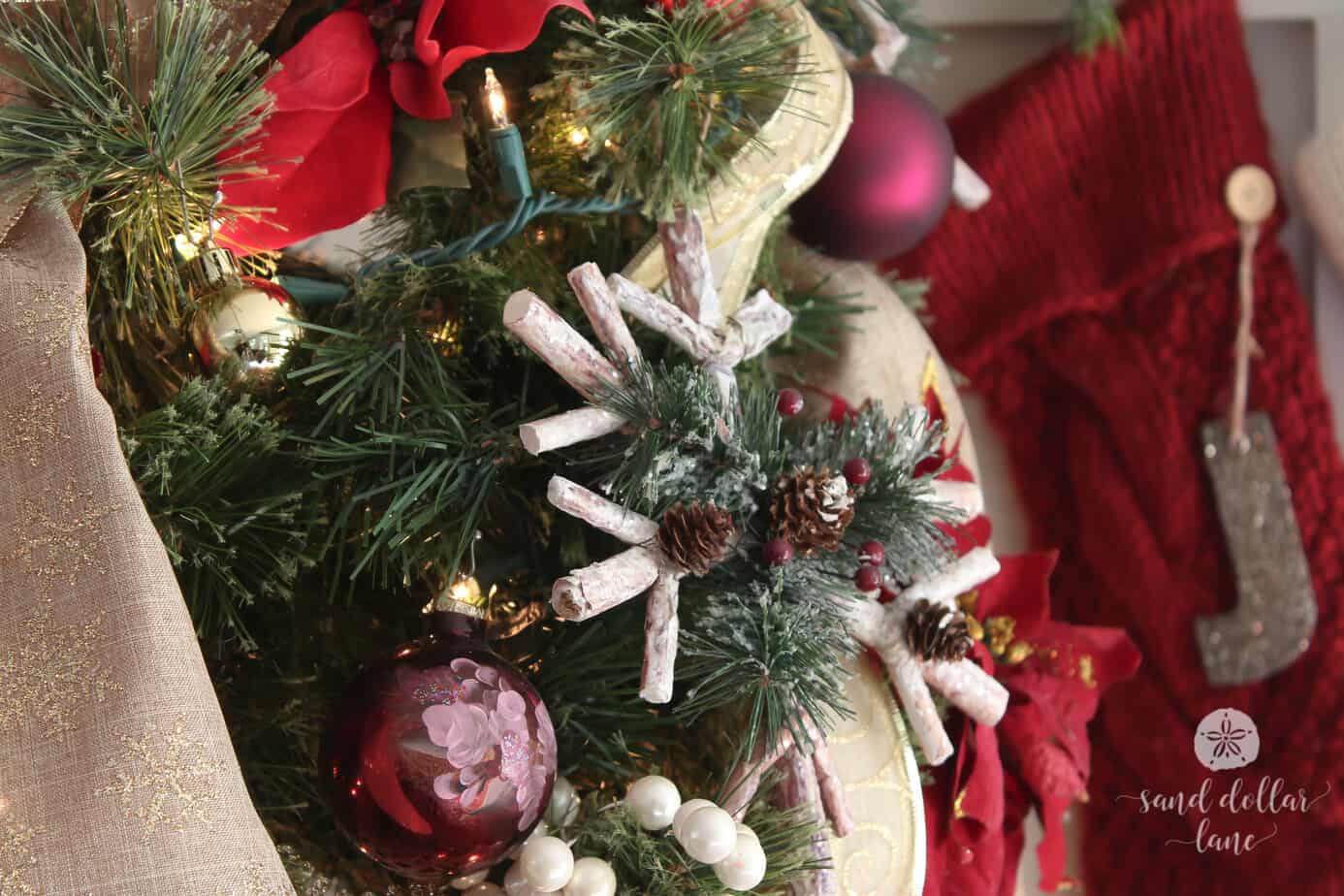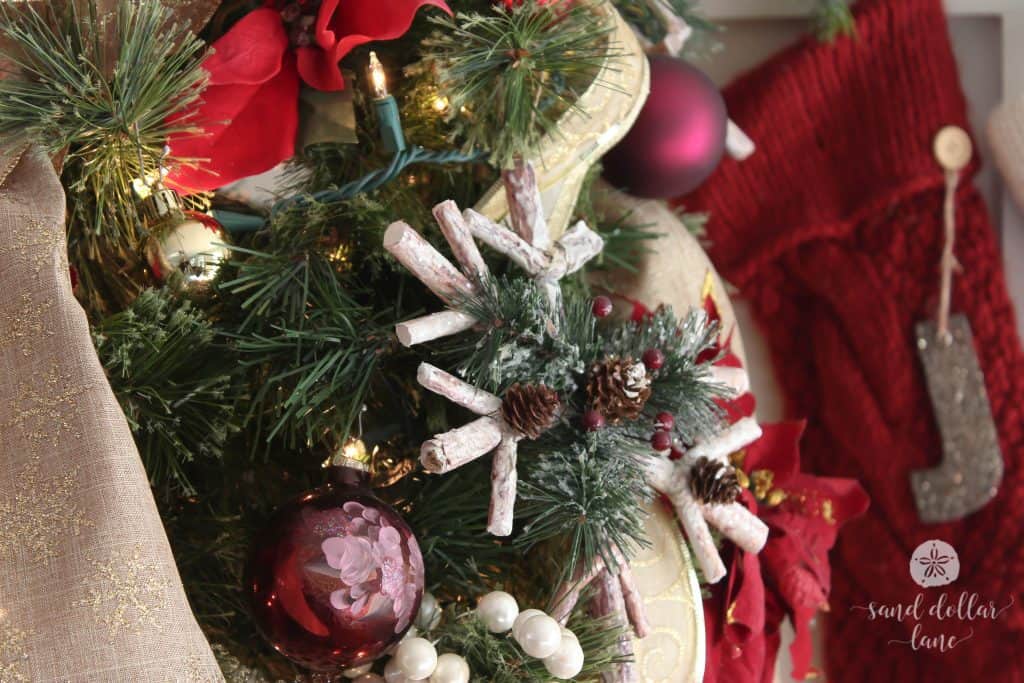 Our rustic glam tree also has pinecones, little stuffed animals, shiny gold wire ornaments and faux flowers.  Here's my method for ornament placing- I add ornaments until JC and the boys say it's getting a bit too much, then I add some more!  A few (or a lot)  ornaments later I will decide that it's enough, then I add even more!  A full tree is a beautiful tree!  Especially if the ornaments coordinate well.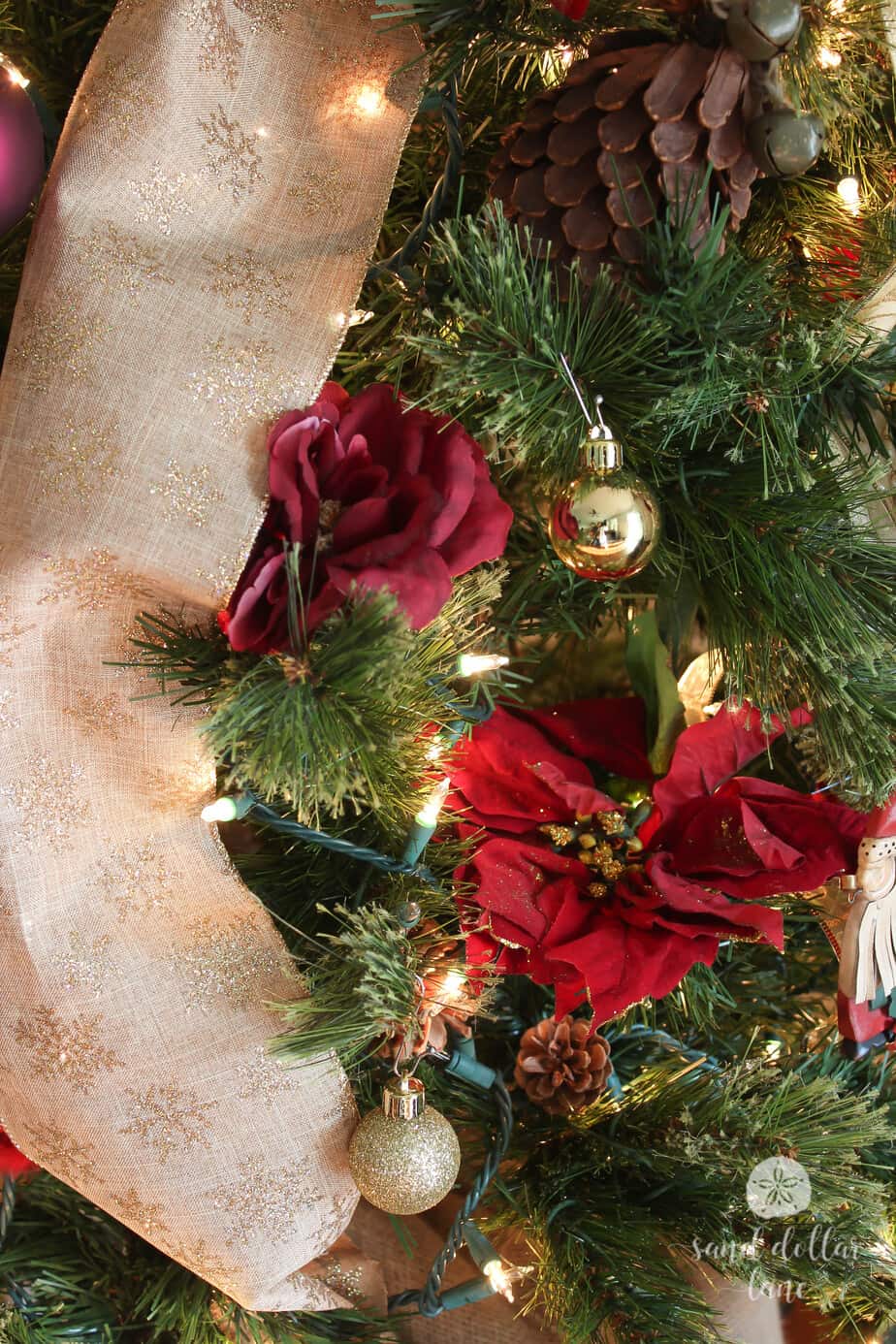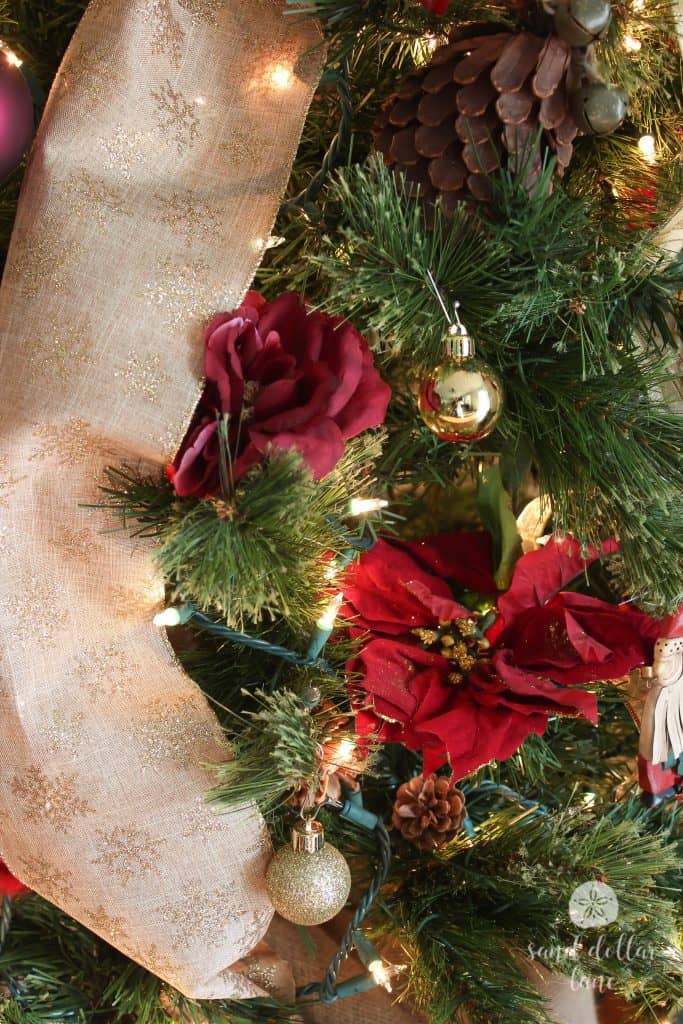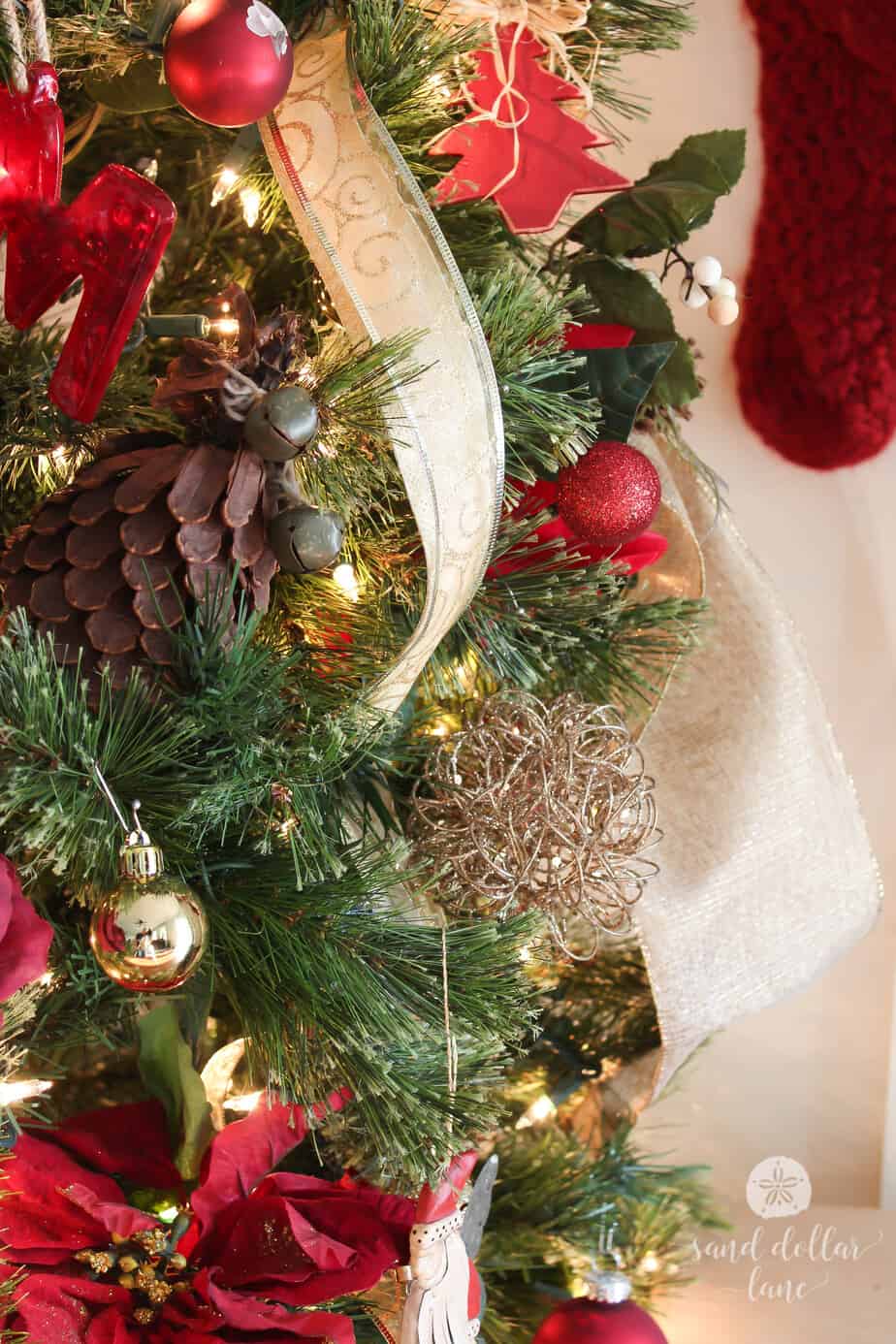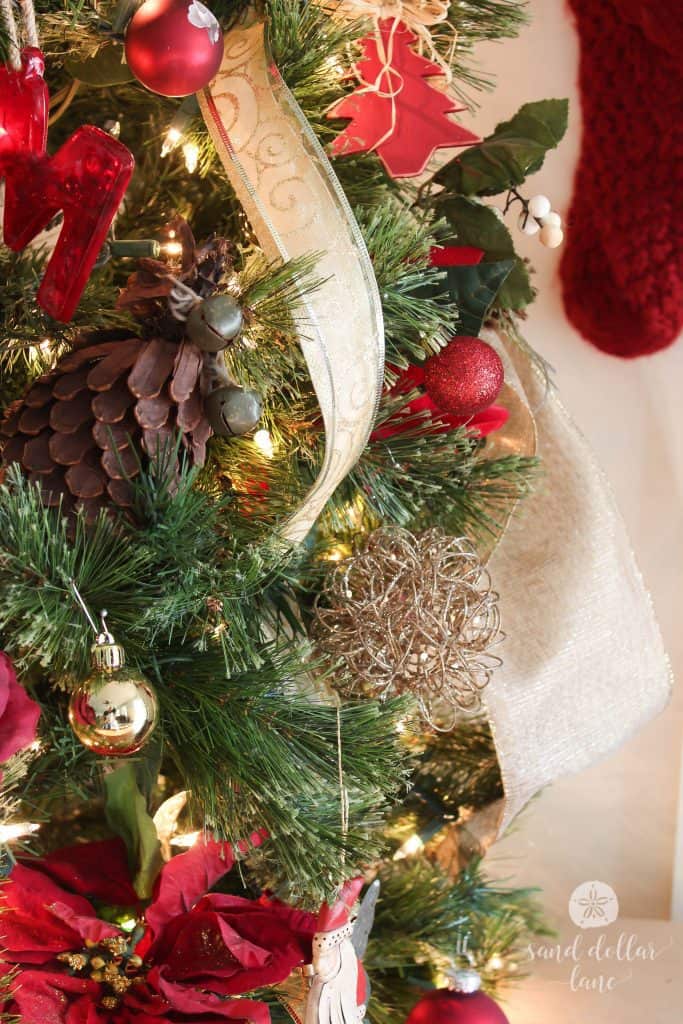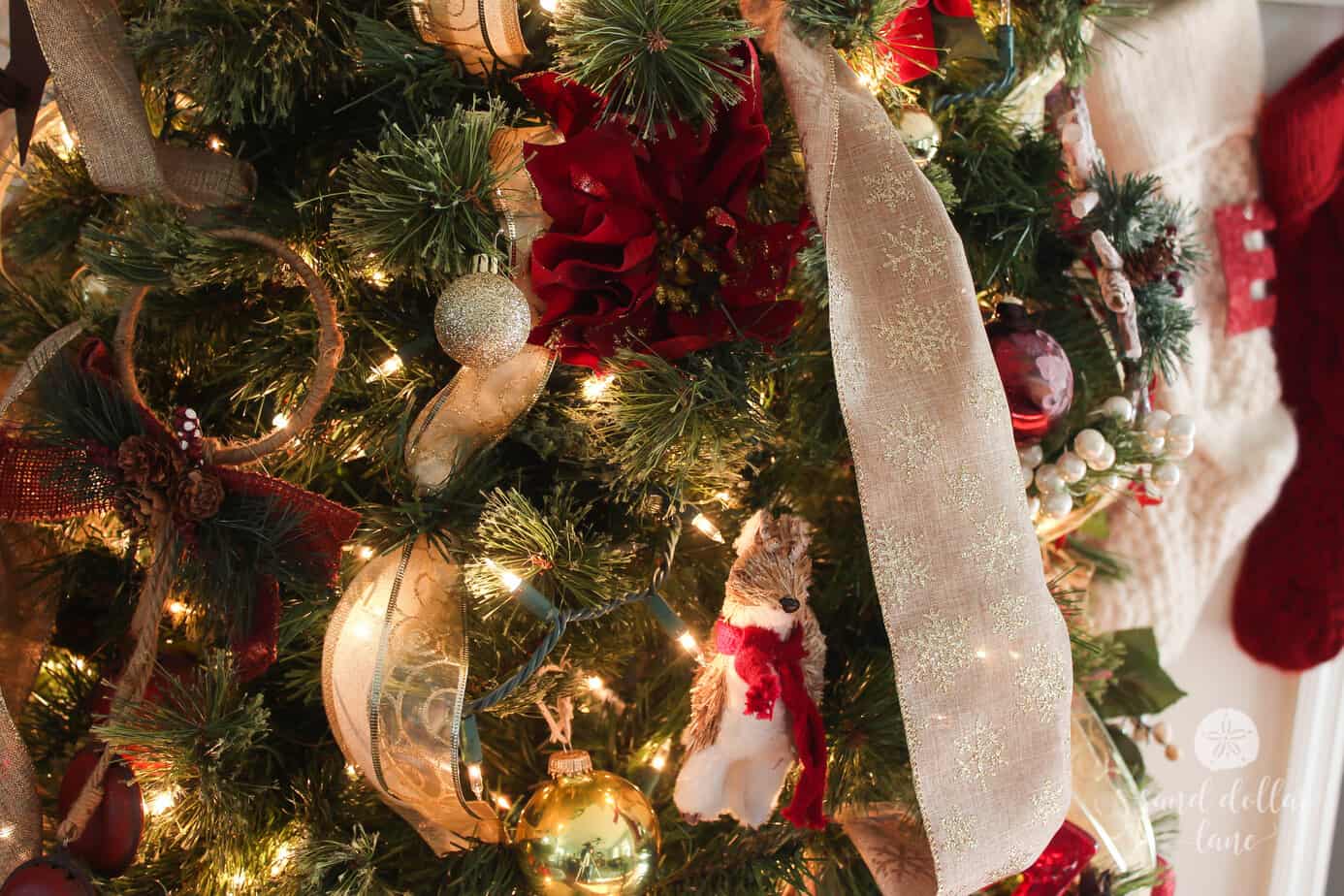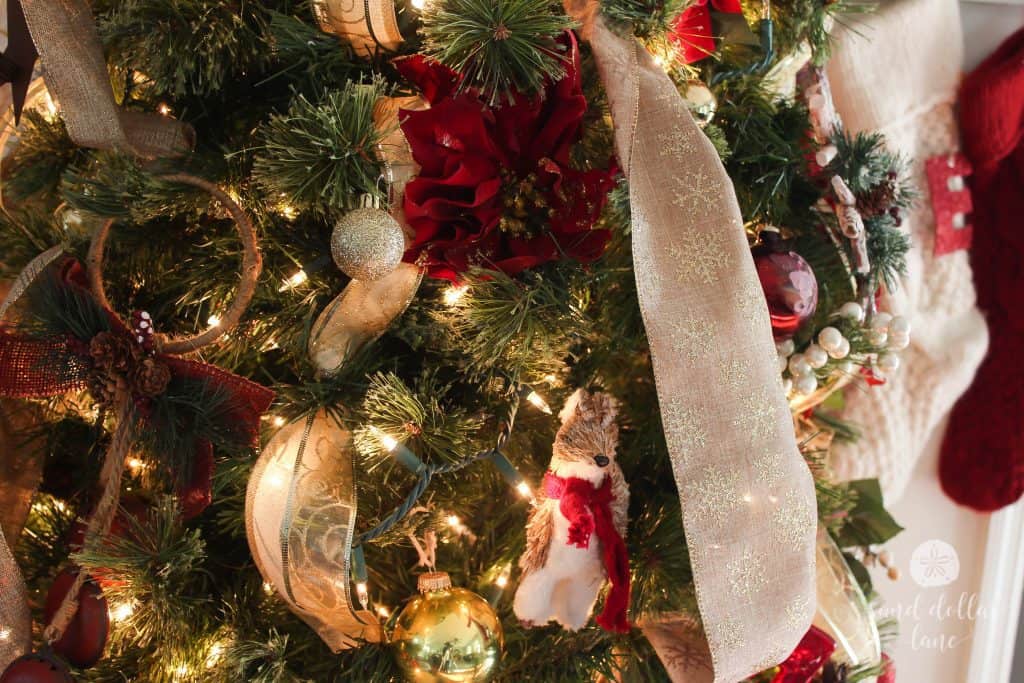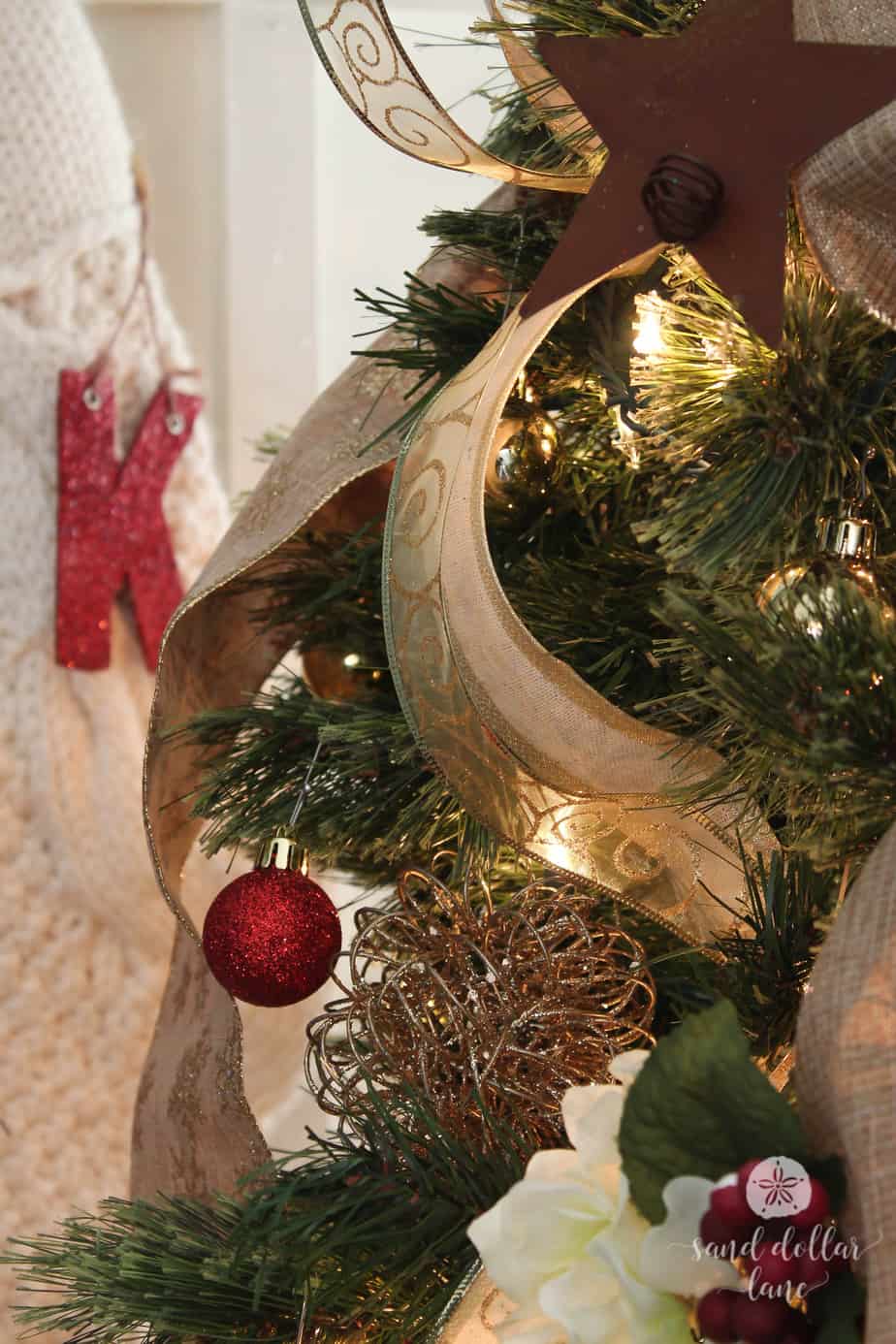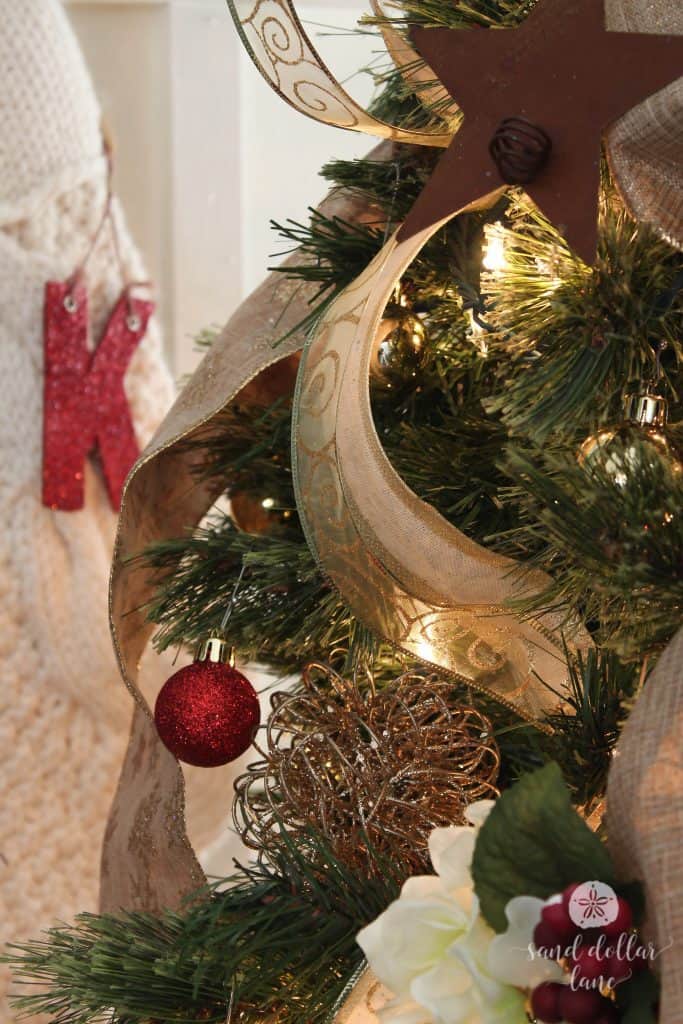 Our cable knit stockings and glitter letter ornaments that they are labeled with are from Pottery Barn.  Kortney and I snagged them a couple years ago on clearance the day after Christmas.  They are so pretty and super soft!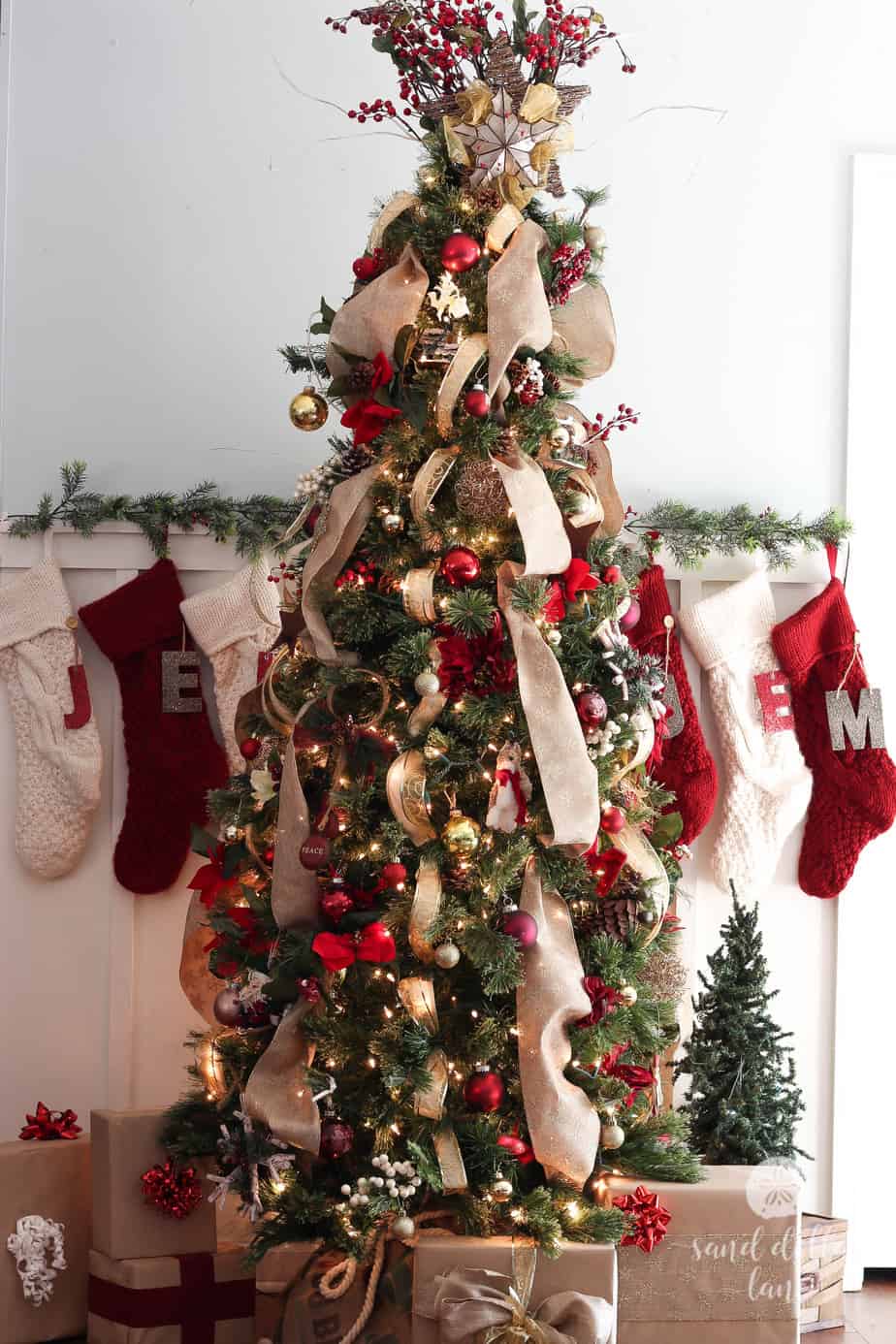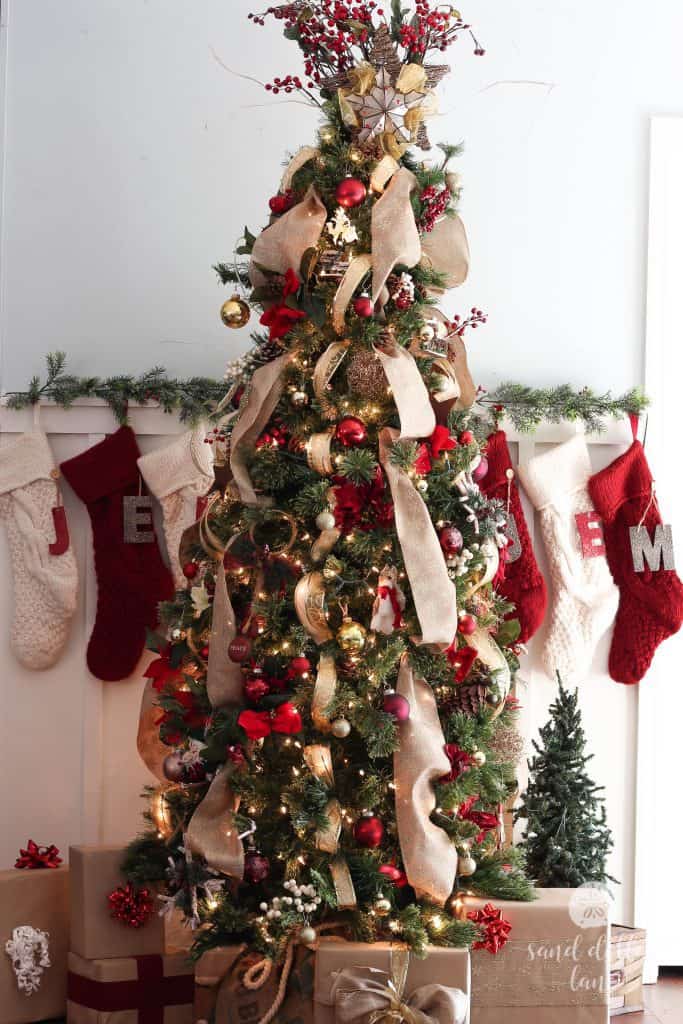 On the other side of the living room area is our printer cabinet that we kind of use as a mantle.   This is the one spot in our home that always changes with the seasons and/or holidays.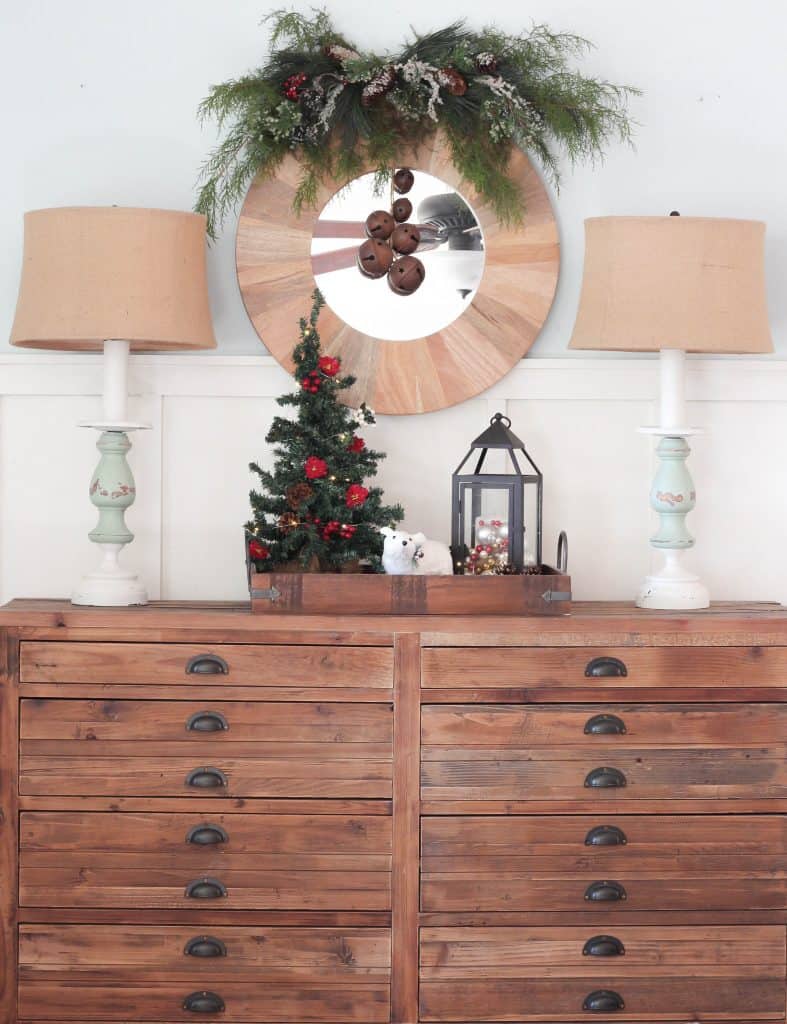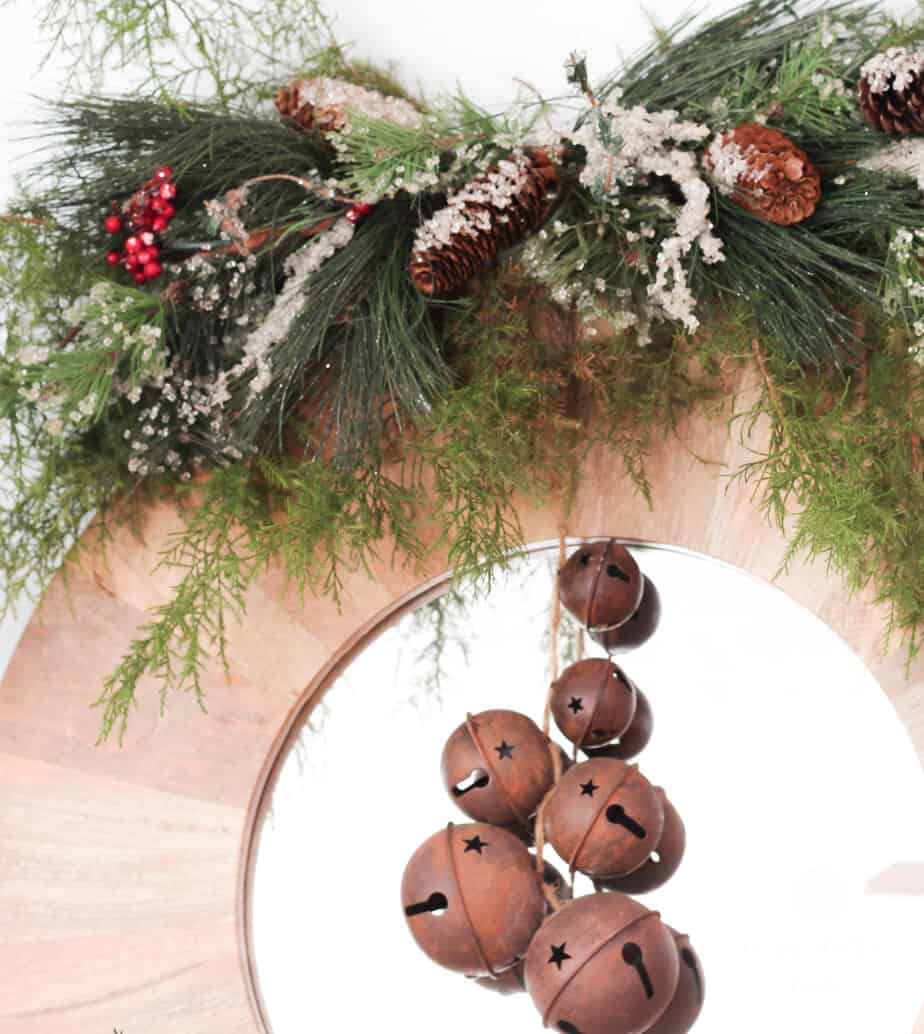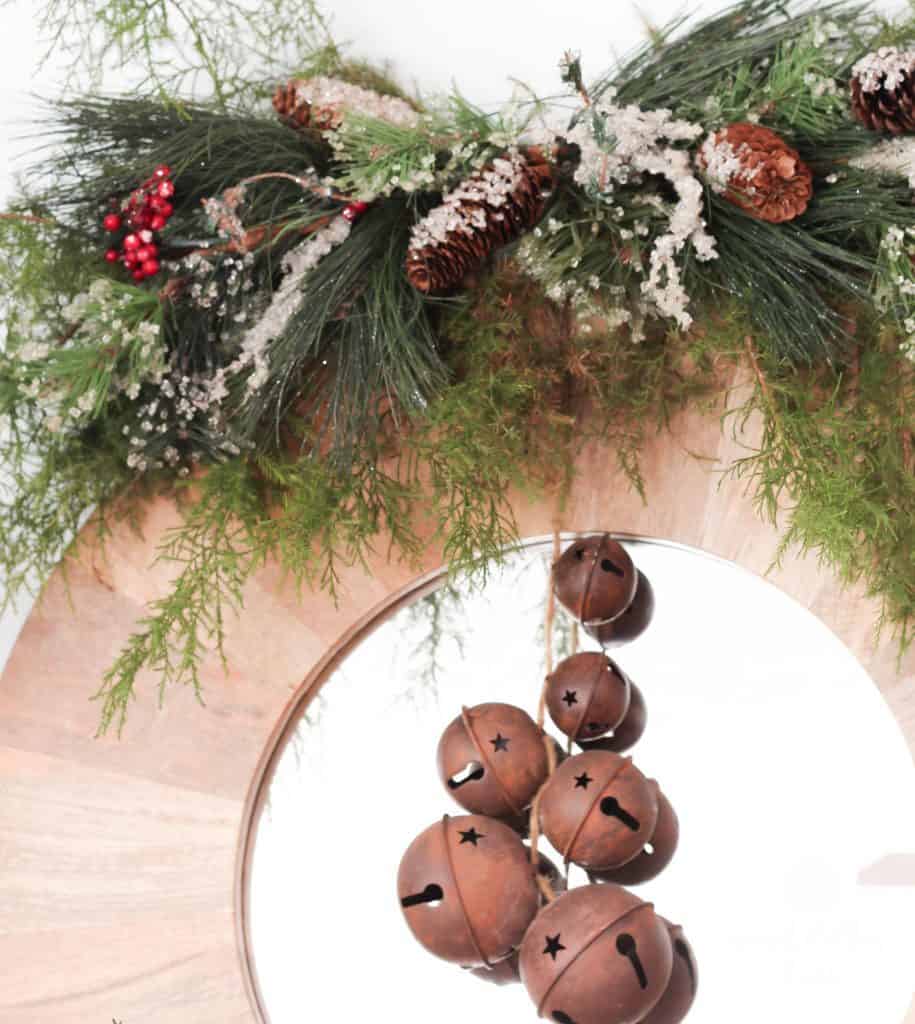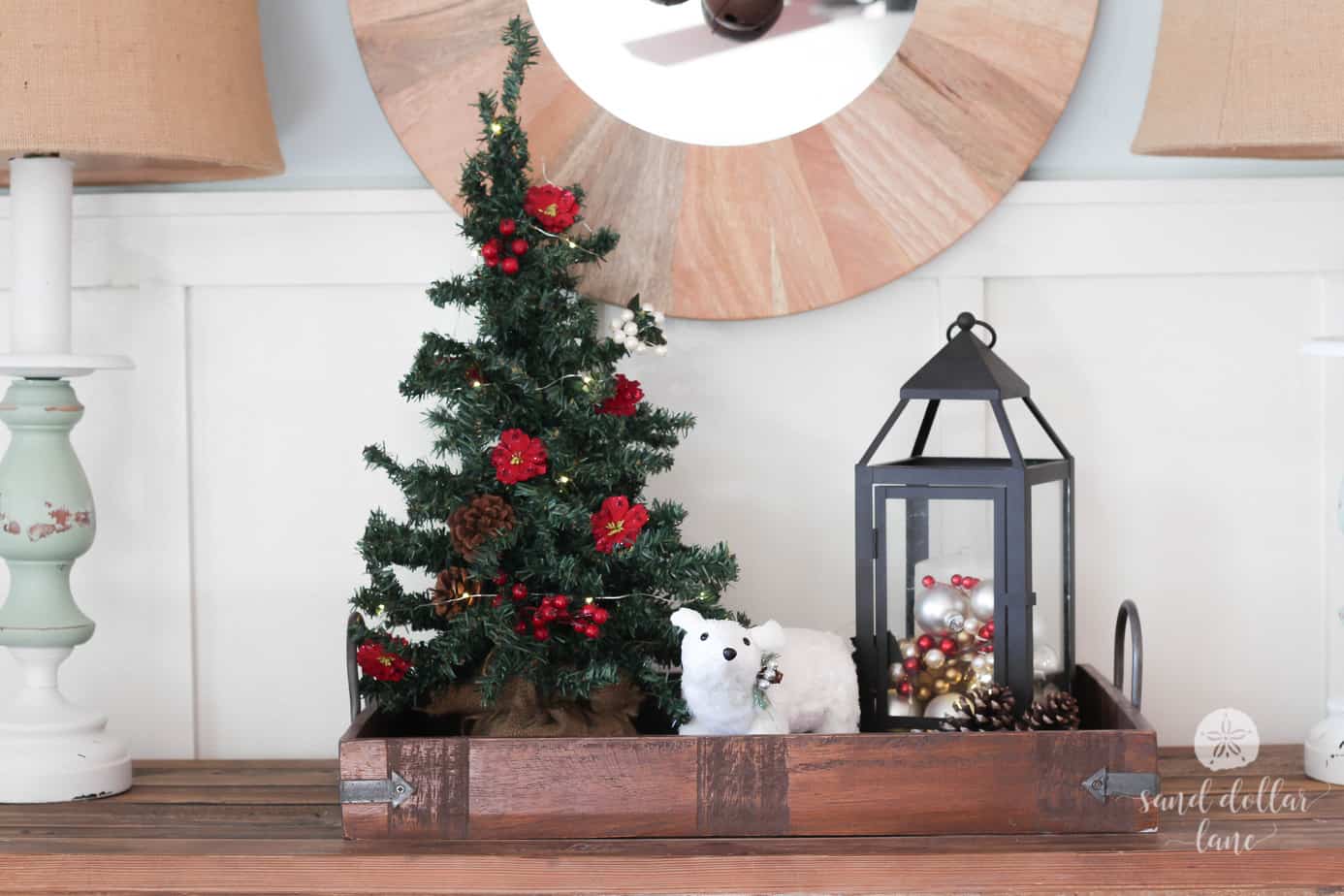 If you've been reading our little blog long, you know that as much as I love a pretty magazine worthy home, it's more important to me that my family is comfortable here.  I added some fun whimsical things that the boys will enjoy like this funny bear and silly reindeer from Michaels.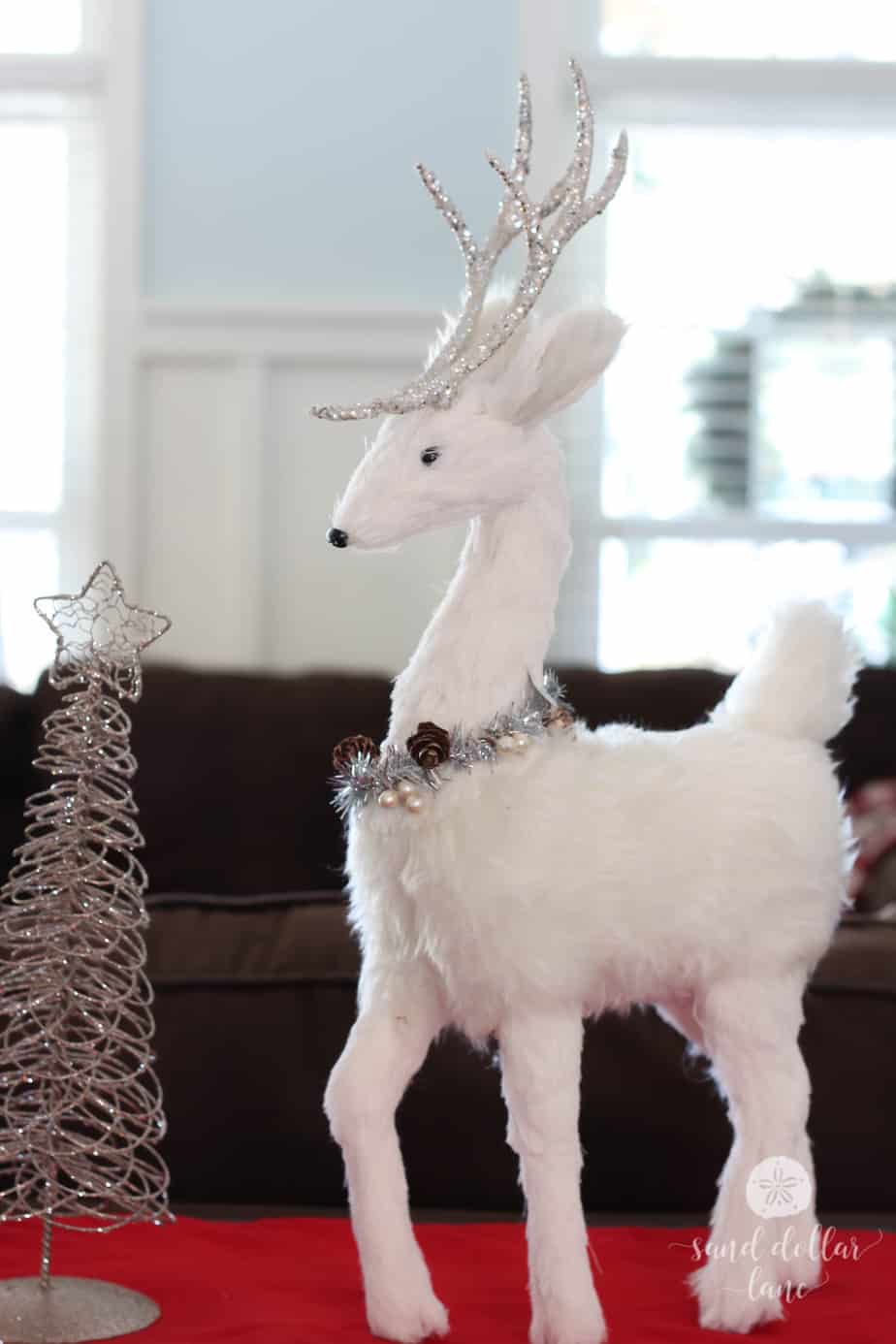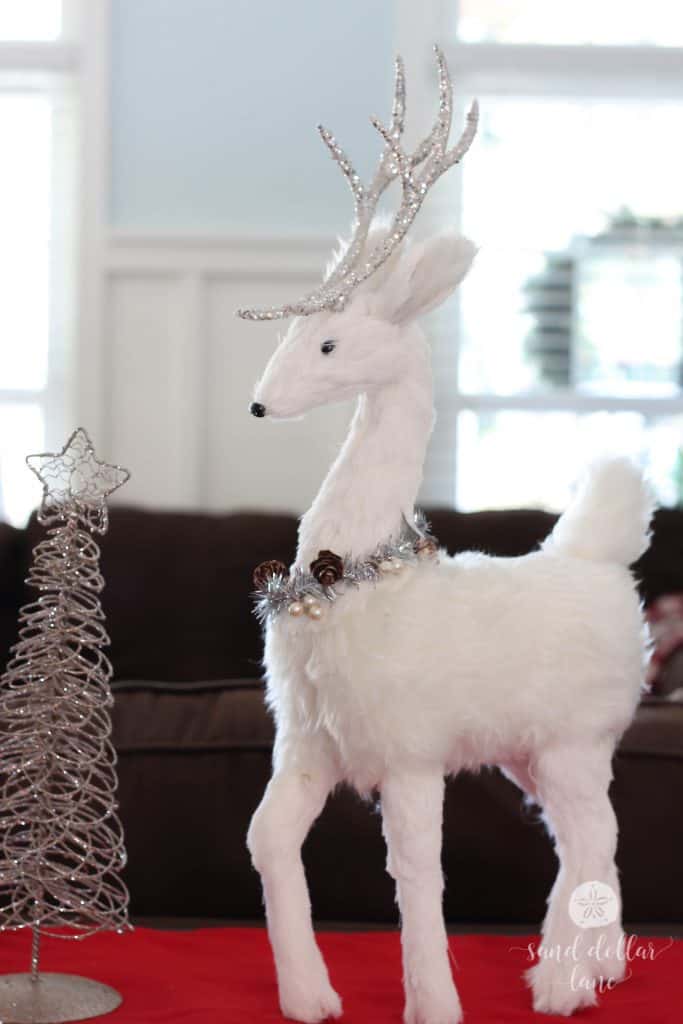 Sometimes when I walk into the room I realize that somehow the reindeer got into the sled, or is over on the other side of the room visiting the bear.   If everything in the room was fragile or if I was worried about keeping things picture perfect, our home wouldn't be much fun for any of us.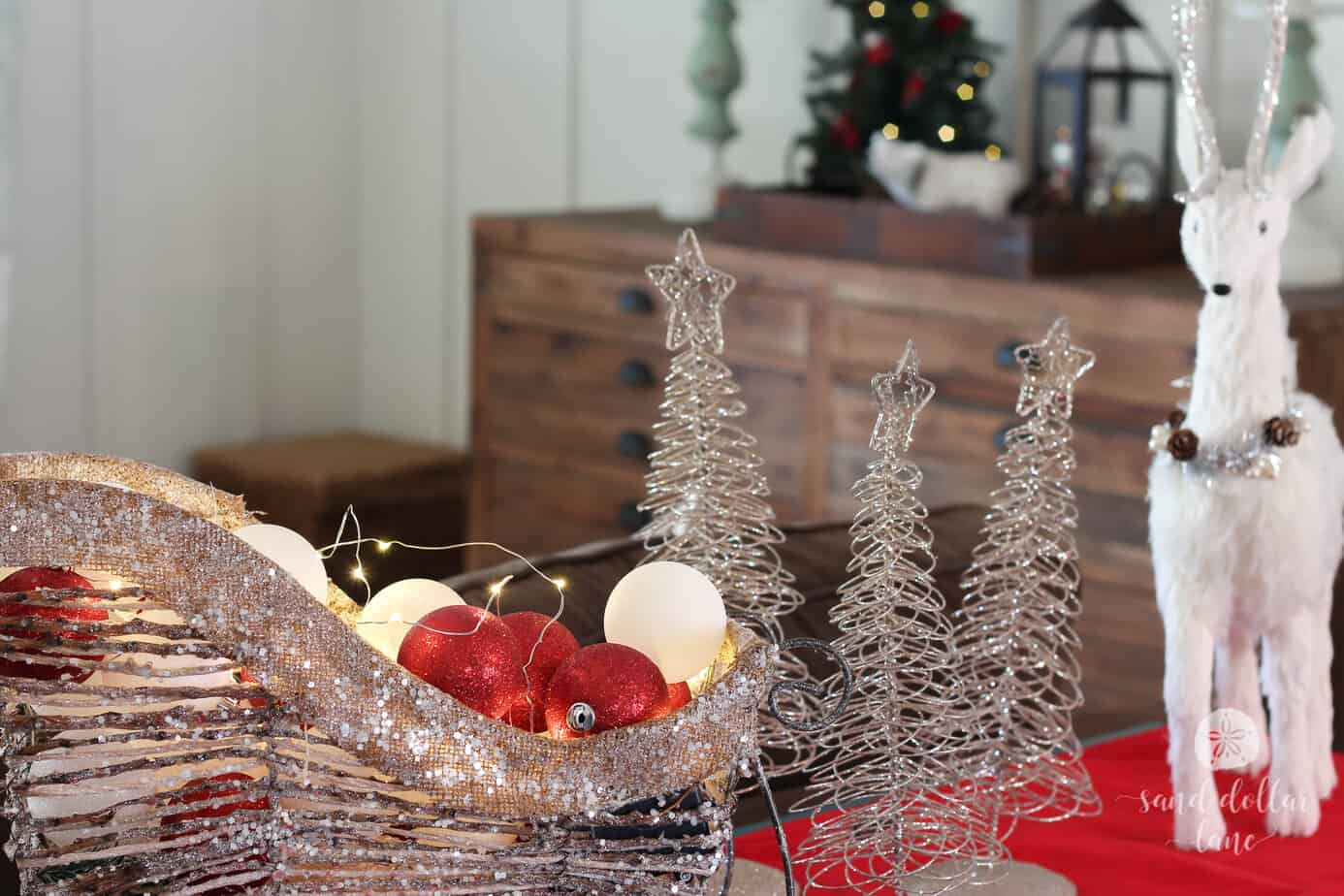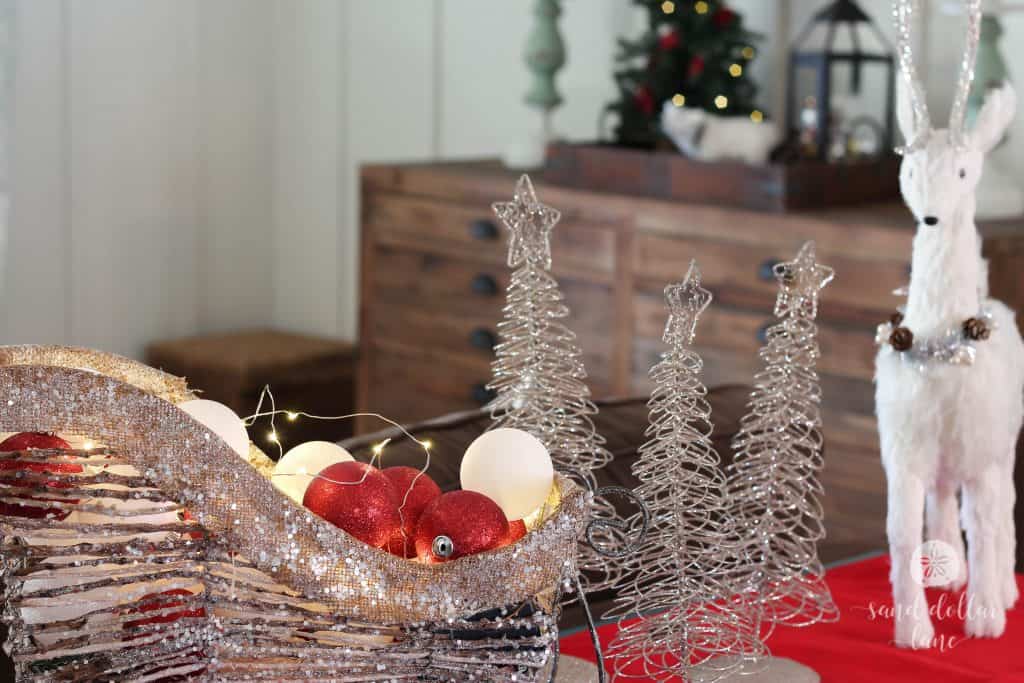 In the dining area, we opted for simple decorations because as much as I adore the room dominating tree, our eyes need a rest now and then!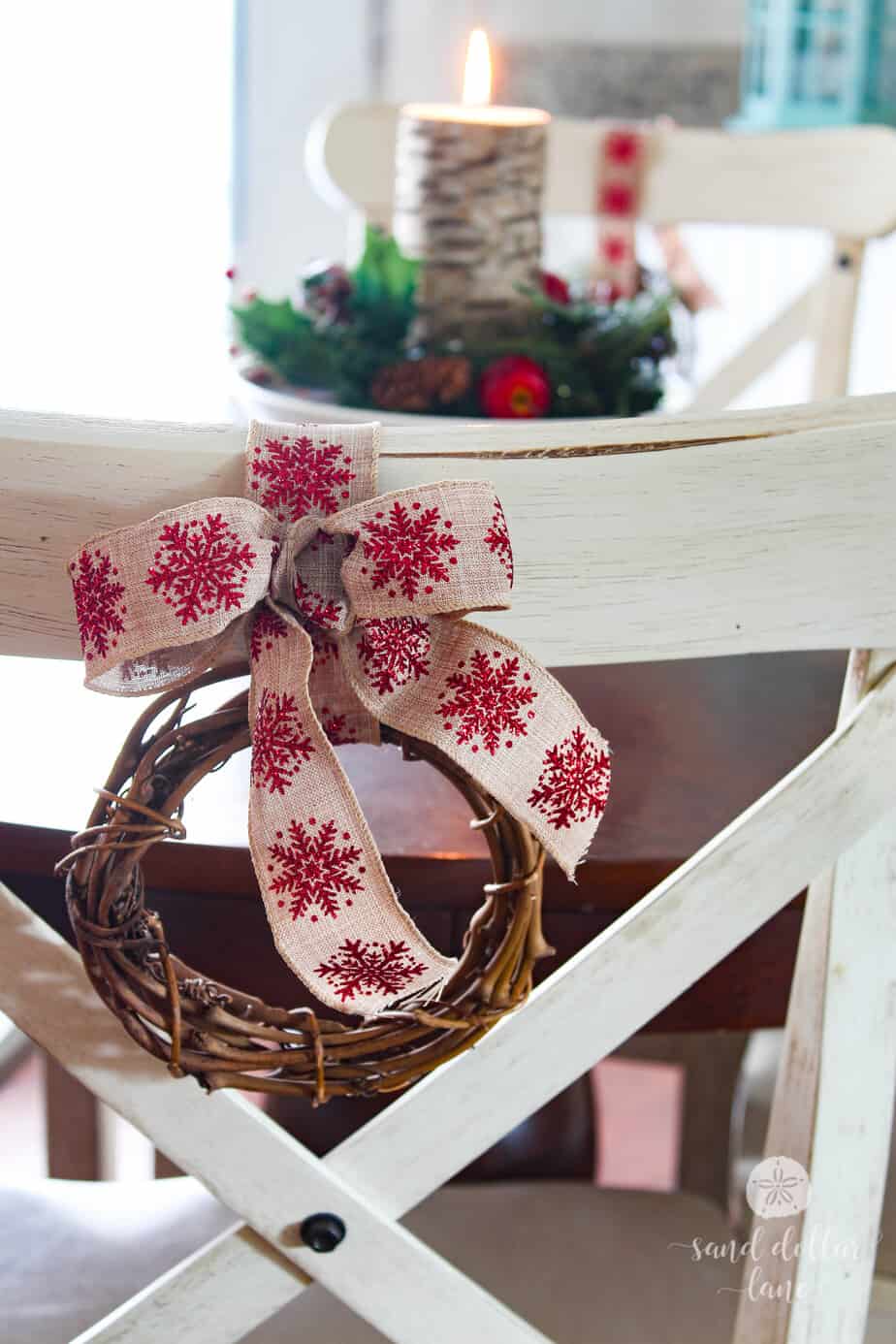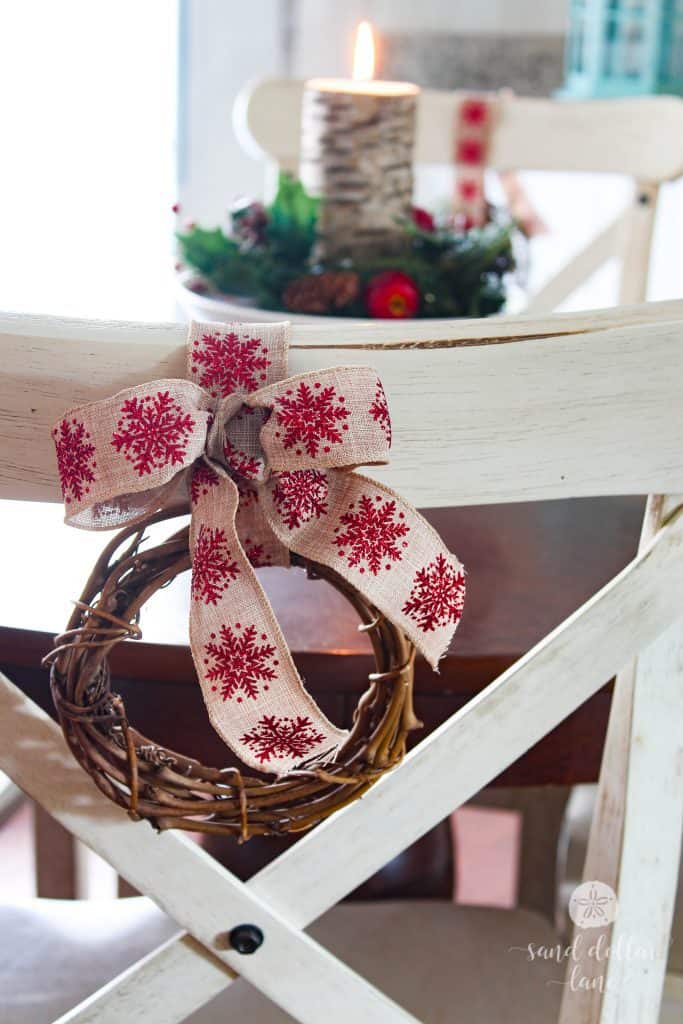 Simple (but sparkly!) bows hold plain grapevine wreaths on our dining chairs and a simple centerpiece sits on the table.  I've had the candle ring for years and the white cake stand and birch bark candle are from Kirklands.  Remember in our Fall Home Tour that cake stand had a pumpkin on it?  It's held several other things since but no cakes yet!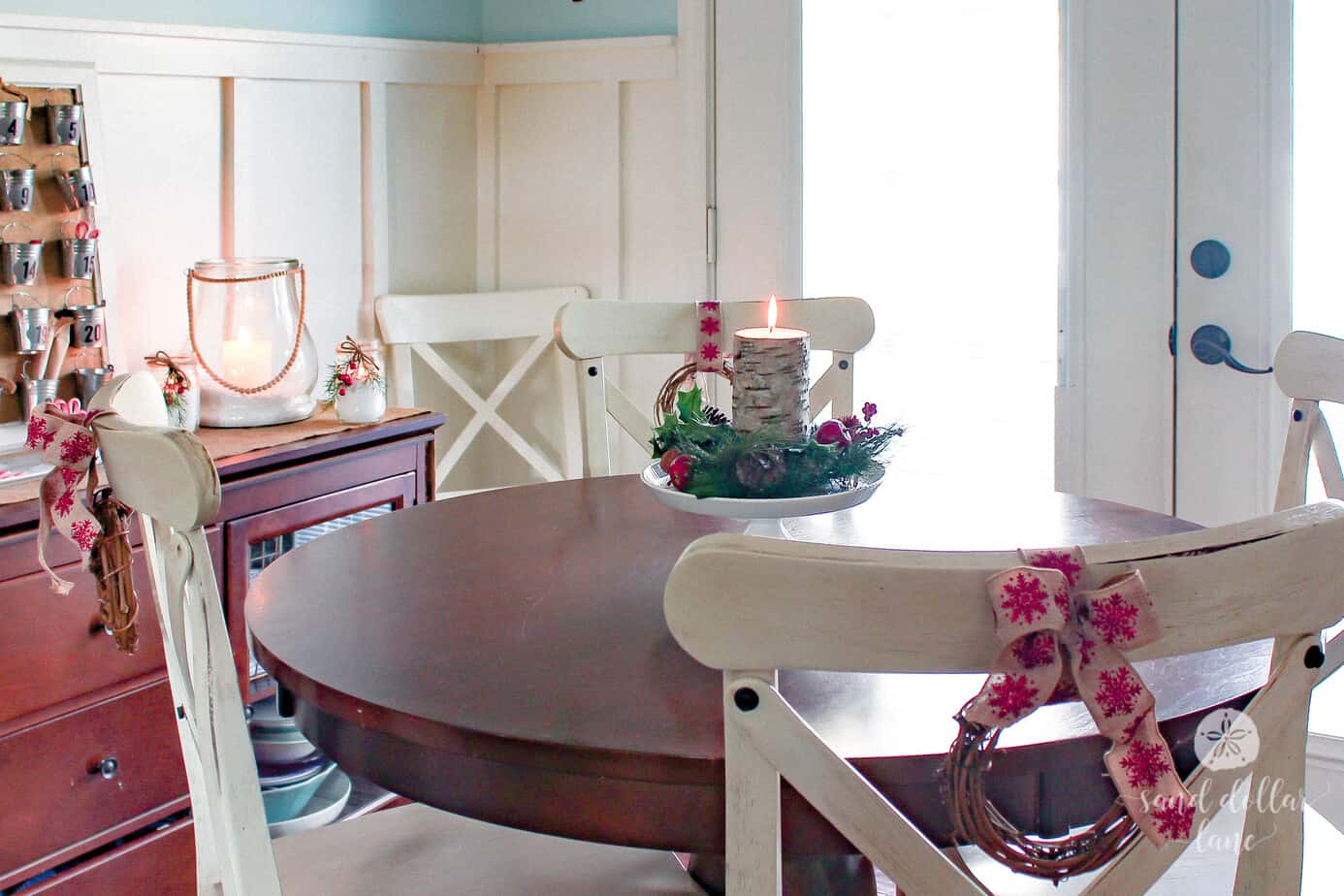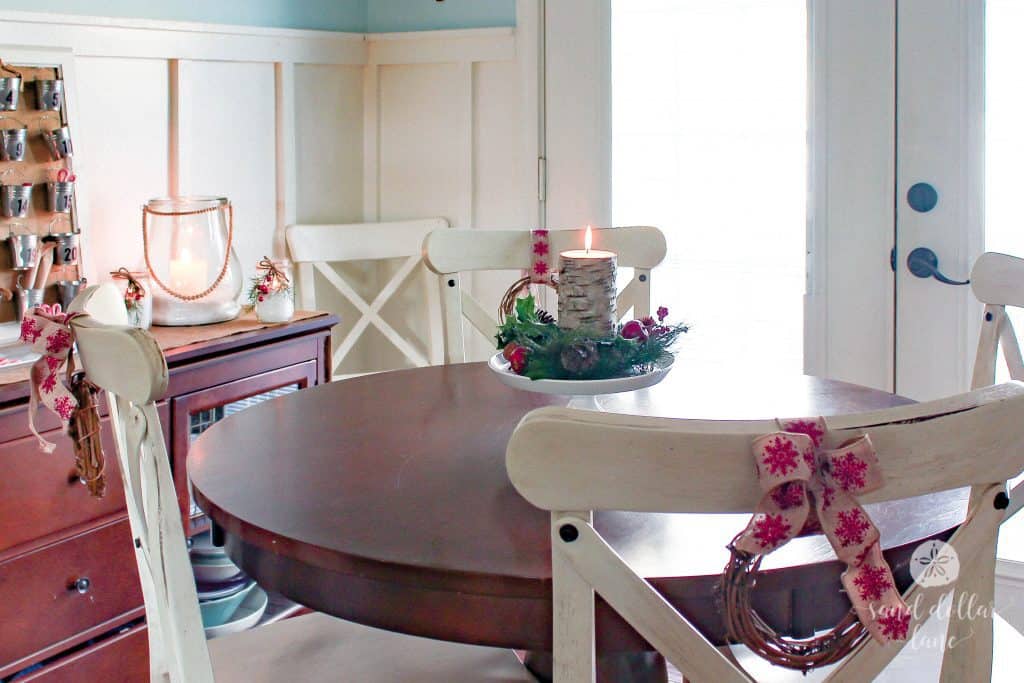 We made this fun advent calendar a few years ago.  It's one of the kids favorite traditions.  Although as they get older it's getting more difficult to find things besides candy to put in there.  Any suggestions?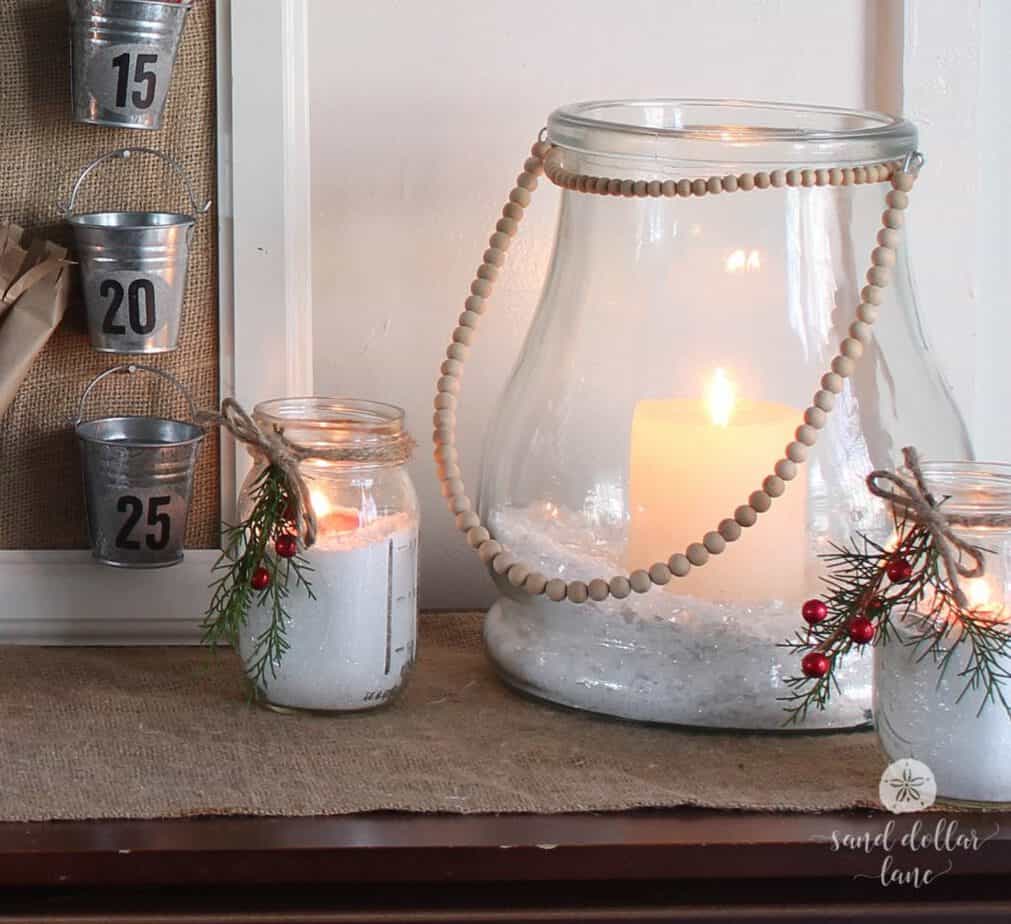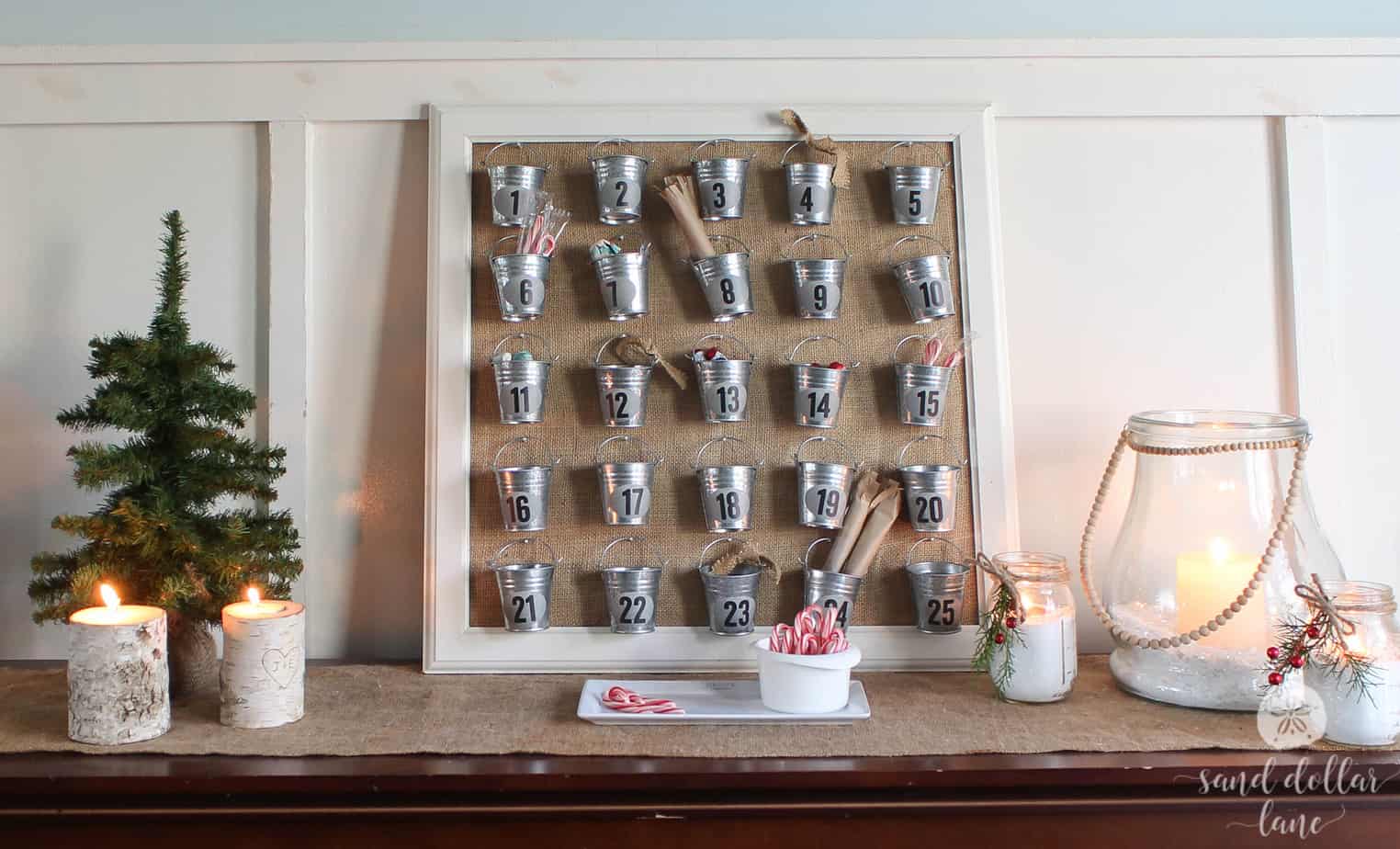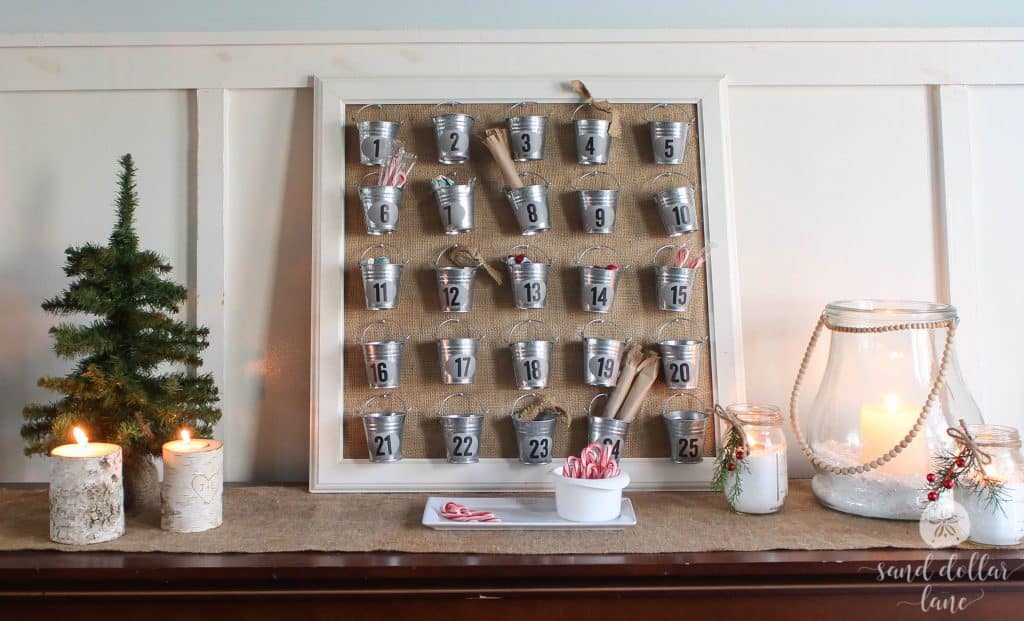 That's the end of our Rust Glam Christmas Home Tour!  I hope you enjoyed it!
Are you surprised that we didn't go with a coastal theme for our holiday decor?  Well, we did!  Our mudroom and my studio are both decorated with coastal accessories!  You can see one of our coastal trees here and I will be sharing more of those spaces later this week.
Be sure to head over to Saw Nail and Paint to check out Susan's cozy Christmas living room.  It's so beautiful with white and blue accents, you're going to love it!  Then enjoy the rest of the amazing home tours all week!
Monday 
Wife in Progress // Inspiration for Moms // Sand Dollar Lane
 Saw Nail and Paint // The Tattered Pew // The Fat Hydrangea // Worthing Court
Tuesday 
A Blue Nest // Sincerely, Marie Designs // Town and Country Living
Farmhouse on Boone // Postcards From The Ridge // The Frugal Homemaker
Wednesday 
Little Glass Jar // North Country Nest // Bluesky at Home
Aratari at Home // Little House of Four // Twelve on Main // Elizabeth Joan Designs
Thursday
AKA Design // The Everyday Home // On Sutton Place
Joy in Our Home  // Noting Grace // Making It In The Mountains //Shabbyfufu
Friday
Seeking Lavender Lane // My Creative Days // Thistledown Domestic Creations
The Honeycomb Home // Flatcreek Farmhouse // Green With Decor // Atta Girl Says