Coastal Farmhouse Summer Home Tour 2017
Welcome to our Coastal Farmhouse Summer Home Tour!
We're so excited to be joining 9 other bloggers including our hostess, Gina at The Shabby Creek Cottage for a Farmhouse Style Summer Home Tour!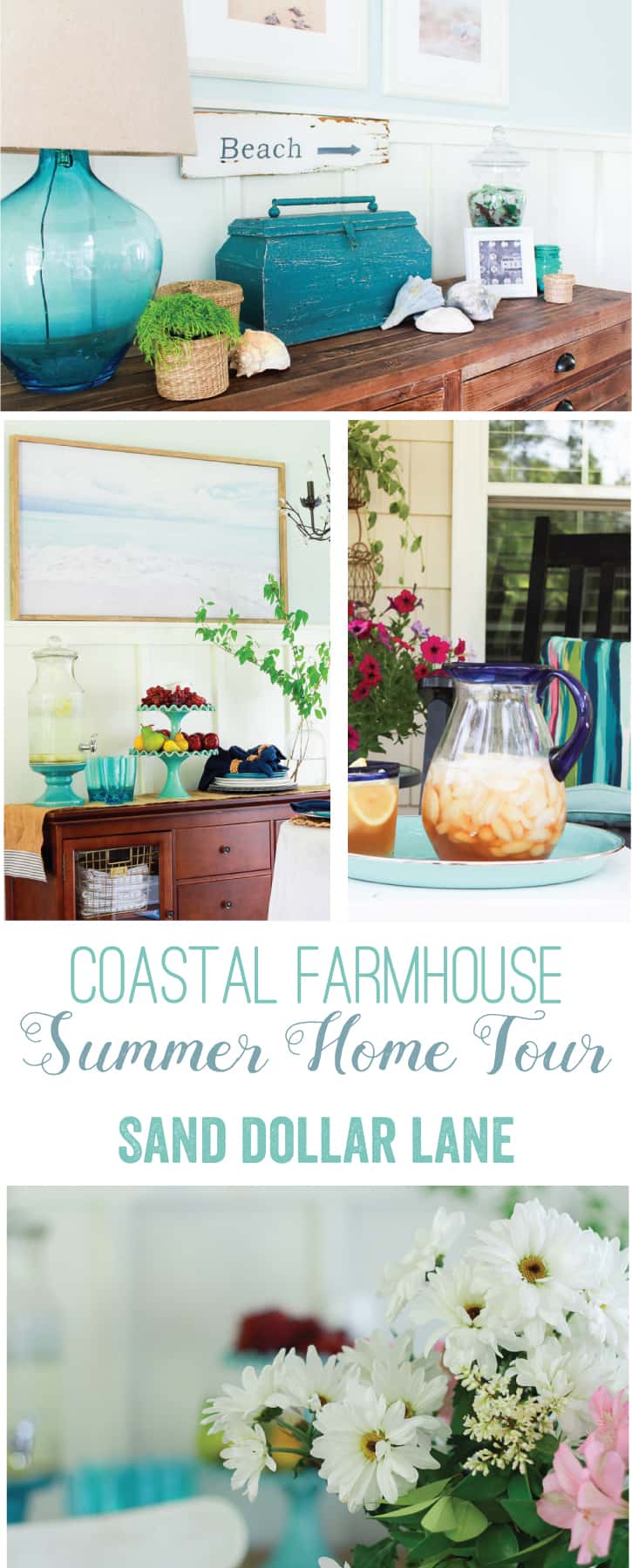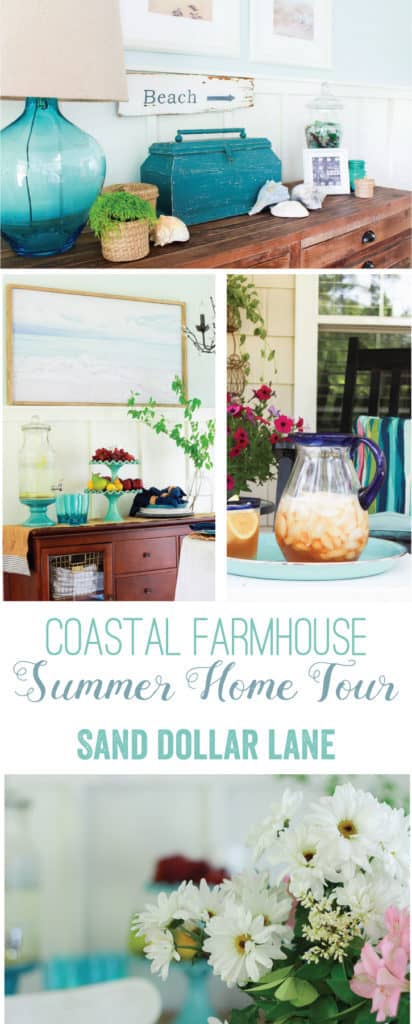 For your convenience, this post contains affiliate links.  See my full disclosure page here
Living near the coast is fun year round but it's especially great during the summer.  Our family loves kayaking, fishing, swimming, and especially playing at the beach!  We are truly outdoorsy and spend as much time as possible enjoying our beautiful area.  Since we spend so much time outdoors, let's start our tour in the garden!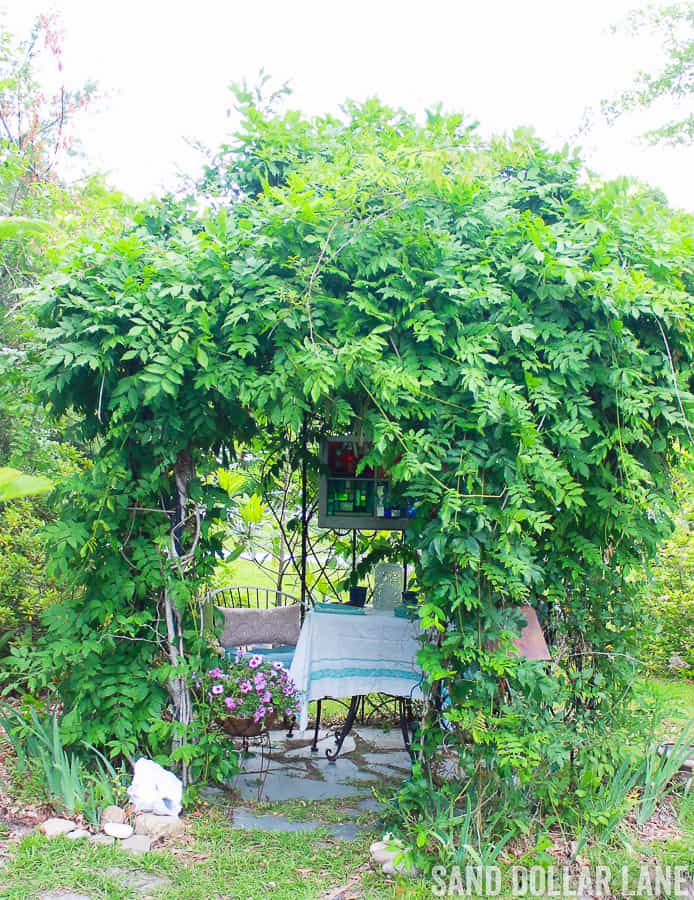 This fun little gazebo was a Mother's Day gift years ago.  We immediately planted Lady Banks roses and wisteria around it and they didn't waste any time covering it!  It's the perfect little hideaway for a romantic breakfast for two!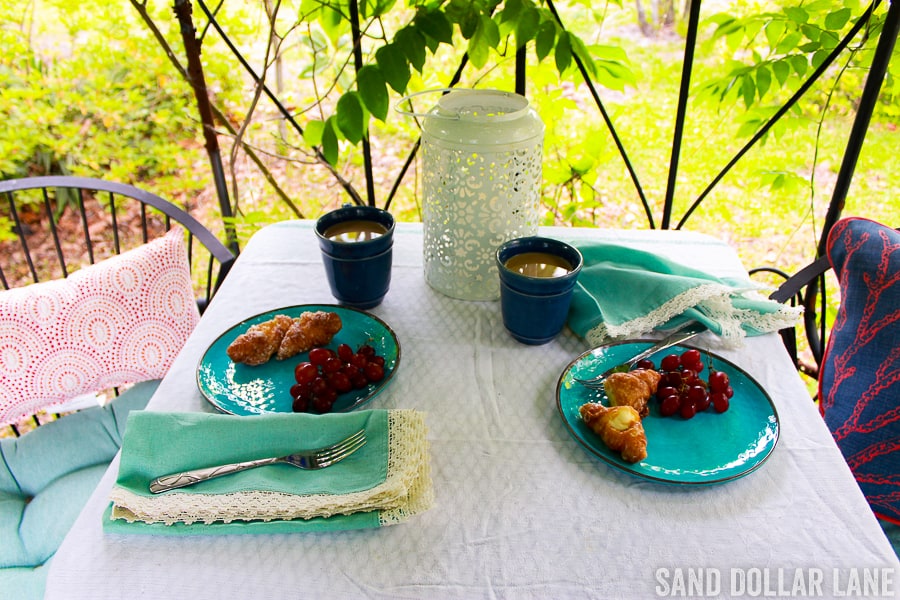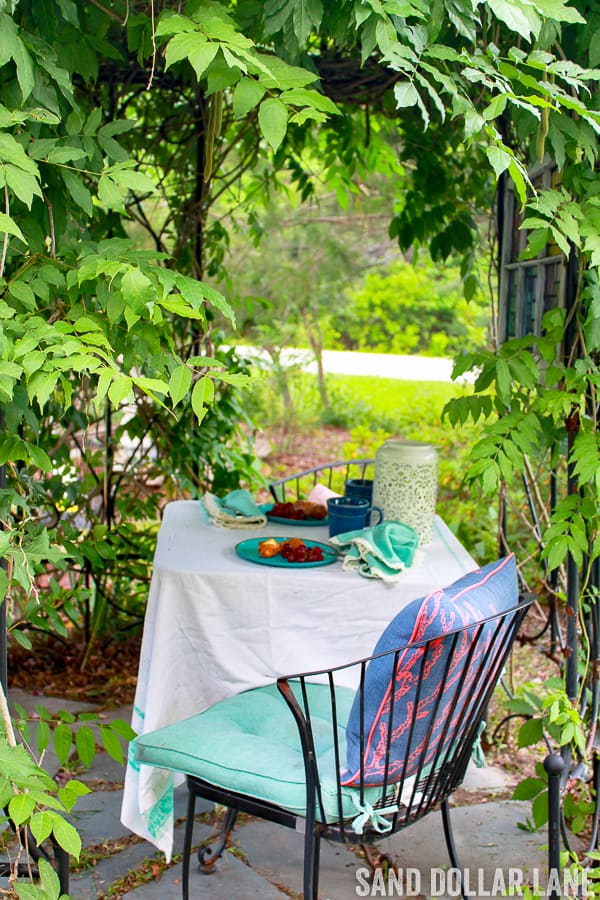 I made this stained glass mosaic 11 years ago. We've had to take it down a couple times for hurricanes but it always gets put back in it's place right away.  I love the way the sunlight comes through the glass.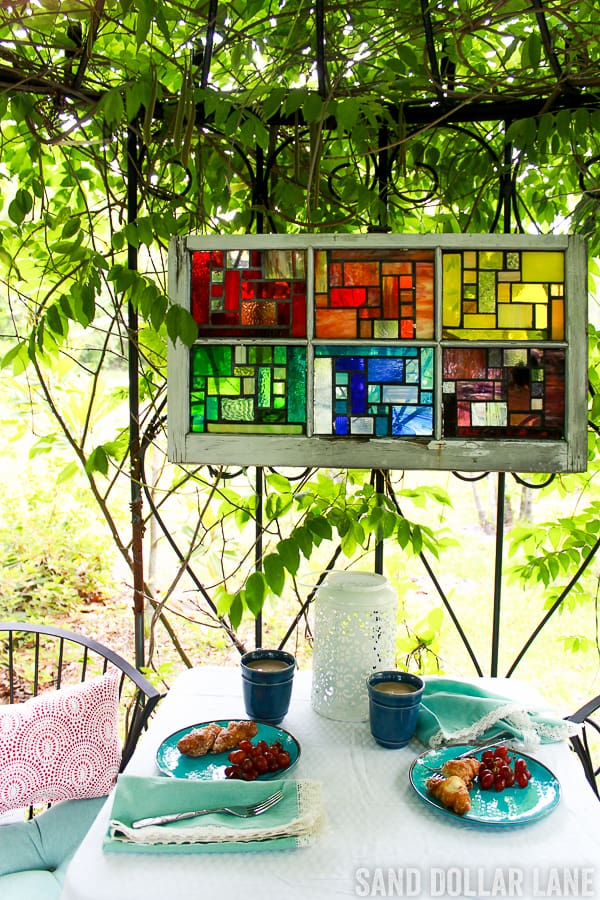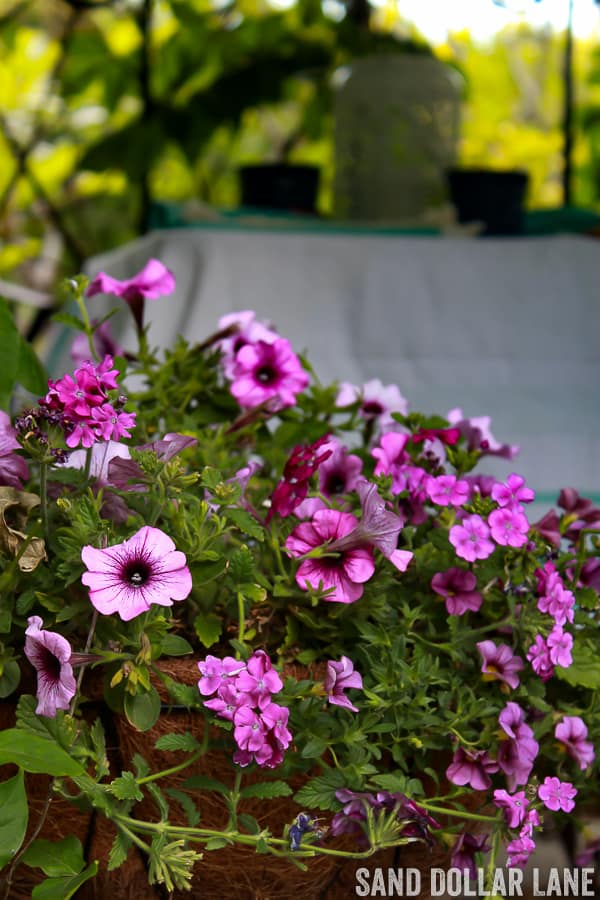 Let's head over to the front porch now.  This is our family's favorite spot to spend time together.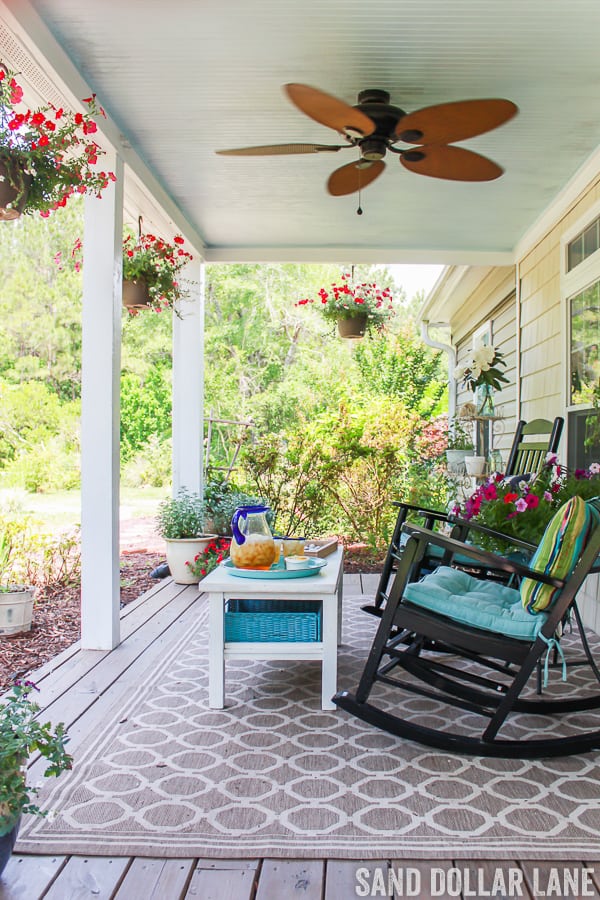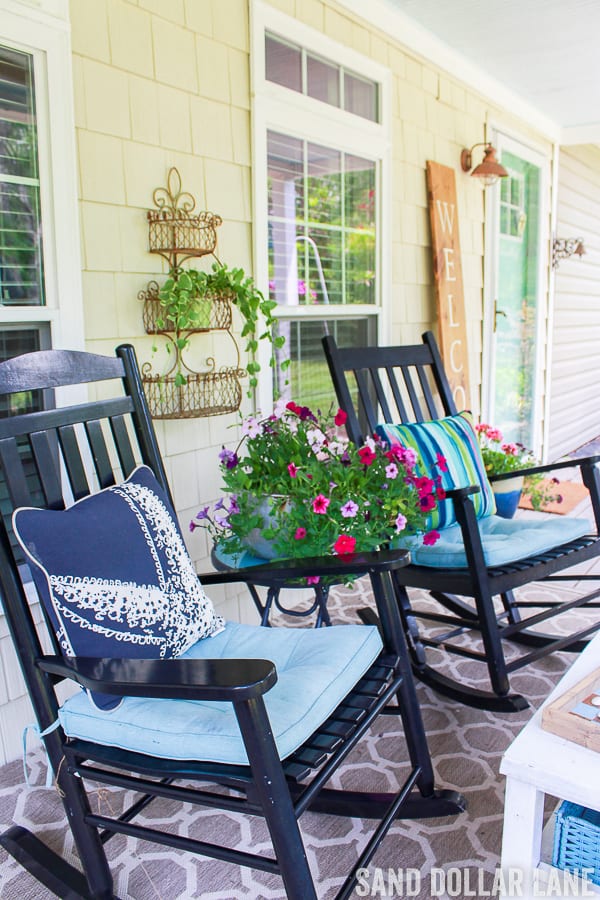 If you stop by, chances are we are on the porch.  We read, play Legos, checkers (DIY checkerboard tutorial coming soon!), watch birds and just hang out there almost every evening.  We're blessed with great weather here so we can use the porch almost year round.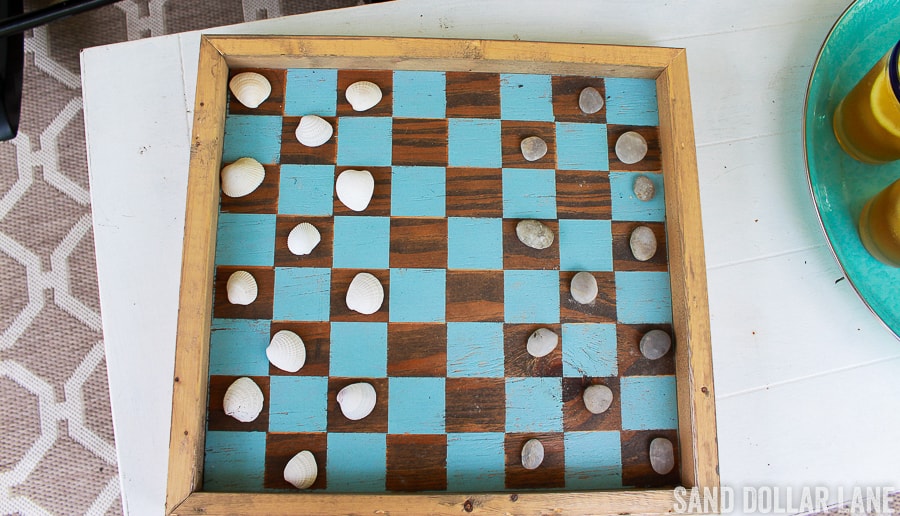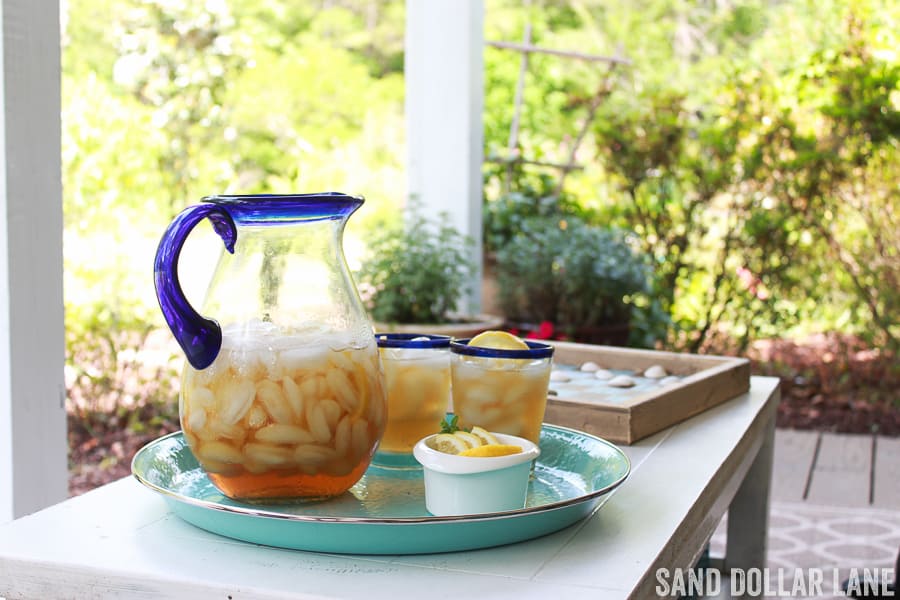 The ceiling fan makes summer evenings more comfortable.  Just a little breeze to cool you down and keep the mosquitoes away.  Add some sweet tea and it's perfect!  This tea shown is from my sister's tea shop The Little Tea Cart and it's de-lish!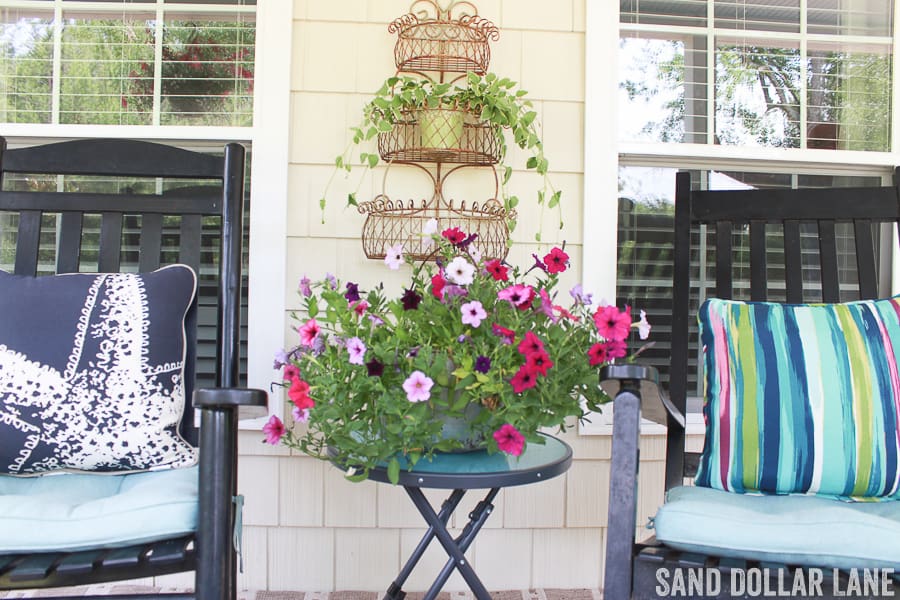 I absolutely adore our door bell!  It's so unexpected, pretty and so farmhouse-y!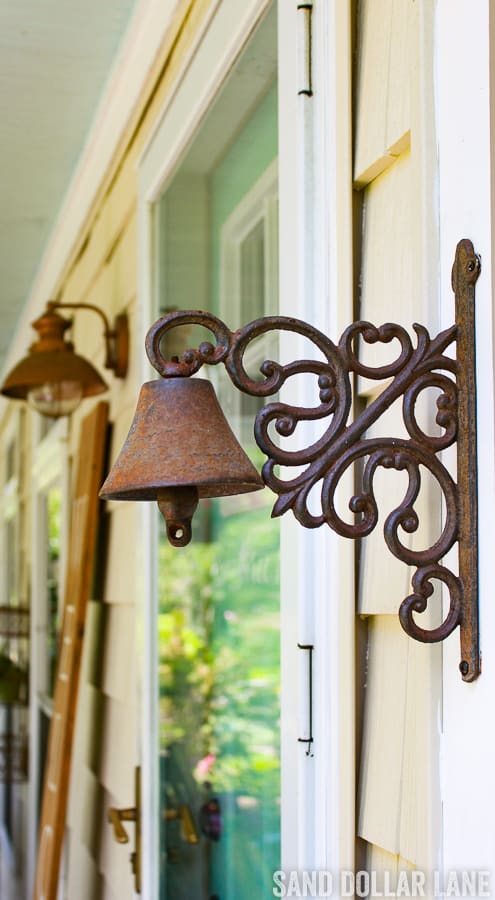 No coastal farmhouse would be complete without flowers!  I have so many that I love.  Magnolias may be my very favorite. For now anyway.  James loves to tell people that my favorite flower is whatever is blooming now 🙂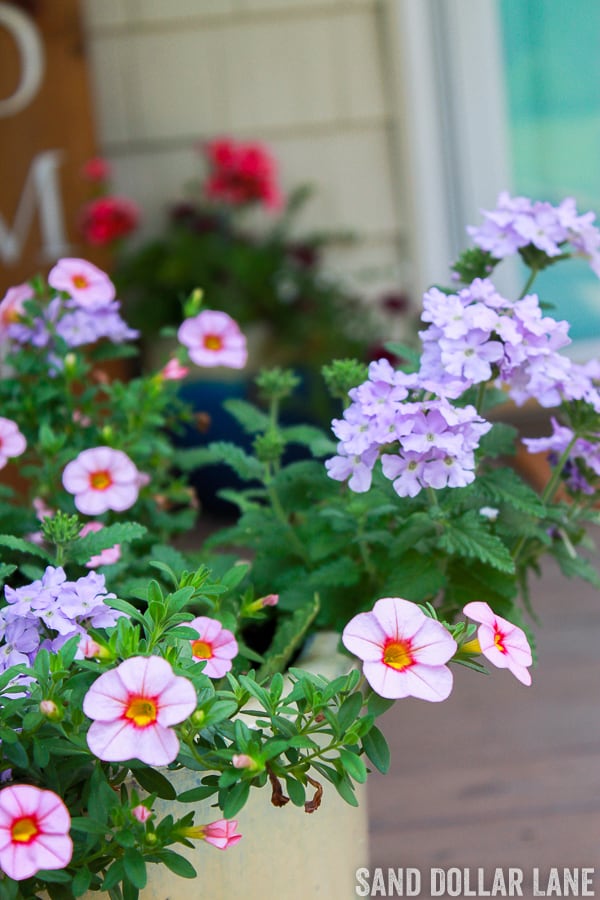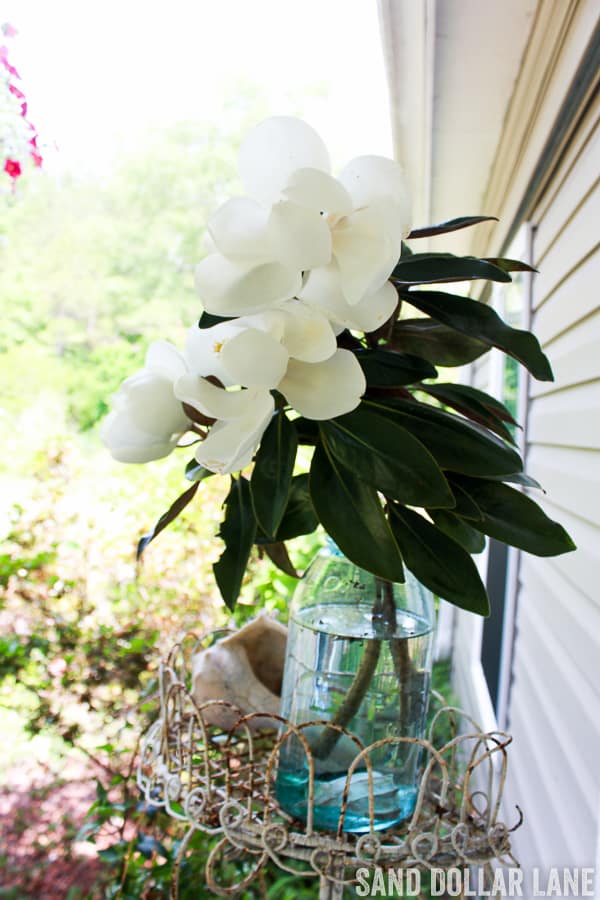 Step inside and I'll show you around the house.  This door leads directly into the living room.  We love how bright and open this space is.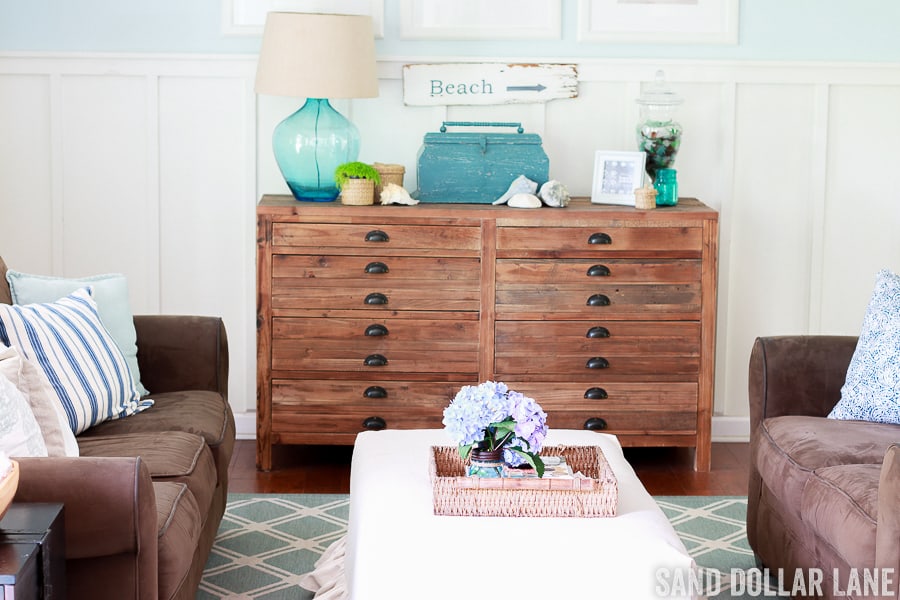 The drawers in this printers chest help control the summer clutter (and we have a LOT of clutter in the summer time)!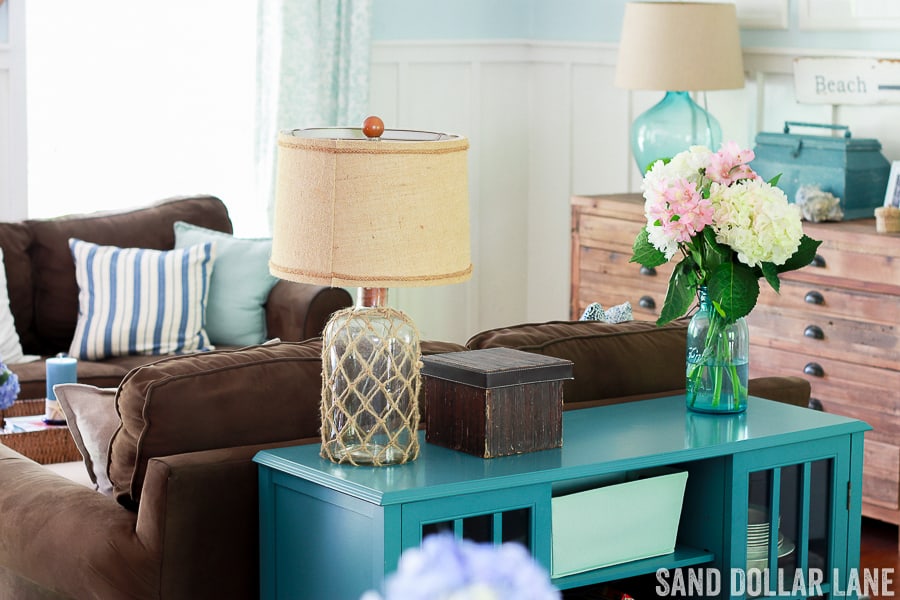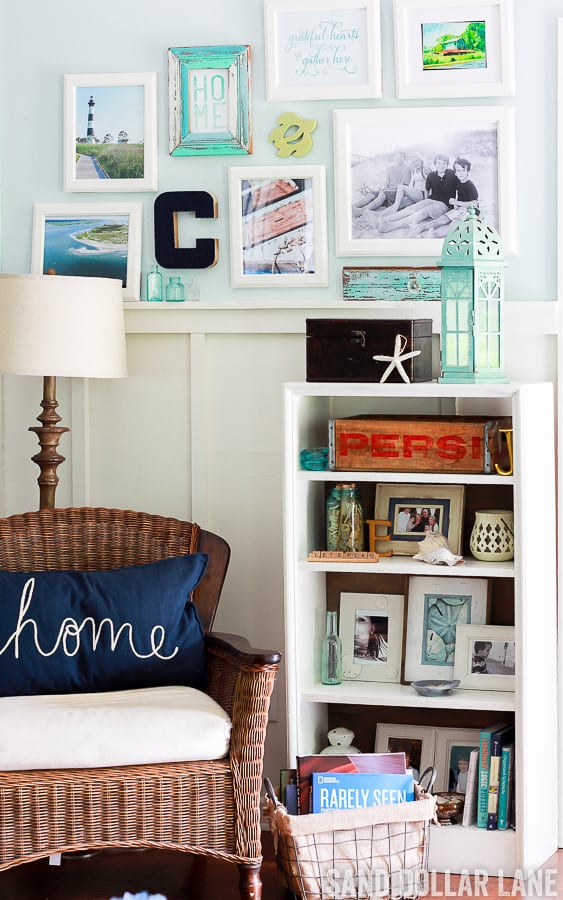 We removed the television that we rarely watched and put this little reading nook in it's place.  It's already been used more than the television was!  I found some great coffee table style books that can keep my guys occupied for hours.  They really enjoy Rarely Seen- Photographs of the Extraordinary.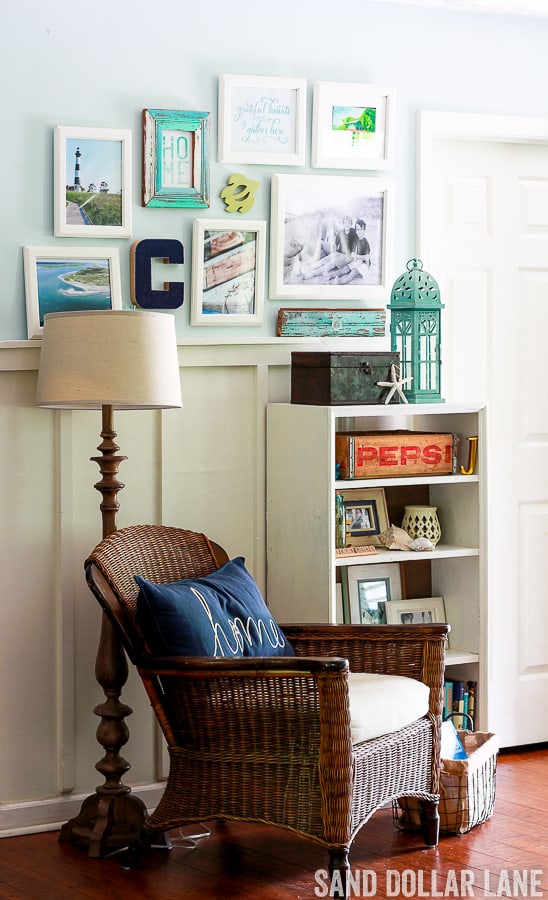 We limit video games so we wanted the boys to be able to find fun things to keep them occupied.  I created little fun stashes all over the house.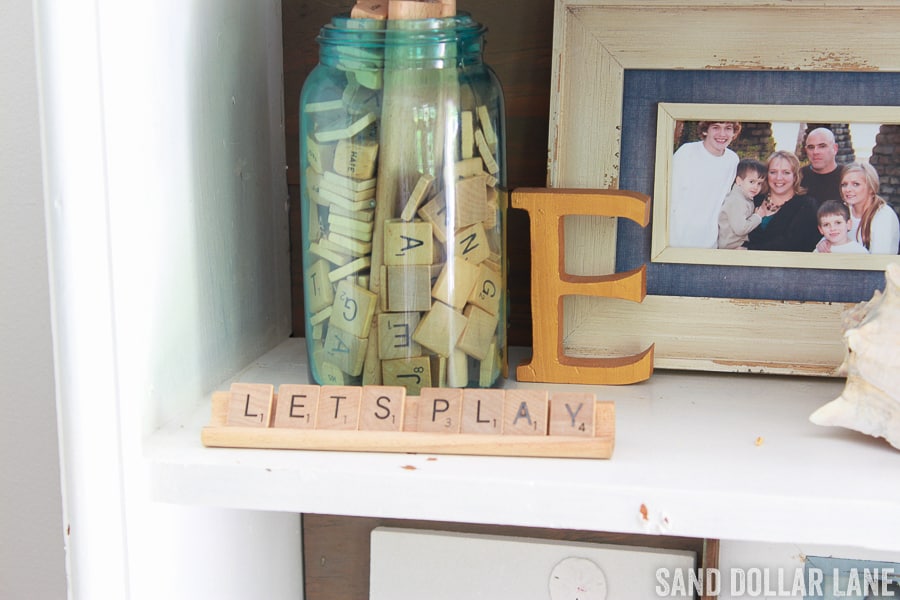 See the card games in the antique tool box?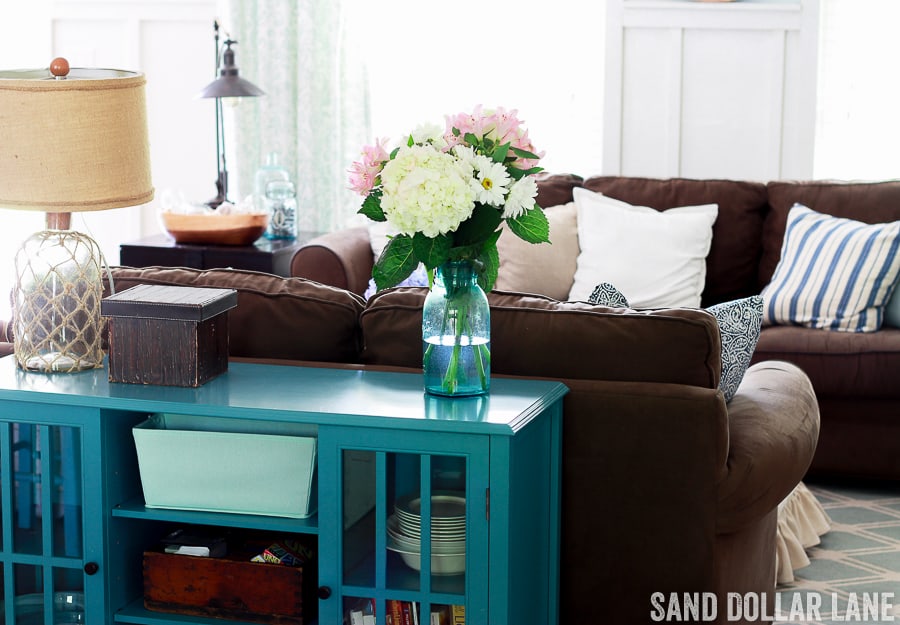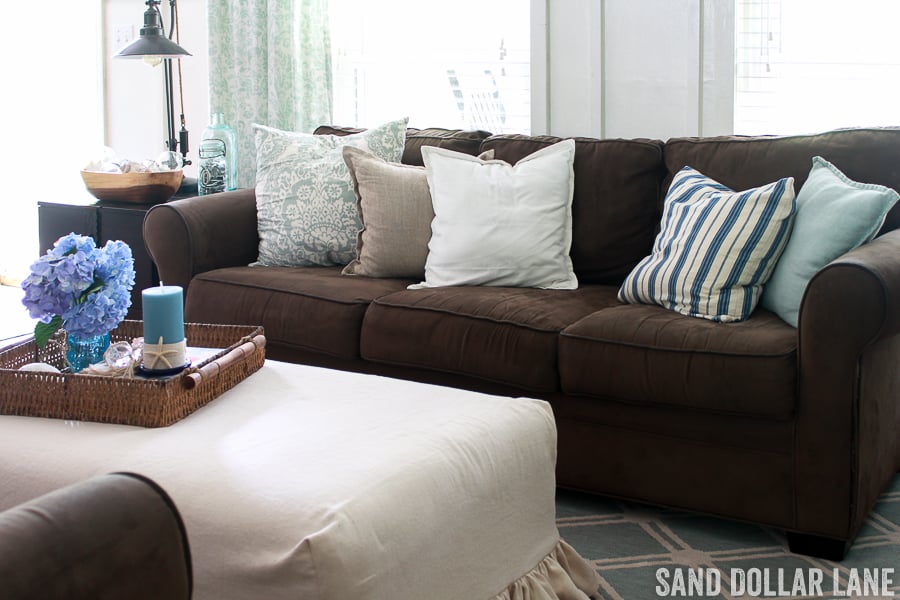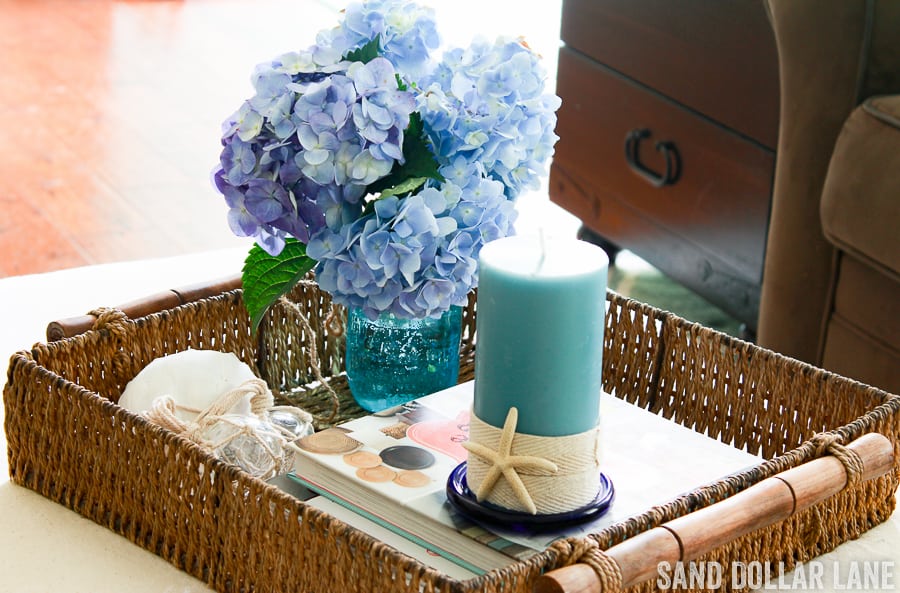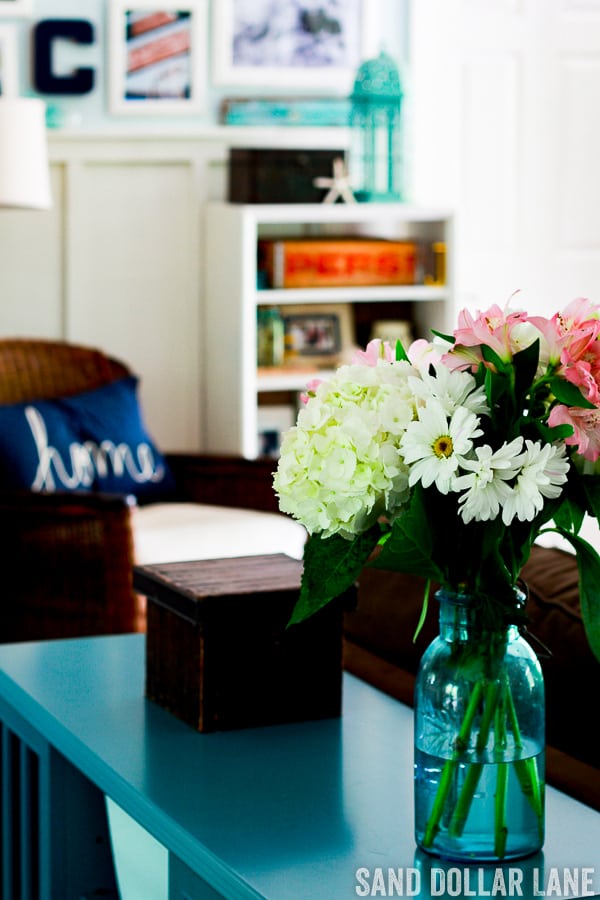 Blues, teals, whites and tans are our go-to colors.  They just say coastal farmhouse to me!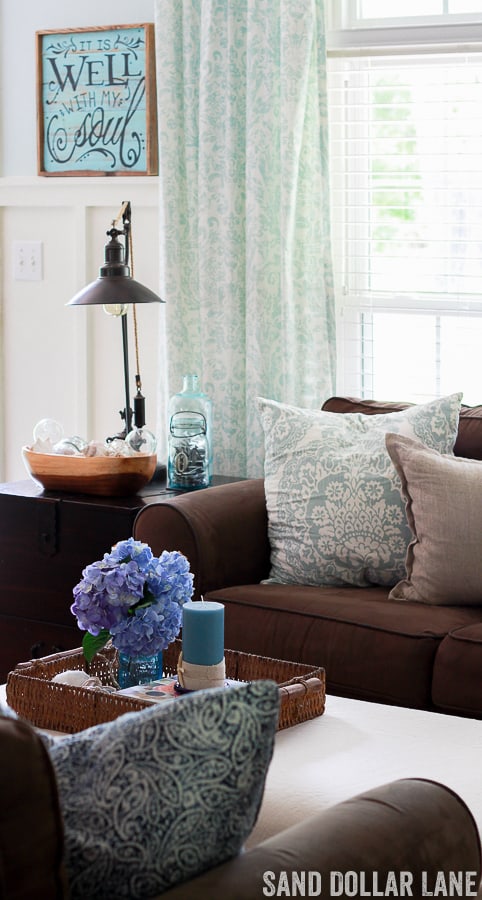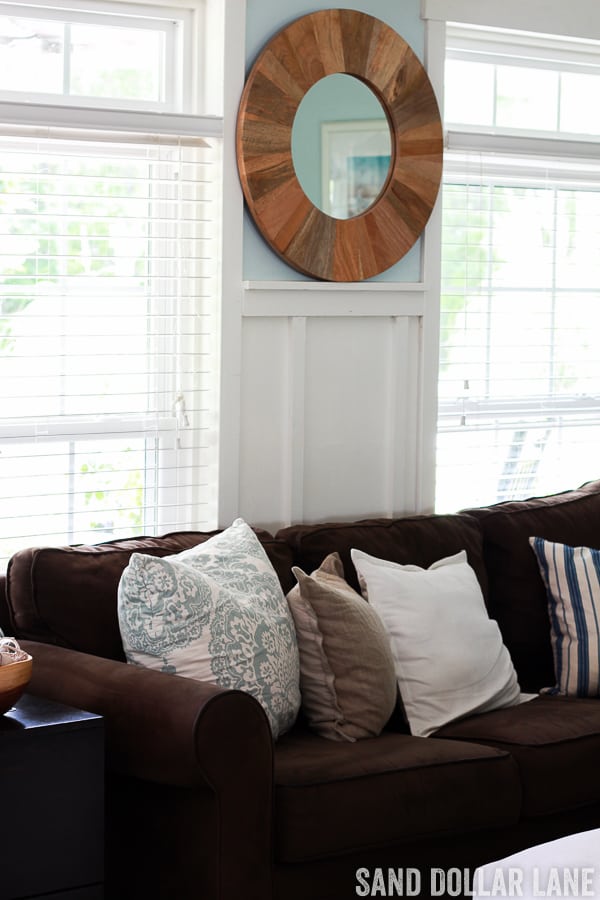 My sweet friend Kathleen made this cute ottoman cover.  I love that we were able to reuse our old leather ottoman.  I really love that it's washable.  Washable is essential in a house that seems to attract sand.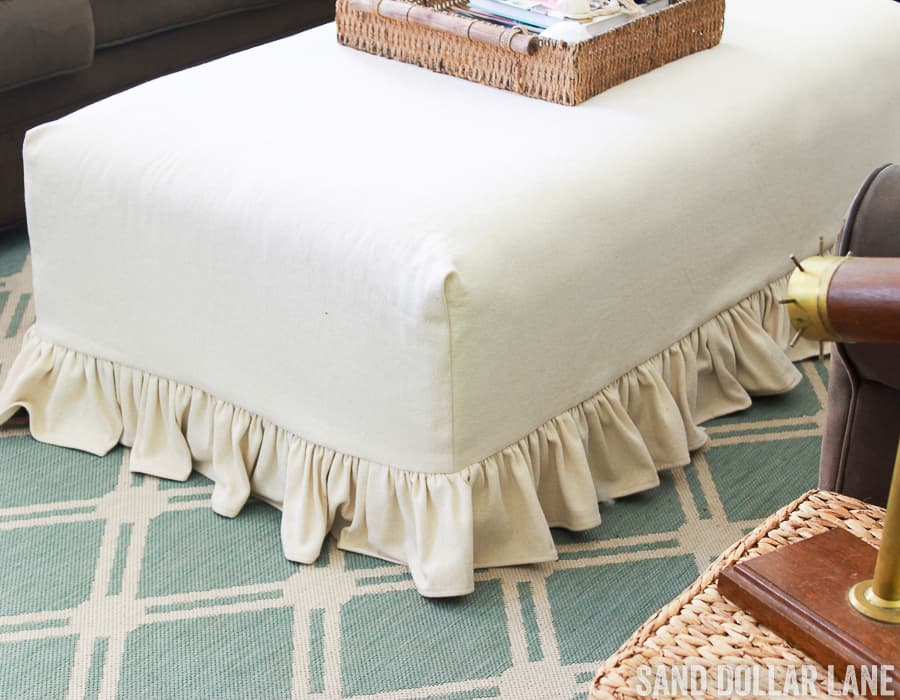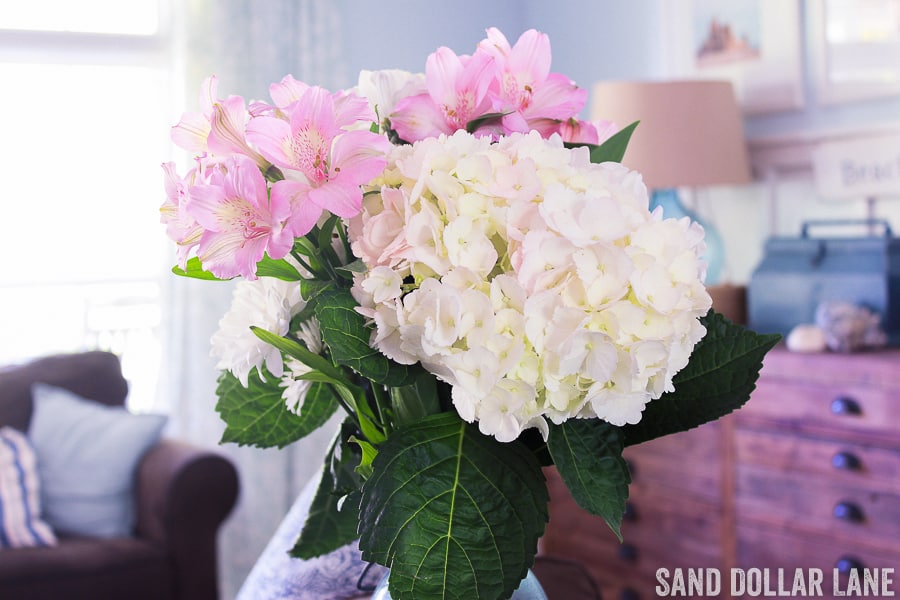 Remember what I told you about the flowers?  I truly love them 🙂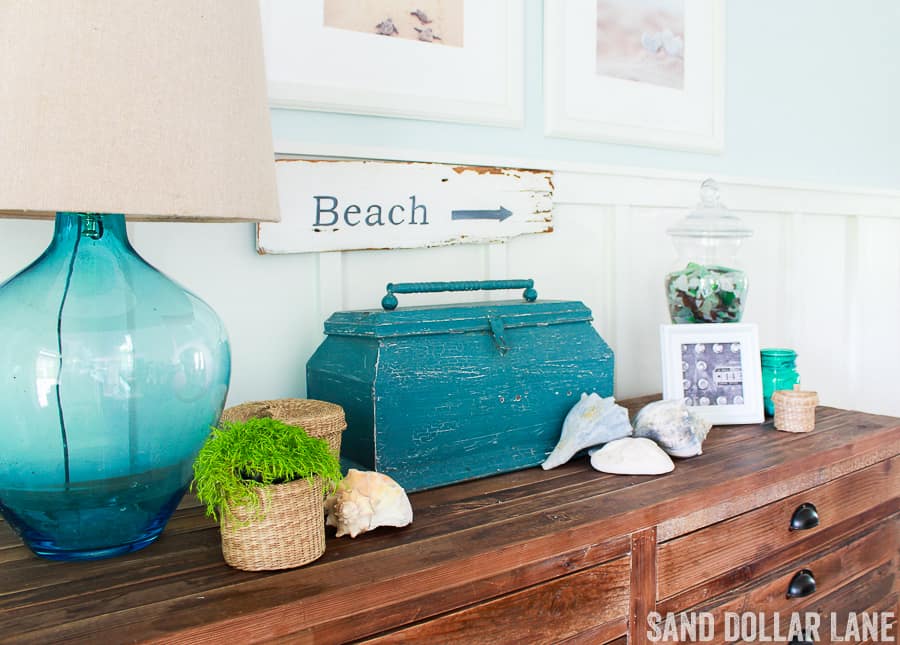 Collections of found beach glass and seashells are a great way to add coastal style to your home.  You could add them to your summer decor or leave them out year round like we do.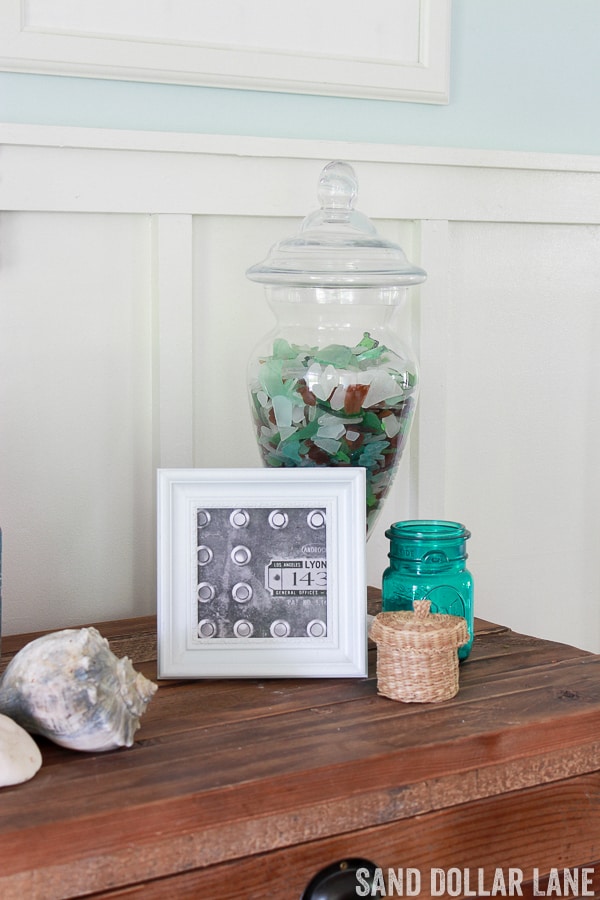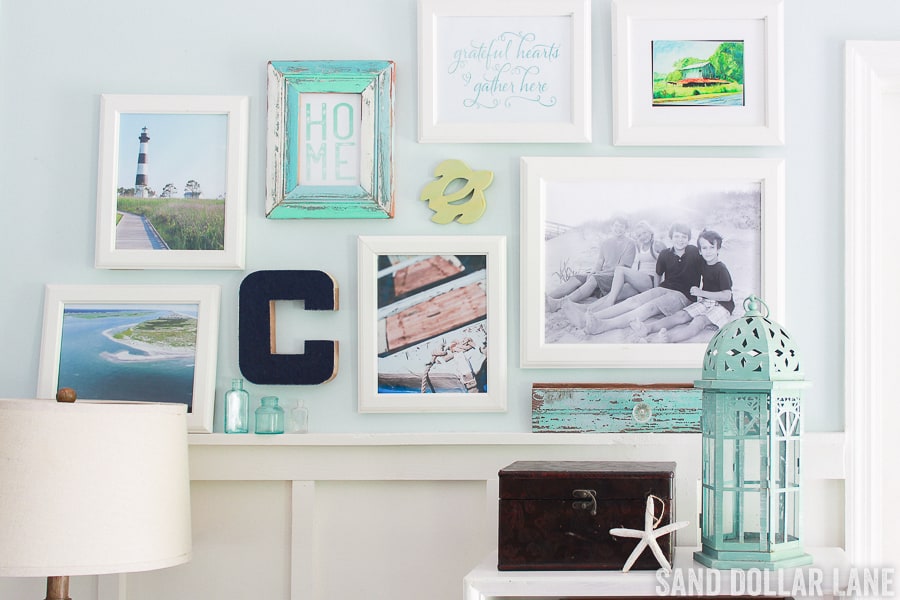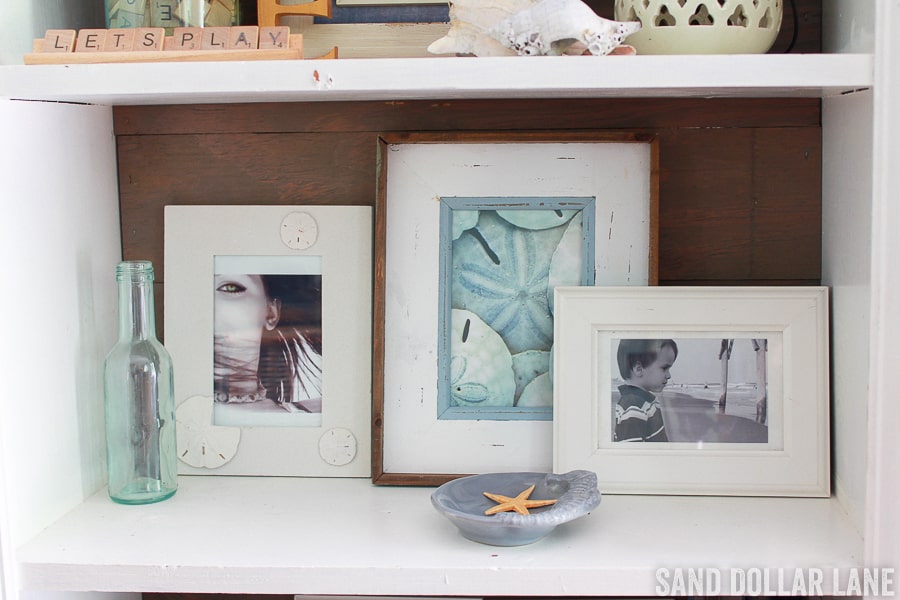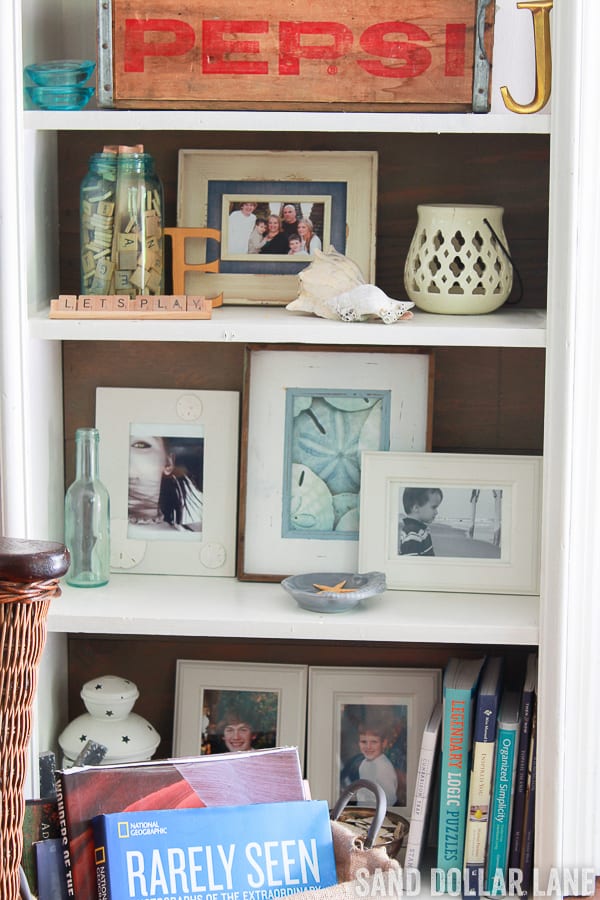 Directly across from the living room is our dining room.  It's actually one large open space that includes our kitchen as well.
We're more likely to snack healthy if we have fresh fruit and drink lemon water out where we can see them.  In the morning, I fill the dispenser with water, add some lemon slices and ice and leave it on the counter or buffet all day.  It's usually gone by dinner time.  The dispenser makes drinking water fun and fancy 🙂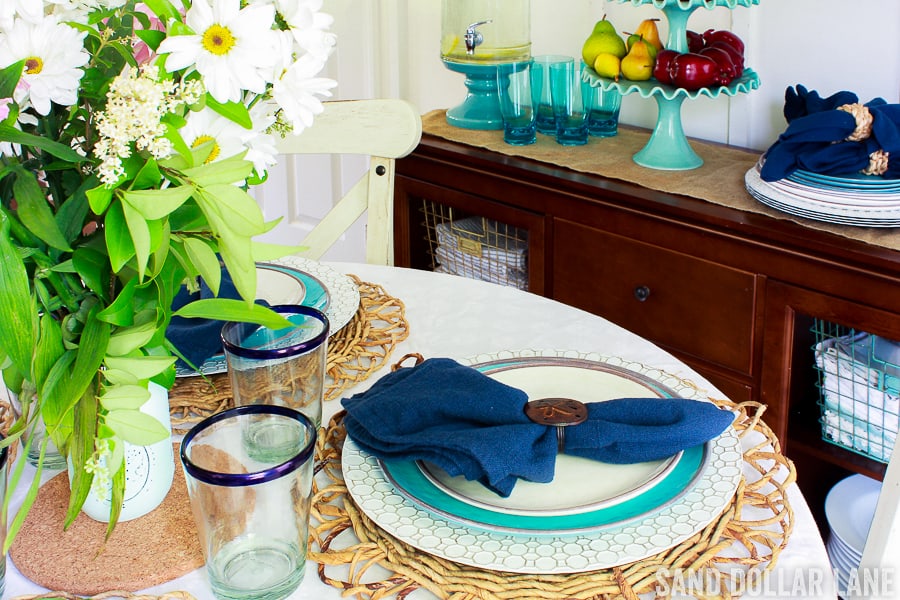 We often will grab our plates and eat dinner in the back yard so these Pottery Barn melamine plates are perfect.  No worrying about them breaking.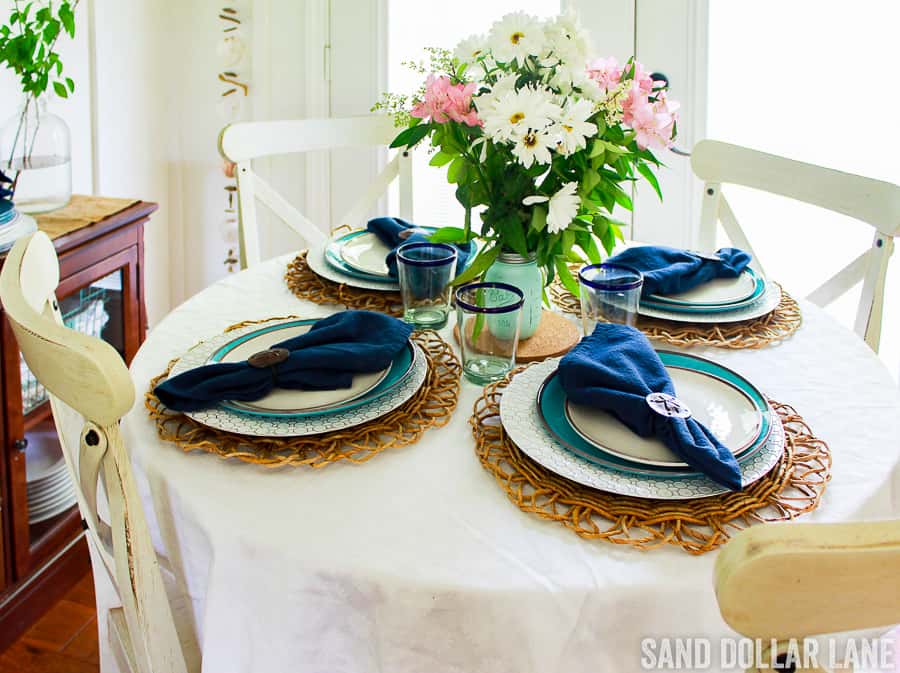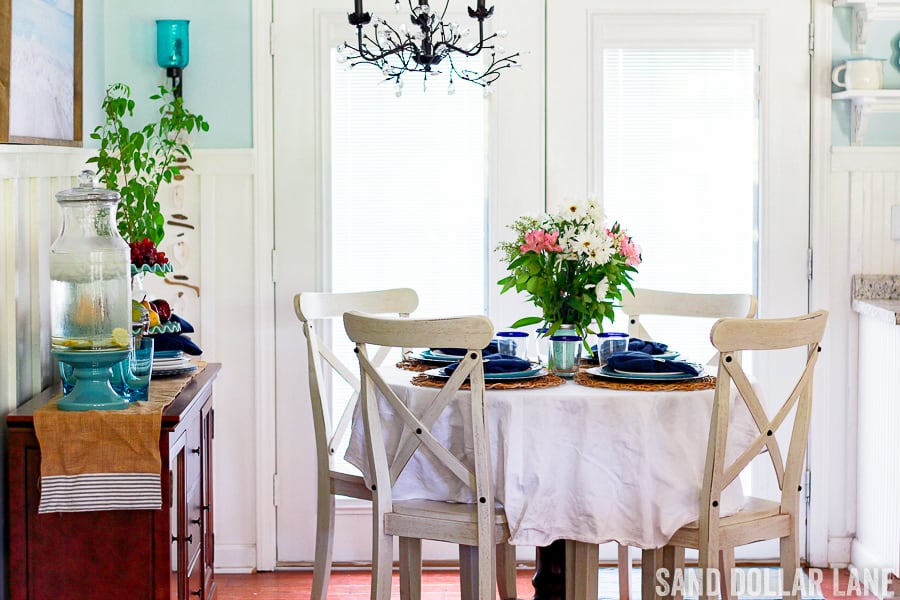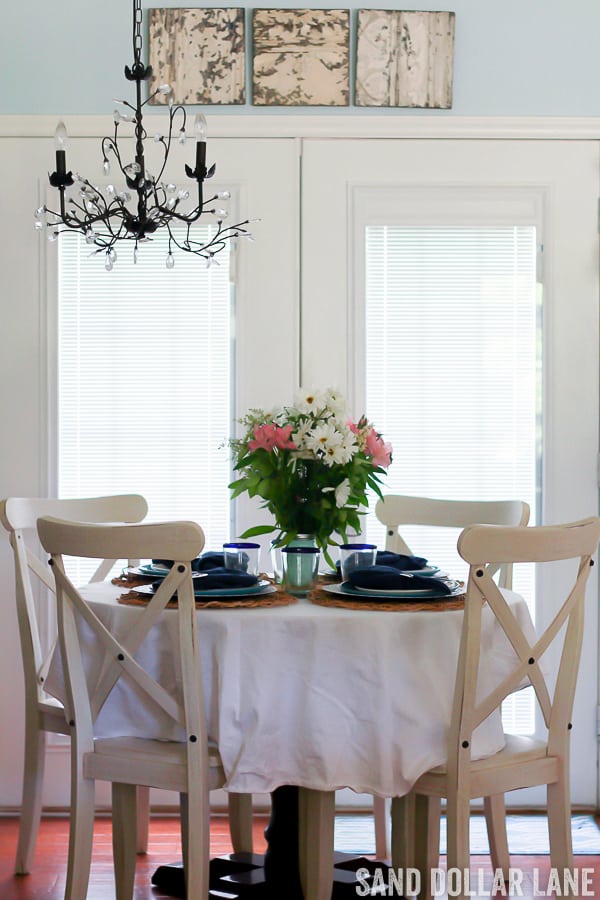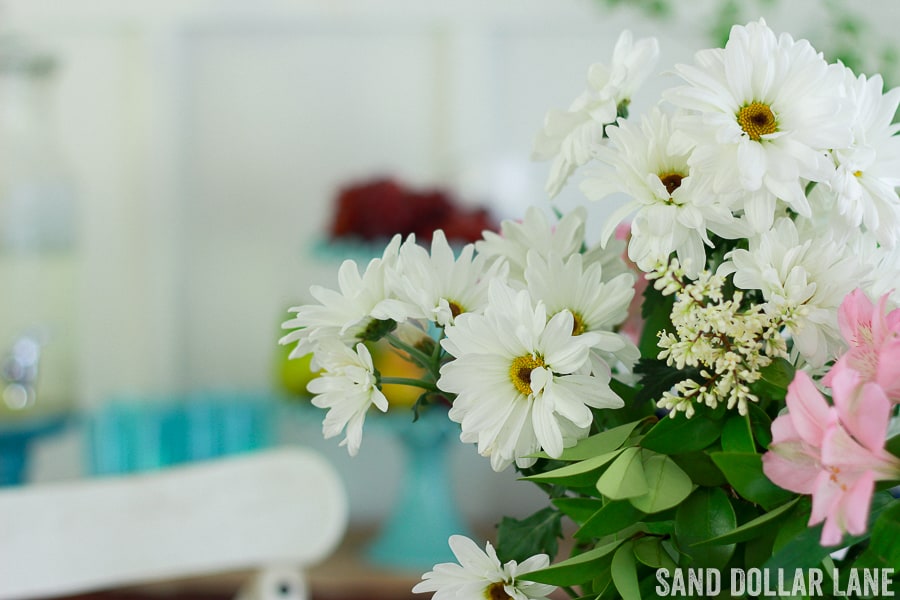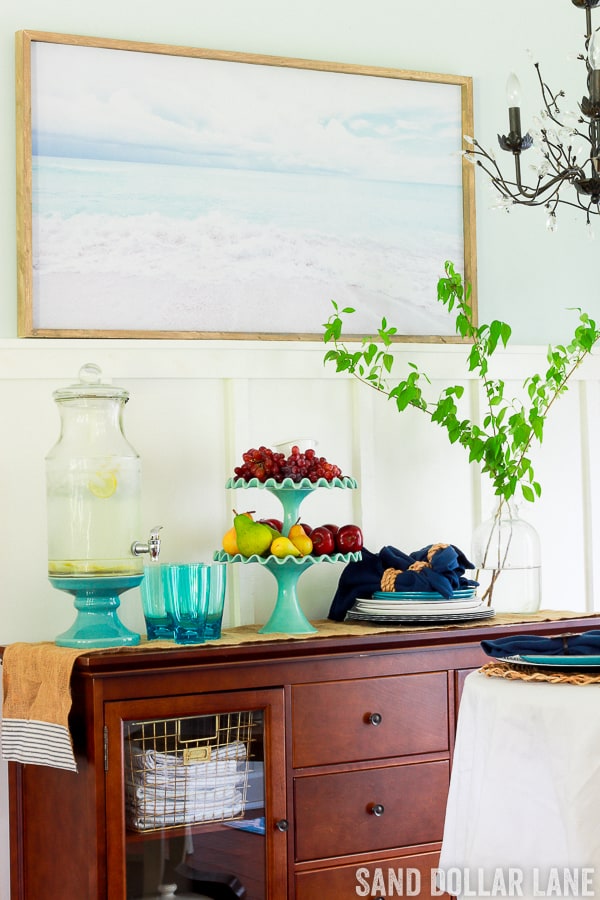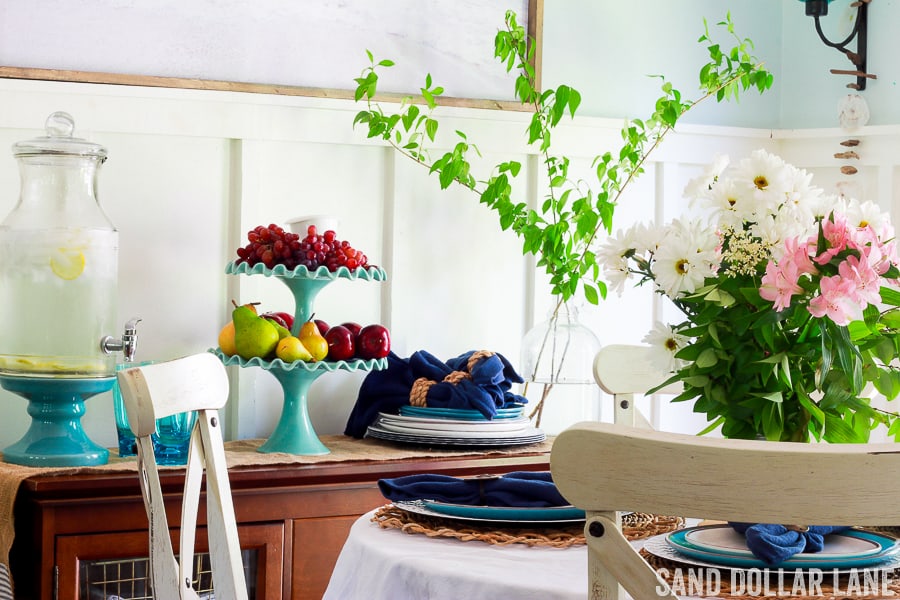 Next to the dining room is the final stop for today, our kitchen.  There are only a few small touches we add for Summer.
Flowers (of course)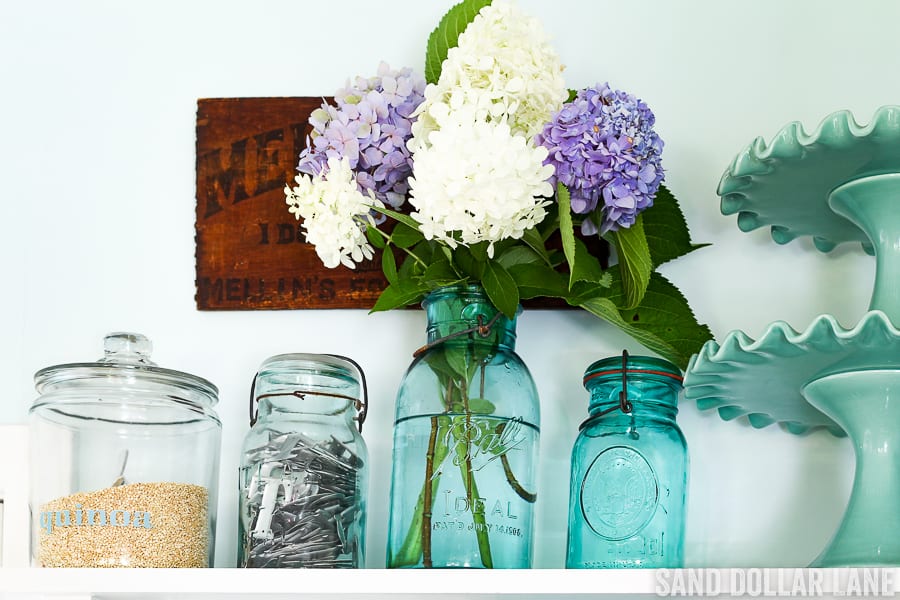 and our Pottery Barn napkins are back as curtains.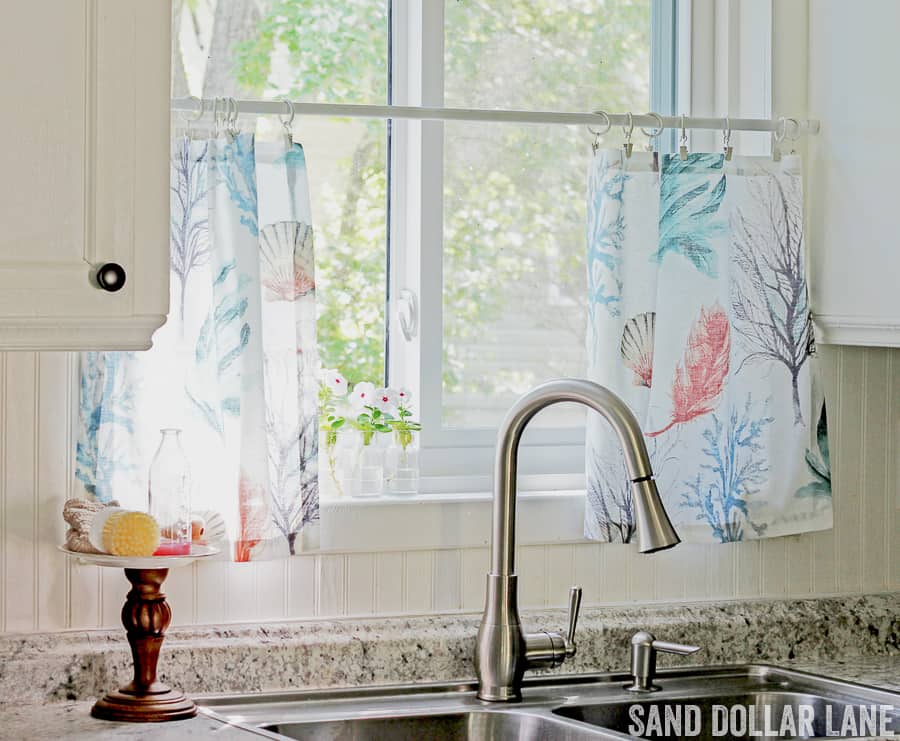 You can see more details about our recent kitchen remodel here.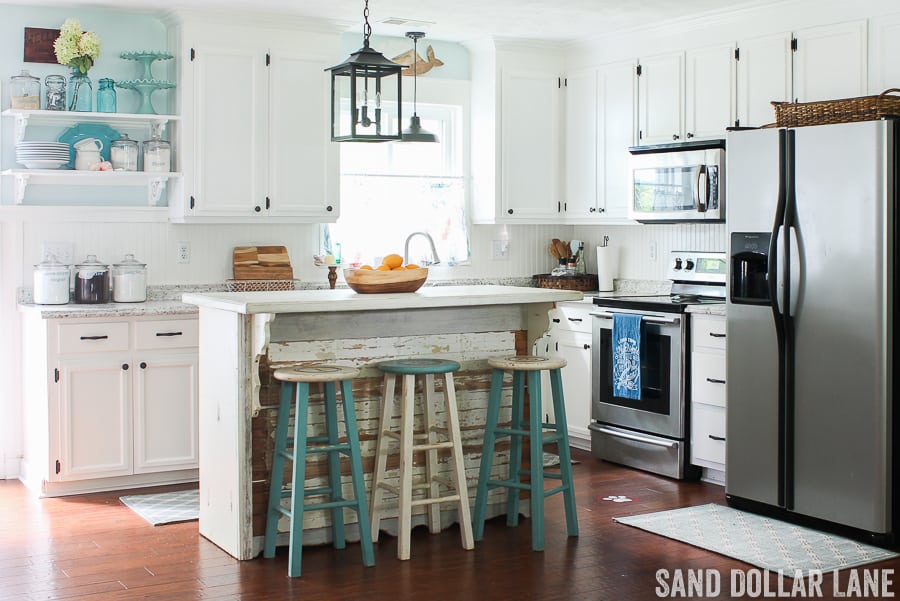 We hope you enjoyed our Summer Home Tour.  Be sure to check out the other amazing homes in the tour!