I am so excited to share our Coastal Farmhouse Kitchen Remodel with you!
I've been dreaming of a pretty coastal style farmhouse kitchen for so long. When we purchased our little cottage by the sea almost 11 years ago, it was a fixer upper to say the least.  The kitchen was the worst part; it was horrendous!  The cabinets were those 70's cabinets with orange-y wood with grooves on the doors.  Someone along the way decided to spice them up a bit by taking a black sharpee and coloring the grooves…seriously.  There was a huge greasy ceiling fan, stained white counter tops with gold specks in them (James called them Goldschlager counters) and a teeny little refrigerator that may have been older than me.  Oh, and a cowboy wall.  Yes, a cowboy wall complete with spindles and quarter round wagon wheel things in the corners (the cowboy wall was the first thing to get ripped out, I don't think it made it through our first day here).
We lived with the kitchen like that for a little while then did some budget friendly get-me-through projects like painting the counters and the cabinets and removing the fan.
Fast forward 10 years and our kitchen is finally the coastal style farmhouse kitchen of my dreams!
For your convenience, this post contains affiliate links.  See my full disclosure page here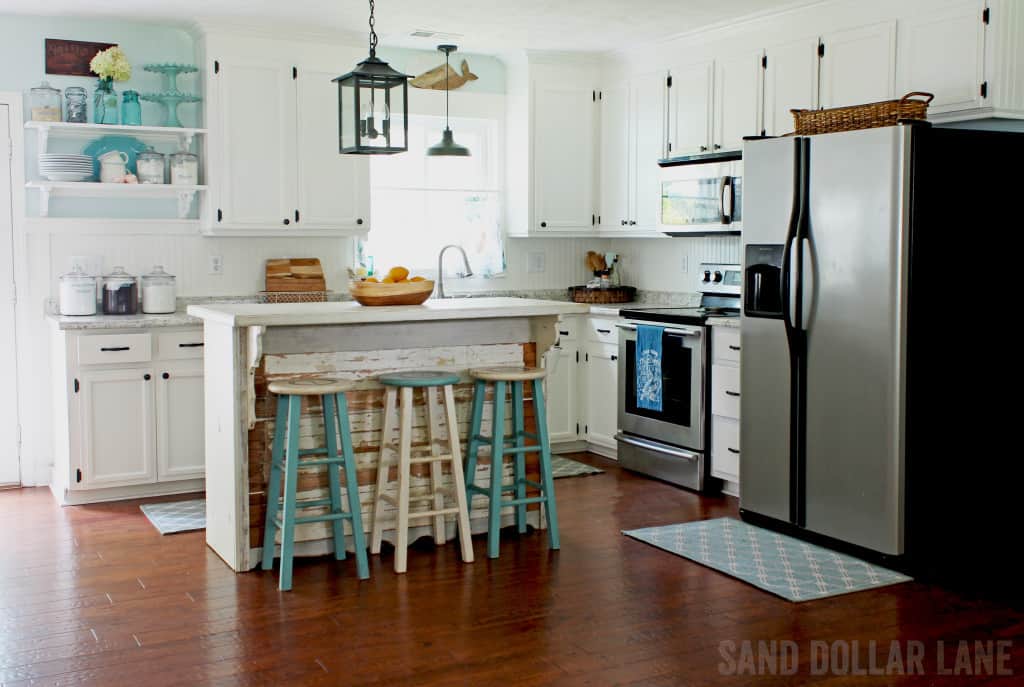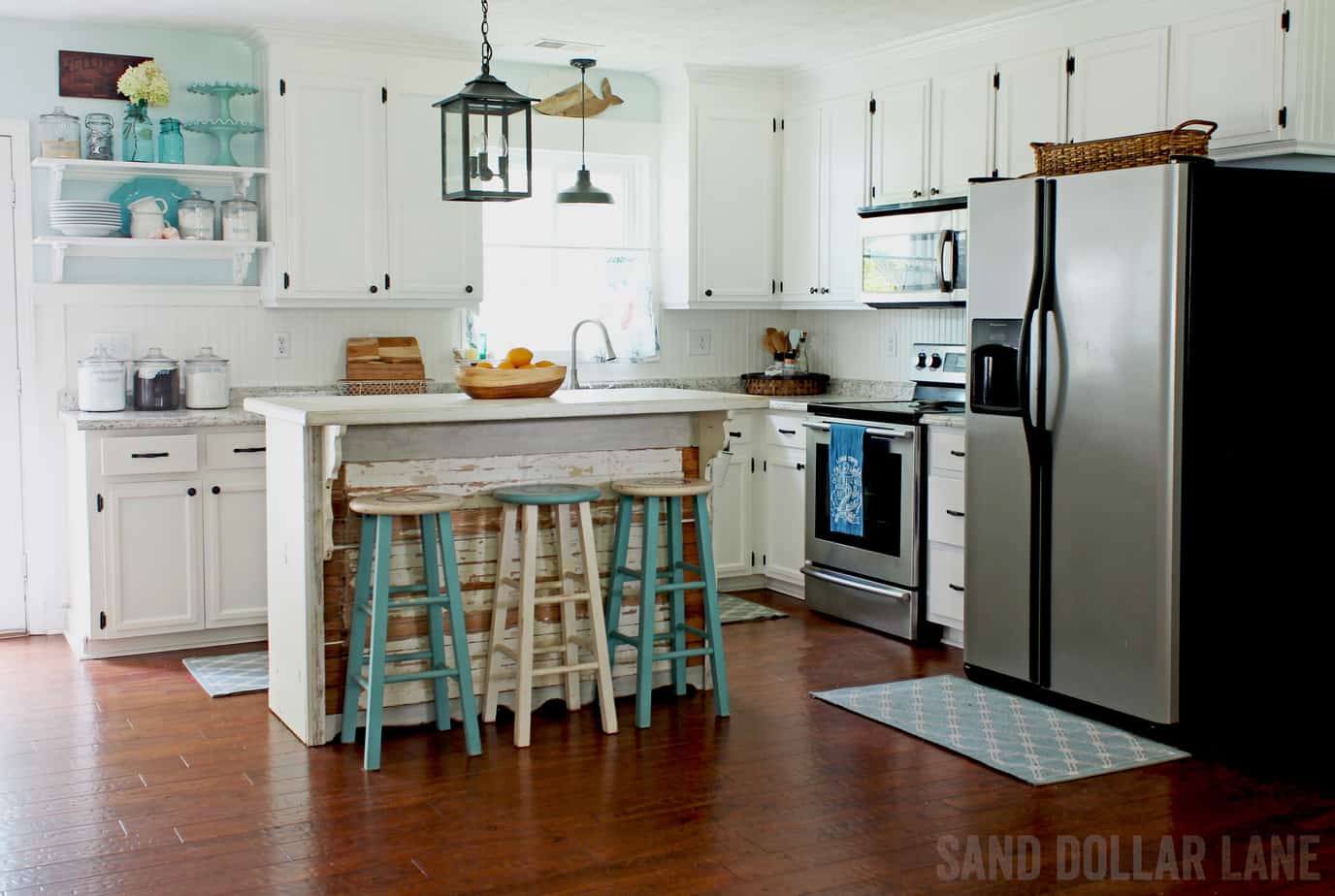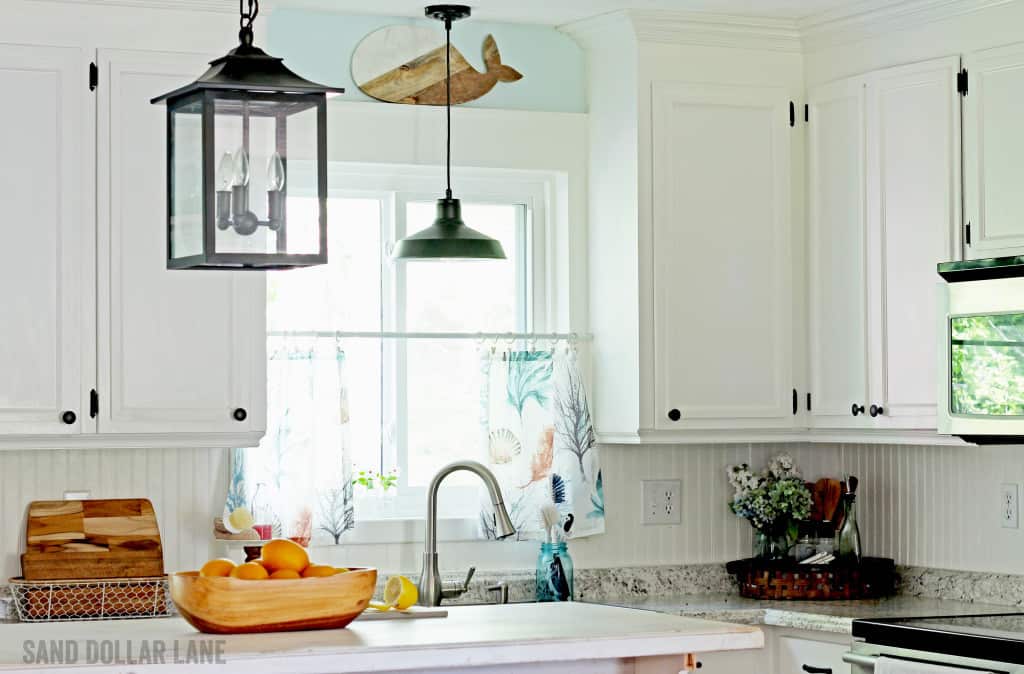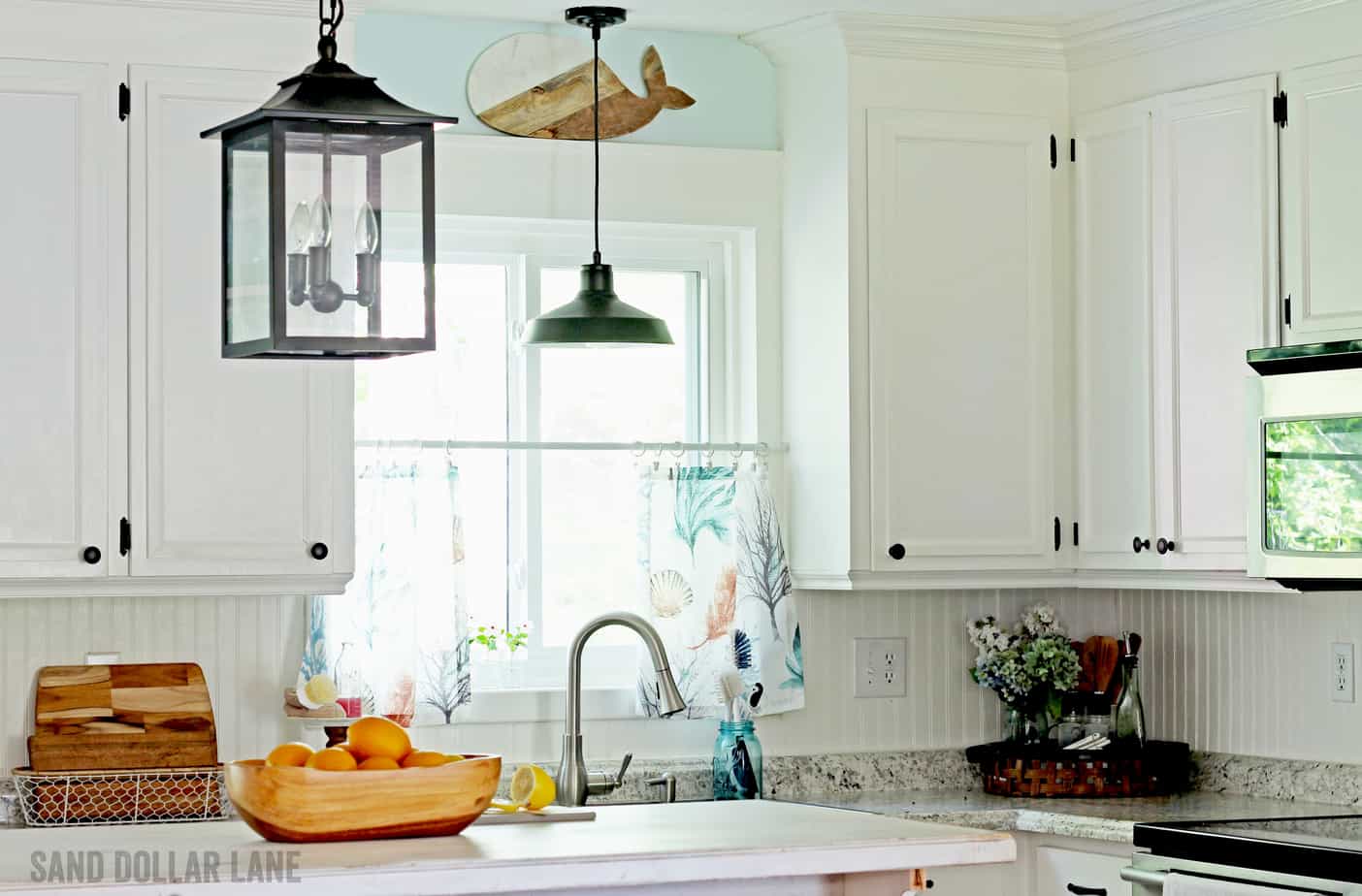 Much better, right?!  
Since we have board and batten around the living and dining areas we decided to continue that look (and save a bundle) by using white bead board for the back splash. 
I was worried it would be difficult to keep clean but so far so good.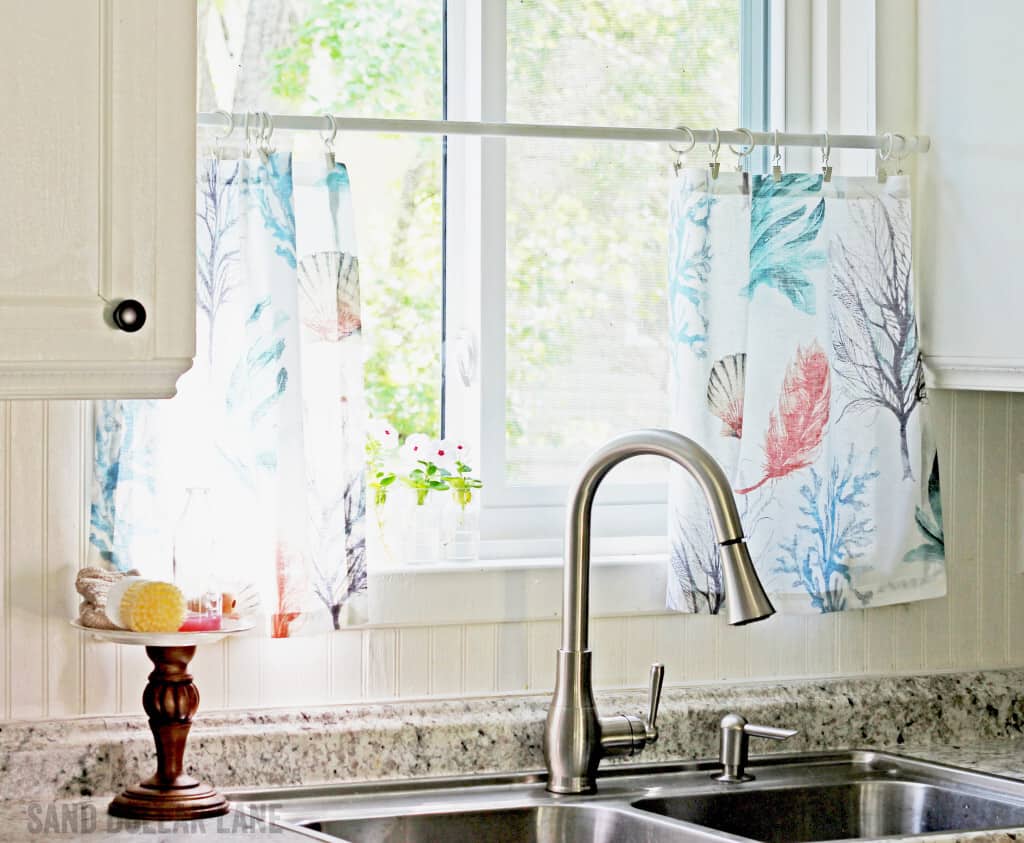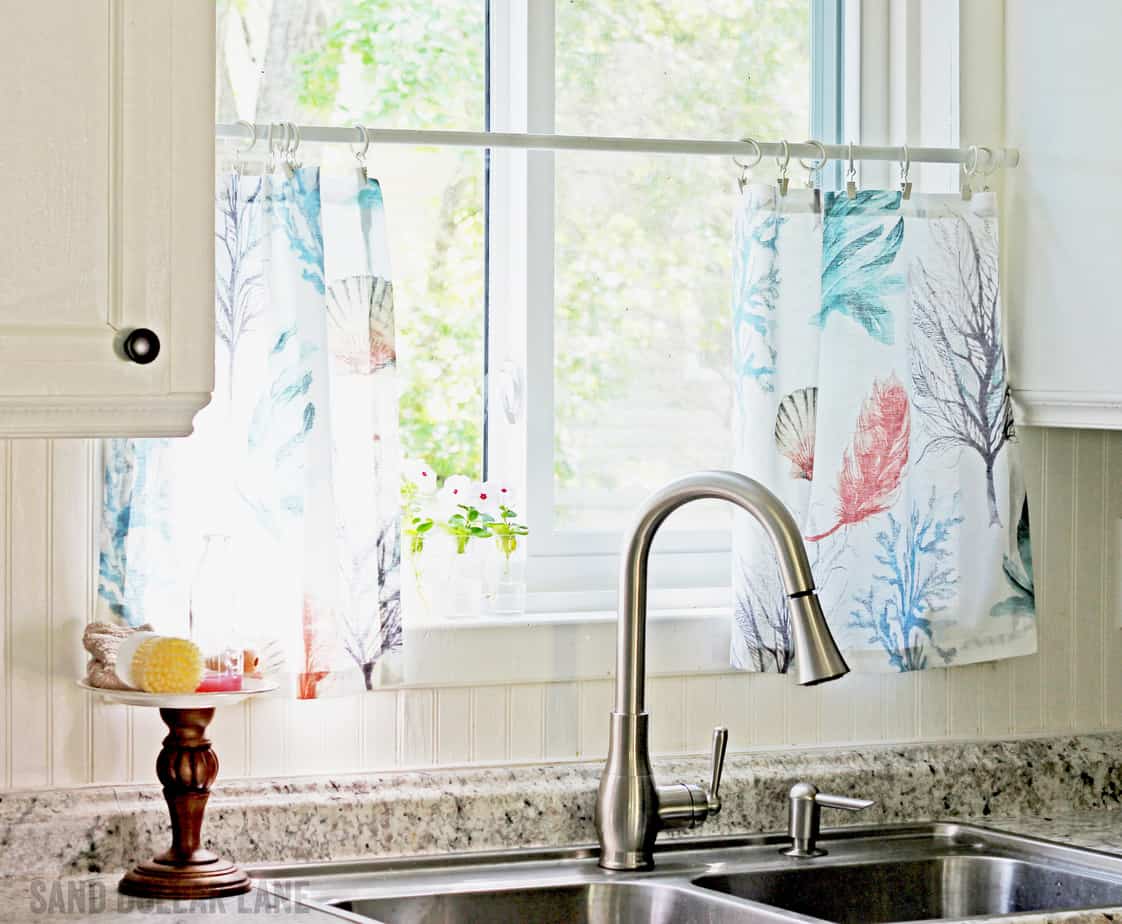 Right now we have cute coastal style Pottery Barn napkins as curtains.  We'll change them up when Fall comes.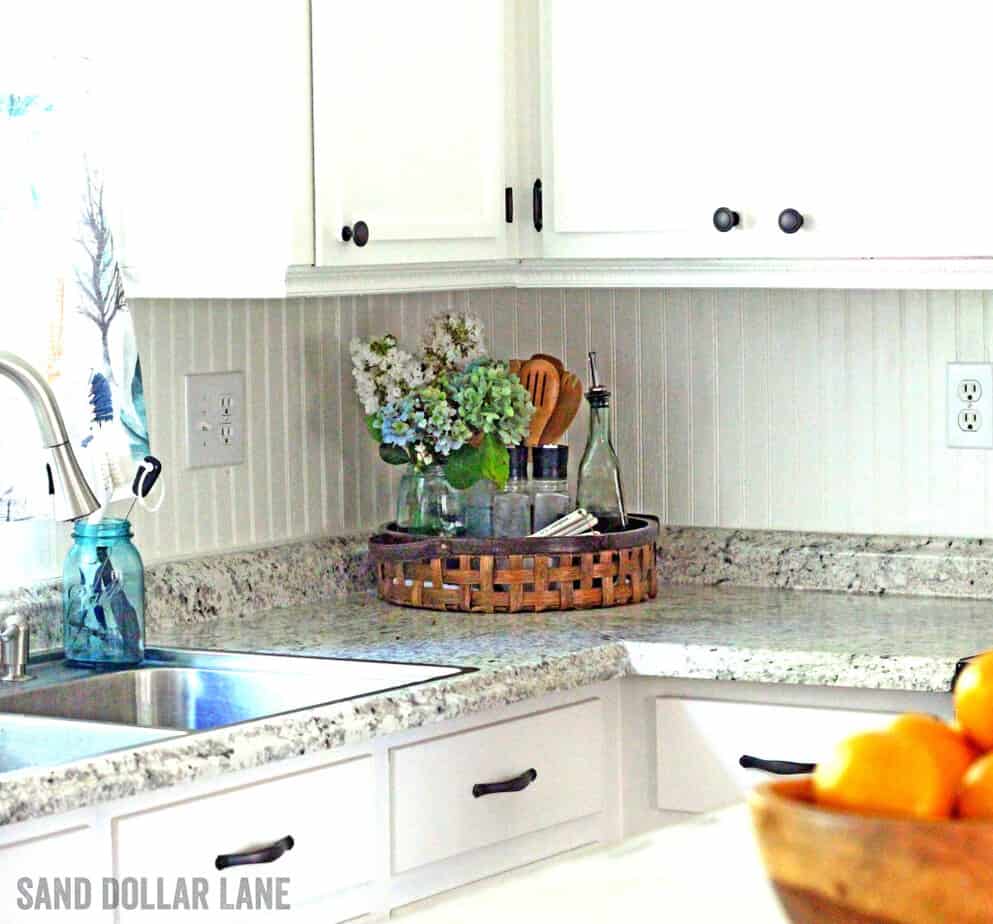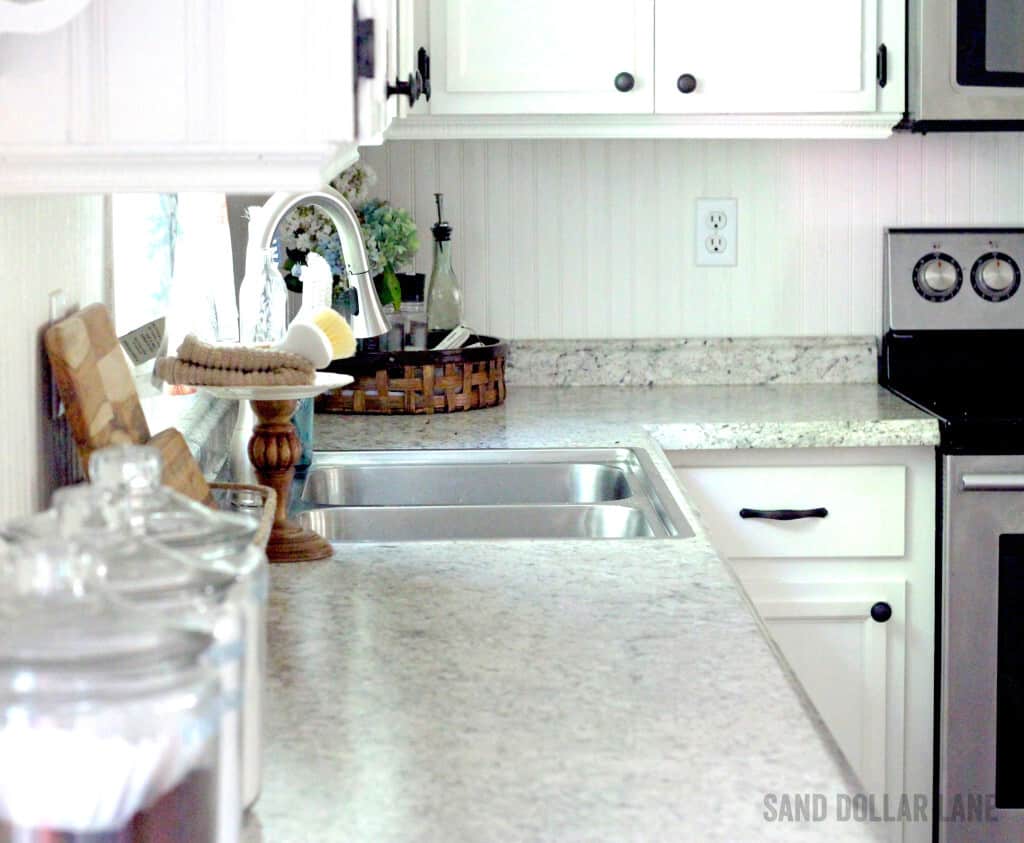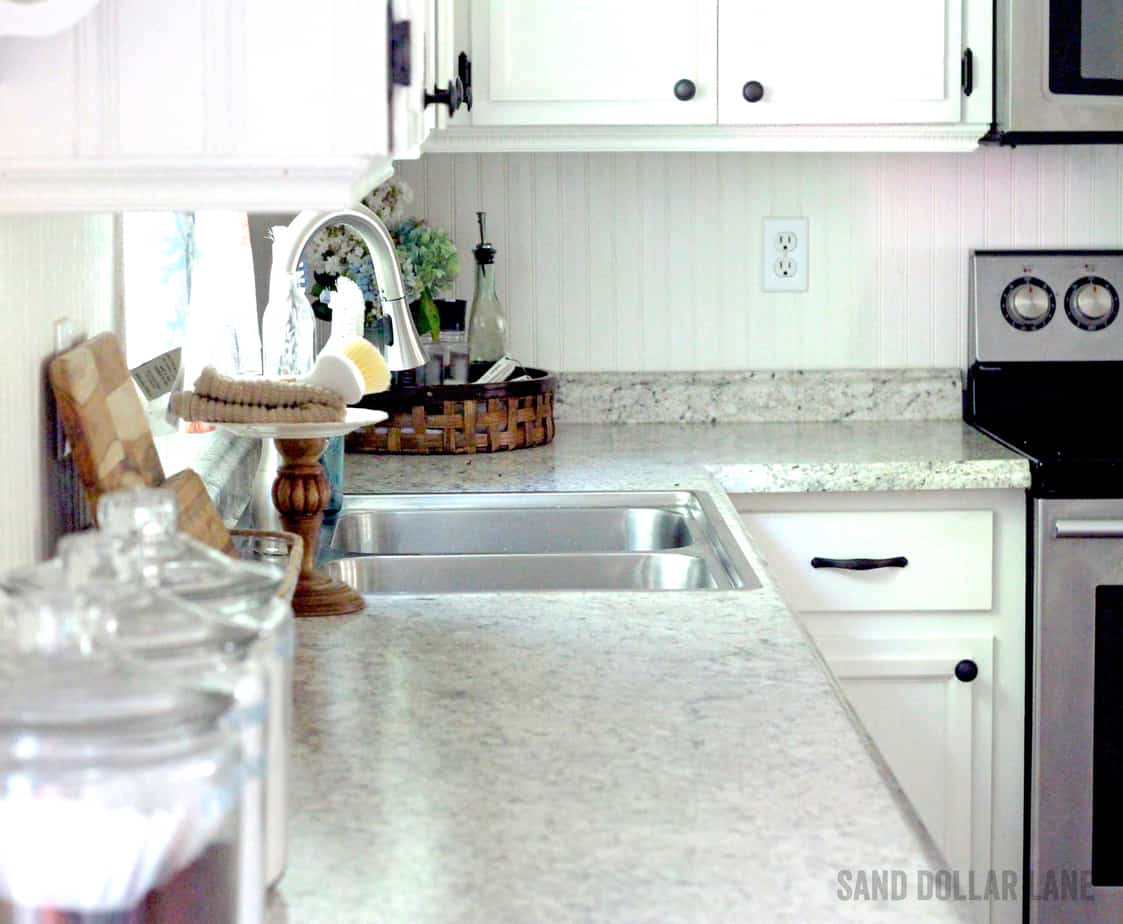 New counter tops, sink and faucet made a huge difference in brightening up the space.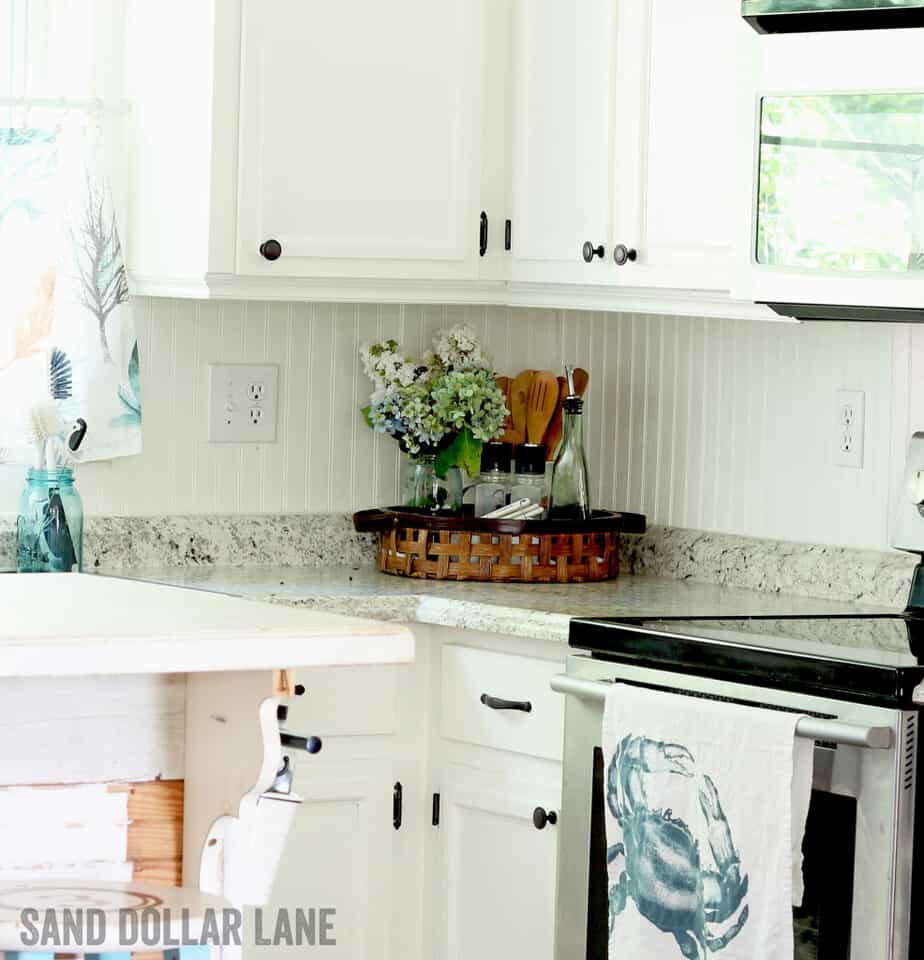 I love having this cute basket filled with the spices and tools I use most close at hand while I am cooking.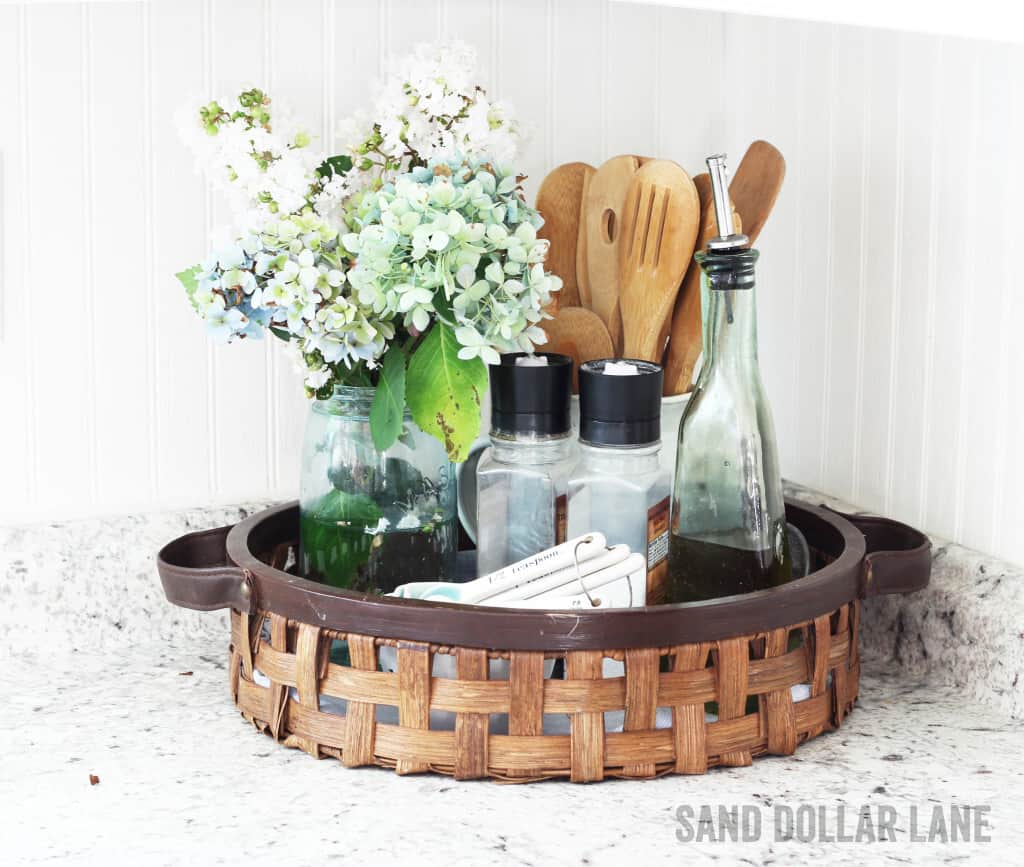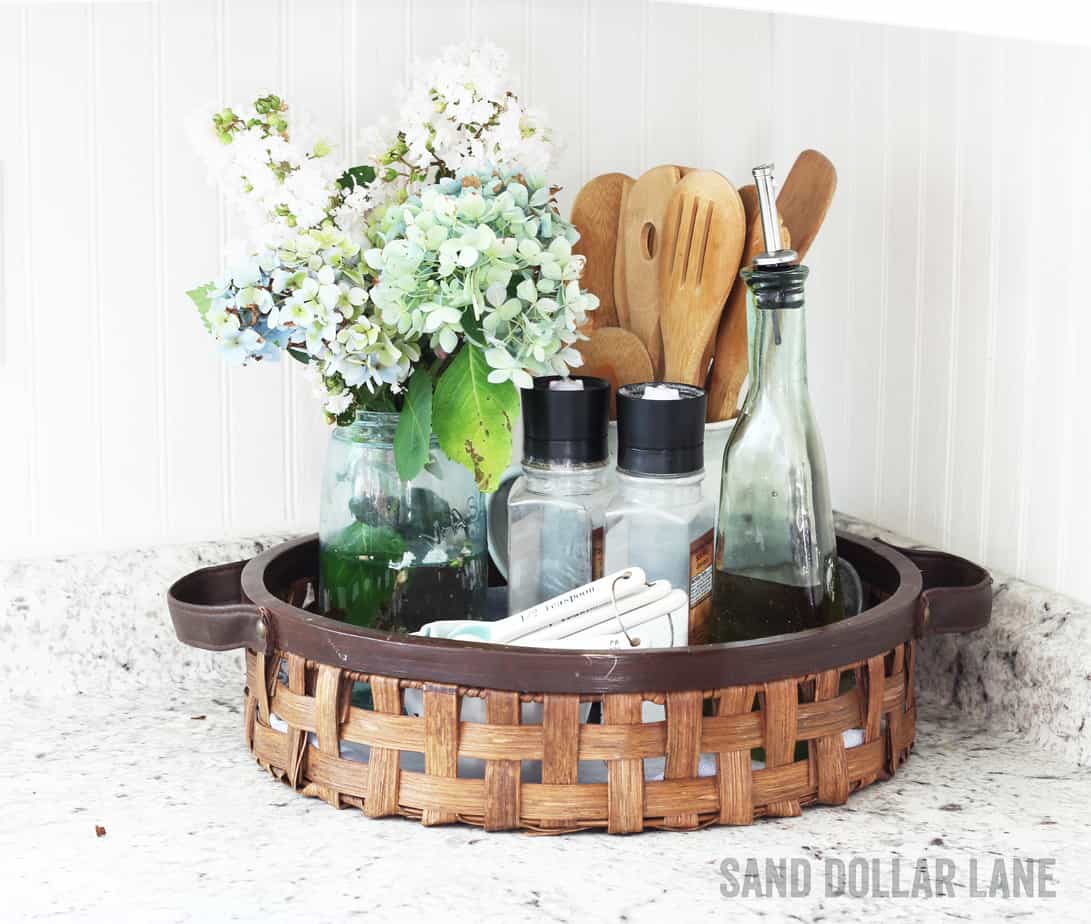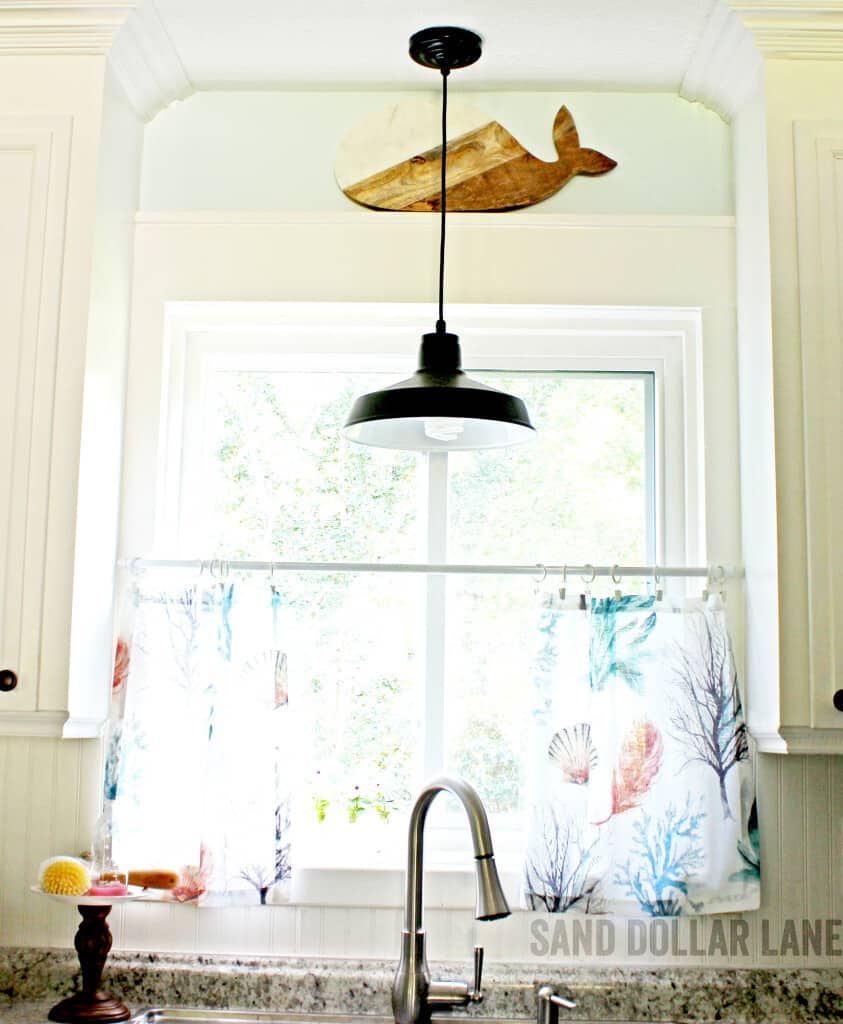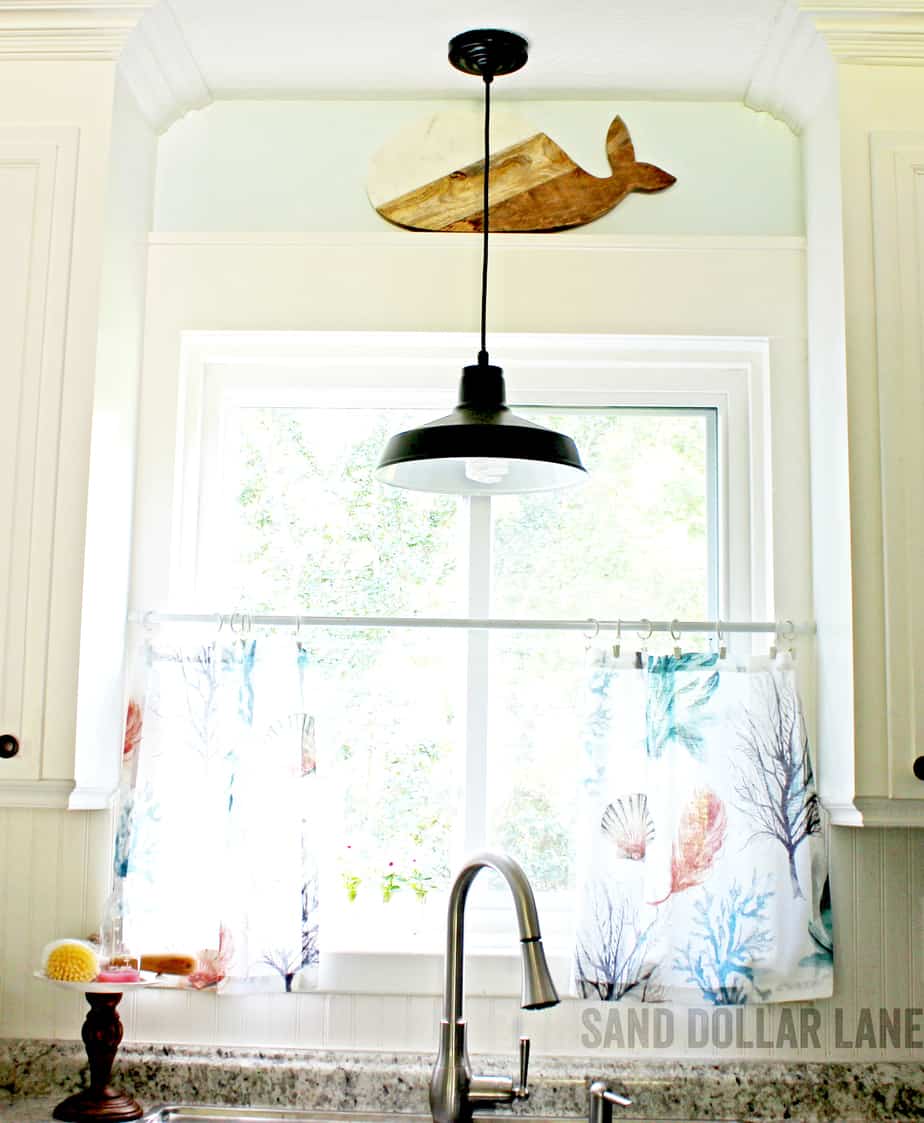 Since our dining area light is oil rubbed bronze we went with ORB for both kitchen lights as well.  Even though they aren't the same they coordinate well.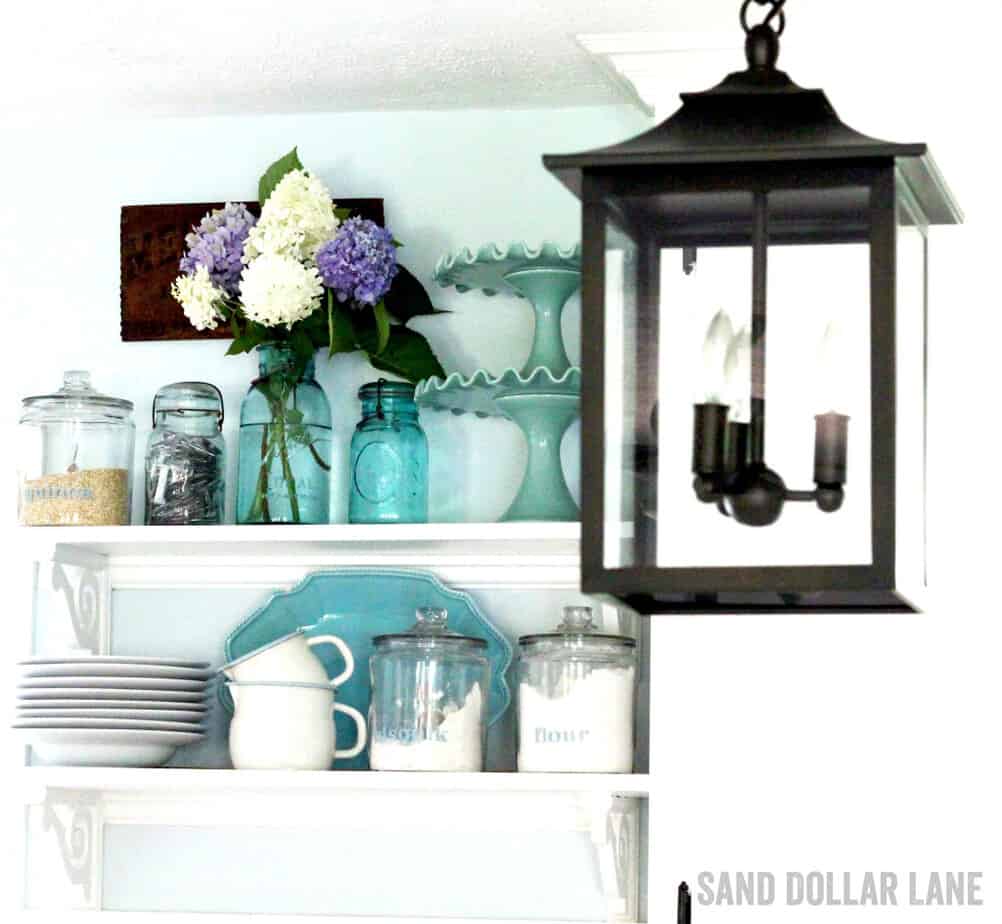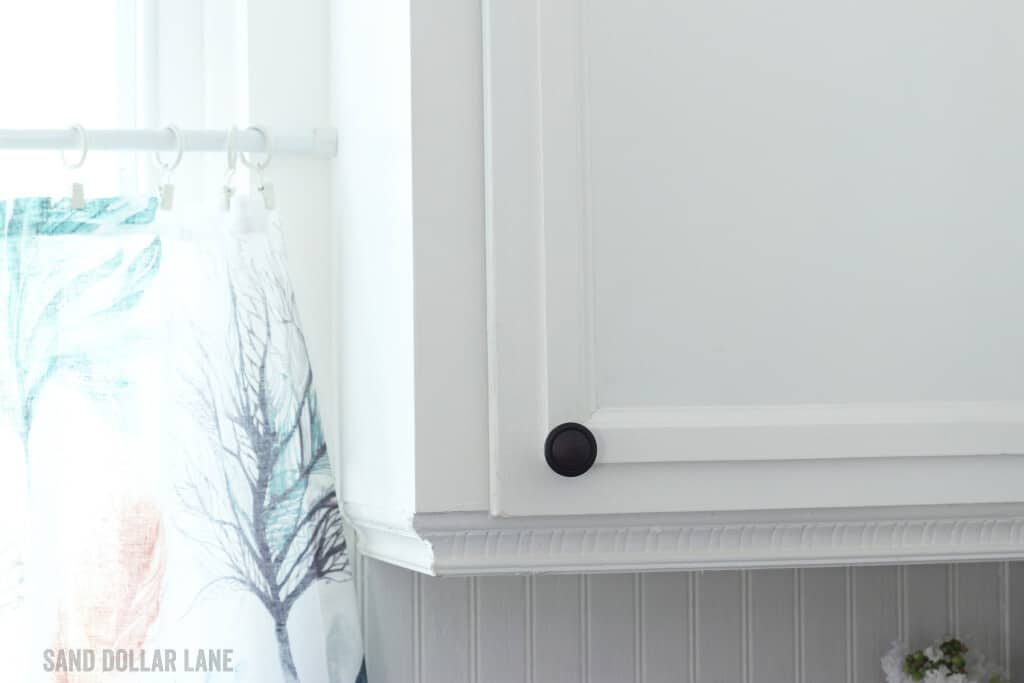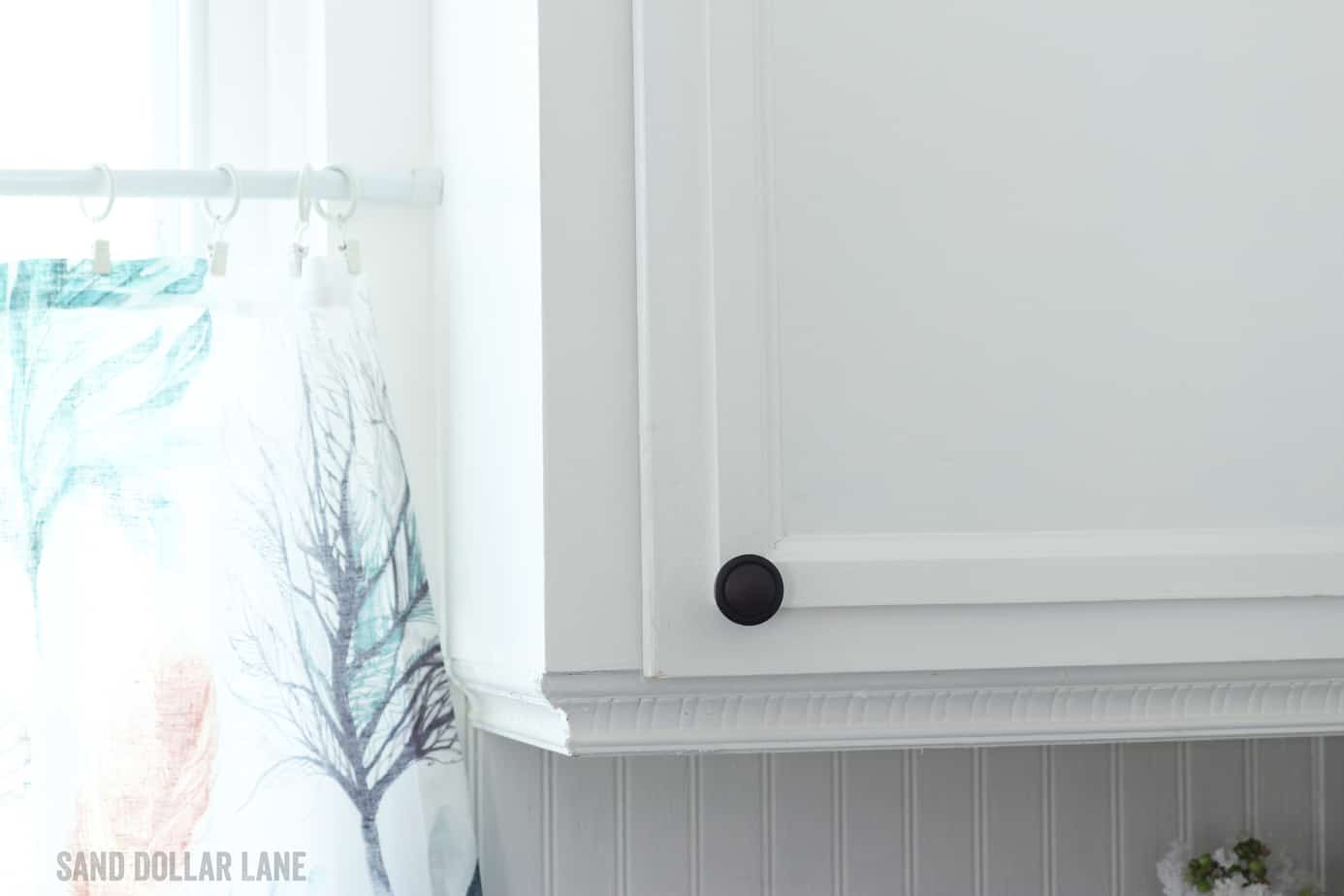 We covered the funky sharpee grooves with trim molding, added more molding to the bottom of the cabinets and painted them White Dove to match the trim throughout the house. 
We also added new oil rubbed bronze handles and knobs.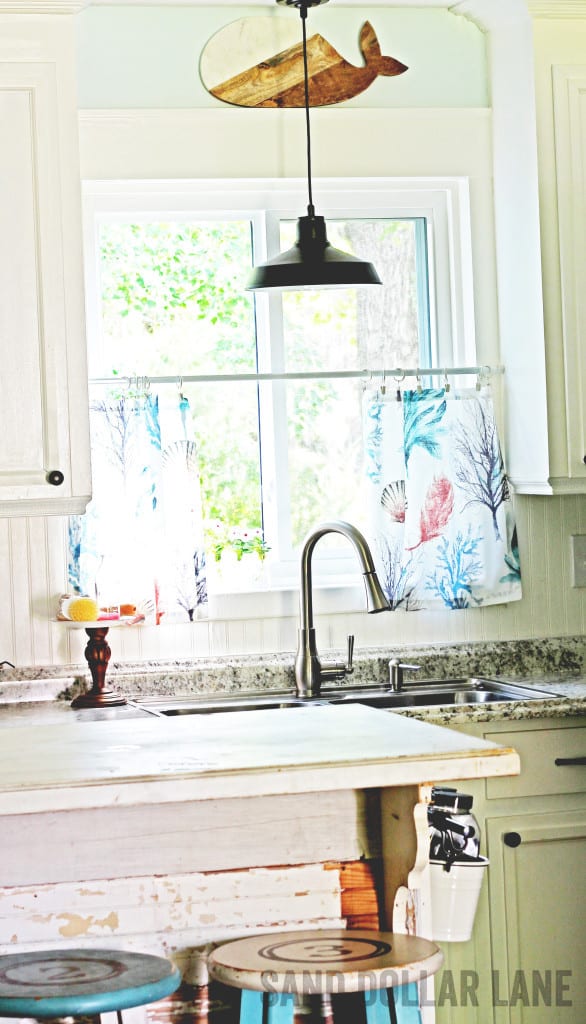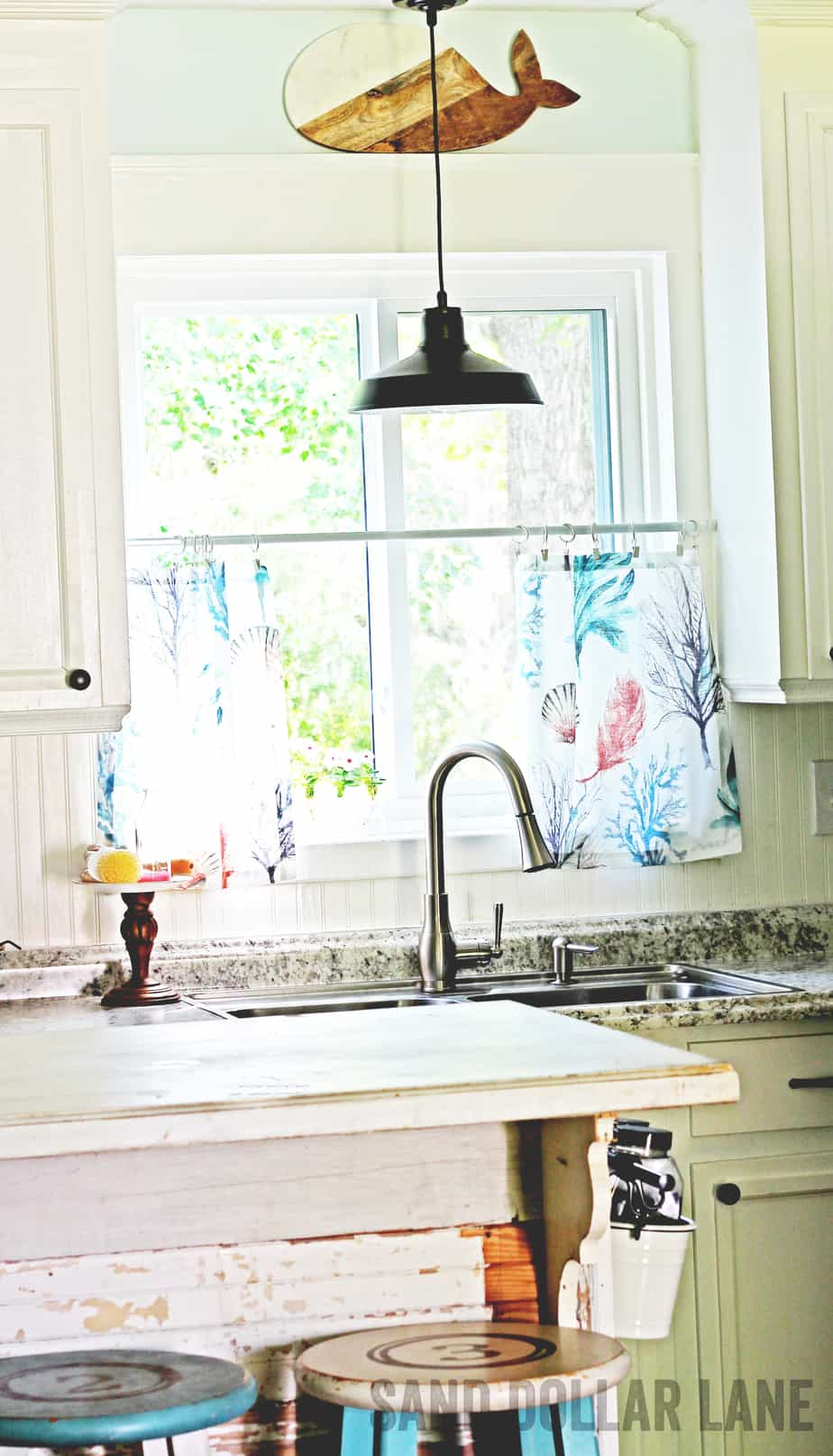 Fun touches like the whimsical whale cutting board add coastal style while our vintage baby bottle soap dispenser brings a touch of farmhouse kitchen comfort.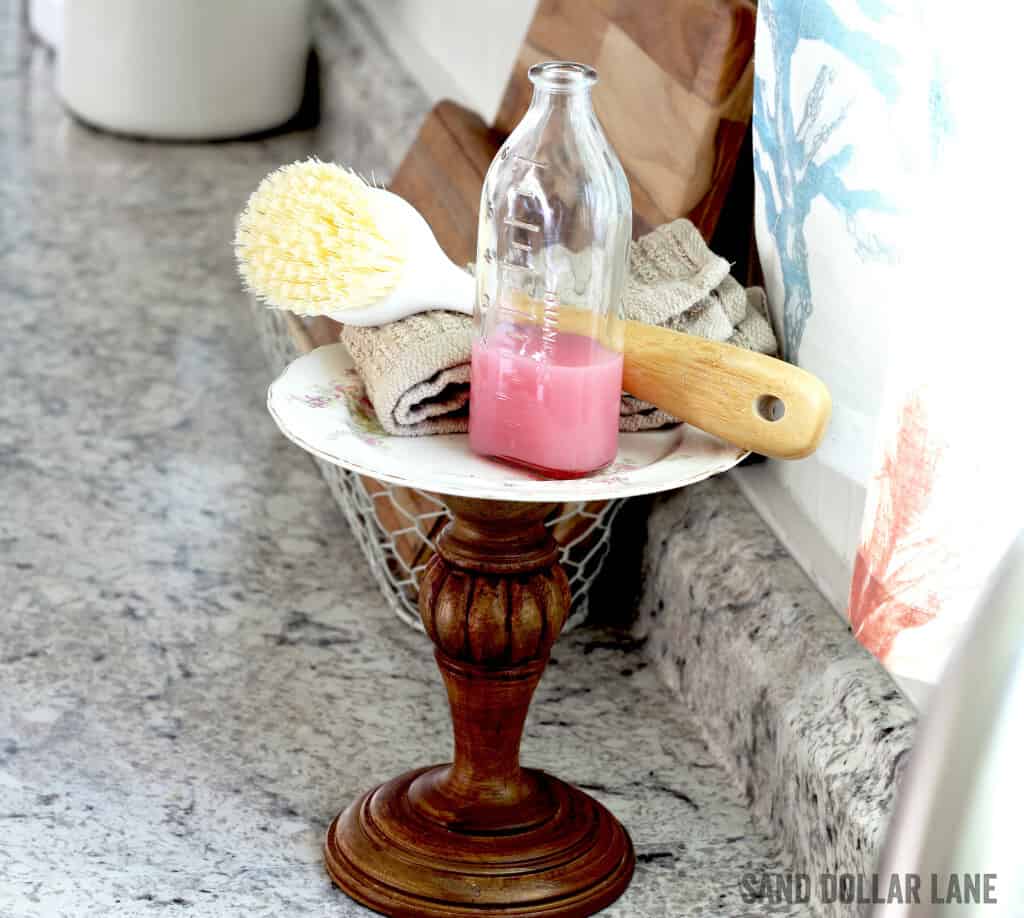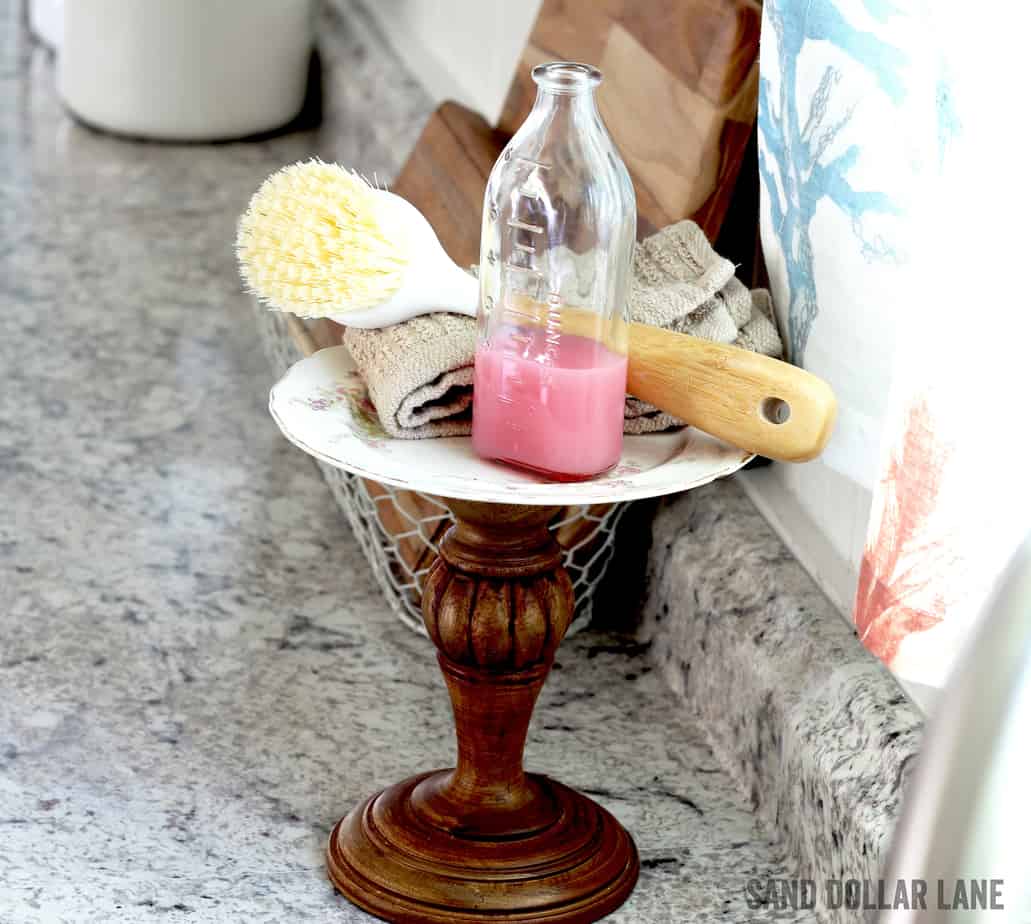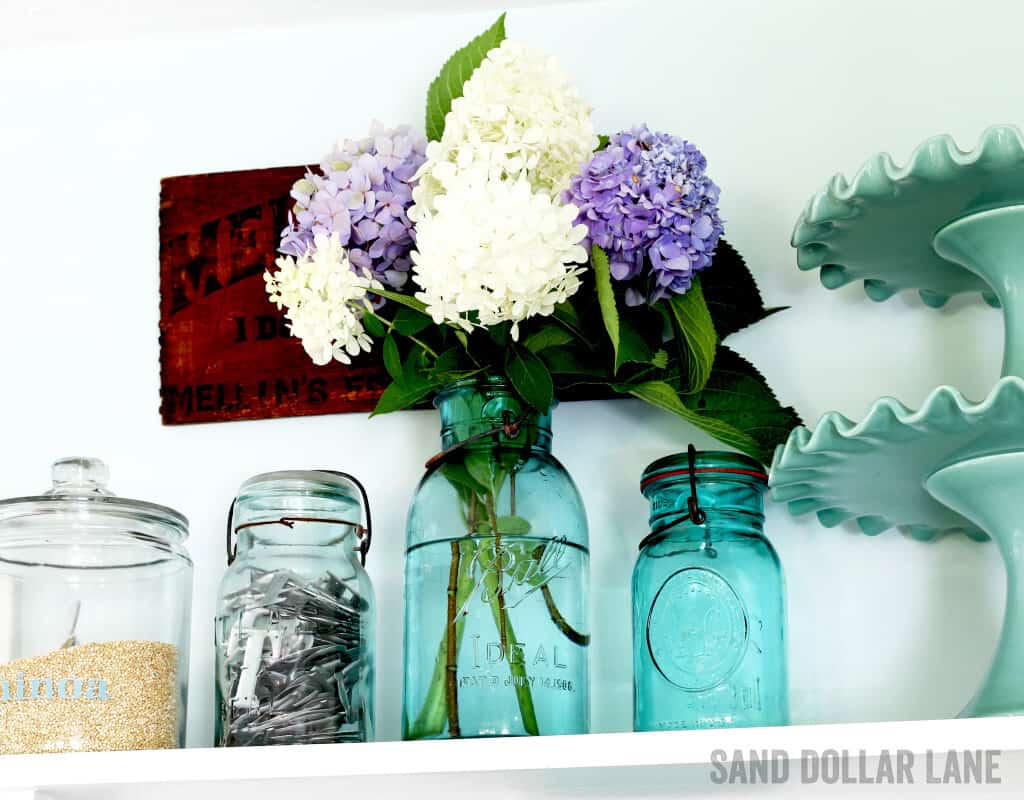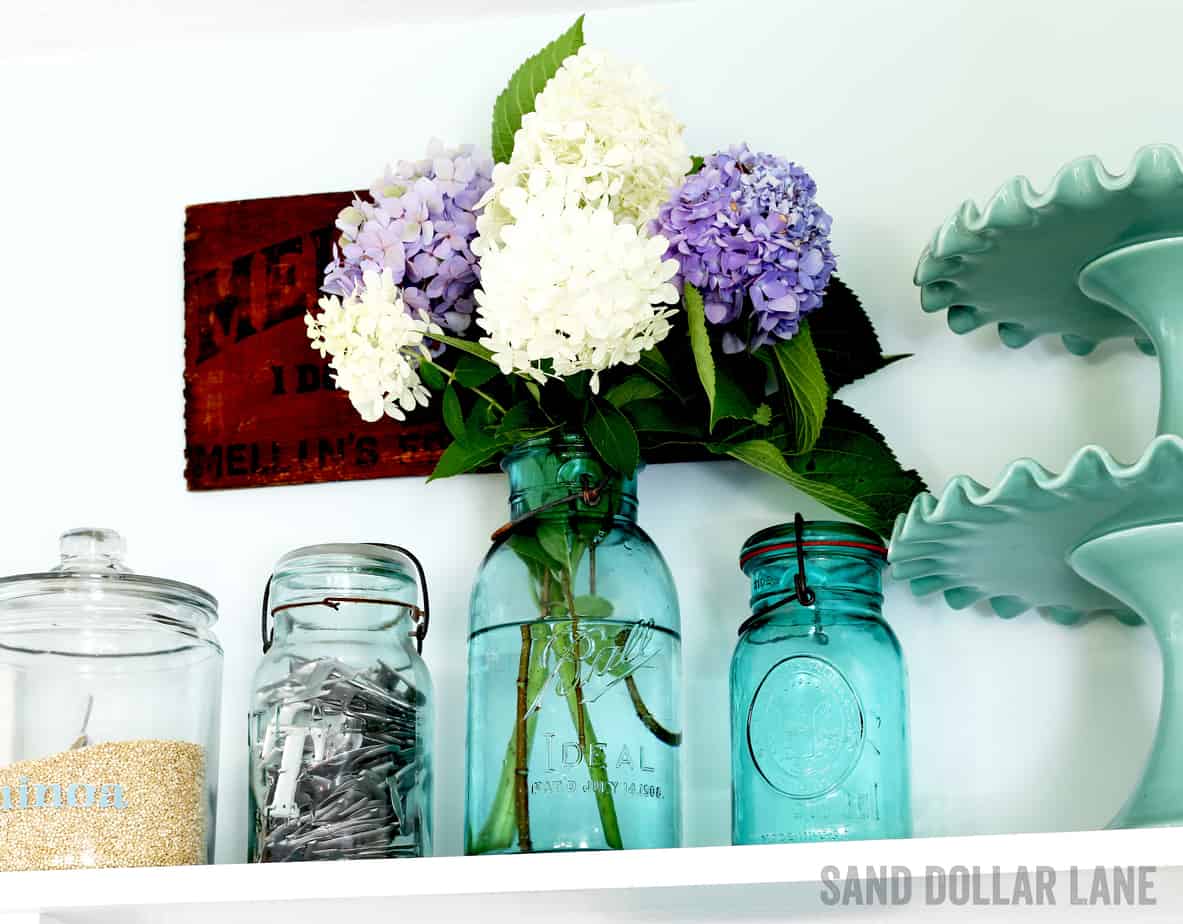 Our open shelving is one of my favorite parts of the kitchen.  We installed it a while ago and just added some new accessories.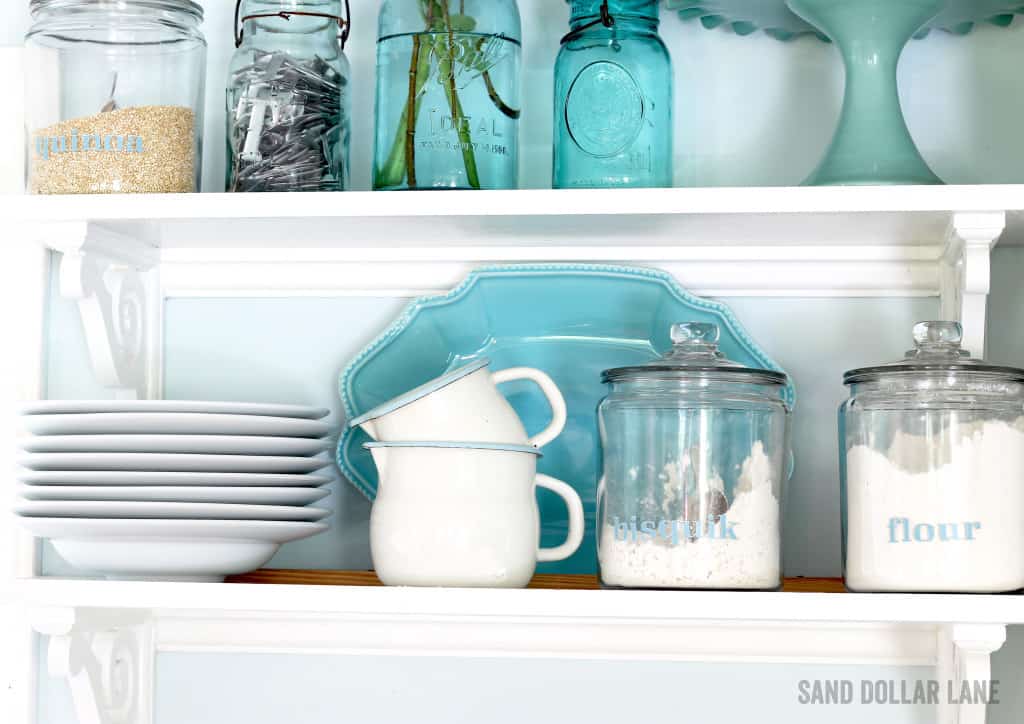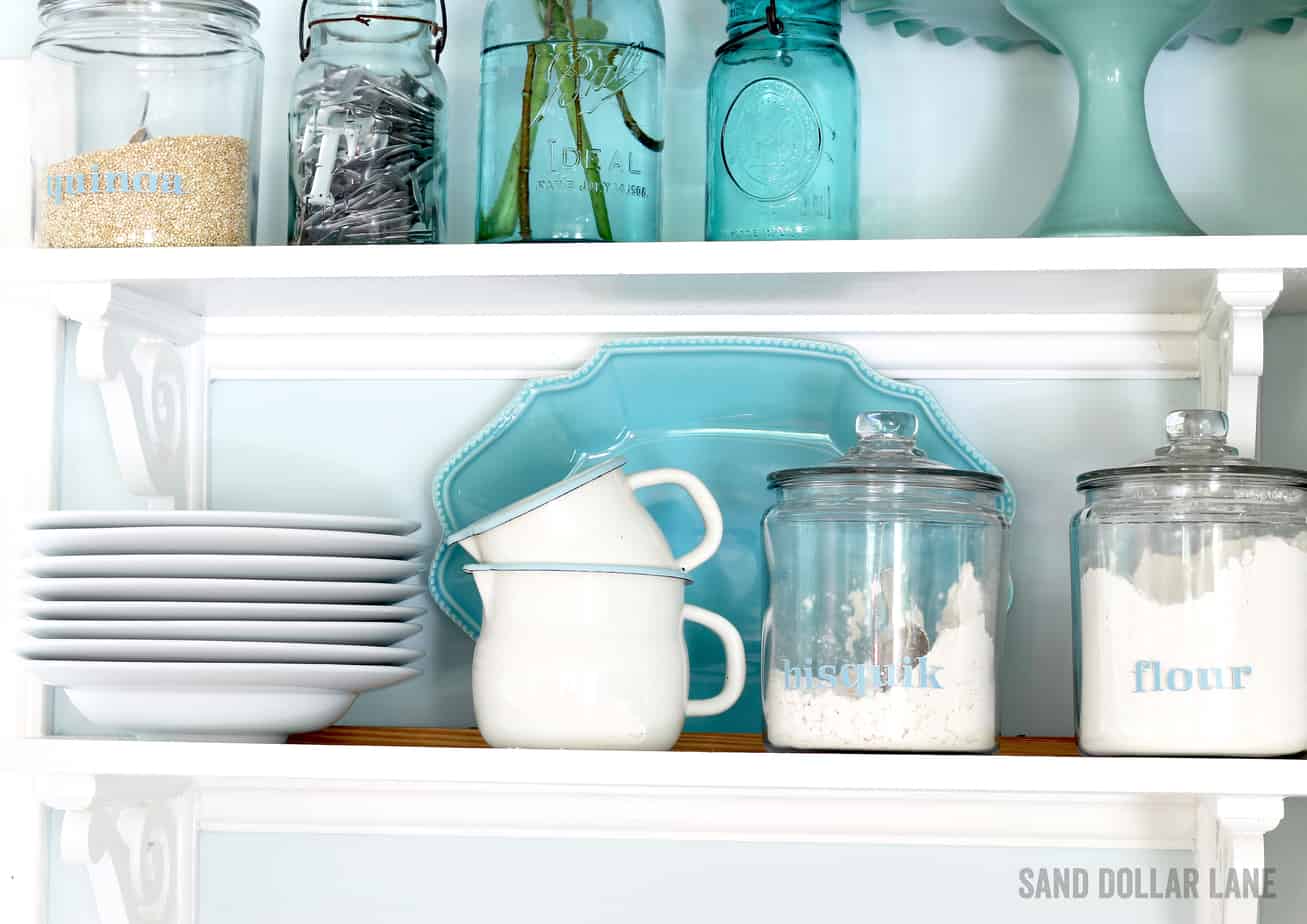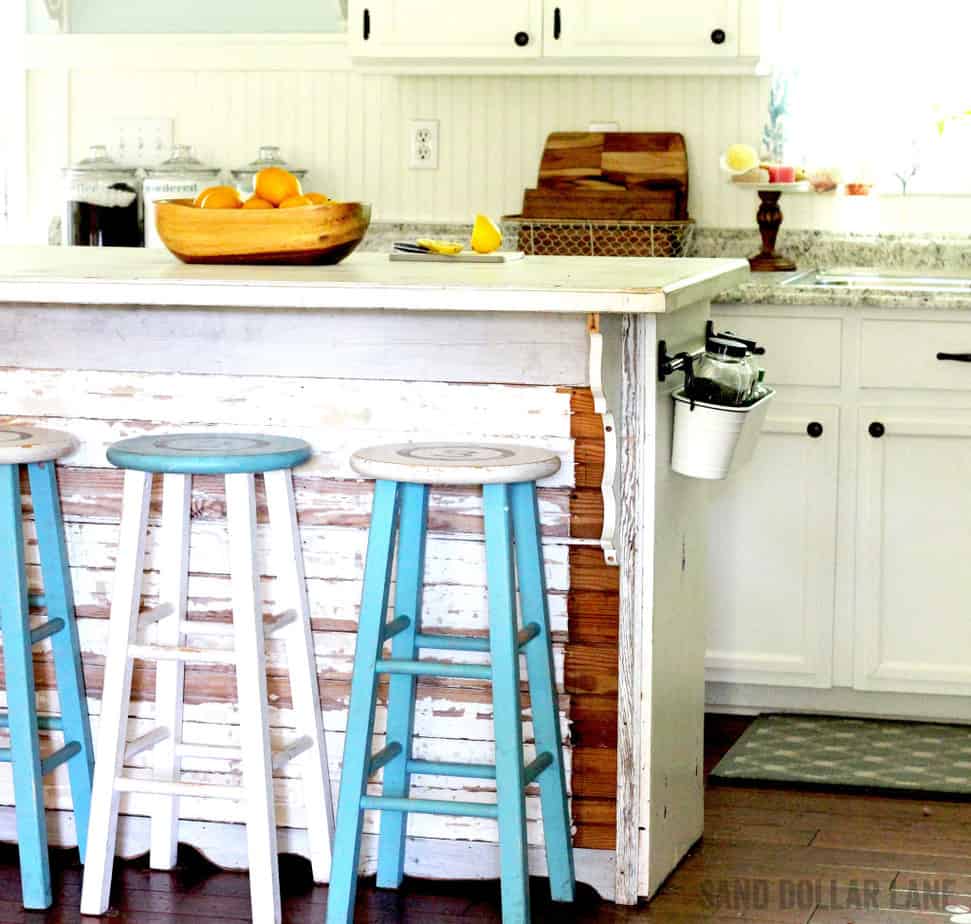 The rustic island made from reclaimed wood is one of the first things you see when you walk in our house.
We painted wooden stools from Target to go along with it's distressed look.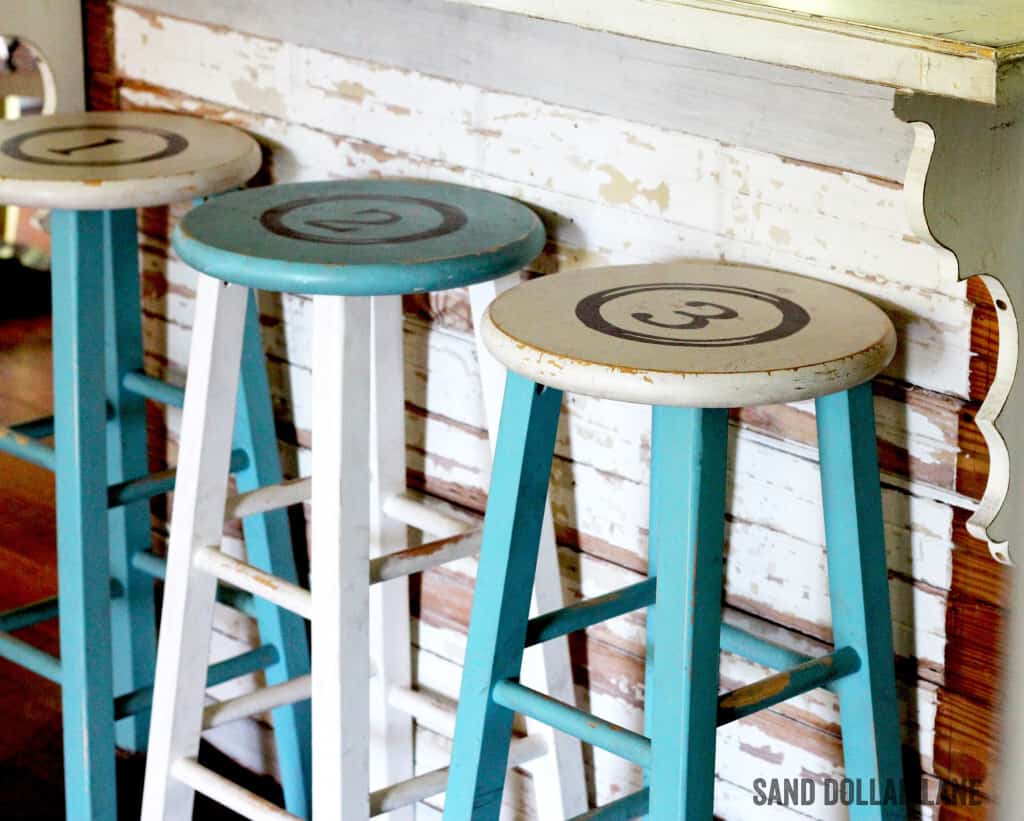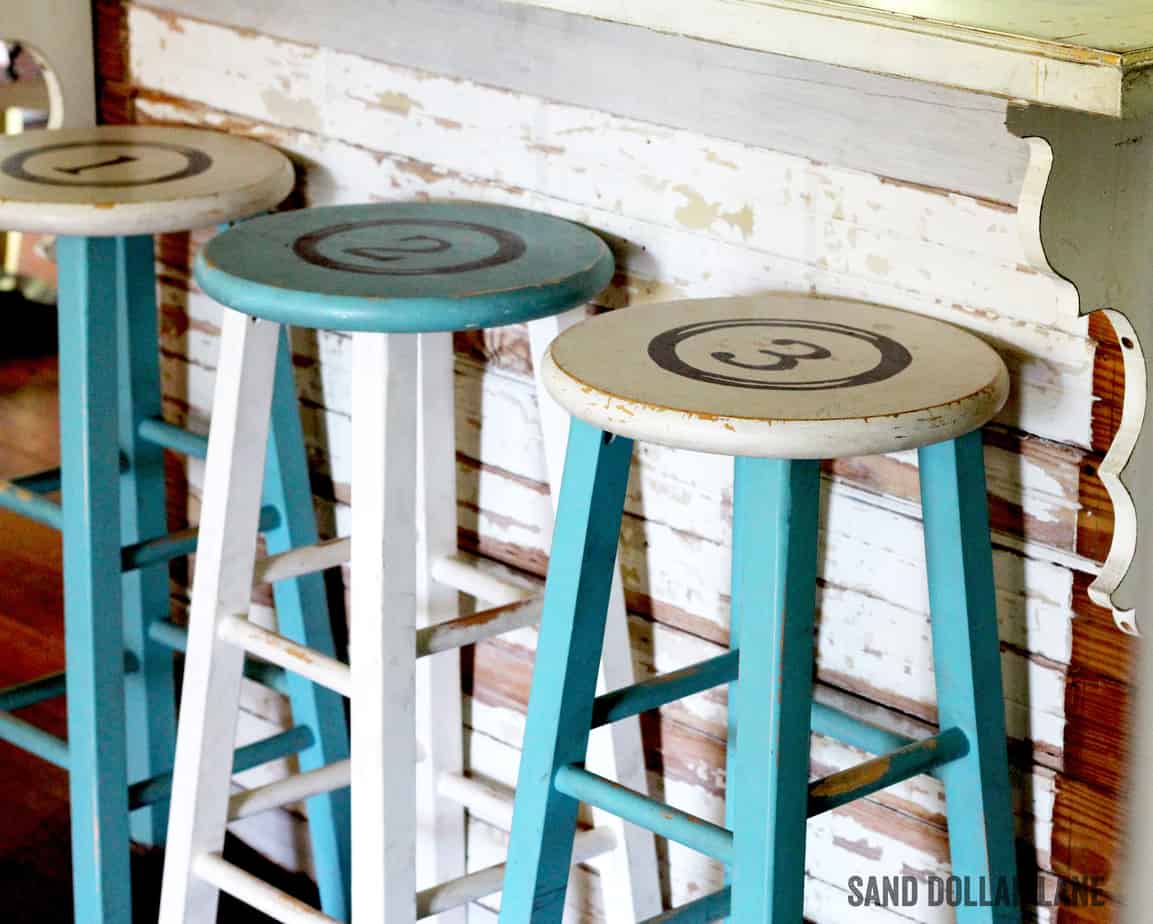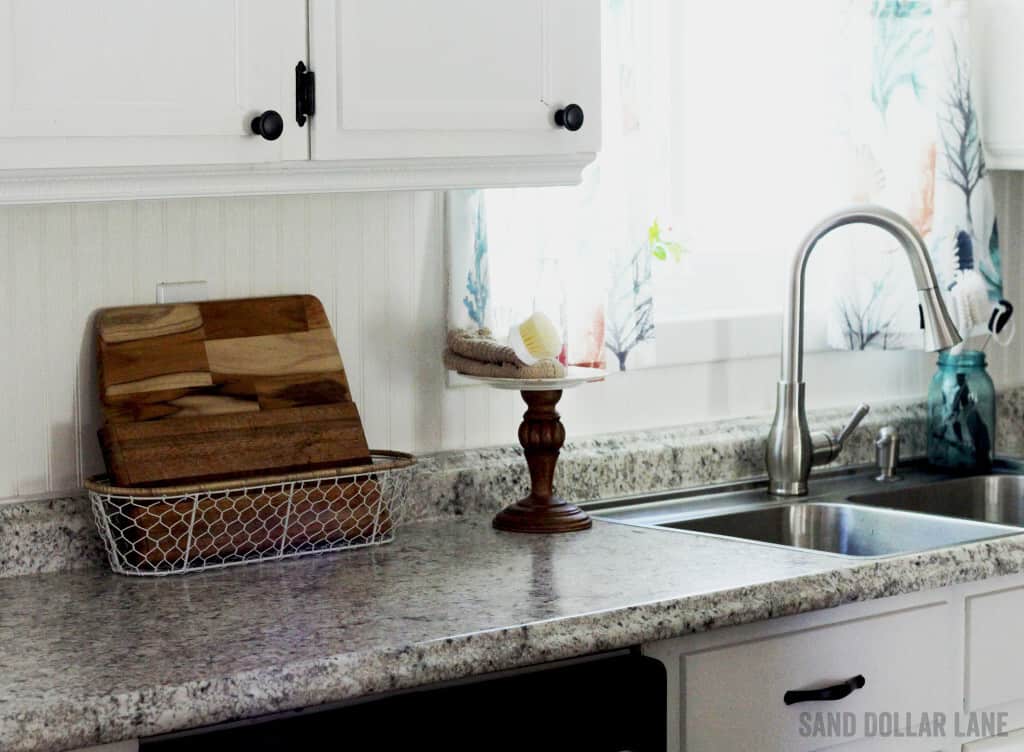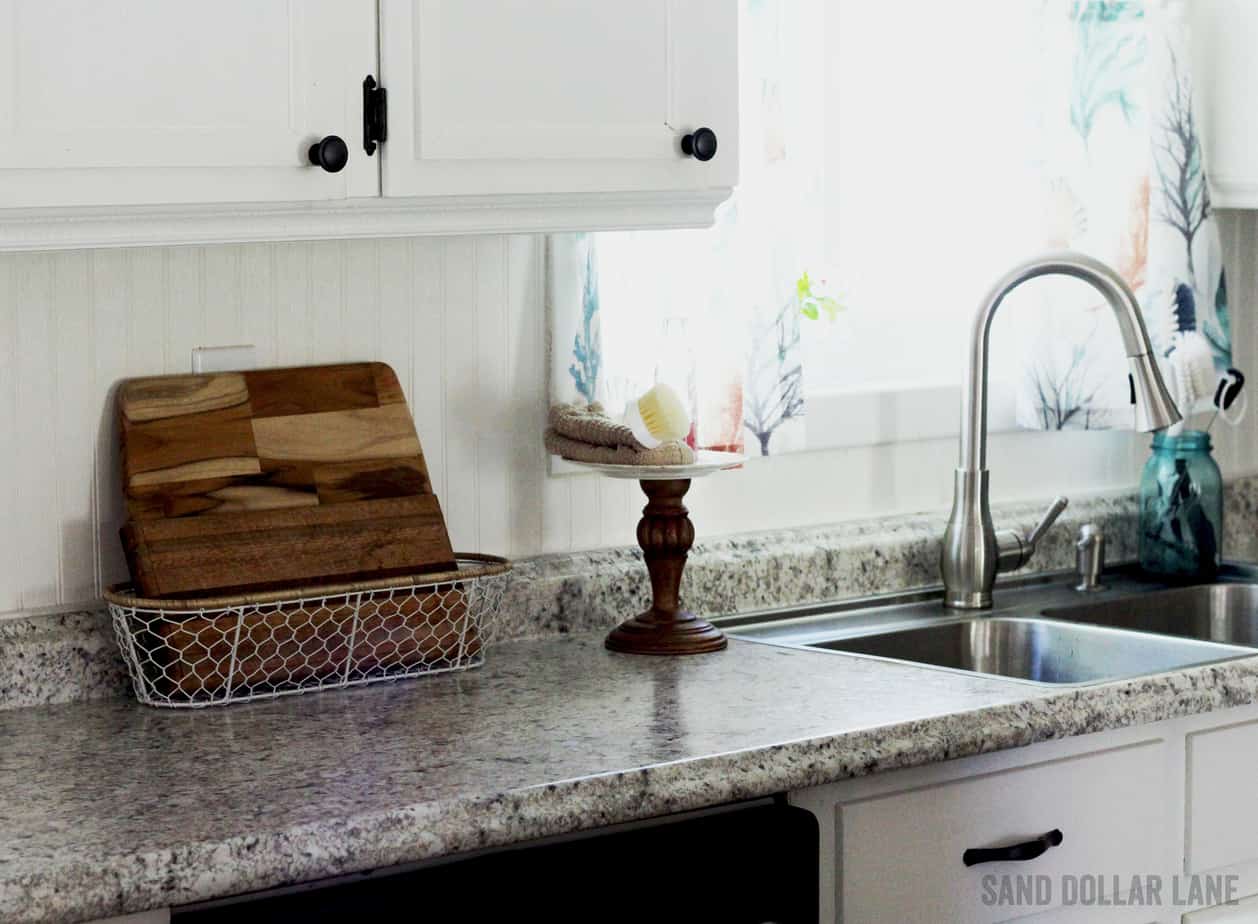 These cute cutting boards nestled in a basket and a pedestal we made from a vintage plate
and a wooden candle holder add a farmhouse kitchen style touch to the new counters.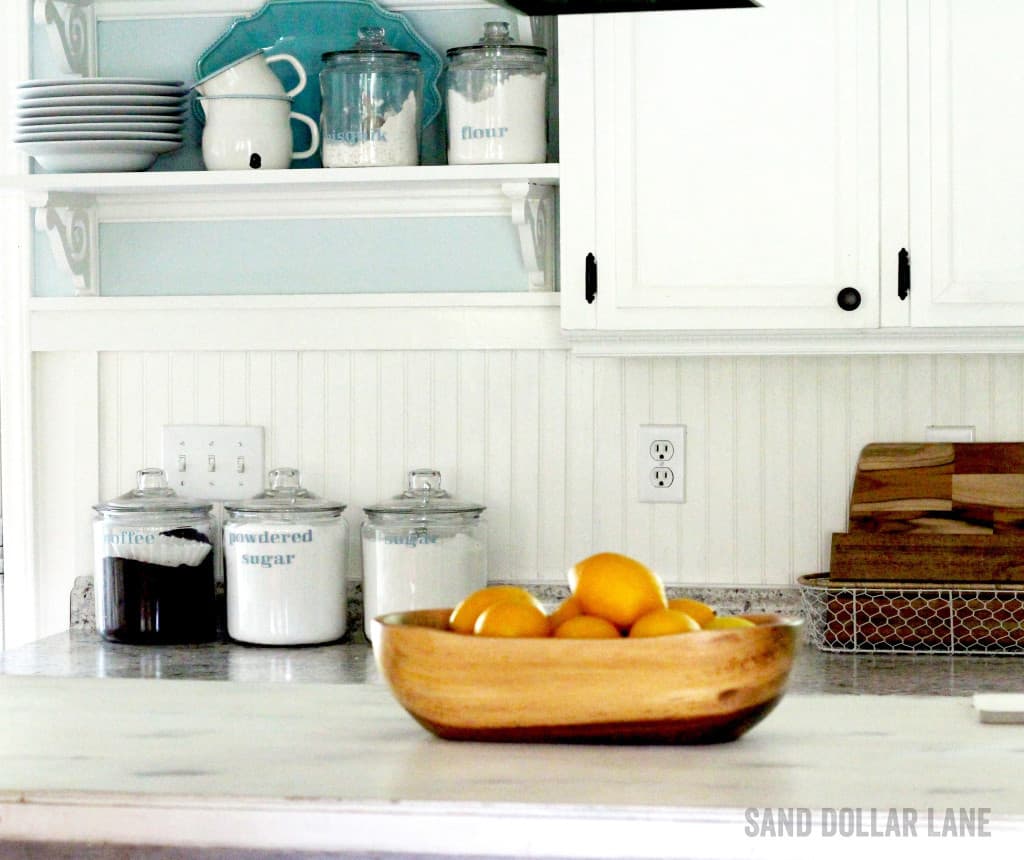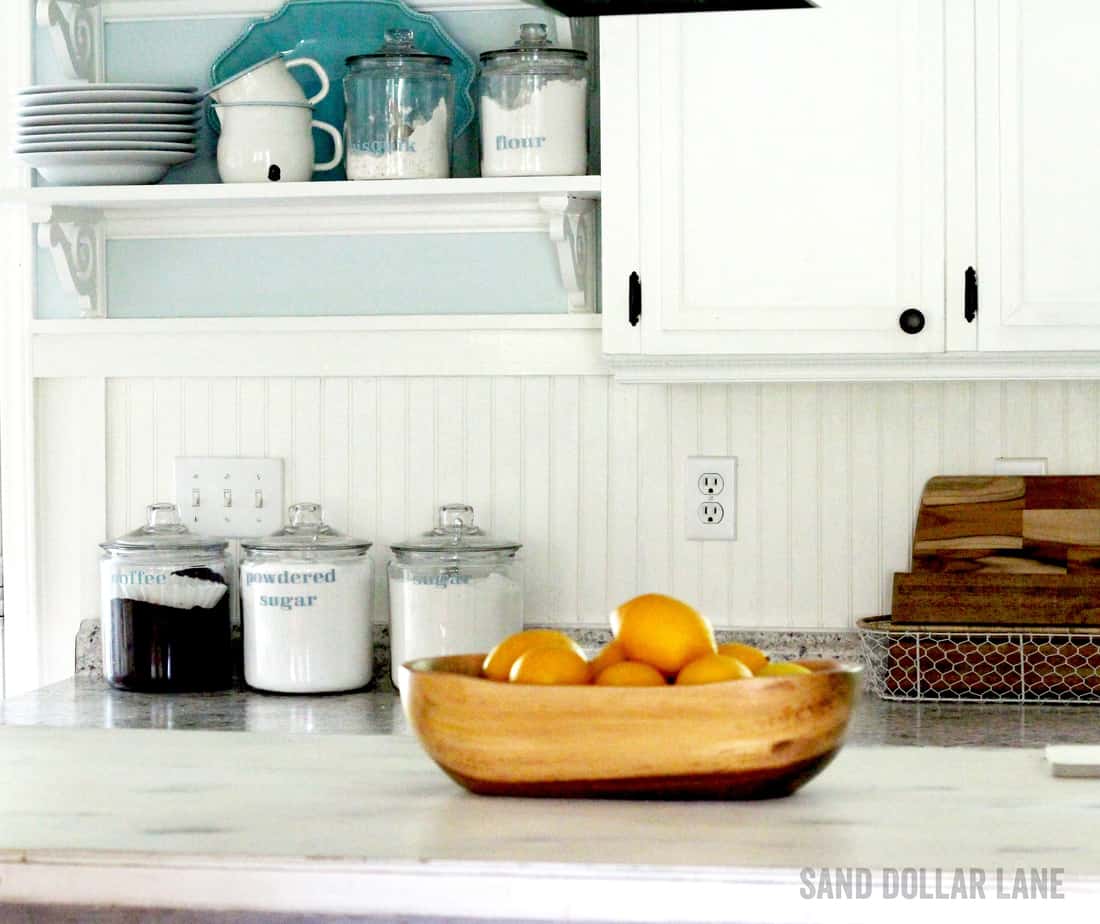 We are loving our coastal farmhouse style kitchen and hope you like it too!  We would love to hear your thoughts!


Save
Save
Save
Save
Save
Save
Save
Save
Save
Save