Looking for garden gift ideas? I have put together this guide of gifts for gardeners to help you find the perfect gift for the gardener on your list!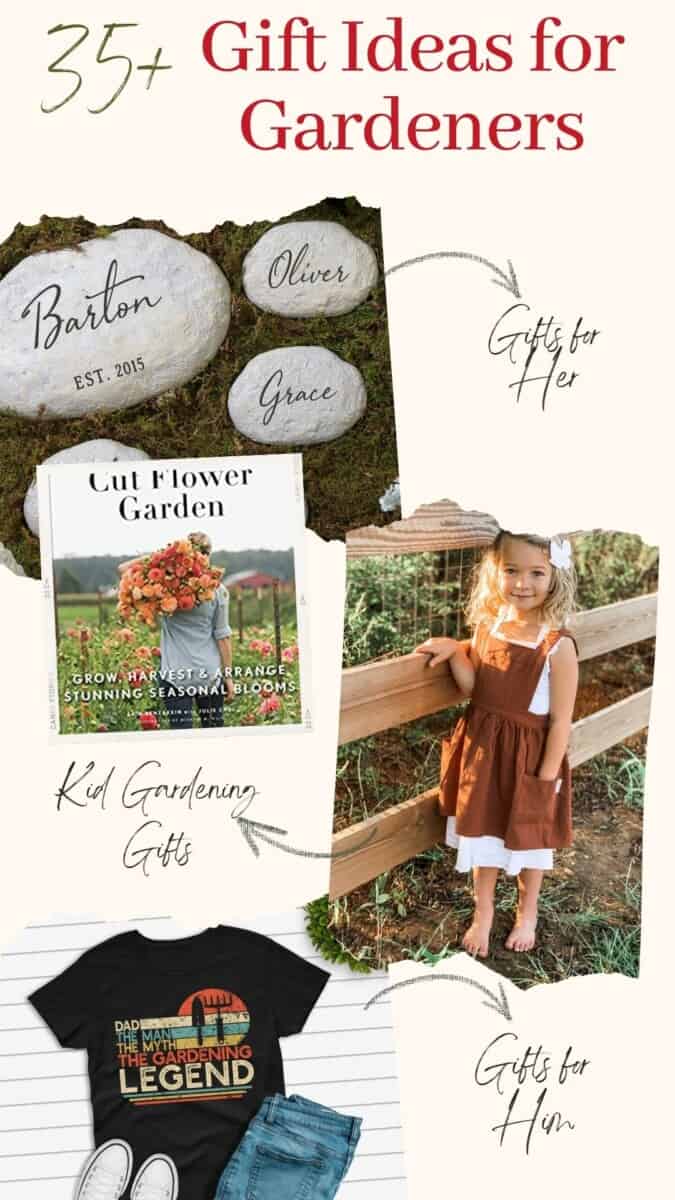 I realized when James asked me what I would like for Christmas that gardners can be hard to shop for! This gift guide is full of gifts for all types of gardeners- flower gardeners, veggie gardeners, farmers, gardening moms and dads and even young gardeners.
Click on any pic for more information.
This post contains affiliate links. As an Amazon Associate, I receive a small commission at no cost to you. Read my full discloser page here
Gifts for Every Gardener
With personalized garden stones, gardening books and journals, gardening tools and more, this gift guide has lots of gardening gift ideas!

Gardening Gifts for Mom
There are so many great gardening gift ideas for moms! From handy aprons and hardworking farming boots to gardening books and cute figurines, any gardening mom would love these gifts!

Gardening Gifts for Dad
Need a gift idea for your gardening dad? How about a funny t-shirt or gardening boots and apron? Check out these gardening gifts for dad!

Gardening Gifts for Kids
Nurture a child's love of gardening with any of these gardening gifts for kids. Handmade gardening aprons, coloring books, and kid size gardening tool sets make fun gift ideas!

I hope this gift guide helps you find the perfect gift for your favorite gardener! Leave me a comment below and let me know!
More Gardening
How to build a vertical succulent garden
Growing Tomatoes in Grow Bags
Spring Gardening Coastal North Carolina