How to Decorate Kitchen Shelves
Decorating your open kitchen shelving is easy with these tips. You can use this technique any time you want to change up your kitchen shelves.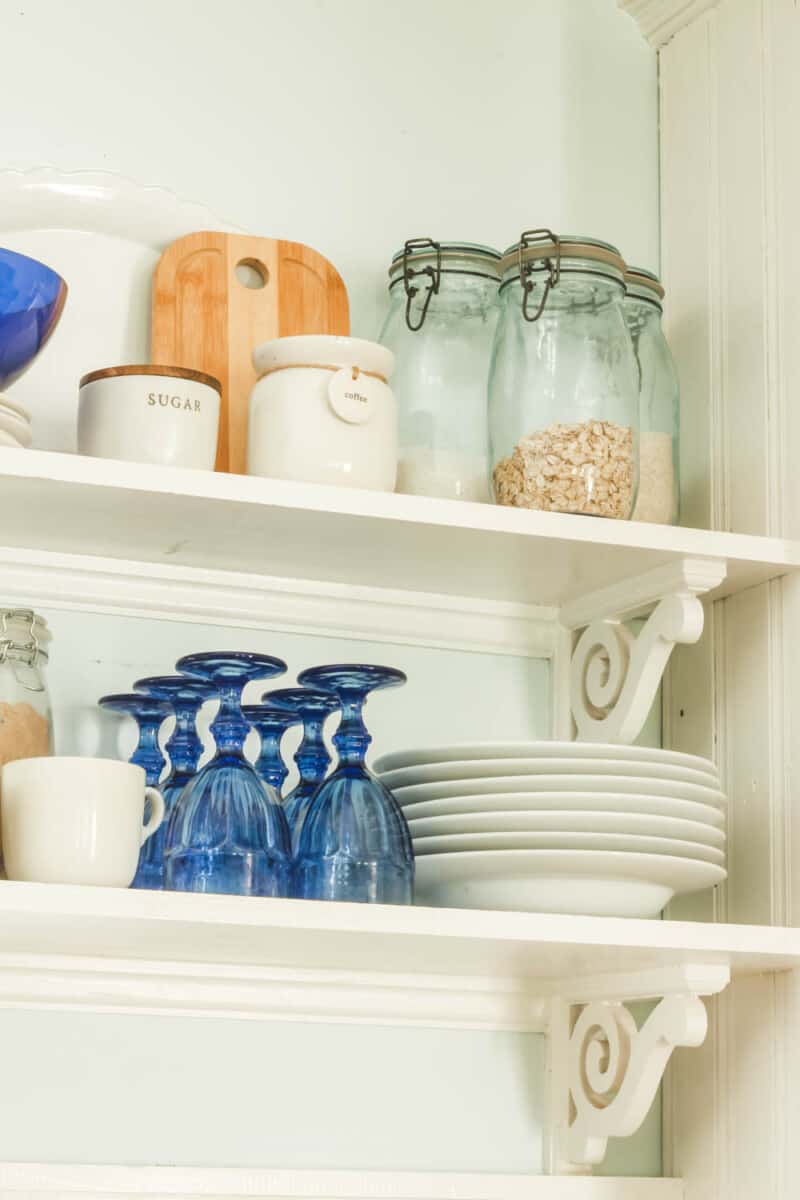 Decorating open kitchen shelving can be a quick way to refresh the look of your kitchen.
It's also an easy way to add seasonal touches like I did here with a few fall accessories.
This post contains affiliate links. As an Amazon Associate, I receive a small commission at no cost to you. Read my full disclosure policy here
Our Open Kitchen Shelving
We built our open kitchen shelves a few years ago and I still love changing them up.
Sometimes they are more decorative, other times, they hold only useful items.
Usually, like now, it's a mix of decorative and functional items.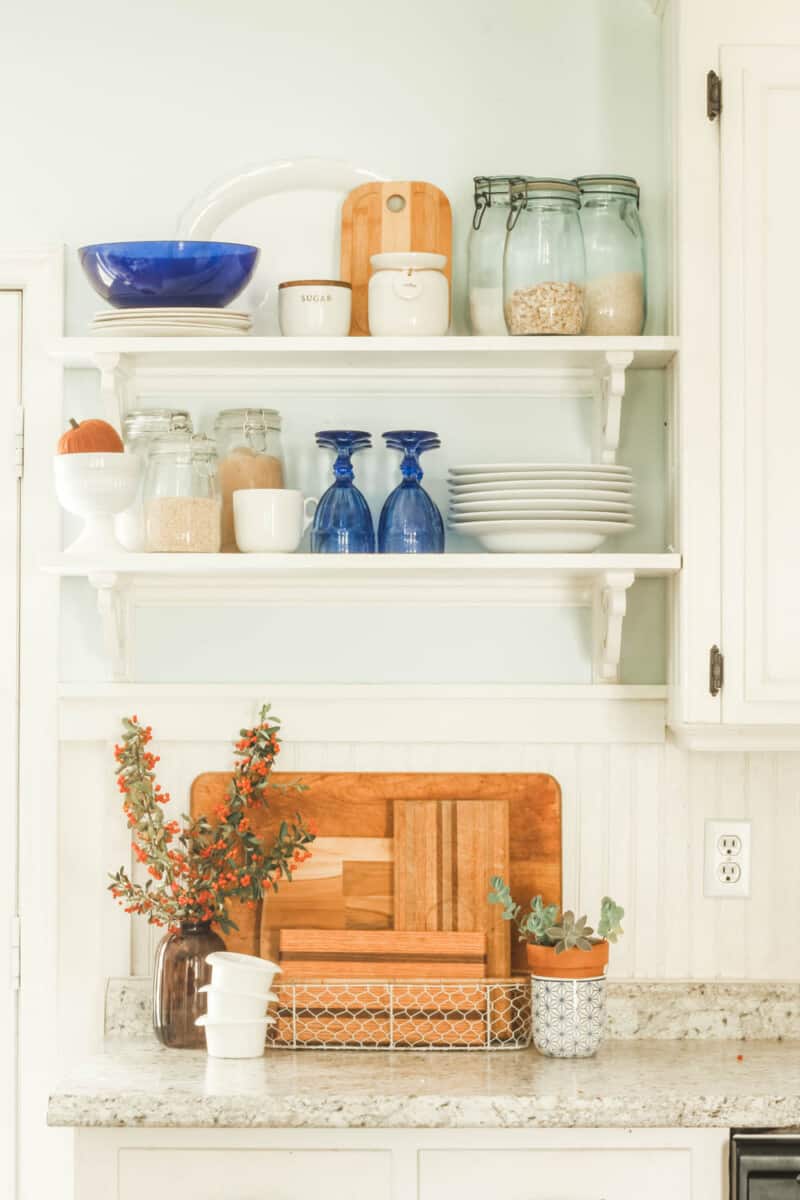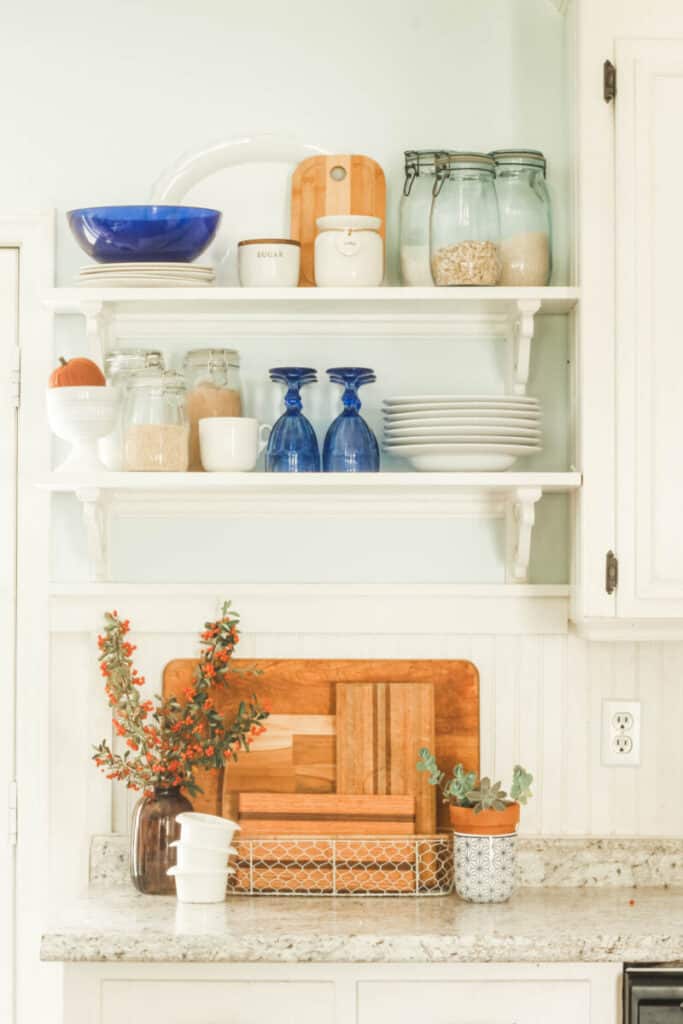 When Should You Redecorate Your Kitchen Shelves?
I think you should redecorate your kitchen shelves as often as it makes you happy! Personally, I am a seasonal decorator so I change mine up about four or five times a year.
Add warmth to your kitchen in the fall by adding wooden textures and fall accessories.
Kitchen shelving is a great spot to showcase holiday decorations. You can see our shelves decorated for Christmas here
After the holidays, display winter dishes like these and cute cocoa mugs on your shelves,
When it starts to warm up in the spring swap any darker items for pastels or light colored objects.
Open shelves are perfect for summer when you're looking for convenience and easy living. I love these melamine dishes from Pottery Barn. They are pretty but very durable.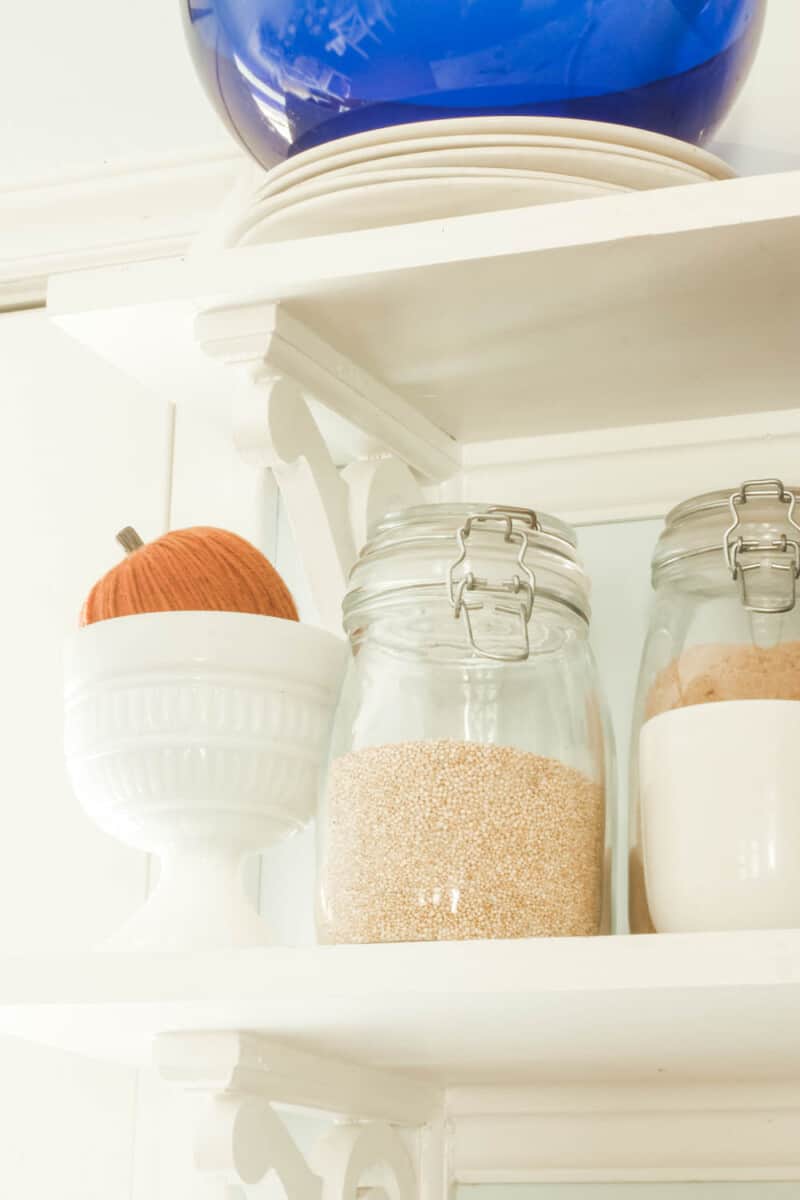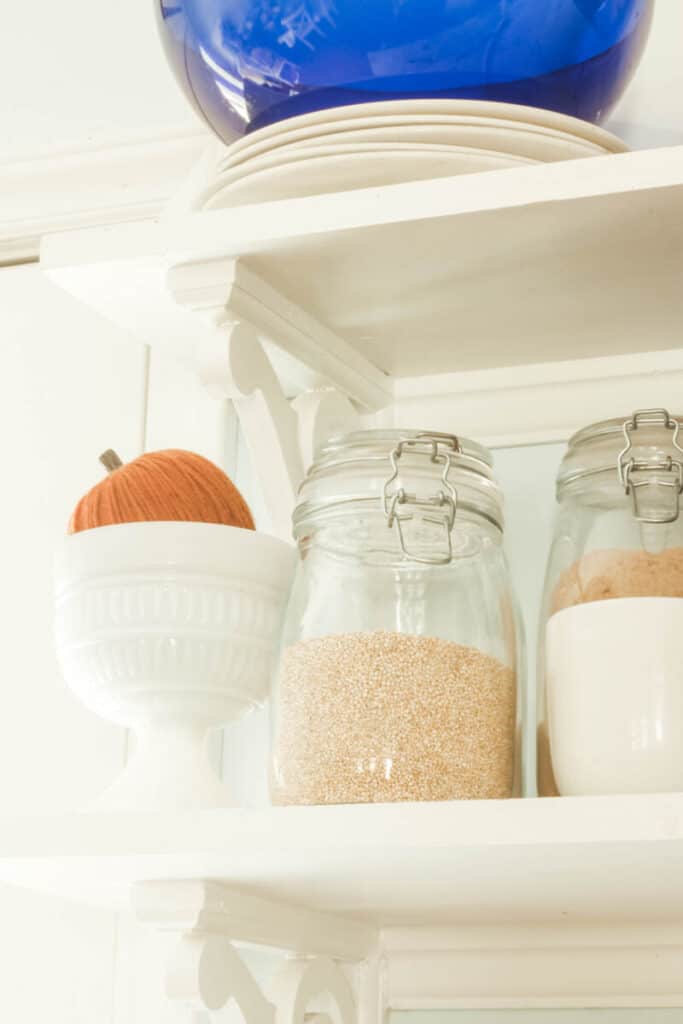 What To Use To Decorate Open Shelves
Not every item in your kitchen is going to look great on your open shelves. Leave the appliances, mismatch dishes and plastic cups in the cabinets. Instead use the following items for esthetics and convenience.
Items you use often– Open kitchen shelving is perfect for your every day dinnerware. It's easy to bring dishes from the dishwasher or strainer to the open shelves and since you use these items often there's no chance of them collecting dust.
Canisters of baking and cooking supplies. I use neutral colored supplies like flour, brown sugar, and quinoa. Since we use these ingredients often it's nice having them right at hand.
Seasonal items- Your kitchen shelves are a great spot to add seasonal touches like the pumpkin and orange firethorn branches I used.
Colorful items- Bring a pop of color into your kitchen with a few colorful accessories. The cobalt blue dishes I used coordinate nicely with the décor in our dining area which is right next to the shelves. The blue keeps the entire area from being too bland.
Display items- Display decorative pieces you love just like you would any other open shelving. Use items that coordinate with the other items on the shelves and/or that tie in with your kitchen. The white mug in the middle of my shelves was my great grandfather's and I like to display it. It coordinates well with the white dishes and it doesn't look out of place in a kitchen.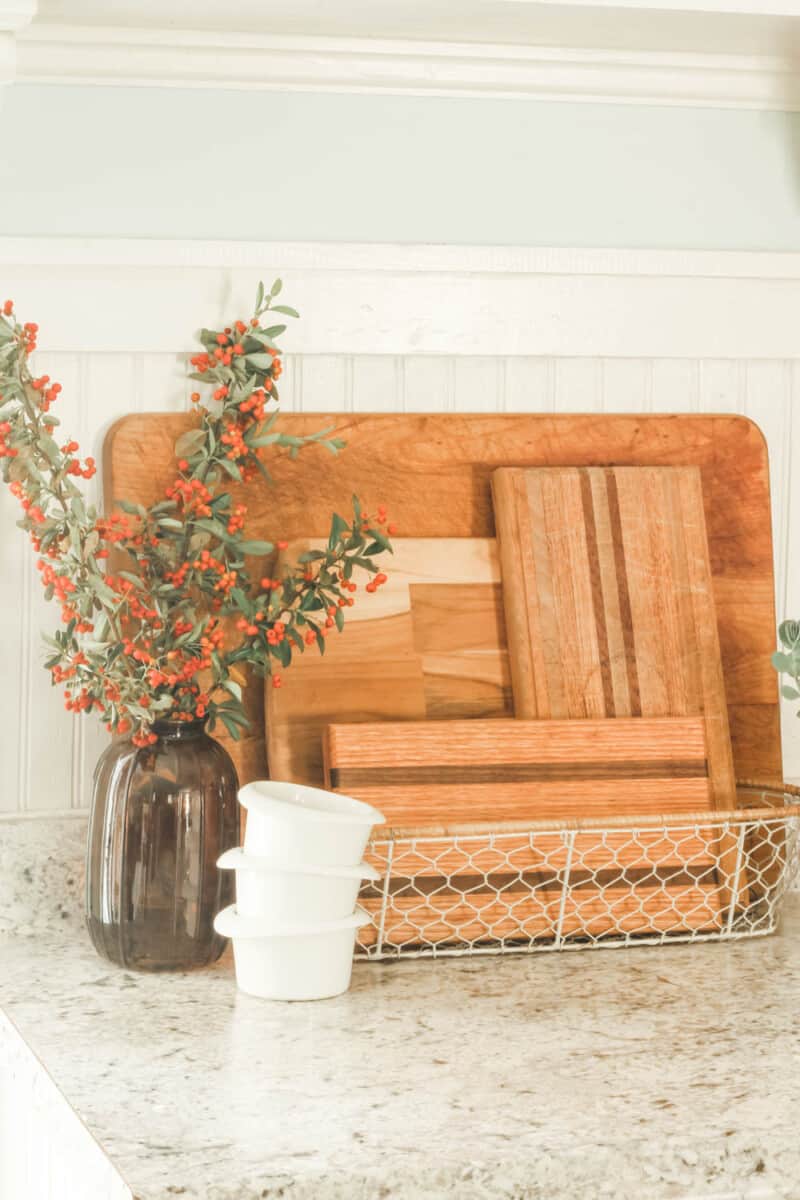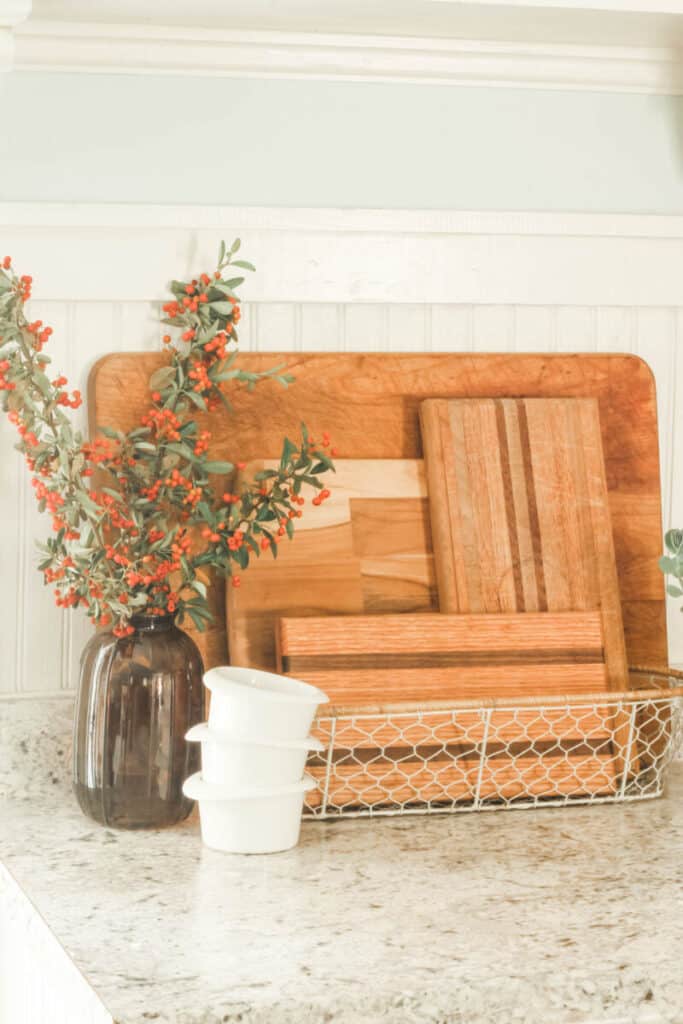 How to Decorate Kitchen Shelves
Decorating kitchen shelves can be tricky because it's easy to make them look cluttered. Keep that in mind as you go and watch for too many small items.

When decorating kitchen shelves, gather all the items you may want to use. You'll probably have more items than needed but it's nice to have a lot of options.

After removing everything on the shelves, wipe them down with an all purpose cleaner.
Next, add stacks of similar items in a triangle.
Added some warm tones (like wooden cutting boards) in the center vertically. The cutting board on the top shelf draws the eye upward.
Then place items with a pop of color (like cobalt blue glass accessories) in a diagonal pattern.
Next place additional glassware (I used canisters with neutral colored baking and cooking ingredients) at an angle opposite the blue glassware.
A few small white filler pieces and a couple color pops are the finishing touches.
cobalt blue goblets // white bowls // sugar jar // blue canisters // clear glass canisters // blue serving bowl // white serving platter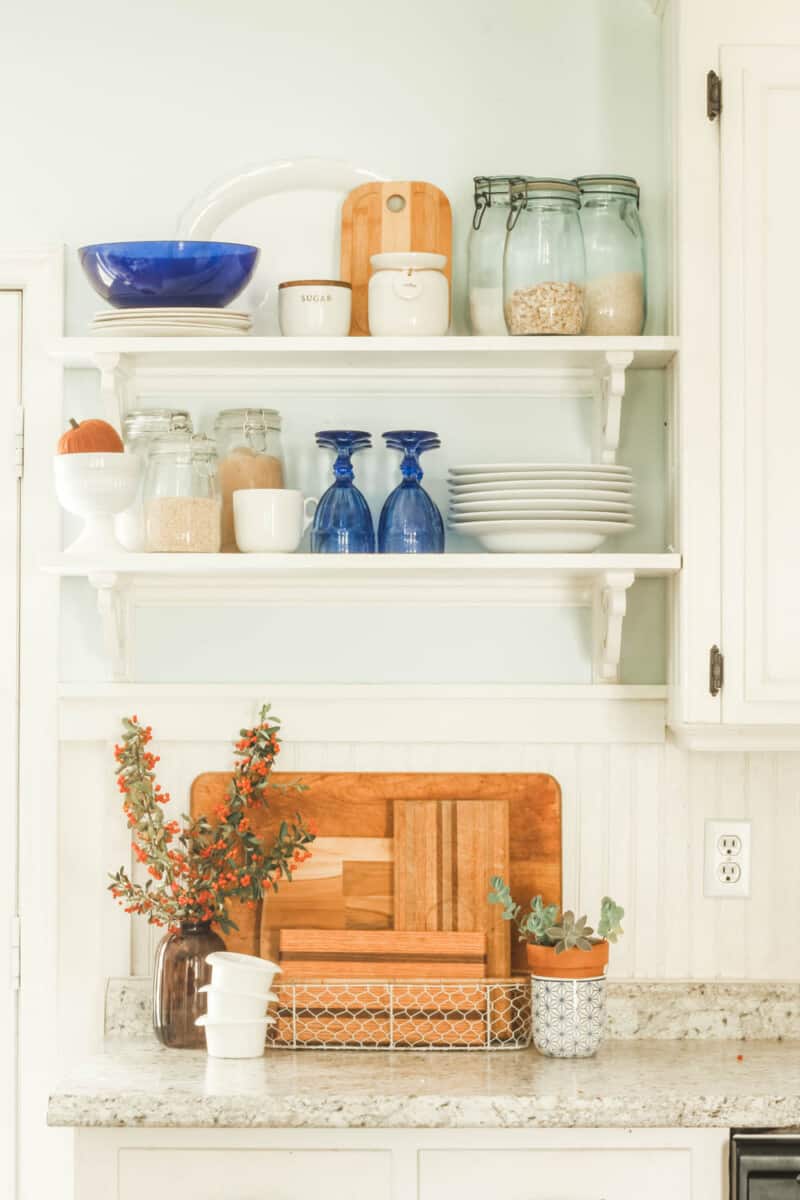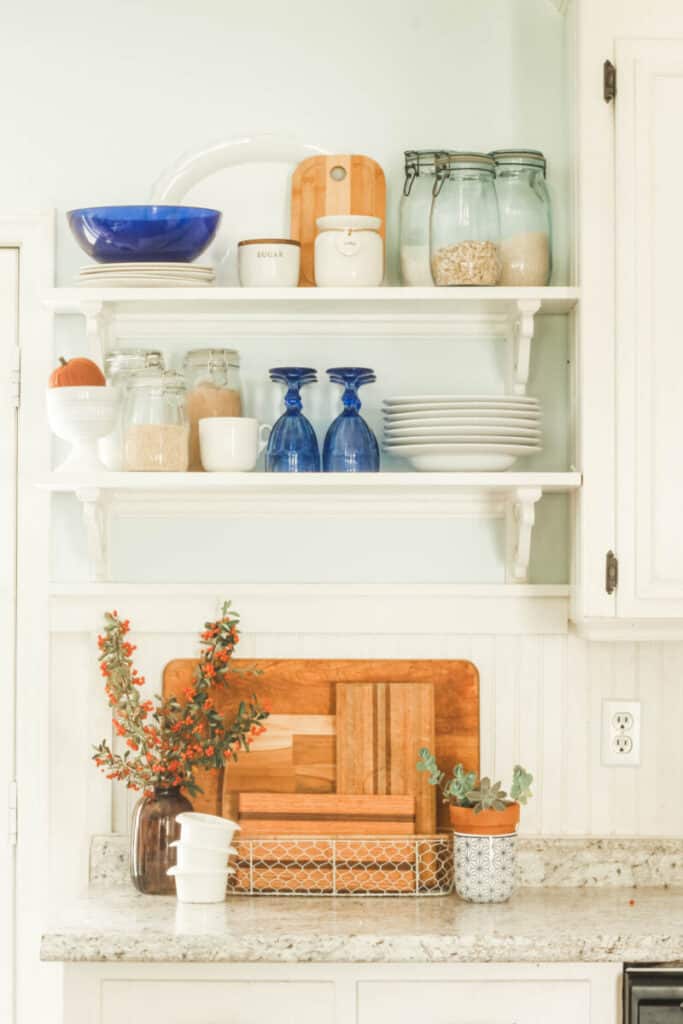 I hope you enjoyed learning how to redecorate your kitchen shelves. Read on to see how my friends have also made things in their homes "New Again"!
More Decorating Tips
Farmhouse Kitchen Remodel – Coastal Farmhouse Style
Kitchen Open Shelving
Neutral Fall Tablescape
Join me on Pinterest Facebook and Instagram for more decorating ideas!