I love to greet my guests with a fun coastal Christmas wreath on the front door! It's like a little sneak peek at the coastal Christmas decor that's going on inside the house!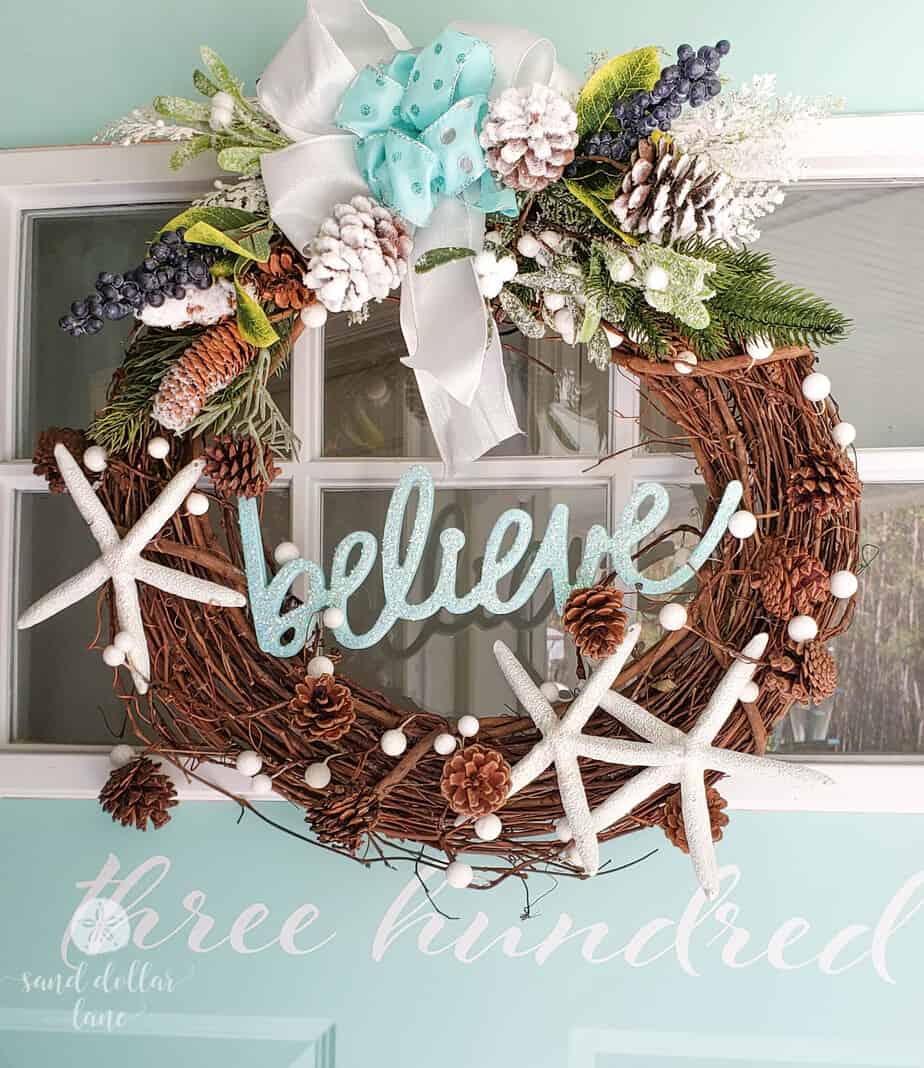 For the next few weeks we'll be joining 25 blogging friends with the Deck the Home Blog Hop to bring you DIY Christmas decorating ideas. Each week will have a different theme. This week's theme is Door Decor. You can find the rest of these amazing tutorials at the end of this post.
How to make a coastal Christmas wreath
I know for some of you, it may seem a bit (or a lot) too soon for holiday decorating but I wanted to show you how I made this coastal Christmas wreath so you would have time to make one too!
Supplies
For your convenience, this post contains affiliate links. See my full disclosure page here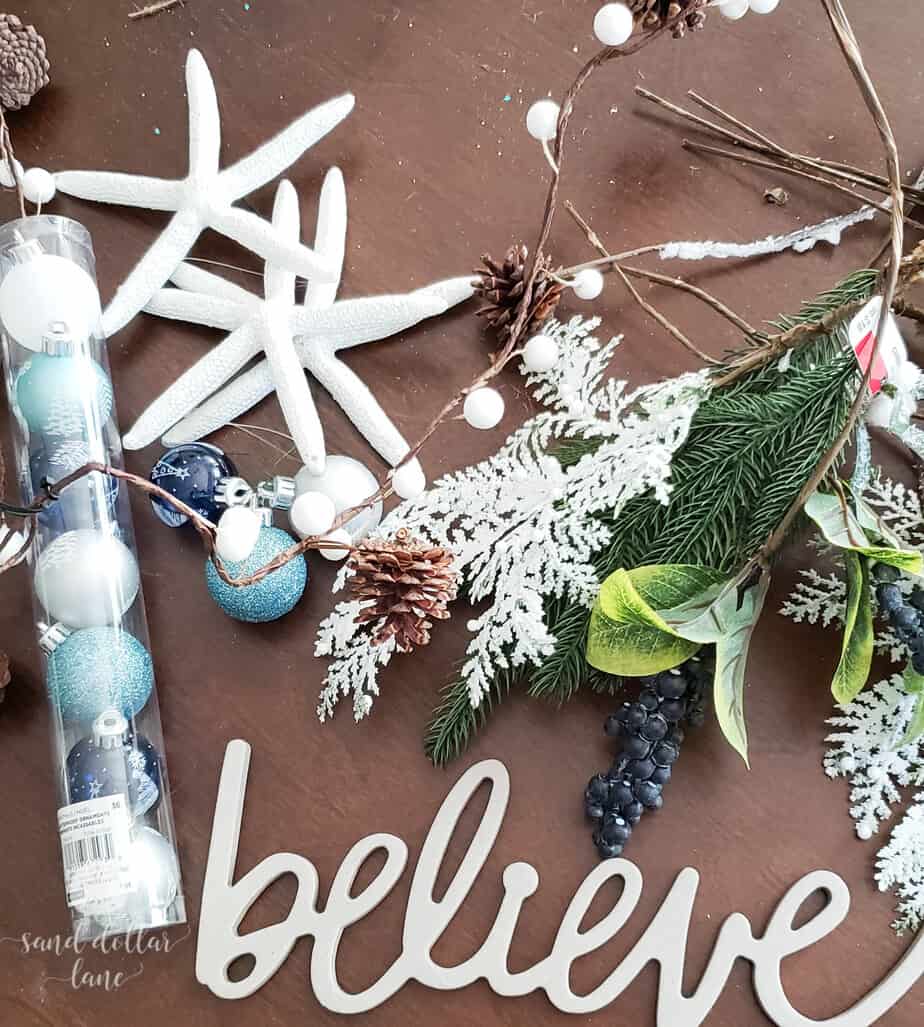 (I decided not to add the ornaments on my wreath but try it and see if you like it)
Believe Handwritten Chipboard Shape – Large
Paper Glue
Christmas Ribbon from my stash
Lighted Pinecone Garland from Michaels



Directions
Paint your chipboard or wooden lettering to match other accents in your wreath. You probably aren't surprised that mine is aqua! After the paint is dry, brush on glue and sprinkle glitter. One letter at a time works best so the glue doesn't dry before you can get the glitter on.

While your glue is drying you can start on the rest of the wreath. I prefer to build my wreath while it's hanging rather than while it's laying flat. Using florist wire, attach the LED garland to the grapevine wreath. I don't wrap it around the wreath because it's much easier to clip a couple wires if I change my mind.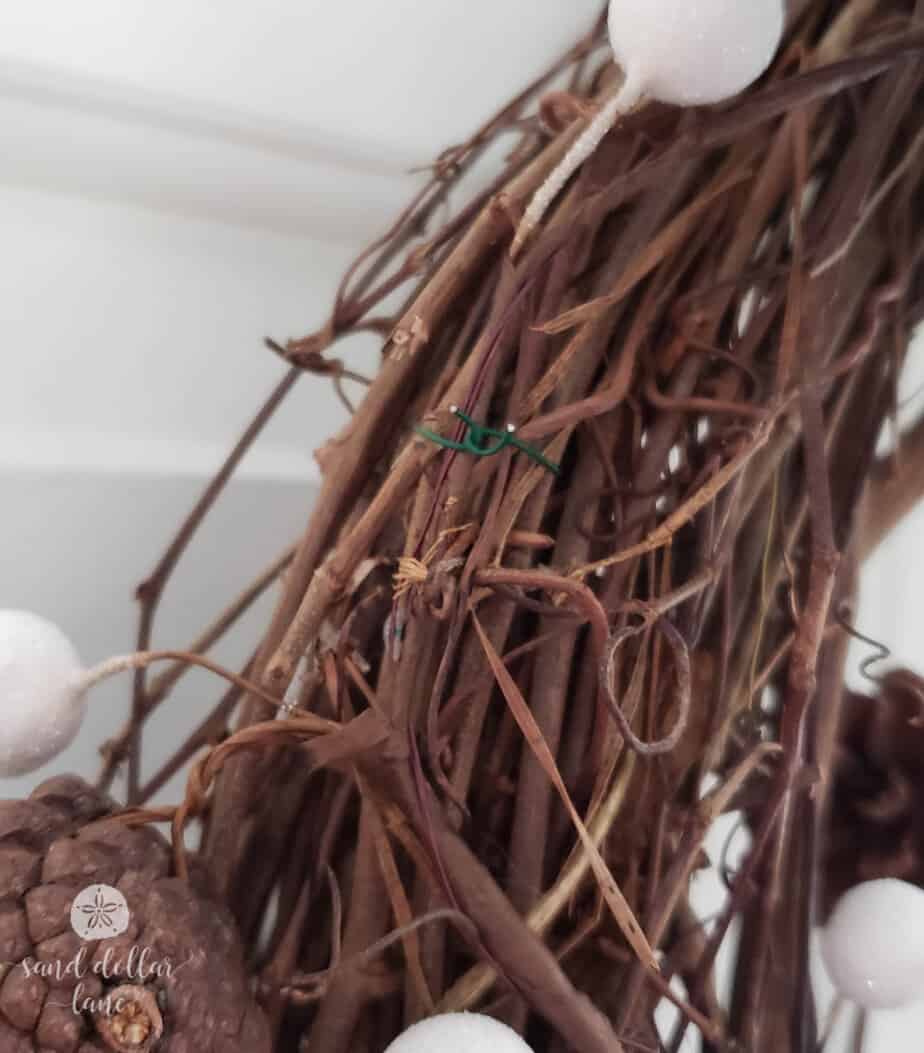 Use wire cutters to separate each of the flower stems from the bouquet. Weave the stems through the grapevine wreath alternating sides. It doesn't have to be perfectly symmetrical but you'll probably want the sides a bit even so it doesn't look lopsided. You can use florist wire or hot glue to hold the stems in place once you have them where you like.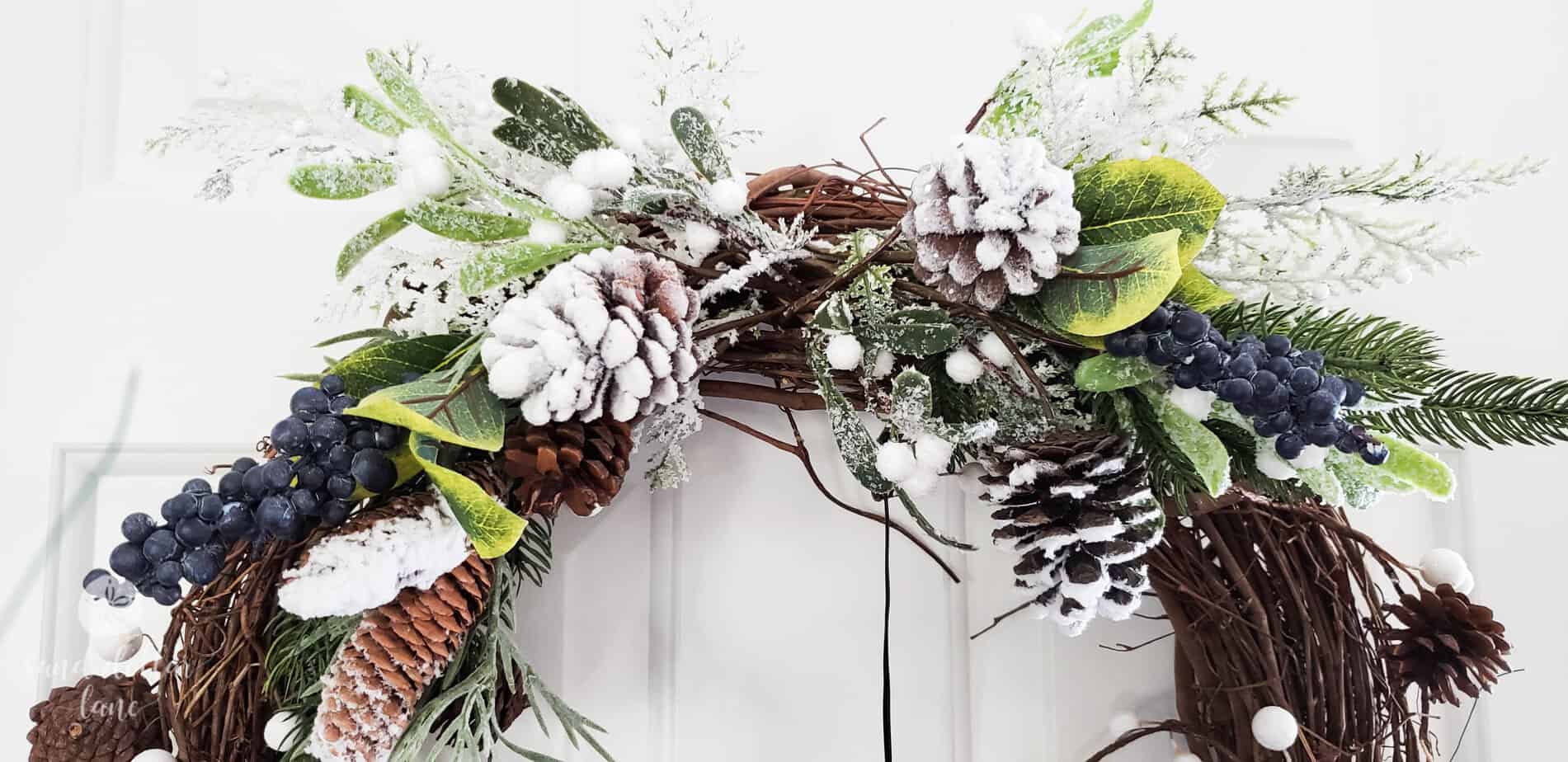 Make a bow using one or two or even three types of ribbon. I had three but it was too busy so I went with two. This coastal Christmas wreath would look great with thin ribbon going along the grapevine wreath. It's really up to you how elaborate or simple you make your wreath.
Attach the bow using florist wire. Tuck the power box from the garland behind the bow so it's easily accessible but can't be seen.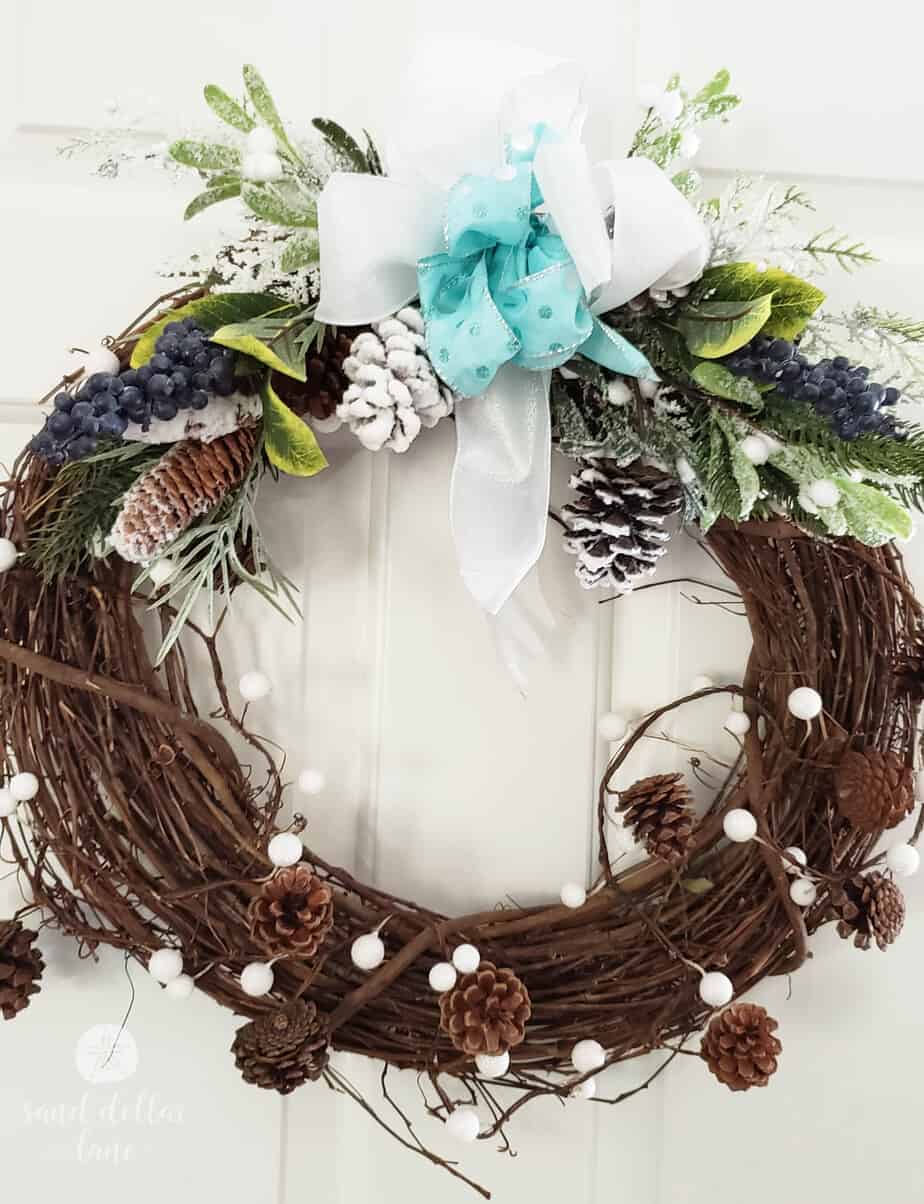 If you like a simpler wreath you could stop here and be perfectly happy. I'm more of a go-big-or-go-home kind of wreath maker so let's keep going.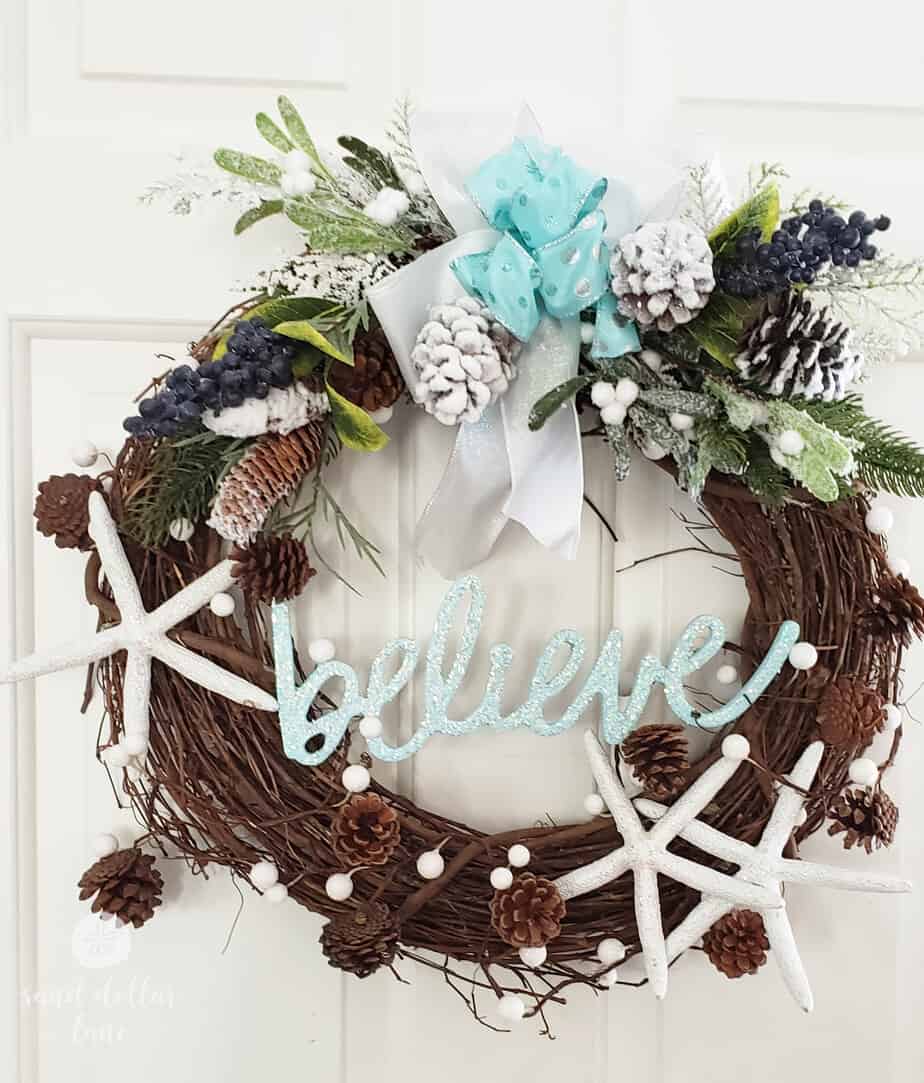 Cut a couple pieces of fishing line to about 12″. Place the glittered lettering on the wreath and attach with fishing line. Do the same with the starfish ornaments. After you tie the fishing line, clip and slide the knot toward the back of the wreath so you can't see the knot.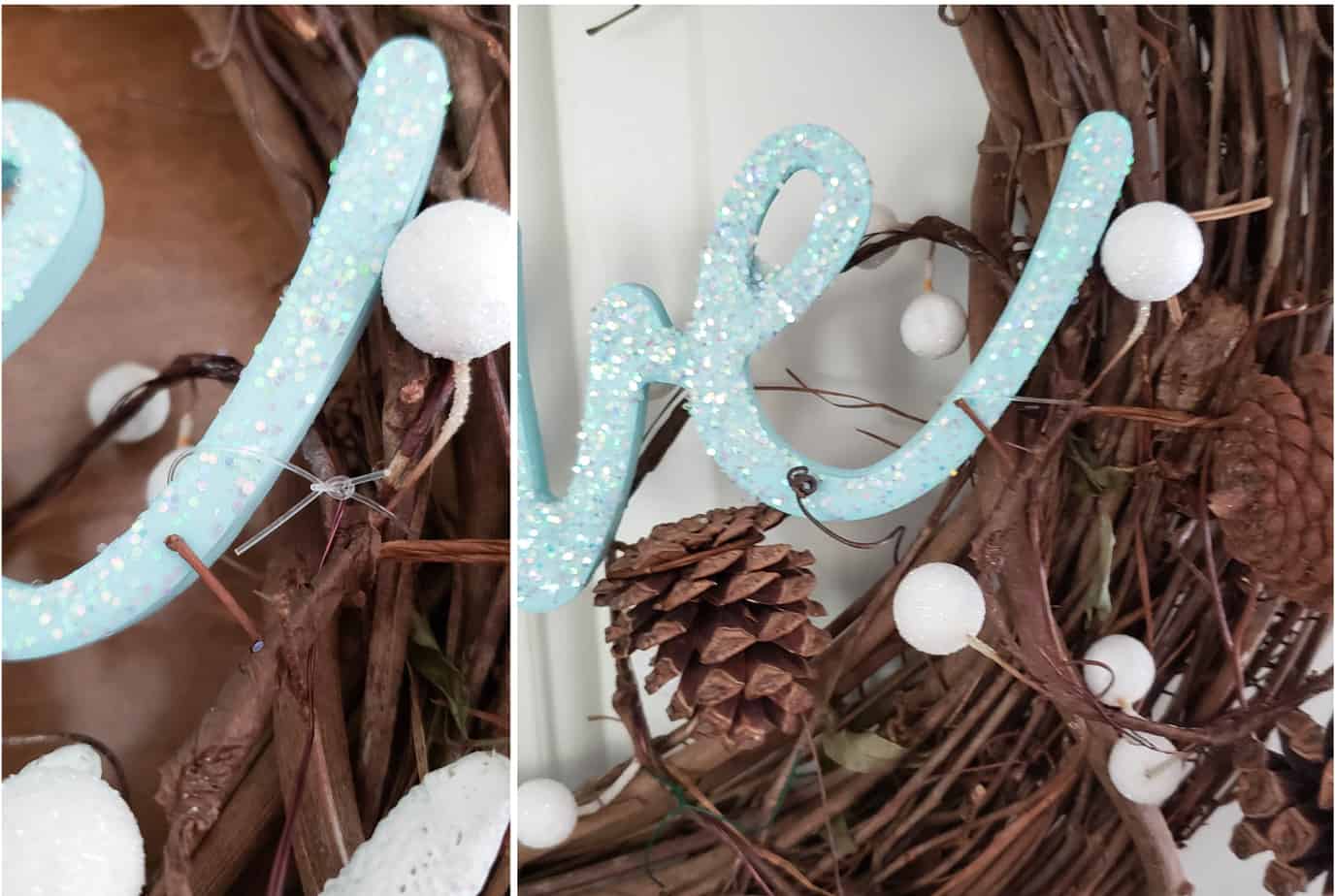 The best thing about this coastal Christmas wreath is you can use any colors, lettering, ornaments you would like and everything is interchangeable. So next year, if I decide I would like different color decorations I can just change out the lettering and bow.
I hope I've inspired you to create your own coastal Christmas wreath! Be sure to check out all the other door decor inspiration below!