At Home Valentine's Day Ideas
Valentine's Day doesn't have to involve going out on the town having an expensive meal in a crowded restaurant! I've compiled a list of at home Valentine's Day ideas for you to enjoy with your someone special in the comfort of your own home.
Today I am joining a fun hop featuring all things Valentine's and Galentine's Day hosted by my sweet friend Pasha. Thanks Pasha for putting this hop together!
Did you see Shiplap and Shells' beautiful home with her Valentine's Day décor ideas? I absolutely love Kim's beautiful cozy style.
Be sure to visit all today's participants at the end of this post for lots of fun Valentine's Day ideas!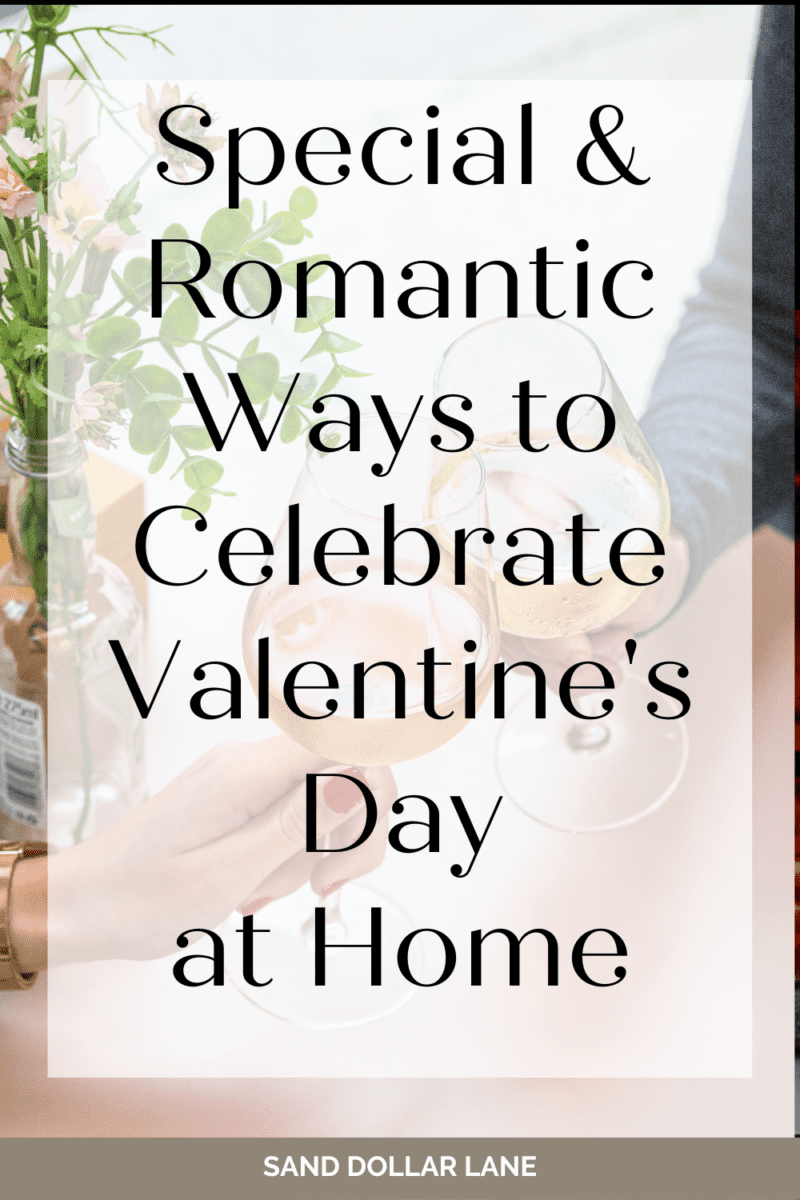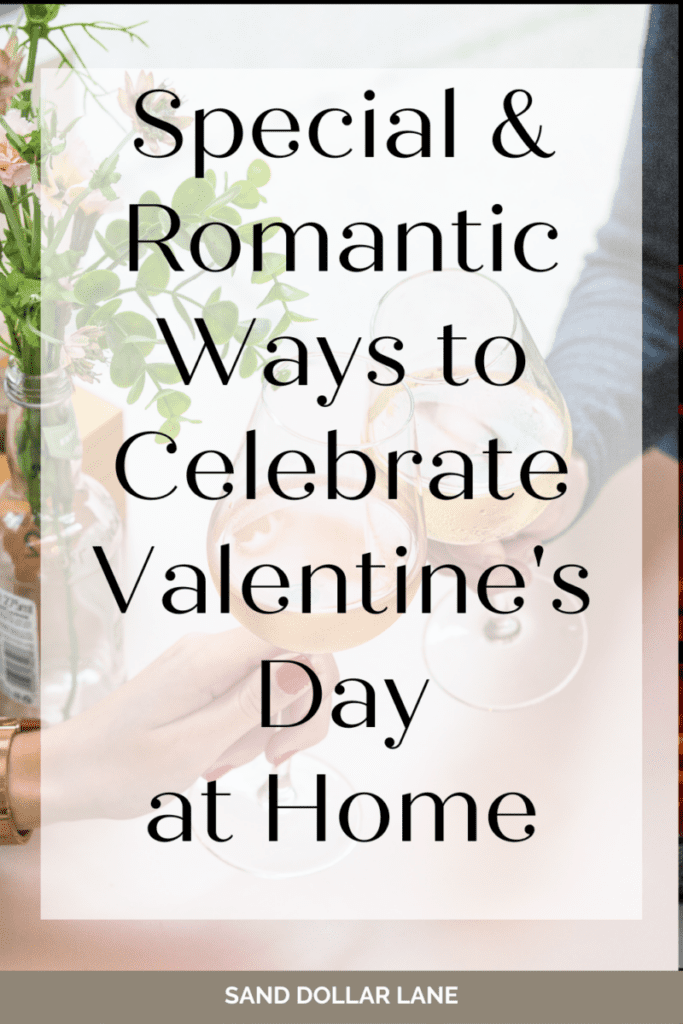 No sitter? Can't get dinner reservations? Can't afford to go out? Or maybe you just like being home (that's me!).
Whatever the reason for celebrating Valentine's Day at home you can make it enjoyable and special with these fun and romantic ideas.
Inexpensive (or free) At Home Valentines Day Ideas
Expressing your love on Valentine's Day doesn't have to be expensive.
One of the benefits of staying at home for Valentine's Day is the ability to keep costs low.
All of these ideas for celebrating Valentine's Day at home are inexpensive or even free!
Must Dos for a Romantic Valentine's Day at Home
This is no ordinary evening at home, this is celebrating your love with your significant other.
Be sure to make it extra special with these ideas
Dress up. Ladies, put on a dress and heels, wear your hair up (not a messy bun!), perfume, makeup, the whole package! Guys, bust out that suit and tie, shave, put on cologne (bonus points if it's cologne she bought you).
Light candles. There's not much more romantic than candlelight.
Lose the distractions. Put the cell phones away and focus on each other, nothing else.
Put on music. Soft music playing in the background is perfect for an evening in.
Dance. When was the last time you slow danced? No excuses, it's Valentine's Day and dancing is not optional.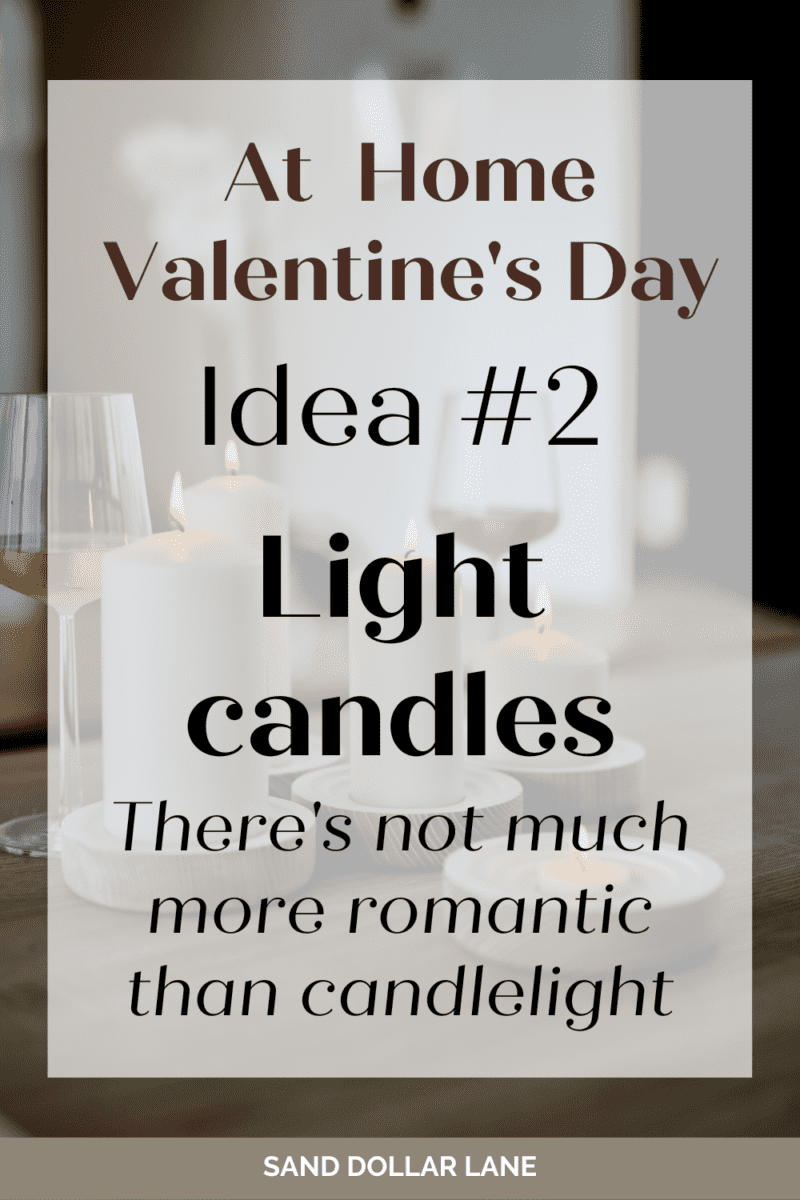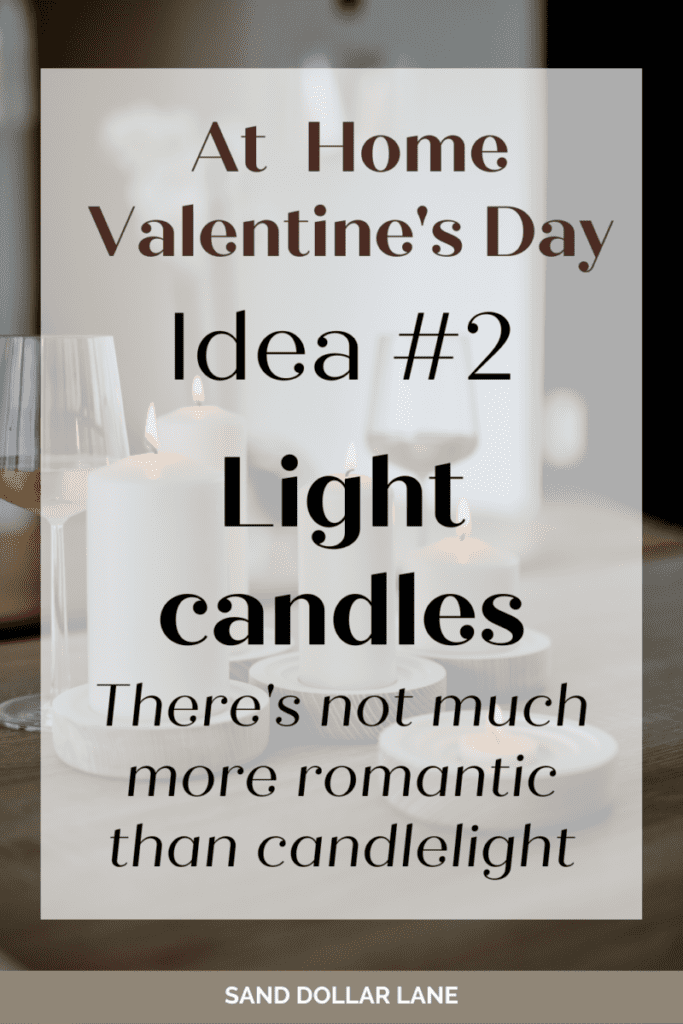 At Home Valentine's Day Meal Ideas
There are so many ways to turn dinner into a romantic experience. Here are a few ideas.
Cook together, you will both enjoy this time working together creating a special meal.
Plan a meal that is precious to you, like the meal that was served at your wedding or the first meal you cooked for your someone special.
Serve a fancy dessert that you both enjoy.
Pack a picnic and enjoy it outdoors under twinkle lights or on the living room floor in front of the fireplace.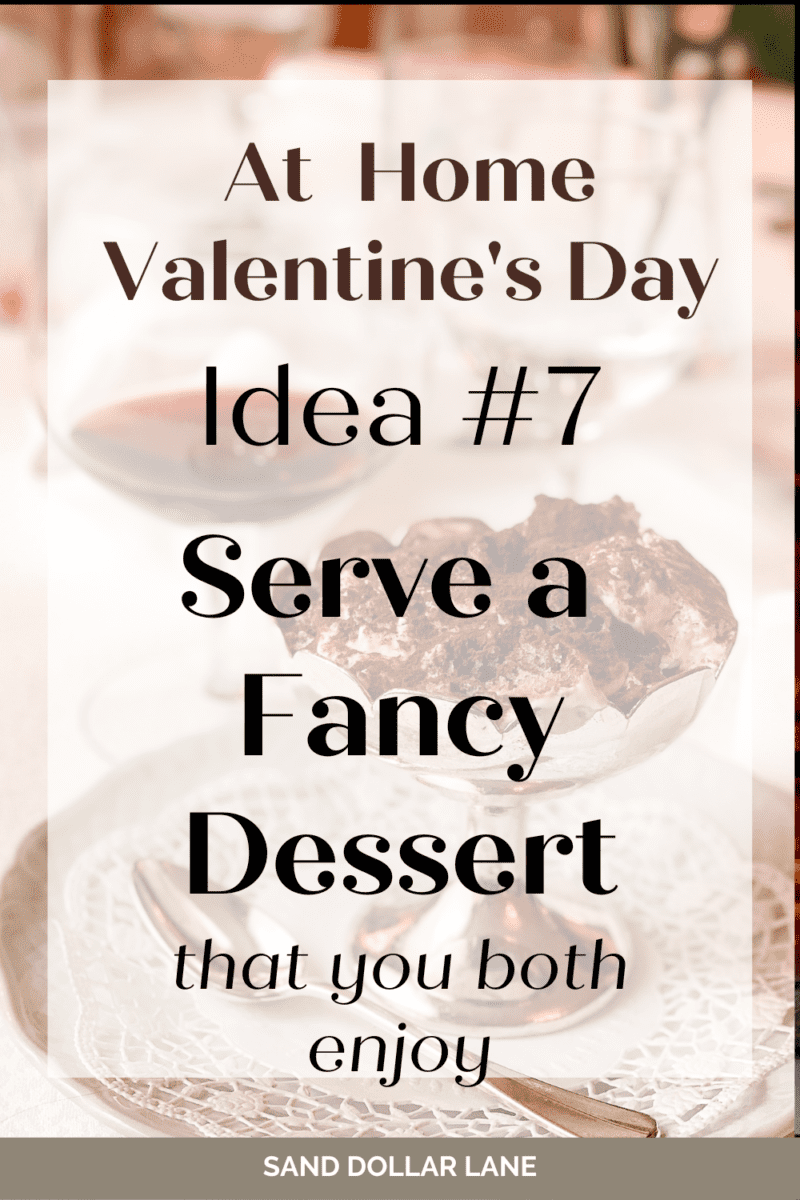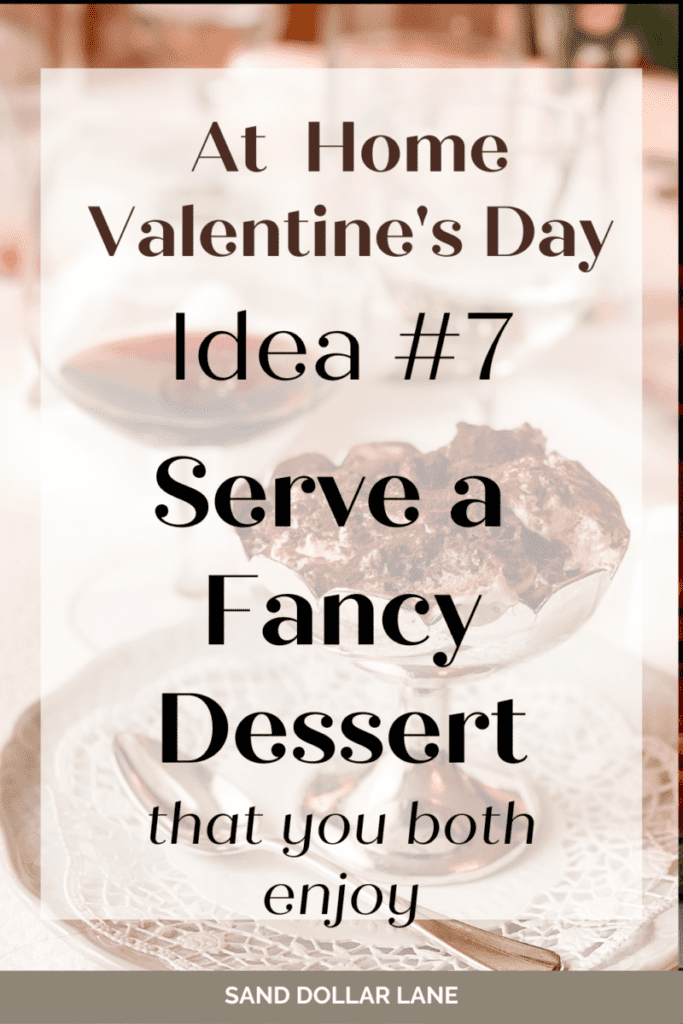 At Home Valentine's Day Activities
Spending time connecting with your valentine is what staying at home is all about.
Snuggle up and watch movies. Choose a romantic movie or how about your wedding video? Now, that's romantic!
Play a board game. I know it sounds silly but it's something that you probably don't do often and it's a great way to enjoy each other's personalities. A quick google search will help you find the perfect game from Life to something a little more risqué!
Give each other massages. Take your time and really enjoy taking care of each other.
Toast each other. Make a fancy beverage then take turns toasting each other. Make a game of it, say something you love about him/her, something you love doing together, etc.
Star gaze. Lay a blanket in the yard and look at the stars. Chilly out? Grab a bunch of warm blankets and keep each other warm.
Cuddle up by the fire. Either in the fireplace or outside at the firepit.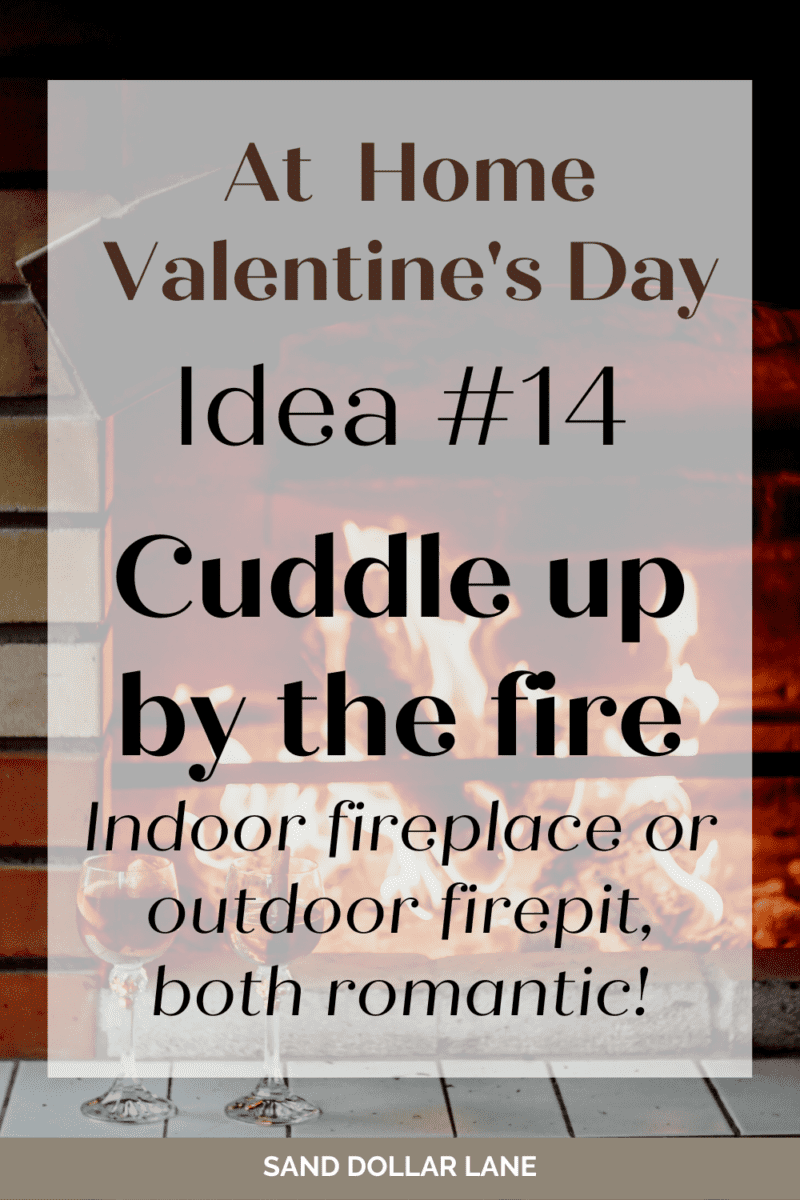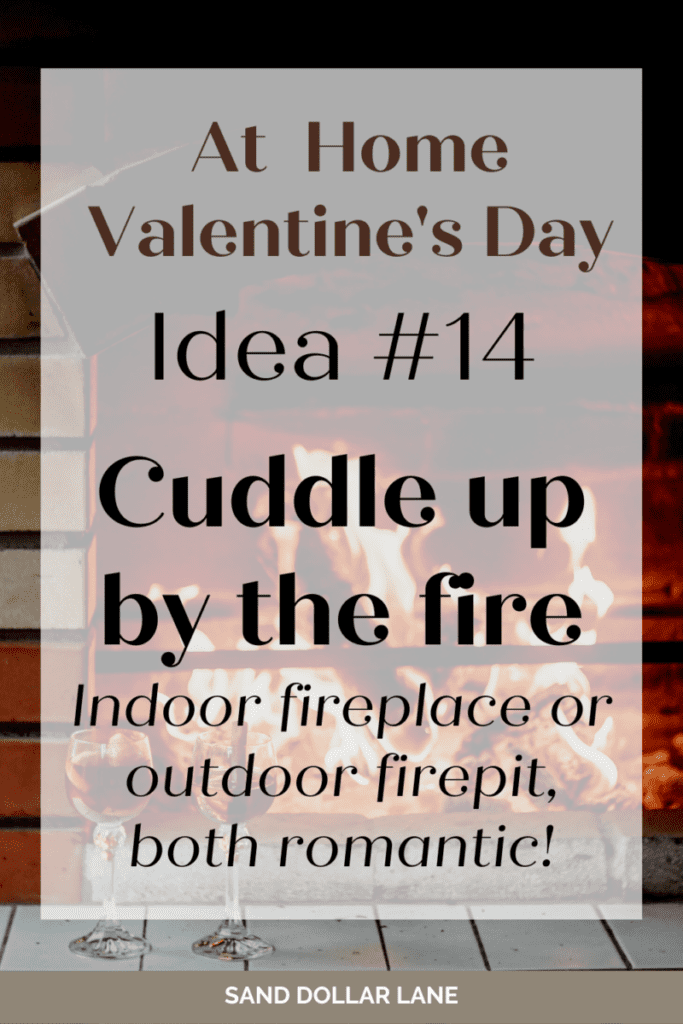 I hope I have inspired you to enjoy this Valentines Day at home enjoying spending time with your someone special! Do you have any more at home Valentine's Day ideas? I would love it if you would share them in the comments!
Next on the hop Rachel from The Pond's Farmhouse is sharing some cozy bedroom ideas that you are going to love!
Be sure to visit everyone in this fun hop for lots of Valentine's Day inspiration!
More Valentine's and Galentine's Inspiration
How to Keep Your Valentines Day Decor Simple yet Pretty // Pasha is Home
5 Decor Ideas to Show Your Home Some Love this Valentine's Day // Shiplap and Shells
At Home Valentines Ideas // Sand Dollar Lane
Cozy Valentine Bedroom Ideas // The Pond's Farmhouse
How To Set A Beautiful Valentine's Day Table Setting // White Lilac Farmhouse
Shades of Pink Valentine's Home Tour // Willow Bloom Home Blog
Romantic Antique Table Setting with Thoughtful Design // Dabbling and Decorating
Beautiful Valentine's Decor Inspiration // White Arrows Home
Heart Shaped Tea Bags DIY // Paint Me Pink
How to Make Easy DIY Valentine's Tree Ornaments // Simply 2 Moms
How to Create an Updated Vintage Look For a Delightful Centerpiece // County Road 407
How to Make an Easy Valentine's Garland // Cottage in the Mitten
Cocktails for Galentine's Day // A Life Unfolding
Handwritten Valentine's Day Love Letter // My Sweet Savannah
Last Minute Valentine's Day Gifts // Southern Crush at Home