The Ultimate Winter Vacation in Ocracoke, NC
If you crave uncrowded beaches, gorgeous sunrises, sunsets and starry nights, quiet time for self reflection and/or reconnecting with loved ones then a winter vacation in Ocracoke, NC is for you!
We love traveling especially to coastal destinations! Our favorites so far are New Bern, NC, the Gulf Coast of Florida, Tybee Island, the Outer Banks and of course our beautiful Topsail Island.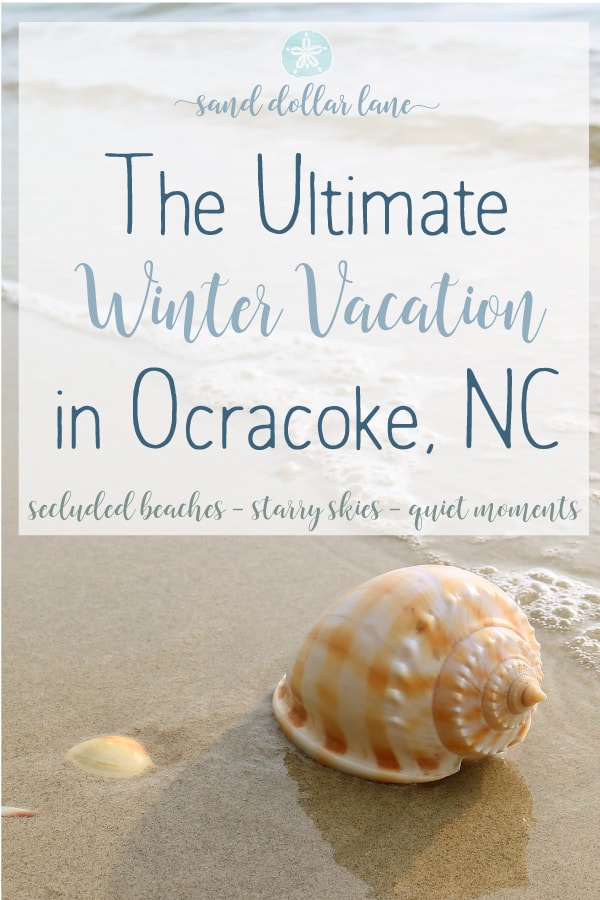 Things to do on a Winter Vacation in Ocracoke
After an extremely busy holiday season of working 15-16 hours a day, JC and I were worn on out! We knew that a little winter vacation in Ocracoke, NC was exactly what we needed to unwind, make plans for our future and maybe even finish a conversation (this was our first vacation without kids since our honeymoon!)
We weren't quite sure what to there was to do on a winter vacation in Ocracoke (we were just glad to be away!) but we found plenty of fun things to keep us occupied. Here's a few things that we did and some things we plan to do on our trip with the kids this spring.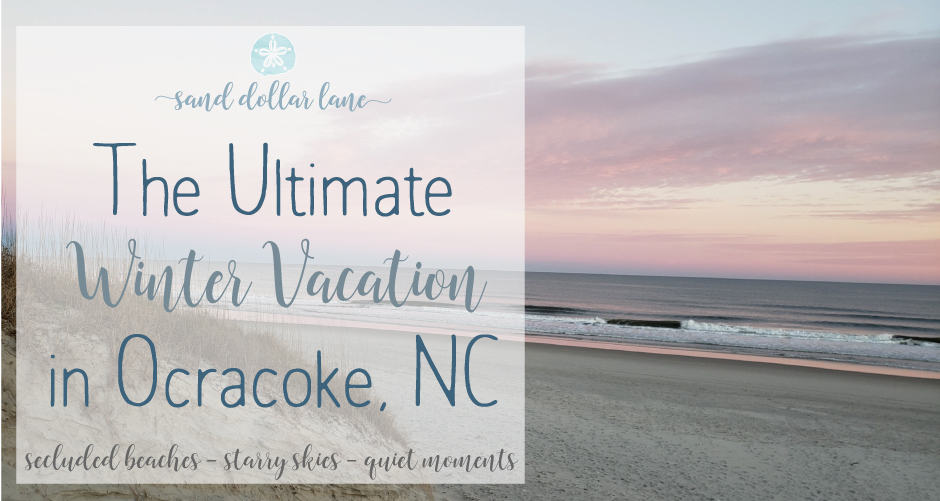 For your convenience, this post contains affiliate links. See my full disclosure page here
1. Take a walk or bike ride-
You can walk or bike ride from one end of Ocracoke to the other. Stroll around town admiring the cute houses, old cemeteries and neat shops or hike through the maritime forest.
Check out the Ocracoke Lighthouse, the second oldest working lighthouse in the country. We loved that we could see the light from our rental house.
Springer's Point, just a few steps from the Ocracoke Lighthouse, is a 120+ acre preserve with a sandy walking trail. This preserve has an old well and even a small cemetery where the previous owner Sam Jones and his horse Ikey D are buried. There's no parking here but it's an easy walk or bike ride from most of town.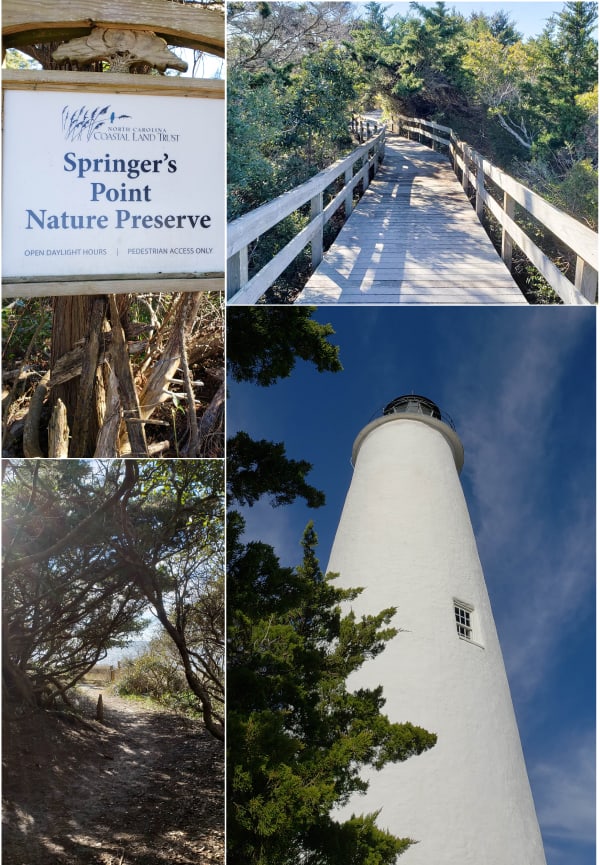 Hammock Hills Nature Trail is across from the Ocracoke Campground and is an easy trail that's almost a mile. The trail winds through the forest to a great platform with a gorgeous sound view.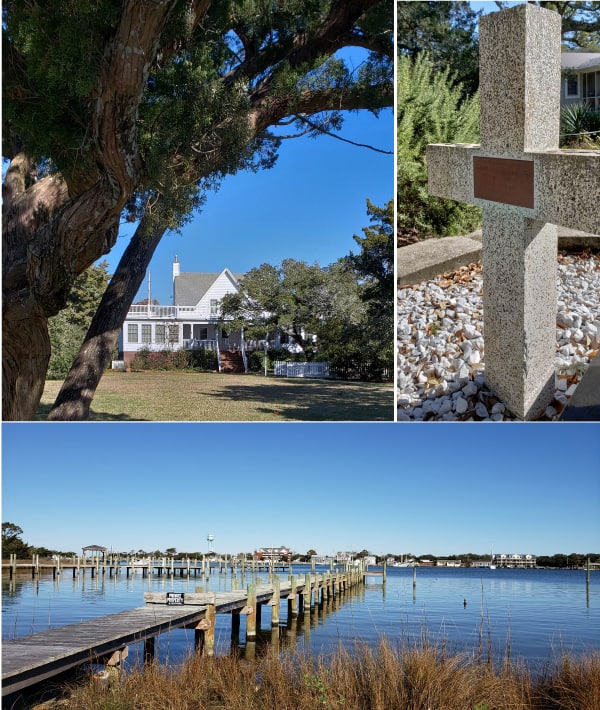 We walked almost every time we left our rental house unless we were going to the beach. One afternoon we walked around the entire town admiring the houses and visiting a few shops including Down Creek Art Gallery (be sure to meet Marissa, she's super sweet!).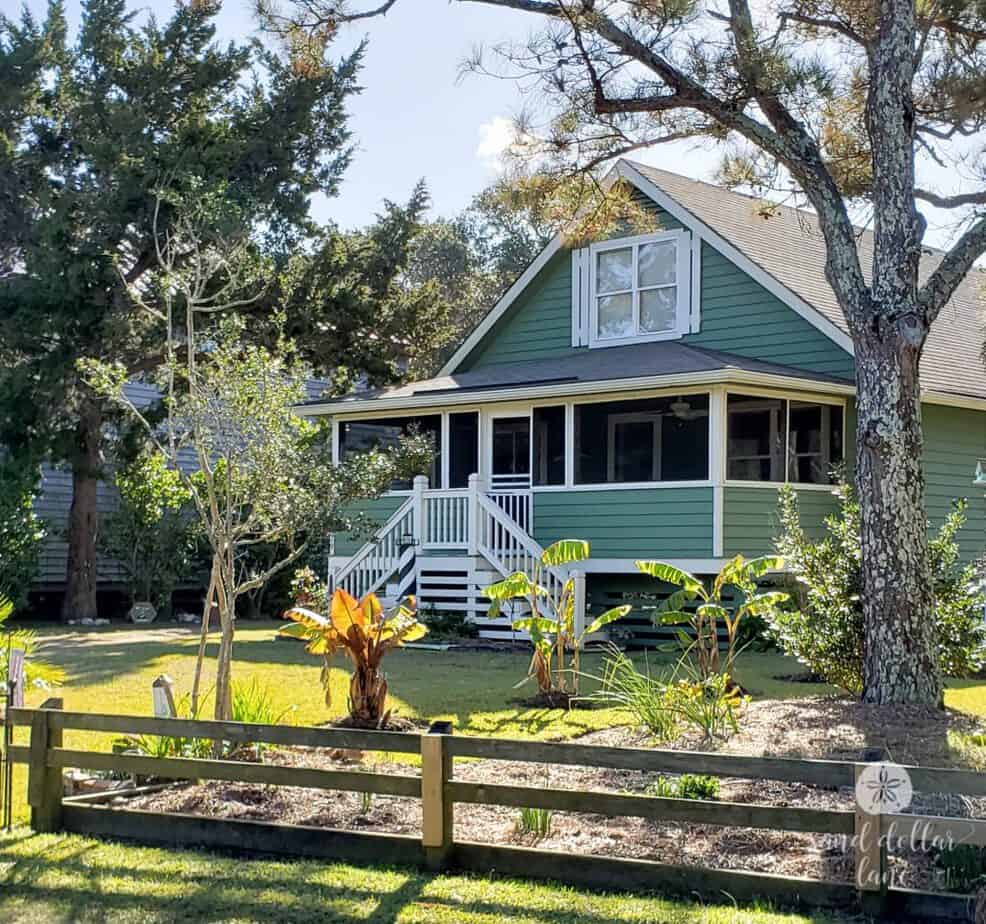 2. Enjoy the Cape Hatteras National Seashore
Ocracoke has no buildings near the beach, it's all national seashore, just natural beauty for as far as you can see. There were very few people at the beach, many times we were the only people around!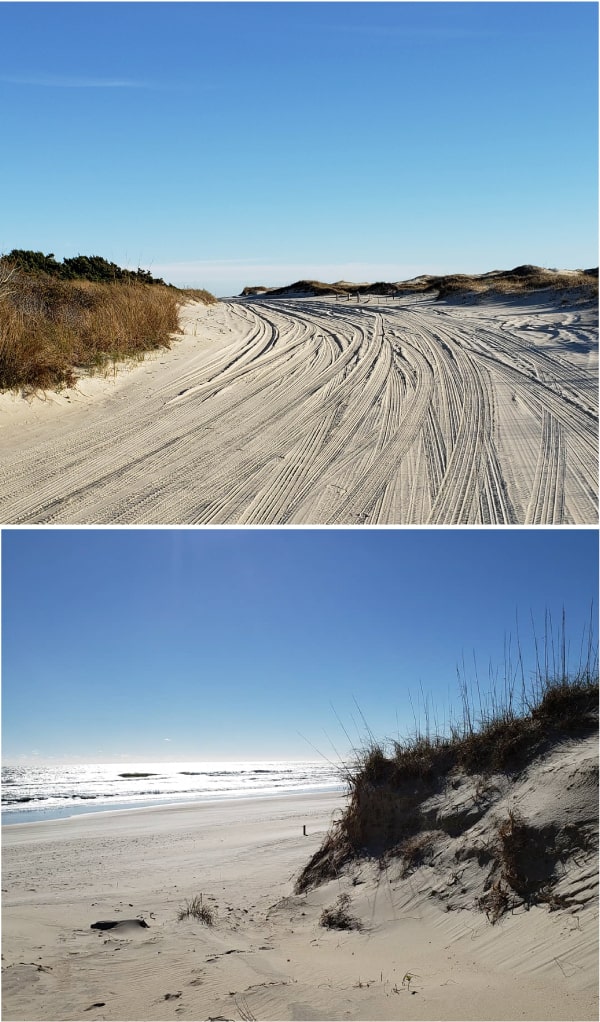 When we were there the weather was warm enough to spend a couple hours at the beach walking around looking for shells. We rarely find full Scotch Bonnet shells here at Topsail but at Ocracoke we found dozens!
You can also drive your 4×4 (or rent one) on the beach with a permit. If it had been too chilly to walk the beach we would have done that or called OBX Beach Rentals and Shuttles.
3. Hop the ferry to Hatteras Island
An hour long ferry ride will have you at Hatteras Island where there's a bit more to do (and a larger grocery store). We checked out the Cape Hatteras lighthouse and walked the beach a really long way to the point.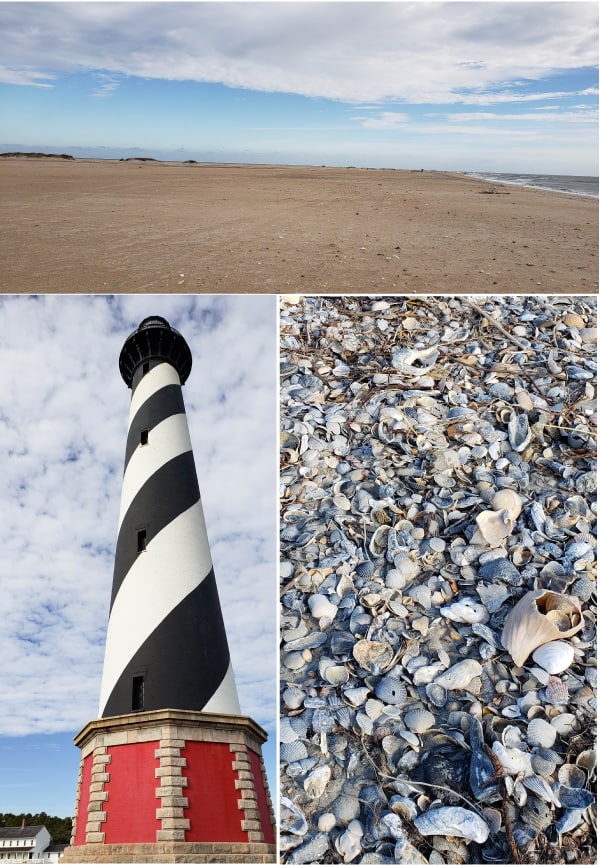 Even if you aren't up to a long beach walk, head out to the beach there because the shelling is amazing! We found so many full whelk shells! You can also drive your 4×4 on the beach here (with permit).
4. Wining and Dining
Since our rental was a full house we mostly prepared meals there but there are several restaurants open in the off season. Check the Ocracoke Current for a up to date list of shops, restaurants and activities that are open.
We did go to a couple places-
Ocracoke Bar & Grille – we stopped by here twice and liked the laid-back atmosphere. Our server both times was Marissa and she was really funny. We didn't get a chance to beat her at Wii Bowling but still had a great time.
Side note- we only learned the names of two people the entire week we were there and both were named Marissa!
1718 Brewing– The Ultimate Winter Vacation in Ocracoke, NC has got to include the 1718 Brewery. We strolled to the brewery and ordered a flight, five different drink samples. Between the two of us we liked them all. JC likes the dark thick beers while I prefer the lighter ones (1718 Brewing's Sundays is my favorite). The upstairs lounge is really nice with a fireplace and balcony.
A few other places that were open but we just didn't find the time to check out-
The Coyote Den– We heard that this place was fun and had great music.
Zillie's – We had planned to go to Zillie's to enjoy a beverage by the outdoor fire pits but we walked miles that day and ended up watching movies on the couch that evening instead. Next time, we'll definitely check this place out because it was so highly recommended.
Ocracoke Oyster Company had a band playing one night while we were there but we arrived after it ended.
5. Sunrises, Sunsets and Starry Skies
We're lucky enough to live by the beach where we have beautiful sunrises, sunsets and clear skies for stargazing but winter in Ocracoke even outdid Topsail! I can't personally speak for the sunrises as we didn't get out of bed early enough (we were on vacation after all!), but the sunsets were unbelievable. Since Ocracoke is so far from the mainland, it feels like your watching the sun set on the ocean instead of the sound.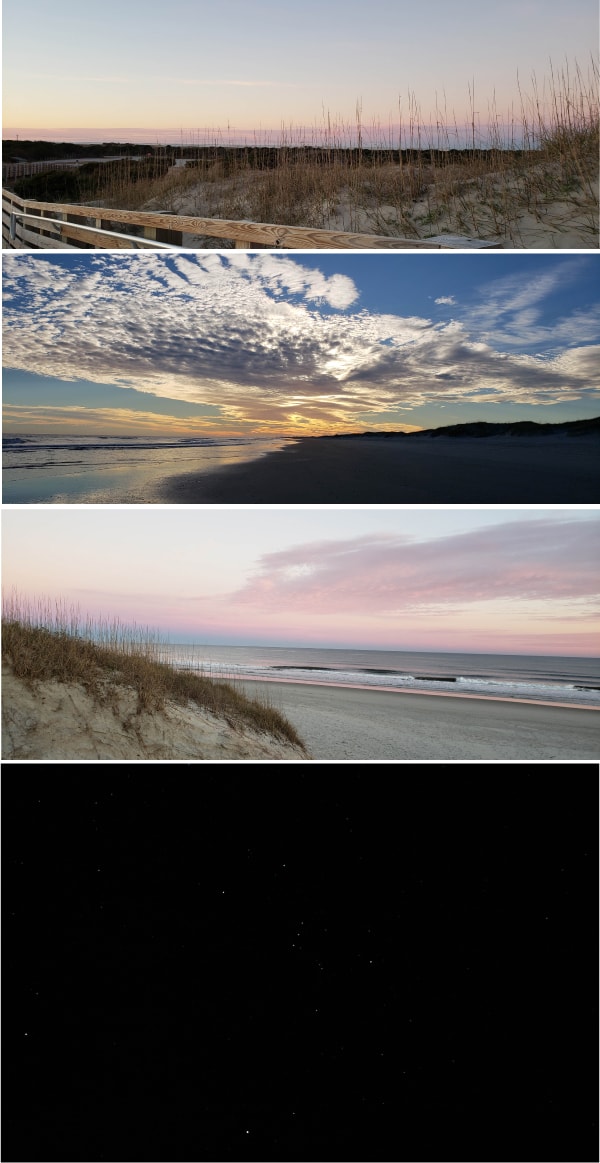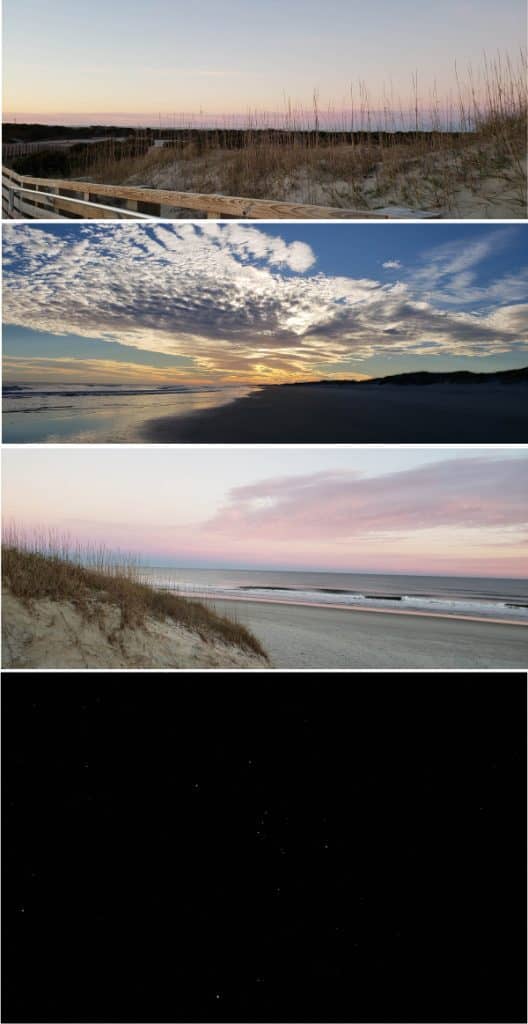 The Cape Hatteras National Seashore has the darkest night skies on the east coast. Every night we walked around oohing and aahing over the amount of stars we could see. I would love to go back during a meteor shower!
6. Chillaxing
My favorite thing we did over during our winter vacation in Ocracoke, NC is chillax! We are so busy at home with three businesses, raising kids, homeschooling and life in general that we rarely take the time to just do nothing. In Ocracoke, most mornings we spent at least an hour or two on the screened porch of our rental just sipping coffee, staring into the marshland and chatting. Our yard was private and you couldn't hear anything except the wind and occasionally a meow when one of the "ocra-cats" came to visit.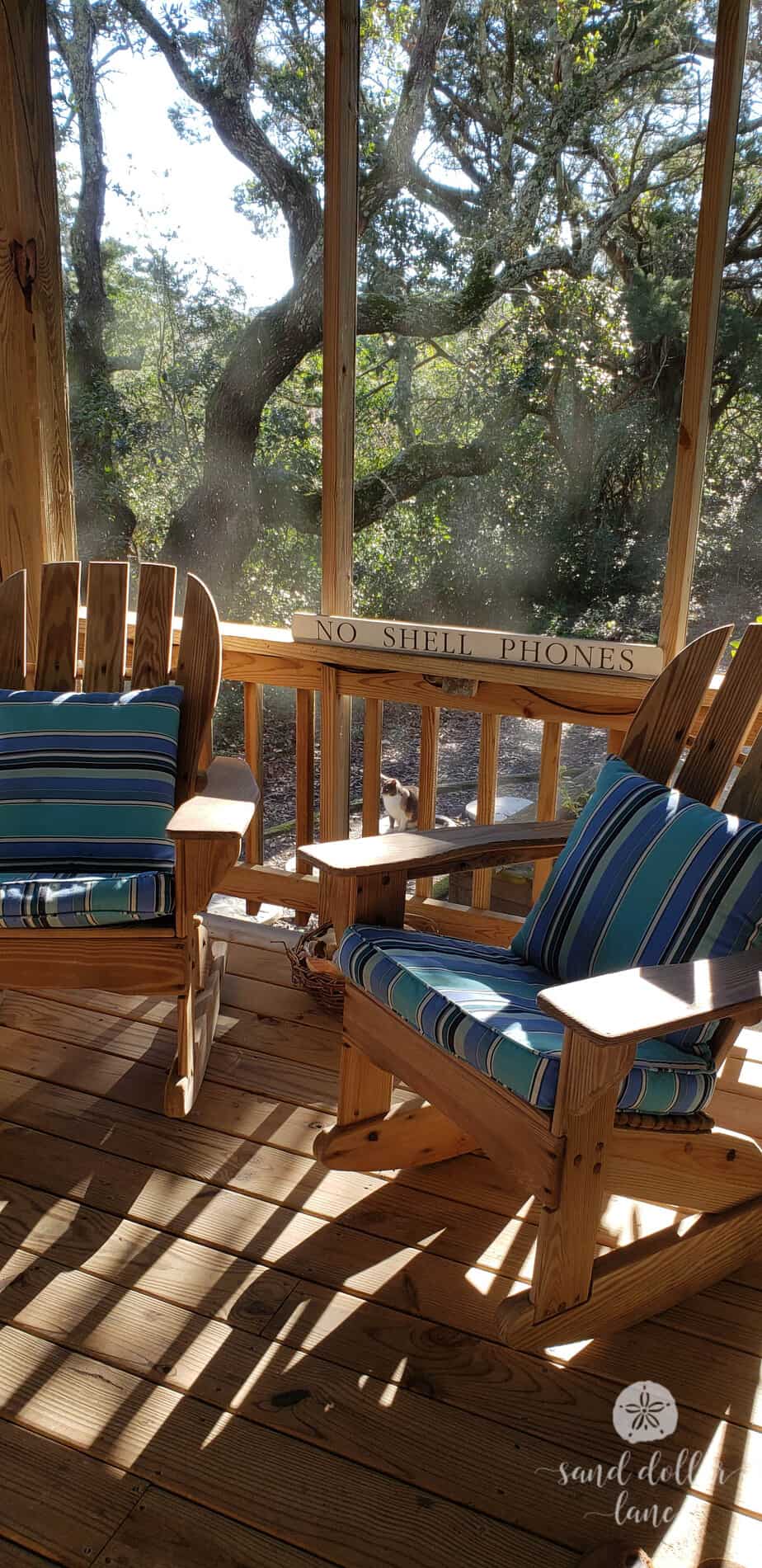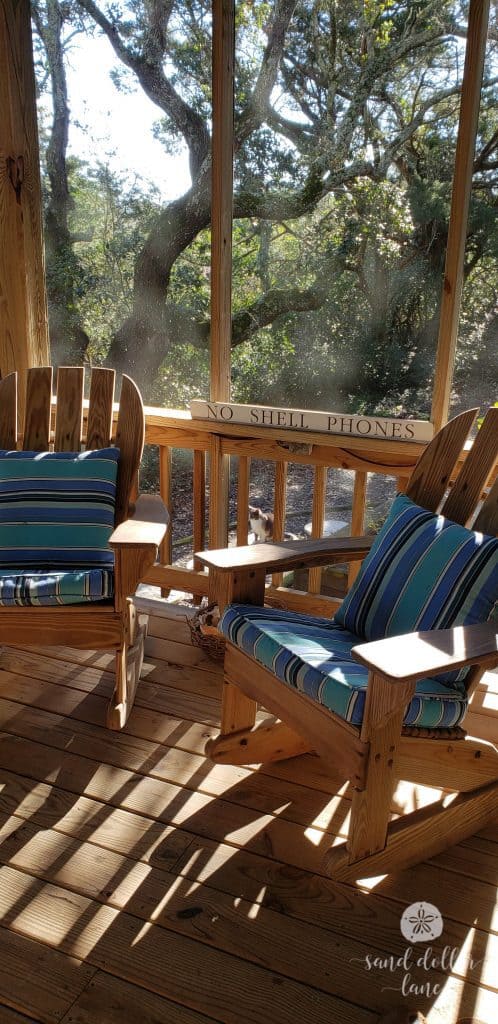 One afternoon it was so chilly that we didn't feel like going out. Instead, we spent a few hours reading on the couch! Seriously! Just laying around reading with no one needing anything from us. It was marvelous!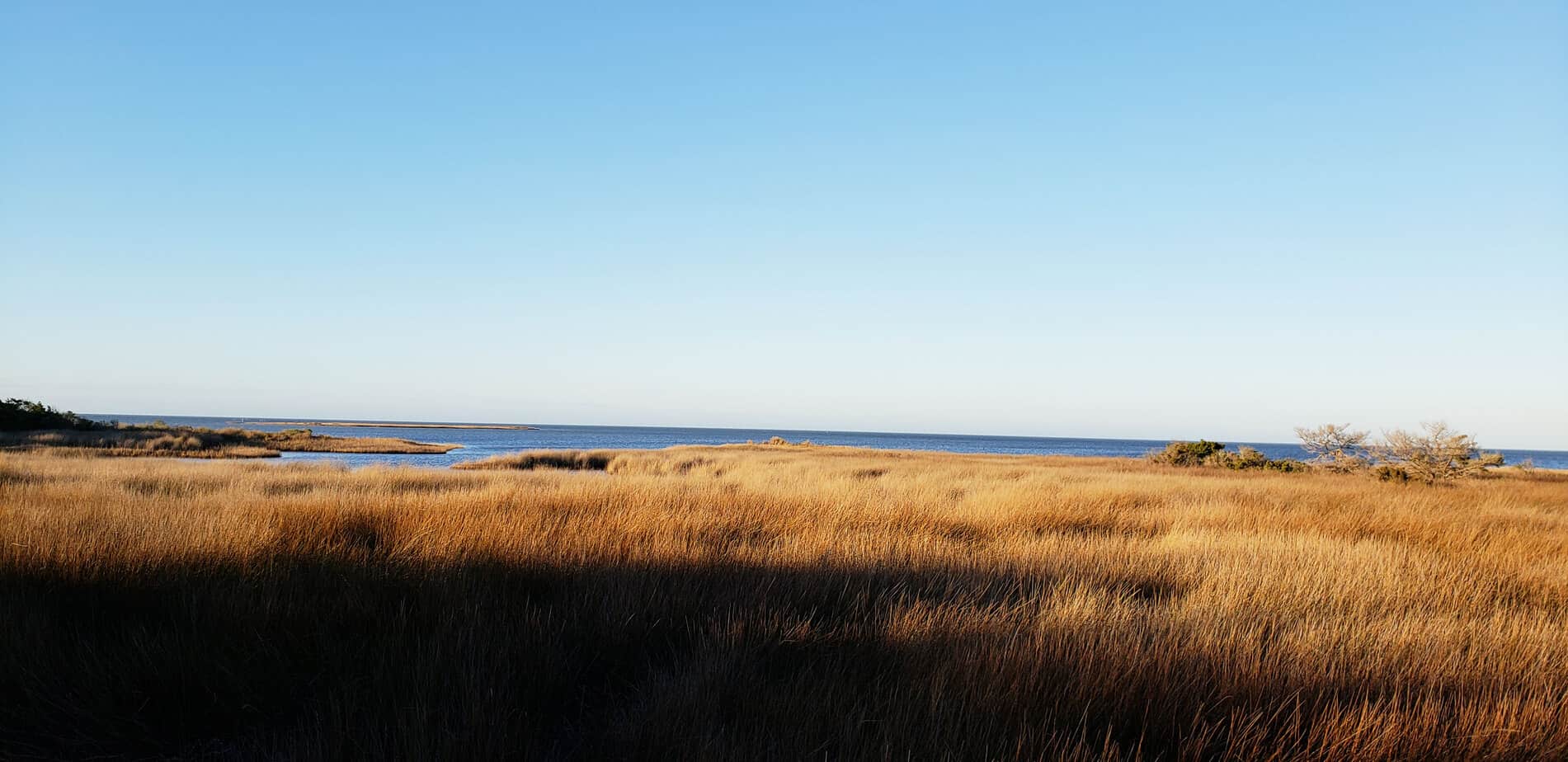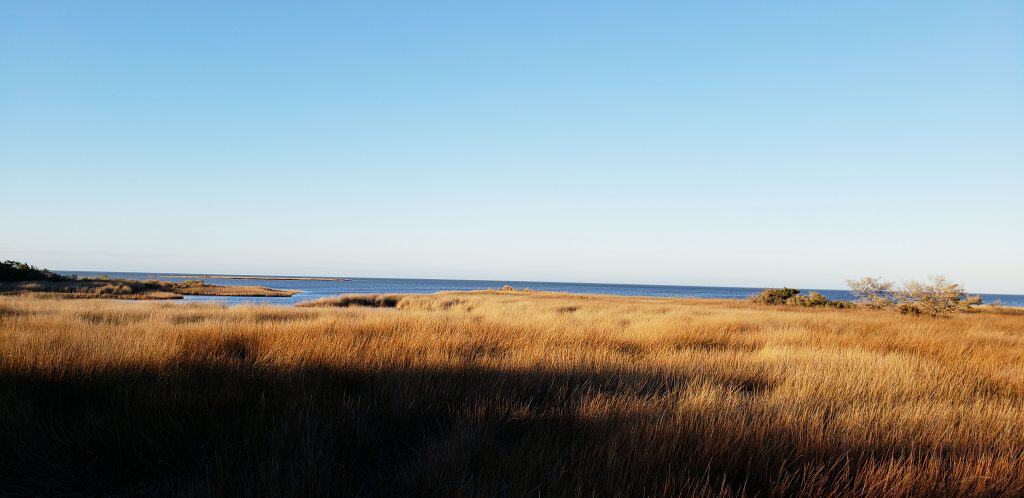 While a winter vacation was perfect for the two of us, our kids are really wanting to go to Ocracoke as well. I don't have any qualms about going back! We're planning another trip in April to show the kids all the fun things there are to do. Next time I am also hoping to do the following-
Have you been to Ocracoke? We would love your suggestions on what else we should do while we're there!
Be sure to follow our Coastal Exploring Instagram page to see where we'll be exploring next!